Consumer Complaints and Reviews

My forward card was the oldest of my credit card accounts. Had it with Citi for 7 years. A while ago they removed the 5% cashback on books/movies/restaurants, so I stopped using the card and spent most of the money on other cards. Then they just closed my card without any prior warning/communication. I am really pissed that they just don't care about the customers at all. My impression is the people at Citibank are just very ignorant and incompetent. You are better off having business with other banks.

I applied for a Citi credit card. With my credit scores I knew I would have been approved. However I got a decline letter in the mail. It stated that I had a delinquent remark on my credit report and this is why they declined my request. However I called them back and told them that there must have been an error. Customer service told me that I needed to contact the credit company.
About 2 weeks later I was approved for a 20K loan for a vehicle and was given my credit reports. None of the 3 credit reports I was given stated I had a delinquent remark on my credit and one of the reports was the report that they used. I called back and they told me that I could apply again and there was no way they could go over the previous application or do a manual review. I have 4 credit cards with a great credit score. I was declined for a false reason and they want me to reapply. Haha, I will make sure that I never do business with Citi bank as long as I am alive.

I have had CitiCard Mastercard for years. Never a problem with payments being credited properly. Love the reward points. Recently my card number was "lifted" and fraudulent purchases were made. Citibank caught the fraud immediately, notified me and verified the fraud, and overnighted me new cards. Additionally I was not going to be held liable for the fraudulent purchases. This all occurred in less than 24 hours. Who could ask for more?

I changed some information on my account after paying it in full on both Citibank cards in June 2016. Some time went by without any bills... no big deal didn't owe them anything. I get a call in December stating that I am overdue to the tune of 247.53 of which 136 was in late fees. Up to this point we had always paid before the due date and paid off on a regular basis. With an 850 credit rating you think they would cut us some slack. Anyway I thought the call may be scam so I refuse to deal with the caller and call the number on the back of the card. Yep... they had me as owing the money.
But here is where it gets interesting. They say they tried to contact me via email and phone as I was on paperless billing. I never asked for that, we don't do paperless for this very reason. They sent it to an old email that had been changed on the one account but not the other. They also suggested that I had either checked the box for paperless or had left the paperless OPT OUT unchecked when I created the account. What??? You mean it's my fault if you change my status for billing. They would not make any adjustment to the charges and would not fix my damaged credit. I had the offending card cancelled after paying them their blood money by bank debit card.
I've filed a consumer complaint with the government and I am writing my congressman to see if they can enact legislation to force credit companies to send a paper past due for any account over 30 days overdue. This will at least stop people from getting ambushed by these thugs. I would not recommend this company for any credit card... Use anyone else. The two supervisors I talked with apparently have no power to do anything. They are basically just US operators and have no real supervisor capacity.

The first credits card I ever got was Citi MasterCard 1993. Last month I decided to close my account with them. I called and close my account. My balance of $230 was also paid on 12/06. Today I get an email saying I have not paid them and my balance is $255.38. Which $25 late fee and $3.38 interest. After calling them and being on hold for a long time waiting for account manager and supervisors. They have no record of my payment. Calling my bank finding out that Citibank have refunded my payment at 12/12.
Calling them back and gave them information and requesting to refund my late fee and interest. They are telling me since my acct is closed they can't refund me. This is bad business. Their representatives are not able to help you, their account managers and supervisors are not more knowledgeable either. For me, the best is to close my account and pay them the unfair fees and hopefully be done with them. Something else I don't like about this business is the representatives ask your full social security number. How would I know this person is trustable to have my full social. I don't have to use their credit card, I won't.
How do I know I can trust these reviews about CitiCard?
668,037 reviews on ConsumerAffairs are verified.
We require contact information to ensure our reviewers are real.
We use intelligent software that helps us maintain the integrity of reviews.
Our moderators read all reviews to verify quality and helpfulness.
For more information about reviews on ConsumerAffairs.com please visit our FAQ.

I spoke today to one of the customer representatives of Citi credit card. They were so rude and put calls on hold for unnecessary reason and argue a lot. The name of customer representative was Kaur. I believe she should be immediately fired. She was so arrogant, it looked like that she was having a party and I disturbed her. So rude and so arrogant, I am thinking of giving gifts up Citi credit card now.

2 years ago I got a Citi Card Diamond Preferred account. When I open it the customer service representative told me that I would earn point with my purchases and I can use those point to be redeem with gift cards or merchandise. I have almost 4,000 points in which the only way I can use them is by buying even more stuff and just get a minimal discount as a form of a point. For example if I want to buy a hand lotion of $45 I only get a $5 dollar discount and I have to charge the rest to my account. What's the point then of collecting points if you can't use them all on the items you need. Plus I spoke with customer service and they don't allow you to convert those points into cash! In other words you are worse to buy more things with them in order to use your points. What a scam! They shouldn't advertise their card as a points/reward program. They should advertise as you only get discounts program.

Opened double cash card after buying a new house to pay for new kitchen and bath and have time to pay it off. We put it under my fiance's name and linked it to four accounts and 2 credit cards with same phone number he's had for 10 years. Got one letter to our house! Saying it's coming in a few days and another saying there's an issue with the card. We called citicards, they said no issue, disregard letter. So we get card, use it, nothing gets approved. So we call, they need to text him to verify him. But they can't because they don't have his number on file, even though it's the same number under his social security number used on all his other accounts! Two citicards reps says "nothing we can do. Bye." So we go back to the branch.
Personal banker doesn't get it either, but who cares. She met her numbers for the day right. So he's told to send in soc. sec. card, ID, a bill to new house to show new address (that they already mailed to) and it'll take 3 days. Apparently she couldn't email or fax it because it's been 3 days and now they say 5-7 then 2 more to verify but how will we know because they "don't have his number on file" and the banker never gets back to us. So in this 2 week nightmare, we had to pay cash and use monthly cards to pay for expenses we opened this card for!! Citicards is AWFUL!!! HORRIBLE, HORRIBLE SYSTEM. If you do not have a million in your account. Citibank doesn't care about you.

Citibank insists on charging a late fee (which is really an early fee) because I paid my monthly bill too promptly. So they posted two payments in October and none in November. In trying to rectify the problem they have no system in place to correct their error and insist it is my problem for paying my bill too promptly!

So it is Christmas time and the credit card crooks are out! I not only understand the need for a fraud department but appreciate it however Citi has one of the worst I can think of. Things like "did you make purchase on October 25th" but it is now December 4th, why are they asking me this now? My wife and I both have a card but a demand for a guaranteed answer is immediate. I don't know about you but I don't know where I was for sure 6 weeks ago.
They called 7 times in less than 12 hours but when you call back it is not only a hassle but they provide an incorrect phone number (believe it. That is true. I still have the message). It is almost impossible to understand what many agents are talking about things are guaranteed to be fixed and you hang up and they are not to rude comments like "what do you want me to do about it?" Most are very pleasant but won't stop talking a mile a minute and telling me how they are there to help but help they don't. The calls just keep smoking in!
Their best suggestion is to not use the fraud alert service. Hey that makes sense! They are going to get things fixed but are not trained as to how to fix them. Don't complain as they will just freeze the cards. I could be like their reps and just keep going on and on but I think you get the idea, their customer service and fraud departments stink! Most would give up from here but I intend to write to the CEO and let he or she know my feelings!

I applied for a citi double rewards card, got approved and they said they mailed it out on Nov. 2nd. I waiting till the 20th. Nothing came in... so after thanksgiving I checked and nothing. I called them asking to resend. They were happy to, but needed to send my phone a text. Gave them my cell number. Then they said they couldn't use my number because their 3rd party thing said it wasn't registered to my name??? I've had this phone number for 5 years! (its straight talk, a tracfone company) They said they'll put my account on hold and review my account. Then call me back.
The next day I check my mail. My mail, the card FINALLY arrived (today on the 29th). So I called CitiCard's number and explain what happened and why I have a hold on my account. They tried the text thing with no go again. So they asked about my account number with them (I had the envelope with me at the time and gave them my account number). They lifted the hold and activated my card.
So then I proceeded to buy gifts for christmas online today about 10 a.m. and bought dinner with my card. Then I got a text. A TEXT!!! Saying I had fraudulent activities on my account!!! A TEXT!! And they can't verify my account because their 3rd party doesn't see the number registered on my name. So they said they'll hold my account till their team reviews the activity. They cannot verify any other way. I've asked them what I need to do because this number thing is the only way they verify and they can't give me any info. They need to come up with a better way to verify people. This is just a big circle and I wanted to use this card to get an early start on gifts for my kids.

My credit card application no. ** and applied for a Citi Reward card on 18-11-2016. After this I got an SMS with above said application no. Also got a call from CC to submit the necessary documents... But so far nobody called and no response... am totally deviated from CITI bank people. Please look into this and do the needful...

My fiancé and I have multiple credit cards accounts with CITI for years now. We recently refinanced a home and paid all of credit cards off in full. My fiancé called Citi and asked the associate should he make the payment now or what till we received the check and send the balance in full. He was advised since he was paying it in full to wait and send it when received. The associate said he was noting the account. No big deal. We now have a 30 day late showing on both our credit reports. When we called and spoke to a supervisor we were told to fax a written dispute and the call would pulled and it would be removed if that was what we were told. This dispute would take 7 days, so of course we called to check on it and he was told it was removed.
We thought we were good till I received a letter stating it wasn't removed. I called a spoke to another supervisor who told me it was removed. Until I told her I have a letter stating it is not. She then changed what she stated and said it wasn't removed. I asked if the call was listened to. Of course it wasn't. She said she would have the call pulled and will call me on 48 hours. I never received a callback. I have talked to many supervisor to count! Everyone of them promised to call me back and to pull the call. I never end received one callback. So I emailed the executive response unit. When you email that unit it sends a response that you will be contacted in 24 hours. That was on October 27th. On November 3rd I emailed again stating I have had no response from them still.
Finally the next day November 4th I received a call from Kevin, who stated he was trying to pull the call but was unable to pull any calls for that associate for that whole day. He would continue to try and call me Monday at noon. I waited for the call that never came. A week after that I called him only to be told since he cannot pull the call there is nothing they will do. As if that is our fault they cannot listen to the call. Mind you there is notes backing what Andrew was told. I ended up emailing the CEO Judson Linville. Andrew received a call the next day from Megan who advised she would do everything to resolve this issue by Friday.
He received a call from her today saying she has looked for the call for hours and cannot find it IF IT EVEN HAPPENED! You would think they would have someone with common sense call us! Absolutely the worst customer service and any escalated associate is a total idiot!!! We will never do any business with this company again. I wish I would have read all the reviews on them a long time ago!!! My call she cannot find is attached... I had already given them the date and time.

My THANK YOU PREMIER visa account got cancelled without any notice. I have always paid my bill on time, never late. Today when I try to make purchase online, got denied. I called up Citibank, a lady told me to write to ERU for the answer as she could not tell me the answer. She said the only way for me to find out the reason why my credit card account was cancelled is to write to ERU in Sioux Falls, SD. I have been with Citibank for over ten years, and the reason to have this premier card is that I can use my point to transfer to the Eva airline. I have to pay $99 for annual fee for this card. Anyone has similar experience like me? Now I want to close all my accounts with Citibank. I really do not like the way they treat their customers. Very bad experience.

I took out a Citi AAdvantage card (due to a popup promo while I was booking an American Airlines flight). The offer said I would get 40k free miles (enough for a free ticket) after spending X dollars in the next 90 days, and said I would get 2 free Admiral Club passes. After receiving the credit card (Mastercard), with a limit of $19,500 (I have good credit), I immediately set up automatic payments online. However, in classic CitiBank form, the first payment did not come out by automatic payment, even though I got a popup/message after I set up autopay that my November 2016 payment would be paid by autopay. Of course then, they charged me interest and late fees. I called immediately and spoke to a not-nice rep lady, but I made the payment over the phone on 11/14/16.
In the meantime, the day I made the payment, I received 2 calls from Citi's automated system telling me to call them; one of the calls at 6 am. The next morning, 11/15, I also received a 6 am call... although I made a payment the day prior. So I called again. The rep this time told me that she has a note I called on 11/14, but the person I spoke to never processed the payment. What the??? So I had her do the payment (again), and she emailed me a confirmation. Then I asked about the miles and the free passes. They transferred me to American Airlines, who said I need to talk to Citi, as it was their promo offer... so I got transferred back to Citi card... And then told "No, we don't see the promo on your account." I said, "Look it up, it's online... you advertise it all over. It's the reason I applied for the card. The popup ad pushing me to apply for the card offered all these great benefits -- free miles, Admiral Club passes, etc."
The lady I talked to this time (Maria) was not helpful at all! Basically told me "too bad; no promo for you." Unfortunately I did not take screenshots of the promo when I applied for the card, so I had no 'proof' that I was offered this 'deal', and they know it. So they scam you out of what you were promised. And the Citi executives bilked the American people out of billions of dollars at tax payer expense and float around on their yachts purchased with their 'bonus money' taken out of the pockets of hard working average folks, and then they even scam you on the little things! What a crock. I closed my account after my go-round on the phone with Maria and their refusal to honor the items I was promised, which is why I applied for and took out the credit card.

ANNOYED!... I have been a customer with this credit card for 11 years and have ALWAYS paid my card with most of the minimum payment. And one time the system void the payment, (maybe the internet signal, then inadvertently missed one (1) payment last month and they charged me a $25 late fee. I even looked at my records and had "checked off" that I paid it. I called and talked to a supervisor and they would not waive the fee. $25. After paying on time for 11 years. Citibank is the most horrible credit card about dealing with customer. I am waiting for a manager to call me back - this is ridiculous! I will be ending my contract and cancelled the card if they don't fix it. They are CROOKS... Don't open an account!! They are so many with better sense the keeping our business.

I have been a Citibank customer for over 50 years, first in NYC and now in Florida. For years I have been using the 3 check per page check book with "The Secretary" register. Because I pay most of my bills using Direct Access I usually run out of room on my register before I finish the checks... for which, by the way I paid an exorbitant amount of money. Last time I requested an additional register I received it free of charge. This time I was told it would cost $13. I agreed, because I didn't think I had a choice, and received it in a couple of days. Much to my shock my checking account was debited $22.72 because they sent it priority mail. I did not request this nor was it necessary.
After relating this to a friend I was told of a company, EGPChecks, that sold registers online. This was the first company I looked at but I am certain that there are many others. I went to their website and found the exact register, called "Desk Secretary". It cost $11.12 for 5 registers and shipping was free!!! They also provide checks that look identical to the ones that I ordered from Citibank.
Aside from kicking myself for not going online to begin with, here's the problem. Why would Citibank give their check printing business to a firm that overcharges their customers to this degree? Should not Citibank be getting commitments from its vendors that protect their customers instead of having that company fleece them like this?
As I said, I have been a customer of Citibank for over 50 years and for the most part I am satisfied with this relationship. This last episode has left a very bad taste in my mouth and concern about how much Citibank actually is looking out for their customer's best interest. I have shown loyalty to them but I cannot say it has been returned.

CitiCards are illegal, corrupt banking bullies. They illegally took unauthorized payments amounting to $5500 out of my account within 10 days. Then closed my account. They are reporting me to the credit bureau and impacting my credit score and what's more the funds were not yet applied to my balance and don't reflect as they hold them for 10 days as they consider them suspicious.

I have over the last two weeks attempted to set up my Citibank credit card online. I was having trouble with the security questions and attempted to call Citibank for help but have not been able to get any guidance from them. In the end I decided to close the account and pay off the balance on the credit card but again I am unable to get help from them.

I just cancelled my card. Two weeks ago, I got a fraud alert. It took four calls and an interminable wait to find get through. The customer service rep had difficulty comprehending the situation. I was taken aback. In the two weeks since, I had several reasons to call customer service again. Mostly it was about the delayed arrival of my replacement card. But there was another, lesser issue as well. Again, each representative had difficulty comprehending simple questions. At one point, I spoke to a supervisor. She, at least, could carry a conversation. Though she was apologetic, she could offer no solution. She was low level and powerless.
My sense is that CitiCard has undergone a rapid expansion and outsourced its customer service department. The representatives speak with a veneer of English, but it is a foreign language to them. I can't trust my credit rating to such an inept, flawed operation experiencing a troubled expansion. Obviously, CitiCard's internal problems are affecting business practices. Unfortunately, the corporation is offloading its problematic workings onto their clients.

I was issued a Citibank travel card in Korea to purchase a plane ticket home for my military leave. I went to purchase my ticket and the card was declined so I had to go back to my base and speak to my superior who called Citibank and Citibank claimed the problem was fixed so I go back to the airport only AGAIN to have my card declined so the problem was NOT fixed as Citibank claimed.
Then I finally get home to PA, have my leave time and leave PA to head to my new post in Texas which is a 27 hour 3 day drive and I took 300 dollars cash off the card via the ATM as backup cash which it gave me then I try my card at 2 gas stations as a credit transaction in Ohio and AGAIN the card was declined. I thought maybe I had a daily dollar limit so I get to the hotel in Indiana try paying for the hotel and YES you guessed it my card was declined so I AGAIN had to contact Citibank who told me that they shut the card off because it was attempted to be used in multiple states.
IT'S A TRAVEL CARD TO GET SOLDIERS TO THEIR POST OF COURSE IT'S GOING TO BE USED IN MULTIPLE STATES, so they CLAIMED once again they lifted the security lock on the card and I would be able to use it to pay for the hotel in the AM the next morning. I check out of the hotel and yep you guessed it was declined again, after a rep at Citibank assured me it was fixed... I tried 2 gas stations and it again was declined so now I've lost 4 hours drive time trying to contact family back in PA to wire me money to pay for the hotel because my MILITARY TRAVEL CARD WOULD NOT WORK. Finally was able to pay for my room and leave Indiana via the money my family had to forward to me causing a huge inconvenience not to mention embarrassment.
Now I'm on my way to Texas with a half a tank of gas left, no more cash and a card that they have CLAIMED to fix SIX times already that still doesn't work so I again will have to take my time to pull over, mind you because of Citibank's screw up I lost 4 hours of drive time this morning, call them ONCE AGAIN and ask Citibank to fix the problem which I'm sure they will claim it's fixed only to have the same thing happen to me numerous more times. I joined the Army to fight for my country and do everything the way I am supposed to but can't seem to get a travel card to work after numerous phone calls so I'm assuming at this rate I will be getting to my post in Texas late because Citibank can't get their act together.

I have had multiple Citi bank credit card accounts, they have played this game before. I had a high balance on this credit card. I always paid on time. I just came into some funds, I paid off more than half my balance in one shot, thinking I'm going to improve my credit score, and pay off some of my debt. I thought I was doing something that made sense. Citi after receiving my funds, at the exact time of being paid, lowered my credit limit by that exact amount, making me maxed out on that card and ruining my credit at the same time. I don't understand how it's legal for them to do this. I told them I paid off a number of my cards, but it won't show up on the report until it's reported. They didn't care, they sound like robots, kept saying they made this decision after looking at my credit report which wasn't updated, crazy!! I want to sue them, can I? They are messing w/ my life now, can't let them get away with this practice.

2009-2010 reported Fraud issue related to CC I had not used in yrs. Today same problem. Spoke to many Citibank Fraud Reps and was passed from one person on to another. Emily said she would call back and did not, Hilary, reception with phone poor. Rather than return the call she insisted I call her. Sherida never heard of Hilary although I provided the employee # as stated to me on the phone. 12 hours later and there is no resolution. Complaints about Citi banks Fraud Dept. are abundant on FB. Nothing seems to have changed for the better. I never write letters or tweet about weak companies however this has gone on too far. My credit is affected. Your guidance and follow up is appreciated.

Citi misspelled my name on a credit card. Then misspelled my email address. I live abroad. I checked the box that I prefer correspondence via email. They have been emailing me at the wrong address, a mistake made by Citi. I now have 400+$ in late charges that I've never seen, because I've never received a statement. United Collections Bureau, their 3rd party collection agency of choice, harasses my 88-year-old grandfather. They receive no emails. They send no emails. They receive faxes, and will not make outgoing international calls. These are the worst kinds of human beings. Citi outsources all calls to call centers in 3rd world countries and makes it impossible to get clarification or a response, even after going through the faxing of details. I am cancelling my card, and will NEVER do business with these ** again.

CitiCard Diamond Preferred has recently withdraw 3 payments out of my bank account with only one with my authorization. They apologized for the "hiccup" in the system and told me this is not their fault. When I asked for reimbursement of overdraft fee they told me that my bank has to fax them a letter stating that the overdraft fee is real. Just to get to this point, I had to spend over an hour on the phone with multiple agents on multiple days. That is NOT a good customer service and I don't feel comfortable about their online banking system. Would not recommend getting this card.

My husband and I signed up for a Citi Visa card through Costco, and, long story short, I got my card correctly but my husband has been sent four different cards that did not have the correct Costco account number on it. I've even had Costco call for me twice, with me standing there to try to get the problem resolved, but either Citi CANNOT or WILL NOT send his card correctly. We really want to keep this card, but it looks like we're going to have to close it because they are unable to issue my husband's card correctly. Save yourself a headache. Don't do business with CitiCard.

HORRIBLE... I have been a customer with this credit card since 2002 (it is now 2016) and have ALWAYS paid off my card in full. I inadvertently missed one (!!!) payment last month for $41.98 and they charged me a $25 late fee. I even looked at my records and had "checked off" that I paid it (my mistake, granted). I called and talked to a supervisor and they would not waive the fee. $25 for a $41 bill? After paying on time for 14 years? Insane. I ended my contract and cancelled the card. Their loss, well, maybe not, since I always paid it off. They are CROOKS... *fuming*

CitiCard action is a robber! Its policy is terrible! E.g. "Citibank maintains the right to close your account at any time for any reason. We may do this WITHOUT prior notice to you." The even worse is "If your card account is closed, you will NO LONGER be able to earn or REDEEM your dividend dollars." I have been had citicard holder more than 20 years with excellent credit score. Suddenly they closed my account like their policy stated "at any time for any reason" and "WITHOUT prior notice", then they wiped out my several hundred dollars dividend money. When I asked them what's reason to close my account without notice, and why wiped out my dividend money they just answered this is their policy as above. Their action like typical robber!

I am 58 years old, have excellent credit and have owned a credit card since the late 1970's. I have never had a bad experience with a credit card company that approached the horrendous customer service that I experienced with this company. They treated my like an insect from the beginning or what they called a potential fraudulent occurrence (I bought a part from the local OEM car dealer!). They froze the card as they somehow determined buying a part from a factory car dealer was so unusual that it must be fraud. Then they consistently refused to believe who I was even though I provided the answer to the "secret security question", my SS number, my driver's license, etc.
Every time I tried to determine what the problem was they treated me as a non-entity and a fraud. They never, ever contacted me about the problem. I had to follow up time after time and when I continually answered their requests for confirmation of who I was they asked for more (again without ever informing me about the actual problem). Do not deal with this company if you expect to be treated as a valued customer... or even a customer. Cancel a card if you have one and you will likely be ahead as they will never treat you as anything other than a nuisance to their profit machine. Even cancelling the card was a challenge again because they refused to believe who I was despite the multiple confirmations and evidence I was forced to provide.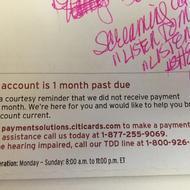 I am major fed up with this company. I received my statement in the mail and it stated right on the front page that "YOUR ACCOUNT IS 1 MONTH PAST DUE". Highly unlikely with a 845 credit score. I called them and I was told that the agents cannot see my statement - only my charges and credits. I want them to address the "Your account is 1 month past due" verbiage on the front page of my statement. They cannot.
I ask for a manager - not a lateral co-worker. I get a "manager" that I'm pretty sure was talking into the wrong end of the phone. I am struggling to hear him and finally requested for him to call me back. That did not ever happen. I called again, explained this entire thing to yet another front line agent and he tried to explain to me that he too cannot see my statement, only the charges and credits. He reaffirmed that I was not 30 days late and sometimes they post that line on statements so that it scares people into making their payment on time. The only people who should be scared are CitiVisa as they are in clear violation of the law - the fair credit reporting act.
I ask for another manager. Same thing with the quietness of the call - or they are told to all talk into the ear pieces of their phones. I requested that he please call me back on my cellphone (which by the way ends in 6300) - he stated that he heard me just fine and we will continue. Nope - so he hangs up on me. Never called me back, he has my phone number, it is listed on my account. I waited 30 minutes and called back and was told that he made notes that he did try to call me back but it was a business line (the 6300?) and there was a recording that the business was closed for the weekend. What??? This is my cellphone and I have waited for this call back.
The representative I spoke with stated that I should file a formal complaint against this "supervisor" and she would have a higher management person call me 'shortly'. SO I waited for 7 hours and never received a call. I call again - have to begin again in 'kindergarten' as 'they' say. He passes me to a woman who somehow believed that I worked for her. Imagine that! A Costco business member and a citivisa holder works for this chick who kindly took my call. Best part - her name was Nancy ID ** - she began to S C R E A M at me to listen to her. S C R E A M at me. To restate - this would have never occurred at AMEX.
With a credit score of 845 I have options - lots and lots of options. I believe that fed up and kicked around 'members' and customers really need to become customers of business that do not lie, hang up on their customers, and have a clear understanding that we do not work for them - it is clearly the other way around - they work for us. I did not get paid to contact them over and over today, yet they did get paid to answer the phone and S C R E A M, and hang up and lie.
Company Name:

CitiCard

Website:

https://www.citi.com/credit-cards/citi.action