Consumer Complaints and Reviews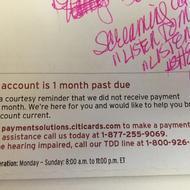 I am major fed up with this company. I received my statement in the mail and it stated right on the front page that "YOUR ACCOUNT IS 1 MONTH PAST DUE". Highly unlikely with a 845 credit score. I called them and I was told that the agents cannot see my statement - only my charges and credits. I want them to address the "Your account is 1 month past due" verbiage on the front page of my statement. They cannot.
I ask for a manager - not a lateral co-worker. I get a "manager" that I'm pretty sure was talking into the wrong end of the phone. I am struggling to hear him and finally requested for him to call me back. That did not ever happen. I called again, explained this entire thing to yet another front line agent and he tried to explain to me that he too cannot see my statement, only the charges and credits. He reaffirmed that I was not 30 days late and sometimes they post that line on statements so that it scares people into making their payment on time. The only people who should be scared are CitiVisa as they are in clear violation of the law - the fair credit reporting act.
I ask for another manager. Same thing with the quietness of the call - or they are told to all talk into the ear pieces of their phones. I requested that he please call me back on my cellphone (which by the way ends in 6300) - he stated that he heard me just fine and we will continue. Nope - so he hangs up on me. Never called me back, he has my phone number, it is listed on my account. I waited 30 minutes and called back and was told that he made notes that he did try to call me back but it was a business line (the 6300?) and there was a recording that the business was closed for the weekend. What??? This is my cellphone and I have waited for this call back.
The representative I spoke with stated that I should file a formal complaint against this "supervisor" and she would have a higher management person call me 'shortly'. SO I waited for 7 hours and never received a call. I call again - have to begin again in 'kindergarten' as 'they' say. He passes me to a woman who somehow believed that I worked for her. Imagine that! A Costco business member and a citivisa holder works for this chick who kindly took my call. Best part - her name was Nancy ID ** - she began to S C R E A M at me to listen to her. S C R E A M at me. To restate - this would have never occurred at AMEX.
With a credit score of 845 I have options - lots and lots of options. I believe that fed up and kicked around 'members' and customers really need to become customers of business that do not lie, hang up on their customers, and have a clear understanding that we do not work for them - it is clearly the other way around - they work for us. I did not get paid to contact them over and over today, yet they did get paid to answer the phone and S C R E A M, and hang up and lie.

My statement due date was last Sept. 29, 2016. I made a payment last Sept. 18, 2016 so as not to pay the charges. My bill was 13,466.87 & I made a payment only @ 13100 because I forgot the exact amount. Upon receiving the next statement they charge me with full interest charges as if I didn't make a payment of 13100. I understand if they charge me with interest of my remaining unbilled balance of 366.87 + the charges of 3.5%. But charging me with full amount of 13466.87 interest is such a greedy company. I am very disappointed the moment I join CITIBANK!!! VERY DISAPPOINTING.

I am a college-educated young consumer, looking to make her way in the world. I signed on to this card to help with my credit score and acquire a laptop at the same time. Into my college education, my father was given 6-months to live and put on disability. I managed to graduate on-time (barely) but this backtrack took most if not all of my savings. I wrote a paid in full balance for the entire owed amount on day 26 of the grace period after the promotional interest-free period, after calling to put my account balance in dispute, carefully detailing out the reasons why I will be unable to pay the full amount to due financial distress brought on by factors outside of my control. They cashed the check without calling/writing/emailing/pigeon-mailing me anything to state that the payment in full check did not actually count as paid in full. I continue on with my life, thinking I have that dark cloud over my head taken care of.
I receive a statement in the mail a month later, stating that they need more information. I write a letter back, giving them more information. I receive a statement a month after that, with the full interest of the eighteen months, plus a late fee. I write a letter contesting this amount. Nothing. I call to speak with a supervisor. Nothing. I am still taking care of this months after the entire balance was supposedly paid in full. I have a father in the hospital and better things to worry about than this. I am met only with robotic voices spouting carefully rehearsed lines of baloney. I recommend this card to no one. Please do not waste your time. There are more understanding and helpful credit card companies out there. I have always had good relations with my other credit cards. This one is disgustingly inadequate when lined next to its competitors.

I have been a Citibank customer since college and have of course made some silly mistakes which affected my credit during that time. My initial credit line was $500 and in all this time with incremental changes in my income CB increased my credit limit to a total of $2500. Within the last three years my income have more than quadrupled and so recently I requested if I was eligible for an increase. They reviewed my account and then determined they would increase it by $1100. When I asked why so little they informed me that I would have to have my credit history pulled to determine if I could get more. Frustrated I closed the account but then was advised to reopen it as this was counterproductive.
So I called and requested that the old account be reopened, they did after having to pull my credit history. Despite having that information they still have me the same credit limit. So I called and requested that it be reviewed for an increase since they now had the information. I was denied an increase and after speaking to the csp was informed that I would have to wait 6 mo that from the last increase to have them reassess the account and they would need to pull a credit check again. Citicrap.

Citi card from Costco was approved along with payment. A week later email stated it was not approved due to what they perceived as a wrong number and added late charge which was due to their incompetence. They waited until the late charge would apply. Called Citi and was informed there was no money in my bank debit account. Yes there was. Then gave me 3 different balances and admitted there was money in my account. Gee, how did they figure this out so belatedly? They could not explain 3 balances showing up and they got an accountant on it who added everything together and tacked on the late fee to boot.
They refused to bump me up on the phone to a higher level each time I called back and claimed they had no extension number and just gave a first name. Only thing they got right was the transfer call to the gal. Took very little time to cancel my Citi card. I'd almost swear this bank was controlled by a recent figure running for President. I'm well into my retirement years with excellent credit from credible banks and Citi is not.
How do I know I can trust these reviews about CitiCard?
607,960 reviews on ConsumerAffairs are verified.
We require contact information to ensure our reviewers are real.
We use intelligent software that helps us maintain the integrity of reviews.
Our moderators read all reviews to verify quality and helpfulness.
For more information about reviews on ConsumerAffairs.com please visit our FAQ.

I have been a Citi Premium Credit Card customer for 13 years, and have both a personal card as well as a small business card. In July, I noticed 2 fraudulent charges that were both from Ticketron in San Antonio, Tx (I live in CT) on my personal card, and called Citi and reported them immediately. The agent put me on hold, and then returned and told me that she checked into it, and that the charges would be credited back to my account, and that there was no need to cancel my card. Then, on Sept. 6th, I received a letter from Citi stating that they had closed their investigation and reversed their credit due to the merchant refusing to refund the money. I signed Citi's paperwork stating that I, nor anyone authorized by me, made these charges. My account had clearly been hacked, and Citi should have done their job and not have allowed an out-of-state charge to go through, without my permission, as other more reputable banks do.
On September 16th, I received another letter from Citi stating that they require my account to be closed before they proceed with their investigation, and I had to sign again, stating that "Neither I nor anyone authorized by me made this charge, and I have not received any benefit from this charge." I called Citi to check on the status of the investigation, and after holding on for 45 minutes, I was told that the merchant has until Dec. 1st to reply, so this nightmare is still ongoing. I will NEVER use CitiCard again and will be closing my 2 accounts and my husband will be closing both of his as well. They are absolutely AWFUL!!!

While other banks take one working day for collecting the documents CitiBank 10 days with the customer following up for 5 times and reminding them to collect the documents. This is the status for priority requests. The customer care keeps repeating about their handicaps of not able to help the customer weeks after weeks without adequate knowledge on the actual status.

I requested a refund for the $25 late fee assessed on my account for a $52 purchase. My daughter made the purchase (she is on my account) and forgot to tell me. I didn't realize I had a balance due until the following month. I did not purposely not pay. And paid it immediately. When I requested a refund and explained what happened - I was DENIED - with no explanation except that a late fee credit is only given if it was a bank error. What about valued customer appreciation. I was never late, and never requested a refund. Will not use Citi card ever again. There are plenty of other credit card companies who appreciate my business.

I have been on the phone almost an hour trying to get my account closed. They finally got it closed. One person told me 2-3 days to get a confirmation email. The other told me 24-48 hours. Look at the reviews and let them determine if this is a company you want to do business with?

My wife received her statement from her AA CITI card with a $6.57 late charge and $5.85 interest plus her $750 worth of charges from 2 weeks prior. She called to ask what was the late charge? She was put on hold for 20 minutes while agent looked into it. The "service" rep, Kenyette from Maryland, came back on and told her, "It's a valid charge and we cannot remove it". After being asked "What is a valid charge?" by my wife, Kenyette again went on a call hiatus for 20 minutes and came back with "The parking charge for $5.00". My wife asked "Where is the $5.00 charge located on my bill?". She was told it was on last month's bill.
My wife asked shouldn't there be a balance forward of $5.00 and how can there be a $6.57 late fee and $5.85 interest on a $5.00 charge? Kenyette just explained she could not do anything about the charges and they had to be paid. My wife said please cancel my card. Kenyette was more than happy to do so. Since I was listening to my wife's side of the conversation I told her to cancel my card also. Kenyette was more than happy to do so. Needless to say, we will NEVER do business with CITI again and there are other airlines besides American.

I was a user of this card since 2003 and was not able to use their reward system for any flights. The flights were pretty much the same price as Delta maybe even more. I had used this card to pay my bill with Dish for 5 years. I get a new card as the old one had expired and the first few payments go through fine and out of nowhere I start having trouble. So, I call CitiCard to get things squared away and they tell me they need my cell phone in order to verify some stuff. I just don't like giving out my cell phone and ask for another way, like an email. Next day I try using a landline and after 5 different phone calls and CSR reps nothing gets completed or confirmed. Can't wait to get a new credit card as that was the last straw.

I received my first statement from Citi on July 20, 2016. Two days later, I received a "delinquent account" phone call from an off-shore location. I phoned the 855 number for Citi and was told that I should have paid my "old" AMEX balance before the conversion (or before I received my final statement from AMEX). Now, three months later, I received a third statement from Citi that still has interest charges based on that one incident. I have made four calls to Citi, each time they state that the interest charges will be "waived" and there is either a zero or credit balance.
On Sept. 6, I was assured that the credit balance was about $4.00. Today, the new statement arrived; the only charge on it is an interest charge for $13.22. I am furious. In late July, I requested that the card be "frozen" so that neither I nor anyone else could make "new" charges against the account. So, each month Citi assesses new interest-only charges. This interest rate is higher than my state (Maryland) allows.
Today, I called, talked to two (2) CSRs who said that they couldn't do anything. I requested a supervisor, and was connected. Supervisor wanted to "explain" how the imposition of interest works. I am well aware of this, as I am an accountant. After 20 minutes, only when I informed him that I would pursue formal dispute channels with all three credit bears, and contact my state's attorney general, did he state that he was going to make a "one time" waiver for the interest and that the account now has a credit balance and the amount of that credit.
I will have to wait until next statement to see whether this actually occurs. I am aware that if I cancel the card I will forfeit my cash rewards, but no amount of cash is worth this kind of aggravation of negative impact on creditor scores. I have never experienced such reticence to correct a mistake that was not mine. I will not be using this card again.

I sent two checks on August 15, 2016 for the full balance to Citi Cards - Costco PO BOX 9001016 Louisville, KY 40290-1016, Macy's PO BOX 78008 PHOENIX, AZ 85062-8008. Unfortunately, my checks were handled without care. It seems to me that they were either lost, or placed in a drawer, or posted to another account. Whatever the reason, to today's date - 09/20/2016 - my money still nowhere to be found.
Since August 24, 2016 I have sent hundreds of faxes to: Citi Cards-Payment Investigations Payment Investigation Fax Number: 866-355-0138, Macys Attention: Payment Research 1-866-903-7463. Faxes are being sent along with the copy of the checks from my book record plus the copy of the checks received/cashed by Citi with dates 08/19/2016 on the back stamped by Citi; it says on the back: Results: NONE, nor a single letter I JUST BEING IGNORED BY THEM.
When I call the customer service or send emails (which is everyday since August 24) I am immediately transfer to COLLECTION!!! and to make it worst, Nobody from collection department or customer services department are aware of this situation. Macys's department SEEMS to be interested in solving the issue but STILL the same. Could you please help me to solve this mystery. Where is my money? It is Citi a real company? Do you have any phone or email that I may use to solve this issue appropriately?

On 9/8/2016 I sent a Cashier's Check to CitiCard at the Express Address on their statement. I called them on 9/16/2016 because it had not been posted to my account, and they said they had not received the check. I checked with the post office and bank on 9/19/2016. The check had not been cashed. I immediately called Citicard and they finally admitted that they received the check on 9/11/2016, but it was pending. IT WAS A CASHIER'S CHECK FOR OVER $1,000! It still has not been posted to my account. They cannot explain "Why?" I assume they want to collect interest!!! The payment is not due until 10/4/2016. I spoke to a Citicard Manager and he couldn't explain it. Said he would get back to me!

All of sudden, I can't access my account. Called the Citi, one guy answered the phone after over 30 minutes on hold, then he told me that his system has problem and has to transfer me to an account specialist. On hold again forever.

Last month this miserable and irresponsible bank cancelled my credit card because it had not been used for a while and refuses to pay me the points that I had earned before they cancelled the card. Their logic is that if a card has not being used for a while, they can cancel it and the points earned with that card will no longer be valid! I have never had a card cancelled because it was not used for a year or two. Now, the reason they did this was to retaliate against me for reporting them to the government consumer bureau. Remember, this is the bank that was rescued with taxpayers money when they were at the edge bankruptcy, and now they suck to that taxpayer any chance they get!

I paid my account balance off in mid Aug per the amount on my most recent statement. On 9/13, I received a statement in the amount of $6.95. I called and spoke to a rep who explained it was residual interest. I asked to have it waived as I am a long time customer and in good standing. My call was taken over by Kelly an Account Manager out of the Kansas City, MO office who stated it's a valid charge and cannot be waived. I explained this actually happened on my other Citi card and it was waived. She argued that it's valid and there is nothing they can do about it. I closed my account on the spot. I will never open another Citi card who exemplified what truly matters to them, money, even an amount as little as $6.95 is more important than customer retention.

I opened an AAdvantage credit card account issued by citi recently. I did not received my first bill. The $28.10 balance past due. In the second bill I got $25 late fee plus $.50 interest. I called citi customer service at 1-888-766-2484 on 9/10/2016 to ask for one time courtesy to waive the late fee. The woman citi credit card customer service representative told me that I am ineligible for waiving the late fee and refused to tell me why I am ineligible and what kind of people are eligible for waiving the late fee. Her attitude was so bad. I am very disappointed in the quality of the customer service provided by citi credit card. I had to cancel my card to avoid future disappointment.

Saturday September 3, my wife called Citi to inquire what the due date on the bill was, as we had not received it yet. She was put on hold, but gave up waiting after some time had passed. Shortly thereafter, my wife received a phone call from Citi who said our account showed suspicious activity and asked to speak to me. I was unavailable, so the caller gave my wife a reference number and asked her to have me call them back as soon as possible.
About a half an hour later, I called the 1-800 number on the back of the card. The operator asked for, and I gave her, the reference number they had given me earlier, my name, address, my Costco membership number, the last 4 numbers of my social security and my date of birth. I then asked what was the suspicious activity that they called about. I was told that that I hadn't provided enough information to establish my identity. I offered the 3-digit code off the back of the card and my personal PIN# that Citi had assigned me. That wasn't enough. They said I needed a cell phone number. I told them that I did not have a cell phone.
At this point I said I wanted to speak to a supervisor. After being put on hold for several minutes, I was told that there was no supervisor available. I was also told that my account was suspended until a supervisor cleared me to receive the information I called to ask about. I then offered up my wife's cell phone number, since the operator continued to insist that I needed one. I explained again that I did not own a cell phone, but I was providing my wife's cell phone number.
The operator took the number and after a few minutes told me that the cell phone number didn't show on my account. I told her that was because it wasn't my cell phone. She then suggested that I contact my wife's cell phone service provider and get my name added to her account. I told her exactly what I thought about that suggestion and demanded to speak with a supervisor. I was put on hold again for several minutes before being told there was still no supervisor available. I was told (repeatedly) that they guaranteed that a supervisor would get back to me within 24 hours and my account would be suspended until that time.
Let's review: THEY called ME to report "suspicious activity" on my card and would not disclose the information to me because none of my personal information, nor the PIN # THEY assigned to me, nor the reference number THEY generated was not sufficient to establish my identity. Instead I am told I must obtain a cell phone in order to allow them to release information to me. Oh, and the "guarantee" that I would be contacted by a supervisor within 24 hours? It has been 96 hours since this incident and I have not been contacted by ANYONE from Citi.

I received a Citi bank Visa Costco card to replace my Costco American Express. I tried reactivating the card and contacted customer service several times and every time I manage to get through they have an excuse why the card was deactivated. The last excuse was them having the wrong address despite me verifying that address countless times. Today August 25th I contacted Citi Bank Visa again and I was transferred several times from one agent to another and each time them asking me the same questions. Finally after spending over 30 minutes with an account specialist the guy hanged up on me. I'm so fed-up with this lousy customer service and horrible bank.

I noticed that the post date and transaction dates for all credit card purchases were the same. The transaction date is the date the card is used and the post date should be the date the credit card user's account is charged. I notified both Costco and CitiCard to have the post date changed. They told me that they always make the post date and the transaction date the same. By keeping the post date the same as the transaction date, consumers can be taken advantage of because pending charges which are not legitimate normally take 30 days to drop from your account. Typically you are alerted about these charges because if your account is charge, the post date is the date you are charged, they come to the top of your electronic statement and you can then take action.
If a non-authorized pending charge is approved by a company on the 25th day (random number), the customer will have to scroll down their register and notice the word pending is gone. The system CitiCard has adopted puts credit card users at risk to be taken advantage of and it can easily be fixed if Citibank would simply make the post date the date the credit card users account is actually charged.

My recent experience with CitiCard has led me to write this review. CitiCard has left me with a bad taste in my mouth and may not use them for future travel if I don't cancel the card before then. Thought the credit card company would look after me given the issue was based on wrong information provided by their staff. I called to confirm baggage check in allowance when flying to Aruba. I was told by Citi account team that "baggage for the cardholder and their companions up to 4 checked baggage would be free". However this was false. At the AA counter, I had to pay for each bags checked. I thought I could get this cleared up and that CitiCard would reimburse me… They failed! They would not reimburse me.

I have several credit cards that I use. I have a high credit score and pay my credit bills 100% each month. I do not carry any debt. I have had a CitiCard for several years. I had not been using the card regularly as I was using Credit Cards with a cash back option. I decided to get out the card and use it for an upcoming trip. I tried to log into my online account and I was not able to log into my account. I called the customer call center and was told my CitiCard had been closed. I never received notice and the dates on the card was still active. If I had taken the card to use on my trip only to find out en route that the card had been cancelled I would have been pretty upset.
When I spoke to the customer no service person and was informed the account was closed I asked to speak to a supervisor. They said they did not have supervisors. I demanded to speak to someone else who glad handed me in their condescending tone and manner. As a result of this, I will never open another Citi Account. Thankfully, with an 820 credit score I have my choice of which credit accounts I choose to use. Given the experience of having my account closed without notice (while the card still has an active date) I will remove CitiCards off my list of potential creditors and stay with credit accounts with better terms.

I used to think having a photo on my credit card was the best thing to avoid fraud. How I was mistaken. I had automatic billing but didn't check the statement until a few days later. I noticed 6 unauthorized charges to Starbucks that had been paid. Then I noticed this month another 8 more charges to Starbucks for gift cards. Why their fraud team wasn't alerted baffles me. I tried calling right away but had to hold 30 minutes to get a person. I had them cancel my card and I cancel my auto payments. I got disconnected and had to call again - waiting 20 minutes to try to get someone to complete this conversation. While holding, I sent an email to their secure messaging - figuring that would be faster.
Every day I would check the secure message and it would say that message "wasn't read". The next day I canceled my card. My email was never read! I called several times afterwards and talked to different people in Customer Services and Fraudulent Services. I only received a few emails responding to my disputed charges so I called and asked if they had received my 14 disputes and was confirmed yes. Yet, it really wasn't so I had to go back and dispute them again.
A month ago, I had asked if I would get a refund since I have canceled my account and did not want a replacement credit card sent to me. I was told that my account would be credited the amount. I mentioned again that I canceled my account and was told that I had to wait for it to show on my statement and then I should call back and request a refund to be sent to me. I got a statement and the credit was the wrong amount - I called again and was told a check would be sent in 5-7 business days. It's been over a month and I'm still waiting to receive my refund check. I have never experience such horrific customer service from a credit card. It appears their customer service and fraudulent services systems don't talk to each other so no information gets relayed to each other.

I have never experienced fraud on my credit card account with AMEX for more than fifteen years. Within weeks of receiving my Costco Citi Visa, I have had two fraud charges on my account and weeks after my Amex card had been cancelled, there was one attempt on that card too. Is anyone else experiencing this problem? Does Citi have a problem?

I have been a long time member of Costco. For years I have used their Costco American Express Card. Recently, I was forced to switch to a Citi Visa Card through Costco. One of the perks, I thought, was the fact all their printed paperwork and information online stated as a new Citi card holder I would have .0% APR for seven months. After receiving a $65.00 interest payment I spoke to Citi who advised it did not pertain to members who previously held American Express Cards. I paid the interest and closed the card due to misleading information from Citi. Only took one month for me to see what Citi is made of. Both Citi and Costco have lost a customer.

I received an e-mail informing me that my payment (which was substantial) was late on 8/12/16. I called immediately to find out what was going on and was told I had not made a payment. I use my bank's bill pay feature and looked up the cancelled check immediately and printed out a copy. I gave Citibank all the reference numbers on the transaction and the cancelled check number. I talked to 8 different CITI customer service representatives over the last 3 days and was told, "a temporary credit will be issued while we look into this issue and someone will call you back within 24 hours." 24 hours passed nothing. Checked my account for credit was issued and still showed late.
Called again. This time I was told that there was nothing they could do and I asked for a supervisor. This supervisor said that a case had been opened and that in another 24 hours someone would call me back. Guess what NO CALL. Called again. Had to go through the whole story was basically told that I was lying that no payment was made. Again asked for a supervisor. Told her I have the cancelled check in my hand. I told her I have all the information and transaction numbers that they needed to trace the check. "Someone will call you back in 24 hours."
Today after NO CALLBACK I called again. Got a supervisor who in a very condescending way said that there was no case opened because I had not supplied them with proof that I paid. He says "imagine if we just started handing out credits to people who told us they paid." I was speechless. NOTHING HAD BEEN DONE FOR 3 DAYS. I don't know where to go with this. I guess I will try and see if my bank can do anything. I am SO frustrated as this is completely Citi's mistake and has eaten up 3 days of my life. Horrible horrible credit card. Don't ever open a Citibank Credit Card.

2 weeks ago (August 3, 2016 12:20pm) I deposited money into an ATM located IN A CITI BANK BUILDING (1701 E Lake Ave, Glenview, IL 60025) to pay the due on my card and the ATM took my money and did not print any proof that I had deposited 137 DOLLARS!!! Immediately after this occurred I went up to a clerk to inform her of what happened and she rudely said "Call the card. We cannot do anything about it." It is shocking to see that no one in the bank could help me with an ATM located INSIDE A CITI BANK BUILDING. I was extremely upset, so a man who sits at one of the bank desks offered to call the card with me. He called and reported what had occurred. He told me that the money from the ATMs is collected every Monday, yet I still have not heard anything since. How is it possible that this has not been resolved if there are cameras IN THE BANK which can easily display me depositing money!!??
When I called CitiCard they told me no deposit was made... They then told me that they would begin an investigation that should take about 4 days... Well it's been 2 weeks. WHERE IS MY MONEY!?? Every time I call now they change the time frame for how long an investigation takes... Funny how each representative gives a different date for the investigation. It began from 4 days, then 2 weeks, and now at another branch they told me today that it will take 90 days... Now if I do not make a minimum payment I will be charged additional fees OR my credit score will go down! Clearly I am not at fault for this situation.
CitiCard is extremely disorganized. I have called many times. Wasted a ton of time to call and speak with a representative. One day I waited 29 minutes just to speak with someone!! I had to hang up because the amount of time I waited was absurd. It is ridiculous that I cannot even trust an ATM anymore to make secure payments. I have already made friends aware of the terrible service provided. I will be sure to NEVER trust CitiCard again.

Back in 2014, I opened a secured credit card and deposited $200 as minimum requested by CitiBank. I love this card and its features. Early 2016 Citibank automatically closed this card without asking if I want it closed. They went further and awarded me a Citi Diamond Card with a credit line of $200. I called Citibank telling them I don't want this Card and not at the moment. I even went to a Citi location in DC.
When I called, Citibank agent said nothing has changed in my card, my previous card number still remains the same and that it's just an upgrade. But, the irony about it is a lot has changed from my previous card. From interest charged on every dollar used to cash advance fee as well as the APR. I called Citi credit again and said I don't need this card and I want my previous card reinstated. Unfortunately the card was already cancelled by Citibank.
The unfortunate part is, they cancelled my secured credit card and kept my $200 deposited. I called citibank and asked them to close the new card card they are forcing down into my throat. The closed the card and at the point of closing the account, I asked the agent to transfer any amount I am owing on that card from my checking account to that account so as to zero the balance out. She did Zero the account and from then I was told my account is even and the card will closed.
I asked about my $200 deposited into my canceled secured credit card and she transferred me to another entity. Waited for over 15 mins only to be told the account am referring to is not found and that they don't have that account anymore. I was referred back to citi credit where I waited for over 20 mins only for someone to come on the call to dropped the call and never bothered to call back.
I kept calling days after days, weeks after weeks, months after months to no avail. On another day I was told to call citi checking to find out if there was any transfer from citi credit to my checking. Unfortunately there has never been any transfer. I called citi credit again and they said they will open an investigation and I will get a response in less than 10 days. It's past 10 days and there is no response.
I called back and I was told I have an unpaid balance of $45. The agent insisted I have a late payment in a closed account. When I asked for clarification I was told I had a cash advance fee and interest levied after the card was closed. I explained to the agent my secured credit card never posted me a cash advance fee, and at the time I made a cash advance, I was using my secured credit account. She offered to reverse the amount and credited my account. But it's still showing I have unpaid balances. I called back but no solution.
Citibank, is reporting a negative value in my account and my credit report. Citibank has refused to return or make statement regarding my $200 deposited for over 6 months with no reason after they closed my account. Citibank charges every individual $35 for every $1 overdraft or NSF fee every time a transaction is made. At this point I don't know what else to do, who to call or who to complain at citibank. Because anyone you call on their preferred numbers is a crook. I Need help candidly. Thanks.

I was in a Costco 300 miles from home. I present my card and am told it's turned down. I call Citi and answer the security question. I'm told it's the wrong answer and the call is ended. I call again, same thing happens. That's 12 minutes gone. I call again and wait for 28 minutes to speak to a customer service rep. Meanwhile, I make my purchase with another Visa. When I finally get through, I'm told it was a fraud alert. I give the rep my security question answer - and yes it's the same one I gave the automated service twice. The rep tells me my card shouldn't have been turned down and that I should not receive fraud alerts when I'm still in the issue state. I check my emails and I find Citi's fraud alert dated a couple of minutes AFTER I got off the phone with their customer service - FAIL. Gotta love cellular phones for their ease in tracking calls. Costco needs to lose Citi as their Visa.
Company Name:

CitiCard

Website:

https://www.citi.com/credit-cards/citi.action