Consumer Complaints and Reviews

I traveled out of country and I tried to make a payment before due date from another country but it didn't work by phone some reason. Then I just came back my home and made a payment. It was been late 4 days and they charged $27 for that and I explained to employee. Also I begged from supervisor Sasha but she said she couldn't remove that for me. It was very first time it ever happened.

I cancelled my Citi Mastercard today after keeping it as a backup to my Visa card for many years. The reason being that Ooma (the VoIP company) charged my CitiCard for advanced 2017 payment in Feb 2017 whereas I had switched to Time Warner (now Spectrum) sometime in Mid 2016. Citi wanted me to produce email evidence but unfortunately, it was done over the phone and if you know Ooma, they don't use emails very much, their website even does not have a 'Contact Us' or 'Help' button. Also considering that it was not some service which Ooma had already delivered, instead it was a charge for future services without my permission or notification, there should be no way that Citi should allow such a charge - but they did. In my conclusion, Citi did not protect me as their longstanding customer. I would not recommend Citi credit cards to anyone.

I have been a Citicard customer for over 40 years. I had a situation (which I previously posted about) where I used my Citicard for an online purchase of cosmetics. This turned out to be a scam where you purchase the item and it turns out to be a recurring subscription. I called Citicards when I saw charges of almost $300 that I did make. I filed a discrepancy report and they reversed the charges at first. The company then sent proof that I received the products (which I did but not at the amount they charged me). They also sent a screenshot of what they say appeared on their website. This was erroneous. Needless to say Citicard put the charges back on my account based on this. After hours of calls to every department they refused to honor my loyalty and honesty. They said the last resort was to write a letter to Citicard and address it to President with an address they provided. I was told I would then hear back between 7-10 days.
It is now 3 weeks since I wrote them and I have heard nothing. I even tried calling the company where I ordered these items. Every time they said a supervisor would call back but never did. Citicards needs to value and respect the rights of a loyal customer. Not the lies of a company. I will be closing my account shortly after 40 years. I know this would never happen with American Express.

Citibank card holder since 1995. Credit limit 25k. Needed to send money to friend in Florida. His bank wouldn't take cash, so I figured I'd put on my MasterCard. Tried to send $500. Card declined. Called customer service and she informed me of 400 limit. She said she'd talk to supervisor for the 100 additional. Supervisor said, "No." I've been a loyal Citibank cardholder for 25 years with a credit score in lower 800's, and they turned their back on me. Many better card companies out there. Find another!

They categorized a transaction as a cash advance. It was only on the last day of the credit card cycle they did this and charged interest. Customer service is full of smug bots that do nothing but toe the company line. DO NOT do business with them. The absolute worst credit card company I've dealt with. Class action lawsuits need to be filed.
How do I know I can trust these reviews about CitiCard?
794,387 reviews on ConsumerAffairs are verified.
We require contact information to ensure our reviewers are real.
We use intelligent software that helps us maintain the integrity of reviews.
Our moderators read all reviews to verify quality and helpfulness.
For more information about reviews on ConsumerAffairs.com please visit our FAQ.

After opening account they locked my account after a few days. Calling customer service they ask for additional information beyond the dozens of things already provided. Phone number, nope we need another one... nope can't use the other one (getting a bit annoyed at this point). So now they as for another banks credit card (20 mins on hold, "Sorry we can use Capital One..."), next credit card ("Nope sorry we can't use Chase... ???????), next thing is the person say a manager will call you in 48 hrs and hangs up. Odd, I think. So I wait 24 hrs and somehow they route me to the same incompetent moron who proceeds to hang up on me again. So as I throw the chopped up pieces into the trash. I wonder... how much more of my time are these people going to waste of mine before they sell my personal information to someone.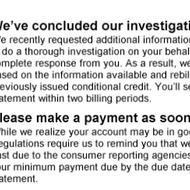 I have an unauthorized use of charge on my statement. Opened a case, they said because the card was used with the chip (I never did for this merchant) I can't get back my money. Basically Citi claims that we have 0% liability. Well, that is not true. If you can't prove it you will be reliable. Worst credit company I ever dealt with. I do not recommend Citi! Their customer service is equal to=0. Citi should be sued for making claims like 0% liability when they make you pay for fraudulent charges.

Last year forcefully I was given a credit card which I didn't activate since I already had one. The executives told me no money would be deducted. Now I see in my current statement that they have asked me to pay 1500+150 rupees for the card fee. This is fraud by Citibank and they don't even respond on calls and emails. Please help me for such cheaters.

While the card promises 4% reward "CASH BACK ON ELIGIBLE GAS WORLDWIDE INCLUDING GAS AT COSTCO for the first $7,000 per year and then 1% thereafter", I find that 95% of the money spent on gas purchase was calculated at 1% cash back while 5% or less was calculated at 4%. And I'm far from reaching $7,000. This is a CHEAT. I tried to look for the definition of "ELIGIBLE". Wasn't easy to find. Here it's: "Certain Non-Qualifying Purchases. You will only earn 1% cash back, not 4%, for gas purchased at superstores, supermarkets, convenience stores and warehouse clubs other than Costco or for fuel used for non-automobile purposes." I'm not using it to buy gas anymore outside Costco.

I was initially excited to hold a Citibank credit card and loved the idea of the double cash rewards. I wasn't thrilled about my credit limit; but thought I'd give them a shot and just request a higher limit in a couple of months. I've had the card for almost a year now. I've requested a limit increase and have been given the runaround. My credit score is in the mid-700s and my utilization is well under 30%. When I was denied 3 times for a limit increase, I called Citi requesting an explanation. They claimed I was delinquent on a credit card. I told them that that was a flat out lie and that I've NEVER been delinquent. The representative fought me nail and tooth and said that he just couldn't help me because that's what he has on his end. I check my credit reports and scores religiously; I even told the rep that I would fax my report it in to prove it. His response? "That won't be necessary; unfortunately, there is nothing we can do".
This company is full of it!!! Their customer service sucks and as a consumer, I hate being lied to!!! I have since stopped using this credit card as my primary card since they don't know how to treat their customers. They should focus more on their customer service since that's where they seem to be lacking the most. Overall, I used to recommend this card to others; but have since stopped doing so since they don't know how to be honest and would rather call the customer a liar than accept proof of the truth! I am no longer pleased to own this card and only have it because I don't want to hurt my credit score!

First off thank you Tess (the early fraud department lady) for wasting my time. You are by far the moronic, idiotic person I've ever had the displeasure of dealing with. Citi had to verify that it was my account so they decided to lock my card. I called them with my cellphone. They say they can't verify so I have to call with the house number. Called back with the house number and they said they can't use that either. Now they're asking me for other credit card account numbers with different banks and asking me for the phone numbers to verify my information. After God knows how long they say they can't verify at all and that a supervisor will call me back in 24-48hours. I ask them what number they're going to call me back on since both numbers can't be used to verify that it's my account. She tells me that's for them to decide.
I asked to speak to her supervisor and she says okay and puts me on hold multiple times to come back and tell me that once again they'll call me back 24-48 hours. I ask what number and she goes, "Your cell phone". I asked her, "The number you said you couldn't use to verify?" She says, "Yes". How does this make sense?! Then I asked her to transfer me to customer service department... then she proceeds to tell me that the call may be monitored and recorded for training purposes. I told her, "For training purposes? You're gonna train someone with that stupid nonexistent experience?" Then she said, "I'll transfer you".
After two min of holding and listening to stupid hold music, she comes back on the line and said the customer service department can't pull up my account. Wtf? They can't pull up my account that I clearly have with them? And I said I asked you to transfer me, not put me on hold. She says that she already transferred to me. I laughed at her and said, "No, you put me on hold for two min and didn't transfer me." I hung up on her. She's really waste of skin and she's the reason that Citi can have great customer service. WARNING, IF TESS PICKS UP THE PHONE, CALL HER A FRIGGIN' MORON AND HANG UP THE PHONE. She's clearly picking up from like India or something. She couldn't even speak proper English.

I used the ThankYou Citi credit card customer program points to book a Hilton Hotel room through the Expedia site. I thought as I completed my transaction to pay for the room, which was 16000 points plus a PayPal transaction of $52. I follow up on this transaction and the points were not used and Expedia charged my PayPal account the full room charge of $162.22. The hotel is not located in or near the Houston Galleria area. The hotel is not a 4-star hotel. If you go to the Hilton's Honor website to book a room for this hotel, SW Hilton Galleria, the room is only $99; reduced to $75. Through the Citi Credit Card ThankYou Reward Program; Expedia is double charging customers in order to make a good profit from Citi credit card's customer. Please beware of the deceptiveness of both the ThankYou program and Expedia.

I made a typo on my application. I called to fix it. Staff was rude. Didn't understand English. Indian customer service representatives. Never doing business with them! Thank God it was only a hard pull. No need to go here. Do your research folks. My mistake I did not!

Started on 3/17 as 0% purchases, until 11/17. So far, int charges are made which tells me have to go back to my habit on paying off in a monthly basis. Citi tracks your path and finds the way to break your habit! Hope paying off will be forever a 0% int charges, otherwise banks will create a 'fee' for being an outstanding customer.

I have an excellent 30 year credit history. I have paid off a mortgage and have had many credit cards with very high credit limits. Took out a new Citibank double points card. Frozen twice in the first month. Second time called in to customer service to reactivate - they cannot establish my history and want me to fax a social security card and recent statement to them. I don't have easy access to a fax and certainly don't want to be sending sensitive information that way anyway! So this is not happening. I paid off my bill (before it even posted) and they can contact me if they want me to use their card.

Let's put it this way. Never have I been late for payment. I always pay the max amount instead of minimum. I mailed a substantial payment on the first. It was received on the sixth. It still hasn't been posted. I'm not bragging but my credit score is very high. I was told it did not get posted because got there on the weekend. Bull! They are holding it because it says pending online. My card is all but paid off now.
Recently, the company keeps sending emails and checks with low APR to get a balance transfer. I have another card I am paying off also. So I decided to take out a balance transfer to have a small payment. I called and set up the transfer with an employee. I told him that it would have to paid by the 9th. I was told today that basically they had mailed it. Banks don't mail transfers. Online it also says pending authorization. That's like I said after weeks of letters and emails to take a loan. Bad business!! One employee hung up on me.
A credit card company that lies imagine that. I assume the account manager I talked to after I was hung up on thought I was some uneducated idiot. I guess I am naive. I always want to see the good. The last thing I have to say is these card companies want you to fail. I truly, truly believe that. Then lied to me and talked to me like I am an idiot. Citibank don't get too big for your britches. You won't have a chance to talk to treat me like this anymore. Maybe think about being a little more polite and treat customers better. Holding my payment AND not paying my card off will not happen again. Just because I sent a large check your company's policy is to hold it. Sick really.

It looks l am in the same boat as many other Citi customers. I have been following up regarding the same issue past a month and all I hear is we are taking notes. There were about 5 fraudulent transactions made on my card and except for one transaction the rest have been secure credited. They have transferred that fraud transaction's amount to my new card and when I keep asking when I'll get that money back I don't have an answer from them. I even get an email asking me to update that merchant on whose name the fraud transaction has been made with the new credit card details :). In my 6th follow up call after a 50 min. long call they disconnect my call. The best part is now they say that I have accepted the charge for that fraud transaction. They have missed the logic that 2 transactions have happened on the same merchant and they credited back for one transaction and the other one I have accepted.
It's such a frustrating incident to follow up on someone else fault who made a fraud transaction on my card and I had to call these guys and report it and finally I have to follow up with them every now and then and I finally get a message saying I have accepted the charges for which I haven't even confirmed. Given a chance I would come out of Citi card association and never take up any other business with them. Citi cards are pathetic and never customer friendly. I am still waiting for their call which they said I'll be called back to check the update.

We have three Citi Cards. We do not nor did we ever request another one. We never received anything stating we had received one. We never received a card either. Yet, we just received a bill for our Costco membership on this non-existing card. Tried to cancel it and pay our membership with a card we do own and have in our possession. They are putting it on our credit now that this is in dispute. Not sure if Costco or Citi is the worst company ever. But neither has any ethics. We never signed for a new card and never received one.

Dishonest, do not treat customers with respect and fairly! I have a Home Depot card that is held with/under, Citibank. I recently check my credit report and found that Citibank has me delinquent for 60 days, for a bill that is less than 30.00 dollars. I have had this card since 2007 and my credit report shows I have never been late! However, I called Citibank to discuss my issue and I was told a cease and desist order was put on my account, to not call me about this $30.00 dollar bill. I was also told that I requested paperless bills. Citibank said I have been paperless since 2008. I sent Citibank proof that I have been receiving my bills by mail; I told them that customer service told me they do not show anyone calling my home.
However, I was told I had to mail a complaint letter to the president of Citibank. I wrote my letter and received a response from Elizabeth **. I called Ms. ** and she told me if I can send in proof that I have been receiving my bills by mail. She will have my credit updated as good faith. I sent this proof to E. ** with a copy of a letter showing someone was trying to fraudulent charge my email address. I received a call from E. ** today and she said they will not update my credit history because they have something on the system that shows I opened an email in 2016. She said, "Why didn't you pay your bill?" In short, I have had a credit limit of $3900.00 for years and now I would not pay a bill for under $30.00 dollars?
Citibank said I will have to go to court to have the 60 days removed off my credit history and Ms. E ** wished me a good day. In short, Citibank does not care about me and the proof that they are showing clearly was done by them! Why wouldn't I pay a less than $30.00 dollar bill if I was in the know about this bill? They do not care. However, I paid this bill as soon as I was told about this bill! I continue to receive letters from Home Depot stating, "Thank you for being a loyal customer, since 2007." WOW.

I've done business with Citigroup for decades, even credit cards, but I applied for a new reward card a month and a half ago. I never received any correspondence from them since, including statement/bill... Whatever. Yesterday I finally get a notice that they are going to be nice (paraphrasing) and not charge me a late fee since it was my first time EVER. I said, "Well thank you very much and I would pay my bill in it's entirety immediately." I made the wired transfer and then I look over the statement and they charged me just under forty six bucks for being four days past due.
Now wouldn't anyone in their right mind think that they would have had the decency to send me an e-mail statement or snail mail before the bill was due? This is not the only bill I have, but they all let me know when a statement is ready and I assumed that they would do the same. I called in to complain and request that since they never sent me a bill that they should return my interest charge... "Not gonna happen" is what I have been told all day yesterday and today. I'm done with their credit department, banking and investments. They claim to have your back, but then stab you in it at their very first chance without any warning. I would not advise anyone to have dealings with Citi... Period!

IMHO Costco American Express was/is heads & shoulders above CitiCard. The deal is done and there's no going back for COSTCO, but I have to seriously rethink the value of a COSTCO membership vs the aggravation associated with all things CITICARD. In the less than one year since the transition from AM-X to Citi, I have had to deal with CitiCard on so many issues (from charges to website access) that I have lost count. Can't remember ever having a problem with AM-X.
One thing for sure, I'm downgrading to a basic Costco membership and I'll go back to using my Am-X and get my cash back rewards from AM-X. In line with this, I'll limit my COSTCO purchases to strictly need based/super value. Can't get it anywhere else. BTW - as I've been forced to look at alternatives, I've found competitive grocery pricing on many items at some of the larger grocery chains...might find I'll come out ahead with COSTCO...less impulse buying.

Let me start off with how wrong the Citibank transition was carried out... 1st off we chose not to opt to get the Citi card and made no attempt to do so, rather we continued to use our Amex card for ID to get in the doors and would pay cash or use a debit card as payment. My husband got a call stating that we owed over $400 on a past due Citi Costco card. OK so how did that happen? Well apparently they opened the card without asking us, and sent it in December to an address that we sold and moved from in November?
Additionally they charged the annual membership on this unauthorized account, proceeded to send billings to an address we don't live at and I am wondering how they approved a line of credit for us that we did not authorized a credit pull... Now we have a late payment since December on credit, and an inquiry we didn't authorize and we have always had stellar credit. I work in the mortgage industry. This is a lawsuit waiting to happen, it has class action written all over it.

Went online and applied for a card. My credit score was very applicable. They called me for information. The only thing they wanted was how much rent and how much yearly income. They turned me down and I was told that I couldn't receive a reason by telephone. I would have to wait and get it in the mail. Since my credit score has been very good this was my first denial. And my guess is because of yearly income. I believe this is not a reason to turn someone down. I've had seven credit cards over the last few years.
I dropped four after paying off about $5000.00 dollars. I've never had a late payment on any. I see no reason that I should have been turned down for my application. And the fact that the customer service wouldn't give me a reason over the phone shows that it is very poor service. And the bad thing is this will make my credit score drop because of the turn down. So evidently customer service doesn't care about this. I would suggest unless you've got plenty of yearly income that you not apply to this company for credit card service.

I have been a Citicard customer for many years. I have always paid the balance in full every month. On the statement for February 15 to March 14, 2017, I was charged a late fee and interest. My check was mailed from middle Tennessee and was going to their Louisville, KY office. I mailed the check and saw my mailman grab the envelope from my home mailbox on March 6, 2017. At most the check would take four days to deliver which would be well before the due date. Citicard posted the payment on March 15, 2017 which was nine days later.
I called their customer service number and asked the customer service agent (a woman in India) to remove the charges. The fact that they took so long to post my payment was their error not mine. She refused. I asked to speak to her supervisor. I was on hold for more than ten minutes. The same woman came on the line telling me someone would call me within 24 hours because they were busy and had high call volume. I gave her my work telephone number as I would be at work. No one called.
I then wrote a letter and mailed it March 22, 2017 explaining the same thing I told the customer service woman. I received a form letter dated March 29, 2017 refusing to removed the late fee and interest charges. I was angry. In all the years I have sent payment to Citicard there was never a problem. On April 5, 2017 I mailed a letter to the attention of a customer service manager. I stated the same facts from my original complaint and said if the charges were not removed, I would cancel my account causing them to lose all the fees they charge the merchants where I make purchases.
I received another form letter saying pretty much the same thing their last form letter said. It was obvious that a manager or supervisor had not even read my letters or checked to see that my payment history was perfect! I have never been treated so shabbily! I will be closing my account next week. I have already gotten another credit card with Synchrony Bank. I do not recommend Citicard to anyone!

Costco should go partner with another bank. I used my card for literally everything from travel to gas and of course, at Costco warehouses. I got a rebate for $1206. Apparently since I pay my bill in its entirety every month, Citi wasn't making enough interest from me. Without notice from a letter, phone call or email, I went shopping at Costco and my purchase was denied. DENIED FOR NO REASON!! I called Citibank Customer service and they couldn't even figure it out. I had to write a letter. The Citibank representative said that was the only way to contact whoever canceled my card. No telephone number, no email to write to. I have to rely on "snail mail" and the Pony Express.
Citibank is obviously still in the 1980's. That is why their stock price was $4 and they had to reverse split to make their stock look attractive at $40. Yes, you had to give up 10 shares for every 1 share. If they had a good business ethic, maybe, just maybe people might use them more. Costco prides themselves on great customer service and I have never had a problem with them since I joined Price Club in 1985. To partner up with a crappy bank like Citibank really lowered their standards.

Got scammed with a trial offer. Called to dispute monthly recurring charge that I did not authorize. Citi closed the account, temporarily issued a security credit and issued a new card. Was eventually told by Citi that they could not help me because the company showed proof they delivered the product. I argued with them to no avail. I Called the company myself and obtained a full refund of the unauthorized charges. Citi applied the credit against the charges on my old card and reversed the temporary security credits reconciling the account to 0 as they should have. Some of the charges however were transferred to the transaction history of my new card by Citi.
When I called to have this corrected, I spoke with a woman who treated me like an idiot, refused to listen to me and kept insisting that I was wrong. I can say with the utmost confidence that if you are looking for a credit card company that will provide you the consumer with protection from scams and fraudulent activity DO NOT, I REPEAT, DO NOT APPLY FOR A Citibank Credit Card!!!

Weak Bonus Programs & Frustrating Cash Rewards Redemption Process - When making one of my infrequent visits to Costco in late November 2016, I unfortunately forgot about the termination of their relationship with American Express. Out of all the credit card issuers out there, I would have to rank Amex at the top of the list with respect to service and an overall positive customer experience. I've been an American Express card holder for 20+ years, and plan to maintain an account with them for the remainder of my life. I was dismayed to learn that the time had expired in which American Express was an accepted form of payment at Costco.
During my visit, I only had an American Express Blue and Citi Dividend MasterCard in my wallet. Fortunately, or rather unfortunately there was a Visa representative at the Costco location ready to take my information for a new Visa product on the spot. Without spending too much time evaluating the various program offerings, I decided to register for the "Costco Anywhere Visa Card by Citibank". My low risk credit score granted immediate approval of an account. I received a temporary paper credit card printout for my day's shopping activity.
One of the main reasons I had chosen the "Anywhere Visa Card" was the ongoing accumulation of cash rewards as part of my yearly purchase activity. The program sounded similar to that which is available through my "Citi Dividend MasterCard". So without reading too much of the fine print, I moved forward with the application process. Only later would I discover that my experience with "Anywhere Visa Card" would pale in comparison to my positive experience with "Citi Dividend MasterCard".
I soon learned that once you accumulate a certain threshold level of cash rewards, you're required to print out your reward certificate, and take it into a Costco location in order to redeem it. This is nothing like the "Citi Dividend MasterCard" program where once I reach a $50.00 threshold, selecting the redeem option will automatically mail a check to my home address. With the "Costco Anywhere Visa Card" program you actually have to drive to a Costco location, get into a customer service line, and either obtain the desired cash value or use the amount for purchases! I also believe the redemption is limited to a yearly withdrawal.
In addition to the inconvenient cash reward redemption process, the other incentives have little to no appeal. 4% cash back on gas purchases, and 3% cash back on restaurant and travel seemed appealing at first until you dig deeper. I eventually learned that only certain gas stations and restaurants qualify for this perk. After running some yearly projections on what the cash back amounts, it seemed like more of a hassle than a benefit. The variable interest rate on the card also appeared excessive compared to other credit card options.
Today I cancelled my yearly Costco membership which was automatically billed to my "Anywhere Visa Card". Something else I did not realize is that the Costco membership and credit card are actually linked together! By cancelling my Costco membership, your "Anywhere Visa Card" is also cancelled. Apparently it takes up to 2 to 3 months for the "Anywhere Visa Card" to move into cancellation status. Perhaps this has something to do with their rewards programs and inconvenient redemption process.
After reading some of the 1 and 2 star reviews, I can see I'm not alone in my disdain for this financial product. It appears that some of the other complaints about the card are related to unexpected account closers, and issues with member accounts. Fortunately I was not on the receiving end of this type of hassle. However I'm sure I would have canceled the card a lot sooner had this taken place. In this particular situation a poor experience with a credit card company motivated me to cancel my membership with the retailer that enrolled me in the card in the first place. In the future, I will always do my own research online first before applying for a credit card, and never fill out an application in store. Now that I will no longer be shopping at Costco, other retailers such as Sam's Club are looking more appealing these days.

I made a payment on my account online and realized I made it against the wrong checking account. I call them and was told to place a stop payment. I then made a payment for the same amount with a different checking account. But now because of the stop payment made, they have flagged my account. Every time I make a payment online now they place a float hold for 10 days! I spend $3500 a month for my fleet to gas up with Costco. I have discussed this with Citi and they said they can't do anything about it.
The person I spoke to also said if I pay using different checking accounts, will also flag my account! Ridiculous! I have a weekly payment schedule with them and they are all on hold! I have to call Citi to have them release the payments from float hold, this process means them calling my bank to verify that the payments have cleared. So every time I see payment clear my bank I have to call Citi to let them know. I am switching to ARCO fleet, bye Costco!

So I had my credit card for almost 2 years. For the first payment I didn't get a bill so the payment was late but, that didn't matter to them, they still gave me the penalty interest rate. Ok, so then I get a due date and I have been making my payments every month on the due date. Come to find out, it takes a couple days for them to receive the payment even though the payment was made on their website. So I've been paying a late fee for at least two months that I know of. Granted maybe I should have paid closer attention, they say it's in the fine print, but that's something that should be flashing in bold letters. When I talked to them about it, there was no apology, no sympathy, no empathy, nothing. I am finally done with them and I will never give them anymore of my money.

A tale of two thieves. I purchased a book online from Stansberry Research using my Costco Citi card. The purchase was $20.00 but $120.00 was charged to my card. I called the vendor first and they refused to refund. I called Citi and they said they would research. A month later I was informed that they wouldn't do anything about the charge. I called again and complained to no avail so I cancelled my card. A letter they had previously sent stated I would receive my Costco rebate in February but it never arrived. It was over $300. I tried to call Citi to rectify the situation but to talk to a rep they required me to punch my old account number into the phone. In doing so an automated voice asked if I wanted to reopen the account, I responded no and the recording in a pleasant female voice responded have a nice day and hung up!
Company Name:

CitiCard

Website:

https://www.citi.com/credit-cards/citi.action