Consumer Complaints & Reviews

I had been watching my account very closely waiting for a check to clear. It never showed it cleared online and my payday was here so I was ok. But after work after hours and after I deposited my check I looked at my online statements and noticed it changed and now a few days of checking data had been erased. I knew it was fishy but I knew I had the money in before the check cleared and I should have been fine. Woke up next morning I had an overdraft fee and it said the check cleared a few days before. They changed the time to favor themselves and made profit. So I never had a negative balance but the got me with the fee.

I've had nothing but problems with BB&T. They 'go rogue' with your money and don't communicate at all. I will NEVER do business or allow anyone I care about to do business with them again.

I have a big problem and nobody help me!!! I am calling but they just transfer to another person and there is no solution. I just want to use my card which is my money inside. I am in out of US and my card is does not work. I need my money!!! Pls contact to me **.

Just like everyone else I'm disgusted by BB&T policy on overdrafts charges and fees. Not worth sharing my bad experience with this bank, honestly just stay away from this bank. They are nothing but legal thefts. Don't believe it? Soon or later it WILL happen to you.

I find this bank to be dishonest and incompetent. From drunk banker handling my accounts, to late fees that should never be there. Their refusal to return my money is unacceptable. Instead of paying my credit with my checking acct, they took the money off the credit card and put into my checking account. If payment is due on the 12th and you pay on the 11th or the 12th, a late fee is assessed because their system for some reason does not compute! They reverse the late fees, sometimes. That's my current problem now. I have 4 charges at $35 each and they are "reviewing the audio" to see what was said.
I was told they would be removed and, well, no they are still on my acct as late fees. I cannot get online to pay my bill. I called to pay the bill, but never got through. I cancel every card with them because they are horrible and I get a letter from them saying they canceled me for delinquencies. I'm sick of this bank. As soon as all is cleared up, I'm out of there. Not one thing has been right: merchant account, yeah, my business!, Credit cards, personal and business. I am going to wait to see how long it takes them to get back with me about giving me my money back. It's the principle of it all. Plus, all the fees they've taken, do not belong to them!
How do I know I can trust these reviews about BB&T?
554,940 reviews on ConsumerAffairs are verified.
We require contact information to ensure our reviewers are real.
We use intelligent software that helps us maintain the integrity of reviews.
Our moderators read all reviews to verify quality and helpfulness.
For more information about reviews on ConsumerAffairs.com please visit our FAQ.

I have been with BB&T and it's predecessor for 17 years. I have one personal account with direct deposit from US Treasury. Did not have problems with predecessor bank. Address: It took 6 attempts before address was changed after a move. 6 attempts over 15 months. When I tried to order a debit card, it either never printed because the order "dropped out of the system" or was sent to the branch where I opened the account originally. The branch was inconveniently far away. The debit card problems have gone on for several years. Yet when I go back to the local branch they usually remark that I have had many temporary cards. The remarks carry an obvious tone of questioning, seemingly insinuating that this is a problem that I created when it is not mine, but theirs.
Recently someone passed fraudulently forged checks on my account. They were not stolen but recreated somehow. They were cashed at a BB&T. Although I am not in the habit of cashing checks @ the bank, the teller(s) did not ensure it is my signature. A bank officer told me they are supposed to do that... I have to open a new account and the old one is blocked. I send the direct deposit form in to change the account number for the monthly deposits. To ensure it is not returned to US Treasury, I go to the bank, see the officer. She says she has notated the account and that the deposit info will go to a special department where a human will transfer the deposit to the new account.
The day that deposit is supposed to post, I call the automated customer service. It indicates the deposit is pending on the old account. So I return to the bank to ensure it has gone to the special department where a human will transfer to new account. I meet with a V.P. He cannot find out anything by checking the computer so he calls the special department. They indicate that, yes, they are aware of it and they tell him it will post that night to the new account. I asked specifically whether they were making a manual transfer. He replied yes. That was on first day of month. On the 6th day of the month there is still no sign of the "transferred" deposit. However after 2 pm I call automated service; it has been credited to the closed/blocked acct even though they had said previously that should it try to hit the old account that it would be returned to the govt.
I call the VP. He is gone for the day; I speak with another officer who tells me that the VP was supposed to make the transfer himself 6 days previously. He did not do it. Not did anyone in the "special" dept. She says she will fix it all up, though, and tells me not to worry. She says she "is making the transfer now." That was at 3 pm.
The 7th day of the month is tomorrow. We shall see if the problem is fixed on the 3rd attempt. I am going out of town tomorrow and will need money to travel. I anticipate NOT being able to have access to my own retirement annuity. So I will prepare food and drink, etc. for the trip. I no longer feel that I can rely on the information and assurances that I am getting from the officers. TRUST --- Branch Bank and Trust. How ironic that that word is part of their very name. Yet they are not trustworthy.
As soon as I get my money I will get a cashier's check for the balance in whichever account it ends up in. I will take that to another bank, one I feel confident in, and open a new account. Please do not do business with BB&T or you are risking a lot. Yes the account is FDIC insured, but if BB&T were taken over, how long would it be before FDIC sent me the insured balance? I am a senior citizen. I cannot trust BB&T. I will be moving to a reliable bank asap.

BB&T has no loyalty whatsoever. 10++ years of banking means nothing to them. I mean checking, savings, mortgage and retirement. Would not let me cash a check from my employer, says I must deposit. Next priority, find a new bank.

I do not understand how when I had just started reestablishing my credit I was approved for $400 line of credit and $2000 on BB&T credit card. Now since then I have 100 percent on time payments on all my accounts. BB&T wouldn't finance my brand new car but Hyundai Motor credit did for a lower rate than BB&T offer. Now you deny me an increase. My question is how was I given credit in first place if I'm such a risk? Initially I was reestablishing, now I have credit with 100 percent on time payments. Anything derogatory is over 7 years old.
BB&T is a joke!! Don't get involved unless you absolutely have to. I am much more satisfied with Capital 1, Hyundai motor Credit and Wells Fargo. I'm paying off card and will only use in emergency. BB&T will get no interest from me. I submitted a question online, it took 14 days to respond. Totally unprofessional bank! Poor customer service and some illiterate, must not be able to read.

I recently moved to Arizona and tried to close out my Virginia BB&T checking account remotely. I was told the account needed to be a zero balance. So I transferred the remaining balance minus the $3 transfer charge to my new account. In the meantime, I was told the account would be closed once the zero balance was confirmed.
One week later, I am now receiving NSF from the account. Obviously it was never closed out and several items that were on direct withdrawal hit the account. So the account has -$36 charge. Now I'm told that the NSF cannot be removed and I have to bring the account to a zero balance. I had a friend deposit $36 CASH into the account and called back to have the account closed. Now I'm informed that even though the money is in the account it has to post at midnight and the direct withdrawal was already scheduled, so I will have another $36 NSF again. This appears to be a way that BB&T has to game the system and milk elderly women out of their money. I do not know if this will ever be resolved and I have had it with this predatory bank!

My husband and I had a checking account with BB&T when we first moved to North Carolina. We had some fraudulent activity on the account and they charged us a bunch of over draftfees for things that were sent back after the fraudulent transactions. Not only would they NOT refund the overdraft fees but they charged us $2.00 a pop to call their customer services line. And I had to call twice. Needless to say we closed that account and ran to another bank. I real big bank who know how to function in a big bank world.
We purchase a car in 2012. BB&T gets the loan. We keep the car for less than two years. Loan gets paid off, no problems. We purchase another vehicle and are told BB&T wants the loan because we pay early and more than the minimum payment. So this is now loan #2 with them. The car from loan #2 becomes the subject of arbitration through the North Carolina Lemon Law. We go to arbitration and the arbitrator awards replacement.
Now this is a process and sometimes very painful. We chose a replacement vehicle at the dealership but we are informed a third party company must pick up the new car and also make the payoff. The vehicle manufacturer advises that loan #2 will be paid off prior to the vehicle "swap" appointment where we surrender the old vehicle, along with title I might add, and we then take delivery of our new replacement one. BB&T decides that even though they know the payoff is coming having been notified at least 5 times, 3 by me and 2 by the third party company making the payoff AND despite holding the new loan #3 to report loan #2 as 30 days delinquent.
The day of the swap appointment was one day after the last day of our grace period. Loan #2 was not paid off prior to the appointment contrary to the Arbitrator's decision and the manufacture's own policy. We did not even hold title to this vehicle beyond our payment date. BB&T thus far has refused to remove the item from our credit reports. Consequent, we have seen a drop of 100 points in our credits scores because of this. And we are trying to purchase a new house. I am outraged by all of this. BB&T has given me contradictory advice from saying they are dealing with the dispute to saying, "No, you have to deal directly with the credit bureaus" (which we are also doing simultaneously for myself and my husband). That's 6 different places to dispute. Ugh. Every response from BB&T has been non-existence or delayed significantly. My guess is that even the payoff was delayed in being processed.
We continue to follow up with BB&T and the credit bureaus but only time will tell if this will get resolved favorably for us. And when trying to buy a new house time is not something we have. Now I'm trying to figure out where in the chain I can go if we don't get the result we need. We will definitely pursue refinancing our vehicle when the time is right. We want nothing more to do with BB&T. I put a one star rating only because I couldn't put zero!

It took two weeks for me to get any response to emails I sent regarding multiple concerns, one of which was the changing of my routing and account number; somehow they sent this information to the wrong address, or not at all. Several bills more missed payment due to this. I asked for checks so I could order bill payment as you need a voided check to order checks or set up directly withdrawal; they refused flatly to issue any, stating that it didn't come with my level of account, which is intriguing since I am only a member due to a merger and was never given the opportunity to choose the type of account I wanted; and as a side note, my old bank did provide several free checks upon request. Like another reviewer, directly contacting "my banker", Cindi **, led to no response. Closing the account Saturday.

Okay, so I had to make a fraud claim about 2am when I was checking all of my information like I usually do at night and saw something I did not purchase on my account. Well when I checked the next day they had the nerve to charge me 2 bucks for reporting on the 24 hour customer service line, so now you're being charged for customer service??? And the best part is, I'm being charged 5 more dollars to replace my card that was used as fraud, omg really? These people are horrible and do not care about the customers in any way, they rob you straight out. :( Thank you, I'm closing my account tomorrow.

On Christmas Eve I seen a young woman I knew that used to work at Wal-Mart. I went over to say 'hi' to her. I have known her for several years. Katelyn introduced me to her classmate and we were talking for several minutes when she said she worked for BB&T. I told her I had Wells Fargo and I was good. We all talked for about 15 minute and then left. I then seen Katelyn in mid-February and we talked again. She went on to tell me a lot of personal info about herself. So I gave her my cell number and the following week she called me and I set a checking account up with her. While we were waiting for the rule book to print out I was talking to her about how it was wrong that woman got paid less than men and to purchase men's items because they are cheaper. I would tell her she was a supermodel as she looked like one. She never complained about it to me at all.
On March 10 I opened a savings account with her. When we were done I asked her if she wanted to get lunch across the street. She didn't. So I left. The trouble started a couple weeks later when I tried to log into BB&T U. No matter what I could log into the online account. So I contacted my banker Katelyn. I guess they fixed the problem because they didn't have any issues for about a month. In the meantime I told SSI to deposit my check into BB&T. I then started to see all of the complaints and I told Social Security to put the money back to Wells Fargo. I had a friend that wanted a commercial mortgage. So my banker had a license and asked her if she could write one. I must have emailed her with bank related questions about 6 times. Then on April 17 at 5:30 I am logged in my account and another person's info came up. It told the balances of their checking and visa card.
I then contacted my banker and told her about the problem. She also had a facebook page that she confirmed a friend request with me and emailed her at the bank twice I thought it was that important. I didn't want her to get in trouble if she didn't have any money on hand to pay a bill. That week I got an email from her saying she wanted to do a account review. I thought it had to do with the processing problem on April 17. When I got to the bank on April 22 I was yelled at by the branch manager and was dismissed like I was a school kid that was sent to the principal's office. I had to go to another branch.
On May 10 they had another one of their so-called processing problems and I couldn't log on. That day I got a call from a local person from the bank. She told me it would be best if I would close the accounts and I wouldn't be charged to close them early. Once they are opened they have to remain that way for 6 months. I am so glad I am out of that bank. I have never seen a bank with so many problems. Both my banker and the branch manager were rude and my banker Katelyn lied to the branch manager about me. Why else would he yell at me like he did. Just how does this bank stay open? I believe the processing problems are done on purpose so they can charge overdraft fees.

This bank is horrible. Stay away. Their business side of banking does not communicate with the business credit card department. Our business credit card got shut down without our permission. When I called to inquire, they stated the local BB&T branch had closed our card; however, they could not get in touch with the local branch to verify why and/or if it was a mistake. When I called the local branch, they could not pull any information in their system as to any explanation. They told me that their systems cannot communicate with the credit card dept even though it is a BB&T issued credit card. Say what? Makes no sense that you issue a BB&T credit card and your local BB&T can CLOSE your credit card account but cannot give you any reason as to why and that their system does not communicate with the credit card system. I was floored. Be aware and stay away!!!

I can't log on to BB&T online banking. This has been going on for weeks. Their website says they support Firefox but they claim a recent update caused the problem. I went back to an earlier version and got the same results. I have 7 other online banking accounts that work with Firefox but BB&T says they are waiting for Firefox support to call them back. How lame. They say to use a different browser but I have no desire to change browsers just to accommodate their website when all of the others work. I am going to change banks.

What kind of reputable banking institution charges their customers ridiculous amounts of money for your very own banking history statements?! Not one I want to be a member of. Apparently because they bought out Susquehanna Bank, they now have no access to account information dating back to when it was "Susquehanna Bank". They informed us they have to retrieve it from their "archives". Which going by the amount they charge, must mean climbing mountains and swimming through treacherous bodies of water to fight a big troll that keeps the banking statements from "Susquehanna".
Also, when you deposit cash $, they won't credit your account for at least a day. This means they are using YOUR money to gain interest and profits for at least 24 hours, making millions before you gain access to your own cash! I realize the banking game is corrupt & probably always will be, but BB&T, in my opinion, are the biggest legal criminals around and will continue to be until the public becomes fed up enough to make a stand against their insane fees and policies.

I have a 15 yr home loan with BB&T which has another 3 year till paid off completely. I put down 30% on the home of the purchase price. Because the appraisal of the home came in much higher BB&T approached me after 1 to 2 years of paying off the home loan and offered me a home equity loan. They approached me but after I learned the interest for the loan could be written off on my taxes I applied for the home equity loan and it was approved.
About two years ago the home equity loan was close to being maxed out. I transferred about $15,000 from my banking account. to the home equity loan which put me at owing about $82,000 out of $100,000. Well they suddenly closed the home equity account for no clear reason and put me on a payment plan suddenly to pay off the $82,000. I had to sell stock suddenly due to their unexpected closing the loan to make financial payments for that month. I had a significant amount of savings in stocks so I managed this "surprise" from BB&T but for those in a less fortunate position it could've really caused major havoc with their finances or small business.
What's more surprising is BB&T did not even want to work with me after they suddenly pulled my home-equity loan. Needless to say I just pay the home equity loan off over a six-month period and got the hell away from them regarding that aspect of my finances. I still have a home loan that I only have to pay three years on. Because I basically had paid off most interest with the first 12 years of the loan I see no need to refinance for the last three years with another bank. I got the impress from BB&T that if they sense you are having any financial problems they will do whatever they can to take advantage of the situation for their benefit and do not really care about their customers.
The bottom line for them is if they can squeeze one last dollar out of yet they will. Also the complaint about them charging UP unnecessary financial fees is certainly true in my case as well. For example when I overcharged my account for $100 and they'll charge a $35 fee which is certainly understandable. However looking at my online account the next day I noticed they switch the order of the transactions to put the large transaction earlier and then put down smaller transactions afterwards on the same day. This resulted in me being charged three or four overdraft fees instead just one overdraft fee for the last transaction of the day. Their customer service is so bad over the phone (it's even hard to be able to talk to somebody on the phone when calling him and print sees that for me to go into the branch during regular office hours to discuss this issue get resolved would cost me more because I'd be missing work.
This has not happened to me recently but I'm assuming this is illegal by now. I recently went in there to increase the amount I can take out via an ATM transaction on my debit card in a single day. Without even asking me what my current mac amount I can withdraw she automatically stated that it would be "temporary" if I want to increase that amount. I told her the maximum amount that I can withdraw 24 hours is $1500 and I'd like to increase to 2000. She said that you cannot go over $1500 maximum out with draw for the debit card despite talking to a lady on the phone who increased it from 1500 a day to 2000 a day.
The lady on the phone said that would be temporary but to make that a permanent change I would have to go into an actual bank. I did go into the bank and was told that the $2000 was not an option and the max one can withdraw in a day via ATM is $1500. Other banks have $2000. One time I wanted to get $7000 cash from my account on a Friday afternoon and was told they did not have enough in the bank at 5:30 PM. I was completely shocked and ask how could that be? This was a large branch in Fayetteville, NC. It is my money and they are telling me they did not have it? This was $7,000 not $70,000. I did not accept their response and they were finally able to put approx $3000 to $4000 of it in a large box in $5 dollar bills. The rest were in $50 or $100 bills.
If there is a run on the banks then BB&T may have more problems than others based on my experience. One positive is they will not lose much money if they get robbed since they do not keep much in reserve. Just a shout out to all you bank robbers out there, don't rob BB&T because the famous bank robber, Willie Sutton's statement "that's where the money is" doesn't ring true with BB&T from my personal experience. Being kindly greeted when you walk into a bank does not make up for the terrible treatment regarding my finances. The best thing that can happen to this bank is that they get bought out.

I am so disgusted with BB&T. They closed down my account unbeknownst to me and then I could not retrieve my money from MY ACCOUNT!!! I went to the branch, called many many times to no avail. Please do not do business with this bank as they do not know how to treat their customers!!!

Run... Run as far away as you can as fast as you can. BB&T bought up my local Bank, Susquehanna, who I had been with my entire adult life... Instantly, customer service suffered. Every time I went to a branch, they always had to "call back to corporate" to get anything resolved. New fees popped up, which they claim they notified me about in one of the DOZENS of papers, letters, and brochures they sent out over the first few months. After getting fed up with their service, I switched banks... which ended up costing me about $100 in fees and termination costs. Plus, after I was told my account was CLOSED and at a zero balance, they charged me over $250 in "overdraft" fees for mostly fictional withdraw attempts on my account, and would not budge one penny on them... even going as far as to threaten to turn me over to a collections agency. Run away...

BB&T stays charging me overdraft fees for things that are not even my fault, but the fault of other third party websites I have gone through to make purchases. So thanks for that. $40 for each overdraft? ** you, I don't have millions of ** dollars **. Goodbye. Got me ** up if you think I'm putting up with that **. Not to mention they apparently can't afford a live representative over the phone, that's also hilarious. I also love how their bank transfers take about 3 thousand years to go through. Go ** yourself, I am not even an angry person but this bank has pushed me to the edge and I am done.

On two occasions I have been to my local BB&T office to have my IRA annual distribution check direct deposited to an institution other than BB&T. At first I was told that it could be done, but that failed because the customer service person said that the form did not have an 'option' for other institution. The second time the branch manager again told me there would be no problem, proceeded to call the IRA department at the main office and was told which form to pull up on the computer, all the time reassuring me that he would take care of the issue.
After handwriting some info on the form, me giving him a Void check so that he had the name of the bank, acct and routing number, he called his IRA department again and was informed that 'It's BB&T's POLICY not to direct deposit any distribution checks into another bank account'. We can have a check cut but no direct deposit of that check into a bank other than BB&T. What a policy! Needless to say, I am going to take my IRA money and roll it over to another bank that will do for me what I need done. Guess what, they just lost another customer and I am livid over all this. If anyone has had similar experience, would love to hear from you.

BB&T is a horrible bank. That's being kind. My accounts automatically moved to BB&T when they bought Susquehanna bank. I have a line of credit and a checking account with this institution of greed. They immediately changed my LOC interest rate which hadn't changed in five years with Susquehanna. If you call them to inquire about your accounts, there's a fee! I move money from my checking to my LOC. It's immediately gone from my checking account but takes 3 days to get to the LOC. Guess what that means? I'm charged interest on the money that I already sent to my LOC for those three days. I had times where I pay a bill from my checking account to an outside company; it doesn't show up when I look at my accounts. It's gone, but doesn't show! They're encouraging me, if not outright hoping, I overdraw my account. This "bank" makes me sick.

BB&T are a very dishonest banking institution. They have more hidden fees than any other bank I have ever dealt with. They constantly don't answer calls, hang up or put you on holds well over 15 minutes or more. If you are a struggling person they penalize you even more with fees and I'm not talking about being overdrawn. IF you're needing a bank DO NOT pick this bank or you will be sorry.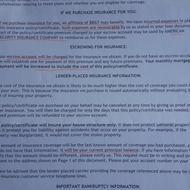 We have flood insurance. BB&T wants it to be more. If we do not purchase more, they will purchase it for us through their affiliate insurance company. It will only cover the principal amount left on our mortgage, which is less than 10% of the worth of our policy. We will be charged through our escrow account plus added fees. The only customer rep we can talk to represents the insurance company.

I would give them less than 1 star if they had that rating here. I have been with BB&T for almost 30 years. When they were a regional bank from NC they were very service oriented and efficient. Over the years since they have grown and assimilated other small banks they have become all about the dollar and less about efficiency and customer satisfaction. In the last year they have manage to lose our requested checks, my debit card and still manage to charge me $2.00 for calling them and closing my credit card account which I haven't used in a few years. I would recommend any other bank than BB&T and if there are servicemen within the BB&T regional branches service area I would recommend finding a better bank or even better yet a credit union, one that puts the customer first.

So I take an insurance check (less than 10k) from USAA (drawn on BoA) and the teller says insurance checks are some of the "worst checks" to work with and she would have to put a hold on it. All I wanted to do was deposit it, but no. I got a 7 day hold from my bank. In this time of electronic clearing I got "after the check clears, you can get 4,800 in 2 days and the rest in seven." What a deal, two of the biggest COs in the USA and BB&T says I can get my money to pay to fix my car until seven days after "the check clears." I have been banking at BB&T for more than 10 years and I have had this same problem in the past. So that relationship will end also seven days after the check clears. Time for a better bank!

Susquehanna Bank was perhaps the best bank we have done business with. Having said that BB&T is the worst. Cannot depend on the online statement. Cash is pending until the next day. Credit card deposits are a day late. I can look at my accounts online at midnight on the first thinking all is good, then log on on the second and find out I have debits I never saw at midnight for the first! The people at our local branch who were happy and eager to help, more or less just pass the issue to N.C. as they have no authority to make any decision.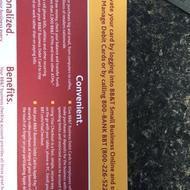 Is BB&T in trouble? Checking,Saving accounts Service is a fraud. 12 months ago service at our local branch in Cary NC virtually disappeared. Most tellers left or were transferred and replaced with inexperienced people. As I write this, I have been on hold over 20 minutes to activate my new BB&T debit card. Turns out the instructions on the paperwork sent with the card are wrong. Half hour of my life I will never get back. I have the BB&T online banking Tech on the phone now and he can't find the activation button either. How many 1000s of customers have been through this? OOOPs - He just told me there is no such button. Sorry! Ughhh!

I am to finally pay off my auto loan as of this month. Ordinarily I wouldn't think twice because I have been paying my monthly dues by auto debit. When I logged in to the website today and happened to look at the statement, it mentioned that the final payment will not be processed by auto debit. I received no advanced notification of this prior to this month, either by mail, online message or even a phone call. This was going to just sneak up on me.
The write up on the statement said I can make the final payment by check in a mail or online. Fine, so I go to pay online. It has one amount in the statement ($335.30), the payoff amount says another ($335.13) and the amount due is another amount ($335.55). I'm not sure what to pay, but I'd guess the payoff amount should be the right amount from past experience paying off student loans. I select that amount and try to submit, but it rejects the payment as an error because now it says the amount I selected is higher than the balance of $334.31. So basically I cant submit with any of the options because if I pay the balance, it's lower than the payoff amount as well as the balance on the statement.
I decide to call up customer service and the rep proceeds to tell me that the only way for me to pay my final amount is by check in the mail and not online, despite the statement online saying otherwise. He also tells me that I need to account for $0.03/day interest for the 10 business days it'll take for the check to be mailed and processed. So I need to now write a check for $335.13 plus the 30 cents additional for the 10 business days for a completely new amount of $335.43. The customer service rep said I should round up that value to $335.50 just in case it takes additional days and if the amount is lower, BB&T will mail me a check for the amount.
Again, none of this is outlined online or any form of communication and I was supposed to figure all this out on my own? I had to call up customer service to find out all this? That comes up to be just a few cents. You're telling me BB&T is really going to issue me a check for that amount and mail it over? Doesn't that entire process cost more than the pennies in difference? How does this make any financial sense? Why am I not getting a concrete figure? A true payoff amount is supposed to account for all those things so that things like this does not need to happen. If I write a check for the payoff amount, that's exactly what it means and there should not be additional amount that I need to account for.
This practice is disingenuous at best and needs to be corrected. The worst part of it is when I outlined this inconsistent information to the customer service rep, he proceeded to tell me that he's seen this happen on numerous occasions, which shocks me that BB&T is aware of this being an issue for their customers and are not doing anything to correct this problem. I've worked in Fortune 500 companies and often read about many inconsistent and frustrating reports of customers dealing with payments. I know exactly why BB&T engages in such practices. This system is set up in a way so that your customers will miss the last payment or be late in payment because they were not made aware of the change in payment procedure for their last payment unless they're extremely diligent about their loans and BB&T stands to profit from additional finance charges and missed payment charges.

I created my online bank account months ago when we first moved to another state. I misplaced my username and password and the only way I am able to get it is to call. I have called every week for past three months and my hold time is 20 minutes + EVERY time. I wait to get my paper statements or call the branch to get my balance. I've never been able to access my online banking. This is the worst customer service ever.