Consumer Reviews and Complaints

Getting ready to drive to the DM concert - and my tickets are not ready - 4 days before the event. The customer service reps were basically worthless. I really wish I had seen all these reviews first- not a good situation. STAY AWAY.

I ordered tickets on StubHub for Aspen Jazz fest. I attempted to access the site to download my tickets when I arrived at the Festival, the StubHub website was unavailable on Labor Day weekend. I tried unsuccessfully to access the ticket that I had bought and could not get through due to server issues at StubHub. When I called to request reimbursement they refused to accept responsibility for their platform not being available on a holiday weekend. This is not a business that anyone should do business with based on my experience and the hundreds of other complaints listed on this site. I will not use StubHub again.

I normally don't do this, but this has been the most ridiculous experience I have had with a customer service group. I recently purchased tickets to a John Mayer concert. Come to find out I was unable to attend the concert, I ended up selling them through StubHub for less than what I bought them. Okay; no big deal. It was my fault to begin with. A few days later I receive an email stating the concert was a week away and asked if I was ready for it. I thought this to be strange since I had sold the tickets, so I log into my account and notice two tickets under my name as being active as if I was still attending the concert. I thought maybe I accidentally bought two additional tickets without realizing it so I listed the tickets and they sold right away. Perfect, everything was going good. StubHub sent me the money for all the tickets I sold and Paypal confirmed it. This is where things get suspicious.
The day of the concert I receive an email from StubHub stating that my order had been cancelled because the tickets were invalid. WHAT? A day after the concert I receive another email stating the original price I sold them for ($99.00) was being taken out of my account as well as an additional fee of $49.50. I called customer support to figure out why and how they're able to automatically take money out of my account and lo and behold they tell me I sold the same tickets twice. If I originally sold the tickets once why are they still under my account available for me to access to use or sell? Their policies and fees are hidden and the customer support team is horrendous.
They'll sit there and argue with you and if you ask for a manager they'll tell you they're all busy. After spending 1.5 hours on the phone they agree it doesn't make sense to be able to sell tickets, but yet still have access and the ability to either use or resell the tickets again so they offer me 50% of the fee they charged me back ($24). How ridiculous is it that I have to spend so much time on the phone arguing to then have them agree with me and then only give me 50% of what they charged me back. I will never buy/sell on StubHub again after this experience. I only wish I would have saw this site prior to doing business with them. It seems they have a lot of complaints against their customer service team.

I wish I have read the reviews on StubHub before using this BAD service. I unfortunately used their services to buy 2 tickets for the Wicked. They have charged me 25% service fee which was not clear and I was mislead by omission and not being clear about their commission! I received the second day a call to let me know that the chosen seats do not exist and that they have changed the seats to better ones! I also discovered that I need to visit them to collect my tickets and these cannot be emailed to me. I had to go physically to their offices and was stuck in huge traffic jam on Broadway which have led for me to arrive 30 minutes late to the show. Just DON'T USE THEIR SERVICES.

I bought two Lana Del Rey San Francisco tour tickets on StubHub on 8/20. They just emailed me and had me call them today because there's some issue with my order. I don't check that email every day, glad I somehow did today. Then I spent an hour waiting on the phone for someone who can assist me. Then the representative said unfortunately the seller couldn't provide the tickets, and all tickets are sold out on their website already, all they can do is to refund me the money and give me a 10% off coupon that I can use within a year. 1. I purchased the tickets on 8/20, it's Saturday, 9/2, today, and the concert is next Tuesday, 9/5. 2. Now I have to purchase that on the site. I usually buy resale tickets again with an additional $110. 3. Since it's too close to the concert, the ticket won't be delivered to my place, I will have to pick them up myself (please pray for me I will get them without any troubles).
Of course I am extremely upset because it is absolutely unacceptable and ridiculous. What if I can't even buy any tickets at this moment and I have been waiting for this for so long? Can A full refund make up for this and fix their reputation? StubHub said they will give me the tickets regardless the price difference if they weren't all sold out on their website. Oh yes? How about you buy the tickets from others and give them to me? I heard you guys charge sellers a lot of money for penalties?
And then the 10% off coupon went from 10% off to $20 off for next purchase (maybe it's based on my order which was worth about $203. Yeah I know, who cares? Just want to point out how careful they are with their money though). Would I use their service again just for that $20 if they suck like this? And put myself at risk of not being able to make it to the concert I want or I will have to pay $110 or more afterward? A lot of people told me to try StubHub, so I did. Now I am just extremely disappointed and frustrated.
How do I know I can trust these reviews about StubHub?
880,156 reviews on ConsumerAffairs are verified.
We require contact information to ensure our reviewers are real.
We use intelligent software that helps us maintain the integrity of reviews.
Our moderators read all reviews to verify quality and helpfulness.
For more information about reviews on ConsumerAffairs.com please visit our FAQ.

So I purchased 2 tickets on March 2017 for the Coldplay concert on Aug. 28th. Tickets came to my email with the seller's name, I called StubHub to fix it and they said that it shouldn't be a problem. Day of the concert, (and we live 4 hours out of Miami) we show up and when they scanned the tickets, they came back as "fake". We went to the ticket booth and were told that our tickets were already used and they kept them, leaving us standing outside! We spent over an hour trying to get in touch with someone from StubHub, along with 4 other couples that had the same issue.
When we finally got ahold of a rep, we were told that we were just gonna get a refund. Thankfully we went prepared and were able to buy other tickets but at that point the concert was starting, two hours have passed and we were $1000 down till the refund came through. It was the most disappointing situation I've had with an online purchase for an event!! And it was so sad to see the people that couldn't afford to buy extra tickets to not be able to go in!

I purchased 4 etickets on Ticketmaster for the show in New York. We were unable to use the tickets because of illness and had to sell quickly on StubHub as another sale fell through. We were informed after the event that 2 of the tickets would not scan and we had to refund plus penalty. We followed up with Ticketmaster and the venue, who said there was no scan history kept for this event. So in the end 2 tickets of the 4 purchased together were deemed legitimate and 2 were not. Our I000 selling amount resulted in a cheque for 130 as StubHub then "purchases" tickets for the end user at my expense. Apparently StubHub "cut us a break" and didn't charge us for everything because we attempted to find out what went wrong! Is this a common problem?

I bought two 2nd row, section 2, floor tickets to Shania Twain Frank Erwin Center Austin show. The seating chart showed 2nd row stage seats but all other ticket sites show a walkway where section 2 should be. The tickets don't exist. I immediately try to cancel and try again the next day and the next. They say they can't do anything without confirming the chart with the venue. Here's the catch. It's been 3+ days and the chart is still the same. Still showing tickets that don't exist selling for big coin. These guys are bad. Big scam, intentional and they're fully aware.

I purchased a ticket from stubhub.com on August 17, 2017 and selected to use my PayPal account to complete payment. After making my purchase, I noticed a withdrawal on my checking account. I logged into my bank account and saw that a withdrawal to PayPal had been made in the amount I paid to StubHub for my ticket that should have gone onto my PayPal credit. My PayPal settings are to utilize my PayPal credit as my primary form of payment. I logged into my PayPal account to verify that these were still my account settings, and they were. I also saw that PayPal had a transaction for the amount requesting to draw on my bank account as the selected source.
I went into my StubHub account settings to see if there were management options that govern PayPal from within that (there should not be), and there were none. There was no indication at time of payment, or any settings or disclosures anywhere within StubHub of anything other than "PayPal" being used to complete my purchase. I inquired about the issue with StubHub via their live chat, and was informed that StubHub maintains their own, independent PayPal payment settings that cannot be seen or managed by the user, that override the user's default PayPal settings to favor their bank account, and that the only way to override these settings is to have no PayPal account associated with the user's StubHub account at the time of purchase, and to add PayPal as a form of payment at purchase time, and specifically choose PayPal credit at that moment.
Since there is no way for a user to know this, nor control it, I demanded StubHub reverse the charge to my bank account, since it was not authorized, and appropriately charge my PayPal account so that my PayPal credit would be utilized. I was informed that they did not know how to do this, but that someone from their "payments team" would contact me within 48 hours, or, because of the coming weekend, Monday, 8/21, at the absolute latest. No one ever contacted me by phone or email about the issue. I inquired again via live chat on 8/26, and was told that no one contacted me because no one could figure out how to fix my issue, and therefore no one would fix my issue. I consider this fraud, since I did not authorize the payment method. I believe interest is due me, and I believe the payment should be corrected, even if doing so much be achieved manually.
I have requested resolution through Stubhub.com, PayPal.com, Advantis Credit Union, California's Department of Consumer Affairs, and the San Francisco County District Attorney's Office. All of those who have responded so far have been in denial of having any ability to resolve the issue, which includes StubHub, PayPal, Advantis, and DCA. Since the cause of the issue is StubHub.com and their questionable, if not illegal, secret payment settings and policies, the complaint is against them, and I believe the onus of resolution falls on them.

StubHub now requires CELL PHONE data for you to get a ticket. Really. StubHub is a piece of crap agent. When purchasing the ticket, you are know hounded with SPECIAL OFFERS... God forbid you forget to uncheck one. The cell phone app is no better, hounding you again and again and again to receive offers. GO AWAY!!! All I wanted was a crummy ticket you piece of crap operation. And the fees are still outrageous for the service and the inevitable spamming that will result from having to use the app. Stay away at all costs.

I listed tickets as row2 and they sold. The buyer complained as the tickets say row 4. Rows 1&2 were removed a few years ago so row 4 is the actual the 2nd row. I was told to prove this and I did have the University prove it to Stubhub and the buyer. I was told the buyer did not care and was returning the tickets. Obviously they just decided not to go to the game and this gave them an excuse to return the tickets. The tickets were not returned for two weeks and arrived just 3 days before the game. Despite this Stubhub billed me for the return and it was over $300.

When I posted 2 tickets for sale in the new Atlanta stadium for the September 4 Tennessee - Georgia Tech game, apparently I chose the wrong section on the site by mistake. My seats are in Club Section 212, which is on the 45 yard line (home team side). Apparently, my mistake was choosing Suite 212, which is on the goal line (home team side). I used the Stub Hub drop down menu to pick the seats from the options given. (I should also note that I had tickets sold on Stub Hub for another event and the same procedure was used. That buyer has kept his tickets with no concerns raised.) I will add these tickets were posted around July 10th, and sold to this buyer within about a week. And I had the lowest prices in the section by a good bit (175 purchase price, being resold for 395).
To make a long story short, the buyer didn't want those seats, because he thought they were in a suite. I did argue with the Stub Hub people about this, that the buyer probably has buyer remorse because other seats in that section are even listed for less than mine. So on August 14, I was notified by Stub Hub that the tickets would be returned to me. Today is August 21 (2 weeks before event) and I still have no tickets. What I do have is a reversal of the money deposited in my PayPal account (billed to my credit card) and a penalty fee (also billed to my credit card). My PayPal funds were deposited on August 17 by the way. So I called Stub Hub today about this. Megan was right on the case, and she called the buyer.
After about 10-15 minutes on hold, Megan gets back on the line with me, and says the buyer was being difficult and had deliberately held on to my tickets and was keeping them "hostage" (her words, not mine). But she seemed to have convinced him to return them to me. So when I got home, I immediately called my credit card company and filed a dispute. And then I get on the Stub Hub chat, and talked to Khloe **, so I could get a transcript of all this. She took my info, and apologized. And called the buyer and basically got him to agree to send the tickets back by UPS tomorrow at the latest. So that means I get them Thursday. At the earliest. I will see what happens. I am not going to re-list these on Stub Hub for sure. I will never use them again. But I am not going to list them on another site until I see they have shipped.
At the end of this, Stub Hub gets their 10% commission on the original sale, gets their return fee, and the buyer gets replacement tickets at the original price he paid me. What do I get? Well let's just say it hurts to sit down right now, because that is where they stuck it to me. Is this fraud? It seems like it to me. Especially where the Stub Hub rep Megan told me what the buyer told her about keeping the tickets "hostage". Thank you for providing this forum.

We purchased tickets to Harry Potter production in London... I don't know where to begin with this horrendous experience. The theater does not recognize tickets bought on the secondary market! That includes any tickets bought on StubHub. We did not find this out until the day before the show. After traveling abroad to London to see the show we were told that tickets were invalidated by the theater. Needless to say Stub Hub has been obnoxious to deal with and has not agreed to refund our money despite documentation from the theater that they sold us fraudulent tickets. Will not use Stub Hub again!

I purchased a ticket from StubHub for a Coldplay concert at Metlife Stadium on August 1, 2017. Five minutes before the concert was to start I received a phone call on my cell stating that the ticket was not available and that a substitute ticket is being issued to me via email. I checked my email and saved to my phone before heading to the concert - luckily we weren't already there!! When I got to the ticket venue I was told by the custodian that no such row existed for the new ticket issued to me. I was provided by StubHub a substitute ticket for a seat that was not even in the venue. This was my first and very last purchase through StubHub!!! Buyer beware!!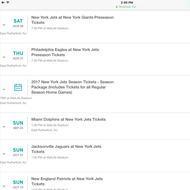 I've operated as a buyer and seller throughout the years with StubHub with positive outcomes until recently. Looking to sell individual NFL games but season package was listed and sold at game individual ticket price. Site sets you up for a negative outcome allowing both individual games and full season to be listed simultaneously which should be impossible. Also asks for price per ticket for season package but uses that as price per package. I called to attempt to resolve this and based on my call the sale was cancelled and 40% penalty was taken from my credit card on July 21st even though I never cancelled the sale and had until September 4th to fulfill or cancelled the sale. I've received assurances that my card would not be charged, I would receive callbacks and my calls would be audited by a supervisor. All not true.
The names of each employee are as follows: Yaniquecca on 7/17, will not charge my card, Brian on 7/21, will get a callback within 24 hours and Kamara on 8/6 who claimed he audited the prior two calls which lasted between 50-110 minutes but yet called me within back 3 minutes after I was told by Shawna that Kamara would audit my two calls in their entirety. Karmara kept saying what I see vs what I heard, could not recap the calls and refused to listen to the calls with me.
Both Yaniquecca and Kamari are supervisors and have claim to have no other supervision so attempting to escalate or in Kamara's case holding him accountable to actually listen to my prior calls like he is claiming is impossible. It's clear that these employees are not empowered to do anything but what is even worse is that Yaniquecca and Kumara are not telling the truth and are being rewarded for it. I would love to hear back from someone who is empowered and honest at StubHub.

I have purchased tickets on StubHub many times. And I've never had an issue. I went to purchase Mets tickets for the July 30 game on Friday night July 28. I saw some field level tickets in short left field for about $162 for four tickets. It was a good deal so I went through to attempt to purchase the tickets. When I went to confirm the purchase of the tickets, the StubHub website responded those tickets had already been sold. No problem. I could go search for more tickets that were available. So I clicked on the "search for more tickets icon" on the stub hub page. My screen then blinks and takes me to a page where I am purchasing tickets for over $400.
Well past my budget, never clicked on confirm button to purchase them and they never picked out those tickets. Called StubHub immediately but I was told it would take 24 to 48 hours for them to research it. Meanwhile the game was less than 48 hours away and I live 3 hours from the game site. I talked to StubHub 2-3 times over the next 24 hours and just got the runaround. They promised to call me back with the findings but just sent me an email saying their records show I purchased the tickets and they were now mine.
Further they stated that if I didn't want them I could resell them on the website; they would waive their sale fee. So for the heck of it, I go to the website and find that the average cost of the ticket for that section is now $23 per ticket and not the hundred dollars per ticket that was given to me improperly. The maximum sales price I could resell the tickets for was $65 a ticket. Were they expecting me to take a loss of $35 per ticket on four tickets? The service was horrible and they were less than sympathetic about anything that I had to say. And it was always myself that initiated any contact with them with the exception of the last email. So long StubHub.

I had an awful experience with StubHub. I ordered tickets and they told me they would be ready by a certain date. It seems like a very trustworthy site but they really don't know anything about the seller selling the tickets to you like if they are real or if they even have them. I stayed up all night trying to get answers of when my tickets would be coming and never could get an answer. They just told me to not worry and wait. Let me just tell you my friend and I flew all the way down to San Diego to see this concert and after numerous calls and live chats I get a message saying "sorry about your order you will get your money back." I'm very disappointed with this and will never trust it again.

I purchased tickets off the StubHub website for a Bruno Mars concert in Sacramento for July 18. When my mom sister and I got to the Golden 1 Center the tickets had already been used! Apparently StubHub allows people to create tickets under one name and sell them at outrageous prices. So by the time We got there the lucky winner of my tickets got to go into the concert. We had to go to the box office and purchase more tickets. I spent over $1200 in tickets for this concert and StubHub just doesn't care. They told me the same thing they tell all the people. That they take this situation "Very Seriously". Clearly they don't take it seriously enough. The customer service agent that I spoke to wasn't a manager she was a "pee on" in her terms... like who says that?! StubHub needs to get it together and figure out a way to monitor this better. I'm shocked there isn't a lawsuit against this company yet!

Another StubHub Listing Sold Incorrectly. When this happened to me I thought I was one of few, but looking at Consumer Affairs I see I'm definitely not the only one this has happened to and I hope StubHub is paying attention and acknowledges that they have an issue with their website. Cleveland Indians vs Toronto Blue Jays on sale for $79, and next thing I know (24hrs before the game) they sold for $9! WHAT! Customer Service says they found no wrongdoing on their part and what is worse they wanted to CHARGE ME for canceling the order. With the game starting in 3 hours these tickets are worthless to me now and they want to CHARGE ME money as a means of rectifying their mistake! Really StubHub?

I do like StubHub for buying tickets but will never again sell through them. So many conditions they don't tell you about. I listed an Ed Sheeran ticket I had that wasn't going to be used the day before the concert as I was on vacation and rushing to get these tickets listed and sold. I listed on the app and uploaded the ticket from my phone without any problems. The ticket quickly sold and it seemed like it was going well until literally an hour before the concert I got an email saying the order was canceled and invalid. I wasn't trying to scam the buyer. Wtf??? Besides that it also said my account was charged $55.80 as it was my responsibility as the seller to make sure the tickets were legit. But they were???
Another reason to hate big business always trying to take your money because of stupid penalties. I contacted StubHub through Twitter all heated and they were nice enough to cut my charge down to $27.90, but still why should they charge me for a ticket I didn't know was invalid even though it wasn't and that was my intention. I explained how I was at the airport with a 5 hour delayed flight and wouldn't be home until right before the concert. So selling on my phone was the best bet. They told me the ticket I uploaded was a screenshot and wasn't valid through StubHub. So disappointed in StubHub!!! Disgusting a business like that would take my money for no reason. Be careful when you sell with StubHub!!! I wonder what would happen if I never pay the charge. Ridiculous.

I tried to readjust the listed price for two tickets for Redsox -Yankees game (two tickets each worth $150). The website froze while readjusting the list price to $130, so I shut the website down and reopened it. Guess what, the tickets were sold for $10 each! Will not use StubHub ever again.

I listed tickets for today's Cardinals/Mets game on Stub. At about 8:30 this morning I was sitting in my driveway and wanted to knock the price down to $30.00. While sitting in my car, I had the distinct thought to make sure I entered the full price as $30.00. A short time later I received an email telling me my tickets sold for $6.00. I thought this was more than odd, as certainly I would have recalled entering such an odd amount.
I called customer support and explained that I did not list the tickets for $6.00. The rep on the phone offered two options, one of which was to cancel the order. He mentioned a $5.00 cancellation fee (did not mention how that amount was determined). Remember this, because it comes up again. I specifically asked if the barcodes on my hard tickets would be affected. He said they would be valid as the StubHub listing would be canceled. I received a cancellation notice at 8:46 AM.
Shortly after this call, I started making arrangements with a buyer through Craigslist who was driving in from out of town. As a season ticket holder, I told him I could contact the Cardinals and have the tickets reprinted and left at Will Call for him. I was unable to do this until after 1:00 when the season ticket reps would be available to assist me.
At just past 1:00 I spoke with the season ticket office and they took my information and said they'd print the tickets for the buyer. Minutes later they called me back to tell me they couldn't print them because they were marked as "sold by Stubhub" in their system. I then called StubHub back and was told I needed to delete the listing from my account (this was not possible). In the meantime, I noticed that I received an email at 1:00 from StubHub that stated that they reissued and attached new tickets/barcodes for the game. Keep in mind that this was at 1:00 and the sale was canceled at 8:45. The game was at 3:15. I was eventually able to forward those tickets to the Cardinals box office for printing. They were also confused as to what was going on with StubHub. No explanation as to why I was told my original barcodes would be valid or why it took until 1:00 PM to receive new tickets/barcodes.
It wasn't until late afternoon that I noticed I overlooked an email notice from American Express at 8:46 AM, advising me of a $47.40 charge from StubHub. This added to an already frustrated day of dealing with StubHub. At about just before 12:30 tonight, almost 12 hours into this mess, I contact chat support to inquire about the $47.40 charge. They advised me the charge was from the order I canceled, which I assumed to be the case. The rep advised of the cancellation charge applied to the seller. I mentioned that I was told it would be $5.00. (Again, remember this $5.00 reference. It comes up yet again.)
I advised the rep that I shouldn't have had to pay any fee considering something happened to cause my tickets to list less than the intended $30.00 price. I also let this person know about all of the other issues I had during the day involving the barcode issue. She subsequently advised me of the 40% cancellation fee because of the cost to StubHub to provide replacement tickets to the buyer. The very first rep I spoke with in the morning did not mention this at all. I asked for the name of someone in charge of customer service. I did not get an answer.
At this point, after going back and forth about the intended price of the tickets, I'm realizing that I'm not getting anywhere, and decide it's time to place a call to customer service. While doing so, I asked the chat rep again for the name of someone in charge of customer service. She provided me with a mailing address. She was unable to provide a name. I ended the chat.
After explaining what I had been dealing with all day, I asked phone support to put me through to a manager, which they did. I spoke Nick **. in Utah, who immediately started using very deliberate language assigning blame to me. Right off the bat he made a pointed comment to summarize what he knew about the situation by saying I made a mistake with the listed price. I promptly cut him off and corrected him.
Nick claimed they listened to the recording and said there was no mention of a $5.00 fee, to which I found incredulous, but said I suppose it's possible I misunderstood. I was certain I didn't. I was blown away by the notion that a so-called customer service professional would basically accuse a customer of lying. Remember this, because it will come up yet again. I asked if he could provide a recording of the conversation and he said he couldn't. Nick didn't acknowledge the issue with the barcodes but continued to take a very accusatory tone. The conversation went back and forth and he said he could meet me halfway and provide a $27.40 refund. The call reluctantly ended after 29 minutes, and I was still out $20. The call ended at 7:36.
Then, presumably as a follow up to my chat support session, I noticed that I received an email at 7:23 that reads as follows: "We have reviewed the interaction where you contacted about the barcodes from the tickets you sold here and we advised that we emailed you the reissued tickets with the new barcodes that you could use. When a sale is dropped here there is a 40% charge or the difference in the price of the replacements, whichever is greater. Had 40% applied it would have been about a $5 charge, in this case the replacement difference applied and that is why $47 was charged to you."
So there it is. The $5.00 charge that Nick was explicitly saying never came up during my original call appeared yet again. Nick was flat out lying to me and was attempting to make me doubt my account of the day's events. At this point, I was furious. I called StubHub back at 7:44 and asked to speak with Nick. I was put through to another supervisor, whose name I didn't get, who said Nick left for the day. I didn't believe this to be the case at all and said as much. As if Nick ran out of the office the very minute he hung up the phone with me.
I read the entire contents of the email referenced above to the supervisor, and expressed my anger with Nick for trying to make me believe there was never a reference to a $5.00 cancellation fee, and that this was validated by the email sent by another customer service rep. Again, displaying absolutely atrocious customer service skills, this supervisor also tried to be argumentative. I told him that I wouldn't just pull the supposed $5.00 fee out of thin air. I also made a comment referencing their policy to not share recorded calls with customers, even if my voice was in that call.
At one point, he said, "Is it possible human error was involved?" (paraphrasing), completely ignoring the possibility that this could also be a technical issue. Of course human error COULD be involved, but it doesn't mean it was. Instead, StubHub was hell bent on blaming me and siphoning $47 off of my Amex. This supervisor listened to my rant about their terrible customer service skills for 16 minutes, and eventually agreed to refund the remaining $20. Even still, he couldn't help but try to take a hardline stance about policy with me.
StubHub's supervisors are dishonest and quite frankly have terrible customer service skills. Had I noticed an error on my end, I wouldn't have made such a big deal about this. But when a customer is convinced they didn't make a mistake, and the company insists the customer did, or lies or manipulates the conversation to imply they did, that is a pretty significant customer relations failure. I do intend to address this with the Cardinals with the hopes that they will ramp this up with MLB. StubHub could have done a lot more to avoid this situation.
They completely failed to acknowledge the failure by the original rep, who told me the original barcodes would be valid due to the canceled sale. The original rep made no reference of "40%". I don't care about the fact that I agreed to it when I posted the tickets, because they didn't bother to entertain the possibility of a technical issue. Additionally, I acknowledged I may have just washed my hands of it had the original rep adequately explained the 40% fee, regardless of the sale error.
It's appalling that Nick W. flat out lied to me about the $5.00 reference and said it was never brought up. He sold out his integrity in order to try salvaging some revenue from a very angry customer. Quite frankly, this guy should be out of a job. Honesty goes a long way, but it seems like the supervisor crew was focused on manipulating the conversation to favor StubHub. The email I received this evening validates that I wasn't just making up the $5.00 fee.They waited until 1:00 to provide barcodes. A little more than two hours before game time. Nobody on their crack support team made any effort to explain this failure. Because of the inconvenience this caused me this afternoon, you would think this alone would have compelled them to say "We'll just give you a full refund."
Supervisors need to lose their ignorant, condescending attitudes. Begrudgingly providing a refund (partial and eventually full) does not sit well with me at all. I appreciate the refund, but the accusatory attitudes are completely unprofessional. It's amazing that these people are allowed to twist reality or ignore legitimate concerns the way they do. Even the final supervisor I spoke with wouldn't allow himself to finish the call without a lecture about how they could investigate and determine it was my error. It's as if he wasn't listening at all. I would fire anyone who conducts themselves the way Nick and the other supervisor did this evening. I get protecting buyers, but without sellers you don't have a purpose. And not every seller is trying to screw StubHub over.

I purchased concert tickets from this company. I've never had any issues with StubHub when purchasing tickets for an event. Well on this day, I paid over $300.00 for these tickets and I received a confirmation number from StubHub. When I went got home to print out the tickets, I received another email stating my order has been cancelled due to an issue with my acct supposedly. As soon I read the email, I called to find out why my order was cancelled and my account had been shutdown and placed with the "Trust and Safety" Dept, StubHub states it was for verification purposes as to why they cancelled my order. Apparently, they weren't "sure" the order had been placed by me. My tickets were then sold to someone else and my credit card still had the charge pending instead of being released immediately.
After calling, I received an email from Stub Hub informing me that it had been bought to their attention that I was in violation of the "User Agreement" and that this email served as a "warning" and the next time it occurred my account would be deactivated from further use. I've been working in customer service for 15+ years, EVERY COMPANY WOULD CONTACT THE CONSUMER TO CONFIRM THE PURCHASE IF THEY FELT IT WAS FRAUDULENT PURCHASE. STUBHUB DID NOT DO THAT. I didn't receive any phone call and when asked why don't they call, the rep advised that was apart of the policy and the correct thing to do was to cancelled the account and then confirm if the order then placed by me.
Bottom line is I lost my tickets, my money was still in pending status and no compensation was given for the inconvenience. I had to reorder a different set of tickets from another vendor for more money. But THAT VENDOR DID CALL TO CONFIRM IF I MADE THE PURCHASE BEFORE IT WAS CANCELLED. StubHub policies are ** backwards and are very unacceptable to the consumer market. The way they handle the customers accounts are completely unacceptable and the policy should be changed to further accommodate the customer not inconvenience them. I cancelled my account and will no longer will even think of purchasing anything from them EVER AGAIN.

STUBHUB IS A SCAM! I deactivated tickets on 6/22/17 that I was trying to sell on StubHub's site. I signed off and signed back in to confirm tickets were not listed on their site or still in my account AND I VERIFIED THEY WERE NOT LISTED. I was told this is a common problem that they magically reappear so if they do sell they will charge you at least 40% of the sale of the tickets. Sure enough a week later I get an email the tickets sold??? I contacted StubHub immediately and was told I would be charged at least 40% of the sale or replacement tickets (a minimum of $300.00 fee). WHICH I HAVE BEEN ALREADY CHARGED TO MY CREDIT CARD. I was told their IT dept will be contacting me within 48 hours. I have been contacting them every day, and I'm still waiting for a response as to how this happened. EASY MONEY FOR STUBHUB!

I purchased online tickets from StubHub for July 3, 2017 game between Rockies and Cincinnati Reds. I reviewed my seating online, ordered row G29 seats 28, 29. On my arrival to the stadium, I was informed that the seats was removed for fireworks show. My girlfriend and I was informed we would have to stand the entire show. My girlfriend and I are close to 60 years old and expected to stand for 3 hours in the sun. Plus you couldn't see the ball field or game. Watch yourselves with StubHub. I contacted the main office. They refused to refund my $111.00 because the tickets was considered general admission. My tickets show two assign seats row G29 seats 28, 29. I've learn now to book direct with Rockies. My tickets would of been lot less. Rockies booking was sorry to hear our story. They tried to get us seating. Game sold out. Watch out everyone that booked July 4th, 2017 tickets with StubHub.

Phillies vs Pirates Event Tickets - Looking forward to a nice night with family and friends. Embarrassed by StubHub complete incompetence. My first and last experience with this company started by buying tickets at 10 am. Received confirmation and printable tickets. Looks good. At 5 pm just as we are heading to game I got a call from StubHub that my purchase was fraud? And they turned around and gave me another set of fraud tickets? Yes a second set of bad tickets and unknowingly I headed to Philly. Obviously I could not get in and was humiliated in front of family and friends. StubHub said it's reimbursing me but has not yet. And nothing for the wasted time and money for my 3 hrs up to Philly and back. Complete loser company that I would recommend avoiding. Period.

We wanted to sell our tickets to a concert that we did not want to go anymore. While listing the tickets Stubhub did not even confirm that Flash ticket sales were not allowed. They should tell the sellers that these types of tickets are not allowed for first time sellers. Ultimately we were not able to sell the tickets and they charged us a fee. They want 100$ per ticket! Even though we did not sell anything at all! They are such a scam and are just trying to get sellers' money. They were very unprofessional and harassing me with so many emails to pay up which is against what a company can do. BEWARE of this company. They are a SCAM.

Very very disappointed and embarrassed!!! Bought two tickets for the Roger Waters concert here in LAs Vegas T-Mobile arena last night. After a long wait at the gate and spending a lot for the whole experience the ticket was fake. They did not let us in. Worst possible experience for me. Never recommend StubHub. Their customer service is not very helpful too. Did not provide why the whole thing happened whatsoever. They need more than 5 business days to investigate! And it was not only us last night with the fake tickets from StubHub!! There were a bunch with the long faces and angry.

First thing firsts. Always do your research before buying tickets. I purchased NBA preseason tickets assuming they could only be obtained thru StubHub or ticket exchange. I found out later that I could've purchased the same tickets from the venue for 1/3 of the cost. Instead of paying 32$ per a ticket, I ended up 100$ per a ticket. StubHub does not care about the fans who make their business possible, rather they only care about the profit from price gouging greedy sellers. There is a reason there is no ticket price comparison information available. They profit off of keeping fans in the dark. This business will inevitably implode. Screwing over the fans which are responsible for your revenue is not sustainable.

Their customer service department is the worst. They have no care in the world on what the customer is all about. They get 10% mark-up on the tickets they sell plus an outrageous and high price transfer fee, and they get 10% premium from the seller, and the slowest to pay them as well. They will get the person's money ASAP, and sit on that for several days until they feel when the time is appropriate to fulfill their obligation. Trying to work with them is like talking to a child in the first grade, and I am probably doing a disservice to the first grader.

ConsumerAffairs Research Team
The ConsumerAffairs Research Team believes everyone deserves to make smart decisions. We aim to provide readers with the most up-to-date information available about today's consumer products and services.
StubHub is an eBay company that began selling and reselling event tickets in 2000. A fully online and mobile company, StubHub focuses on technology and innovation to create the best experiences for customers.
Mobile app: Buy tickets and choose your seats, or resell tickets via the mobile app for Android or Apple.
Easy sales process: List your tickets on the app or website, and StubHub will do the work of finding buyers, completing the sale and paying you.
FanProtect Guarantee: Guarantee for buyers so that they will either receive replacement tickets or a refund if something goes wrong with the vendor; guarantee for the vendor that he or she can list his or her own price and post tickets free of charge.
Fan rewards: For each StubHub purchase, earn two percent of the cost in rewards that you can cash in for a discount on a future purchase.
24/7 customer support: Call toll-free from the U.S. or Canada, or chat online with support.
Best for StubHub is best for sports enthusiasts, since the company is affiliated with multiple sports leagues to offer great resales.
Company Name:

StubHub

Year Founded:

2000

Address:

199 Fremont St.

City:

San Francisco

State/Province:

CA

Postal Code:

94105

Country:

United States

Website:

http://www.stubhub.com/