Consumer Complaints and Reviews

I just got off the phone with a supervisor, Brett, who I wished to talk to after having a promotional code taken off my pending purchase. I was purchasing a single ticket for myself just two hours earlier and was on the phone with a very nice gentleman who helped me acquire a promotional code to get $20 off the ticket. I had to make a few phone calls to make sure I could afford these tickets, seeing I am a college student and these tickets were very expensive; more than twice what they were before they sold out on the original website. This promotional code was very beneficial to me and I was very excited to use it (I signed up for visa checkout just so I could).
When I went to go buy the tickets not too long later, I found the code had been removed from my account. When I called and questioned StubHub about why it was no longer working, they told me I no longer was able to use this code and that they didn't know how else to help me. I asked to talk to the supervisor who basically told me there was NOTHING the company could do to help me achieve that awesome discount and told me to have a nice day, sarcastically. I'm extremely surprised at the way a supervisor handled this situation, any other company would have helped me get that $20 off as a "sorry" for having me stripped of a promotional code that I was offered at first, and then moments after not. Safe to say I'm no longer purchasing/putting my trust in StubHub.

I purchased tickets to an event on STUBHUB. On arrival the event on 8 April 2017, I was denied entry to the event as the tickets were not valid. I have provided all the proof to STUBHUB. I have provided a formal letter from the Host event organizer to confirm that I was denied entry and that the tickets were not valid. STUBHUB are not honoring their guarantee. It is a dud company and DO NOT BUY TICKETS ON STUBHUB.

Wanted to provide my parents with a great Christmas gift. Searched for "best available seats"... and come across 4 tickets for Tom Petty & the Heartbreakers at Verizon Arena. Bought the "best available" within my budget on 12/23/16... which note was over $500 worth of tickets for nosebleeds. Finally received tickets for download the night before the concert on 4/22/17... with buyer's name and face value of $36.50 on each ticket. Went to Verizon Arena's site... and see that the SAME tickets I bought were only $15 damn dollars. There were FLOOR tickets available for a quarter of the cost I paid for my tickets.
Completely pissed off, I contacted StubHub and asked how they were OK with allowing sellers to RIP OFF buyers. After wasting 1 hour and 7 minutes of my time on the phone... the only answer 3 different people wanted to give me was "We can try to sell them for you". Who the hell in their right mind is gonna buy $500 worth of tickets that are only valued at $60? Seriously.
The "buyer/fan protection plan"... specifically where they say if they see it fit they will work to find better tickets comparable to the cost and value... pure crock of **. If I were a company with 1 and 1.5 star ratings, I'd probably try to work a little harder at making my buyers happy. The least they could have done with to offer to take the money THEY profited off of me and help me find better seats than the ones I initially bought... but nope. No offers. No nothing. Just a lot of scripted repetition of no integrity, rip off, scam artist money makers who thrive off scalping. In Arkansas, that's illegal. Lesson learned.
I may be a nobody from Arkansas but I know that there will be PLENTY of people who NEVER spend a dime with StubHub after I BLOW SOCIAL MEDIA up with bad reviews on this thieving company. Don't send me another email with the title "You deserve a night out: get closer to your favorite artist for cheaper." Complete SCAM. Company with ZERO integrity.

I bought in one-month advance for 4 tickets of BPL game in Southampton taking place on 15 April pm through StubHub, after reading the below service commitment on their site: "How do we protect the buyer? The seller will not receive payment for the ticket until the buyer has attended the event. This way we can ensure that the ticket is authentic and corresponds to the location that the buyer has chosen. "
I've designated a hotel address in London where I'll be staying during my trip to UK for the delivery of the tickets. However, we waited and waited and when we were set to leave the London hotel heading to Southampton in the morning of 15 April, the tickets still hadn't arrived. We have no choice but leave the hotel to catch the train we have booked to Southampton with no any tickets on hands.
When asking for refund of my payment, StubHub just ignore totally and said nothing they can do because the tickets arrived at the designated London hotel at noon time, a few hours before the ball being kicked off in Southampton. According to their claim now, they are saying that nothing they can do so far if the tickets can arrive at the designated location in a minute before the start of the event in somewhere else!!!
I'm not complaining at the price of tickets here (as that have been known when I click the confirm button on their website), although that are really high. But the situation I mention above is really totally unacceptable and unfair. This is very near to the case of a fraud if technically it is not. Can someone from StubHub really help to follow up the case and send me the refund???

Beware of Mailed Ticket options from StubHub. Although StubHub has always come through for me, the latest experience with them proves that they are not a dependable source for tickets. Beware that they do not verify the sellers/or the tickets from their sellers. We purchased 3 tickets for Magic Mike for my mother's 70th Birthday. They were over face value and in the front row. Definitely the spot for my 70 year old single and widowed mother to have a fun and memorable night for her birthday. Flights were purchased, babysitters confirmed, pre-party at the venue confirmed. The option to get the tickets as a download was not available, only the seller could mail the tickets to us. What did we get in the mail a week later? An envelope with a sheet of paper with a generic printout from the StubHub website. No tickets.
We immediately called StubHub. They advised they would call the seller and find out what is going on. There was no call back from this mystery seller. They offered us alternate tickets in a lousy section for a different night (which we cannot attend due to travel/sitters/etc) or a refund. No offer for comparable seats for the seats we purchased, as those seats were more expensive than what we paid for. We had made travel plans to get to Vegas. We had the pre-party planned at the event venue, etc. There was no offer for a discount/voucher for future purchases for the inconvenience of this happening. Nothing but a "We are sorry, but we are really not sorry" from customer service.
We took the refund and now have to re-plan a party in Las Vegas in 4 days. Most of the good shows are sold out. That being said if you are ever planning anything around your StubHub tickets they do not verify the validity of their sellers/tickets. If you buy from them only take the "instant download option". Be sure that you have your tickets in hand before you make any plans. It is very disappointing and I plan on never buying from them again. This will not make a difference for StubHub to lose one small customer, it does not hurt their pocket. The reality is it only hurts our pocket, and more importantly it ruins all the plans we had for my mother's one and only 70th birthday. Thanks for nothing StubHub.
How do I know I can trust these reviews about StubHub?
762,011 reviews on ConsumerAffairs are verified.
We require contact information to ensure our reviewers are real.
We use intelligent software that helps us maintain the integrity of reviews.
Our moderators read all reviews to verify quality and helpfulness.
For more information about reviews on ConsumerAffairs.com please visit our FAQ.

I made the mistake of twice using this con company to buy tickets for an MLB playoff game and an NBA playoff game. Both times the tickets were charged immediately to my credit card yet both times they never arrived! They do not have customer service. They are immoral and unethical. They allow sellers to pull tickets for better prices. I will never buy anything from them again, ever. I've switched to Vivid and have my tickets in hand for the OKC game on Friday. Don't gamble with Steal Hub. They are a nightmare and conveniently "disconnect" or hang up on customers they don't want to speak with. HORRIBLE!!! I would give them ZERO stars if possible.

Do not get into this trap, tried selling my flash seats to a concert. There was a drop down that reads, buyer to create flash seat account to purchase these tickets. One set sold for 1000.00 usd, then realized that StubHub could not sell these tickets, contacted them, apologized, cancelled transaction. Week later 450.00 was withdrawn from my credit card??? They said it's policy and in fine print, got to be kidding me, I spoke with them 5 times to rectify this. They said I signed agreement that's life, I did not give up and after several attempts they refunded me 227.00 and they kept rest. Total bs, greed, terrible company, if I could give them a minus 1 I would.

I purchased 7 tickets on row AA for the Kings and Rockets game on 4/9. I purchased the tickets a week before. After not receiving the tickets and on the day of the game, I called StubHub. They told me that the tickets I purchased could not be delivered by the seller. So they offered me 7 tickets 5 rows behind the seats I had originally purchased and gave me (after substantial arguing) $200 credit. Then these tickets were never delivered. This all went down on game day, after I had 5 people fly in from out of state for the game. On the day of the game, I called again and was told that these tickets were no longer available (again) and they offered me a split of 5 seats in one area, and 2 in another area. Not acceptable. No additional refund, and they don't seem to even care.

We purchased three tickets to the Jeff Dunham concert, 4 months in advance, via American Express, whom repurchased them from StubHub. We arrived at the venue only to find the tickets were duplicates and the other tickets holders had already arrived. We went to the box office of the Richmond Coliseum and were told there was nothing they could do and this was not an uncommon occurrence. We contacted American Express and were assured of an immediate refund of the tickets. This is insufficient compensation in my mind as we purchased tickets in good faith and we received no value for the purchase. I will continue to pursue this but I feel it should be noted that the buyer should be wary of these scams.

I ordered tickets to Green Day at 1st Bank Center on 4/5/17. Was charged over $650 for $140 face tickets!!! If this is not pure greed I do not know what is. Please do yourself a favor and do not buy from StubHub unless you have more $ than brains. I have learned my hard lesson.

I would give StubHub 0 star if possible. The experience is unpleasant. Bought the ticket for Hong Kong 7s and paid 669 SGD up front. Passed the committed delivery date but still no response from the website. Every time I contact them, the call center only told me "NOT TO WORRY" and no information on when will it get shipped. VIAGOGO has much, much better customer service.

I asked for the method of my payment to be changed to credit card because the Stubhub tie to PayPal didn't give me an option to select what method I use, LIKE ANY OTHER SITE OFFERS AS A BASIC so I added my credit card so they could cancel the Paypal draw from my bank and I assumed the problem was fixed. But now I have a massive overdraw in my bank account and I can't do anything about it until the refund which should have been a cancellation goes through into Paypal and for every day that it takes I'm going to get slammed with NSF charges by my bank all because Stubhub doesn't offer basic service like all other Paypal affiliated companies.

When checking out the terms for listing my tickets on Stub Hub I learned that they would remit my earnings via check within twelve business days (per THEIR website). This was in Feb. 2017. My tickets sold three weeks later but in the interim Stub Hub changed their policy to require direct deposit. They won't pay me without my bank routing and account numbers. And their website still reads that a check by mail is an option. When I contacted them they told me that the info on their site is incorrect and I shouldn't be surprised as their terms are subject to change. I promised to never do business with them again, but I still can't get paid.

We bought 3 tickets for the football game on 7th of May at Camp Nou. We paid them immediately. They asked us for a local address to send us the tickets but we explain that we do not live there or have any friends or relatives. Unfortunately neither the hotel we have booked (Travelodge Barcelona Poblenou) accepted to receive the tickets for us to take them when we arrive. We asked the StubHub to send them via e-mail so we can print them. They said, "No." We asked the StubHub if they would like to communicate with the hotel themselves so we can find a solution. They said, "No." We asked for a refund!! It was like they have never read that part.
We asked to send us the tickets on our expenses to our country. They said, "No." Specifically to that email they answered: "Can you please provide us an address in Spain?" Then we asked if we could go and get them ourselves from their offices in Spain the day before the event. They answered that they don't have offices in Barcelona... At last we asked them if we could get them directly from the stadium and the answer we got was that they are working on my case and they will contact me again shortly... We have proposed a lot of solutions but they did not seem eager to help. At that point I consider I have lost approximately 400 euros because, at that point I have no way to get MY ALREADY paid tickets, neither to get my money back. Surely I will not leave it this way, but I had to write my review before I proceed to either get the tickets or my money back.

I purchased Denver Nuggets tickets in row 10 for my son's birthday. When I went to the flash account to verify them - they were not there. I called StubHub and 37 minutes later all they were able to give was tickets in row 28. They said they would give me comparable tickets - these are not comparable. I could see other better tickets for sale for the price that their replacement tickets were being offered but they would not offer those. My son is very disappointed. They wanted to just cancel the order all together.

Do not sell your tickets on Stubhub. I am sure it works fine if everything flows smoothly, but if not then you could end up paying an unlimited amount of money. My listings disappeared. I am now liable as I sold my tickets back to the original vendor as I thought they had been taken down by Stubhub. Someone subsequently bought my tickets. I now have to pay a £25 admin fee plus the difference for new tickets sourced by Stubhub. If the tickets they source cost £500 more than the price of the tickets I put up, I then have to pay the £500 difference. There is no cap on this. It seems it's up to their discretion. Plus I have to pay the admin fee even though it was their fault. At the worst they should just charge an admin fee to me and refund the buyer's money back to them.

DO NOT USE THIS SERVICE TO SELL TICKETS! In addition to charging you 10% of the ticket price, StubHub charged me a $120 fee because I did not mail tickets within 24 hours of a sale. I never saw any requirement to stay on top of the ad constantly, although I am sure it's the fine print somewhere. When I buy tickets from them I am told they will be delivered within a week of the event. I was checking the ad weekly and the event was still 5 months in the future. When I called to protest this insane "fee" I was told they never refund any fees. They stole $120 from me without warning and they keep your credit card on file to charge at will. I couldn't even delete the account or my financial information without waiting on the phone for their help. I will NEVER use this site again. Sell your tickets on Craigslist where there are no crazy fees or dishonest money making practices.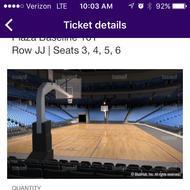 We purchased tickets with StubHub to a Memphis Grizzlies game at FedEx Forum. We spend $355 on 4 tickets. Never been to FedEx Forum. I always go by the view they provide but this time got screwed. Picture shows seats way closer than where they actually were. Called customer service and they said it was just an idea where the seat was. What!!! I have used several times and the view is always pictured. Very unhappy and deleted StubHub and will never use again.

I ordered tickets to a professional basketball game, Washington Wizards, fairly expensive tickets. StubHub sent them via UPS. UPS claims they delivered the tickets but I never received them. Because of my credit card company request, StubHub did ask UPS to verify the delivery and UPS investigator says it was delivered. Neither StubHub nor the Wizards will do anything about this. I asked the Wizards to check to see if anyone is sitting in the seats for which I purchased tickets and they declined. My credit card company may make this right by refunding my charges but that is uncertain. What is disturbing is that Stubhub will not do anything more to make this right except for asking for UPS to check on delivery and only because my credit card company requested it.

StubHub sold me a worthless ticket and even forced me to go far out of my way to pick it up (I would have thought it was an e-ticket). No refund because the 30-day window for refunds is 4 days expired.

I regret I have not reviewed these complaints before I click enter on StubHub... and this is because when I asked them next day where are my tickets they said: "They will be provided to you few days prior to the concert which is end of May." Ridiculous isn't? However I gently answered "Please provide me tickets ASAP as I am the legitimate owner." They said: "No because we want to avoid frauds." Should I cry or laugh?
First of all this is against the law. Once we pay for the product it MUST be delivered immediately. Secondly, I could have store my 1000 USD for those 3 months and get some interest. Someone may say it is very few. But what if they sell the ticket the same way to 1000x users and store that money in the bank? This will be a quite nice interest profit. And thirdly, what if I decide to give those tickets to my relatives because I may be sick or my plans may change? To sum up. Never ever buy anything there!

StubHub you are nothing but scam artist and if you are thinking about using them, please don't! They overcharge you. I'm very pissed that I discovered this site and not in time to be scammed out of 3 tickets. I literally could have bought them from a different site except instead of 3 tickets which cost $101 I could have gotten 6 for that price on any other site. I can't believe I didn't shop around first. The only thing I can thank you for is now I know who to never use and definitely never recommend them to anyone. ** StubHub???

On 3/7/17 I searched for best price for Art Garfunkel concert at Thousand Oaks Civic Center. StubHub said, "We've crunched the numbers to find the best value tickets for this event..." I purchased 1 ticket, thinking this was a discounted price. StubHub price $150 with fees $187.50. After I completed the purchase, the ticket is shown with an actual ticket price of $75 issued to MICHAEL **. Not anywhere before I purchased the ticket did it say the ticket may be HIGHER THAN ACTUAL PRICE. I called StubHub to get my money back and they basically told me how stupid I was to not know that the original ticket was from a third party who doubles the price of the ticket.

I bought a couple tickets at $80 a piece and now the tickets for the same section are about $20 something each. I contact them and demanded upgraded seats since I'm paying triple for what they are worth now and they didn't do anything about them. It is so disappointing and it's such a ripoff! They just blame it on the whole marketplace. That's BS! They should keep it fair and consistent for their customers.

A friend and I wanted to attend a concert. She said that's get them through StubHub. I normally don't buy through 3rd parties. So we went on the site. She said it's tickets on there. I went and bought a ticket and she can't get the other one that's for sale in the same section and sold by the same person. Why? Because now we have to buy both tickets because it's sold as two or none. I understand people want to sell their tickets. However the tickets should be sold separately. Very unhappy and now she don't have a ticket and I have one ticket that's most likely not going to get sold because it's one seat. Plus the tickets are overpriced. I'm not in to ripping off people so my ticket is for sale for less than what I paid.

I bought last-minute tickets to watch the soccer/football game between FC Port and Juventus Turin. I arrived on time at the place mentioned in an email. Contact person wasn't there, told me that he had left because, according to him, I was late (as I said, I was on time). Didn't even try to reach me on the phone before he left. I don't know what he did, could well be the case that he sold them twice or whatever since the way StubHub works you can simply sell tickets without giving them to the buyer apparently.
Customer service was also pretty bad. Took quite some time until they reacted and simply told me that "no refund will be given". There is no such thing as Fan Protection as advertised on the Website, no way of confirming that the contact person had ever been at the meeting place. Perfectly suited for abuse, you simply sell tickets and never have to hand them to the buyer. Sad to see that such practices work and are even supported/backed by companies like this one.

First time I used StubHub to buy tickets for a concert. I bought the tickets and they replied that had been a mistake and the tickets were not available. I asked for the reimbursement, and they paid me back CAD 42 less. Never deal with them again. Very disappointed.

On 11/1/16, I purchased 4 tickets as Christmas presents for an event in March 2017. I just printed the tickets today and realized I paid 120% of the face value of the tickets. I called StubHub to complain and they said they are a marketplace and don't monitor pricing. People can price the tickets whatever they want. I told them that I would never have purchased the tickets knowing the 120% increase but never saw the face value.
She said that is CORRECT, THEY DON'T SHOW THE FACE VALUE OF THE TICKETS YOU ARE PURCHASING. LEGALIZED SCALPING! What a rip-off! My only options are to use the tickets and take the loss or try to resell them on StubHub... hhhmmm... they already received a $95 fee from my original purchase. She said they would waive my fee if I jumped through a few hoops if I decide to sell them. I would feel terrible selling them to some other unsuspecting soul and ripping them off! Karma wins today... I can't be a part of ripping someone else off! Expensive lesson learned! Never Again will I buy from StubHub!!!

Worst ticketing agency ever. I signed in to my account and was unable to access a $200 egift card I had saved to my account. Spent 4 hours and 8 pages of Chat time to be told I would do better if I called someone in the morning. They told me I had to enter my credit card information even though I had money in my account on StubHub to use. This was wrong!!! I then call the next day only to go through a similar issue, having to give my credit card info all over again. I was told the tickets were purchased and I would received an email. I opened the email and followed the directions. Opened my account only to find I had no tickets!!! I ended up spending well over 6 hours to buy 2 tickets. I would NEVER recommend anyone using StubHub!!!

I used StubHub for the first time last year. I purchased 2 concert tickets to see Black Sabbath in Toronto. While it's disheartening to read the bad experiences some people have had with StubHub, I can only base my review on my one-time purchase. Based on the positive experience I had I will use their site again.

ConsumerAffairs Research Team
The ConsumerAffairs Research Team believes everyone deserves to make smart decisions. We aim to provide readers with the most up-to-date information available about today's consumer products and services.
StubHub is an eBay company that began selling and reselling event tickets in 2000. A fully online and mobile company, StubHub focuses on technology and innovation to create the best experiences for customers.
Mobile app: Buy tickets and choose your seats, or resell tickets via the mobile app for Android or Apple.
Easy sales process: List your tickets on the app or website, and StubHub will do the work of finding buyers, completing the sale and paying you.
FanProtect Guarantee: Guarantee for buyers so that they will either receive replacement tickets or a refund if something goes wrong with the vendor; guarantee for the vendor that he or she can list his or her own price and post tickets free of charge.
Fan rewards: For each StubHub purchase, earn two percent of the cost in rewards that you can cash in for a discount on a future purchase.
24/7 customer support: Call toll-free from the U.S. or Canada, or chat online with support.
Best for StubHub is best for sports enthusiasts, since the company is affiliated with multiple sports leagues to offer great resales.
Company Name:

StubHub

Year Founded:

2000

Address:

199 Fremont St.

City:

San Francisco

State/Province:

CA

Postal Code:

94105

Country:

United States

Website:

http://www.stubhub.com/