Consumer Complaints and Reviews

7 years ago, in December 2009, my son and I created a Facebook account for my grandson, to connect and talk to his father, after his parents divorced. Soon afterwards, father and son connected using Playstation, so father and grandmother shared the Facebook page to play games. Father deleted his own FB account, as he was verbally abused by family members, and FB did nothing about the lewd language! Facebook, without warning, suspended grandson's FB account on or about Jan 8 2017! This FB account was active over the course of 7 years! No porn, no naked pictures! Only messages to family and friends and ''game playing,'' which was played every day over a year. EVERY DAY OVER A YEAR!
Why does Facebook delete accounts of harmless persons, yet allow true fake accounts to continue, as well as those who promote porn and pictures of naked people, and countless persons using foul language??? To Mark Zimmmeeeerrrr: glad you got rich by selling out the rest of us, and as far as your media website being free forever... phhht, it ain't true! Still waiting for FB to reinstate account.

On 01/07/2017, Facebook locked my account. Prior notifications on 01/04/2017 stated my account would be removed within 7 days if I did not provide a government document proving who I was. I have used an alias for 6 years due to ex-wives hacking my Facebook account. All of my classmates knew who I was. I had a whole history on family member pages as well. Facebook has deleted my profile and any history of me on all of my families pages. This is unacceptable and a direct violation of my privacy or apparently the lack of privacy. I am currently researching any means to sue Facebook for discrimination based on factual evidence of many other pages who do not use real names. Any help would be greatly appreciated. We, the people, have rights and the first amendment is still one of them.

A month or so ago, I received an email from Facebook asking me to confirm my ID by sending them copies of personal documents such as Passport, Birth Certificate, Drivers Licence etc. I refused to send anything with such details until they told me why they had requested such drastic action. They refused to reply and they also refused to reply to any further correspondence. They just sent a robot generated standard reply to everything I sent; ''It doesn't look like we can help you with the problem you're having from here. We're sorry for the inconvenience. If you're still looking for help with this, the Help Center is a great place to find answers to frequently asked questions and up-to-date forms you can use to get in touch with us."
My account has now been suspended for three weeks and I have important information that I need as a matter of urgency. I am a Type 1 Diabetic and have other auto-immune conditions (Crohn's disease, Lichen Planus and Restless leg Syndrome - auto-immune type) which interfere with the Diabetes and I have often needed to contact people as a matter of urgency, sometimes I have needed to use FB to do this. Therefore, by suspending my account (and not telling me why) they have put me in a fair amount of danger. I gave up and sent them a copy of my driver's license two weeks ago but they still won't lift the suspension. I need help with this matter and would like to ask, is what FB doing legal? I look forward to any responses.

Spent almost two years trying to get rid of my business page. FB made me create a profile to manage it and for two years the two never merged. I sent 100s of emails, tried 50 times to reset passwords etc, queries on forums..complaints, even letters to FB. NOTHING. NO HELP. They are a billion dollar scam operation that has ZERO customer service. I even paid for ADS. I cannot delete an outdated business page that is hurting my business. I do not want a personal profile on FB. I loathe it. Any business owner that uses this platform is doing themselves a great disservice. I would like to know if any other business plans on suing them. Class Action or something.

Facebook has deleted 3 of my accounts and this 4th time is under review for no reason. They are trying to claim it's a fake account. I had sent them info of a photo drivers' licenses and yet nothing has been done. I still don't have another account and every time I have to make a new account have to search old friends. It's becoming a pain for them as much it is for me. Yet this time around I had not broken any facebook community server rules or laws. I'm just getting deleted as big major parties I do expose do not want me to expose them.
The thing is Australia along with the USA are all under Freedom of speech, so why am I getting hassled and my time wasted over and over within 2 weeks now. I been hassled over 3 accounts, yet I will not make a fake account and I will not lie to get on FB, I will use my real name. I could easy lie and make a fake account and they would not know it's me yet I do not wish to lie as it's against my faith.
How do I know I can trust these reviews about Facebook?
668,849 reviews on ConsumerAffairs are verified.
We require contact information to ensure our reviewers are real.
We use intelligent software that helps us maintain the integrity of reviews.
Our moderators read all reviews to verify quality and helpfulness.
For more information about reviews on ConsumerAffairs.com please visit our FAQ.

I created a new account because of harassment. I used my real first name & a hobby as my last name, posting no personal profile or cover page photos. I just wanted to use this account to stay in touch with a special event that was planned through Facebook. There was no alternative to get this information. First I was blocked from liking or posting on FB & then my account was blocked unless I submitted a photo ID. My identity & social security number was stolen in 2014 & I certainly would not give this information to Facebook, considering their lack of security & love of selling my personal information to marketers.
There's no way to contact a live person & FB gives no reason for the block. Many times I have reported posts for profanity, nudity, hate, discrimination & racist & bigoted views, yet these are not below their community standards. I have reported obviously fake accounts & FB again says no problem & the account remain. They must be stopped. What kind of business who makes money off of our information can arbitrarily block people?

Dec 28 2016 I have provided proof and still have not gotten my account unlocked. I shred everything and do not use my real info on any public website but I provided what they asked for and have been left hanging. But you can create a artist, band or public figure page without their consent no problem. Facebook is nothing but a bunch of bully thugs making money off people like us and basically being told to get lost when help is needed. If I did not use it to connect with family and keep up with their lives I would give them the middle finger.

I have my Facebook account from the time it came into play... I never had my account disable until Trump won. Now someone post a picture of Trump's wife and I shared it. This was back in September of 2016... I get a message saying I have a 7 day ban so I wait 8 days. When I try to sign in they tell me my account has been disable for good... I have pictures and things from family members who are dead and only on my page. I just want my pictures. I emailed Facebook a few time. They refuse and told me they will not respond back to again. Facebook has done this too many time to my friends and family and if we have to follow the rules why can't they do the same.

I have been using my Facebook profile Dr. Arpita ** since last 10 years. A month back when I tried to log in it asked me to prove my identity saying I am impersonating someone else. I sent them my Gov't ids. It's been a month and no response from them in spite of writing so many mails. I have never violated any Facebook policies or impersonated anyone. If someone had flagged my account I have every right to know who had done that. It takes years to save memories and build contacts. We pay Facebook for marketing but they are not bothered about their customers. Hope someone can help me to retrieve my account. I have lost all contacts, important documents, and family memories.

Locked me out of my account in the middle of a post. Now requiring upload of government issued ID (social security card, utility bill, etc). All have private protect information. I went through a horrible time when Anthem Blue Cross/Blue Shield was hacked and my info made public. At least Anthem was required by law to notify me. Facebook is not required by law to notify. I don't trust my personal protected info with them. They have my phone number and IP address. If that isn't enough they can keep their damned account. Having learned the hard way with Anthem, it is not worth the risk for a social media account!

Facebook lets people post pornography videos and photos on their site. When you complain half the time they say it does not violate their community standards. Men are having full on sex with women in some of these videos. And some are very graphic. Kids get on this site and I am sure they see more than what parents want them to see or they need to see. How can they legally get away with this?

Starting @ 12/20/16 could not get into my Facebook Account via my desktop. Received message indicating I'd tried to log in too many times and needed to wait 24 hours before trying again. Tried to solve issue via review of Facebook Help suggestions. None worked. Tried to contact FB customer support and call picked up by a scam service posing as FB assistance. Problem: THERE IS NO FACEBOOK CUSTOMER SUPPORT. Waiting more than 24 hours until early morning on 12/23/16, tried to log in and requested password change. When password changed and accepted, tried to log in and received same message as a couple days ago indicating I've tried to log in too many times and, consequently, need to wait 24 hours before trying again. I'm in a closed loop and can't get out.
Will probably close my FB account because of extreme dissatisfaction with lack of concern and support from a multibillion dollar social media that knows all about me; but does not have the compassion to assist me when I need help logging into my account. FB makes a fortune... but apparently has little concern for its customers. Again: THERE IS NO CUSTOMER SUPPORT FOR FB USERS and all I can do is let those who read Consumer Affairs KNOW the scoop.

I have been using FB for many years. I am a Metal DJ and have two pages. One for business and my personal page Debz **. On 14 Dec 2015 my personal page was taken down as FB wanted me to confirm my name. After waiting a week to be able to contact them I finally got my name back Debz **, a name I use daily and have a change of name deed for. Exactly one year later they block my page again. As always you are not given the opportunity to have a conversation with anyone - we are left like pawns awaiting some kind of response.
I have suffered over the years with stalkers so never use my birth name and I cant understand why FB cannot update it records to show that they have done this to me before, lots of my friends never have an issue! They keep asking if my page is a business page for commercial gain.. Firstly I never get paid for DJin and yes I do share once a week my radio event and lots of music from different pages (like 1000's of people do) but it is still my personal page - it's who I am and what I do...
It is very upsetting that FB do this to me every year even though they have accepted my doc before and I still have the previous conversations in writing. There should be a platform or email address to you can write to if this happens - all help links are disabled in this instance as you cannot log in to access them! Not very happy and feeling very stressed and anxious... :(

I purchased the 99.00 a year membership to chess.com via the facebook interface. I found it impossible to cancel afterwards, with only a digital contact method and no cancellation submit, which is blocked by facebook. After research I find chess.com has an F rating with the BBB and facebook is proactively a part of the scam by blocking the cancel submit button.

On December 3, 2016 I attempted to sign into my Facebook account. I received a message stating I had tried to sign in too many times and that I should try later to sign in. I waited until 12/4. Received the same message. I sent messages to all Customer Service Departments of Facebook beginning 12/5/16. I did not receive any feedback until today 12/10/16 that stated I should use their "help" menu to sign in. I stated in every email that I had "used" the help menu but did not receive help! It has become very aware to me that Facebook cares absolutely nothing about their members! I only wish I could get into my account to close it and be "done" with Facebook!

Facebook singles people out and victimizes them. If the people at Facebook don't agree with your opinion, then they suspend your account. They ban you from commenting and don't provide sufficient explanation. They should not be allowed to single people out.
Considering Facebook has a virtual monopoly, it should be required to operate under the laws of the country it operates in. No one is above the law. Why should Facebook be allowed to treat people unfairly.

On 3rd of December 2016 tried to log in to facebook but I was unable to. I requested change password once I logged in, informed I was blocked for posting a nude photo of Marilyn Monroe. Responded to facebook support to informed them that it was not me. I was hacked and changed my password straight away. No response from Facebook. They did not even inform me how long the block would be. I am not even allowed to share posts from other profiles, nor authorised to like posts. I use facebook to log in to other sites (Instagram, twitter, etc.), using, 'login using the Facebook account' but since I am blocked by facebook I am not able to use those sites as well.

I've lost my Facebook account which was seriously important to me. Someone was using my photos in his facebook account. I reported it to facebook. But they disabled my account and said I'm pretending to be someone else. I submitted my national ID card and also shared a personal video where I was saying it is me Hasibul ** and also showed my national ID card. But, Facebook still rejected my request. I don't know what they will accept. The fake account with my photos is still alive. It is really a weird situation.

All I wanted/needed to do was to verify my ID, which I had before. It's been over 3 weeks now, almost a month, and I would really love to have my account back. I had tried to change my name a few months back, a couple of times over the last 2 years, but I got the msg I had changed my name too many times. I don't know why, my last change was in 2013.The name I was using, Dusk, was/is the real last name of my now deceased boyfriend. I was using it in tribute to him, no harm or deceit was ever intended. My support system is wrapped up in my account. I had another boyfriend pass in July of 2016, and then on Oct 29, I had to put my precious dog to sleep due to injuries from an accident, resulting from canine epilepsy. I have had a heap of stress, so my account getting locked was kind of bad timing. I had also been charged my 2 games subscriptions, for Farmville and Royal Story. I can verify this with my PayPal and bank statement.
All I am asking for, begging for, is to have my account reopened, using the name of **. Please help. If you need to call me or text to verify, I am willing to do that. Just let me know what I can do to get my account back. I have connections there I can't get any more, due to their being deceased. I also am unable to run my pet's page while I am locked out. I have never had any other violations or problems in the past. It's a fairly older account. I can't recall when I joined now, about 10 years or so ago. It's also heavily used for apps and such. Please let me know what else I can do. Thank you. ---This is one of several notes I sent to FB, along with license, AND mail with my addy, etc on it. FB is holding my account and personal info hostage, and I am fed up with it. I am sick of having to wait or get an automated response. It's ridiculous and I find FB to be one huge epic failure as far as business and customer service goes.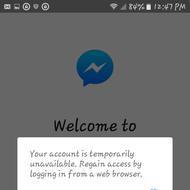 Facebook falsely accused my account of being fake and suspended and closed my Facebook account & messenger when I reported numerous fake profiles and scammers on Facebook. Facebook has stolen my pictures and my identity and personal info and locked me out of my account. I was informed by numerous people that the reason why Facebook is free it's because they're in the business of selling your information to third parties to different countries to steal your identity without your consent and facebook works with scammers and hackers.
So do not make the same mistake I did of sending any copies of your state ID or any other personal information to Facebook. Also all the other free dating social sites do the very same thing... I want them all sued including Facebook and I'm willing to participate in a class action lawsuit against Facebook and any other sites that do the same crap... I've filed BBB complaints and attorney general office complaints against Facebook and had no luck.

My facebook account had been suspended for 24 hours for asking for password and resetting too many times - I had no problem with that; however, yesterday they asked me to identify my new email/username login and new phone. I typed in my updated email and phone number, confirmed, then they texted me validation code but no place for the validation code. I have been all over the q and a on facebook and you cannot contact them directly, they should have an online chat for help.
Moreover, the directions that are given for security logins for validation codes I believe maybe within the security passwords on the computer itself, but how is one to figure that out, no one should need to do that. Absolutely the worst service ever and one cannot delete the profile unless one can log in, that's not legal nor ethical!!

I have submitted 3 Government IDs - Passport, Income Tax Card [similar to US IRS] and Academic Record - all three have photo/name/DOB, yet I am not getting any response from support inbox of FACEBOOK. My surname is ** and my complete family is online with similar surnames - why was I singled out? Did someone complain? What was the reason for disabling my account? If someone from FB can respond to the same, it can help improve the virtual environment but simply disabling an authentic account due to a false complaint is just not done. Please help.

I posted a non nude, non sex act adult humor content photo for Halloween and my acct was suspended saying it was inappropriate. I wrote FB and told them I got that photo from another FB acct and that I have seen plenty of nude women on other FB accts and that seems to be ok. Again... mine was not a nude photo. Also I was suspended for using an alias name, as I don't like my name to be searched easily to avoid an unwanted audience and I had to send them id to prove who I was. Yet plenty of other FBers use alias names... some which are not even a name just a made up word and nothing is done. I THINK FB IS SEXIST.

I was participating in a community discussion forum offering my opinion on a certain topic. One user decided to personally abuse me openly because he didn't agree with my view. I promptly reported that to Facebook. What did they immediately do? Offer to block the user so that I can't see what he does. What kind of a solution is that? It is in the same lines as asking you to close your ears with hands when someone is insulting you in public. Later, the Facebook team 'reviews' it and finds that the abuse doesn't violate their community guidelines and they wouldn't take any action. I can't go to a real court for something like this but I feel Facebook is an unworthy social media platform.

FB closed my friend's account, identification send. Facebook is a dangerous and unsafe place period. Fake accounts using apps aren't detectable while authentic account are vulnerable. You never know who is real on Facebook. Your likes are being stolen. It is the jungle on there.

There is a scam page on Facebook that me as well as many more have reported to Facebook. I've watched this page operate for months now and has raked in hundreds of thousands of dollars in their activities. This page is allowed to continue with what they are doing which is clearly illegal. I've even tried to report fake profiles that were just created only to promote this scam page. Facebook didn't find it violated its guidelines. So culprits to a scam is actually operating within Facebook's T.O.S? I don't understand how such blatant and obvious scam/fraud pages are allowed to operate there. Does Facebook even review their reported submissions. I feel that Facebook should be held complacent in these activities.

I have a page on Facebook called Scamhaters United. And I deal with people who have been scammed. Facebook carries many thousands of fake profiles. Especially ones that say US Army... It is very difficult to get them removed, then they return straight back. There are also pages like No Wire No Light. Pages that openly advertise the fraud and scamming that goes on. No attempt to hide... Facebook sees nothing wrong. PEOPLE ARE LOSING THOUSANDS... ALL BECAUSE FACEBOOK HOSTS FRAUD, DOES NOTHING ABOUT IT AND IGNORES IT. Especially foreign women think, well, it's on Facebook... It's real. It has to stop.

I get asked every couple months to show ID to prove who I am and this time I deal with a guy named Jesse. I told him my name is on there. It's just spelled backwards for my protection from a man on there who has raped, beaten and molested me as well as stalked me. That man is still online there. I showed them my student ID this time. Picture and name. 2 months ago I show them drivers license with all info blocked. They are forcing me to use my real name and constantly harassing me. They need to be stopped. I will be filing a petition online for anyone who would like to sign it and have Facebook shut down once and for all. I'm also going after them for pain and suffering because bad enough I have anxiety and face to face people issues. They want to force me to come out to my abuser and say "here I am."
Facebook is how I keep in touch with my kids, friends and family. It's a shame they take advantage of people and force them to go against one's rights. If you'd like to go in on my petition against Facebook please email me at **. I will email you the link to my petition once it's made over the weekend. Put in subject line PETITION AGAINST FACEBOOK. That way I know you're real. I know there's people out there. Please help me fight this and bite 'em in the butt.

Facebook blocked me indefinitely today for no reason. I have not violated their Community Standard because they don't have one. In the past few months I have seen bullying and name calling reach epic proportions. I reported them but nothing. I can't get ahold of anyone and they won't answer any of my questions, never said they were blocking me. Just did.

Facebook allows racist comments towards ** but yet, when we defend ourselves with the crap that the other race commits, we get blocked and threatened with a ban from Facebook. Their community standards is only meant for certain people, not all.
Company Name:

Facebook

Website:

https://www.facebook.com/