Consumer Complaints and Reviews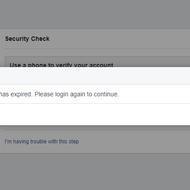 Been a Facebook account holder for over 10 years now, until I was locked out of my account and couldn't even use my cell to verify because every time I did this, I got a prompt telling me my session has expired and to log off and back on. When I did this, it takes me through the same thing. I will say this much. My father passed two years ago and I have all the memories of he and I on there and cannot access it. If something happens to these pictures, I will seek action and sue. I am a government employee, veteran of the United States Military and I am treated like this. I am so disappointed.

One fine day I checked my Facebook page and was scrolling through messages and hit a dead end. There was a message from the Facebook gestapo telling me that if I wanted to see the rest of my messages I would have to add more friends. That is frigging crazy. I am 67 years old veteran and served and my country HONORABLY. I suffered a devastating stroke seven years ago and I am still recovering from that experience. I will be on disability for the rest of my life. Most of my friends are already dead or they do not use Facebook anyway. In short, I have all the friends and family I need and Mark Zuckerberg henchmen does not have right to extort that constitutional right from me.
"Extortion (also called shakedown, outwrestling and exaction) is a criminal offense of obtaining money, property, or services from an individual or institution, through coercion." I put this information on my Facebook page and also friended Mark Zuckerberg and started sending his friends that message also in hope that Mark Zuckerberg would get the message and put an end to this craziness. Instead of that happening Mark Zuckerberg sent the mafia after me and they locked me out of my accounts. The new message was to get 3-5 of your friends and kiss their asses so that I could grovel beneath the boots Mark Zuckerberg Gestapo. HELL WILL FREEZE OVER BEFORE THAT WILL EVER HAPPEN!!! Mark Zuckerberg's sole source of income is advertising and his greed to wring every penny out of his members that sign up for this service downright wrong. My mother always told her four boys that money is the root of all EVIL. She was damn sure right.

So almost a week ago, Facebook banned me from posting, commenting or liking post made by contacts or pages I follow. Their reason for the ban "Calling someone a MORON", yes read right folks, a ban for calling someone a MORON. But get this, on two news pages that I follow, some people make death threats, call others names namely (Pink Pigs), talk about land that was stolen (Without any proof) in the Apartheid era. And guess what??? Facebook does nothing about that. So I personally think the 30 day ban was completely uncalled for.

I was recently blocked for 30 days for calling someone a racist. I was in a political group and was being called numerous names from "**" to **. My response was calling them a "Ignorant racist." 24 hours later my page was blocked for 30 days. But before my block I reported most of the comments calling me disgusting names. I was told "Thank You for reporting but those disgusting comments DID NOT violate FB terms" but mine DID. What? So being called a ** Loving ** is cool with FB but the words ignorant racist is outta line. I've reported animal abuse, child abuse, graphic clips from porn movies, animals being slaughtered and was told REPEATEDLY none of those violated any rules. But my 2 words gets me blocked for 30 days?? So who's the moderators allowing racism, harassment and graphic violence and sex but the words "ignorant racist" is too much??

I have been a member of Facebook for years. I lost my account because someone reported me for something I didn't do. I opened up another Facebook account with a different email address and it was up and running great for 2 months. Then one day I posted a picture of me and my family tagging all of them and then about 30 mins later I was asked to send a picture that there was suspicious activity on my account. I did so and it was even my driver's license. Now they closed that account and I have tried to contact Facebook directly and there is no number or anything to contact. I can't use that account and can't open a new one. Every time I do they close me done saying same thing. This isn't fair. I am unable to stay connected with my family and all. They should have at least an email address to contact for any questions or issues or a phone number for customer service.
How do I know I can trust these reviews about Facebook?
850,588 reviews on ConsumerAffairs are verified.
We require contact information to ensure our reviewers are real.
We use intelligent software that helps us maintain the integrity of reviews.
Our moderators read all reviews to verify quality and helpfulness.
For more information about reviews on ConsumerAffairs.com please visit our FAQ.

FB disabled my account, demanding a government ID. I will trust FB with that information when the sun rises in the west. I have stopped using FB, but there is no way to cancel my account. I keep getting FB notifications via email. I keep clicking the option to stop these emails but they just keep sending the emails. I should have canceled my account when they still let me cancel.

I have had my account since 2007 that I can remember and it was disabled for no reason. Almost 4 weeks ago I was required to verify my account and send a photo of myself. When I did, the account was re-established the following day. The very same day being Friday, after not having been active for weeks, I posted a Bitmoji of myself saying TGIF and around noon my account was disabled. I've submitted numerous photos with my DL and work ID, verifying my information with my date of birth and email and I have yet to hear from anyone. What's worse is that I have lost pictures, memories and conversations with me of my father who passed away a year ago. I have never posted any nudity or profanity on my page because I know the policy and wouldn't want or need to anyway. Yet, I've seen profiles breaking the terms and guidelines and their page is still up? How does that make any sense?

I'm talking about a different Facebook person's account not this one. They said there was suspicious activity! They hadn't been on the site in weeks! They wanted another photo uploaded! They had already sent them all kinds of ID a few months ago. What is their problem? They do seem to target older people who like a little privacy and don't share that much except a few pictures. It's not enough for them. I don't trust Facebook at all.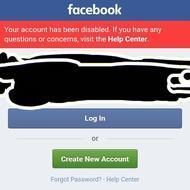 My account was disabled 2 weeks ago and I sent in my ID but they have no interest in letting me regain my account. This account is very important, but they disabled it because I was sending "spam" even though the only people I message are family and friends and pages that I need to keep in contact with.

I've been with Facebook since March of 2010 when suddenly they want a photo ID picture of me because someone lied on me that I'm using someone's info. I'm 51 yrs old and mature. People need to grow up and stop acting like a child. I know that I'm real & don't use a fake account. Facebook needs to be sued for kicking real people off and go after the Sex Offenders. The ones who are scamming us. They're the ones who are hurting us. I want to sue Facebook for being Discrimination.

My Facebook account was suddenly disabled. No reason was given, of course. I have had heated exchanges with other posters on blogs, but I have never harassed or threatened anyone. I filled out their form twice and received two automated text messages with links that would not work. It's frustrating to be unable to reach a human being for an explanation. My biggest problem is that I have used Facebook to log in to other sites. Big mistake, that I'll never do again.

Devastated. Just received my weekly wage for Facebook to take everything out my bank account. I run a part time company ** so I decided to boost a post. It states one week £33. Dirty robbing ** took over £400. That's the last time you will get money out off me. How many more folk are being robbed by this ** company?

I've been using FB for years. Many "friends" cite reason is because they admire the gentlemanly way I treat those whose opinions differ from my own. Yet now I am blocked pending a "security check" which requires me to upload a mobile phone number to my timeline. I do not share my mobile phone number with anybody, and in fact at this time I do not have a mobile phone. FB offers no explanation, no alternative, and no contact to resolve the issue.

One day about 3 weeks ago I became unable to post to my 2nd page. Every Facebook forum related to this topic was "closed" so after trying multiple browsers and everything I could think of to fix the problem I wrote to FB support asking for help and got the response "Thanks for reporting." That's it... No help, no suggestions, nothing. I am beginning to think they have blocked my account for some reason and are unwilling to offer assistance because they are the problem. Account still doesn't work... Going on a month now. I am going to start complaining every day until I get an answer.

Facebook's tagline is "free and always will be", but they really must need a buck with the way they harass regular users with ads constantly! I was sick and tired of repeatedly seeing "ways you can promote your page for x$" ads so I shut down my page. Two years later, I notice Facebook posting ads on my timeline for products I have viewed on other sites (and in one case, even purchased), as "something you might be interested in". I saw someone else complain to the BBB that this behaviour is creepy - I find it just sleazy. What profit can Facebook make from exposing their shoddy surveillance techniques and "advertising" something I have already bought?

Recently it shows my account is not safe (I guess it's because I am in China and have to use VPN to log in my FB account). Then they asked me to upload my own photo. And they say will come to contact me shortly. After a week, they never contact me. I want to register a new account to use. But still the same problem. I have upload my ID photo and everything they need. I have use Chinese name in FB. They never contact me.
Now half month passed, I can't use FB. I want to ask a question in the help center, they ask me to log in. How to log in if you disable my account? This is so funny. Last time I want to change my FB PAGE name, then submit an appeal. They reply me after half month. I can only wait now. The lucky part is I never spend money on FACEBOOK. I know someone spend money on AD in Facebook and account is disable too. They can't get money back. So people should be very careful about your money in Facebook. Better not spend money there.

FB asked for ID, I provided it. Account up again in an hour. Months later put on 7 day ban for who knows what, went back in after 7 days and they wanted ID AGAIN! WHY? You already got it! Sent SAME ID, 2 weeks later still blocked. Like many, I decided to open a backup account while I wait. Within 45 minutes of creating it, they shut it down for suspicious activity. WHAT?!? I made over a dozen new email accounts to make as many FB accts. ALL shut down in minutes wanting ID. I guess Facebook doesn't want customers. God, I even miss AOL FFS.

Facebook Messenger Send Money - You try to send money and they ask to input debit card, you do so and it immediately tells you you're blocked. Then THREE DAYS LATER they send you a message requesting you to send a picture of the front and back of your debit card. That's a huge privacy violation and a consumer risk... Not to mention they close the ticket when they answer you, without awaiting the consumer's response. This is also not including the fact they tried to steal half the funds from the transfer and refused to comment on that fact. I tried to transfer $4000 and they tried to take $2000 of it and only send half. This is an illegal operation as a means to steal identities and card numbers for fraud use.

Two days ago my account was shut down. The neanderthal ninnies never stopped to realize if I had no access to my account, I could not read the message they sent to me accusing me of fraud in games (I've not won one yet, except in Farkle, a dice game). Then they asked me to reset my password which I did ten times and they stated all of them were wrong. I still cannot log on to my account. They also told me my bank card was blocked and I needed to call them. Well, I did, and guess what, THEY BLOCKED ME. At this point I am thinking of suing them for harassment charges. Right now I want the $200 it cost me to retain an online technician to reset my password, which Facebook said is wrong. They are really harassing me.

Twice this week I have been requested to provide authentication via photo for my Facebook business page. I have spent $450 in the last two weeks on Facebook advertising. This has clearly impacted the ROI. I have requested a refund due to their responses as follows; "It looks like your account was suspended by mistake. I'm so sorry for the inconvenience. You should now be able to log in. If you have any issues getting back into your account, please let me know".

I opened and paid for an ad called "stop immigration marriage fraud"... I was a victim of this and the verified story was written in national newspapers and all over internet... The fraudster was a Trinidad liar named Michelle **... I published the true story and the ads were approved by Facebook and paid for... They ran for about a week with the idea of preventing others from suffering the same fate... Being the unwitting victim of someone faking love and marriage just to get American green card... This happens to a lot of people... Especially women victims... The reaction worldwide from the ads was phenomenal and positive to what I was trying to illustrate with pictures that the fraudster Michelle ** herself had made public...
Of course the fraudster does not want to be exposed so she lyingly complained that she was being "abused" and "shamed" on Facebook... There are other similar pages on Facebook describing what these fraudsters do to hurt nice people just to get their green cards... Well... Despite have previously approved the ads and collecting payment... They pulled the ads! Facebook never bothered to discuss with me or research the truth of these ads designed to help potential victims... It's just outrageous that the fraudster Michelle ** now can go along her merry way, get employed as a result of fraud and lying to the government and Facebook prevents exposure of this verified, documented federal crime?
Meanwhile billionaire Mark Zuckerberg collects a fortune and degrees from Harvard... Michelle ** is also potential terrorist material and if Facebook is so lax, they are potentially permitting more Manchesters or other disasters to take place... Facebook claims an appeal process when an ad is pulled but that does not exist... I sincerely ask anyone who reads this to Google Michelle **/NY Post and contact Facebook to protest their ridiculous unfair practices... Thank you very much for your attention.

I owned and operated a page on Facebook for eight years until last week out of the blue they flagged a video of mine citing non-existent nudity. The video was about consumers complaining about fraudulent meat and none of them were nude. Facebook did not review the video nor did the title allow them thought, they just went ahead and blocked my account for three days. There was no way to rebut their claim even though it was a blatant lie. After three days I was able to use my account. They logged me out for suspicious activity and proceeded to disable my account accusing me of posting nudity and solicitation.
I would have made the nudity slide but to have bots monitoring users then conclude and misrepresent people is really a bad thing. Not once have I ever solicited anyone on Facebook and it is offensive to anyone who has never done so to be accused and labeled as such. Robots cannot replace humans and while they do make things a bit easier Facebook should really have humans check over accounts that are accused of such. I could have been in my home and Facebook literally send authorities based on their so called fake findings. Solicitation is not good and people so tread with caution when using that website.

Facebook double standards - Yesterday, I reported someone for repeatedly calling me a troll. Facebook told me this does violate their policy. Today, I called someone a troll once and Facebook shut down my account for 7 days. This is a discriminatory action. Not only am I blocked from Facebook, but I cannot access my game apps. I am a disabled veteran and play bingo. Now, because Facebook chose to punish me for using a label that is used all the time on their site, I cannot use any of my apps.

I recently changed the name of this Facebook account (over 60days) in error to my personal name. It should read Menshed Wagga Wagga. I waited the 60 days and now it still won't let change the name. Error message "Too many changes". If it's going to stay that way then either let me change it or delete the account & we can go without. This rule of non-change should not be allowed. It makes no provision for data errors. I desperately need this changed.

I have my picture on my Facebook page and they demanded I "upload a photo" on my Facebook page. There is a picture already there - plus, demanding a photo is illegal - that will not protect me in any way. I am very angry with Facebook for this illegal invasion of my privacy.

Got banned for posting a pic of a car part. Tried to notify Facebook customer service but just get some broken English auto reply probably created for some Indian child get 5 cents an hour. What a joke. Hope Trump shuts you down.

They do not have live persons that monitor the systems of their site, everything is fully automated. If you need to speak with anyone directly, you will never make it to a live person. If another user complains on anything about your wall, facebook will disable your account without even asking you for your version of what is being complained on and/or you will never be able to defend yourself. They have a lot of big balls to control a user's page. Several times they disabled me claiming that I was blocked for going too fast/posting too fast.
They have repeatedly made me submit my driver license but in the meantime disabled my account and I had been closed out for as much as 2 months at a time while FB take their sweet ass time to verify. Never any apology for the inconvenience. There has to be a way to get a lawsuit going, a class act lawsuit because the owners of FB believe that they are infallible and can do whatever the hell they want regardless of who they rollover or hurt and inconvenience.

Facebook has claimed I'm a security risk! I believe it's because I disagree with their liberal views. I don't swear online or name call. However, I have been called nasty names and had nasty memes attached to my posts. Facebook doesn't follow their own "rules". Facebook should be suspended for 30 days.

I am locked out. I have uploaded requested ID's but the service is not restored. I file a complaint with the Attorney General and BBB. I will be seeking legal action and open to all members locked out and/or deprived of their personal contents like to join. Moreover, seeking ID's and other confidential information is illegal for Facebook. It is a free service, and not one that requires credit checks or ID checks. Any reason of denial of service is grounds for discrimination.

I had a Facebook account for 9 years under the name "Nogood Nick" which I use for both personal and promotion (as a musician). Facebook suspended my account last week for suspecting this was not my legal name and asked me to upload a legal ID. I sent them an ID that I use with this name but my account is still closed with a message that they are "reviewing the documents". A quick Google search finds this is a common problem where Facebook users receive this message while Facebook continues to "review the documents" for weeks or months or indefinitely.
In the meantime I have no access to my events, conversations on Messenger that I need for travel plans in the near future as well as the loss of several apps that use Facebook connect to log in (I wouldn't use Facebook at all if it weren't for the necessity of having an account to log in to an increasing number of products, and also for events). So aside from treating me poorly as a long-time customer, Facebook is also interfering with my business by cutting off access to non-Facebook-owned digital accounts that I use. As far as I can tell Facebook has no direct way of contacting a person at the company to resolve this dispute. A complaint with the BBB yielded only the same canned, robot response the website gives me.
Company Name:

Facebook

Website:

https://www.facebook.com/