Consumer Complaints & Reviews

Instead of controlling who should & who you are allowed to make friends with on Facebook, the owners should concentrate in making Facebook safe so Facebook should be safe from spammers & from those who spread viruses on Facebook. After someone posted malware on my profile I was unable to delete it. It spread & posted itself on the profiles of all my friends profiles without my control. I was unable to delete it & when I did delete it the spam posted itself again & again. I was forced to delete my account. Facebook is starting to lose its popularity. Other social groups are competing against Facebook & I hope I can find a better place to start my profile.

My Facebook Page has been corrupted by foreigners (more than 1). They know it, and their TECH People won't fix it, unless I pay a lot of money. THEIR PAGE, and their tech people want to extort money from me. As YOU CAN see, my computer is working fine, and it is protected. USELESS TOADS! All this can be verified by NORTON and MS.

I got a notice saying that there was a complaint about my name. My first name is Miss. Yes that is my legal first name. They asked for an ID and I sent my DL yesterday. Today I get a note asking if they can change my name to my middle and last name. I said no. They locked me out and asked for a DL again! This time I was told I could be blocked for 90 days or longer. THE DMV DOES NOT PUT TITLES on your DL. It shows as my first name big as life still FB decides. THEY have the right to change my legal name and if I don't oh well, do as I say, it's MY site and if you don't I will LOCK YOU OUT FOREVER. So someone who does not know me can complain to FB I am not using my real name. I can PROVE to FB I am using my real name. FB can determined THEY don't like my real name and can ORDER me to change it or leave. HOW is that right?

My contract with Facebook per their Terms of Service is that they store my data in a manner in which I can retrieve it via FB export at any time, and use that data for their advertising purposes, in exchange for my using my "real name" aka the one by which friends and family know me on their service. I have lived up to my end of the contract, and Facebook has failed theirs -- shutting me off from access to their servers, and the data I have stored on them, and refusing to even discuss the matter with them until I upload photo ID's (this is NOWHERE required in the terms of service, and they have offered no justification for why their allegation that I am fake is even remotely realistic.)
Unfortunately, their fake name reporting system is open to tremendous abuse, allowing people to perpetrate harassment and bullying on other users like me, without accountability. Anyone can falsely report any target they don't like, as fake -- even targets like myself whose profile photo shows the same piece of architecture as the #1 google search result for my facebook name shows -- and never be held to account for their bullying of others.
It is well documented since 2010 in gawker, the New York Times, Forbes, Wired Magazine, the Electronic Frontier Foundation's website, and many individuals' blogs and personal news columns, that there is no disincentive for cowardly bullies to use this as a mechanism for harassing or shutting up others whose views they disagree with. Any bully can do this, as a coward, knowing that they will not be identified to their victim. Victims have included Indian feminists, a whole pile of gays/transvestites, lawyers posting comments online defending Israel, and people like me who just explained in reply to a friend's rant against Hillary on their wall, why Donald Trump is no less corrupt than Hillary.
Before I knew it, I was being told that because I was posting from outside the US I couldn't vote and therefore didn't deserve to have an opinion on it. I countered explaining that running a country isn't like running a business with generous US bankruptcy provisions that Trump has availed himself off repeatedly to get out of trouble when his latest great idea failed, leaving a trail of unpaid and underpaid suppliers and contractors, with families to feed, in his wake. If you screw up, you don't get a do-over. Because no one could attack the truth of what I said about Trump, they chose to attack me instead. Within 24 hours, my account was deactivated as fake, and FB demanded that I send ID to get it back, and said that they wouldn't even discuss the issue unless I gave up my privacy in that way.
Someone LIED about me. Basically, they lied by falsely claiming I was lying. Why is it any worse for me to allegedly have lied (which I did not), than for them to have ACTUALLY lied (reporting me as a fake name, when they're a friend of a friend of a friend who saw a post, and therefore are not going to know me in real life *anyway*... especially if the idiot googled me, and search result #1 matched my profile photo)? I don't understand why Facebook lets them even get away with it!
I have been stalked. I have had an employer so upset that I planned to join a competitor that could have caused them serious business trouble, which was not against my employment contract, that they started scotching my job opportunities and I had to flee the country to get work in my field. I have been a violent crime victim on more than one occasion. I have been a suicide risk because of violence perpetrated against me that caused permanent injury, and use Facebook as a *v-i-t-a-l* source of social support. More than once, friends on Facebook reached out to me and gave me a safe place to spend the night, to try to keep me safe, when I complained about it happening again. And I am SO not letting Facebook tag my ID with this sensitive information!
Here's the deal with giving up ID, even if I block out serial numbers. There's absolutely no way I can do this and preserve my privacy. Every single thing they say I can use to prove that name is mine, also gives them information they did not have about me before, beyond my name (which, they already have, and in the NINE YEARS my account has existed, they never questioned until a political bully came on the scene and made trouble, for me):
I must give Facebook my photo. Nowhere have I agreed to do this. I have poor looks, partly due to disfigurement from domestic violence years ago, and partly due to bad genes. When people see a woman who's a 1 on the 10-scale, we're immediately discredited, ignored, or (worse) made the butt end of rude remarks. I've got no desire to give a company not paying me considerable money or a government giving me a privilege like driving, access to my poor-looking photo.
If I give up my passport, I give up my citizenship info to them. Nowhere have I agreed to do this, and nowhere in the Facebook Terms of Service is it required. If I give up my licence, I give up my residency info to them. Again, nowhere have I agreed to do this. If I give up employer ID, I give up my employer's name and possibly my work location. Again, not required by the ToS. If I give up student ID, I give up my school and possibly my living location. Again, not required by the ToS.
If I give up birth certificate, I give up city, state, province and country of birth. Again, not required by the ToS, and usable for racial or ethnic profiling. If I give up marriage certificate, I give up location of marriage and THAT I am either currently married or have been married in the past. Again, not required by the ToS. If I give up union card, I give up profession and some amount of information on my location. Again, not required by the ToS.
If I give up medical records (yes, they offer this as a way one can prove ID), I give up my doctor and their location, and thus my own location as well as the location of my medical records. Again, not required by the ToS. If I give up club memberships, I give up various business associations that can be used to profile me. Again, not required by the ToS. If I give up my bank statement (yes, this is another way they kindly offer to let you prove ID), I give up my bank's name (great for fishin') and the location of at least one of my financial accounts. Again, not required by the ToS.
And all of the above is in addition to the fact that their ToS explicitly says that my "real name" that "friends and family know me by" DOES NOT HAVE TO BE my legal name. Whether it is, or it is not, isn't relevant, and therefore most of the above documents are likewise irrelevant in addition to it being an invasion of privacy for FB to request them. It suffices that I am identified by the identical name on the 10+ year old gmail account that I used to sign on to Facebook with, that email account is used for posts around the web with my name attached, if friends are going to refer to me by name, that's the name they use (and I have no living family left, so that's out), and it's in the newspaper as well.
When the gays/transvestites ran afoul of this policy in great numbers a couple years ago, they were able to get enough media attention that someone named Chris ** (interesting non(?) pseudonym there, in context) posted a public apology to its users and said that they were doing better with validating these fake name accusations and coming up with a more caring support team response to them that helps people get back on. I've seen coverage in 2015 of a page that lets a victim opt in to various categories such as stalking victim, to get exception to fake name reporting harassment -- but no such page has been presented to me at any time.
Because I've been a suicide risk in the past, and my FB friends know I am completely alone in the world, many are understandably quite concerned about me, and I've got no way to even contact them. We all live all around the world, making phones not the best contact mechanism, and many are not email/keyboard people just Facebook phone people. So FB having incorrectly banned me as fake is hurting me, by cutting me off from this contact, *and* hurting others who are worried about me and have no idea why I disappeared without a word, possibly dead for all they know. All because some Fundy Christian who supports the guns-and-embryos-rights party at the expense of living humans' rights didn't like that I stood up for the next *female* President of the United States. Kindest possible regards under the circumstances, The Unnamed.

First and foremost I have had my account for years with Facebook and has used my real name, I continued to get notification that my name was not authentic, however I am a firefighter and I have used my real name besides when I got married I changed it and when I got a divorce I changed it back to my real name with Novelist in the front of it. I thought this was my username with my personal information in my setting. Facebook then starts to ask for personal information such as personal ID with personal address blacken out I guess. I thought this was a scam. My personal phone number is on facebook. They could have gotten in touch with me that way because I refuse to send my personal id to social media.
All I talk about on facebook is Love, Police brutality and more love and how we should all be together as one. I am also a self publish author. My book was publish in 2008. I might have sold 3 books whoopee and now I have another book coming out also self publish. Nothing big. I don't have a contract or anything so is this why my Facebook page is being closed. So I did some investigation myself and found other friends who are writers and are using Author and Novelist and their Facebook account hasn't been shut down. I also posted a love video for my boyfriend birthday with pictures that was already on facebook that received over 500 views that was a first, was it that I'm so confused as to why I was shut down. Dee of McDonough I'm ready. Also on this site I have read people who sent their driver's license to Facebook their page is still shut down so I'm still confused. Again Facebook I'm confused as to why you shut me down.
How do I know I can trust these reviews about Facebook?
574,312 reviews on ConsumerAffairs are verified.
We require contact information to ensure our reviewers are real.
We use intelligent software that helps us maintain the integrity of reviews.
Our moderators read all reviews to verify quality and helpfulness.
For more information about reviews on ConsumerAffairs.com please visit our FAQ.

I was furious that I was locked out of my account, which I'd had for years. I used my real name and they demanded photo ID to get back in. I do not HAVE any photo ID, I have never driven a car and had a passport. They would not accept my usual ID and so I lost all my contacts, my photos and everything. I am absolutely furious!

I was hacked approx. 2 yrs ago while I was in the hospital. Then whomever hacked my account began to cyber stalk me. First they changed my user name and passwords so I couldn't access my account. I had to create several accounts due to this & then they would write derogatory things about me on my own page as if I was saying these things about myself. They would email women making it look like I was cheating on my wife when I never have.
Now I finally got an account that wasn't hacked and Facebook keeps suspending it for overposting. It has been suspended 4 times in as many months and they are now saying that they have to investigate my account to see if it can remain open. I have tried in vain to contact Facebook to let them know many times and nothing. They allowed a hacker to remain on my account for many many months with no action on their behalf to remove them yet they suspend me for not being familiar with all the terms and conditions. Dee of Mcdonough GA I would be more than willing to join you in a class action lawsuit suit.

I have been using Facebook for 10 plus years. I did not use it for 1-2 years, did not have a computer during that time period. When I went back on it I wanted to access my original account. I jumped through their hoops, even sent a photo of my driver's license with the information they wanted. No way to call them. Very difficult to get assistance.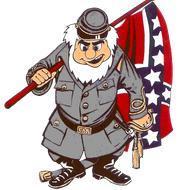 Facebook suspended my account for 30 days literally, over nothing. I am an editor, not an admin, on a confederate flag page. The page has been opened since June 2015... The page has used the same profile picture since day 1, a short burly little man carrying the Confederate flag draped over his shoulder. He is best known as "Johnny Rebel." I've seen that little guy posted everywhere, over Facebook, and nobody with a sane mind can agree that he is not offensive to anyone. Like I mentioned, he has been the profile picture for over 13 months.
All of a sudden, out of the blue, I got a notification that Facebook removed it after 13 months and suspended my account. I wasn't even the person who originally posted the picture. They have it set up so that you can't contact them. They do not have a customer service number, no hotline for help, no appeal process, they somehow, whether it be a person or an automated bot, they disabled my account with no recourse. (For your viewing pleasure, I believe I have uploaded the picture to this review, see below.)
If the picture was offensive, or if I was the one who posted, I could understand some sort of punishment, but I feel that I am being treated unfairly. If it was a ** power fist, would I have been treated the same? You be the judge, because one is not allowed to ask anybody at Facebook the same question. If they didn't hold the monopoly on that forum, I would use another product, but there is only one Facebook, and they know that, the greedy liberal bastards.

I am writing this review because I think others should (READ) this before opening a account on Facebook! Facebook closed my account on July 4th. Right in time for holidays. I was kinda expecting them to do this!! This is about the third account I opened on Facebook and probably last as they are not a fair Company! I have a three say four negative encounters where they lock my account coincidentally before holidays or after I have gathered a decent amount of friends and likes!! And their reasoning for holding my account hostage is ridiculous.
First of all they have people continually hacking accounts and do nothing. They have cults and photos exposing violence and those people can hold accounts. One time I met a friend on Facebook. He had a normal profile so I thought no harm. They next minute he changed his profile photo and put a horrible violent one. It was one of a face that was bloody and smashed in. I was scared and shocked, then when I told Facebook they just ignored this!! Why does their Government not take control of this site and shut it down!
Second they closed my account without warning and won't allow me into my own account demanding I send ID, which I will not be doing. They are allowing cults to firm online who enjoy posting very violent photos. And with regards to accounts and profile and ID they are just collecting everyone's information and probably selling it to them sane scammed cults on Facebook. Why is nobody saying anything, doing anything? Honestly I don't get it. Lastly I know for a fact they spy and listen in to messages and contacts whatever you do online, there is zero privacy. They are stalking you while you are on their Accounts! Be careful what you say and do?
So my experience is that I am one Facebook with your B/S. I am definitely not opening another account. It is too time consuming!! And definitely not sending you any ID, I mean what gives you then right !! You bother your Account holders for ridiculous reasons. And stop listening into people's business!! Another thing. If you are not in your account after a few hours, they do their same thing such as close the account, hold it hostage, and won't let you in. Good luck Facebook. I am done with your nonsense. Eventually users will get tired of your B/S and stop using their accounts. Someone needs to regulate your account to see exactly what you are doing. I'm done with Facebook!!

I have a stalker who's hacked my page and many of my friends have reported it and Facebook has done absolutely nothing about it at all! I am having to get a TPO against him, but Facebook couldn't care less that he's using their site to ruin my reputation and defame my character!

I have been using Facebook for approximately 8 years. During that time, I have developed a relationship with many people, I created a private group for my family and created many pages dedicated to political issues. I am retired and disabled, so I spend a lot of time on my computer. I am grateful for your product and I do enjoy the convenience it has provide me in maintaining communications with those people.
I live in Florida and I am a Democrat. I have been politically involved for quite a while. I worked on John Kerry's senatorial campaigns in MA. We lived in Marblehead and managed his campaign for that area. I have continued my involvement on Facebook by creating pages and groups. Like many, many other users, my groups and pages are politically designed to spread information, encourage debate and provide a place for like-minded people to share our thoughts. One such page I created was called "Impeach Rick Scott". I named it that way because the only way to remove Rick Scott as Governor would be to impeach him. On that page I am not kind to the things Rick Scott has done. Whether it was to rail against his short-sightedness in turning down high-speed rail, or in his misguided decision to lay off the scientists that worked to keep Florida's waterways and beaches in good condition.
I am from Boston MA, well educated, and have an extensive vocabulary. Many of the things I railed against in my Impeach Rick Scott page, are the same kinds of things our Founding Fathers railed against. You can imagine my surprise when I opened Facebook to the Impeach Rick Scott page to find out that Facebook unpublished my page. They did not provide an example of a post that I made that was determined to be offensive, or what, specifically, I did to provoke such an uncalled for act. I appealed the decision and Facebook deleted my page and blocked me and my wife from posting for a month.
Of course, I was admonished to remove the offending content, but that was impossible to do because Facebook DID NOT tell me what I posted that was offensive! My page was tame compared to some of the Right Wing extremism I have seen on Facebook. Without a reason, I can only conclude that you are either practicing political censorship or are using faulty algorithms, both of which I find particularly abhorrent. As an engineer who also worked with software testing, I must assume that you resort to using algorithms to do the dirty work of deciding who gets blocked and who doesn't.
With around a billion users, the manpower to review each complaint would be far too great to maintain and make a profit. So I must believe that I am the victim of an aberrant algorithm that keyed in on some word I used. Or perhaps the algorithm takes into account how many people complain about my page. Which, of course, is a method some trolls use to control the medium and the message if they deem it bad for themselves. I have never made a threat against an individual, public or private. I understand my pointing out the horrendous things Rick Scott does may be perceived by them as a threat, but that is what free speech is all about. Which all brings me to this point.
I believe you are violating the First Amendment. You may think that because you are running a private company you are not, but that belief is on tenuous grounds. We all know that the First Amendment's right to freedom of speech in an obviously public arena is guaranteed. What is not so obvious is our guarantee of those same rights in a private arena. I understand you may think Facebook is a private arena, and, therefore, free speech is not guaranteed, but I believe you would be wrong in the absoluteness of that belief. For example, in many states, freedom of speech has been granted to places where the public meet but are on privately owned sites. NJ is one such state.
People in a privately owned shopping mall have the right to free speech. Facebook is one of, if not, the largest mall where the public speak. You have stated you have a billion users. Taking away their First Amendment Rights of free speech is a horrendous act. I believe, if tested in court, you would lose the ability to censor that speech based on your company's algorithms. I believe Facebook would be deemed a public place where Free Speech is guaranteed. I am hoping it does not come to going to a court to establish that. I am hoping you will see the error of trying to use an algorithm to decide who gets the ability to talk, and who doesn't.
An algorithm that allows people to "gang up" on others to silence their speech goes against the very foundation of what our Founding Fathers believed. All that does is allow gangs of people to bully others who don't agree with their point of view. But what is really of interest, is the fact that I had this page up for many, many years with no problems from Facebook. It was only after the page started to get noticed and was on an accelerated curve of growth that this happened. My posts were getting shared 50-70 times and were getting seen by thousands of people. So much so that I was going to start advertising for that page. It seems like someone thought I was getting too big and wanted to censor my page.
You have allowed users to block people. That is what people can do in the real world. They can walk away and ignore other people's free speech. For example, I can ignore a White Supremacist's hate speech but they have the right to make that speech in this Country, as much as we all may hate it. If people can just choose not to read what other people write, why would you also let people gang up and mass report a user to get that user blocked or prohibited from posting or have their pages deleted? You have needlessly insinuated your misguided "protections". They are not needed and are harmful.
I am asking you to restore my Page "Impeach Rick Scott" and restore my wife's and mine ability to post. We have come to rely on Facebook for communication with our Family and you have arbitrarily blocked that. Your arbitrary algorithm that induced blocking me and my wife has taken away our ability to post pictures I took of the fireworks to my relatives around the Country. But far worse, your algorithms have made me a victim of gang reporting, just because a politician and his Facebook minions don't like what I am saying about the stupid things he does.
I suppose I could set up a web page to do my expose of Rick Scott. I know how to do these things. In fact, I'll bet there are a few pages devoted to the unfairness inherent in the way you use algorithms to block people. But I'm hoping you will be reasonable. I have spent years cultivating and growing the Impeach Rick Scott page. To have your algorithms throw away all that time and effort has cost me in my blood, sweat and tears. In one instant, you have destroyed my business. I'm hoping, as an American Citizen, you understand the depth of responsibility you have to maintain the principles and ideals our founding Fathers set forth for us. The one thing I have is unbounding faith in us to do the right thing, or, at least some of us. For those that don't, we need a voice to hold them accountable. I consider myself that voice for Rick Scott. I really hope I don't have to be that voice for Facebook.

I was posting about the checkpoints for the upcoming 4th of July holiday which were censored unfairly due to the employee or company's personal bias.

Who is policing FB? How do you start a class action suit against them for disabling accounts and holding them hostage? I simply want my pictures out of account and it can be shut down. I sent ID and no response. You can't call or email. It won't allow me to do anything in disabled account help section because it says account is NOT disabled even though it is. I took screenshots of "we are still reviewing your documents" crap and "you account is not disabled" crap. They have 1000's of IDs on individuals and at some point we will hear what they are really doing with them. If anyone knows how to get this resolved or wants to start a class action suit contact me.

They banned me for saying I was harassing someone by telling that person no one was afraid of them and called her a **. Sorry but where is the freedom of speech? There was NO harassment and especially when you comment on a public form. And there were no threats. It's really sad when Facebook thinks they can take people's right to speak away. Facebook is horrible!!! They go against the law all the damn time and yet nothing happens to them. Call someone a ** and they ban you. The irony is humorous!

Facebook you have blocked me for what. I did nothing wrong. Please take immediate action.

I am not able to create a page or become an admin in any other pages. What is the problem, what did I do to other users or what was wrong that I did and now I do not know about it? I am trying to open a page for my business and each time that I am trying to open a page Facebook does not let me open it. It is more than a year that I am reporting the problem but not yet a real person writes back to me. It is over 3 years that other people trying to add me as an admin to their pages but Facebook does not let it happen.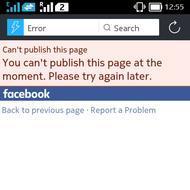 5 days ago I use Facebook merge feature for my page. After 1 day Facebook unpublished my page without any warning, any reason and without any explanation. This is disgusting, I mean it took me 3 years to complete 150000 likes on my page. I did not use any illegal method for likes and finally Facebook unpublished my page without any warning, without any explanation. Please do something. I want to republish my page. Thank you.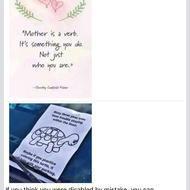 You disabled my account for what you claim to be sexual. However, if you look at the attached pictures you in fact disabled my account for something that is not sexual of nature at all. I have never abused my account in the 8+ years I have used Facebook. I am asking for you to review my account and reinstate it due to a mistake on your account. If I was reported for abuse it was not due to sexual content and was probably a bogus report. If there was any sexual content it was a 1 time mistake that I was already reprimanded for about 1 month ago.

Facebook has been an effective tool for me to reconnect to old friends. It's awesome to be able to see your high school friends or people I've met decades ago, or see how my past girlfriends are doing, catch up with relatives abroad. Everyone seems so accessible since Facebook. I also use Facebook to dump my photos, making it an effective back up tool in case my storage devices get corrupted or stolen or whatever. Facebook also gives me the rest I need whenever I need a break from work, great source for inspirational and stupidly funny stuff.
It has also been a great marketing tool for my band. Facebook gives data on what kinds of people are following my band. We found out that we are mostly followed by high school girls. This is crucial information because from there we shape our image and the kind of songs that we write. Since we have already identified the demographic of our market, we know now that most of our gigs should be set on weekends and not too late in the night. Also we should look for contacts from exclusive girls' schools like Assumption, St. Paul, Miriam College, etc.

I enjoy the Facebook as it allows everyone who has access to express themselves in a multitude of ways possible. It is a social platform after all, albeit in the virtual world. It's very much like the real world as well, which means having to sift through a lot of rubbish amongst some good stuff, too. However, what I don't like about it is its continued stance of parading itself as a neutral ground, like with its internet.org project. It claims to be net neutral, when in fact it clearly is the opposite. The internet.org project 'aims' to provide free access to two-thirds (?!?) of the world's population on the internet. But then the Facebook would be the provider of this platform, isn't it? Meaning they would be the gatekeeper of tons of information that the people they will allow access to will input.
That's hardly neutral. You will have totally noticed by now that the Facebook uses very powerful algorithms to be able to push profile-based ads, pages, etc. in your screen. It also allows for easier search for connectivity, meaning the chances of stalking/admiring skills are greatly enhanced, whichever way you want to put it. Endless streams of user data are turned into information used for their bottom line, profit. Of course it's free, but as an all-encompassing experience, it deceives you going through the motions and possibly the subconscious. Take for example me when I started liking music bands and all and a lot of other groups were 'pushed' by the Facebook to my consciousness. I am now constantly at a lookout for the next great band to come out with the type of music 'cultivated' in me by Facebook and among other platforms of similar agenda. This is precisely the stuff your mum reminded you about when you were a kid. And trust me, it's not fun.

I've been using Facebook for years. It's a fun way to keep in touch with family and friends. It's also a nice way to meet new acquaintances through public groups. However, I'm not a fan of their autoplay of videos. Usually as you scroll down, videos posted by your contacts, groups or liked pages autoplay at a certain point when you scroll down. This feature annoys me especially when my internet is slow. When internet is slow, these vids doesn't help in loading the whole page and sometimes it slows down the computer's performance.
Also, I'm quite annoyed at the fact that Facebook changes its user interface quite often or at least more often that I would've wanted it. Because for me, usually I don't have problem with the interface, then they'd do stuff, launch the new interface and it would confuse me. I thought to myself why fix something that's not broken. Well I guess that's why they call innovation. Haha. Oh yeah, before I forget, could Facebook have a feature in their newsfeed similar to Twitter feed where it's up to you when to let the recent content in. Also not a fan whenever it updates the newsfeed out of nowhere.

Sir I am very disappointed with Facebook as my Facebook group has been removed without any reason. I haven't posted any bad, no bad pictures or videos, no violence, no threats nothing but then also my page has been deleted today... It was very hard to gather the members. I want my group back because I followed the rules and regulations of Facebook but Facebook has deleted my page due to mistake. Please take an immediate action.

I have been being harassed by an ex who hacks other accounts to get to me then harasses others in my list. Facebook allows no contact with customer service, something I find despicable and unacceptable. I will be removing all business ads and use in the future because of this. This being said she is harassing me through my daughter's account and I do not want to block my daughter. It gives me no option to file a complaint without doing it against my daughter who is innocent. This could lead dangerous escalations and is irresponsible.

I blocked an ex-girlfriend whom I assumed would not be able to read my posts on my page or my friends' pages, as we had NO shared friends on FB. To my amazement and disgust she created a fake page under an assumed name (Troll account with no info or no friends) and has been going to my page and my friends pages to spy on me. She was able to copy my friend's name, prior to me blocking her over two years ago. She cannot see anything that I post to my page/timeline but she has/can see what I comment to on my friends pages/timelines even though she's not a friend or a friend of a friend. This is just one flaw in Facebook. Facebook is aware that many are using this site in this manner as well as for scam sales and even terrorist recruitment... Privacy - Not Really - Facebook allows for Trolls-Stalkers.

My name is Sherry **. I come to you in such frustration in regards to my Facebook account. This will make the third time after really establishing my followers and resources with Facebook and it has shut me down with no warning, with each incident no warning to the removal of my account or ability to correct a matter if there's one. They informed me this morning that I've been logged out of my account until they receive a copy of my government identity. I sent them my passport that was at around 8:30 am this morning June 12th 2016. They said I may have duplicate accounts and I may not be authentic. I have my business ties, my family roots there. In fact just made a event page for family reunion.
Just about a 1 1/2 years ago they shut me down because my name was a business name. I lost a host of serious business allies and clients I can no longer access because I can't remember some names and they have already maxed out 5000 followers on Facebook at that time I had 2500 followers. I overlooked it and thought "Well maybe it was time for change" so I diligently rebuilt this account in compliance to 4961 followers and if I did something wrong it was due to updates or changes made by Facebook but never intentional. Yet here it's been just at 12 hrs since I sent my passport and no response. I want to call 7 On Your Side or ConsumerAffairs as I'm writing you now. It has become so frustrating I spent the day online trying to find solutions or help and I came across you. All I kept thinking is I want to protest because this has just gotten so out of hand but just didn't know where to start.
It took less than 2 years to almost max out my Facebook just at 5000 followers and I host many groups and I manage pages for business as well as my family roots on both sides of my family which are in 2 separate groups I established as well with memories we could never get back because of our union. We rely on this source for many reasons elders, handicap those that are confined etc. as well as my business associates and allies. Whenever Facebook feels like it wants to exercise power or authority at the hands of the community in which we are the reason they are who they are today they strike randomly with no remorse. When my second account was delete there was no warning or resolution. I was told that I cannot have a business for profile name and was not given the opportunity to rectify it. My account was closed and no follow up or further explanation was given. I was devastated.
Also when I know numerous of people that have duplicate accounts with Facebook they use their accounts just fine and they will attest to it. I believe I attempted to open an account with Facebook many years ago when they're first starting but I didn't know what I was doing and wouldn't even remember how to access the account if so. I need professional guidance and expertise of how to address the matter or even protest it. This is not acceptable any more.

After 5 years of use Facebook is forcing me to change my profile name they initially approved! I registered a Facebook account back in 2011 using a nickname and I WAS ACCEPTED! Now after 5 years of use and after creating a net of contacts that know me by that name Facebook is forcing me to change it! It makes me sick to see that this company can do whatever they want! If my name wasn't good it shouldn't be accepted right from the beginning! Not now after all the work I had creating a network! The main question here is this one » should this company have the right to force someone to change something they accepted right from the beginning and during 5 years?
Some years ago Google tried to force users to use their real names but then changed their ideas and came to their senses. Facebook instead kept this stupid idea and had cases like Sister Roma, Salman Rushdie and many others! If they wanted Facebook to be a social network with only real names that should have been done right from the beginning. It's a dictatorial attitude what this company is doing without no one fighting against this! 1. accepted my name, 2. used it during 5 years. AND NOW THEY COME AND FORCE ME TO CHANGE IT???
And their support is incompetent taking hours to solve issues. The ways people have to contact and complain against this company are impossible to deal with! A bunch of automatized answers and no direct or live support! This company wants customers without having employers to give them support. They want revenues without costs! They run a business that couldn't care less about its customers and users!

I like Facebook in many ways. First off, the security - Facebook detects who hacked someone's account. One time, Facebook detected someone who hacked my website. Then, Facebook successfully blocked the hacking activity. And then, FB stated to me that I should change my password. Therefore, Facebook is doing a great job in handling security issues.
Plus, I'm satisfied with how Facebook has innovated. They are also having the video call feature which is good because I don't need to experience the hassle of looking for the other apps. According to this link: **, if you call someone via Facebook video call feature, you will use 333.3 kilobits of internet data per minute of call, which is the SECOND LOWEST among 10 common messenger apps that have the video call. I'm thrilled to use this because I'm on a limited data plan for my internet use. However, what I don't like in Facebook is that I am not allowed to have a tab wherein my FB acct is logged while my other tab is having my FB acct logged out. Nevertheless, I am highly recommending someone Facebook who wants to have long-distance communication using internet. #satisfied :)

I've been an ongoing victim in IDENTITY fraud for the last 36 months. I know what kind of info is needed to cause me a whole lot of grief and more wasted time proving it wasn't me who owes Home Depot 10k, or that two AT&T accounts are not mine. I'm retired on limited income. This isn't what I expected to be doing in my golden years!!! Of my limited what Facebook is doing is holding our accounts from us until we give them what they want which is personal info that's needed to commit IDENTITY fraud. ILLEGAL!!! Twisting our arms. Bullies!!! I've never felt so violated in my entire life like I do right now with FB.
Here's how they do it. For me they used the scam of locking my account for no real reason. No one but me was in my facebook account I know this to be true. Can't say that though now since I haven't been able to get in it. Anyway, they make up a lie. You can't reach them. You can't write them. They don't offer you option of resolving this the good old fashion way. Calling and talking directly with a person is out of the question. These things I just mentioned are your red flags people!!! Next my new number off my new phone I'd had 7 weeks didn't show up as my recovery phone number. I did change it first thing the day I got my new iPhone. If that's not bad enough FB or its imposters said I had to log in from a browser I've used in past. Well that would be my broken phone I no longer have. Could be a problem. But I know I'd used my new phone at least two dozen times to log in to my facebook account.
I know for fact that 4 yrs ago, I set up two trusted friends to help me out in a jam like this. We are all still on FB. But FB or its IMPOSTERS certainly didn't remember I had set that up. Hmmm. Ok. So now what? It said to upload my ID. Interesting that this was only way I could get into my account that really I shouldn't have been locked out of. So I blacked out the things my lawyer friend told me to always black out when showing picture ID. Facebook has tons of my pictures and knows what I look like so getting my picture drivers license with my full name on that matches my account should certainly be enough. Nope. An hour later I get the first text telling me I need to let them see my birthdate!!! THAT'S WHEN THE RED FLAGS WENT UP. I sent them pic back of my DL again with month and day no year. They replied back they needed date.
I told them my attorney would contact them. I need to get an attorney and sue the pants off FB or the imposters. Or both!!! FB HOLDS YOUR PERSONAL PHOTOS (I have some very private artistic photos of myself in private albums FB now has only access to). My family member is coming to United States tomorrow I think and I've been locked out of my account and missed the details of my baby cousins 5 day trip. It's funny that my new phone number dummy pop up, but two led friends got my new number from my FB page a week before my FB PAGE HIJACKED FROM ME. This is sooo illegal. Someone stop FB.

I recently created a fan page on Facebook for my band, and my problem is that there's no way to see who has viewed or even liked our page. Seriously, are we not allowed to know? There's also no way to see who has RSVP'd an event that we created. This is not cool since as I've read from other users before, sometimes there are certain people that you want to avoid and don't want them to find out about your business. (Stalkers, crazy exes, etc.)
Should we just accept the fact that by creating a fan page, it is subject to the viewing of every single person on Facebook? That can't be right. We should at least be allowed to screen the people that view or like our page for safety reasons. I really hope that Facebook can fix this problem since from what I've read, there are many of us that have this concern. I don't want to have to create a new account from a different social media website since I'm already not a big fan of social media to begin with. I only created our band's fan page since that's the most accessible way to interact with people who might be interested in us online. Besides, everybody's on Facebook nowadays, so it's a great place to reach out to others. But it's still not cool to just let anyone see who we are. So please, give us this option and everything on Facebook will be perfect.