Consumer Complaints and Reviews

I get asked every couple months to show ID to prove who I am and this time I deal with a guy named Jesse. I told him my name is on there. It's just spelled backwards for my protection from a man on there who has raped, beaten and molested me as well as stalked me. That man is still online there. I showed them my student ID this time. Picture and name. 2 months ago I show them drivers license with all info blocked. They are forcing me to use my real name and constantly harassing me. They need to be stopped. I will be filing a petition online for anyone who would like to sign it and have Facebook shut down once and for all. I'm also going after them for pain and suffering because bad enough I have anxiety and face to face people issues. They want to force me to come out to my abuser and say "here I am."
Facebook is how I keep in touch with my kids, friends and family. It's a shame they take advantage of people and force them to go against one's rights. If you'd like to go in on my petition against Facebook please email me at **. I will email you the link to my petition once it's made over the weekend. Put in subject line PETITION AGAINST FACEBOOK. That way I know you're real. I know there's people out there. Please help me fight this and bite 'em in the butt.

Facebook blocked me indefinitely today for no reason. I have not violated their Community Standard because they don't have one. In the past few months I have seen bullying and name calling reach epic proportions. I reported them but nothing. I can't get ahold of anyone and they won't answer any of my questions, never said they were blocking me. Just did.

Facebook allows racist comments towards ** but yet, when we defend ourselves with the crap that the other race commits, we get blocked and threatened with a ban from Facebook. Their community standards is only meant for certain people, not all.

Facebook created an "Authenticity" Policy allows users to be petty, questioning the identity of others. Example: I posted comedic political memes and have a profile picture of Colin Kaepernick, someone found this offensive, reported my account to Facebook. As a result, Facebook pursued identity authentication, which required me to submit Government-Issued ID or be locked out from my account. The intent of this policy is to lessen/prevent bullying, harassment, and faux celebrity accounts.
There's no published data stating the success of this policy. As an opinionated based social network, the opinions/beliefs of others shouldn't warrant the authentication process. As a result, I have filed both a BBB and FTC complaint based on their privacy policy. I implore everyone complaining about the same issue to do the same, there is strength in numbers or begin a petty movement requesting the identity of as many users as possible to get Facebook to review and/or amend this policy.

I've been with Facebook for 9 years and in the last 4 years, many people online have become intolerant, cyber bullies, which Facebook promotes, in violation of Facebook's own Community Rules. Here's the situation: You post a reply to a public news article, and Someone 99% of the time replies to your individual post with Insults, and name calling, and attacking you personally, and You Report it to Facebook, and They refuse to remove many of their vile comments after being reported. However, to the contrary, if you happen to respond in the exact same manner as the bully, to their rude, you're automatically blocked! One of my comments that was blocked was actually trying to reason with the bully and advising them to stop being rude, without using any harsh words. Still I was blocked.
IRONICALLY One bully, who had the rarity of having their comment removed after I reported it, accused me of being childish for reporting them. Then one of their friends reported one of my comments. How they were able to make that comment, after one of their comments was removed in violation, is a big mystery. You can't talk to Facebook on the phone with a person. They set it up that way. It's all online. They do have tech support overseas, but those guys in India will quickly hang up on you and refuse to transfer to a supervisor. I did call the Federal trade commission, who said that people need to complain to them at 1-877-382-4357 (800 call FTC). The more people complain, the more they may be able to bring civil action against Facebook. Please complain everywhere you can about them. They clearly need regulation.
I am honestly rethinking my decision about them. I do have thousands of pictures online with them and history of posts, but fortunately I did back up lots of my pictures on discs, and flash drives. I mean, if anything, the memories lie in my brain, which is most important. Facebook may be free, but they have no right to treat a person in such a horrible, biased, retaliatory, and discriminatory way. All People who bully others with rude comments, should have them removed, and blocked from commenting on Facebook for a set period of time, not just the person bullied, who may retaliate against the bully. Also, people who complain (on bullies), should not be retaliated against and made to show ID or prevented from commenting.
This whole thing is ridiculous. I can't wait until someone else comes along and dominates the social media culture. It will be celebration I look forward to and will forever remember and cherish. Best wishes to all. Remember, the FTC will document the complaint, and also the BBB will send a response, but do literally nothing. As of now, Facebook governs themselves. Just an FYI.
How do I know I can trust these reviews about Facebook?
610,392 reviews on ConsumerAffairs are verified.
We require contact information to ensure our reviewers are real.
We use intelligent software that helps us maintain the integrity of reviews.
Our moderators read all reviews to verify quality and helpfulness.
For more information about reviews on ConsumerAffairs.com please visit our FAQ.

I have had my Facebook for about 10 years now. Have about 500 friends (family, in real life, and online), and a billion pictures ranging from myself to my son, friends, family, and pets. I've never had any issues when it came to my account. About 3 or so days ago I received a notification from Facebook stating someone was pretending to be me. They had the same first and middle name as me, but had a different last name. Their profile picture was also a picture of me, one that I actually have on my page. I responded to the notification advising this was not okay at all, and the page was deleted. About 2 days later I go to log in and am told my account was disabled because I was reported for being someone I am not. Are you kidding me??
I provided a picture of my driver's license and still have not heard anything back. I am highly upset. Like I said, I have had my page for about 10 years. I post religiously. If I was a phony why would it have taken this long for them to realize this? I feel like someone falsely reported me as being a fake out of spite. If my page is not recovered I will have lost the thousands of pictures that I've posted over the years. The sad reality is, I have been researching and this seems to be happening to a ton of innocent people yet there are all types of disgusting degrading pages on Facebook that are just being left to sit. It's sickening. I am very dissatisfied with Facebook at this point. 2-3 days later and I still have not heard anything back from them. That's terrible customer service at its finest.

Everyone knows Facebook sells our personal info and knows the DANGERS of using their REAL NAME online. It DOES NOT keep anyone safe specially people who have dealt with stalkers for transgender people who don't want to use their real name because of their gender identity. So out of nowhere tonight without warning I get locked out of my Facebook account. MY ONLY WAY TO CONTACT MY FRIENDS and Facebook is harassing me for photo id. This is PRIVACY INVASION. This is GOVERNMENT OVERREACH. STOP THIS NOW FACEBOOK or risk another PRIVACY INVASION LAWSUIT in the USA like there is in the UK.

Facebook is harassing me about a descriptor name when they aren't doing this for everybody on that site. They are targeting me using policies that they don't enforce for everybody! I use my legal first & last name with a fun name in the middle. I have many friends who don't use their legal names, and nobody is harassing them to change it. The only reason they are harassing me is someone at Facebook has been reading my timeline, deleting posts, and just flat out discriminating against me because they can without identifying themselves. I'm starting to hate this site's controlling behavior and picking on people they feel like picking on.
I am a ** transgender male, they know it, and somebody has it in for me. And, don't respond with any hate crap about me, because I don't care if you like where I'm coming from or not ... please and thank you! I just care that Facebook is trying to get away with discrimination, and I've contacted Lambda Legal and the NCTE. So, don't mess with me, people!

I received numerous messages, on Facebook, from someone claiming his name is "Smith **". He claimed to be a member of FaceBook security. He would not stop sending me messages telling me to call a phone number to claim a "prize" I had supposedly won through FaceBook. I reported him to FaceBook, and MY ACCOUNT WAS TERMINATED!!! I absolutely refuse to use Facebook anymore.

I need help. Facebook close my account. I sent them my Government ID blocking out the important information, but did show my real name, the name on my account and my real birthday, same as on my account. I then get this was not enough, it didn't match my information. It did. The picture is me on Facebook a few years younger, so I send them a copy of my marriage license, blocked sensitive information out but you can see my birthday, age and my real name. Remember this going on back and forth since yesterday. I get messages that stated someone is pretending to be me. Someone has report my account. The list is endless.
Today I get a email from what I hope is Facebook, having my doubts on this one saying, that someone else sent them the same information as me. Here is where this get very concerning. They now want me to send a picture of me and me holding the ID with my face. I'm not doing that. If two forms of ID, real name, birthday is not enough, I don't know what would be. I have asked them whom this person is? No response. They are now refusing to let me back in my account and will not destroy my personal information until I do as they say. I'm looking to file a serious complaint with the BBB and contact outside help. If some really has all my ID and sending it to them they should tell me who this person is so I can go to my local law enforcement and report them.
I did nothing wrong to deserve this. I feel violated. This was all because of some fake gaming users reported my account. Why because that-is what they do. I got a nasty PM from a lady as my daughter did, admitting she was a fake ranting a raving calling us fakes. Nothing was done to this person. She has over 6 fake user accounts. My warning please do not send them anything. What can be done about this? If someone has truly gotten a hold of my personal info, ID and such. Why is Facebook not going after them? From what I have been reading this is happen to many user over the last few weeks. My case is unusual. None of them were asked to hold up there ID with their faces and send that in. They are refusing again. I repeat to remove all personal information I sent them, until I send them this picture. This is crazy. I have never heard of anything like this.
Updated on 09/26/2016: I finally got my account back. I had written a review a week ago. It just got published on ConsumerAffairs. I did go ahead and send them a picture showing me holding my ID. A faker would not have went to these lengths. All I can say this has left a very bitter taste in my mouth and caused me so much stress. It was unbelievable. In closing, they do most certainly need real people to talk to and, be more proficient in dealing with people. My advice now is don't ever change your name. Use your real one and DOB. I had all that, but had used different names for gaming. When my account was closed everything was correct. Name, DOB. I don't think from my personal experience, I would ever go through this again. I would let them keep my page. No, one should be allowed to hit a report button out of spite, only for a good solid reasons.

I was arguing with some people in a forum with Facebook login plug-in. The next day I was blocked and need to confirm my name and supply my id, but I was registered with an old email that I lost long time ago. Now I lost all my contact because I have hurt some mean people in the forum.

I reported on someone pretending to be me on Facebook and received a "it does not violate community standards" so I reported my picture being used along with my deceased father's picture on Facebook under someone else's name. Facebook came back again saying it does not violate community standards. My friends even reported the fake account and Facebook didn't do anything about it.
I feel like Facebook does not do a good job protecting our identity and when you report it to them they don't even bother to do anything about it. It was not right for Facebook to tell me it doesn't violate community standards, like how does that not? My pictures were being used and my father's pictures were used from my actual account. I personally messaged the person who used the account under a different and told them I will take this matter to the police and have them track him or her down. After that, the person had removed the profile because I informed it was unlawful. Facebook truly does not do anything to make me feel secure about my account despite it being private. They need to take more action in efforts to keeping users safe or help them with their reports.

I am an expat from South Africa living in Malaysia KL. FB has suspended my account for 3 days. Initially I did not have a problem with this as I can be expressive and may have posted something questionable, but then I noticed that the reason they gave was that a image or video of a child under the age of 18 of a sexual explicit nature had been posted. I have since contacted FB and requested that they tell me which post/video they found offensive as I am NOW taking huge offense as they did not inform me as to what post caused my account to be suspended! Nothing, silence! I am strongly against child abuse of any nature. The reason I am contacting Consumer Affairs and one I never shared with them is that I feel I should not be put into the same category as a pedophile!
My sister was abused as a 12 year old by a neighbor which caused emotional damage to the whole family! We were also exposed to a sex child offender by the name of Gregory ** a church goer and part of our congregation (Google him), which caused me to turn my back on church and God. More emotional family upset! FB has overstepped the line and opened up a lot of old wounds! There has never been ANY sexually questionable images or videos of an under 18 year old posted to my FB page unless they think that under 18 year old is me! Which just might be a backhanded compliment! In my opinion if FB is telling me to be mindful of what I post as this may cause offense to other people then they should be mindful of their accusations! They have no idea what people have gone through or go through offline. I feel sick to my stomach just typing this complaint.

In July, my account was disabled pending ID verification which I submitted. I was informed that my account was disabled by mistake and it was restored. Now I am receiving another notice as to why I am blocked from my account. They are asking for me to open a business account. I am just a person that uses facebook to keep in touch with friends and family. No explanation was given and no one has gotten back to me despite my attempts to try to resolve this. I am not an organization or business. It is beyond frustrating and facebook has no accountability for their arbitrary actions. I would be willing to join a class action suit. No business should be allowed to treat people like this and not be held accountable. I also feel that people are targeted for their personal beliefs and political stands.

It has gotten to the point that I really Hate FB! I would never use it except for the fact that I have made a lot of friends and I want to keep up with their lives. I have been reported many times by people who work for a political campaign in my state because I dare to ask questions! It went so far as to have someone say that I was crawling with STD's and they also posted my Address. When I reported it, FB ignored it, but they ended up blocking ME for defending myself! Some people out there have a computer system or something that they can punch in a name and any public comment, punch in the number of times they want to report said comment... And BOOM, Blocked!
I lost my first account because of them. Yes, I have informed FB of this and they just don't care! I don't even think that actual people look at reports. It is all done by computer bots. They refuse to address the constant Doxxing. I report them and I get a message back saying it doesn't violate their community standards. But, I can make a comment saying... "Too stupid for words" an immediate block on me, WTF?? I hate FB and I wish I had never heard of it.

I deactivated my first FB account in 2012 for personal reasons, but after much prodding from friends decided to give it another go. Everything seemed to be going well for the past couple of days since I created a new account - until today. In the middle of reading and responding to posts, I suddenly got locked out for absolutely no apparent reason. That was annoying enough but not nearly as aggravating as when I read a prompt telling me I needed to upload two forms of government-issued IDs. To be honest, my first thought was that I was either the victim of a scam or somehow my account had been hacked. I rebooted my computer, ran a full virus scan and tried again. Guess what? Same result.
To say that I'm absolutely LIVID is an understatement. I don't know where the ** (excuse my language) this company gets off even thinking that they have the right to ask for, never mind hold your account hostage by blackmailing you with a demand for IDs. And then, predictably, I did some research and it didn't take long to find endless tales of this BS - ranging from consumer lawsuits filed against FB because of this to countless people filing complaints on the BBB and ranting/raving about it everywhere. None of which, of course, helps me in this particular situation.
It's absolutely OUTRAGEOUS and completely UNACCEPTABLE for a social media site to act like it has government-sanctioned, legitimate reasons to ask for ID. I have absolutely NO intention of complying with this absurd, ridiculous and completely unacceptable demand. What really pisses me off is the nerve of FB - and the fact that no actual government agency has knocked them down a peg to remind them of their place!

Ever since 2008 on my fist deployment to Iraq I have been dealing with scammers using my old pics from MySpace. I deleted that account and so I thought. Till this day I still get females writing me on Facebook telling me they got burnt from someone using my photos. I Googled my name and sure enough I was on a website that said (most used military photos used in scams). I lost count how many times I reported to FB about a profile being a fake and clicked on do I know who they are pretending to be hit button me and done.
Sometimes they delete the profile but 3 times they wrote back saying that the profile is not breaking any rules. I would write back asking "so it's ok to use other people photos to scam females", never a response from FB. Then last week I reported 6 more. 4 got deleted and same dumb response on the other two. Yesterday I reported 3 then that night my account said block due to my profile being fake. So I am thinking the ** from Kenna reported my account and without even calling me, writing me or noticing that I have a lot of family on my friends list with same last name or bother to ask anyone of my friends and compared to the fake profile that I seen. They had 1 or 2 friends and no info.
The thing that pisses me off was they were so fast to block my account and even after I hit "if this is a mistake. Click here" giving me this garbage about wanting an ID that I never seen in the guide lines. So I played their dumb game and then some. I sent a copy of my VA ID since I do not have a civilian one yet but it has my pic and birth date. I then sent a photo of me holding yesterday's date and time and wrote "let's see the fake profile do that". I have heard nothing from them and when I do it seems like it's a pre written letter not even answering any of my questions.
I have some friends trying to write me through messenger. I can see the message but can't respond. The other reason I am upset is I broke my external hard drive. Too expensive to do a data recovery and guess where all my military and both deployments photos are. Yup on freakin FB. If they permanently delete my account those photos are lost forever and I can't even ask one of my battle buddies to send me some because I always talked to them on F. Good lesson learned. Don't keep all info on just one website or write down their info.
I don't know what to do. I even tried to open a new account and got as far as looking on my mothers friends list to send a message to my GF telling her what happened. Then 5 min later it's asking me to send them an ID again. The hell with that. Someone needs to make a better website and put FB out of business like they did to MySpace. FB also needs a better help or customer service. One that does not sound like a robot sending you replies. I also find it hard to believe they can't tell if a profile is fake or not. Take me for instance. When it comes to computers I suck! But I was still able to get an app and found out where that profile was sending emails from and sure enough it was from Kenna. So Zuckerman or whatever his name is making all that damn money but doing nothing to solve this problem.

Instead of controlling who should & who you are allowed to make friends with on Facebook, the owners should concentrate in making Facebook safe so Facebook should be safe from spammers & from those who spread viruses on Facebook. After someone posted malware on my profile I was unable to delete it. It spread & posted itself on the profiles of all my friends profiles without my control. I was unable to delete it & when I did delete it the spam posted itself again & again. I was forced to delete my account. Facebook is starting to lose its popularity. Other social groups are competing against Facebook & I hope I can find a better place to start my profile.

My Facebook Page has been corrupted by foreigners (more than 1). They know it, and their TECH People won't fix it, unless I pay a lot of money. THEIR PAGE, and their tech people want to extort money from me. As YOU CAN see, my computer is working fine, and it is protected. USELESS TOADS! All this can be verified by NORTON and MS.

I got a notice saying that there was a complaint about my name. My first name is Miss. Yes that is my legal first name. They asked for an ID and I sent my DL yesterday. Today I get a note asking if they can change my name to my middle and last name. I said no. They locked me out and asked for a DL again! This time I was told I could be blocked for 90 days or longer. THE DMV DOES NOT PUT TITLES on your DL. It shows as my first name big as life still FB decides. THEY have the right to change my legal name and if I don't oh well, do as I say, it's MY site and if you don't I will LOCK YOU OUT FOREVER. So someone who does not know me can complain to FB I am not using my real name. I can PROVE to FB I am using my real name. FB can determined THEY don't like my real name and can ORDER me to change it or leave. HOW is that right?

My contract with Facebook per their Terms of Service is that they store my data in a manner in which I can retrieve it via FB export at any time, and use that data for their advertising purposes, in exchange for my using my "real name" aka the one by which friends and family know me on their service. I have lived up to my end of the contract, and Facebook has failed theirs -- shutting me off from access to their servers, and the data I have stored on them, and refusing to even discuss the matter with them until I upload photo ID's (this is NOWHERE required in the terms of service, and they have offered no justification for why their allegation that I am fake is even remotely realistic.)
Unfortunately, their fake name reporting system is open to tremendous abuse, allowing people to perpetrate harassment and bullying on other users like me, without accountability. Anyone can falsely report any target they don't like, as fake -- even targets like myself whose profile photo shows the same piece of architecture as the #1 google search result for my facebook name shows -- and never be held to account for their bullying of others.
It is well documented since 2010 in gawker, the New York Times, Forbes, Wired Magazine, the Electronic Frontier Foundation's website, and many individuals' blogs and personal news columns, that there is no disincentive for cowardly bullies to use this as a mechanism for harassing or shutting up others whose views they disagree with. Any bully can do this, as a coward, knowing that they will not be identified to their victim. Victims have included Indian feminists, a whole pile of gays/transvestites, lawyers posting comments online defending Israel, and people like me who just explained in reply to a friend's rant against Hillary on their wall, why Donald Trump is no less corrupt than Hillary.
Before I knew it, I was being told that because I was posting from outside the US I couldn't vote and therefore didn't deserve to have an opinion on it. I countered explaining that running a country isn't like running a business with generous US bankruptcy provisions that Trump has availed himself off repeatedly to get out of trouble when his latest great idea failed, leaving a trail of unpaid and underpaid suppliers and contractors, with families to feed, in his wake. If you screw up, you don't get a do-over. Because no one could attack the truth of what I said about Trump, they chose to attack me instead. Within 24 hours, my account was deactivated as fake, and FB demanded that I send ID to get it back, and said that they wouldn't even discuss the issue unless I gave up my privacy in that way.
Someone LIED about me. Basically, they lied by falsely claiming I was lying. Why is it any worse for me to allegedly have lied (which I did not), than for them to have ACTUALLY lied (reporting me as a fake name, when they're a friend of a friend of a friend who saw a post, and therefore are not going to know me in real life *anyway*... especially if the idiot googled me, and search result #1 matched my profile photo)? I don't understand why Facebook lets them even get away with it!
I have been stalked. I have had an employer so upset that I planned to join a competitor that could have caused them serious business trouble, which was not against my employment contract, that they started scotching my job opportunities and I had to flee the country to get work in my field. I have been a violent crime victim on more than one occasion. I have been a suicide risk because of violence perpetrated against me that caused permanent injury, and use Facebook as a *v-i-t-a-l* source of social support. More than once, friends on Facebook reached out to me and gave me a safe place to spend the night, to try to keep me safe, when I complained about it happening again. And I am SO not letting Facebook tag my ID with this sensitive information!
Here's the deal with giving up ID, even if I block out serial numbers. There's absolutely no way I can do this and preserve my privacy. Every single thing they say I can use to prove that name is mine, also gives them information they did not have about me before, beyond my name (which, they already have, and in the NINE YEARS my account has existed, they never questioned until a political bully came on the scene and made trouble, for me):
I must give Facebook my photo. Nowhere have I agreed to do this. I have poor looks, partly due to disfigurement from domestic violence years ago, and partly due to bad genes. When people see a woman who's a 1 on the 10-scale, we're immediately discredited, ignored, or (worse) made the butt end of rude remarks. I've got no desire to give a company not paying me considerable money or a government giving me a privilege like driving, access to my poor-looking photo.
If I give up my passport, I give up my citizenship info to them. Nowhere have I agreed to do this, and nowhere in the Facebook Terms of Service is it required. If I give up my licence, I give up my residency info to them. Again, nowhere have I agreed to do this. If I give up employer ID, I give up my employer's name and possibly my work location. Again, not required by the ToS. If I give up student ID, I give up my school and possibly my living location. Again, not required by the ToS.
If I give up birth certificate, I give up city, state, province and country of birth. Again, not required by the ToS, and usable for racial or ethnic profiling. If I give up marriage certificate, I give up location of marriage and THAT I am either currently married or have been married in the past. Again, not required by the ToS. If I give up union card, I give up profession and some amount of information on my location. Again, not required by the ToS.
If I give up medical records (yes, they offer this as a way one can prove ID), I give up my doctor and their location, and thus my own location as well as the location of my medical records. Again, not required by the ToS. If I give up club memberships, I give up various business associations that can be used to profile me. Again, not required by the ToS. If I give up my bank statement (yes, this is another way they kindly offer to let you prove ID), I give up my bank's name (great for fishin') and the location of at least one of my financial accounts. Again, not required by the ToS.
And all of the above is in addition to the fact that their ToS explicitly says that my "real name" that "friends and family know me by" DOES NOT HAVE TO BE my legal name. Whether it is, or it is not, isn't relevant, and therefore most of the above documents are likewise irrelevant in addition to it being an invasion of privacy for FB to request them. It suffices that I am identified by the identical name on the 10+ year old gmail account that I used to sign on to Facebook with, that email account is used for posts around the web with my name attached, if friends are going to refer to me by name, that's the name they use (and I have no living family left, so that's out), and it's in the newspaper as well.
When the gays/transvestites ran afoul of this policy in great numbers a couple years ago, they were able to get enough media attention that someone named Chris ** (interesting non(?) pseudonym there, in context) posted a public apology to its users and said that they were doing better with validating these fake name accusations and coming up with a more caring support team response to them that helps people get back on. I've seen coverage in 2015 of a page that lets a victim opt in to various categories such as stalking victim, to get exception to fake name reporting harassment -- but no such page has been presented to me at any time.
Because I've been a suicide risk in the past, and my FB friends know I am completely alone in the world, many are understandably quite concerned about me, and I've got no way to even contact them. We all live all around the world, making phones not the best contact mechanism, and many are not email/keyboard people just Facebook phone people. So FB having incorrectly banned me as fake is hurting me, by cutting me off from this contact, *and* hurting others who are worried about me and have no idea why I disappeared without a word, possibly dead for all they know. All because some Fundy Christian who supports the guns-and-embryos-rights party at the expense of living humans' rights didn't like that I stood up for the next *female* President of the United States. Kindest possible regards under the circumstances, The Unnamed.

First and foremost I have had my account for years with Facebook and has used my real name, I continued to get notification that my name was not authentic, however I am a firefighter and I have used my real name besides when I got married I changed it and when I got a divorce I changed it back to my real name with Novelist in the front of it. I thought this was my username with my personal information in my setting. Facebook then starts to ask for personal information such as personal ID with personal address blacken out I guess. I thought this was a scam. My personal phone number is on facebook. They could have gotten in touch with me that way because I refuse to send my personal id to social media.
All I talk about on facebook is Love, Police brutality and more love and how we should all be together as one. I am also a self publish author. My book was publish in 2008. I might have sold 3 books whoopee and now I have another book coming out also self publish. Nothing big. I don't have a contract or anything so is this why my Facebook page is being closed. So I did some investigation myself and found other friends who are writers and are using Author and Novelist and their Facebook account hasn't been shut down. I also posted a love video for my boyfriend birthday with pictures that was already on facebook that received over 500 views that was a first, was it that I'm so confused as to why I was shut down. Dee of McDonough I'm ready. Also on this site I have read people who sent their driver's license to Facebook their page is still shut down so I'm still confused. Again Facebook I'm confused as to why you shut me down.

I was furious that I was locked out of my account, which I'd had for years. I used my real name and they demanded photo ID to get back in. I do not HAVE any photo ID, I have never driven a car and had a passport. They would not accept my usual ID and so I lost all my contacts, my photos and everything. I am absolutely furious!

I was hacked approx. 2 yrs ago while I was in the hospital. Then whomever hacked my account began to cyber stalk me. First they changed my user name and passwords so I couldn't access my account. I had to create several accounts due to this & then they would write derogatory things about me on my own page as if I was saying these things about myself. They would email women making it look like I was cheating on my wife when I never have.
Now I finally got an account that wasn't hacked and Facebook keeps suspending it for overposting. It has been suspended 4 times in as many months and they are now saying that they have to investigate my account to see if it can remain open. I have tried in vain to contact Facebook to let them know many times and nothing. They allowed a hacker to remain on my account for many many months with no action on their behalf to remove them yet they suspend me for not being familiar with all the terms and conditions. Dee of Mcdonough GA I would be more than willing to join you in a class action lawsuit suit.

I have been using Facebook for 10 plus years. I did not use it for 1-2 years, did not have a computer during that time period. When I went back on it I wanted to access my original account. I jumped through their hoops, even sent a photo of my driver's license with the information they wanted. No way to call them. Very difficult to get assistance.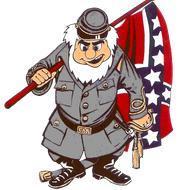 Facebook suspended my account for 30 days literally, over nothing. I am an editor, not an admin, on a confederate flag page. The page has been opened since June 2015... The page has used the same profile picture since day 1, a short burly little man carrying the Confederate flag draped over his shoulder. He is best known as "Johnny Rebel." I've seen that little guy posted everywhere, over Facebook, and nobody with a sane mind can agree that he is not offensive to anyone. Like I mentioned, he has been the profile picture for over 13 months.
All of a sudden, out of the blue, I got a notification that Facebook removed it after 13 months and suspended my account. I wasn't even the person who originally posted the picture. They have it set up so that you can't contact them. They do not have a customer service number, no hotline for help, no appeal process, they somehow, whether it be a person or an automated bot, they disabled my account with no recourse. (For your viewing pleasure, I believe I have uploaded the picture to this review, see below.)
If the picture was offensive, or if I was the one who posted, I could understand some sort of punishment, but I feel that I am being treated unfairly. If it was a ** power fist, would I have been treated the same? You be the judge, because one is not allowed to ask anybody at Facebook the same question. If they didn't hold the monopoly on that forum, I would use another product, but there is only one Facebook, and they know that, the greedy liberal bastards.

I am writing this review because I think others should (READ) this before opening a account on Facebook! Facebook closed my account on July 4th. Right in time for holidays. I was kinda expecting them to do this!! This is about the third account I opened on Facebook and probably last as they are not a fair Company! I have a three say four negative encounters where they lock my account coincidentally before holidays or after I have gathered a decent amount of friends and likes!! And their reasoning for holding my account hostage is ridiculous.
First of all they have people continually hacking accounts and do nothing. They have cults and photos exposing violence and those people can hold accounts. One time I met a friend on Facebook. He had a normal profile so I thought no harm. They next minute he changed his profile photo and put a horrible violent one. It was one of a face that was bloody and smashed in. I was scared and shocked, then when I told Facebook they just ignored this!! Why does their Government not take control of this site and shut it down!
Second they closed my account without warning and won't allow me into my own account demanding I send ID, which I will not be doing. They are allowing cults to firm online who enjoy posting very violent photos. And with regards to accounts and profile and ID they are just collecting everyone's information and probably selling it to them sane scammed cults on Facebook. Why is nobody saying anything, doing anything? Honestly I don't get it. Lastly I know for a fact they spy and listen in to messages and contacts whatever you do online, there is zero privacy. They are stalking you while you are on their Accounts! Be careful what you say and do?
So my experience is that I am one Facebook with your B/S. I am definitely not opening another account. It is too time consuming!! And definitely not sending you any ID, I mean what gives you then right !! You bother your Account holders for ridiculous reasons. And stop listening into people's business!! Another thing. If you are not in your account after a few hours, they do their same thing such as close the account, hold it hostage, and won't let you in. Good luck Facebook. I am done with your nonsense. Eventually users will get tired of your B/S and stop using their accounts. Someone needs to regulate your account to see exactly what you are doing. I'm done with Facebook!!

I have a stalker who's hacked my page and many of my friends have reported it and Facebook has done absolutely nothing about it at all! I am having to get a TPO against him, but Facebook couldn't care less that he's using their site to ruin my reputation and defame my character!

I have been using Facebook for approximately 8 years. During that time, I have developed a relationship with many people, I created a private group for my family and created many pages dedicated to political issues. I am retired and disabled, so I spend a lot of time on my computer. I am grateful for your product and I do enjoy the convenience it has provide me in maintaining communications with those people.
I live in Florida and I am a Democrat. I have been politically involved for quite a while. I worked on John Kerry's senatorial campaigns in MA. We lived in Marblehead and managed his campaign for that area. I have continued my involvement on Facebook by creating pages and groups. Like many, many other users, my groups and pages are politically designed to spread information, encourage debate and provide a place for like-minded people to share our thoughts. One such page I created was called "Impeach Rick Scott". I named it that way because the only way to remove Rick Scott as Governor would be to impeach him. On that page I am not kind to the things Rick Scott has done. Whether it was to rail against his short-sightedness in turning down high-speed rail, or in his misguided decision to lay off the scientists that worked to keep Florida's waterways and beaches in good condition.
I am from Boston MA, well educated, and have an extensive vocabulary. Many of the things I railed against in my Impeach Rick Scott page, are the same kinds of things our Founding Fathers railed against. You can imagine my surprise when I opened Facebook to the Impeach Rick Scott page to find out that Facebook unpublished my page. They did not provide an example of a post that I made that was determined to be offensive, or what, specifically, I did to provoke such an uncalled for act. I appealed the decision and Facebook deleted my page and blocked me and my wife from posting for a month.
Of course, I was admonished to remove the offending content, but that was impossible to do because Facebook DID NOT tell me what I posted that was offensive! My page was tame compared to some of the Right Wing extremism I have seen on Facebook. Without a reason, I can only conclude that you are either practicing political censorship or are using faulty algorithms, both of which I find particularly abhorrent. As an engineer who also worked with software testing, I must assume that you resort to using algorithms to do the dirty work of deciding who gets blocked and who doesn't.
With around a billion users, the manpower to review each complaint would be far too great to maintain and make a profit. So I must believe that I am the victim of an aberrant algorithm that keyed in on some word I used. Or perhaps the algorithm takes into account how many people complain about my page. Which, of course, is a method some trolls use to control the medium and the message if they deem it bad for themselves. I have never made a threat against an individual, public or private. I understand my pointing out the horrendous things Rick Scott does may be perceived by them as a threat, but that is what free speech is all about. Which all brings me to this point.
I believe you are violating the First Amendment. You may think that because you are running a private company you are not, but that belief is on tenuous grounds. We all know that the First Amendment's right to freedom of speech in an obviously public arena is guaranteed. What is not so obvious is our guarantee of those same rights in a private arena. I understand you may think Facebook is a private arena, and, therefore, free speech is not guaranteed, but I believe you would be wrong in the absoluteness of that belief. For example, in many states, freedom of speech has been granted to places where the public meet but are on privately owned sites. NJ is one such state.
People in a privately owned shopping mall have the right to free speech. Facebook is one of, if not, the largest mall where the public speak. You have stated you have a billion users. Taking away their First Amendment Rights of free speech is a horrendous act. I believe, if tested in court, you would lose the ability to censor that speech based on your company's algorithms. I believe Facebook would be deemed a public place where Free Speech is guaranteed. I am hoping it does not come to going to a court to establish that. I am hoping you will see the error of trying to use an algorithm to decide who gets the ability to talk, and who doesn't.
An algorithm that allows people to "gang up" on others to silence their speech goes against the very foundation of what our Founding Fathers believed. All that does is allow gangs of people to bully others who don't agree with their point of view. But what is really of interest, is the fact that I had this page up for many, many years with no problems from Facebook. It was only after the page started to get noticed and was on an accelerated curve of growth that this happened. My posts were getting shared 50-70 times and were getting seen by thousands of people. So much so that I was going to start advertising for that page. It seems like someone thought I was getting too big and wanted to censor my page.
You have allowed users to block people. That is what people can do in the real world. They can walk away and ignore other people's free speech. For example, I can ignore a White Supremacist's hate speech but they have the right to make that speech in this Country, as much as we all may hate it. If people can just choose not to read what other people write, why would you also let people gang up and mass report a user to get that user blocked or prohibited from posting or have their pages deleted? You have needlessly insinuated your misguided "protections". They are not needed and are harmful.
I am asking you to restore my Page "Impeach Rick Scott" and restore my wife's and mine ability to post. We have come to rely on Facebook for communication with our Family and you have arbitrarily blocked that. Your arbitrary algorithm that induced blocking me and my wife has taken away our ability to post pictures I took of the fireworks to my relatives around the Country. But far worse, your algorithms have made me a victim of gang reporting, just because a politician and his Facebook minions don't like what I am saying about the stupid things he does.
I suppose I could set up a web page to do my expose of Rick Scott. I know how to do these things. In fact, I'll bet there are a few pages devoted to the unfairness inherent in the way you use algorithms to block people. But I'm hoping you will be reasonable. I have spent years cultivating and growing the Impeach Rick Scott page. To have your algorithms throw away all that time and effort has cost me in my blood, sweat and tears. In one instant, you have destroyed my business. I'm hoping, as an American Citizen, you understand the depth of responsibility you have to maintain the principles and ideals our founding Fathers set forth for us. The one thing I have is unbounding faith in us to do the right thing, or, at least some of us. For those that don't, we need a voice to hold them accountable. I consider myself that voice for Rick Scott. I really hope I don't have to be that voice for Facebook.

I was posting about the checkpoints for the upcoming 4th of July holiday which were censored unfairly due to the employee or company's personal bias.
Company Name:

Facebook

Website:

https://www.facebook.com/