Consumer Complaints and Reviews

Went through all the questions and then entered the promo code for FREE EHARMONY to be taken to a web page to have money taken out of my account. What happened to the free offer? Conflicting payment options and you can only cancel membership by mail? So wrong! Here were my options, Plan Summary: Edit Plan. $15.95/month for 12 month plan. Automatically renews until canceled and then, there was small type written which stated I would agree that I would be charged 63.80 today and 2 more monthly payments of 63.80 each for a total of 191.40 for 12 months term. You have to agree to the above plan before you can continue! There were other payment options of 19.95 for 12 mo., 29.95 6 mo, 39.95 3 mo and so on. So all I have to say is they are taking advantage of people and their emotions. Go to Plenty of Fish. I hear it's FREE!

Had eHarmony for 6 months. Not one person I communicated with was real. They use some type of computer software or have people that give the "Hi, I saw you profile etc." then lead you on for a while, but then nothing. It is a complete waste of time and money. You do not end up meeting anyone. Yeah the ads look great which make you think there is something wrong with you when you don't get a match, but it is complete and utter **. I was getting maybe one match a week until I stopped my account. Now I am getting 7 plus a day. I replied to one and of course she gets back to me, but it is the same as before only this time she agrees with you on anything you say about eHarmony. Again, I do not think this is a real person. Or she is working for them. Such a ripoff.

EHarmony does not have the safety of their prospective clients as one of their highest priority. For promoting their company, eHarmony offers a 4-5 day free communication period without any consideration for the safety of non-paid subscribers. I was a non-paid subscriber and was highly considering using eHarmony service until they started the free communication weekend special.
During this free communication period, people can send unlimited messages to each other, however those who have not paid for the subscription would be engaging in a dangerous BLIND date affair. Non-paid subscribers can NOT even see the profile picture of those they would be communicating with for free. Paid-subscribers, on the other hand, are able to see pictures, read profiles, exchange several messages, and ask for the personal contact of those who have not paid the subscription yet.
As a non-paid subscriber, I exchanged messages with a few paid-subscribers who had informed me they could see my pictures. However, I was not able to see, at least, their profile pictures. Some wanted me to send emails to their personal email addresses; others wanted me to call their phones. I understand that it could have been a genuine request, and eHarmony knows about this better than me. However, as a non-paid subscriber I felt quite frightened and unsafe.
This whole "promotion" is very unsafe and eHarmony must understand this. Paid subscribers can learn a lot about the non-paid subscribers, who could be literally communicating with serial killers or rapists. I have not heard of any other online dating industry doing such thing. By offering free communication periods, eHarmony is conducting a very irresponsible and risky business. The company puts a lot of people's life at risk.
Everyone knows that even when one can see other's people picture, bad things can happen. I don't understand why eHarmony would take such a chance, and easily put people at the hands of stalkers, killers, or rapists. I hope eHarmony reflects on the dangers of this "special" deal and do not offer it again. If they want to continue this practice, they should highly provide a safer way to do it. All lives matter, paid or non-paid subscribers.

The short of my review is eHarmony is a waste of time and money. They do not deliver what they claim. Almost all of my matches were way outside of my maximum dating zone and very few were attractive to me even though I put that physical attractiveness was very important. Only three people in two months ever reached out to me. I started on Match the same week and I get hits all day long and its the same profile... same pics, everything. I wanted to cancel after two months because they had not delivered what they advertise and they had absolutely no concerns about me being dissatisfied with their service. The lady I talked with Mary (**) was not at all helpful and said I was going to be charged anyway. She did mention that in 9 months I would not be auto renewed. The site is a scam. Do not join the site! Read the other reviews. We are telling the truth!

Someone has used my email account fraudulently. I called them in November and they said they would take care of it. It is now January and am still getting emails from them. My email address is still affiliated with a profile they will not let me see. I cannot even unsubscribe because my email address is connected to a postal code I do not know.
How do I know I can trust these reviews about eHarmony.com?
670,460 reviews on ConsumerAffairs are verified.
We require contact information to ensure our reviewers are real.
We use intelligent software that helps us maintain the integrity of reviews.
Our moderators read all reviews to verify quality and helpfulness.
For more information about reviews on ConsumerAffairs.com please visit our FAQ.

You've seen the TV ads. DON'T BE FOOLED!! All you get is a bunch of silhouettes with no pictures. DON'T WASTE YOUR TIME - EHARMONY IS A ** DATING SITE!! Who wants to communicate with a vague description?? When will people wise up to this crap?? Some time ago I signed up for 3 months. I got limited selection in my area and no responses.

I have read numerous complaints about the lack of communication on eHarmony. I must say that I have had the exact same experience. I am lucky to get a response from even one out of 20 ladies that I have contacted. There is no way to tell whether the other person is even on the website anymore as Eharmony does not post the last time they visited the site like other dating sites do. Another issue that I have is that you have to wait and wait and wait for Eharmony to give you matches. Then my next complaint is that you must send them these generic questions when I believe it is better to simply ask what questions are important for you. Then there is no way to tell if your email was even read or not. Heck the person could not even be on eHarmony anymore and there is no way for you to know.
The only reason I did not give only one star is because the website is fairly well designed and the customer service has been ok. The last lady I talked to said she doesn't understand why I am not getting any responses. I have great pictures and a very good profile. Go figure. Maybe it is the type of people that signed up for eHarmony or maybe it is that women are very selfish nowadays. They want the next contestant on the bachelor, someone 6'5" and in perfect shape, or some guy from those gray series of books they are reading. All I know is that on match.com I communicated with almost every girl that I contacted. I definitely will not renew my membership and will not recommend this site to friends. As a matter fact I will recommend they not waste their time.

Typical unethical bait & switch. Advertising free account until January 3rd. TWO HOURS LATER I discover no one can see my pictures, or perhaps I can't see anyone else's pictures. I would enjoy suing the oh too typical "hypocritical Christian" thief who own this business for stealing two hours of my time. Who does that? No one but a POS!!!

It's interesting that eHarmony does not have a "contact us" link; rather a "customer care" section which, ironically, is neither dedicated to the former nor actually concerned with the latter. Instead, it leads you on an endless journey of Q & A's that don't directly address your concern. I would like to actually SPEAK with someone in customer service - presuming they believe in such a concept - and ask them why they don't try to match me with someone in the low to mid 40's per my age account settings. Oh, and someone actually within a 20 mile radius would be nice; I can't hop a jet simply to meet someone at Starbucks. Based on some of the other reviews I've read, I guess actually reaching someone who works at eHarmony would be the least of my worries.

Tried in 2014 with little success. I was matched with two women in other States. I did speak with both Ladies and both seemed very much my type but so far away. Nearest was about 400 miles away and the other was much further. The Ladies and I agreed it was a total scam. The whole experience. They had only received matches very far away. One would think with all the TV exposure it might be a doable thing for two people to actually contact each other and meet. NOPE!!! Customer service in 2014 was at least answering phone calls. They assured me it will get better as their system learns my criteria. 2015 calls not taken. After the 2014 fiasco I swore them off as a SCAM. I tell everyone stay away from eHarmony.
In 2015 I got message from them about a match and should check her out. She looked way good and enticing. Like a fool I joined again to talk with her. Can you imagine after I paid her "Picture" I was lured in with plus her profile attributes went away! The gorgeous Lady changed to a hideous looking other. I contacted eHarmony complaining of the bait and switch pictures. I suggested wrong woman. eHarmony response was "Yes that is her." I said good for her and her upcoming boyfriend but it will not be me and I was cheated. They wouldn't refund money. New credit card so when the auto bill came it went to dead CC. The World is in such tragedy with all the scams everywhere. eHarmony is BIG SCAM. If I knew how I would start legitimate site and have to overcome all the bad publicity brought on by others such as eHarmony.

I decided to try eHarmony because the commercials on TV are very convincing; first of all I paid for 6 months and all I got for match was about 10 guys that looked twice as old for their age; then they suggested I widen my limits and put more pics and I did, but got maybe one match every two weeks; they also have a What if? and that would not show no choices except once in the whole 6 months?
Anyways I called to cancel my renewal since I paid $180 for 6 months taken out in the first 3 months of membership; They had cancelled me ahead of time so I called. Would not get any refund so they reinstated me till Dec 18th and all of the sudden I got 25 matches that were not as old and the what if had lots of choices more than in the 6 months I paid for. But of course at times all of the sudden the member were no longer available. And of course a reminder in between of renewal time running out? DON'T GET TAKEN BY EHARMONY. THEY CONTROL THE MEMBERS SO YOU HAVE TO CONTINUE TO PAY... DON'T JOIN THIS SITE!

From the very beginning eHarmony tried to take me for a ride. They charged me 89.95 dollars when I only wanted a month long trial period. Because I was able to contact my financial institution to stop them from charging me, they offered me a free 3 month trial which I cancelled, however they still took $19.95 from my check account because of hidden recurring membership that you have to cancel also, even if you cancel your subscription the recurring charge will still be in effect. To add insult to injury the matches are scammers and losers. These are people you would date in your waking hours and they always try to lure you away from the site. Also you matches mysteriously disappear right in the middle of the getting to know you phase, just as your interest is peaked eHarmony sends you an e-mail that the person is no longer with them because of site violations.
The pictures that are supposed be of the person are fake and they always use animals and children pictures as lures to put you off guard. The people are unattractive mostly and look very unhealthy. Some look like they are alcoholics. The site real is a far stretch from the commercial you see about it on TV. Save you money, stay on your own if you don't want to be scammed. Very few people find success in this money traps.

I read all reviews on EHarmony prior to writing my review. I agree with most from my own experiences. As a widow, I joined this site hoping for find a lasting relationship. I spent hours and completed my profile over the course of several days. I was specific and honest and reviewed the information with a couple of friends to make sure that I was representing myself accurately rather than selling myself. Just to let you know, you will be asked about your level of sexual desire. These questions and your answers later became visible to all matches whether I communicated with them, or not. I would have selected to NOT answer these on this site had I known this.
I met a few people through this site and experienced good and bad. Mainly bad. First, you will receive many people who are not what you are looking for -- either profile or age or location. Second, you will receive many, many, and more than many scammers. You will get this amazing profile and respond to it. You will spend days in the process of communication and then you will be asked for money or threatened by this wonderful match. You will also note that the match is no longer the same person and the writing is clearly from someone with English not as the first writing. You might even receive a response to another person's name by this scammer and/or receive an email signed with another name -- your scammer forgot to change the name from the last person that they earned their living from to your name. Or, they forgot their identity.
If you engage with someone on the site, use caution in giving any personal information, do NOT click on any links, open documents, or attachments once off EH email. And, the FBI does have a unit for internet scammers. You can find this information on the FBI website or by calling your local FBI office. You will get really good at identifying scammers. I asked for a refund or reimbursement by EH customer service after they closed 4 people in 3 weeks that I brought to their attention. EH did not respond to this. Oh, I should tell you that some of these scammers will groom you for months prior to requesting money. You will think that you did meet the love of your life until this happens.
You will also get a ridiculous email about internet safety after you report a scammer to THEM! Oh, I should tell you that some of these scammers will groom you for months prior to requesting money. You will think that you did meet the love of your life until this happens. You will find most people are not in your area. You will be told to expand your search. You will receive profiles from people who are only the things that you list as Breaks in you makes or breaks list. You will meet people who are not ready for a relationship (but thought that were ready). The latter will break your heart.
If you buy up a specialty service, EH will stop it after you pay for it and will tell you that they decided after feedback from their customers to stop it. Really? I check my account and their main site daily (I have learned to look on the main site for changes). Examples of buy-ups are ID verification, incognito, and read response. By the way, the buy-ups are paid for by each individual match, not this service applying to all matches! You will find this out after you pay for the service. You will also learn that you are charged by month for the service, not a flat fee. I am not sure what is out there to help you find the love of your life, however, I know that you will be dissatisfied and feel like there is something wrong without you UNTIL you catch on. Good luck in your search and may you find the love of your life.

I am writing to describe my experience of the use of eHarmony. I find that the introductory process is indeed time-consuming and it is not worth the days of answering about 1,400 questions. Another drawback is the limited number of matches emailed to the user each day. Worse yet, half of them seem to be from out of state. What's most frustrating of all is that some of the profiles aren't that well developed (i.e. one sentence descriptions). In addition, sometimes I get a message saying that the person who I am sending a message to is out of the matching system. My suggestion, go out on the town and meet someone because per my experience, online dating sites like EH are a waste of time and money as I have sent about 250 messages and have only gotten about 6 responses.

I signed up for a year membership with eHarmony about a month ago. Within a week I realized it was not going to work for me. The format was very awkward and made it difficult to have any informal communication. First of all, the I think I received about 5 matches total who lived in my state. Most matches for over 2 hours away and just not practical. Second, I am women who is 5'9" and I would like to meet someone at least my height. I think I saw three people who were over 5'7". When I called to cancel my membership the customer service rep essentially told me I was being shallow and said eHarmony is about finding compatibility rather than superficial attraction. She was very condescending and rude. She finally let me cancel the membership (after offering everything under the sun- think Friends and the gym membership). Then I asked her about how much money would be refunded and she said none- despite the fact that I am still making payments.
The fine print of the contract said no refunds and they were sticking to that. She provided me an email address I could use to appeal the decision. I emailed them stating the reasons I wanted to cancel and within 24 hours I received a boilerplate denial citing the fine print of the contract. So now I have paid for another 10 months and don't even have an active account. It's honestly not even about the money as much as it feels like I was completely taken advantage of. Apparently the only way you can cancel is within the first 3 days (so you may have been given 12 matched by then- not a large enough sample size to have a good idea of what the site has to offer). I wish I had done more research because I am realizing that most people who try match end up with a bad taste in their mouth. eHarmony is simply outdated across the board. I would strongly suggest trying match.com instead.

Before joining the site I received so many emails saying that these women wanted to talk. I signed up for the 3 months and they were gone. Vanished into thin air. I must have sent out over 300 question emails with 2 hits one in NJ and the other saying NY somewhere. So you don't know where you live. Hmmm interesting. I live on Long Island. I thought I would find a lot of women on Long Island. Nope. I get New Jersey, Manhattan, Brooklyn and CT. Then I get in my matches something went wrong try again. Or if you send a smile it comes back with a sad face. So how are they my match? If the women are in your match and you get that message how are they in my match?
EHarmony has you fill out this whole big thing to properly match you up. Well they are not doing their job. To me this site is the biggest waste of money and time. You are better off on pot or something else like that. eHarmony is not worth the money and their ads on tv are full of crap. I wonder if a false advertising lawsuit can be filed.

This is by far the worst dating site ever. Not one man contacted me and they wouldn't cancel my subscription when I ask them to several months back. What a waste of time and money. This place is a ripoff. Don't use them. There are better sites out there for dating.

First they didn't have any matches in my area or that even fit my profile. They did send me a lot of non-active members though. Probably one of the worst dating sites I've ever used. In 6 months I didn't have one match. When I went to cancel my account the website was mysteriously down & they charged me an auto charge of $150 because I couldn't cancel my account due to the website being down. When I called to talk to someone the next day, they told me they would put in a request to cancel the account and refund my money. Then the next day I get an email from customer service telling me that they would not be refunding my $150 because I did not cancel my account in time. Even though remember their site was down and I couldn't cancel my account! I guess I should have read the other reviews about this site and how they scam people out of their money. Talk about feeding on people!

Decided to give it a try and signed up for 6 payments. When I clicked on submit the payments were doubled into three. The "matches" they send are often not in my set parameters. I have been unable to reach their customer service. When a match they select moves on the profile is not replaced. They keep asking me to loosen my criterion - like I should settle for what I don't want. Is there a class action lawsuit against them anywhere?? Can't find my receipt number but I can assure you I am a buyer of this scam.

Two years ago I signed up for the "discounted" 3 month subscription and was also matched with a lot of people who weren't active anymore. I also kept getting hits for over a year after I had cancelled my subscription and told them I didn't want my profile visible, which tells me that they don't even remove profiles when they are specifically told to, just to make it look like they have more "members" than they actually do. Then a few months ago I suddenly started getting communications from 2 people who seemed interesting (and disappeared immediately after I signed up for another 3 month contract... Interesting, isn't that?)
And as for matches? Based on what? I had nothing in common 90% of the people who communicated with me. Most of them were looking for one night stands (which is supposedly not what eHarmony is about), or they were more than 25 years older than me. Then there was the midget who couldn't walk much.
I'm not trying to be mean here, but I didn't sign up for the elderly and disabled package. I'm an active person and nowhere in my profile does it give any indicator that I'm looking to just jump into bed with anybody (one guy took me out to dinner and then tried to get me in the back of his van... Seriously?) nor did I give any indication that I want to date men who are older than my dad, or that I want to spend my time sitting around. I know that part sounds horrible, and when you're with someone you love, you don't mind giving up doing fun things for them. But when I put on my profile that I like to do active things, and I am constantly matched up with people who can barely walk around a flat track one time... How is this compatible? These are people you can't even take to a museum or other indoor event that requires even easy walking. Others had obviously only contacted me based on my photo because they had not read one thing in my profile.
I was also contacted by another man (named Mark or Marek, he couldn't decide... I put down that intelligence is important to me and they send me a guy who can't even spell his name correctly) who was obviously just looking for a green card. There are also a lot of people who sign up for the free weekends and then try to get you to go into direct communication immediately, while they try to do the same with any and every other woman they can contact on the site. I'm looking for a serious relationship, not to be part of someone's harem. EHarmony shouldn't even let these people go to fast track. They're never legitimate. This website started out ages ago with good intentions, but now it's just an expensive way to meet bed-hoppers or scammers. You can do that for much cheaper on any other site, and some of them are even free.

EHarmony asks what I'm passionate about and it's honesty. Eharmony isn't - I signed up for the 'free communication' this weekend and no matter what I try to do I'm taken to the page to sign up for a crazy amount. I had tried them before years ago and it was a total waste of money - I had 2 matches in the WHOLE COUNTRY! I thought I'd see if there were more I might match with - there were, I had 16 matches but only one in my state and I wasn't allowed to see anything about them except age and town, and wasn't allowed to communicate for free.

I have been single for 3 years. I decided I needed to get out there and start dating. EHarmony asked for my marital status and when I ticked 'separated' I received a message saying, "Sorry, it appears you are still married." Basically, you have to have your divorce decree absolute, date of its issue and the court which granted it. However, it won't let me log onto the site to contact them for advice, and when my divorce does actually come through, I won't be able to log on with my divorce details. My husband lived with his partner within weeks of leaving me, and yet if I even think of dating, I am slapped back for being an adulterer!

This site requires you to sign up for a minimum of 3 months at a higher monthly cost and will not refund any monies back if you are not satisfied within a few days. This site says they will find a date with their large database of people. Wrong! They say they will find you a date. Wrong! This site says they will communicate with you. Wrong! This site says you should have at least a few response from their vast database of people. Wrong. Not sure where they get this information. It is not from their customers. Waste of money, waste of time, no customer service support, overprice. WOULD NOT RECOMMEND,

I signed up for a one month subscription on November 1, 2016. I paid $59 and some change. I logged in and cancelled my subscription on November 24, 2016. MY matches didn't match at all. Not even close. Not to mention they didn't live close either. EHarmony will not close my account because it says I paid in full through February 1, 2017?! Not only have they already auto charged my card for December, they have also charged my card for January too! My account does NOT have the auto renewal option checked. They offer no refunds because, according to eHarmony, I pre-paid. Only I didn't. They pre-charged. All around waste of time and money. People sign up for free weekends, get matched with paying subscribers, they go away after the weekend and the subscribers can no longer connect.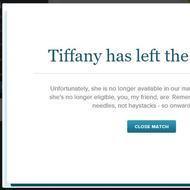 I initially was presented with 900+ match results. OVER HALF WERE DISCONTINUED PROFILES! My gripe would be that eHarmony knowingly maintains a database of discontinued accounts for the subscriber. When the profile is clicked upon, a result of "Unfortunately, she is no longer available in our matching system". This wasted my time and is a blatant false representation.

This site requires you to sign up for a minimum of 3 months at a higher monthly cost and will not refund any monies back if you are not satisfied within a few days. This site says they will find a date with their large database of people. Wrong! They say they will find you a date. Wrong! This site says they will communicate with you. Wrong! This site says you should have a least a few response from their vast database of people. Wrong. Not sure where they get this information. It is not from their customers. Waste of money, waste of time, no customer service support, overprice. WOULD NOT RECOMMEND, AND I LIVE IN LOS ANGELES.

After spending a good deal of time filling out questionnaires, and a good deal of money, the matches are bad or non-existent, out of state, too young, etc. It's hard to believe that in a city the size of Dallas there aren't more matches. Plus there's no way to get help, customer service is awful, and even though I've managed to figure out how to "non-renew" it says they are going to automatically renew me for a month! They also add on charges for everything additional to the basic service which is horribly expensive.
Worst dating site I've ever tried. Don't waste your money. I know a couple who met on this site and married, but they are much younger, so perhaps it works for people in their 30's and 40's. Or perhaps they were just blessed to connect. How do I stop them from taking any more money from me? I'll have to remember to close the account, I guess, prior to "one month renewal" that they've added without my authorization, and despite the fact that I specifically chose not to renew. The TV ads are not to be believed.

I joined eHarmony because I'm finally ready to have a love life after a very painful end to a relationship. I answered every single question in the 1500+ question questionnaire, which took several days. When I started receiving matches I was surprised to see that only one was in the city I live in. The majority of my "matches" were in other states and even in another country. I contacted eHarmony, which wasn't an easy feat since they don't really have a "contact us" option, to see if I could cancel my membership since I wasn't getting any use out of the "service" they provide. I was told I couldn't because the money-back guarantee they tout on their commercials is only valid for the FIRST 3 DAYS of your membership. It took longer than that to complete all the questions.
Speaking of all those questions, the commercials also say those are used to match you with someone you'll be most compatible with. I gave my ONE match in my city a chance. He is the exact opposite of what I would consider compatible with me. We have nothing in common, no common interests or goals. Our relationship styles are like day and night. Why did I waste my time on all those stupid questions? So I contacted eHarmony again, this time by replying to the last email I received from them since I can no longer find any means of contacting them through the site.
Part of the responses I've received are: I should change my match criteria to cover a larger geographic area. This is particularly cute since I live in Montana. My criteria already says to match me with men within 120 miles of me, but that's not even what I'm looking for. It snows here and gets icy, and there are a lot of mountain passes. I guess I'm supposed to risk life and limb to be matched with someone I'm not compatible with. I should change some of my answers on the questionnaire. Are you serious right now?! I should LIE to get a match??! That's definitely NOT how I'd like a relationship to start. Thanks, though! I should change the level of importance of the criteria I'm looking for, such as how often he drinks. Yes, eHarmony, you're right. I should totally say it's okay to match me with a raging alcoholic because I wouldn't have a problem with that at all.
So, basically, eHarmony has tried to convince me I'm flawed and what I'm looking for is unrealistic in an effort to justify them taking money from me until my "subscription" is up. Like some of the other complaints I've seen here, I'm not receiving matches anymore. I'm not getting anything from the site at all. I am, however, having money taken from my bank account every month. If you're considering eHarmony, save yourself the money and go to the local pub. At least you'll have some fun while you rule out the potential mates around you.

I have no idea how eHarmony is still in business. First of all there are hardly any people on there. Maybe one or two in my area so the rest are across the country. I couldn't find any help for the site (i.e. FAQs, support link etc). To connect with someone is almost comical. The site is not user friendly at all. This was a complete waste of money.

Signed up for eHarmony. The advertisements state that one will receive regular match updates. I live in the City of Chicago, 65 years old, Jewish. I asked to be matched with women of my religion from age 55-70. I received 11 matches, only one of which was appropriate for age and religion. After complaining, I received 2 more matches, both of whom had apparently already dropped out of eHarmony before they were sent to me. I asked to close my account, a refund my payment and they told me that they would charge me for three total payments and they didn't think that my matches were inappropriate. Inappropriate? One single match in the Chicago area for my criteria? This company and its policies are dishonest.

Mark BrooksOnline Dating & Matchmaking Contributing Editor
Harvard Business School graduate, Mark Brooks, has been an expert in the Internet dating business since 1998. He is currently the CEO of Courtland Brooks, a consultancy agency for the Internet dating industry, and runs OnlinePersonalsWatch.com. He prides himself on being a New Media Futurist and can be reached at LinkedIn. More about Mark→

eHarmony is the largest dating site geared specifically towards long-term relationships and marriage minded singles. They claim to be responsible for over 500 new marriages every day in the US.
In-depth entry questionnaire: eHarmony asks all of its members a little more than 300 multiple choice questions before allowing them to enter into their ranks. This in-depth questionnaire is geared at giving the site enough information to help provide you with qualified potential matches.
No Searching: In sharp contrast to other dating sites, eHarmony does not allow members to search directly for matches. Instead, it uses the answers from the questionnaire to provide you with a selection of daily matches that should be compatible with your needs and desires in a partner.
Guided Communication: Instead of sending off an email or wink like you would do on most sites, eHarmony takes members through 4 steps of guided communication before allowing you to continue with open communication with a new match. The guided communication is designed to help assure compatibility and that you don't waste energy on bad matches.
Best for People looking for long-term relationships and marriage.
Compare Online Dating Websites & Services
Company Name:

eHarmony.com

Year Founded:

1997

Address:

2401 Colorado Ave Suite A200

City:

Santa Monica

State/Province:

CA

Postal Code:

90404

Country:

United States

Website:

http://eHarmony.com/