Consumer Complaints and Reviews

Everything people say is true. In the three weeks I've been subscribed, my daily matches are not current subscribers or they don't respond to messages. The site does not respond to my iPhone. I've tried the chat feature with people who are "available" and have never received a response. Not one. Those are not good odds.
I figured I had nothing to lose, so I sent messages to matches in my age range and within the parameters I'd set, but not necessarily near me. Not. One. Reply. Then one day I received a message from someone (not from any of the feelers I put out) from a man 8 years younger and a state away. Men fitting my parameters are probably fillers whose profiles are expired or made up. I feel as though I've been scammed. Spend your hard-earned money elsewhere.

Scammed by I thought was a U.S.A., military soldier, Michael ** (Edward **). eHarmony.com (U.S.A.), should have a list as to who is real or not. This guy ended up being a Nigerian, who scammed me out of mom's retirement money ($58,000.00 Canadian Dollars) from selling her and dad's small farm. Not only that, but we lost dad in September of 2010. Not only scammed out of their money but also losing dad. This was a hard year for mom and I, so please tell me how to get her money back, please. She is a small town girl of population 200 maybe.

I (regretfully) joined this terrible site at the very beginning of 2016. Bad idea. The entire time, I exaggerate not, that I was on there not ONCE did I ever even so much as get a "hey" from anybody. But that isn't the problem. The problem is that I haven't logged on to eharmony in almost 9 months, except for yesterday when I checked my bank account to discover that the fart sniffers billed my account for $62.50 -- AND THIS IS AFTER I HAD STOPPED PAYMENT TO THEM MONTHS BEFORE! All of a sudden they begin to bill me for a site that I have not even logged on to, or even used or received any profile notifications from, not even once.
So I go to the website, requested a new password because I had long forgotten my login info; I get logged in and begin looking for an email or, even better, customer service phone number. There wasn't one listed anywhere that I saw, and I looked everywhere on that site. So I googled it and hopefully I have the right number.
I went to my profile, ensured that the auto-billing option wasn't on, which it is not, and saved my profile info. I then canceled my account... Guess what? THESE SORRY LEECHES SEND ME AN EMAIL SAYING THAT I WILL STILL BE BILLED UNTIL JULY 22, 2017! ARE YOU KIDDING ME??? But... there is hope: I am switching banks now so that this will not continue to happen. I remember canceling my account months before, yet I get billed all of a sudden? COURT.

I joined eH last year for six months and it was awful. First it cost me over $200 for 6 mos. My matches were nothing like I wanted, way older, younger, far away, etc. If I contacted eH I would start getting semi-good matches for a week or so then it would change again. Here is really what scared me. I had at least 3 contacts who were NOT who they said they were and wanted money. All of them after the first communication would proceed to say they were working out of the states. One was a marine engineer, another oil rigger and one was a project officer overseeing a project that the previous contractor couldn't finish. He was waiting for items in order to finish and then when they came, the banks where he was wouldn't take the check to pay for them. This one, I'm positive, stole someone's picture off of FB and was using someone else's name. I researched and paid for people finders and never found anything that matched anything about him.
I said I wished I could help and then, sure enough, he said "anything at all you can do will be wonderful and ever indebted to me and he would pay me back. The was my last communication. I'm sure the picture that he was posting definitely was not him and I'm also sure he stole it from FB. Sorry this is so long but I would suggest to use any other dating site but eH. And, Mr. Neil Clark Warren is supposed to be a Christian. I don't think he has a clue how it is being run. But you should run as fast as you can. Beware!!!

False advertisement -- Don't sign up!! They give you only 3 days to cancel your membership and receive a refund. If you are just ONE day past your 3-day trial they will decline your request to cancel and charge you the remaining installments for the year -- they refuse to make any adjustments. Customer Service is rude, and if you try to appeal and receive a refund, you don't even get to talk to someone over the phone, instead you send an e-mail and await a response (which will be automated and a decline). Most horrible experience I've ever had with a dating site and I will never have anything good to say about their services. A big scam if you ask me!!
How do I know I can trust these reviews about eHarmony.com?
697,568 reviews on ConsumerAffairs are verified.
We require contact information to ensure our reviewers are real.
We use intelligent software that helps us maintain the integrity of reviews.
Our moderators read all reviews to verify quality and helpfulness.
For more information about reviews on ConsumerAffairs.com please visit our FAQ.

Trying to find a contact phone number or email address or any support at eHarmony is impossible. Once you do find a phone number that works - 844-527-7421 - the customer service reps are ill-trained and merely script reading. Several times (14) over the past month, I have received "smiles" from eHarmony members, but when I try to respond or look at their profile, cannot find them anywhere. There's no link to their profile and they are not in my contact list. Once I finally reached, Julia, at the eHarmony customer rep center, I was told that they "have moved on" or that they have closed their account(s). I could believe that for maybe the first 5 or 6, but 14 in a month? They all sent out "smiles" and then quit eHarmony?
I finally talked to a live representative who said that these smiles were sent by unauthorized account users - fraud, essentially. The question is, if I am receiving 14 in a month - how many are being generated through the entire system? How much fraud and illicit account access is happening at eHarmony? And why aren't they doing anything about it? And why is their answer to my inquiries as to where did "Joe", who sent me a smile, go? always "He's moved on". As if I had something to do with it? The fraudulent access to all these accounts concerns me.

I have tried this service on 3 or 4 separate occasions. I tried hoping the experience would change. It never did. I had to use different emails because they get your email in their database and never delete it even after you have requested to be removed from their database so you do not get email advertisements. I actually had an argument with an ex over eHarmony which helped ultimately end my relationship with a person I was expecting to marry. I found out he was going into his free account where he updated his photos and was winking at women he liked. When I approached him about it he said he tried to cancel the subscription and he would stop getting emails for a bit then they would just start coming back. He would go in to 'cancel' again and the same thing would happen.
I was mad at him for being curious. Then realized he was telling the truth because it had happened to me over the years (but I still was upset with the guy for even entertaining the stupid thing, curiosity killed at least that relationship). This last time I tried to log in using my Hotmail account since I use it for junk mail or potential junk mail... it kept saying I was already a member but would not let me log in with that email. I tried two other emails, same thing happened. So I used an old business account.
Once I was in I paid for on a 3 tier payment plan. They take $47.50 each month automatically every month for 3 months. This pays for one year. After one week I see that the matches do not even follow my match requests. For example, I say I am willing to date someone up to 100 miles away, it sends me matches from over 200 miles away. Or I say I would date a guy within an age range and it sends me guys 20 years older than my age cut off max and 5 years younger than my age cut off minimum.
Also, in the first week I get an email from a guy who said he canceled and rarely goes in there and at first I did not understand how he was canceled and still able to send me emails. I quickly realize what he meant because eventually I cancel and I still have access. You end up paying Eharmony about $150 for a year's subscription and after 2 weeks you realize it is not worth it. Then I get an email every day saying a member sent a new email is interested in me but it is the same email you have already checked. And it is the same exact matches you already had. I guess it is my fault for trying it again each time hoping they have improved their system and deep down knowing it will be the same bull.

Eharmony is a fake site. Some of the man in this site they are only there to ask women for money. They start real nice talking about their life and family texting, emails and phone conversation. Real charming people and romantic until they ask for money. It happening to me 4 time. The picture that this people used is the real people but not their picture because one person was using the picture. The one older man the attendance my church and this gentlemen used Eharmony one time and cancel his site. But another person that is not him is using his picture and information. How can this be possible. He was a member of the army. A real nice person. You need to stop. I paid eharmony for 3 months of membership that I didn't used.

I had a horrible experience with this site. Not only do you have to enter your cc info prior to using the free trail, it was a waste of money. I stated during my questionnaire that I want children, they match me with people who weren't interested in having children. This site does not allow you to freely search their members like the free site, OkCupid, which I highly recommend rather than wasting your money with eHarmony. They lock you in on 3 months minimum requirement, which is ridiculous... My two cents is don't bother. You have a better chance investing a little time elsewhere. Good luck.

They do not stop charging you once you demand they erase your card details and delete your profile. But what's worse is they make SO MANY fake profiles. I was an active user (they are still charging me, I am disputing with banks) so yeah I was an active user for over 1 year. I have documented over 20 FAKE DUPLICATE PROFILES using the same PICTURES but different name and all different info. They seriously are so bad at hiding fake profiles. They are a joke and their customer service is a joke. Do not expect any refunds from them when they debit you fraudulently. It is highly questionable if the Director of eHarmony Australia is even within the company. Very unusual things with MARK **. Google him for yourself. eHarmony AUSTRALIA is a joke. The whole eHarmony is a SCAM.

I signed up for eHarmony on a bit of a whim, thinking I'd be willing to pay if I could find some people who may be a little more focused matches. The results I was getting were HORRIBLE. I was being contacted by people 20 years older than me, most of my 'matches' were nearly 10 years older, and a bunch of the profiles were obviously lying (a lot) about their age!
Add in that I had things like fitness, taking care of yourself, active, and attractiveness as high priorities (since they are in my life) and most 'matches' near my age were anything but those things - more like significantly (not just an extra 20 pounds here) overweight, etc. Only one or two that I would have even considered responding to their interest. Giving it two stars because when I called to cancel (within the 3 day policy which I had found out about while reading reviews after my disappointing matches) the customer service rep, while still going through the "sell" routine was friendly and not too pushy and refunded my money without issue.

I decided to give EH a shot as they make it sound so "safe", etc. So, I go online and am starting my profile, uploading photos but NEVER committing to a membership, nor did I pay for one. And, the next morning I start getting emails from people who can obviously see me but I can't see them! This is such bull. I tried calling customer service and of course, they're closed (1 844-527-7421). I cannot even access my "account" so that I can deactivate and remove my photos. This is very deceptive.

Join for free. I went to site and was told that I didn't qualify to join because there were no matches for me. How dare they tell me that. They are supposed to be the experts in this field. I feel very let down.

Not good! You are very smart for reading reviews before joining - I didn't! With all the emails eHarmony sent me, I thought it would be a busy site and I liked the feel of the extra security. There is no way to see if members are active or if your messages are just going to cyberspace! It is a huge disappointment especially with the competition being free! I think I will try my luck elsewhere but it's only after I paid. Would never recommend to my friends!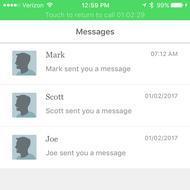 All of the low ratings true. Not many users. I wanted to try it again. I saw the "new" commercials. (Even the guy stating he used the free communication weekend and it's how he met his girl). So, the free communication is EXACTLY what another reviewer said. You cannot see their pic. They CAN see yours. I tried communicating with three people. 2 replies never came through until AFTER the free weekend. Which I thought odd, so I screenshot them with my cell. After calling customer service and then having no answer other than they were updating their systems so some info didn't transfer over right away. Anyway, when I started the paying membership, those emails were GONE. I called to cancel. I was told and kind of shamed saying that at my age it's "slim pickings" and assured me there are people.
Well, I used a 20 year age range, 120 miles range... so either I'm butt ugly (which I'm not. I work out diligently, I'm a professional, I take good care of myself, and have fun interests). So... I logged in after over a week ago, not 1 match or even a "what if". Some matches they gave me in the past were not remotely in my range. I'm 45. I think a 21 year old is too young. Don't you? And the over 60 year old guy... I have nothing in common with.
Seriously, use Bumble or something. They DO have fake profiles. Why would the messages go missing? They want you to rejoin. I just don't think many people use this site, honestly. And, they probably leave old profiles up. Just my thoughts. I did meet one guy. Nothing in common. I go to concerts, popular music. He was older, we looked awkward. I felt like I was dating my grandpa. He was into the same music he probably listened to in highschool, probably in the 60's. I could do better hitting up a nursing home. Lol. Other than me paying the money, I just have to laugh. My words of advice: there is nothing wrong with YOU. It's eHarmony. "It's not me, eHarmony... it's you".

They go through and ask all the questions which is fine. But if you put down separated they won't let you go any further. Separated is just like being single without the divorce paper. Why do they bother to ask your status if they won't let you go further if you are separated?

I was a member for more than a few years & only had one date. However that's not E-Harmony's fault. After removing my account & taking a break, I receive an E-Harmony notification that someone was interested in meeting me. I decided to go back in & reactivate my account, however I receive a pop up window from E-harmony saying there are no members for me & wishing me luck in my future. However, this was contradicting because a person was wanting to meet me today Jan 25, 2017. E-harmony seems to be restricting/blocking return users out of spite. This is truly a sad way to run a business. I can see blocking corruption but I'm an average everyday woman looking for love like everyone else.

I signed up on a whim because there was a free trial. I felt like the surveys were very comprehensive and I was excited to think that eHarmony would help me find the right kind of partner that I wanted and needed. I was totally taken back when the first result I ended up with was someone I knew, and totally knew I would NOT be compatible with. That was really weird and really invalidated the process for me. I did not pursue any dates through eHarmony because I kept worrying that the people would be similar to that man I knew. I did not purchase the membership or continue with services after that, since it is pretty expensive and I thought the results I was likely to get wouldn't be great for me. But the site was simple enough to use and I like that the site makes recommendations based on your values and lifestyle and not just on what you say you like or are looking for.

I fell for their line, how stupid of me. Once again wish I had checked current reviews before trying them. Years ago I think they were leading in the field, now not at all, and the reviews show it. Save your money, there is no free communication, period. They let you set match preferences then overwhelm you with pictures and profiles that say so and so is a great match who just happens to be outside of your match preferences. Then don't waste our time by showing them or quit acting like setting preferences isn't a waste of time. Changing pictures or rearranging them is almost impossible, making profile changes often wouldn't save. Even their "feedback" would only allow a few characters so I couldn't even let them know what wasn't working. There were new matches initially but once they had my money the matches pretty much stopped. What a waste of time and money.

I had a free subscription with eHarmony for almost a year. Because I had the free subscription I could not really communicate with my matches (which by the way were across the country from me). I could only send, receive and answer the pre-made questions. It was not a way to really get to know someone. I got mail messages from my matches, but I couldn't reply back unless I upgraded to a paid subscription. Like what was mentioned in other complaints, I was annoyed that I couldn't see what my matches looked like not got matched with anyone close to me. I decided to completely fill out my profile hoping for better matches. A month later I got an email saying eHarmony deleted my account for breach of the user agreement! It was just as well as I was going to stop using it anyway. eHarmony is a waste of time and money.

I too, tried to sign up for the free intro, next thing I knew I was routed to pay. I thought I would give it a try. After a few weeks, I realized I was not getting any matches anywhere near me, so I asked for a refund. I was told I only had 3 days for a refund. There was no way I could have known this in only 3 days. Then guys were asking me for my phone number and email, saying different excuses for this. Next thing I know, eHarmony send me messages saying that these are not legitimate members. Then one member found me in Facebook, without me ever giving him any identifying information. One member said they could not see my picture. It seems like people are able to infiltrate the site without being members and then they want you to send you their personal information. This also scared me. I stopped responding to people. Not one date, a big waste of money.

This was the most expensive of the 3 sites I tried and never got a date here. I was not matched with compatible people. They do the matching with a computer system instead of you picking and my matches either did not contact me or the computer matched me on words like "loves nature and animals" and so they sent me, a vegetarian, hunters. (I'm also vegetarian.) Also they just went for what general part of the country you live in. I'm in Chicago, Big city, lots of men. I'm definitely a city girl and indicated that. Yet I got matched with men from wilderness areas of Wisconsin and Michigan several hours away.

The site needs to take area & travel into its calculations. As well as address suburban issues of not wanting to travel into cities. Not everyone wants to travel into the closest city to date, most of us suburbanites avoid our local major city at all costs. I live in a very populated area, adjacent to NYC. I hate going into NYC, avoid it at all costs, but of the 5 matches they found for me, all were in NYC.

Went through all the questions and then entered the promo code for FREE EHARMONY to be taken to a web page to have money taken out of my account. What happened to the free offer? Conflicting payment options and you can only cancel membership by mail? So wrong! Here were my options, Plan Summary: Edit Plan. $15.95/month for 12 month plan. Automatically renews until canceled and then, there was small type written which stated I would agree that I would be charged 63.80 today and 2 more monthly payments of 63.80 each for a total of 191.40 for 12 months term. You have to agree to the above plan before you can continue! There were other payment options of 19.95 for 12 mo., 29.95 6 mo, 39.95 3 mo and so on. So all I have to say is they are taking advantage of people and their emotions. Go to Plenty of Fish. I hear it's FREE!

Had eHarmony for 6 months. Not one person I communicated with was real. They use some type of computer software or have people that give the "Hi, I saw you profile etc." then lead you on for a while, but then nothing. It is a complete waste of time and money. You do not end up meeting anyone. Yeah the ads look great which make you think there is something wrong with you when you don't get a match, but it is complete and utter **. I was getting maybe one match a week until I stopped my account. Now I am getting 7 plus a day. I replied to one and of course she gets back to me, but it is the same as before only this time she agrees with you on anything you say about eHarmony. Again, I do not think this is a real person. Or she is working for them. Such a ripoff.

EHarmony does not have the safety of their prospective clients as one of their highest priority. For promoting their company, eHarmony offers a 4-5 day free communication period without any consideration for the safety of non-paid subscribers. I was a non-paid subscriber and was highly considering using eHarmony service until they started the free communication weekend special.
During this free communication period, people can send unlimited messages to each other, however those who have not paid for the subscription would be engaging in a dangerous BLIND date affair. Non-paid subscribers can NOT even see the profile picture of those they would be communicating with for free. Paid-subscribers, on the other hand, are able to see pictures, read profiles, exchange several messages, and ask for the personal contact of those who have not paid the subscription yet.
As a non-paid subscriber, I exchanged messages with a few paid-subscribers who had informed me they could see my pictures. However, I was not able to see, at least, their profile pictures. Some wanted me to send emails to their personal email addresses; others wanted me to call their phones. I understand that it could have been a genuine request, and eHarmony knows about this better than me. However, as a non-paid subscriber I felt quite frightened and unsafe.
This whole "promotion" is very unsafe and eHarmony must understand this. Paid subscribers can learn a lot about the non-paid subscribers, who could be literally communicating with serial killers or rapists. I have not heard of any other online dating industry doing such thing. By offering free communication periods, eHarmony is conducting a very irresponsible and risky business. The company puts a lot of people's life at risk.
Everyone knows that even when one can see other's people picture, bad things can happen. I don't understand why eHarmony would take such a chance, and easily put people at the hands of stalkers, killers, or rapists. I hope eHarmony reflects on the dangers of this "special" deal and do not offer it again. If they want to continue this practice, they should highly provide a safer way to do it. All lives matter, paid or non-paid subscribers.

The short of my review is eHarmony is a waste of time and money. They do not deliver what they claim. Almost all of my matches were way outside of my maximum dating zone and very few were attractive to me even though I put that physical attractiveness was very important. Only three people in two months ever reached out to me. I started on Match the same week and I get hits all day long and its the same profile... same pics, everything. I wanted to cancel after two months because they had not delivered what they advertise and they had absolutely no concerns about me being dissatisfied with their service. The lady I talked with Mary (**) was not at all helpful and said I was going to be charged anyway. She did mention that in 9 months I would not be auto renewed. The site is a scam. Do not join the site! Read the other reviews. We are telling the truth!

Someone has used my email account fraudulently. I called them in November and they said they would take care of it. It is now January and am still getting emails from them. My email address is still affiliated with a profile they will not let me see. I cannot even unsubscribe because my email address is connected to a postal code I do not know.

You've seen the TV ads. DON'T BE FOOLED!! All you get is a bunch of silhouettes with no pictures. DON'T WASTE YOUR TIME - EHARMONY IS A ** DATING SITE!! Who wants to communicate with a vague description?? When will people wise up to this crap?? Some time ago I signed up for 3 months. I got limited selection in my area and no responses.

I have read numerous complaints about the lack of communication on eHarmony. I must say that I have had the exact same experience. I am lucky to get a response from even one out of 20 ladies that I have contacted. There is no way to tell whether the other person is even on the website anymore as Eharmony does not post the last time they visited the site like other dating sites do. Another issue that I have is that you have to wait and wait and wait for Eharmony to give you matches. Then my next complaint is that you must send them these generic questions when I believe it is better to simply ask what questions are important for you. Then there is no way to tell if your email was even read or not. Heck the person could not even be on eHarmony anymore and there is no way for you to know.
The only reason I did not give only one star is because the website is fairly well designed and the customer service has been ok. The last lady I talked to said she doesn't understand why I am not getting any responses. I have great pictures and a very good profile. Go figure. Maybe it is the type of people that signed up for eHarmony or maybe it is that women are very selfish nowadays. They want the next contestant on the bachelor, someone 6'5" and in perfect shape, or some guy from those gray series of books they are reading. All I know is that on match.com I communicated with almost every girl that I contacted. I definitely will not renew my membership and will not recommend this site to friends. As a matter fact I will recommend they not waste their time.
Compare Online Dating Websites & Services
Company Name:

eHarmony.com

Year Founded:

1997

Address:

2401 Colorado Ave Suite A200

City:

Santa Monica

State/Province:

CA

Postal Code:

90404

Country:

United States

Website:

http://eHarmony.com/