Consumer Complaints and Reviews

EHarmony asks what I'm passionate about and it's honesty. Eharmony isn't - I signed up for the 'free communication' this weekend and no matter what I try to do I'm taken to the page to sign up for a crazy amount. I had tried them before years ago and it was a total waste of money - I had 2 matches in the WHOLE COUNTRY! I thought I'd see if there were more I might match with - there were, I had 16 matches but only one in my state and I wasn't allowed to see anything about them except age and town, and wasn't allowed to communicate for free.

I have been single for 3 years. I decided I needed to get out there and start dating. EHarmony asked for my marital status and when I ticked 'separated' I received a message saying, "Sorry, it appears you are still married." Basically, you have to have your divorce decree absolute, date of its issue and the court which granted it. However, it won't let me log onto the site to contact them for advice, and when my divorce does actually come through, I won't be able to log on with my divorce details. My husband lived with his partner within weeks of leaving me, and yet if I even think of dating, I am slapped back for being an adulterer!

This site requires you to sign up for a minimum of 3 months at a higher monthly cost and will not refund any monies back if you are not satisfied within a few days. This site says they will find a date with their large database of people. Wrong! They say they will find you a date. Wrong! This site says they will communicate with you. Wrong! This site says you should have at least a few response from their vast database of people. Wrong. Not sure where they get this information. It is not from their customers. Waste of money, waste of time, no customer service support, overprice. WOULD NOT RECOMMEND,

I signed up for a one month subscription on November 1, 2016. I paid $59 and some change. I logged in and cancelled my subscription on November 24, 2016. MY matches didn't match at all. Not even close. Not to mention they didn't live close either. EHarmony will not close my account because it says I paid in full through February 1, 2017?! Not only have they already auto charged my card for December, they have also charged my card for January too! My account does NOT have the auto renewal option checked. They offer no refunds because, according to eHarmony, I pre-paid. Only I didn't. They pre-charged. All around waste of time and money. People sign up for free weekends, get matched with paying subscribers, they go away after the weekend and the subscribers can no longer connect.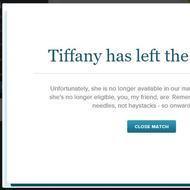 I initially was presented with 900+ match results. OVER HALF WERE DISCONTINUED PROFILES! My gripe would be that eHarmony knowingly maintains a database of discontinued accounts for the subscriber. When the profile is clicked upon, a result of "Unfortunately, she is no longer available in our matching system". This wasted my time and is a blatant false representation.
How do I know I can trust these reviews about eHarmony.com?
634,392 reviews on ConsumerAffairs are verified.
We require contact information to ensure our reviewers are real.
We use intelligent software that helps us maintain the integrity of reviews.
Our moderators read all reviews to verify quality and helpfulness.
For more information about reviews on ConsumerAffairs.com please visit our FAQ.

This site requires you to sign up for a minimum of 3 months at a higher monthly cost and will not refund any monies back if you are not satisfied within a few days. This site says they will find a date with their large database of people. Wrong! They say they will find you a date. Wrong! This site says they will communicate with you. Wrong! This site says you should have a least a few response from their vast database of people. Wrong. Not sure where they get this information. It is not from their customers. Waste of money, waste of time, no customer service support, overprice. WOULD NOT RECOMMEND, AND I LIVE IN LOS ANGELES.

After spending a good deal of time filling out questionnaires, and a good deal of money, the matches are bad or non-existent, out of state, too young, etc. It's hard to believe that in a city the size of Dallas there aren't more matches. Plus there's no way to get help, customer service is awful, and even though I've managed to figure out how to "non-renew" it says they are going to automatically renew me for a month! They also add on charges for everything additional to the basic service which is horribly expensive.
Worst dating site I've ever tried. Don't waste your money. I know a couple who met on this site and married, but they are much younger, so perhaps it works for people in their 30's and 40's. Or perhaps they were just blessed to connect. How do I stop them from taking any more money from me? I'll have to remember to close the account, I guess, prior to "one month renewal" that they've added without my authorization, and despite the fact that I specifically chose not to renew. The TV ads are not to be believed.

I joined eHarmony because I'm finally ready to have a love life after a very painful end to a relationship. I answered every single question in the 1500+ question questionnaire, which took several days. When I started receiving matches I was surprised to see that only one was in the city I live in. The majority of my "matches" were in other states and even in another country. I contacted eHarmony, which wasn't an easy feat since they don't really have a "contact us" option, to see if I could cancel my membership since I wasn't getting any use out of the "service" they provide. I was told I couldn't because the money-back guarantee they tout on their commercials is only valid for the FIRST 3 DAYS of your membership. It took longer than that to complete all the questions.
Speaking of all those questions, the commercials also say those are used to match you with someone you'll be most compatible with. I gave my ONE match in my city a chance. He is the exact opposite of what I would consider compatible with me. We have nothing in common, no common interests or goals. Our relationship styles are like day and night. Why did I waste my time on all those stupid questions? So I contacted eHarmony again, this time by replying to the last email I received from them since I can no longer find any means of contacting them through the site.
Part of the responses I've received are: I should change my match criteria to cover a larger geographic area. This is particularly cute since I live in Montana. My criteria already says to match me with men within 120 miles of me, but that's not even what I'm looking for. It snows here and gets icy, and there are a lot of mountain passes. I guess I'm supposed to risk life and limb to be matched with someone I'm not compatible with. I should change some of my answers on the questionnaire. Are you serious right now?! I should LIE to get a match??! That's definitely NOT how I'd like a relationship to start. Thanks, though! I should change the level of importance of the criteria I'm looking for, such as how often he drinks. Yes, eHarmony, you're right. I should totally say it's okay to match me with a raging alcoholic because I wouldn't have a problem with that at all.
So, basically, eHarmony has tried to convince me I'm flawed and what I'm looking for is unrealistic in an effort to justify them taking money from me until my "subscription" is up. Like some of the other complaints I've seen here, I'm not receiving matches anymore. I'm not getting anything from the site at all. I am, however, having money taken from my bank account every month. If you're considering eHarmony, save yourself the money and go to the local pub. At least you'll have some fun while you rule out the potential mates around you.

I have no idea how eHarmony is still in business. First of all there are hardly any people on there. Maybe one or two in my area so the rest are across the country. I couldn't find any help for the site (i.e. FAQs, support link etc). To connect with someone is almost comical. The site is not user friendly at all. This was a complete waste of money.

Signed up for eHarmony. The advertisements state that one will receive regular match updates. I live in the City of Chicago, 65 years old, Jewish. I asked to be matched with women of my religion from age 55-70. I received 11 matches, only one of which was appropriate for age and religion. After complaining, I received 2 more matches, both of whom had apparently already dropped out of eHarmony before they were sent to me. I asked to close my account, a refund my payment and they told me that they would charge me for three total payments and they didn't think that my matches were inappropriate. Inappropriate? One single match in the Chicago area for my criteria? This company and its policies are dishonest.

I subscribed for over a year. I've noticed after 6 months, you'll receive matches with no photos or matches who registered via their "free communication" weekends. The way you receive matches are super frustrating. After a few months, you'll only receive a few matches per day. Even more frustrating when time is limited and you literally have to wait 24 hours for the next 2-4 matches you'll receive (with the likelihood half is inactive/fake). I suspect a lot of my matches no longer subscribes and the site is still matching you up with these people. The communication process is horrible, and most of the girls I try and communicate with doesn't even look at my profile (hence the inactive/fake profiles). Not worth your time and money.

Along with Match.com, this is another greedy dating site full of scammers and fake profiles. I was charged several times after I fulfilled my initial commitment. Finally I cancelled my account, turned off auto-renewal, and removed all of my personal information. I was charged again 30 days later! When I called to get a refund, I was told that the account was reinstated and auto-renewal turned back on a few minutes after it was cancelled. Hmmmm, I wonder how that happened? I was given a big run-around trying to get my money refunded. I finally called my bank and had them blocked from having access to my account. Save yourself a lot of grief and money and stay far, far away from this company.

Once again, I tried a dating site. After a few days, I decided this site was another scam. Of course, they word the "agreement" to the point where it is so confusing re: billing and such that it leaves your head spinning. I'm going to try and get my money back but please, DON'T JOIN!!!

In 6 months, in a large metropolitan area, eHarmony has only generated a handful of matches within a 7 year age and 100 mile range. Those 'outside' of the range do not appear to be paying members as they've added a line or two to their profile in order to register. Once you join you cannot 'close' your account or temporarily hide your profile.

No interest for a year, then I cancelled. They keep sending me "matches", though. At least three ringers have "contacted" me in the last month. After the first made me suspicious (very young, model shots for photos, very general likes and dislikes), I wrote to the site, asking if they employed ringers--no response. Two more. Most recently, I asked to move to email without all of the boring questions. Refused--she'd like to get to know me S L O W L Y. So, I answered the questions with my own answer, which said, "how do I know you're not a ringer? Prove you're a real person and I'll answer your questions". I received an email that she had replied, an hour later. Clicked on the link, and the ringer had completely disappeared from the site! Beware--it's like the mob. They either won't let you leave, or they'll vanish you! That Orville Redenbacher lookalike "founder" guy must be on his own private island, with the cream of the crop...

I cancelled my subscription 5 months ago and was informed that I could not do so until a final payment was made. I agreed to this. I was given a confirmation number. Now, 5 months later a charge from eHarmony dings my bank account. These people are frauds. Do not under any circumstances give them your debit card or checking account number. They are crooks. I have found a great person, but not through eHarmony. I contacted them about the lack of communication from contacts I made (when I have received thousands from other site, no brag, just fact). And that is the reason this account was cancelled.

Please run away fast from this scam - "Dr. Neil Warren" is a hoax. I am not an "unfortunate looking" or "undereducated" or "bankrupt" female in my mid 50s - and all I have received to date are a bunch of scammers. This site needs to be shut down. I don't believe their claims or their advertising - their commercials make me sick to my stomach. Whoever the "Doctor" is, I am certain of only one thing - he is preying on lonely individuals who, like me, don't meet too many people outside of my circle. I am a consultant. I work from home. I do NOT have a lot of ways to meet appropriate single men - most of the people in my neighborhood are married, partnered up, not looking. That was why I tried the site. And now, they won't let me out of the STUPID contract even though I have asked repeatedly - sent them the inappropriate "matches" and "emails" I have received - they just don't care. If ever there is a class action suit, please include me.

I turned off my auto renewal and wasn't supposed to be charged, but eHarmony charged my credit card for another year, plus they do not have a contact number or email on their website. I used to like this site when it was good 2 years ago, not anymore.

I tried to buy a subscription as a gift. While I was trying to see prices, the website helpfully charged me. I called to cancel and the operator offered me a deal so I accepted. She told me repeatedly that it would NOT auto renew. I just discovered that they have been charging me for the last 8 MONTHS!! I called to get a refund and they've given me all kinds of run-arounds. The operator told me that auto renew was UNabled but they've been charging me anyway. I now have to have the gift recipient call and give them permission to cancel the account that I have been paying.

I wish I had read something like this before I ever signed up!!! What a scam. They tell you one thing and act like they care but forget that... For 2 months in a row I have been told they were cancelling my subscription and believe me they haven't. They are all about signing you up but lie to you when you want to cancel. Don't ever use them unless you have money to burn!!! They sure burned me and I see I am not the only one.

Where do I start? First, if you are under 35 don't even bother. No one in our age group would take the time to answer their quiz questions. Second, they lured me in luring free communication weekend. But wait, you can't see anyone's picture. So you can just talk to pictureless people. Want to see pictures, well you will have to pay for that. So I pay for the upgrade to see pictures. Then I look for my matches. I live in Western MA. They were giving me matches in OH and VA and all these far away places. WTF. So I change my settings to only get matches in MA within 100 miles. Whelp that will be 27 matches. 27... that is it.
Of those matches, maybe 5 I liked. And of those 5- zero responded to me. So I am like screw this, this is a scam, I want my money back. Well, apparently they have a 3-day refund window, which is not advertising anywhere unless you read the small, small print. I was 7 days out. They were like "Sorry! We are not obligated to give you a refund." But your SERVICE is a SCAM. Stay away!!!

I signed up with eHarmony last month for 6 months but soon realized it was not working out for me. I paid an initial fee of $68. They charged me another $68 couple weeks ago and my last instalment is supposed to go out on Oct 12th. I called to cancel but now they are refusing to cancel without charging me that amount. If the subscription is for 6 months then why am I paying in full for only using it for a month and a half. I am not asking for my money back just to not be charged again. I called customer service and they told me that there is no one there who could cancel the account. The only department who could do it will email me which would take 7-10 business days. It is an absolute scam. I am not sure why they are still in business.

I originally signed up on a special $9.95 per month program. Over that period of time, I was matched up with many girls, who I started their communication process with. The first month I started talking to a girl named Kim. She said she lived in Costa Mesa, CA. But when we started emailing, I come to find out she lived in New York, not California. She was a clothing designer, and had her own website.
The next day, all of a sudden she was in Istanbul Turkey, at a fabric seminar. She was supposed to be there for a week, then she said when she went to the airport, they wanted more money for her to bring the fabrics back with her. And she didn't have the extra money. She asked if I could send her $2000. I started asking questions, and researching information she posted on the site. Her phone number was a VoIP number out of Connecticut, her website was inoperative, it didn't work, nobody could ever order designs from her. She was a Scammer! I reported her to eHarmony customer service, and they sent me a form letter saying they removed her file, and not to communicate with her anymore.
Over the next 3 months, this same type of match was sent to my file over 24 times! Every time I started communicating with one of them, they ended up being scammers. I reported each and everyone of them to eHarmony, and each time they sent the same form letter! I told them they aren't vetting these people, and they are wasting my time. They replied they were sorry for the inconvenience, but they never fixed the problem! They are letting these scammers on their site and causing members to pay for months of wasted time and money, along with the frustration of doing all the vetting for them on their site. Their site used to be much better 6 years ago, the matches were very compatible, and when you actually met them, it was like you knew them your whole life. Now it's a costly joke! I wouldn't recommend this site to anyone!

A HUGE SCAM. I went through the process of answering the ~1000 questions. I immediately starting receiving so called matches. None were in my city where I lived (population of ~400,000) but all were in outside villages and smaller cities (at least 35 km and less than 100k population) which is hard to believe. When I looked closer at the profiles, all the suggested matches said the same thing in less than 80 words - a broad range of interests (can be applied to everyone) and all answered between 0 and 100 of the so called '1000 questions' they are so proud of. I was 100% matched to a potential 'date' that had not answered a single question of their '1000 questions'. STAY AWAY. COMPLETE RIPOFF. FALSE!!!

I did a considerable amount of research about different dating sites and decided on eHarmony as they had a much more thorough vetting process than any other sites. I gave the process about 4 months - June through September 2015 - and kept meeting people that were really not compatible at all. One was just completely inappropriate. I called eHarmony customer service in September and after a very extensive hold time advised them that I wanted to cancel the subscription. I was informed that I had to pay the remaining amount due for the year's subscription even though I would be inactivating the account and would no longer be using the service! I did not remember reading this policy when I subscribed 4 months earlier but it may have been in some fine print somewhere. They also told me that I could not turn off the auto-renewal until after I had made the remaining monthly subscription payments in December.
I made a note in my calendar to turn off the auto-renewal in January 2016 and did so then; or at least I thought I had. I realized today, in September of 2016 that I was still being billed by eHarmony! When I went back through my bank account and my PayPal account and looked at my old eHarmony account I saw that the account had auto-renewed in June of 2016! I called eHarmony's customer service right away and after being on hold for 15 minutes I was told: 1. They had no record of me canceling the auto-renewal. 2. The rep would have to review their new policy and advise if they could refund any of the incorrect charges.
After another lengthy hold I was told: 1. According to their policy I could only be refunded for one of the 4 overpayments that occurred when the account incorrectly automatically renewed. I asked what, specifically their policy said. Back on hold. 2. After re-reviewing their policy he told me that I would be refunded for 3 of the 4 overpayments. After a 37 minute phone call I was assured that I would be refunded the $118.50 within the next 7 to 10 days. We shall see.
I'm very happy for the folks that this service has worked for. I did not find it helpful at all but different things work for different people. But what was actually truly frustrating was the absolutely horrible policies and procedures of the customer service department. The ridiculous hold times, making people pay for services they are not using, not being able to cancel the automatically renewing charges when you cancel the service - that just seems illegal!
But the icing on the cake was when, after all this, the customer service rep asked: 1. Was I interested in reactivating my account? Seriously, after all of this? And then... 2. He actually asked me if I was currently seeing someone? OH MY GOSH! Seriously?! I laughed out loud when he asked this and told him that that was a completely inappropriate question! I am, happily, but that certainly has no bearing on these account and billing issues. eHarmony - you definitely need to get your customer service act together! What a disappointment!

I tried to make an account with eHarmony but after checking box to say I had been married more than once before they refused me as an account! WTH? I mean they don't know circumstances. In fact I was widowed twice. How judgemental. I found a free website and have found my true soulmate. Don't bother with this site. It's bias, judgemental and totally awful.

I signed up for eHarmony a few years back. It was a horrible experience. I only went on a couple dates with one sleazeball from their site. It was very difficult to find someone in your area to date. Most everyone you were matched with lived hundreds of miles away. Not to mention the fact that way AFTER my subscription expired, all of a sudden I'm being charged $8.95 for God only knows what on my credit card. I disputed it twice! They kept coming. I recently discovered they sent a third charge through after I was assured by my credit card company they would not allow them to do that to me again. EHarmony, are you that hard up for $8.95 that you keep billing someone fraudulently???

It could be good in the past, but definitely not now. Here's why. Overall website is very outdated, awkward technology, update/edit functions are just not very user friendly. When upload a new photo, sometimes takes days to refresh. Significantly shrinking user base - we all know dating is a numbers game, when there are just not a lot of users, the chance for you to get good matches is slim. I live in one of the top 10 metropolitan areas. Inadequate customer service and unreasonable refund/cancellation policy - you can tell by the rigid refund/cancellation policy that their business is not doing well. They are holding on tight to every penny they can get from the subscribers. Almost impossible to cancel or to get your money back, even when you are not happy with the service.
When you finally got on the phone with customer service, they will only provide an email that you can reply to, to submit your cancellation request. In that particular email, it states that you will get your reply in 7-10 days. What kind of service is that? I will get a reply back in regular mail in 7-10 days. But this is eHarmony for you. Suggestions to the management, instead of giving your customers hard time on cancellation, maybe to spend more time on how to make the website better, update the technology, hire smarter programmers to write some mean algorithm that gives us good matches if your marketing department can first manage to increase the user base.

I signed up several months ago and opted for the 6-month program. It didn't take me long to figure out this wasn't for me. Out of about 400 "matches," there wasn't anyone I would consider dating, and most of them didn't live in my area. One match was local. I sent him a set of questions (one of the first steps to communicate), but he never responded. When my payments were completed, I turned off notifications and didn't renew my account. Thank god, I didn't have any issues like others with auto renew, etc. I also removed all of my pictures.
My membership ran out on 9/5/16, then on 9/6/16, I received a couple of emails from the match I sent questions to 6 months earlier. Apparently he responded to my questions, and then sent me some questions along with a "nudge" to send a picture of myself. I answered the questions, then I received another email saying he wants to communicate by email. The only way I could see his message would be to re-instate my account. That's when it hit me as to what eHarmony was doing. I'm totally convinced they used this guy's account, and sent me messages, so that I would pay them more money to re-join. I find it hard to believe he would answer me 6 months later. I'm so glad I didn't fall for their scam. What a sleazy company.

I subscribed to EHarmony several months ago. Set my account to DO NOT AUTO RENEW SUBSCRIPTION. Yet I discovered that in July 2016 my account was charged $74. After I spent significant time trying to contact the company Iocated a telephone number. I Explained my situation to the representative. She said I have to write an email requesting a refund and she would send me the link. Wow. Ok so I wrote the email requesting a full refund. EHarmony refused. I am a savvy consumer. I know this is fraud. Terrible business practice.

Mark BrooksOnline Dating & Matchmaking Contributing Editor
Harvard Business School graduate, Mark Brooks, has been an expert in the Internet dating business since 1998. He is currently the CEO of Courtland Brooks, a consultancy agency for the Internet dating industry, and runs OnlinePersonalsWatch.com. He prides himself on being a New Media Futurist and can be reached at LinkedIn. More about Mark→

eHarmony is the largest dating site geared specifically towards long-term relationships and marriage minded singles. They claim to be responsible for over 500 new marriages every day in the US.
In-depth entry questionnaire: eHarmony asks all of its members a little more than 300 multiple choice questions before allowing them to enter into their ranks. This in-depth questionnaire is geared at giving the site enough information to help provide you with qualified potential matches.
No Searching: In sharp contrast to other dating sites, eHarmony does not allow members to search directly for matches. Instead, it uses the answers from the questionnaire to provide you with a selection of daily matches that should be compatible with your needs and desires in a partner.
Guided Communication: Instead of sending off an email or wink like you would do on most sites, eHarmony takes members through 4 steps of guided communication before allowing you to continue with open communication with a new match. The guided communication is designed to help assure compatibility and that you don't waste energy on bad matches.
Best for People looking for long-term relationships and marriage.
Compare Online Dating Websites & Services
Company Name:

eHarmony.com

Year Founded:

1997

Address:

2401 Colorado Ave Suite A200

City:

Santa Monica

State/Province:

CA

Postal Code:

90404

Country:

United States

Website:

http://eHarmony.com/