Synchrony Financial (formerly GE CareCredit)
Consumer Complaints and Reviews

Spoke with Matt, manager at Synchrony Bank for Old Navy card holder. When I mentioned about how Jee (representative) did a good job taking the my call, with issues, concerns and addressing all of my questions and putting a note into my acct. with the intention of not going thru the same ongoing issue I been having with this company. He then replied (sarcastic and careless about my concern) "Matt Manager" for Synchrony Bank Old Navy Visa Card holder as of 02/09/2017 at 7:30 pm CTS: "Ma'am doesn't mean that what she puts on the notes will happen. As an example, I can right now put in the acct. that you are going to win the Powerball and that doesn't mean anything, that doesn't mean it will happen, because those notes she made are worthless. No one will follow those notes."
Then what is the point of doing notes, then what's the point of having a representative that has helped a customer by calming them down and dealing with phone calls on daily basis for a badass manager that can screw things up and make them feel that your business is not appreciated. I'm sorry but poor people that works under this jerk. Jee (representative from front desk) should get a raise and this badass should be cleaning restrooms so he can appreciate things more and be more humble. BTW OldNavy if you care, you are losing my business, please thank your manager Matt.

They may dispute this but it's there in black and white and many, many complaints have been filed to no advantage to having them start billing interest properly. They bill you interest on the first charge you make. You pay the minimum payment due, or perhaps more, but not all of the balance. You make no more actual merchandise purchases. They take the interest from your last bill... let's say this was your November 2016 bill. When computing the December 2016 bill, they add the interest billed in November back to your balance as if it were a purchase made in December. Then they charge interest on it and your bill goes up instead of down like it should.
Do an on-line query about Synchrony Bank and their interest charging practices. You will find many class action lawsuits against them. I would like a refund on all of the extra interest they have billed me over the years (even when they were known as GE Capital Retail Bank)... On Dec. 6, 2016, I was diagnosed with a lethal strain of Non-Small Cell Squamous Cell Lung cancer and the person who assisted me when I called to have help with the bill was very rude, very! Now, every month I get a stupid paper to have to have my Doctor fill in about my condition for which I have to pay him $35.00 for each one. One such statement from a Doctor should be enough.

Synchrony Bank--it's a highway robbery. You called them and it's all foreigners and they're not explaining things to you properly. They charge you $37 late fee even when you are not even late. These people a highway robbery. I would never never borrow money from these people again. This is wrong that they stealing people's money, taking people's money, and telling them that they are late and charging them late fees and interest rates. I have closed my account with them and I'm willing to pay the rest of the money. These people are highway robbery. I did need to shut them down.

I held 3 accounts with Synchrony Bank; Walmart, Sam's Club and Amazon. My average balance between them was $1200.00 each. I was laid off Oct 27th. In November I signed up with a debt consolidation program to "save" my credit. My payments were still being made through November. In January, I decided to pay off all my debts from my 401k account instead of through the debt consolidation plan. (It would take 4-6 months of non-payment for the debt consolidation to even start.)
In January 2017, I started to pay off all my debts, starting with Synchrony Bank. As soon as I notified them I was paying my balance to zero, they CLOSED two of my accounts before my payment could post! I called to ask why and I was told the system automatically closes accounts the day it hits 90 days past due. That's bull! If a payment, especially a full balance due payment is scheduled to post within 3 business days, it should not close. THEN after they finally post, the credit line on the third account drops from $1000 to $100 stating it was because of a review of my credit report. (That hasn't even been updated yet). I closed the third account myself telling them they can keep their lousy $100 credit line. I would rather my credit report show I closed the account than the creditor closing it.
Bottom line is... when Synchrony Bank sees you are trying to do the right thing, and pay what is owed instead of filing bankruptcy or just ignoring them, they will screw you over by closing your accounts and taking the money or decreasing your credit line to almost nothing to ruin your credit report anyway. I should have kept my $3800 and made them wait. It did me no good to do the right thing! I'm telling everyone I know to close their accounts with Synchrony before they close them for no reason!!

I missed a payment in error and called them when got the bill. Agreed to make current in 5 days including current charges. That robo called me leaving no message 5 or 6 times a day. So rude. Is it legal to call so much?
How do I know I can trust these reviews about GE Washing Machines?
692,550 reviews on ConsumerAffairs are verified.
We require contact information to ensure our reviewers are real.
We use intelligent software that helps us maintain the integrity of reviews.
Our moderators read all reviews to verify quality and helpfulness.
For more information about reviews on ConsumerAffairs.com please visit our FAQ.

I notice $80.23 on my credit card statement and I was told by customer service was added to my account by my request!!! I never called and requested to have insurance coverage, this is fraud and theft, needs to stop.

I bought a queen size Sleep Number Bed and I was given 30 months free interest to pay off my bed. I made several payments to Synchrony "Cronies", and they charged me two late fees. I pulled my bank report showing the number of payments I made and Synchrony statements do not reflect the actual payments. They are short by $320 dollars on my payments. I wrote to Sleep Number company explain the problem and I told they are losing a valuable customer and future customers due to the cronies at Synchrony Bank. I told them I will let all my friends, family and coworkers that Synchrony Bank are crooks and not to do any business with sleep number company. I have not heard from sleep number and it's been a week. The dumbasses at Synchrony Bank are just plain crooks and believe they can get away with charging people late fees. They said their payment plan was outline in the information they sent and is also listed on every bank statement.

Synchrony bank is the worst bank in the country! Synchrony treats customers like Gestapo treated Jews. The woman running it comes from four generations of police, and it shows! Worst phone payment system! Worst interrogation at every call! Worst cashback bonus rules! Avoid! Run! Shred!

I had an Amazon card through this bank. I used it only once & found the service deplorable. I was told I would be billed by email in 48 hours. That did not happen. I was also advised that I only had 20 days to pay the account. I could barely under the agent. When I did not receive my email, I called again only to listen to a long recording before getting another agent who spoke poor English. I paid the account in full (one purchase) & immediately closed the account. Amazon keeps referring me back to the bank & will not accept any responsibility for their store card.

Apparently, I've been in a debt cancellation program for years with my Amazon.com store card which is through Synchrony. I've also had automatic minimum payments set up for years. What I didn't realize is that the minimum payment doesn't even cover the debt cancellation fee and interest each month. So, while I thought my balance was going down, it was, in fact, going up by $20 or more whether I made any purchases or not. $783 in debt cancellation fees this year alone. I should have been paying closer attention, but I never expected that I'd have to worry about the credit card company itself to be stealing from me.

I received a phone call from the bank saying they are collecting a late payment. I checked with my bill pay through the bank and a payment was made. According to the customer service department I paid a day too early and so they did not show it as a payment. They know it was the payment but they are still telling me I have to pay immediately and are saying they can't reverse the late fee.
I was trying to be a good customer by making my payment each month actually more than my required payment but because they claim they do not charge interest this is their way of making money. It is a crooked deal and I will no longer do business with Rooms to Go if this is the credit company they choose to use. The Customer Service is terrible and I am really not satisfied with the Service.

Loved the convenience of PayPal + PayPal Credit Card (makes online shopping super simple!). However when I recently used my card for an online purchase the card declined. Received an automated call from Synchrony to verify the attempt, which I did. Then they bounced me to their fraud dept., which was supposed to text me a code which I would confirm upon receipt. However the person on the other end said my phone number was not valid, since it was not registered under my name (my phone is provided by my employer). All of this, despite the fact that Synchrony called me on the number which they would now not accept as legit. They wanted to send me validation via snail mail, meanwhile keeping my card totally locked down. I also had previously provided the last 4 digits of my SSN during the course of my conversation, but that is also apparently not enough.
The bottom line is that this company has no better way to validate your identity other than insisting upon some rigid prescribed process which doesn't work for everyone (send me a letter? It's 2016!). Their customer service people cannot bypass the process, so they cannot truly help customers. They do not appear to have any interest in crafting better systems of security that put the onus on the bank, rather than on the consumer. If it is this inconvenient to prove my identity, then this is not good security. I closed the card and the account. Terrible customer service, and blindly stupid "security" that was of no help to me at all.

Got another call from the synchrony bank fraud department last night. They asked me about two of my most recent charges and I confirmed to them that they are in fact valid. She then told me that my card could be involved in some fraud and that they will be shutting down that card and sending me a new one within 7 - 14 business day. SO, this will be my third card in the past 4 months. Same thing happened just two months ago. At least the first time there was a charge many states away that was not mine.
I do understand the need to close that card down. It took numerous calls to them regarding that transaction though as they continued to bill me for that charge with interest even though they agreed it was fraud, and they said not to worry about it. Long story short it's very clear that I need to make a change. It's a pain, as this card is on automatic payment for a number of accounts. I have lots of reward points left and as soon as they are done it's time to CANCEL. They have issues, including really poor customer service. Save yourself the problems and do not do business with them.

I received a rejection letter from Synchrony bank in Orlando Florida today denying someone named Kevin ** a credit card using my address. I do not nor have I ever known a Kevin **. When I called Synchrony bank's customer service line I was reconnected several times to different departments and then finally to an automated bill pay extension. This is lousy customer service!!! Furthermore, the reason Kevin ** was denied credit was due to "prior application submitted too recently". I wanted to let them know that this person was attempting to commit credit card fraud using their business and all I got was the runaround. Huge dislike!

I am pretty much in the same boat as the rest of the reviewers. I've had three accounts absorbed by Synchrony, plus I have two motorcycle loans that were presented as very low interest. But looking at my Synchrony Statements, the rate is much higher. I am trying to find the payoff on the bike loans, but as usual, I get lost in their maze of vmail garbage. I od a lot with Amazon and Paypal, I have a car care and another card for the bikes. I am very, very nervous about Synchrony and am looking at a consolidation loan to get out from under them, but I need to be sure I have accurate information on the payoff amounts.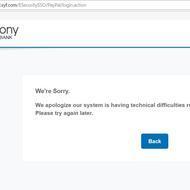 The whole problem was the result of errors on both of our parts and a misunderstanding of what was really going on. They were actually having problems with their website, as the many posts on the Internet agreed. Most had been resolved, but my account had corrupted data that would never allow it to log into my account.
So I was having to go the long phone route to pay my bill, and being hard of hearing that puts me in a bad mood. My interactions on a phone are a lot of me saying, "Excuse me I did not hear that".
Synchrony contacted me, Shara? (excuse the spelling). She dug around and they finally found the problem in my account, and now everything is working great!
Original Review
Synchrony Bank took over PayPal's buyer credit. This credit was nice since it gave you added protection on eBay and other sites. Now that Synchrony has that side of PayPal, you can never pay your bill online, even though there is a link back to Synchrony bank. So you end up having to track a phone number to this bank. You call the bank and they want an account number, which none of us ever had as it was through our Paypal account. If you can finally get to the right place to pay your bill, you have to fight for them not to charge you $15 for paying by phone even though their online interface has been down for 3 months now. I forgot to mention you don't get a paper statement as this was all handled online by PayPal for years.
My hearing is not good so this really upsets me. Add to that the fact they won't send a statement and when you try to view your statement through PayPal, the link crashes. I am enclosing a picture of what happens when you try to pay/view your statement online. How can a bank take us back to the EARLY 1990s for bill paying. Is it even legal not to be able to get a statement??

I have several credit cards that are managed by Synchrony Bank. Over the last year, they keep lowering my credit limit claiming that I have derogatory items on my credit and high credit limits. I've paid over $6 off combined on all my credit cards to lower the balances but they continue to lower my credit limits. This scenario ensures that I will indeed have maxed out credit limits. I plan to pay off every single card related to this bank. Not one other credit card company operates like this one. It's a disgrace and ruins the credit of those who pay on time. Companies like Amazon, QVC, TJMaxx, GAP, CareCredit and American Eagle use this bank. Stay clear and use your own money to make purchases.

I received a letter in the mail that they lowered my credit limit. I paid my payments on time, never late and I never maxed my card out. They said my credit score dropped down to a 603. I know it is a heck of a lot more than that. I can walk into the car lot that I shop with all the time and buy a car and know when I go in there that I will walk out owning a new car. I keep an eye on my credit because it takes too long to rebuild credit.
I'm wanting to know why they pulled my credit again without me asking for a credit increase. Isn't that illegal to pull someone's credit without their permission? So tell me where the ** do they get off running my credit again. I think the consumer affairs need to look into how this company conduct business. I have decided to pay off all of the credit cards that I have with this company and close them all down and never open up another account with them. I will no longer shop with any of the business that use this financial company for their department store credit cards. At least Capital One increases your credit every six months if you pay your payments on time.

A company kept charging my account. They use a "third party call center." I could not reach a person to stop charging the account. Synchrony rep said, "you gave them your number, it's not fraud." However I DID NOT authorized them to continue charging. Synchrony did not care. After speaking with the second supervisor, he hung up on me.

Up until recently I would have given 5 stars... CareCredit just opened a new account in my name, without my permission. When I called to inquire about this I was told that CareCredit was offering a new MasterCard promotion, and my account was selected to receive it. Ok - great, but no thank you. I asked if we could prevent this from happening again, and was told no.
Literally, "No. There's no way to guarantee new accounts won't be opened for you as new promotions become available." What in the actual **? How is this ok? I have to monitor my Synchrony account to make sure that additional credit cards aren't opened in my name? Now I'm not sure if it's scarier to close my account or if I should keep my account open so I can monitor it...

I made a purchase from HHGregg on their in-house credit card backed by Synchrony Bank. In order to pay off the balance before the interest was applied, I immediately started making payments 3 to 4 times the amount of the minimum balance. The VERY first month, I paid the first payment 2 weeks after the first purchase, in order to get ahead of the game. The first statement I got from the bank had a late fee on it. Their reasoning is that I paid before the statement was created. This went on for 4 months (my own fault, as I didn't notice the fee at first - why would I have a fee... I paid early) before I noticed it.
I called the bank only to have them tell me that they did not accept EARLY payments. After an hour of arguing with two different people I was able to get 3 out of the 4 late fees back. The fact of the matter is that they STOLE this money from me. I paid them MORE MONEY than was asked, PRIOR to the due date, and I was STILL charged LATE FEES. That is called stealing. DO NOT DEAL WITH THESE THIEVES!

Synchrony Bank opened 7 (SEVEN) fraudulent credit cards under my name within a week. They never verified any of the information and they reported a fake address to all three majors credit reporting agencies. By some stroke of dumb luck, three of the fraudulent cards arrived at my home, not the person committing the fraud. After calling Synchrony to cancel the cards & report the fraud, they told me that there were additional credit card applications submitted to them in my name, pending approval.
HOW DOES THIS HAPPEN? Where is their fraud department??? Obviously, no one needs seven separate credit cards, specifically, for BP gas, Marvel Comics, EBates, and Banana Republic, etc. I checked my credit reports and placed fraud alerts on my file. Now I must monitor everything because of Synchrony Bank's negligence. They should be fined and sanctioned by all governing agencies in order to prevent this from happening to anyone, ever.

I opened the account and had a pleasant phone conversation with an account representative! She explained how the account would work but never mentioned deferred interest! I would happily pay triple the minimum every month, steadily paying down the balance. Then I received a nearly $1000 charge added for interest!!!

I woke up to check my account with Chase and noticed a fraud charge for 451.29 from Synchrony bank Alpharetta, Ga with a 800 number. I got a hold of a lady first name KarI, she said she didn't know what it was for. Well I called the 800 number it was the collections dept for Synchrony Bank and Alpharetta, Ga was their payment center. I don't like liars and Synchrony Bank lying to protect one of their customers makes mad. Ms ** you lying deeply upsets me. To protect one of your scumbag customers. God will see to it you get this right. Lying gets you nowhere. As for the corp of the bank you are so full of yourself, righteous selfs.

Synchrony has the same predatory practices and poor customer service that gave GE Credit a bad reputation. If you are issued a card from a department store or other business RUN don't walk to another store. DO NOT use Synchrony When I argued with them about not providing statements, they canceled my card causing me to forfeit my over $200 in rewards.

This has to be the one of the worst credit institutions in the market. I had a Marshalls/TJ Maxx card issued by Synchrony. I've had this account for over 5 years, have paid it off several times over and I'm never late or miss a payment - until I set up auto pay on their site. Their auto pay only withdraws on the bills due date and doesn't factor in if you've paid the bill manually before the due date.
I had 2 auto pay transactions that didn't go through because of insufficient funds. My checking account had fraud activity on it, and to prevent my account being wiped out, I transferred my cash to my savings account and forgot that a payment was coming through from Synchrony. As soon as I saw that the payment was missed, I sent them $500 the very next day. On the second occasion, I thought I had paid the bill in full, but there was a finance charge left on the account that was processed through auto pay - about $26. For some reason it was returned. The very next day, I sent them the missed payment plus the late fee. These are the only 2 times since I've opened this account that I had a minor payment issue that was rectified immediately. What does Synchrony do, they close my account!
When I called after trying to use my card and being denied, I was told that if I make a payment, they can turn the account back on, which is not true. They apparently don't have to notify you that you're in danger of having your account turned off and they cut it off if there's 2 returned payments no matter the circumstances, not matter your credit history with the company. In a span of 5 years, I've had 2 returned payments that were handled immediately - in addition to the fact that I pay the account twice a month, once through auto pay, once manually, and they STILL closed the account. I'm not sure how much of an impact this will have on my score since I'm in the very high 700's and the account was only a 2K max, but be warned! Synchrony DOES NOT CARE ABOUT THEIR CUSTOMERS. I will never open an account managed by them again.

I received a letter dated October 4th, 2016 stating my Old Navy account was closed due to a review in August because of derogatory and delinquent accounts on my credit score (300 low and 850 high). I have 552 and my card was opened with a score a little bit higher than this like 570 or less and my balance is paid in full and no late payments. This is not good consumer practices. They don't value their customs. I just opened this card the end of April and my account is already shut down and closed??? What right as a customer do I have???

Tried calling Customer Service. It's impossible to get a real live person and it doesn't understand anything you are saying. When you finally do get a real person they say they can't hear you and you have to call back. I lost my credit card 3 weeks ago. Called and reported on the "automatic answering." They said they would cancel it and send me a new one. Can't even get in touch with them to find out if they did cancel it. I don't care if I get a new card. Just want to make sure the old one is canceled.

I have had the Old Navy card since 2007. Never have I had to request an increase, GE increased me automatically. I topped out at $2700 until I recently received a decrease letter after complaining to the rep after I have several months paying my bill online as I have always done. I would end up paying on the phone and late. I recently received a request to upgrade my card to a Visa, but I'm not interested. Especially since my limit was reduced to $1340, which is so close to my $1250 balance. No real reason, just that my other balances are high, which is not the case. This reminds me of the practices of PROVIDIAN. They continued lowering limits to mirror balances, which would incur late fees and over the credit limit fees due to interest attached. I will be paying this card off and closing. Hopefully they have a class action suit because they are running a shady business.

I'm not sure why but Synchrony bank has cut everyone of my credit limits and actually closed a few of my long lasting (never late) accounts. Every time they close one they send me a letter using the excuse that my credit limits are maxed out. The only cards that are maxed out are their cards due to them constantly cutting the limit. For example I have a TJX Rewards cards started with a $2000 limit. The balance owed was about $1800 right after Christmas, so I paid $500 on it and they cut the limit down to $1379.
A few months later I had it paid down to under $1000 because I do not like max out cards, so they cut it to $1000. This specific card had a point system so it was good to use for the rewards during the holidays. What I don't understand is why they keep doing this, I actually had 7 cards thru them and they have done this to every single card for no justifiable reason. I have not made late payments. I always pay more than the minimum due and some of my other cards thru other creditors are actually increasing my limits.
This is starting to get on my nerves because they keep "inquiring on my credit," "keep lowering my limits" and then use these two reason as the excuse to lower the limit. I'm to the point that I want them all closed but I have been advised that that would be bad for my credit rating. I will NEVER open another card thru SYNCHRONY and I would advise everyone to avoid them at all costs. I have never had an issue with any other credit card issuer. The only reason I have 7 Synchrony cards is different stores use Synchrony but you receive discounts if you use their store cards, such as Dick's, Walmart, JCPenney etc... I'll just start shopping elsewhere...
Synchrony Financial (formerly GE CareCredit) Company Profile
Company Name:

GE Washing Machines

Company Type:

Public

Ticker Symbol:

GE

Address:

3135 Easton Turnpike

City:

Fairfield

State/Province:

CT

Postal Code:

06828

Country:

United States

Website:

http://www.ge.com/