Consumer Complaints and Reviews

If I could rate 0 stars I would. Immediately walking into the shop I see an older woman at the register that literally ducked behind a tall stand of earrings as she made eye contact with me. She peeked out from behind the stand and I was the first to say hello. She responded hello back but did not welcome me for coming in or ask if I needed any assistance. I immediately walked up to her and asked where the hair removal section was rather than wander around. She walked me over to a start of an aisle and pointed that it on the right. It was at the far end of the aisle and I found it myself. Considering they have all of 4 aisles she could have walked me to the section. There was one other customer in the store at the time. It took me 2 minutes to grab my selection and greater than 15 minutes to be rung out. Another employee was in the store at the front register.
The older lady was ringing out the other customer in the store. The second cashier didn't bother to greet me when she made eye contact and proceeded to pull the register. I overheard the older lady tell her current customer that she couldn't make the coupon apply even though it did match her items and she would just have to use it another time. When it came my turn the older lady cashier tried to tell me that she couldn't get my coupon to apply even though it clearly matched the items too. The second employee wandered around not helping any of the incoming customers or the cashier I was stuck with that clearly had no idea what she was doing. This place and their customer service is a joke.

This comment is in reference to the Store Manager and staff of the Lenoir City, TN location. Most locations of Sally in TN are good, but this one is atrocious. This store manager, on every occasion, has been hostile and rude to us. Today, she lied to my fiance about our Sally Card expiration, which according to Sally is valid until August 31st, but she claimed was expired, in order to deny our discount. She said I was rude, to which I replied she had the worst customer service of any Manager in Lenoir City. We exchanged words, and she ended up telling me she would call the police (which she evidently did not do, but I did do out of concerns over her apparent emotional and mental instability).
I have never had an experience like this anywhere, with anyone, but I have been informed that she has had other complaints. For my part, I consider the matter settled, although I will never do business with this store again and will advise all of my tax clients and friends to refrain from doing business with this store's abusive staff in the future.

Very rude and dismissive representatives, just for asking very kind questions. This is not about products use or misuse. As a regular customer I was asked to leave the store quite unexpectedly. Their excuse was issues with shoplifting. You have to trust me here... I NEVER would steal beauty supplies or in any way looked like (not "bum" like in any way) or acted like I would do such a thing. I'm sure "well we had shoplifting" was their excuse. I'm sure they really did not suspect me of it. I remained calm the entire time; but I tell you it was the most challenging in my many years. They just wanted me to buy *more* and leave the store.
Sally's corporate took the side of the very strange manager and shut me out completely. Can you imagine? Do not make the mistake of appealing to corporate. A shocking and complete waste of time and they even threatened me (with my info) too! I regret contacting them as now I'm afraid of further false witness. What bothers me is they made a point of the fact they have all my personal information. They said they'd sue me If I protested their store. LOL.
I ask you. Do shoplifters buy from stores while giving them all their private information, including home address!? They make no sense. My only guess is I did not spend over $100 and was asking about specials and bargains. Else their manager is having mental breakdown. BTW: They're "sales" were also not available (in stock). The reps seemed overworked and so I was like VERY VERY polite about not needing to be first or anything like that. I was purposely civil and kind with them. Very strange behavior by them and I'm shocked to learn it's nationwide also. I note the company earnings are trending way down. Maybe they are going out of business. I think all I can do now is not return. Sad, strange and very bad feeling experience. All I can really do is tell you. One star should be a no star rating.

Walked in with 4 boxes of hair dye to exchange. I am a 63 year old mother of eight and grandma of 17, so I am going gray. I was approached by a tattooed lady with heavy makeup named Tina. She said in no uncertain terms. No exchanges, no returns, no store credit, nothing without a receipt. I told her I had been coming here for years and never had a problem before. She was adamant. There was nothing she could do for me. I told her I would Yelp her and asked for her name. She said "Go ahead" and gave me her name in a taunting manner. I was so frustrated I threw the boxes on the floor and said keep them. I have no use for these. She immediately said "Call the police." I went to my car and she stood outside taking my license plate down.
At first I left but decided since I had done nothing illegal to return. I myself called the police. She then went on to lie and say I had hit her with the dye box in the arm. Never happened. Two of my grandchildren were with me and witnessed her lie. After two police cars arrived and I spoke with them and she did the police told me I could leave. Later after speaking with customer service I found she had also lied about the return policy. She was supposed to give me store credit and did not. Horrible experience, horrible service. She looked like a bag lady and has no business working with people in a retail job. And as far as Sally's making good on this atrocity they offered me a 5 dollar coupon on a future purchase. No thanks. I won't be back.

I was very disappointed in the customer service it was given here. I came to buy a keratin, I asked an employee to see where I could find it and she had no idea what I was talking about. She was acting very rude and making faces. I did not like the customer service whatsoever. I am not returning to this location again. It was today in Palm Springs Florida… Congress before 10 ave. They were really rude. We got there one minute before closing, I think that's what make her act like that. I told her that I just needed to know if they have it.
How do I know I can trust these reviews about Sally Beauty Supply?
848,010 reviews on ConsumerAffairs are verified.
We require contact information to ensure our reviewers are real.
We use intelligent software that helps us maintain the integrity of reviews.
Our moderators read all reviews to verify quality and helpfulness.
For more information about reviews on ConsumerAffairs.com please visit our FAQ.

I visited the Sally Beauty Supply in Miramar, Fl. Was there to purchase some shampoo. I like good customer service, but that isn't what I received. I was followed around the store and watched over like I was going to steal something so I told one of the associates that I was fine, she didn't have to stand over me because someone had already helped me out. Her response "I don't tell her how to do her job," so I put the product back on the shelf and left the store. I don't spend my money where I'm treated like a suspect.

I went to the Sally Beauty Supply in Wilsonville, Or today and had a not so nice experience. The young lady had only been on the job 2 days and had been left to herself with 4 customers in the store who all had questions. The Assistant Manager, Maria, made a short appearance and refused to help anyone as she was busy in the back. I later learned she left a new employee alone in order to finish her lunch without any additional coverage for actual customer service. I called the Denton, Texas Corporate Office and asked to speak to a Customer Service Person and was sent to a message center. When I tried to call again and expressed my wish to speak with an actual Human Being I was connected to a line that informed me my phone number was being recorded by their system as a nuisance call and all other calls would be refused. I was not impolite. I was calm. I was treated terribly!!! Those jerks don't deserve any more of my business.

You guys need better procedures on how to handle shoplifters. I feel EXTREMELY uncomfortable in your stores. I have NO peace of mind when I shop. People like having control over their purchases and not feeling like they are about to be bounced out of the store by your goonie employees. I have seen where an employee has stopped a shoplifter and I thought she was about to hit the customer! I was scared!!! Stop being so mean to your employees and stop hiring mean people for your stores. It shows!!!! I spend A LOT of money at Sally's. I really do. You guys take most of my money, but it feels extremely uncomfortable to shop at a Sally's. The other Sally's I went to were nothing but a bunch bullies as employees. They were crude and talked about people in a rude way right in front of me! You guys really need better ways to hire employees or you're going to have a lawsuit on your hands eventually.

I visited this store (Sally's beauty supply Madison MS) today to purchase a Denman's hair brush. I have used this brand for over 30 years but opened the package to test the firmness of the plastic bristles and to compare against a generic brand they were selling. This sent the sales associate (only employee in the store) into a lecture asking me if I planned to purchase the hairbrush and how no other customer would want to buy the hairbrush if the box had been opened. Really? The box was not sealed. I carefully put the brush back in without affecting the packaging in any way. I certainly did not try to brush my hair with it or contaminate it in any way. Due to the rudeness of this employee, I left the store and ordered the product online. No customer should be treated with this lack of respect.

I have continually been treated horribly by the manager of the Albemarle, NC location. She treats me like I am inferior and beneath her. She embarrassed me by fussing at me today in the store. She is mad at me because two of her prior employees asked to come work at my Salon/Spa because she was hateful to them as employees. She always talks rudely to me and never wants to help me find anything. She has no reason being a manager because she has no training or expertise in customer service or satisfaction.

I managed to screw up my hair with normal hair dye from Walmart. So, I went to Sally's where the staff was eager and ready to help. Lue and Ruth were two of the nicest women I've met. They were able to quickly help me figure out what products I needed in a quick and easy manner. Thank you Sally's for hiring such wonderful employees. Keep up the good work!

Went in to Sally's in Philadelphia to buy some color on 2 different occasions. A young lady name Kristen was very sweet, helpful and very friendly. The lady I found out later to be the manager named Peaches was cussing out customers, was disrespectful and had a horrendous body odor the emanated off of her clothing. The second time I was there, I dealt with a smart-ass 21 year old named Zulma who was more concerned about her phone instead of helping me. She gave me an attitude and sly remark. Rudeness, unprofessional staff. Thankfully Kristen was there and she was more than willing to help me find what I was looking for. If Sally's had more employees like Kristen in Philadelphia and in my city of L.A. more people would visit your establishment. Thanks Kristen for your friendly smile and help.

I went to Sally Beauty on Wednesday 5/3 and told the saleswoman that I wanted a product to take the brassiness out of my light blond hair. She sold me ION product which she said would work because blue would take the yellow out. After applying it on my hair I immediately realized that the blue color was not washing off my hands and jumped out the shower. With my heart pounding I looked in the mirror to see BRIGHT BLUE hair! Immediately phoned the Sally's store where I'd made​ the purchase and spoke to Jessica who said to use baking soda and dandruff shampoo to take out the color--that did NOT work so I called my hair stylist who suggested I come to the salon the next morning. She was able to get the BLUE out and get my hair back to a normal color... It took her over 3 hours to correct this horrible BLUE color problem!
Nowhere on the label did it say to use rubber gloves when applying or that the product was permanent and could not be washed out. My hair is now damaged with a bald spot on my hairline with overall thinness throughout... My hair is not as curly because of the damage that was caused because of using this product that I was sold in your Sally's store in St. Anthony, MN. Salespeople need better training... I should never have been sold this product simply to get brassiness out!!! At 65 years old it was a traumatic experience to have my hair turn BLUE and look like a punk rocker! I would suggest that Sally's needs to TRAIN their​ people better so someone else doesn't get BLUE hair unless that's what they want which I definitely did not.
I was denied reimbursement of $188.50 for having to have my colorist bring back my hair to a normal color. It took her over 3 hours plus she had to cancel 2 appointments to squeeze me in as I was so horribly upset by this traumatic experience. I was too upset to take photos of the blue hair but believe me, it was bright blue! Needless to say, I will never ever buy another thing at Sally Beauty and will make sure no one I know will either.

I was at my local Sally's today, and have to be frank, I am upset how I was treated. I truly felt like I had police on me, and I was merely in the store 2 minutes. Of that, I was asked 4 times by employees if I needed help, did I find what I was looking for, then asked again twice by same girl. I understand customer service. I have worked it over 30 plus years, but my god, I told them nicely I knew what I was looking for, I was fine, and was pretty much watched the entire time. Every time I went down an aisle, one of the employees comes barreling down... asking if I need help. Let me SHOP Already! If I need help I will ask!
When I got to the register I stated, "you ALL must be extremely bored or have a lot of shoplifters", one of the women says "Yes, yes we do". Told them all I felt like a criminal... Almost didn't make my purchase because of it. So in short, customer service is a great thing, when the customer wants it... But don't shove it down my throat! I probably won't shop at that store even if it's 2 minutes away, you don't make your PAYING customers feel like a thief!

On April 2, 2017 I went to buy hair color which was 6.49 and second 50% off. I told the salesperson I wanted my hair color to match my eyebrows. I told her 4 times and she still didn't get it. She thought I wanted my eyebrows the color of my hair which was brassy red from bleaching. She told me to get golden brown which I wanted light ash brown. She told me she had to work at the register and will be right back because she was the only one. I waited and she never came back.
So I got the light ash brown and I had no idea I was supposed to get the developer to mix it with. I told her I wanted my hair the color of my eyebrows and she said "oh it busy" so I misunderstood. She should have asked or told me about the developer. I went home and tried it and the second one also because it did not work. I DID NOT KNOW I HAD TO MIX WITH THE DEVELOPER. I went back to tell them my experience and I was very upset. I spent 9.00 and the salesperson told me I was supposed to mix with developer. That all Sally products should be mix with developer. How the hell am I supposed to know that and the salesperson brushed me off. I mentioned I should get at least a store credit. I was told no because it has been used. I WILL NEVER GO OR BUY FROM SALLY BEAUTY EVER!!!

Sally's does NOT take care of their customers. The manager didn't give me the warranty, that's also through a third party **, that I wanted on a piece of equipment. So when they started messing up, they wouldn't return them for another pair, corporate has horrible customer service. And the sales chick who was fine yesterday was horrible today. Now I'm out $130 and 2 pieces of equipment that I need for work every day. Thank you for being so terrible, I will NEVER be buying anything from Sally's ever again.

I went to purchase 50 volume hair developer. I was told that unless I was a licensed stylist, I could not purchase. The hair color was for a wig not my real hair. Now the nearest Sally is 30 minutes from my house. So I wasted gas and time for nothing. What Sally didn't sell me, Amazon did and quite quickly from the convenience of my home. THIS is exactly the reason Amazon is putting these horrible brick and mortar stores out of business and rightfully so.

I had a horrible experience in the store with the salesperson In Warren Michigan. I was trying to buy a purple shampoo which I have no knowledge of how to use it or what kind I should get so I went to the store. Salesperson greeted me by saying "wassup? What you need?" First of all that's not how you greet the customer! So I told her what I'm looking for. She directed me towards it and then walked away.
I was trying to ask her some questions about the product. She had a nasty attitude. She was not helpful. So I told her she don't need to be rude. I'm just asking a question. She told me that I'm stupid. All I have to do just read the Direction how to use which is behind the shampoo bottle. I have never been assaulted like that so I just walked away telling her that she shouldn't be working in customer service if she can't handle customers, her response was "yeah maybe I shouldn't. you don't have to come to the store Again." WTF. I will never shop at Sally's again!!!

I spent over $100.00 on products to go from black to blonde, bleach my hair then put gray into my hair. It didn't work. I'm very upset. I bought & followed the directions the employees suggested to me. I will not buy any hair products again from Sally's.

I went to check out and use cash and they would not accept a large bill. They are a large chain store and it's unacceptable. There is no sign stating that they do not accept large bills. It was an inconvenience for me and the explanation was poor with no apology for my inconvenience was given from the manager. This is bad business management. Post a sign!

I have been going to Sally's for years now. Most of the time I go to the Draper store but I was in South Jordan so I stopped by there instead, and I have never had such a bad experience! The manager with long purple hair was so disrespectful and rude I will never go to Sally's again! I have never been so disrespected that bad in any store! I highly recommend no one go to the South Jordan store. The two Mexican girls are stuck up and very rude. I don't see how they still work there because I'm not the first person that has gone through the same thing I did. I hope management fires them because I will tell everyone about how bad the customer service was.

I am a hairstylist, and I typically go to State Beauty Supply for my hair color, but I just so happened to be coloring my own hair one time and Sally's was much closer for me. I decided to go in and have a look at the choices of vivid colors Sally's had to offer. I was pleasantly surprised to find an array of Demi-permanent vivid hair colors! They had so many different shades of blue, which was exactly what I was looking for. I purchased and was not disappointed. The color was as vivid as I would have hoped and it lasted for longer than some of the actual professional I've been using for years. I was definitely very happy with the purchase.

The promotion on the flyer and website say "buy one get one free" for $179 for a wall mahogany station. I ordered it online on their terrible web site, didn't tell me how long the shipping would take, but I guess I didn't mind since the shipping was "free". I received ONE item about a week later. Where was the other one that was free??? I asked the UPS guy and he said it was just one box. So I call Sally and they tell me that I needed to buy TWO items to get TWO free -- this is what the woman on the phone told me to keep in mind "for next time"! Are you kidding me?! Nowhere does it say BUY TWO GET TWO FREE! It's completely absurd! Then she told me she would place the order to have the item shipped, like she was doing ME a favor!!! Wow. Kiss my **... I've yet to receive it, and I just sent an email today and I'm calling AGAIN tomorrow. Like I have time to wait on the phone...

I had an online order and waited 3 days and still not shipped. I called and canceled the order and cannot be refunded until the 4th of the next month... which is actually 12 days... Seriously? It took 2 seconds to take my money but 2 weeks to give it back??

Shipment time is horrible. No tracking number. Took Sally Beauty 5 days from order date to ship order. I order online all of the time, from places further away than Texas, free shipping, mind you. And, they have never taken this long!!! Just spoke with a Sally Beauty Rep. Was told I should receive it on Wed., Jan. 11. The order was placed on Jan. 1st. The only reason I ordered online was because my time is limited, and didn't want to drive to a Sally Beauty store. And, the shipping was free. Had I known it would take this long, I wouldn't have placed the order online. Lesson learned!!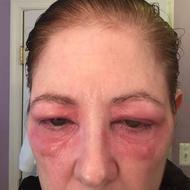 I suffered a severe life-threatening allergic reaction to the ION semi-permanent hair dye sold by Sally's which claims it contains no PPD chemicals or otherwise harmful ingredients that can harm humans. My face blew up to twice its normal size, my eyelids were swollen shut and my eye sockets had 2nd degree burns. I was forced to seek emergency care and an allergist who told me that the dye contained a harmful chemical that when oxidized in application use can cause a very serious allergic reaction which could even lead to anaphylactic shock. I had to undergo medical treatment for 10 days with steroids and topical agents to help resolve and counteract the damage done to my upper face area. This should not happen to anyone, and the box contains false drug interaction information by stating it is PPD free when in fact it is not.

Ordered from this company twice. Canceled the first order because of the misleading shipping time. They claim: Processing time: 3-5 days. THEREFORE, paying for priority shipping, expedited, etc. doesn't matter because it will still take the amount of time for processing to clear your order. On my second order, I was refunded $1. Yes $1 because I paid for priority thinking it would be faster, when a customer rep told me that it's just the same as shipping only $1 dollar more. SUCH A SCAM AND WASTE OF TIME/MONEY.

Bought a new blade set for clippers. I wasn't 100% sure I was getting the correct blade, and I told the sales woman this. She sold me the blades ($50). That night, I realized they were the wrong ones just by looking through the packaging and seeing that the mounting holes were not the same as the ones on my machine. I took them back the next day, and they would not take them back. They told me "no exchanges or refunds on blades".
They NEVER told me this when I bought the blades, and there is no sign indicating this. And let me be clear. These blades were UNOPENED, in a hard clear plastic heat-sealed package. You would have to cut it open to get the blade out. I had to call a corporate number, explain the situation, and after a lot of wrangling on the phone, they grudgingly allowed me to return them for store credit only.
How's that for service!? They do NOT carry the blades for my machine, cannot get them, did not tell me there are no returns when I bought them, and still would not give me my money back. So I'm out 50 bucks. The only thing I can do is use it as "store credit" for stuff that I don't really need. Never again. This is deceptive, horrid customer service.

After receiving what I thought was a great coupon book from Sally Beauty, I gathered a few things I usually purchase and then asked for help. According to the ad you could purchase hair dryers and receive a free tool. The lady told me she had to ring up customers and she would be right back. I was standing very near to the cash registers and she kept ringing people while another employee just stood there cracking jokes. He did ring up one person but then went to the back again, leaving me waiting once more for a total of 15 minutes. Once the lady finally came back I asked her about the hair dryers and I wanted to purchase one of them and choose the free tool (really did not need a free tool). The ad clearly states this hair dryer was $57.38 for both. Once at the register the 2 rang up at $114.48.
She would not let me use the coupon and the ad clearly states "see back, $76.49 without coupon: without coupon reg. price $114.48 " and when I told her I did not want it she got angry, tossed the items into a bucket and acted all mad because I did not want to pay that much for the dryer which by the way I can purchase the same one at another store for $49.99 (and I did). I have never been treated that bad at Sally before and really don't know I will go back to that store or any other Sally as they don't stand by the ads. This employee/store manager did not even try to offer me another hair dryer. Bad for business. Sally you might have lost a loyal customer.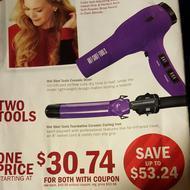 False Advertising and poor customer service: Today I went to purchase the "two tools one price" Hot Shot curling iron and hair dryer advertised "$30.74 for both with coupon." It said under that, "$40.99 without coupon." I handed her my coupon and she rang it up and then said the total was $40.99 plus tax. I reminded her that I had the 25% off coupon and she said that's what it was with the coupon.
Now, I'm not stupid so I questioned on how that could be. She called the manager over and I showed her the flyer I received in the mail. She said I couldn't have it for the $30.74 because I wasn't a preferred club member. I am a club member and I said the ad had no disclaimer stating that I had to be a certain level to get that price. I have a Bachelor of Science degree in advertising so I showed her my flyer and my name and address on the back and asked why did they send it to me if it was only meant for preferred beauty club members? No answer.
I said I didn't want it then and that I wanted my 25% coupon back. The clerk then said that she shredded it so she couldn't give it back to me. UNREAL!!! I read some of the other reviews on this site and I have also experienced things like those myself and this was actually the last straw. One thing I did do was call the store manager and after her snotty attitude, I told her that I would not be shopping at Sally Beauty again. There are umpteen beauty businesses competing for our money so I will take my money elsewhere.
Sally Beauty Supply Company Profile
Company Name:

Sally Beauty Supply

Website:

http://www.sallybeauty.com/