Consumer Complaints & Reviews

I recently began using Old Spice Pire Sport. Was many other on this site have stated, within days I developed extremely painful and irritating burns on my armpits.
One week later, and the pain/irritation has barely subsided. P&G: Please properly list the warnings/side effects on your labels!!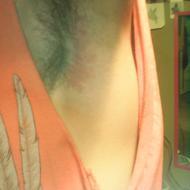 My name is Justin. I am 26 years old and have used Old Spice for years. I started using Old Spice Swagger when it came out and about a year ago I started getting a rash under my arms. It wasn't real bad and was gone in a few days. I started using Old Spice Pure Sport about three days ago because they were out of Swagger, the next day I had a rash so I stopped using it. It is not getting better, in fact, it is worse. The pain is horrible and it makes it impossible to do anything. I have tried A&D ointment and baby powder with aloe. Neither has helped. Can anyone tell me what has helped them?

Old Spice isn't my go-to deodorant, but I've used it in the past with no problems. However, when I ran out of my regular deodorant, I went to a nearby convenient store (which means I also had to pay considerably more) and purchased Old Spice Pure Sport. This was roughly a month ago, but recently I began to notice a burning sensation under my arms every time I would put it on. I didn't pay much attention to it, but the burning got worse about three days ago. Every time I would put it on my underarms would burn for about 10 minutes. I figured it was the deodorant so I stopped using it. When I looked in the mirror I noticed a bright red irritation around my armpits.
I didn't want the irritation to get any worse so I began googling ways to treat irritated skin under the arm cause by deodorant. Much to my surprise, the only results that popped up said something along the lines of "Old Spice Causes Rash/Chemical Burns to Consumers", which confirmed my belief that it was the deodorant causing the rash. I haven't used Old Spice in about 24 hours, but today my underarms still feel discomfort and the skin looks and feels raw. I live in Southern Louisiana where the highs are in the mid 90s, which doesn't make matters any better. If the irritation doesn't clear up soon then I will probably have to seek medical attention. I was on antibiotics around the time that I started to use the deodorant so I'm assuming that's the reason why I didn't starting experiencing symptoms sooner like other users. I'm extremely disappointed with the makers of this product.
How do I know I can trust these reviews about Old Spice?
551,483 reviews on ConsumerAffairs are verified.
We require contact information to ensure our reviewers are real.
We use intelligent software that helps us maintain the integrity of reviews.
Our moderators read all reviews to verify quality and helpfulness.
For more information about reviews on ConsumerAffairs.com please visit our FAQ.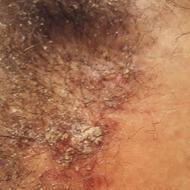 I have recently used the Old Spice deodorant product and within two days developed serious chemical burns!! These burns are so bad I'm having to stay home because the open sores are irritated by touching clothing! This has been a ridiculous experience. If any class action suits are filed please let me know!

I used the gel Old Spice deodorant on June the 9th, 2016 and woke up the next morning with a horrible chemical rash under both armpits. The burn became increasingly worse over the next few days and was so painful that I couldn't wear sleeves or raise my arms. My skin has been raw and has prevented me from shaving or wearing deodorant. It's June 25th and I still have the burns. I had to seek medical attention to treat the burns. This has been an extremely painful experience and I caution anyone to use Old Spice. Most painful rash of my life.

After using your deodorant and body wash products for quite some time, my fiancé began using "Lionpride" deodorant and started experiencing an itching and burning sensation. This then escalated to an irritated, painful chemical burn in his axilla, which in turn became open and infected. He has since stopped all use of this product and still has a visible irritant after weeks of discontinued use.

I've been using Old Spice deodorant for years, which is why I was surprised to learn (by googling and getting to this site) that the excruciating rashes under my arms were actually chemical burns from their Bearglove deodorant. It hurts horribly and looks gross, so it's making summer pretty bad. I'll never buy Old Spice again.

I do not typically use this product but was out of mine and decided to use this, Old Spice Champion Deodorant. Immediately after applying it, it started to burn, followed by a horrible rash and blistering. Obviously, I stopped using it but the rash is not going away on its own. It has been almost a week and I am in excruciating pain. It is not healing and will need medical attention. I went online looking to see what I could put on it to help the pain and start to heal it when I saw that I am not the only one with this issue. I have tried A&D Ointment, **, powder with cornstarch to help keep it dry, aloe and sterile nonstick first aid pads. Needless to say, I will never purchase this brand again.

I have been using Old Spice Wolfthorn and Bearglove for three years with no problems. Recently over the past few weeks, sometimes I get a slight stinging sensation when I put on my deodorant. Figured I had cut myself somehow trimming my armpit hair and it was just irritating the cut. Today, however I reacted very poorly to my deodorant. Within minutes after applying my deodorant I felt like my armpits were burning. I had to wash it off of myself and I'm still in pain. Hopefully I don't have lasting damage from this.

I used Old Spice off and on for a period of two weeks. I used it for 3 days straight and started feeling a burning sensation so I immediately stopped using it. 2 days later (6/13/2016) a scab began to form and the burning got worse. Today (6/17/2016) my armpits still burn and the scab is getting thicker.

I have used Old Spice for 30 plus years never a problem, my go to product. Bought three pack pure sport and started to feel burn once in awhile. One day after working out and showering I applied the stick heavily because my wife said I was smelling weird. I felt the burn and thought nothing of it. Later in day I had a rash that was incredible. Both armpits red, raw, bumpy and spreading. Went to Dr who was complexed, gave me prednisone 40g. Rash spread to wrist, behind legs, back. I am still itchy and suffering after three days. I am hoping the medicine kicks in. Please help.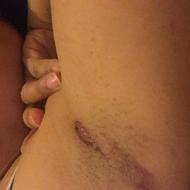 I ran out of my current deodorant. So I decided to use some Old Spice (Wild Collection) that my boyfriend had, but hadn't used yet. I noticed that as soon as I put the deodorant on it started burning my armpit. But I thought that it might be due to the fact that I had just shaven my armpits and ignored it. Later that night I happened to take a look at my armpits and my left armpit had what looked to be a chemical burn. This was only after one use! I discontinued use immediately and I woke up the next day and the burn was worse. It was very painful and throughout the week and my skin started to fall off and was full of pus. It was extremely painful! I decided to look up reviews to see if anyone else had experienced what I had, and was shocked to find all the reviews about this deodorant leaving people with burns! I will not be using Old Spice deodorant ever again!

I've been using Old Spice deodorants since forever. I've even switched from the dry cream variant to the stick variant and vice versa. I've had many of their different scents, even this limited edition Red series that they had which I wish they'll turn into a permanent selection. I love, love, love Old Spice! It's effective, their scents are long-lasting, and the stick can last for a year. No kidding. A year. Just one dab of it and it works for the entire day.
Now, on to these Old Spice users that I thought were joking... First of all, it's a product made for male adults. I don't know why some users are forcing the products on children. That's dangerous! I read this review about a mom complaining about Old Spice giving her 12-year old chemical burns. I was wondering why she allowed her son to use the product?! It's too strong for his young skin. There was another reviewer who used her boyfriend's Old Spice and got burned as well. Why did she do that?! Maybe she had no deodorant?
But anyway... Old Spice deodorants are specifically made and marketed towards men. I think that's a clue that's pretty much clear with its commercials and print ads. It's a product formulated for the male body and I am suggesting to everyone to keep it that way. What's too bad is that the stick variant is very hard to look for here in the Philippines. Once in a while I'll see them in random drugstores or supermarkets but these are too slim chances. Also, the product is expensive. But for me who is able to keep the product for around a year, I think that's a good buy. The stick variant lasts longer than the dry cream, just saying.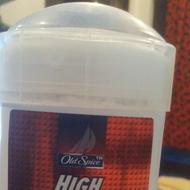 I used to use Axe for my deodorant, but I tried Old Spice high endurance dry cream, and the scent is less overpowering. I like it better than Axe, but recently I've been reading news about how their deodorants are causing rashes to the users. I will just finish my old stick and switch back to Axe, maybe until they fix this.

My 16 daughter started using the Old Spice deodorant because she found that she loved some of the new scents and found that it worked really well during field hockey season. She's gone through 2. I bought her a new one a month ago and within a week her armpits were inflamed looking, itchy and started to peel in patches. She had been doing conditioning out in the heat so we thought it was just a reaction to shaving and sweating but it hasn't gotten better and both armpits get really itchy, inflamed, raised and red any time she gets sweaty.
So I bought her a Dove deodorant for sensitive skin thinking maybe the men's was too much even though she had been using for over a year. Well she continued to use the Old Spice for hockey without me knowing and using the Dove on other days. She was hoping it would just go away and she'd get to still use the Old Spice. It continued so I decided to just Google her symptoms and found out that this is happening to many people after they had been using it for awhile. They must have changed their ingredients for all these people getting these rashes and burns. Fortunately my daughters haven't gotten as bad as some and she's completely done using it now. Just hope her skin heals up and no scaring happens.

I recently had a severe rash break out under my armpits. It was so bad that I had to seek a doctor and get antibiotics. They believe it was the deodorant causing such a severe reaction. It is now day 7/8 and the rash is still very prominent. I have pictures to show if needed. I have been in severe discomfort and would like something done if this is a known occurrence. It has cost me some money and more importantly affected my quality of life. It's so discomforting especially now that the summer temperatures are here. Please feel free to contact me to pursue something as this is not acceptable. I forgot to mention it's in both armpits same exact spots!

I've been using Old Spice Fiji (gel stick) for years & about a month ago I bought the same deodorant, but in the powder stick. A few weeks ago I started to notice that my underarms started developing bumps and starting to burn. Is anyone else experiencing similar symptoms with going from gel stick to powder stick?

I have been a loyal user of Old Spice deodorant for over 20 yrs. Just in the last month my armpits developed a nasty rash and burned every time I put it on. On the recommendation of my dermatologist and after reading the other reviews on this site, I stopped using Old Spice and switched to Tom's. The red marks cleared up and I'm all better now. I wonder what changed in their formula? Needless to say I will not buy their stuff again.

My son has been using Old Spice deodorant since puberty, roughly age 12. He has never experienced a problem. That is until three weeks ago. After using the product (one application) his armpits became bright red and painful, his skin swelled up and by that evening his skin was peeling off. After doing some research I discovered that hundreds of men have the same problem and yet Procter & Gamble keeps this defective product on the shelves? Why have us consumers not been told about this? Why is there no recall on a clearly dangerous and defective product?

Son has been using Old Spice deodorant. He just bought a new one a couple days ago. Tonight he woke up at 3 am itching like crazy with large hive type rash all around his armpits and some on chest area, also area on inner upper arm rash with raised type blisters.. Never had this problem before. I knew had to be deodorant as the rash was only in that area. Product says made in the USA (L)5364TN exp 11/2017 distributed by Procter and Gamble, Toronto.

My 16 year old son is experiencing a red burning rash from using Old Spice deodorant. I do not recommend this product to anyone. It is under both arms but the left one appears to be the worse. Painful to lift his arm.

My 15 year old son developed a small scratch or sore under his arms, so he stopped using deodorant for a few days till it healed and he opened a new Old Spice pure sport and this time developed a major chemical burn under both arms in a matter of days. He had used it for a few years and no problem then all of the sudden a major problem.

I really don't understand where all the negative reviews about burned armpits are coming from. I've been using Old Spice for at least 12 years and it's never let me down. There is no better deodorant on the planet, trust me. Keeps me dry all day and night. Heck, sometimes it keeps me dry even until the next day right before I take a shower. Plus it smells great, and I'm not just saying this as a guy. Even the ladies love the smell. (So for all you bachelors out there wondering how to get girls, this might be a good place to start.)
I do understand however that Old Spice might not be for everyone, especially those with sensitive armpits. It's pretty powerful stuff, that's why it's designed specifically for men. Yup, I'm talking to all the ladies out there that tried to use their boyfriend's or husband's Old Spice. My advice: DON'T. Seriously. There's a reason why it's designed for men. You'd be better off trying some other men's deodorant, just not this one. It will KILL your armpits. I for one will continue to buy Old Spice, now and until the foreseeable future. It's always done right by me, and I see no reason to switch to another. Thanks Old Spice for keeping wetness and bad odor far and the ladies close.

My 17 year old son is suffering horrible burns & blisters under his arms from using this product. It hurts to raise his arms up or even move them.

I decided to try Old Spice deodorant even though I'm a woman because I have a physical job and I wanted something stronger than the woman's deodorant. After one use I have a horrible huge chemical burn, I'm absolutely miserable and I cannot believe how bad this hurts. I wish I would have read the reviews here before I tried it!

My 15 year old son used the deodorant. He was so badly burned he had to miss school and be taken to the doctor. How do I voice my opinion on the lawsuit against them?

My 15-year old son has red, raw skin under both arms. I went online and found all these other complaints about Old Spice. This is exactly what my son has. I tried calling them at 1-800-677-7582 but their office is closed. I will be contacting them in the morning ASAP. This is ridiculous!