Consumer Complaints and Reviews


I am a 30 year old male who has been using Old Spice Fiji Palm. I go through a lot of product. One morning after applying a new container of deodorant, I began experiencing severe burning under my armpits, and a rash appeared. It was so painful. I couldn't even put on a t-shirt. After a few weeks of this rash it led to a scarring and my whole underarm skin began peeling. I heard recently of a class action lawsuit which I would like to join. But there is no claim form or anyone to call. If anyone knows this information, please email my mother at **.

I bought this particular brand when my normal brand was out at the local dollar store a couple of weeks ago. I started noticing I was getting a rash under one arm. Then it started on the other arm. It is burning, red, itchy, swollen, and painful. I am not a happy camper. How do I get in on this Class Action suit?!? This is awful and I am having a hard time wearing shirts. Ugh!! I have images.

I've been using Old Spice body wash and deodorant for a few months. In the last few months I have broken out with a rash every single day all over my body and my armpits as well. I couldn't figure out why I kept getting this rash. I saw my doctor and he prescribed me ** thinking it was stress hives. Since I stopped using the deodorant, my armpits don't break out. But up until I saw a shared video about Old Spice causing rashes, I had no idea. I plan to stop using the body wash in hopes that the rash will stop. I itch non stop and have scars from it.

Bought some Old Spice deodorant about 3 weeks ago, after a few days I felt burning in my arms. Went to a mirror and seen I had sun burn like sores in my armpits that were very painful and had trouble wearing shirts. Immediately threw it away and got new deodorant, I now have burn scars in my arm pits.
How do I know I can trust these reviews about Old Spice?
638,664 reviews on ConsumerAffairs are verified.
We require contact information to ensure our reviewers are real.
We use intelligent software that helps us maintain the integrity of reviews.
Our moderators read all reviews to verify quality and helpfulness.
For more information about reviews on ConsumerAffairs.com please visit our FAQ.

I have used Old Spice since High School and everything was fine back then. For a while I started using other brands of deodorants but recently switched back to the good ole Old Spice. Completely regret it. I got a severe rash/burn after using it for only a day or two! Skin started peeling and was very sensitive. Not sure if there was a formula change but something is wrong. Don't buy.


For years I used Old Spice click deodorants purchased at Kroger. Suddenly in 2016 they began to burn and rash my skin. I switched to the solid blue Old Spice stick and it did the same, burn and rash. Now I use the white solid Old Spice stick with no problems so far. Will update if there are in future.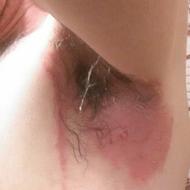 I usually wear Degree deodorant but my wife recently purchased Old Spice Swagger. I used it for two days and by the third day this is how my left underarm looks. The right one is burned also but nowhere near the extent of the left one. I have blisters on it. There is extreme pain every time I move. I woke up this morning and my arm was stuck to my side. Extremely painful to pull apart. I couldn't even go to work. The white stuff is where I put goldbond medicated powder on it last night. I would like a lawyer to contact me about this lawsuit against Old spice.

I have two boys, they are 16 and 20 years old. They both used Old Spice Original Deodorant and both complained immediately of a horrible burning under their arms! I can't believe there are complaints for several months yet the deodorant is still available for purchase! I would like to know what the company plans to do to help anyone affected by using this deodorant?!? It's reckless and irresponsible to continue to sell this to anyone until it is researched and safe to use again.

I've been using Old Spice deodorants for ten years. I always bought Original, Classic, or High Endurance and was very loyal to the brand. I have never had any problems with the product and never bought anything else because I liked Old Spice so much. Yesterday, I opened a new stick of Classic Scent and felt a painful burning sensation under my arms almost instantly. I waited a few seconds to see if it would stop, but it only persisted. I rushed to the bathroom and washed off the deodorant and found my skin was pink and irritated.
Throughout the day, as the burn "settled", it hurt worse and worse. It felt like razor burn, or a sunburn that's almost healed and isn't radiating heat anymore. I inspected the rash in the bathroom and found it tender and waxy. This was what happened to me with only a few seconds of contact. What if I hadn't washed it off?
When I or home from work, I considered recreating my steps to see if I could trigger the burning again. I thought that maybe the soap I used in the shower might have caused some kind of reaction. I took a shower without using soap and applied the deodorant. While the alcohol irritated my existing burn, it did not seem to occur again in the same severity. I went to bed and woke up the next morning. I took another shower - again without using soap under my arms, and applied the deodorant a third time. Like the first time, extreme and painful burning began again. I washed the deodorant off immediately and Sat down to write this review.
Like I said, I've been using Old Spice for a decade and have never had a problem. Occasionally my skin would peel, but it was not painful and did not raise any concerns for me. I thought it could have easily have been from friction during the day. But what happened to me yesterday is not some fluke or personal sensitivity. This has happened to hundreds of people who have suffered much worse than me. I don't know if it's a batch problem or a resistance I have finally broken down or what, but I have never been adversely impacted by a consumer product like this before. I am disappointed. I am angry. I don't know what else to do but this. I don't have the receipt anymore, but I do have the stick. I'll be keeping it in a plastic bag in case I have the opportunity to be compensated.


I started using Old Spice Deodorant "Fresh", I had apparently a reaction for years, skin always irritated. So I switched to Old Spice "Swagger". I had no problems until recently, when I switched to using Antiperspirant when I work out, and using the Deodorant when I am not working out. I used the Deodorant and now have chemical burns on both armpits. I have tried other Old Spice Deodorants and end up with an irritation to them.

Let me just say I am a female. My husband and I were headed out the door to go to a local store and I felt like I needed a quick swipe of deodorant because it's been in the upper 80's and was warm again that day. I grabbed the Old Spice Swagger and gave 1 quick swipe under each armpit. We got to our location (10 minutes away) and began going through the store. Within another 10 minutes my right armpit was burning. It was really uncomfortable. I joked and asked him what they put in that manly deodorant thinking it wasn't the deodorant at all. By the time we got home I was in intense pain and I've given birth to 2 children, one over 10 lbs. I quickly got a shower and felt marginally better for about a minute.
I woke up the following day and the creases in my armpit are bright red and goopy. It looks like skin is falling off. Within another day the other armpit now looks the same. I've not put deodorant on in almost a week. I went to the doctor and she gave me some cream, but it's not helping either. They are getting worse. I can't lift my arms over my head due to the pain. As a busy mom this is HORRIBLE. I've never had a reaction like this to anything. It's not a rash. It doesn't itch. It burns. All because of 1 swipe in each armpit. 1 swipe. Now it's been a week of pain.

I been using Old Spice deodorant for 15 years and I been using Pure Sport . Lately my armpit are red and itch. I am from Guatemala Central America. This Old Spice I been using is made in the USA.

Old spice is ridiculous putting chemicals that burn people the way it does! My 2 sons have burns all under arm pits from this crap and I'm going to an attorney's office Tuesday. This is stupid!!!

I've used Old Spice Pure Sport High Endurance for 10+years with no problems, except occasional redness from alcohol sensitivity if I over-do it, like by taking 3 showers in a day and applying heavily. Nothing that lasts more than a few hours, and only once a year, under the above conditions. In May of this year (2016), I experience a rash consistent with the other recent complaints. The rash started as an itchy couple of bumps, and then became a bright red "ring" of about 1.5 to 2 inches in diameter, with lighter red in the middle. The rash has persisted, despite discontinuing use of the product, for 6 weeks.
The rash is responsive (goes away, and the skin resumes its normal color) with daily use of ** (10%) ointment after 3 days, but returns if the ** treatment is stopped. After being diagnosed as potentially a yeast infection by my dermatologist, a 3-week treatment of under-arm-specific antifungal / anti-yeast foam was tried (** foam). No change / reaction, except the ring appeared darker / more red. I have resumed treatment with topical **, but since the symptoms recur if discontinued, I'm afraid I'm not treating, and worse probably masking, the underlying cause.

I've used Old Spice deodorant of various types for a while and never had this problem. My armpits are so badly burned. I can't raise my arms. Very hard to take a bath. It must be the "Swagger" scent because I haven't noticed a problem when I use the others when I'm traveling but at home I have the "Swagger" and both times I used it, I got blistered. Old Spice needs to check their products because people are obviously suffering from their products.


I've been using Old Spice Swagger for about 2weeks now. Well I've started to burn little by little 3 days after using it. It hurts so bad I can't use any other deodorant, shave or even put water on it.

My husband purchased this deodorant and used it for just a few days. He has received chemical burns and they look horrible... urging him to see a doctor.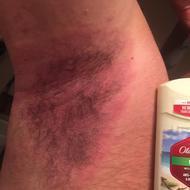 My husband got a nasty rash several months ago. He went the doctor. They treated it with pills. I threw out his deodorant which was Old Spice, I can't remember the flavor. I bought my husband another brand. But my husband bought another stick of Old Spice to leave in his car just in case he forgot to put on deodorant at home before he goes to work not thinking that he would get rash again. So he ran out of the stick at home. So he used the Old Spice Fiji. In three days he got the same rash. I sending him back to the doctor again tomorrow.

Been using Old Spice Pure Sport for 4 years and just a week ago I started getting this burning pain from it. My fiancee looked at it and it looked like a burn. I haven't used it in a few days and the burn is getting worse. I will not be buying Old Spice no more and I will be calling the company tomorrow.

BEWARE. CAUSES CHEMICAL BURNS. After a few days of using the product I developed red sensitive patches of skin that were tender to the touch. It then started peeling like a sun burn after a few days of use. I'm happy I caught this early. Continued use could have severely damaged the skin in and around my armpits.

I used this old spice deodorant only because I left the house and forgot to put deodorant on so I stopped at a gas station on my way to work and bought this. Luckily for me, I only put it on that 1 time and left it in the car and in the hot Georgia summer heat it melted. I was bummed because it actually smelled really good and was considering starting to use it after my normal deodorant (degree sport) ran out. Two days later, I noticed my armpits were painful to the touch. I looked at them in the mirror and there was this red ring around my armpits on both sides. I freaked out because I didn't know what the hell it could be.
I started googling 'armpit ring rash' and looked at the images it pulled up and saw a picture of Old Spice which brought me to this site. I began to read the other comments of people complaining about the exact same symptoms and rash I had. The nail on the coffin were the pictures others had posted which looked exactly like my rash. Lesson Learned. If it ain't broke, don't fix it! Been using degree sport since I was a pre-teen and at 31, I will continue doing just that.

I recently began using Old Spice Pire Sport. Was many other on this site have stated, within days I developed extremely painful and irritating burns on my armpits.
One week later, and the pain/irritation has barely subsided. P&G: Please properly list the warnings/side effects on your labels!!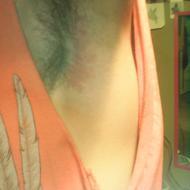 My name is Justin. I am 26 years old and have used Old Spice for years. I started using Old Spice Swagger when it came out and about a year ago I started getting a rash under my arms. It wasn't real bad and was gone in a few days. I started using Old Spice Pure Sport about three days ago because they were out of Swagger, the next day I had a rash so I stopped using it. It is not getting better, in fact, it is worse. The pain is horrible and it makes it impossible to do anything. I have tried A&D ointment and baby powder with aloe. Neither has helped. Can anyone tell me what has helped them?


Old Spice isn't my go-to deodorant, but I've used it in the past with no problems. However, when I ran out of my regular deodorant, I went to a nearby convenient store (which means I also had to pay considerably more) and purchased Old Spice Pure Sport. This was roughly a month ago, but recently I began to notice a burning sensation under my arms every time I would put it on. I didn't pay much attention to it, but the burning got worse about three days ago. Every time I would put it on my underarms would burn for about 10 minutes. I figured it was the deodorant so I stopped using it. When I looked in the mirror I noticed a bright red irritation around my armpits.
I didn't want the irritation to get any worse so I began googling ways to treat irritated skin under the arm cause by deodorant. Much to my surprise, the only results that popped up said something along the lines of "Old Spice Causes Rash/Chemical Burns to Consumers", which confirmed my belief that it was the deodorant causing the rash. I haven't used Old Spice in about 24 hours, but today my underarms still feel discomfort and the skin looks and feels raw. I live in Southern Louisiana where the highs are in the mid 90s, which doesn't make matters any better. If the irritation doesn't clear up soon then I will probably have to seek medical attention. I was on antibiotics around the time that I started to use the deodorant so I'm assuming that's the reason why I didn't starting experiencing symptoms sooner like other users. I'm extremely disappointed with the makers of this product.
Old Spice Company Profile
Company Name:

Old Spice

Website:

http://oldspice.com/en