Consumer Confidence Trends
How big can a company get before it becomes too big for the government or fails to follow through on its promises to the consumer?
02/06/2019
|
ConsumerAffairs

By Gary Guthrie
Gary Guthrie covers technology and travel for the ConsumerAffairs news ... Read Full Bio→
Is Amazon too big to trust? Is Google? Facebook?
The answers would be no, no, and yes according to a new survey on "institutional confidence." Those results came out of the American Institutional Confidence Poll, a survey that canvassed Americans' satisfaction levels on 20 different topics ranging from banking to healthcare.
Overall, it's the military that inspires the greatest confidence (52 percent), but digital cornerstones Amazon (36 percent) and Google (27 percent) w...
More
A Bankrate survey finds more than half don't expect their finances to improve
01/15/2019
|
ConsumerAffairs

By Mark Huffman
Mark Huffman has been a consumer news reporter for ConsumerAffairs ... Read Full Bio→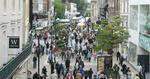 A new survey of consumers shows a declining level of confidence in their short-term financial outlook.
According to Bankrate's Financial Outlook Survey, 55 percent of consumers who were questioned don't expect their financial situation to improve in 2019. This includes 12 percent who think their situation will be worse and 44 percent who think it will stay the same.
It follows a December Bankrate survey that found six in 10 employees received neither a raise in their curr...
More
Sort By