Consumer Complaints and Reviews

I bought it at Walmart, installed it, I use Firefox, and my home page is Yahoo. After installing when I clicked on Firefox page comes up it won't connect to Yahoo. I called Kaspersky. They said they could sent me to tech support but I would be charged. I finally uninstalled it. Now my Firefox and Yahoo work fine. I can not get my money back so I am out 30 some dollars for nothing. I may as well took the money and cut it up with scissors. Do Not Buy or install or use this product. It is a Ripoff. This company, now I know is based in Moscow, Russia... no wonder it is a Sham.

Kaspersky destroyed my os. I downloaded the free 30 day trial of Kaspersky Internet Security 2017. It was a new machine with a fresh install of windows 10, everything worked great until... After installing Kaspersky Internet Security 2017 which went well I was asked to restart my computer which I did. At that point my machine would not boot back up to windows 10. I spent all day Friday like over 8 hours trying to reboot to my OS and it just wasn't happening. I called Kaspersky Tech support and they had no solution and then had the nerve to want to charge me somewhere in the neighborhood of $119 to connect to my computer and try and fix the problems their software had created, I was like, "Really?"
So I had no choice but to re-install my OS because when I use the restore point it worked but I was left with a OS that had a bunch of problems that were not there prior to installing this software. First my sound failed and no matter what I did upon re-installing the sound card software it just wouldn't work, my search tool would not work thereafter and most of the functions of the OS became corrupted and it turned into a nightmare.
Two days later, today I am looking at a complete wipe of all my data and doing a re-install of all and losing all of my data, music, bookmarks and files, let alone I will spend all day re-installing all my applications, games, music and setting up all the preferences for all the applications. I am very good with machine, I build machines, had no virus and never seen anything like this and I know it was this software that caused all the problems and causing my machine to become corrupted. I highly recommend having all your data saved to a hard disk or cloud prior to installing this software onto your machine, I am not going to use this at all. It wasted two days of my time.

Ever since they have came out with new version, computer lock up and runs slow. WARNING do not put on if you are running QuickBooks. Had to take to tech to get it removed. I can not get refund because it has been more than 30 days. I had 3 years still had 930 days left. They will not do anything for me.

I purchased a computer for my wife at Best Buy and received Kaspersky Internet Security free with a 2-year protection plan. Upon installing it on the new laptop I realized that it could be installed on up to 3 devices for free and thus installed it on my Lenovo laptop. Within minutes the system slowed to a crawl and would not let me navigate my files or the internet connection. I tried to uninstall and received a message that I was not able to since I lacked administrative rights. I contacted Kaspersky which sent me an uninstall link which I used first on my wife's laptop, and it worked however it would not allow an internet connection once removed.
I ended up resetting the entire computer from new, then it was fine. This is proof that the software designer does not like it to be removed. Further proof is when I went to run the uninstall on my laptop, it went into blue screen and has been stuck in a loop since, not a single F4, F8, F10 command will work and a Windows boot disc gives me a message that the hard drive is now locked. I have removed the hard drive and have an IT professional wrestling with it now but has been unsuccessful. All of my files and pictures are now gone and this PC has never given me a problem in the 3+ years that I have owned it. It would be an understatement to say that Kaspersky owes me a laptop because the contents that are now gone are way more important. I advise anyone reading this to stay away from this terrible sham of a program.

Kaspersky Anti-Virus is the worst Tech Product I have ever seen in my entire life. Take risk if you want but this product is NOT recommended for any means... The product itself is NOTHING superior nor useful but the most important thing is this Company will NOT stand behind their products when problems. They took the money and has NOTHING to do with you afterward. Maybe it is my bad luck with them but I do not buy this product ever again in my life... What a biggest scammer & unprofessional!!
How do I know I can trust these reviews about Kaspersky Anti-Virus?
790,852 reviews on ConsumerAffairs are verified.
We require contact information to ensure our reviewers are real.
We use intelligent software that helps us maintain the integrity of reviews.
Our moderators read all reviews to verify quality and helpfulness.
For more information about reviews on ConsumerAffairs.com please visit our FAQ.

I purchased a new laptop that has no DVD. I purchased the Kaspersky security a few years ago. I called as to how get the software installed. They said they would do so but claimed a problem. Refered me to the computer "event log" and indicated the problem was there and for $199 a year they could do this and do that, etc. I did not buy into the sales pitch. Something was wrong. I called a friend and found out I could download via the Internet using my key. I did not without any issues. Not a pleasant experience when someone tries to trick you into buying something NOT NEEDED. Thankfully I had other resources. BAD Kaspersky!

I've been using Kaspersky software since 2012 and have been very happy with it until 3/18/2017. I received an E-mail on 2/27 from their third party sales force Digital River. What a deal 2 years for the price of one. Installed it and away I went. Comes 3/18/2017 Bust buy of which last year I had the same issue and updated to my internet and protection script. I canceled the Bust buy renewal. When Best buy canceled the renewal it canceled all the Kaspersky software. I contacted Best Buy and their reply was "that's not our problem we just canceled your subscription!"
I contacted Kaspersky. I talked to the IT people and they said it was a subscription issue and told me to call them. I called them and they said it was an IT issue. I ended talking to 6 different people on Saturday March 18. I obtained 1 problem log. I was told that someone would reply on Monday March 20th. March 20th came along and no reply so I called again and got the runaround and finally talked to Manager and he said that a new 2 year activation code needs to be issued and he only had access to 1 years codes. He said he would contact me with in 48 hours. I also obtained a problem log code.
The evening of Monday March 20 I received a reply from the problems logs that read "if you have an issue contact us through the e-mail log system". Wednesday March 22nd. I had not received any replies. I called to cancel my account and re-apply for another entire code. Why is it so difficult to get anything done. It cost Kaspersky more in labor hours than it would have if they just fixed it in the beginning.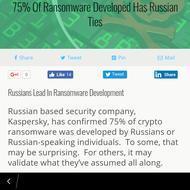 Let me start off by saying that this software I'm using is the 30 day free one from the Play Store. I have another anti-virus software that out of the blue was no longer compatible for my cellphone (evening though I had the premium version). I did my reach and Kaspersky came out with high ratings. I do banking and my business on my cellphone and I need protection. So to start it off the software kept draining my battery and my cellphone stayed hot (scared my battery would explode). Then it say add numbers you want blocked and they can't contact you, still got those calls.
I'm a subscriber to a PC newsletter that I get every week. Yesterday, I received newsletter that stated Kaspersky stated 75% of Ransomware comes out of Russia. I say all of this to started on 2/15 I used Chrome(which Kaspersky say make my default browser) which before two weeks ago was another browser. Yesterday, 2/20, I logged into my business website because I get weekly security alerts. I had 98 hack attempts to my business website with all of the browser users being Chrome. I never before had so many hack attempts in one week (had my website for 2 years). I check and see what countries coming up and some of these I never had, some being Russia, Prague, Czech Republic, Poland and France, Brazil.
So yesterday I attempted to log out of my website the phone froze and would let me log out I had to shut it off. I get on my website today even though I closed the browser and turned off my website comes right up when I open the browser to get on my business site. Boy you wouldn't believe how busy those and more countries been busy trying to get in. All of these countries never before tried to hack my business website until I downloaded this software.

Kaspersky is taking people's money. I purchased Kaspersky Total 2017 from Best Buy and when I was installing it I ran into an issue where Kaspersky wasn't working with Windows 10. Kaspersky would make my computer restart and delete itself from my computer. So I called the support line and got hung up on twice and finally when I got in contact with someone they managed to get me to buy another program called Secure Connection. So I got the unlimited connection and thought everything was fine. Man, was I ever wrong. So Kaspersky ended deleting itself again and wiping the computer. So I called the SUPPORT line again and this time I was told that I need to go back to Best Buy because that's where I bought it.
At Best Buy I was told to contact Kaspersky support line so I did again. This time I only got disconnected once on the phone and had to get online in chat. Since my computer was deleted I did have any codes for the secure connection and that "they couldn't find the order on their side" but was offered a replacement 4 full price. As for the Kaspersky Total Security I was once again told to go to my email fill out paperwork and maybe see if I got approved a refund. (Which I didn't get)
I've had Kaspersky for less than 2 week and it's been one thing after another. I've call them many time to help with the issues and not once did I feel as if they actually help the issues. I feel as if I was treat as a free loader that was just trying to pull one over when all I wanted was what I paid 4.
I recommend this product if you have money to waste and time to spare. Make sure all of your information is backed up and stored somewhere safe other than Kaspersky. I rate this program and customer service. o2 stars. I hope you don't get Marc ** as your support tech as he will call you back, speak a bunch of Spanish then hang up. Good luck with Kaspersky!

Of course the product is poor. It slows your PC and is ineffective protection. Call center is in India and they do not help. But then auto renew you! So just Google Kaspersky and take clicks, every day, on the paid ads. That way you are charging them for something that does not work.

In 2016 Kaspersky took two lots of money from my account and yet they didn't allow me to download the antivirus package. I managed to get one lot of money back but they kept the other 39 Euro, and nothing for it. It is the same story this year. They have taken the subscription from my account but there is no activation code available to me. When I try to obtain it they tell me I have to pay for it although I have already paid for it. No email address available to complain. Last year I did manage to email them but no reply.

This software promises much but delivers far less. I have been trying to manage a network of less than 10 endpoints using Kaspersky Business Select for more than six months after a license update. Prior to this I had no problems - the original license came from Guardian Systems in 2013. They are located in some dog-awful place in Texas (what place is Texas isn't?). The renewal license came from the same place - supposed to be good until 2019. Once I applied it to the installation everything fell apart - I couldn't access endpoints that were formerly on the system, licenses on endpoints showed up as 'expired' and I couldn't fix them - the list goes on and on.
I'm DONE with Kaspersky - besides the kissy-kissy relationship between Eugene Kaspersky and Vladi the Emperor of Some of the Russias (and he hopes some more - good luck, sucker) I don't want to have anything to do with Russian based companies. This software is impossible - and the support is run out of Moscow. Most of the support people don't even understand English, let alone Russian. DON'T BUY KASPERSKY - you will regret it.

No matter what third-party AV consumers tend to go with I always hear the same complaints. What many people fail to understand is there is always a trade off between convenience vs. security. Let's face it, the false positives and program incompatibilities hark on the former. However, on the positive side the consumer does get high detection rates and peace of mind knowing that your device is secure. Kaspersky AV is who I choose to go with because their AV suite is who I choose to go with. In reality, there is very little difference in who you go with (most of the detection rates are within fractions of a percentage of one another). What makes me a faithful Kaspersky AV customer is their best in class malware research team and their ability to provide a broad range of functionality across Linux, Windows, OS X, etc...

Since I installed this software I have had problems with compatibility with programs such as Facebook and internet banking. Spoke to tech support they told me to live with it until newer version comes out. Yesterday Facebook would not work at all, deleted Total Security anti-virus and all my programs now work fine. After explaining my problem to customer service I was told no refunds after 30 days even if you have 2yrs left on your subscription. Great customer service. Will use Viper in the future.

Support requires work. I opened a file that took 2 months to get an answer to and the answer does not address the original issue. If your issue is not addressed Kaspersky will close the file out and you must start all over again. My particular issue consisted of one problem on two different laptop systems (1) Windows 10 (2) Vista. The problem started on both laptops after updating to Kaspersky 2016. It took two months to solve the issue on Windows 10. Vista however still has the same ongoing issue. Has to do with secure money window not functioning when you go into your bank or other secure sites. P.S. It always worked just fine until updating to 2016.
All standard features as other security companies offer. Nothing really special. Has issues with Firefox, but so do other systems as well. If hacker really wants in they will get in. Operator of laptop fundamentally responsible for not being click happy & researching any questionable sites or downloads. I like most people are paying much more for the protection we are getting than we should be paying. With today's technology the price for security should be going down not up.
Kaspersky like all security software is not the answer to complete protection. Like having protected sex there is always a risk when surfing the net. A wrong or too quick click of the mouse or a poor decision without research can be hazardous to your computer's health. I can't say this enough. Regardless of whose software you are using ultimately you are the best defense against unwanted malware or problems. Be sure you do your research before downloading anything! Do not go to a website that you are unsure of, and most importantly take your finger off the mouse button and never click on anything you are uncertain of. You can't blame your software security on you being stupid.

I purchased a Kaspersky license and tried to install the application. The installation was incomplete at best. I could see the "K" logo in my system tray, but attempts to open the user interface always failed. There were no logs or other information I could find to diagnose the issue. Emails to Kaspersky resulted in canned replies which did not resolve the issue.
I finally tracked down a number to call and the person on the phone walked me through the same steps as in the email. I was told I would have to wait for a response from a Tier II technician (which I had been doing for two months). I refused and asked to speak with a supervisor or a TII tech right away. This was declined. I requested my money back and was told that since it was beyond the 30 day evaluation period I could not have my money back. I spoke to someone in sales and pointed out that the long delay was entirely due to Kaspersky not responding in a timely fashion. I eventually received my money back.
Since the application would not install on my Windows 8.1 laptop, I would have to say the only feature I observed is that $100 disappeared like magic. I see no value in this product at all. The product didn't work and the customer support was unable to help and unresponsive when I asked to be passed to a more senior tech. I will do all I can to make sure no one else overspends on this product. It didn't work, there was no meaningful customer support. Clearly this company functions simply to separate customers from their money.

With any software about time you have to use technical support to remotely access your computers. There is that many more "open windows" available. It's unfortunate situation to have to open ports to close ports. Screens in a submarine and all Kaspersky enables enough "tar" to stop leaks. Reinstall and update. Most internet programming and script vulnerabilities have some manual setting that can be enhanced. Even stopped completely and if you're not using different types of messaging, plugins and other programs. You have the ability to not use them and effectively block those problems.
Kaspersky was the only product that actually listed most all of the most current "vulnerabilities" 62,000 in the last laptop, which Kaspersky scanned out and after several hours of memory scans and defrags, new operating system and updates the product was able to narrow it down to 4 vulnerabilities each which 1,300 program files! In each! I thank Kaspersky for making it obvious and they did have the option for me to block most of those. The product uninstalls and reinstalls and updates well. Kaspersky offers more methods of containment and or elimination of most all programming exploits. Very powerful. Use what features you need and no others??!

Earlier this year I would receive almost DAILY calls from Kaspersky's 877 number after cancelling my auto renewal of their crappy anti-virus. I immediately contacted them and told them to stop calling me. In fact, I told them SEVERAL TIMES over the summer and EACH AND EVERY SINGLE TIME, they ignored my requests. This lead to me filing a complaint with both the national and state DNC lists. The state contacted me saying that they 'talked' with Kaspersky and that these scum would no longer call me. Yeah right. Sure enough, they once again have started calling me. This is getting ridiculous!!!

I received the Kaspersky Virus Scan with my laptop that was purchased for my birthday late March 2013 and the irony is despite the laptop being already crap the virus scanner can't seem to block viruses from entering the computer. I have never had this type of scanner before and would not have chosen it but it was bought for me. For years I have used the Norton Virus and will be installing it soon despite the fact that I am still under warranty with Kaspersky.
The person who bought it purchased two for her computer and mine. She has a desktop and after one use she noticed the problems with the scanner and is currently working on her computer without a scanner. It is easier in trying to avoid getting a virus by using Window Defender that has been installed on the computer than to use the Kaspersky Virus Scan. I do not recommend this product at all.

I purchased Kaspersky Internet Security at the recommendation of the clerk at Staples. He assured me that he uses it and that he received the $30 rebate without any issues. First of all, the software regularly tells me to download the most recent updates. When I tried it, it offered to sell them to me. Then it would send me a fake virus alert at least once a month. When I Googled the virus to learn about it, I only got complaints about Kaspersky creating those fake messages. Other than sending out fake virus alerts, the product just sits there as though it was dead. And of course I never did receive my $30 customer rebate from Kaspersky. The product costs $70.00. Most of the better products run about $40.
When I email them they do not reply at all. It's as though they sell an entirely fake product on a disk containing nothing more than some spyware or malware. I switched to another internet security software and now have a good product that reacts to my actions and shows real results and no rebate was needed.

Kaspersky Anti-Virus was recommended after I had a serious problem while using McAfee which failed big time. After installation, it seems that Kaspersky had cleared my machine with no problems since. I have not changed my habits and it works for me.

Shelley ElmbladFinancial Software Contributing Editor
Shelley Elmblad is a freelance writer with years of experience covering small business, personal finance and tax software and mobile apps. Shelley's goal is to help others choose the best software to run a small business, track personal finances and save money. More about Shelley→

Kaspersky Anti-Virus was developed in 2006 by Kaspersky Lab, an international security company that operates worldwide with 300 million users. Kaspersky Lab is based in the U.K. with U.S. headquarters in Massachusetts.
Free trial: Kaspersky offers free trial downloads for Windows PC, Mac and Android, and business antivirus with applications for servers as well as desktop computers. There is no version for iOS devices.
Many price points: Antivirus software options range from $19.99 to $99.99, often with deep discounts. The highest option, Total Security, protects up to five computers and mobile devices of your choice. There is a 30-day money back guarantee.
Home and business options: There are three levels of antivirus software for home use offering basic to ultimate protection. Business solutions are defined by business size with three levels from small business to enterprise environments.
Virus & Spyware Removal: If your computer is not running optimally or you suspect there's malware before you install the antivirus software, Kaspersky can remotely connect to your computer to find problems, and remove malware hiding deep in your system. The service costs $99.99.
Virtual keyboard: This technology lets the user enter passwords and other data using mouse clicks instead of a keyboard so keyloggers can't capture this information.
Best for Individuals, families, people handling highly sensitive information and businesses.
Compare Antivirus Software
Kaspersky Anti-Virus Company Profile
Company Name:

Kaspersky Anti-Virus

Year Founded:

1997

Address:

500 Unicorn Park, 3rd Floor

City:

Woburn

State/Province:

MA

Postal Code:

01801

Country:

United States

Website:

http://usa.kaspersky.com/products-services/home-computer-security/anti-virus/