Consumer Reviews and Complaints

I was paying a extremely high rate for my service and decided to switch to another company that would offer me more data with all the unlimited text and call perks I already had with Telus. This company was willing to offer me 8GB of data a month for my boyfriend and I each, whereas with Telus I was only getting 2.5GB for us both to share. The plan I have switched to is also $30 cheaper a month and their LTE network works better. Still, I have been a longtime Telus customer so I decided to see if they would offer me a better deal. Instead, they offered me fewer minutes (to reduce the cost they said) and only and extra GB for our plan for an extra $10. Let me see 16GB with unlimited everything for $120 a month or 3.5GB and limited talk for $150 a month. Really Telus, really.
Also, when I phoned Telus to ask how much I still owed on my contract they told me $240 and considering I had asked how much to cancel BOTH phones I thought that meant for BOTH, but no they neglected to tell me that was for EACH phone and I found it out when I was switching service. Then when I called to complain I waited about 1/2 an hour and they said there was nothing I could do. I told them to go back over their recordings of the call since the guy on the other line had not told me the truth when I asked him how much to cancel. Obviously, I never got a callback. On top of everything else, I had to pay $50 each to get my phones unlocked so that I could transfer them; so all in all, Telus took about $800 and left laughing. Long and short, DO NOT go with Telus. They will screw you over and don't care that they are.

I made the mistake of going with TELUS. The bill is astronomical!! Besides the fact of being different from what I was told. They put me on contract when I was told it was month-to-month! AND THERE IS A HUGE LINE ON THE PHONE WHENEVER I CALL THEM TO DISCUSS THIS OR ANY MATTER!!! 45 MIN!!! Who on earth would provide such ** support!!!

Trying to change my home service. Cost is almost $300.00 per month, I would like to talk to customer service. On hold for 4 hours and counting. I wish there was another internet provider in Canada. I would disconnect my service.

Over the past couple of weeks I have been tending to Telus issues for my elderly father. These are issues which cannot be handled through a chat line or FAQs on the website. On August 20th, I waited 28 minutes and 56 seconds. On August 28 it was half an hour. On August 29th, it was one hour and minutes. All of this to solve a problem that was of Telus' making, not mine. This is absolutely unacceptable. The message with the hold music said that my time was valuable. Obviously not. My family will definitely be looking for another company which treats its paying customers with respect.

I am an existing Telus customer. I routinely receive and pay my phone bills. Apparently, this does not obligate this company to simply answer the phone when I call them. This is a TELECOMMUNICATIONS company that can't pick up the phone. I tried three times and ended up waiting almost a hour, simply to be told that the phone I wished to activate wasn't able to be activated. Is this any way to treat your "valued" customers? They like to brag that they are the "best" cell phone company out there. That is absolute **!!! I'm going to get rid of my cell phones and go live in a cave so I don't have to deal with them!!!
How do I know I can trust these reviews about Telus?
881,173 reviews on ConsumerAffairs are verified.
We require contact information to ensure our reviewers are real.
We use intelligent software that helps us maintain the integrity of reviews.
Our moderators read all reviews to verify quality and helpfulness.
For more information about reviews on ConsumerAffairs.com please visit our FAQ.

Telus customer service is atrocious and they no longer care about their clients. I was a client of 10 years. My contract expired and I was offered a terrible plan where I paid an extra $15 a month for less of the service and data I was previously receiving. No one made any attempt to continue my current plan or at least offer me a fair contract. I left and moved to another company. I had an owing balance for the month they charged me (even though I wasn't using services and everything had been disconnected).
Six months later I received an inflated bill with additional late charges. It had already been sent to collections. I immediately paid the collections company, who provided me with documentation and proof of payment. The collections company was very helpful and called Telus to inform them the account was paid and closed. Two months later, six phone calls and the balance is still open and showing on my credit report. Every time I call Telus they put me on hold for 20 minutes only to tell me the account has been rectified. Infuriating. My monthly bills are $0.00 but the account still marks my credit report and looks delinquent.

Shocking. Just called Telus as some of US are waiting, e.g. 45 min, 1 hr & a 1/2 to report problems or to move services to a new address. So today We are calling as "New" Customers and getting instant service. Once We are Customers, as noted above, the service takes hours of Our time and one Person still is not able to get Their services moved to Their new address... 1st mtg. They arranged canceled via a message left with no explanation and 2 1/2 weeks later and They still can't get an appointment to have Their phone connected at Their new home.
Customer agent (read as condescending and uncaring) Joe in Montreal answered My call at 11:22 a.m. BC time this morning. When I explained some of Us are calling as new Customers today to check out wait times to reach someone as We who are existing Customers are waiting and waiting and at times not even getting the service We are requesting after We actually reach a human. In response Joe says to Me in a very inappropriate tone a message including the following... "Just so You know we are only 25 answering calls for 100s and just so You know there are wild fires in BC." How dare he use the fires in BC as an excuse for Telus taking Our money and not using it for the services they take Our money for?!
I told him We are customers paying for a service we are not receiving at all or appropriately. I told him he had poor customer service skills. Off to check Other Providers. We have Other TV and Internet Providers as Telus could not provide us updated service in Our neighborhood then notified Us just before Christmas it was available. So I headed to Our very busy mall at that time of year to go to the Telus shop to order the service to give to Our Children as a Christmas surprise. Waited and waited in a line to be told, when I was finally able to talk to a Telus rep, that the notice We received was sent in error and We in fact could not get the service they said was now accessible in Our Neighbourhood.

This all started months ago when I first signed up with Cricket Office in N Himes Street Tampa office: 813-348-9333, They informed me that I had 30 days to add the refer person to my account. Then I called support. They told me that I had to download the application, My Cricket, then My Cricket Rewards, which I did EVERYTHING your support department asked me to do. In the meantime, the person who referred me did get his 25.00 credit but I never did. Then I was told to wait the full 60- or 90 day which I did. Again I called customer support and finally after months of waiting now I was informed that no I will not get the credit because I was supposed to sign up BEFORE the line was active.
This is the worst customer service I have ever dealt with and on top of all of this, the representatives that I have spoken to, ALL can see the notes and how many time I have called regarding the same situation. No one cares, no one does nothing. You ended up losing a customer for $25.00 and now have an irate customer that will by word of my never give Cricket Wireless a positive comment.
The worst is the last supervisor which I am sure you can see who it was on my account DISCONNECT my services with no authorization from me, only because he can't understand my frustration and even MORE does NOT care. My phone is now disconnect by the last supervisor that I spoke to and this morning I went to reactivate my service with another cell company. I don't know how or why you think you can treat people this way, your reps are horrible. They don't understand that not everything is black and white and processes sometimes need to bent or every situation is different and your don't empower your reps to make these decisions and if you do, then they are not doing it. I can't believe the way you treat customers and expect to continue to be in business. I will be sharing this experience with everyone who will listen on social media because your company needs to be stopped.

49" LG 4K Smart TV, MSRP: $1099,Model: LG49UJ6300 with 2 year contracts. Other store sells it for 857.99. The difference is 241.01. What is it for? Is it used to pay for interest when Telus buy a TV for you? Every month, Telus will get the money from your monthly service to pay off the TV in 2 years such as 45.7916 for each month (you do calculation for 1099/ 24 = 45.7916).
If you cancel the 2 year contracts after one year because of bad services or some reasons. What is going to happen? You have to pay the rest of your TV cost 549.5. At the end, you are the one who paid for TV not Telus at all. Why Telus called it a gift to its customers. Think another way, if you use your credit card, and buy the same model for 857.99, no contracts with Telus, you can use any other company like Shaw. How much do you have to pay for a month in 24 months is 35.749(roughly) + 14.2 (interest for 20% a year) but amount will decrease along with the time. So question? Should I sign up a 2 year contracts with Telus? ;)

3 weeks ago had a sales call by a slick Telus rep. He convinced me that their service will save me a lot of money for phone, internet and tv, with the promotion for their new fibre optic system. From then on everything possible went wrong. My appointment was for Sunday after Canada day at 900 am. I got a call that morning at 730 am from the tech asking if he could come sooner, I disagreed and he reset the appointment after waking me up. They didn't have another appointment for several days so I agreed upon that date. Next appointment date the tech that arrived did not know what he was to all to install even though multiple emails to me said it was all part of the service call. Then another tech arrived and did not know either. The 1st tech spent approx. 8 hours hooking everything up and found only the internet worked so he had to switch everything back to Shaw, since the Telus services did not work properly.
They then decided to set another appt. which was 8 days later, I objected about that so they sent someone back the next day. The same tech came back later than agreed upon but continued to figure out the issues with their service. Now he had spent another 4 hours and got the services working somewhat. He left the cable box on the front of the house open with cables hanging as well as screws and clips all over my driveway. Then the issue was my older tv that was hooked up to my stereo. They did not have an rca jack setup to accommodate the stereo. Another tech was sent to try to resolve this problem and hook up 1 more box. 2.5 hours later it was all working. Now I was told by the tech I would have to keep my phone service with Shaw active for 5 business days, that turned into 7 business days. On the 7th day I went to use my phone and it was dead. No dial tone at all.
I called to find out the issue and waited on hold like usual for approx 40 minutes. This was after several other calls equalling about another 1 hour or so of my time. After several tries and different techs they were able to get the phone working again. One thing I forgot to mention was, since the start of all of this I had about 10 emails from Telus with at least 5 of them saying I am your new Telus rep and to call them with any questions. The problem was it was from 5 different CSR's. Now back to where we were, I was now to receive a call from a supervisor to compensate me for all the time spent and problems encountered. This is where it is truly pathetic. The supervisor never has called me back after being promised 4 times now and having me wait for the calls that never came. To date I've invested approx. 17 hours of my time between techs at home, phone calls, and waiting to hear back as promised.
As of yesterday the 4th supervisor was still trying to send me through the one who never calls, Natalie is her name. I asked if she doesn't call me back again what am I to do. Her reply was she will call, if she doesn't call she would file a complaint with her supervisor. She said it wasn't fair I had to chase them down which I agreed. Well surprise, no callback, what a joke this company is. They keep passing the buck rather than deal with the issues. I cannot believe a communications company has such poor communication about everything they do.
I didn't even mention the Philippine overseas Telus worker who I spoke with that laughed at me when I told her the problems I was having. I said I didn't think it was funny, shut her up right away. Anyhow my advice to anyone considering switching your services to Telus, don't do it, unless you want to deal with the crap all the people here have been shoveling from Telus. Also the tv service with the basics and 6 theme packs suck. I need 4 more theme packs to be equal to Shaw. The service may save you money initially but will be the same in the end. NOT WORTH MY TIME!!!

This company must have the absolute WORST customer service I have ever seen. 2 hrs of being switch to different departments because NO one wanted to do their job. Thank god for Tevron, as he at least tried to help. His supervisor, Miryam absolutely disgraceful, promises to call back... still waiting. WAKE UP TELUS!

I have canceled my TV/internet service in May of 2017. There is a credit balance on my account of over $80. Telus chat representative said that I will not get my money back for 3 billing cycles!!! What is Telus doing with my money (and, undoubtedly, many other people's money)? Will I get it back with interest (I highly doubt that!)? Waiting 3 months to get my money back is ridiculous; they had no problem taking my money throughout the years I have been a customer. I can attest that Telus' treatment of customers is the worst I'd encountered among telecom companies.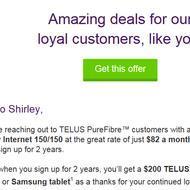 Telus emailed me an offer as a loyal customer for an internet upgrade and a prepaid $200 Visa card. When I called to redeem they advised this was for new customers only. This is despite the fact the I emailed the manager the offer that specifically indicates this is "amazing deal for loyal customers" and "as a thanks for your continued loyalty".

Scammers. I bought the Google Pixel XL, and pay for the warranty. My phone is only a couple of months old and it is "physically damaged" although I have done nothing to it. I sent it away and they want to charge me all kinds of money to fix it (it won't charge anymore), and I refuse to pay it as I still owe $700 on it, and I pay for a warranty. Seriously, they are the biggest scammers. I am so irritated.

I have 3 accounts with Telus and have to re-negotiate pricing every 2-3 months even when the Loyalty department assures me everything is set for 12 months. Every time I have to call in to respond to an inflated invoice I have to hold for at least 45 minutes and often longer just to get to the first rep. While I usually do get the appropriate financial agreement, I have to waste significant time on the phone waiting for a CSR. I can only believe that the lengthy hold time is due to the large number of unsatisfied customers and/or insufficient number of staff to respond to callers complaints. Come on Telus surely you can do better! At this point in time I cannot recommend Telus as a media or cellular supplier.

Your internet is THE WORSE EXPERIENCE I've EVER dealt with in my life. I'll be standing BESDIE your modem and lose WiFi, not to mention we're paying $100 a month for a VERY BELOW average experience. When I'm not buffering for ages on basic Netflix or Youtube videos. My ping hits over 500 on video games I play. Customer service treats you like you're a joke, cause they're well aware if you try and leave them they're gonna charge you out your **. So ya, Telus can go straight to hell. WORSE EXPERIENCE OF MY LIFE, Shaw is the only decent service here in Edmonton and probably Canada Wide. Why don't we let Sprint and Verizon in? And let them kill this ancient useless phone company that has drained Canada for too many decades. I WILL NEVER spend a single penny EVER again on this company, even if its the last resort available. Not worth the dirt they sit on.

Very bad service from Telus. Never recommend anyone to chose Telus. I had changed my mobile service from Telus to Bell and call Telus to let me know my any outstanding payments so I can pay. Their representative told me certain amount I did paid that in time and I moved to different province same month. After 3 months when I applied my home loan I was denied because they said I have $49. something to pay to Telus. And I when I called Telus they told me that "we have mailed you the last bill" which is strange because I never use to get bill in my mail in past 2 years and they never emailed me stating that I have some pending amount. I strongly suggest everyone to stay away from Telus. It's a ** company.

Having to wait 4-6 weeks for a refund cheque seems excessive to me. I understand about billing cycles and termination of services (I'm an accountant) but having to cover the full amount of the final bill while waiting for the credit and the refund is not fair. Highly unlikely I will ever use Telus again for any provided service.

They keep you on hold for hours until you give up. UNLESS you are signing up for service. Then they answer right away. They overcharge. The left hand never knows what the right hand is doing. The worst company I have ever dealt with ever. It's insulting.

I had ended my services with Telus because I have been dissatisfied with their customer service for a while. I switched to Virgin Mobile. A few months later, I paid Telus $186.00 in error. As soon as I noticed, I called them right away and let them know what happened. They took my information and promised that money would be back in my account in 2 weeks. Well, 3 weeks passed and I still didn't see that money back in my account. I called again and they said they are having issues with their payment services and that there was a backup. They again promised me I would see that money in 10 business days. They also gave me the option to call my bank and get them to reverse the payment. I called my bank and they said it would be easier for me to wait the 10 business days with Telus because it had already been too late for them to reverse the payment. So I called Telus back and told them I would wait the 10 days.
It has now been 3 weeks (6 weeks total since the first call I made) and I STILL have NOT received the money. I called back AGAIN and this time I was on hold for a total of 2 hours! 2 hours!!! Just for them to tell me nothing has been done and that they are looking into it. After being on hold they come back and tell me that they are sending a cheque in the mail and I have to wait another 4-6 WEEKS before I see that money. I am furious!!! NEVER EVER will recommend Telus to ANYONE! They are rude, unprofessional and sorry to say but STUPID! Poor, very poor customer service.

I waited on the customer support for 2 hours, and I am not exaggerating. After 2 hours passed, the guy told me since the account was owned by my father, and he was not home (BECAUSE HE COULDN'T WAIT ON THE PHONE AND HAD TO WORK), I could not add more channels to my ** t.v. ALL I WANTED WAS TO WATCH ** SOCCER IN THE MORNINGS!!!

Telus is a 3rd-world mobile phone network. I just spent 2 and a half years living in a third-world country so I'm speaking from experience! However, their prices definitely aren't third-world. They happily charge a premium for their third-world network.

SO I cancelled my Telus account because they promised me a laptop to sign up- then when I followed up a year later they said it never happened and refused to give me a laptop. BUT THE REAL CRIME is that after I cancelled I brought my equipment to Canada post and sent it all back. They lost this equipment in their Warehouse and then asked me to pay for it. I said "No Way! I sent that stuff back already" - so they said they would look again. I did not hear back from them and moved out of that rental a month or two later...
Well in the meantime they sent me to collections. By the time collections found me I was screwed. They said if I didn't pay them my credit score (which was already MANGLED) would just get worse and worse!! To top it off nobody cared about the lost equipment, not the agency, and not Telus. Now my credit score is ruined and I am 3.5 yrs into this 6 year punishment for deciding to do business with Telus. I hope they go belly up.

Horrible service. I've been lied to. They promised me that they will pay off my 1200 dollar phone bill, offered me a contract and denied me being on that contract even though I have the ** confirmation email. ** you Telus. Going to Koodo. Bye.

Telus talked me into a three year plan on tv telephone and internet. I always paid my bill and then I had to move and where I moved to Telus had no service but this did not matter to them. I tried talking with them and they just sent me to collections for 4700 dollars. I told them that there was no way I was paying that so they reported every month for three years delinquency on my account so it say I been delinquent 39 times on my rating. I WARN YOU RIGHT NOW TO BOYCOTT THESE PRICKS AND TO CLOSE OUT ANY ACCOUNTS YOU HAVE WITH THESE LOWLIFES!

I canceled my phone in early January as I was laid off from work. I accepted the charge for the remainder of my phone as well. I was told my phone would be shut off and I would see my final bill sometime later. About 10 days later my phone lost service which indicated to me it had been shut off. In late February I suddenly received a normal bill, I thought maybe this was just the pro-rated rate from January. While traveling in early March, my phone suddenly regained services. I called Telus again and according to them my phone never lost service and I never canceled. I had to ask repeatedly to speak with a manager.
I was then accused by the Customer Service Manager in Toronto named Michelle that I was lying. After arguing with her and letting her know I would charge back through Visa she agreed finally to cancel the phone and refund the amount I was charged that I should not have been. My phone was finally shut down but I was never refunded the agreed upon amount. I feel that basically this is some sort of scam the agents and managers are running to squeeze more money out of customers who choose to cancel. If anyone else has had this experience as well I hope that it has been reported.

The company is ridiculous! Never in the last 10 times that I've contacted them have I waited less than 20 minutes to speak to someone! And to be honest, if the average wait was 20 min I'd be way less irate than I am. On multiple occasions I've waited for up to an hour and had to hang up. This morning, by both phone and IM is no different. Yesterday waited an hour and eventually hung up. My next call will be to cancel ALL my services with Telus... and that will be an call I will wait hours to complete, because I'm totally sick of the terrible, pathetic service that Telus continues to provide me.
To be very clear, when I finally am able to speak with associates, they are courteous, knowledgeable, respectful and seem to know what they're doing. I feel bad for the working level associates because they seem to be trying hard to do a good job. But whoever is in charge of scheduling or recruitment or having some way to control wait times is seriously overestimating their clients' patience with trying to actually talk to someone there. They can lure in customers with free TVs, but they'll lose them as fast as they'll suck them in with service like this. I'd gladly pay for my own TV and actually be able to speak with a representative when I need one. Totally infuriated.

Since I signed up with Telus and I have been getting overcharged bills. None of my bills were right. I had to make a call and wait online and go through hassle so I can fix their mistake. The last thing was they charged me 15 dollars for a call outside my province, although I got 100 minutes Canada wide. When I called them they denied that I have free canada wide in my $70 plan. Stupid company and I seriously advise that no one become a customer.

I was with Telus for almost 8 years. Had no problems. Switched to Bell for awhile because my contract was up and Bell had a 50 month plan that was over. I chose to go back to Telus because they always had good service but now in the last few months I don't get my bills. They can't explain to me where my 100 dollars went and why I have a balance. Blame me for not paying when I don't get it when I get all my other stuff. They have the right address and get tongue tied when I keep reading my online billing to them because they know they're wrong. I get other people email. I get called a man named David when I'm a female named Shawna proving yet again I'm being blamed for their mess up service. Used to be 5 star. Now I would never recommend this company.
I have never felt so disrespected and have never ever left a review for anyone before but I believe they deserve this and people who want to know before they sign up should be able to see what they are signing up for. They clearly have some issues with their stuff and staff. After it took me 6 month to even get my voice mail to work maybe longer. They make you feel very small and uncomfortable and take no responsibility for what is happening. The greatest thing is after I get off the phone I get another email saying my service is being cancelled even though my bill is due in 3 weeks and it's a 68 dollar bill so not past due at all and my account should have credit and now I get to have no phone when I manage 2 stores. I only clicked the 1st star because I had to. They don't even deserve the one star.

Their call center service personnel was helpful and often solved connection problems overnight while I was still a customer, but then I cancelled my pure internet subscription last November, and they were to send me a free box to return my router. The box never came, so I called them to confirm that they had my correct address (although that should be redundant, because they installed the router at my place) and ordered another box 3 weeks later. That box also never came. So I bought my own box (following their guidelines) and sent them the router. I confirmed on the phone with their service that they received it on the 3rd of January. Then, on my bill on the 25th of January I was fined 150$ penalty, so I called them. They apologized and said that this will be corrected on my next bill and that I don't have to worry.
On the next bill (25th of February), there was a late penalty for not paying the 150$ fine (aha!), so I called them again. They apologized a thousand times and said that my account is already closed, and that I should just ignore the email. Now it is March, and I just received another email (13th of March) saying that they could not access my bank account to withdraw the penalty and that I will face further charges if I do not pay at once. This time, I will just ignore them. How can this the #1 phone company in Canada have such inept service personnel and get away with it? This is called a monopolist (serious form). Technically they still owe ME 50 Dollars, but I would already settle for not being harassed by those emails any longer.
Company Name:

Telus

Website:

http://www.telus.com/