Consumer Complaints and Reviews

This company must have the absolute WORST customer service I have ever seen. 2 hrs of being switch to different departments because NO one wanted to do their job. Thank god for Tevron, as he at least tried to help. His supervisor, Miryam absolutely disgraceful, promises to call back... still waiting. WAKE UP TELUS!

I have canceled my TV/internet service in May of 2017. There is a credit balance on my account of over $80. Telus chat representative said that I will not get my money back for 3 billing cycles!!! What is Telus doing with my money (and, undoubtedly, many other people's money)? Will I get it back with interest (I highly doubt that!)? Waiting 3 months to get my money back is ridiculous; they had no problem taking my money throughout the years I have been a customer. I can attest that Telus' treatment of customers is the worst I'd encountered among telecom companies.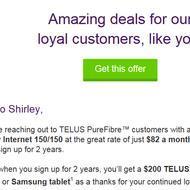 Telus emailed me an offer as a loyal customer for an internet upgrade and a prepaid $200 Visa card. When I called to redeem they advised this was for new customers only. This is despite the fact the I emailed the manager the offer that specifically indicates this is "amazing deal for loyal customers" and "as a thanks for your continued loyalty".

Scammers. I bought the Google Pixel XL, and pay for the warranty. My phone is only a couple of months old and it is "physically damaged" although I have done nothing to it. I sent it away and they want to charge me all kinds of money to fix it (it won't charge anymore), and I refuse to pay it as I still owe $700 on it, and I pay for a warranty. Seriously, they are the biggest scammers. I am so irritated.

I have 3 accounts with Telus and have to re-negotiate pricing every 2-3 months even when the Loyalty department assures me everything is set for 12 months. Every time I have to call in to respond to an inflated invoice I have to hold for at least 45 minutes and often longer just to get to the first rep. While I usually do get the appropriate financial agreement, I have to waste significant time on the phone waiting for a CSR. I can only believe that the lengthy hold time is due to the large number of unsatisfied customers and/or insufficient number of staff to respond to callers complaints. Come on Telus surely you can do better! At this point in time I cannot recommend Telus as a media or cellular supplier.
How do I know I can trust these reviews about Telus?
824,696 reviews on ConsumerAffairs are verified.
We require contact information to ensure our reviewers are real.
We use intelligent software that helps us maintain the integrity of reviews.
Our moderators read all reviews to verify quality and helpfulness.
For more information about reviews on ConsumerAffairs.com please visit our FAQ.

Your internet is THE WORSE EXPERIENCE I've EVER dealt with in my life. I'll be standing BESDIE your modem and lose WiFi, not to mention we're paying $100 a month for a VERY BELOW average experience. When I'm not buffering for ages on basic Netflix or Youtube videos. My ping hits over 500 on video games I play. Customer service treats you like you're a joke, cause they're well aware if you try and leave them they're gonna charge you out your **. So ya, Telus can go straight to hell. WORSE EXPERIENCE OF MY LIFE, Shaw is the only decent service here in Edmonton and probably Canada Wide. Why don't we let Sprint and Verizon in? And let them kill this ancient useless phone company that has drained Canada for too many decades. I WILL NEVER spend a single penny EVER again on this company, even if its the last resort available. Not worth the dirt they sit on.

Very bad service from Telus. Never recommend anyone to chose Telus. I had changed my mobile service from Telus to Bell and call Telus to let me know my any outstanding payments so I can pay. Their representative told me certain amount I did paid that in time and I moved to different province same month. After 3 months when I applied my home loan I was denied because they said I have $49. something to pay to Telus. And I when I called Telus they told me that "we have mailed you the last bill" which is strange because I never use to get bill in my mail in past 2 years and they never emailed me stating that I have some pending amount. I strongly suggest everyone to stay away from Telus. It's a ** company.

Having to wait 4-6 weeks for a refund cheque seems excessive to me. I understand about billing cycles and termination of services (I'm an accountant) but having to cover the full amount of the final bill while waiting for the credit and the refund is not fair. Highly unlikely I will ever use Telus again for any provided service.

They keep you on hold for hours until you give up. UNLESS you are signing up for service. Then they answer right away. They overcharge. The left hand never knows what the right hand is doing. The worst company I have ever dealt with ever. It's insulting.

I had ended my services with Telus because I have been dissatisfied with their customer service for a while. I switched to Virgin Mobile. A few months later, I paid Telus $186.00 in error. As soon as I noticed, I called them right away and let them know what happened. They took my information and promised that money would be back in my account in 2 weeks. Well, 3 weeks passed and I still didn't see that money back in my account. I called again and they said they are having issues with their payment services and that there was a backup. They again promised me I would see that money in 10 business days. They also gave me the option to call my bank and get them to reverse the payment. I called my bank and they said it would be easier for me to wait the 10 business days with Telus because it had already been too late for them to reverse the payment. So I called Telus back and told them I would wait the 10 days.
It has now been 3 weeks (6 weeks total since the first call I made) and I STILL have NOT received the money. I called back AGAIN and this time I was on hold for a total of 2 hours! 2 hours!!! Just for them to tell me nothing has been done and that they are looking into it. After being on hold they come back and tell me that they are sending a cheque in the mail and I have to wait another 4-6 WEEKS before I see that money. I am furious!!! NEVER EVER will recommend Telus to ANYONE! They are rude, unprofessional and sorry to say but STUPID! Poor, very poor customer service.

I waited on the customer support for 2 hours, and I am not exaggerating. After 2 hours passed, the guy told me since the account was owned by my father, and he was not home (BECAUSE HE COULDN'T WAIT ON THE PHONE AND HAD TO WORK), I could not add more channels to my ** t.v. ALL I WANTED WAS TO WATCH ** SOCCER IN THE MORNINGS!!!

Telus is a 3rd-world mobile phone network. I just spent 2 and a half years living in a third-world country so I'm speaking from experience! However, their prices definitely aren't third-world. They happily charge a premium for their third-world network.

SO I cancelled my Telus account because they promised me a laptop to sign up- then when I followed up a year later they said it never happened and refused to give me a laptop. BUT THE REAL CRIME is that after I cancelled I brought my equipment to Canada post and sent it all back. They lost this equipment in their Warehouse and then asked me to pay for it. I said "No Way! I sent that stuff back already" - so they said they would look again. I did not hear back from them and moved out of that rental a month or two later...
Well in the meantime they sent me to collections. By the time collections found me I was screwed. They said if I didn't pay them my credit score (which was already MANGLED) would just get worse and worse!! To top it off nobody cared about the lost equipment, not the agency, and not Telus. Now my credit score is ruined and I am 3.5 yrs into this 6 year punishment for deciding to do business with Telus. I hope they go belly up.

Horrible service. I've been lied to. They promised me that they will pay off my 1200 dollar phone bill, offered me a contract and denied me being on that contract even though I have the ** confirmation email. ** you Telus. Going to Koodo. Bye.

Telus talked me into a three year plan on tv telephone and internet. I always paid my bill and then I had to move and where I moved to Telus had no service but this did not matter to them. I tried talking with them and they just sent me to collections for 4700 dollars. I told them that there was no way I was paying that so they reported every month for three years delinquency on my account so it say I been delinquent 39 times on my rating. I WARN YOU RIGHT NOW TO BOYCOTT THESE PRICKS AND TO CLOSE OUT ANY ACCOUNTS YOU HAVE WITH THESE LOWLIFES!

I canceled my phone in early January as I was laid off from work. I accepted the charge for the remainder of my phone as well. I was told my phone would be shut off and I would see my final bill sometime later. About 10 days later my phone lost service which indicated to me it had been shut off. In late February I suddenly received a normal bill, I thought maybe this was just the pro-rated rate from January. While traveling in early March, my phone suddenly regained services. I called Telus again and according to them my phone never lost service and I never canceled. I had to ask repeatedly to speak with a manager.
I was then accused by the Customer Service Manager in Toronto named Michelle that I was lying. After arguing with her and letting her know I would charge back through Visa she agreed finally to cancel the phone and refund the amount I was charged that I should not have been. My phone was finally shut down but I was never refunded the agreed upon amount. I feel that basically this is some sort of scam the agents and managers are running to squeeze more money out of customers who choose to cancel. If anyone else has had this experience as well I hope that it has been reported.

The company is ridiculous! Never in the last 10 times that I've contacted them have I waited less than 20 minutes to speak to someone! And to be honest, if the average wait was 20 min I'd be way less irate than I am. On multiple occasions I've waited for up to an hour and had to hang up. This morning, by both phone and IM is no different. Yesterday waited an hour and eventually hung up. My next call will be to cancel ALL my services with Telus... and that will be an call I will wait hours to complete, because I'm totally sick of the terrible, pathetic service that Telus continues to provide me.
To be very clear, when I finally am able to speak with associates, they are courteous, knowledgeable, respectful and seem to know what they're doing. I feel bad for the working level associates because they seem to be trying hard to do a good job. But whoever is in charge of scheduling or recruitment or having some way to control wait times is seriously overestimating their clients' patience with trying to actually talk to someone there. They can lure in customers with free TVs, but they'll lose them as fast as they'll suck them in with service like this. I'd gladly pay for my own TV and actually be able to speak with a representative when I need one. Totally infuriated.

Since I signed up with Telus and I have been getting overcharged bills. None of my bills were right. I had to make a call and wait online and go through hassle so I can fix their mistake. The last thing was they charged me 15 dollars for a call outside my province, although I got 100 minutes Canada wide. When I called them they denied that I have free canada wide in my $70 plan. Stupid company and I seriously advise that no one become a customer.

I was with Telus for almost 8 years. Had no problems. Switched to Bell for awhile because my contract was up and Bell had a 50 month plan that was over. I chose to go back to Telus because they always had good service but now in the last few months I don't get my bills. They can't explain to me where my 100 dollars went and why I have a balance. Blame me for not paying when I don't get it when I get all my other stuff. They have the right address and get tongue tied when I keep reading my online billing to them because they know they're wrong. I get other people email. I get called a man named David when I'm a female named Shawna proving yet again I'm being blamed for their mess up service. Used to be 5 star. Now I would never recommend this company.
I have never felt so disrespected and have never ever left a review for anyone before but I believe they deserve this and people who want to know before they sign up should be able to see what they are signing up for. They clearly have some issues with their stuff and staff. After it took me 6 month to even get my voice mail to work maybe longer. They make you feel very small and uncomfortable and take no responsibility for what is happening. The greatest thing is after I get off the phone I get another email saying my service is being cancelled even though my bill is due in 3 weeks and it's a 68 dollar bill so not past due at all and my account should have credit and now I get to have no phone when I manage 2 stores. I only clicked the 1st star because I had to. They don't even deserve the one star.

Their call center service personnel was helpful and often solved connection problems overnight while I was still a customer, but then I cancelled my pure internet subscription last November, and they were to send me a free box to return my router. The box never came, so I called them to confirm that they had my correct address (although that should be redundant, because they installed the router at my place) and ordered another box 3 weeks later. That box also never came. So I bought my own box (following their guidelines) and sent them the router. I confirmed on the phone with their service that they received it on the 3rd of January. Then, on my bill on the 25th of January I was fined 150$ penalty, so I called them. They apologized and said that this will be corrected on my next bill and that I don't have to worry.
On the next bill (25th of February), there was a late penalty for not paying the 150$ fine (aha!), so I called them again. They apologized a thousand times and said that my account is already closed, and that I should just ignore the email. Now it is March, and I just received another email (13th of March) saying that they could not access my bank account to withdraw the penalty and that I will face further charges if I do not pay at once. This time, I will just ignore them. How can this the #1 phone company in Canada have such inept service personnel and get away with it? This is called a monopolist (serious form). Technically they still owe ME 50 Dollars, but I would already settle for not being harassed by those emails any longer.

I ended my home services with Telus in August of 2016 after a thoroughly dissatisfying 2 years of incompetent service, right from set up where they failed to transfer my home phone to my new address for 6 weeks. On cancelling, they asked me to return my equipment and I did so. Now, in spite of repeated communications insisting I returned it immediately, they've decided to charge me for it as 'unreturned' and no agent has the authority to issue me a refund. Totally disgusted at the amount of time and effort it is taking to get my money refunded. It's turned into a 'my word against yours' situation. AVOID USING TELUS! Go with Shaw or Bell I beg you. The time and effort to sort out disputes will eat up your life.

Was with Telus for years and Years; I never complained about the billing until I tried to upgrade my services and then I found out how bad no I mean Horrible Telus really was. It took not 1 but 5 different Technicians, oh wait I had 1 Tech be a No Show while I took the time off work to wait for them. I had called 3 times to find out and no one could be of any help so finally canceled my services and now 3 months after the fact I get a letter stating that I owe them money.... because of unreturned equip which I had actually returned more than what they had requested on their Letter. Now they are telling me I have to find my Tracking Number from 3 months ago to prove that I had sent it. It is unbelievable and unnerving that this company will do everything in their power to get their greedy hand onto anyone money. I will NEVER EVER GO BACK TO TELUS!!! They will screw you left, right and center.

I order home internet, I have to wait 6 days. My window was 8 to 9 am. Well it's 12:30 and no tech or word on him. I am trying to cancel a service I don't have but have an account for and they won't let me. Do not join Telus.

I bought a router on the go 2 months ago. I paid 425 dollars for one month because it doesn't work anymore. I didn't received any invoices by email or by mail. How come I get 100 dollars for data when the router didn't work, mystery. Tried to reach the customer service by email. No answers. By the phone after 1 hour and 30 minutes still waiting. I'm going to cancel my home and mobility service with pleasure when I will be able to talk with someone from Telus after maybe few hours waiting.

They are pathetic. Gouge, gouge, gouge, you can't complain about their service... because there is none... We need more choices. These people monopolize the system. To charge us astronomical prices. Corporate greed.

Telus had salesmen in the mall. He stopped me to show the new fiber service. My first question was "Do you have fiber where I live?" He replied, "Yes" after he looked on his iPad. My next question was about the up and download speeds. He assured me that the speeds would be higher than my current provider because of the fiber. At that point I declined and was about to walk away when he said "Why don't you try this for thirty days. We won't charge you anything to try it out." So with that in mind I thought why not and signed. What a huge mistake that was! A few days later an installer shows up at my place. First thing he says is "You have no fiber." I said, "Well I should just cancel" but the installer replied, "Why not try for thirty days. The trial cost nothing and you'll be far happier with this new service. Even though there is no fiber just copper." Like a fool I said ok. My mistake, they had me right then.
I did use for two days. Everything was way slower and dropped out regularly about once an hour for about three minutes a time. So I called Telus to cancel. They sent me to the customer retention department and they constantly refused to cancel and kept saying they could adjust the monthly bill. After forty minutes of this he finally said he would close the account and send the final bill because the trial wasn't free after all. I said the sales person told me the trial was at no cost. They simply say the sales guy was confused and that was that. So now I get billed for this. It just made me angry that they did that. But wait it's not over. Now in order to cancel the account they sent me a prepaid box to send it back in or pay two hundred for the box that they sell for one hundred fifty.
After looking around on the net I find out that even with the tracking number they claim none received and bill the two hundred. So now I have to buy this crap for fifty over the sale price and try to sell it for whatever I can get. I would highly recommend not using Telus for any reason ever. In my opinion they can do this because they still see customers as captive and focus on lobbying the government to regain captive customers through limiting consumer choices and their legal rights to move away from them. All in all my experience with Telus has been horrific. Something one would expect from the mafia or worse.
Because they can do this. The other providers do the same roughly making Canada one of the worst places in the world for telecom gouging. These practices are approved by our government because of lobbying by that whole consortium to keep customers captive by restricting any competition that could be considered competition in the business sense. So I think this won't stop until we elect a government that won't play for pay. Meanwhile Telus will continue to gouge how ever they please (With government support of course).

I have been out of all my three services which is internet, TV, and home phone. And when I called Telus regarding the issues all they have done is switched me from person to person. Then they said some will be there to fix the issues tomorrow morning between 8 and 9 and no one showed up. And when I called them again and then they said they can't send someone for another two days which makes it a total of 5 days without any services. Then I finally asked them to transfer me to their manager and then manager even said the same thing and I asked them would you take this of you were out of all three services and she said yes which was ridiculous and very rude from a manager. Instead of helping me she was very rude and loud. Then finally she said she will try her best to send someone asap and get back to me but she never called me back or send anyone to fix the problem.
Then my last resource was to call the loyalty department and same drama over there as well. Loyalty guy right from the beginning before he even listened to me he said he can't do much "as you have already spoken to someone and they have told you that they can't send someone until Tuesday" and all he can do is give me credit for the days I haven't used the services. I told him that I called you so you can help me with the situation and I am not looking for a credit. He was useless as well and said that's all he can do and nothing much.
So basically I am try to say that Telus has big commitments when you originally sign up with them and once you are on board then they forget everything. But I wanna give credits to Shaw for their customer service because they are always there to help you at their utmost. I would recommend Shaw over Telus anytime. Telus is a big thug who make you to sign years of contract and then they forget to provide you the service and I would highly recommend people to stay away from this company and go to provider who actually cares for their customer not like Telus who is totally useless and a team of very unprofessional and rude employees who has no clue how to provide a customer service and even has no clue how to talk to them.

I dropped my phone off for repairs for a persistent phone (a Galaxy Samsung Edge 7) freezing issue. The exterior of the phone was in perfect condition when I dropped it off. When I went to pick it up at the Telus Chinook store (in Calgary) after being notified it had been repaired, the store manager told me there was a printed note from the Telus repair group stating there was a scratch down the length of the screen. I told the manager there were no scratches when I dropped it off and they certainly didn't make me sign anything to that effect either, so the scratch had to have happened while Telus was repairing it. The manager said "I don't know what you want me to do." She was barely civil to me and insinuated that I was lying about the scratch. She told me that I probably scratched it and didn't notice.
I told her that wasn't the case and she did acknowledge that she would notice if her own phone was scratched. I pressed her that Telus should repair it as they damaged it. She told me that I would have to pay $225 to get it repaired. I asked for the Telus policy when Telus repair damages a phone. She replied there isn't one. She then called customer service and passed me over to them. After 1 hour with this person, their final solution was either for me to buy a new phone for $500 or to pay for the repairs up front and then receive a credit from Telus that will take months to reimburse me. Not great treatment of a customer nor a good solution. My advice is to stay away from Telus.

Just switched from one provider to Telus... Wow, what a ride. Be very cautious and make sure all of your systems are connected and functioning or it will cost $$$ after they have left your home. This, in my case, included TV, Phone, Internet/wireless, etc. Just an FYI.

Telus Mobility reported me to the credit bureau for having a late payment in Jan 2014. When I phoned them to inquire as to the details like the amount they reported was late and how late it was, Luba from Montreal was extremely evasive, kept telling me she didn't have the info, but she did when I wouldn't give up. She kept changing the figures and dates and was very rude. I asked her several times to please be polite because this was important for me to figure out.
She refused to transfer me to a manager and said there weren't any there and even if there was, they wouldn't talk to me. When I asked her the city she was in she would only say Canada. I asked her again for the name of a manager and she said Elio. She refused to spell it for me. When she finally answered me as to where he was located she would only say Montreal. Finally she just refused to help me anymore. I then googled Elios form Telus online and found Elios ** in customer relations in Montreal. I phoned him and he refused to talk to me unless I would speak French, which I can't, then he hung up on me.
Company Name:

Telus

Website:

http://www.telus.com/