Consumer Complaints and Reviews

I have experienced horrific customer service and below acceptable cell phone service with METRO PCS, and they have no desire to assist in my getting decent service. I purchased 3 phones, all of which will not give decent service, static sound on MOST calls, and calls being dropped. I begged for troubleshooting, and none was ever done. They would not unlock even ONE phone, that I had already paid for by the way, in order for me to switch to a service that I could run my business and have phone service that was usable. I had billing issues and they would not take care of any type of customer care issues inclusive of billing. I could go on all day long. I RARELY ever complain but this company is "THE PITS!" PLEASE HEED THIS REVIEW!!! THEY ARE A NIGHTMARE!!!

I purchased a new phone from Metro PCS for my grandchildren. I have been a customer with them for a long time. From the beginning I had nothing but problems with the LG K10. I went back to the store several times and they would do updates and send me home, then they would do a system restore and send me home. Then finally they switch the phone out for a new phone. And it was worse than the original phone. Took it back and I was told I had the phone for too long and I could purchase a new phone. The LG K10 was mine to keep and I could do whatever I wanted to with it. Which My response was: Why would I buy something from someone who does not stand behind their product. I will go elsewhere.

I've been a Metro PCS Customer since 2013 and never upgraded my cell phones on my account until today. I went to Two Metro PCS stores and the first retail rep didn't have the phone I wanted so he lied and said all the Metro PCS Stores in my area were out of the phone until Wednesday and I should come back. I went to another Metro PCS store in my area and well, well, well they had the phone I wanted and said the last retailer lied. (2nd Discuss) The girl (yes girl, like 16 years old, with no clue) was delightful until I asked her why she was adding phone cases to my order and she replied, "I'm gonna hook you up." (Oh well OK.)
I came in for a simple upgrade on two phones and before I knew it, she turned my husband's and my phone off and had already switched our services when she was suppose to checking the prices and letting me know the amount. I told her that I didn't ask for this but wanted to make sure these phones were in my budget or what type of upgrade discount I would get. Now my husband is a transportation driver and needs his phone as radio contact to dispatch, but the little ding dong said, "oh well you'll just surprise him with a new phone." WTF?
I ended up dishing out $285.76 for two upgrade phones after four years of perfect payments and loyalty. She then told me that if I wasn't satisfied then I could get a free refund. Well I have found out that is also a lie. I hate Metro PCS and have had a horrible encounter with every single store representative EXCEPT IN LAUGHLIN. I really, really wish we would of just got our upgrades when we were there. I am going to Corporate tomorrow, so wish me luck. I plan, NO I WILL GET ME REFUND. TO BE CONTINUED.

Metro PCS is a company who the majority of its customers are bad credit bad paying customers so the overall treatment of all customers reflects the bad paying customers. This is why they treat all like trash. My father died recently and my mother never listened to me with the warnings about this garbage company even though she always had the wear destination problems that never happen with the four legit wireless providers with their handsets. She has always paid them on time and on March 11 they disconnected her phone even though her bank verified the Metro PCS cashed her Check on the 7th of March.
They have continued to disconnect her phone since then every 48 hours and have left her alone scared without mercy. Even though she has been a great customer and has never missed a payment or has been late ever! Let those who can't pay well or not pay or are bad payers stay with this garbage company. If you associate yourself with garbage you will eventually be treated as such. Even if you don't deserve it. I'm moving my Mom to my wireless provider. Shame on Metro PCS and shame on T-Mobile for associating themselves with this trash company.

I just paid for my 3rd month with MetroPCS. First off, I'm told for $60/mo I get unlimited data. Not true. I got a text alerting me that I'd used 26 of my 28GB of data and it would probably slow down after using 28. Good news is, it didn't. However, my phone will not stay connected to the internet. I have to restart it about 25 (no joke) times a day so it will reconnect. Very frustrating because I can be in the middle of something I don't want to lose but I do. Daughter has a different phone and she has same problem. We'll both be looking for a new carrier.
How do I know I can trust these reviews about Metro PCS?
721,363 reviews on ConsumerAffairs are verified.
We require contact information to ensure our reviewers are real.
We use intelligent software that helps us maintain the integrity of reviews.
Our moderators read all reviews to verify quality and helpfulness.
For more information about reviews on ConsumerAffairs.com please visit our FAQ.

Had Metro PCS a few years ago for a short time, wanted to come back, interested in a promotion for Samsung phone free if new customer. Well went to 5 stores, and finally figured out none of the stores had the phone, coincidence? No, one store owner said they had not had a shipment in a month and complained to Metro PCS, they did nothing, so pretty sure this is false advertising, the stores should take down the posters. Went to one store and they had one employee, no one in the store but me. When I asked why none of the stores had what they were advertising, he left and went in the back with no response. I walked out. Called Metro PCS to complain, they act like they have nothing to do with the stores, but you can buy same phone online for $100 with no rebate. I am pretty sure they know they are deceiving potential customers. Why would I want to be with this company???

I'm experiencing major difficulty in my application for a rebate for a phone purchase. Website will not take my info. Call the rebate phone number, over a hr before they answer. Once they answer they tell me, they cannot take my application over the phone and please try later on the website. I'm at a loss. Does anyone else have this Issue? How can I solve this? Is this Illegal? I'm ready to go to another carrier, but that would be expensive.

My Samsung Galaxy phone initiated a firmware update download. This download locked my phone and Metro PCS was not able to restore the original program. I am presently without a phone as the store manager's only response was that I should buy a new phone. My wife and I have been Metro PCS customers for many years. At this time we are presently looking for other provider.

Call service is fine but the internet sucks. No wonder my MetroPCS dealer gave me 60 dollar plan unlimited 4g LTE plan for 50 dollars. I told him I don't have internet at home so I will rely mostly on my phones internet straight up. MetroPCS 4g LTE internet sucks and if it's T-mobile service then T-Mobile sucks. They both suck! It's slow. I'm getting 60 dollar plan for 50 and still feel ripped off the way this 4g internet runs. I should be paying 35 dollars for 4g unlimited data. I am leaving after 3 months and going back to Cricket Wireless that is where everyone should be! Cricket's 4g lte internet is flawless. It's like having cable internet on your phone and another great thing about cricket I get awesome service in the basement. I miss them and can't wait to leave wack MetroPCS to go back to them.

The service is fine, but they use dirty tactics to trap you into paying an extra fee that they don't ever tell you about on the website. So here's how my day went. I performed the activation on their website, and it all went through okay. It associated my phone number with their sim card, so I thought that was great. When I booted up my phone, I got a text to welcome me to Metro. Then, when I got to the payment screen, it wouldn't accept any of my payments. I tried 4 different cards, all of which actually work fine, but I kept getting this generic error - "There was a problem processing your order. Please contact Customer Care for assistance."
The next issue is that you can't reach an actual human until you pay for the first month + the extra fee. The big problem with this is that your phone number is now tied to that sim, even though you haven't paid, so the only way to go to another provider is for them to unlock it with an account number and pin, which you can't even set up because the web payments are broken! The good thing is that their customer service reps are always willing to help, and when I called to set up autopay and add my wife to the account the rep actually discounted her first payment down the amount of the fee. So, all in all, they still sorta took care of me, even though they can't give me my 2 hours back that I spent dealing with the nonsense. Still, it's a dang shady trick, and they're probably making a lot of money off the people who don't call them on it.

Metro PCS is the worst cell phone company out there... Yes it's cheap yes service is good but my complaint goes straight to the website I PAID 175.00 for 3 phones which is a great deal because they're all unlimited BUT after I put my information in it said my card information was wrong soooooo of course I retry KNOWING I have a good amount on my card. After 3 times of trying I stopped and went straight to the retailer store BUT IT STILL DIDN'T WORK.
Retailer said we didn't have funds so we call my card it said 900 was deposited same day at 1:00 am then it went on and on about different withdraws of 175.00 from metro pcs I'm Furious!!! They didn't even say it was confirmed. No confirmation number, no email, nothing!!! Metro PCS is the worst company you can get. On top of it all, every time I called the main branch they hung up because they wanted another 175.00!!! And my line was not activated after they stole 900 Dollars!!! THEY ARE THIEVES.

I have had Metro PCS for at least 8 years with 4 phones. I bought the unlimited plan at $100.00 per month - signed contract. First they reduced the amount of phones to 3, then the bill went up slightly. Now when we hit a certain data usage point within the first week and we don't use them that much. We see a continuous circle of death on the phone when attempting to look at all things. They claim they don't slow you down but that's an out lie. Believe me, no complaints up until now and obviously attempting to make you purchase more by squeezing you will not work. Time to cut the losses and leave. I hope they are reading these reviews because this is the first negative review I have ever written in all my life. Don't believe this ad - it's false. And no it's not my phone. We have 3 different kinds and they all do it. I guess you get what you pay for. See ya Metro PCS!!!! Hello better company!!

I call to retrieve my unlock code so I mean flash my phone to another service, and I was told that I would not be given my unlock hold until I pay my past month bill. Spoke to an employee by the name of Michael employee number **. He is very condescending and sarcastic. Then I asked to be transferred to the manager by the name of Anna ID number **, and it was like they she just hopped on the boat of being condescending and sarcastic and just would not allow me to get my unlock code so I could flash to another carrier. They just kept repeating "if you are not going to paid this past month bill we do not have to give you this unlock code."

I switched from Sprint to Metro PCS almost one ago this month and have been thankful every day for that decision. In the past I've had Boost and AT&T and was always disappointed by data caps and high prices, as well as sometimes-crappy reception, but stuck with them because I liked the phones they offered. It's amazing that I can use as much as data as I want and my speeds never slow down and I never pay more. In December I used over 100G and last month I used 53G... that would be almost $800 on AT&T or Sprint! I also find my LG Stylo comparable to the Galaxy 5 that I previously had. Customer services is great at my local store and always helpful when I call them. Wouldn't dream of switching to another provider again.

I have been with Metro for more than 7 years now and they just keep getting worse and worse. I live in the Bay Area too where Metro made groundbreaking sales and actually made it big due to the actuality in diversity and marketing the Bay Area does alone by making something "popular". Since Metro rode that rail, and now T-Mobile, and still not getting better "nationwide" service they will continue to provide us with way below average service and a "fair" price when I'd rather save my $1.00 a day now than frustrate myself over a cheap service. All in all. Save yourself the Stress. Just avoid Metro unless you really need some cheap ** service and their Refurbished phones. Bye Metro.

Metro PCS is the best wireless company; you pay every month a set bill no extras, no surprises, no ripping you off like other companies like the evil Verizon. Love it. Will always recommend to all my family and friends. Great customer services and great coverage.

I went to Metro to upgrade my phone. Pay a $100 bucks for LG phone. I didn't like it so I wanted a refund. Keep in mind this all happened in 20 mins. So now you tell me there is a no return policy after you sale me this crafty piece of junk. When I sale this phone I'm leaving this company and my goal is to promote other companies to not be this unmindful of their customers. After 4 year of loyalty this is how you repay me.

After 4 years as a loyal customer I feel that 8 day extension isn't asking since I'm recovering from a hernia surgery. 3rd of March is when I get paid and they wouldn't put off cutting my phone off. In all my years working retail, food service, and other customer service jobs this is bad customer service that loyalty doesn't matter. Companies like this should be ashamed. I could understand if I just didn't pay my bill but I had a medical reason.

I am new to the new ways to use the phone and internet access but my experience with Metro is the best. They make it real easy to see you are using the right service. All my concerns about my service were always answered promptly and made clear to me without making me feel stupid. At my age that is a real good thing. My life is made so much easier by the service the provider is giving me.

Metro PCS has a huge banner claiming everyone gets a free phone by signing up. It also says Authorized Dealer. Rebate denied, claiming receipt is from a non authorized dealer. When calling the number to see why, no one ever answers. Stayed on the line 40 minutes, no answer.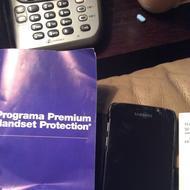 Bought Samsung S7. 2 months went black. Had insurance, etc. Email sent for me to pay $182 power up problem. Went to pay. Rejected payment. Sent S7 back unrepaired! Franchise owner said "Oh well not my responsibility!" He SOLD ME THAT PHONE, TOOK ME INTO INSURANCE & left me out $700 plus all months I paid for no service of said S7 new line. It's a Lemon Law phone.

Description of Complaint: I went to the corporate store for Metro Pcs corporate store on 2/17/2017, went to upgrade my wife's and my phones. I asked for the Samsung on5 phones. The service technician Justine said they were out of stock and it might be a week or two before they get them in, so I asked him what was a good phone for the promotion they were running and he gave me two Alcatel fierce 4 phones. I said what if I can't use these or don't like them and he said I have seven days to return them for any reason.
I brought the phones back Monday morning because one was defective and neither one of them was compatible with the Samsung phones we had as far as switching data from one to the other. Justine was not there but the manager was (Jenny) and she informed me that there is no return, all sales are final. I told her what Justine had told me and she said that she didn't hear him say that and that I was a liar. Then she traded the defective phone for the same and I asked for a new screen protector to replace the one I purchased for the defective one and Jenny said she wouldn't give me a new one and replacing the old one they scratched it up and it doesn't stick anymore.
The worst part of this whole ordeal is Jenny said the Samsung on5 phones were in stock on Friday when I was there in the first place; I was lied to on multiple occasions - still don't have the phones. I went to get and am being over charged for the ones that don't work that I am apparently stuck with. I have never been lied to and treated with such disrespect from a store in my whole life. If Jenny was my employee I would have let her go a long time ago. Even after multiple attempts no resolution.

Metro PCS is a real good cell phone provider. The Customer Service was very helpful, they attended to my every needs. The rating would have been a five, but this is my first month with them so let's see how it goes from here.

Fraudulent and violation of Privacy - These companies compromise the privacy of their customers by sharing their PERSONAL information with anybody. These reps are either stealing information for themselves or others, the police and government is also illegally hacking into people phones and stealing and sharing their info. The cities government officials are approving this violation of consumers' privacy. The owners of these branch off companies are doing the same. It will not stop as long as the corrupt governmental system don't stop it. That's the same with hacking into your tvs and laptops. Evil world we live in. They're no better than Osama.

The first time went into the store at North College in Fort Collins a Gentleman was waiting on my daughter. He kept talking to three young guys and not waiting on my daughter. They were all just playing around. I finally reminded him that my daughter was a paying customer and would like to get finished up as we had been in there for over 30 minutes. The next time my daughter went in there were two young women in the store working. My daughter asked about a cell phone case for her phone. They did not get off their chairs and just stated they didn't have one. I then asked for them to come and check their supply. She walked down the side of the wall looking at the floor and said "no. We don't have one." I then asked for them to look in the back. She walked through the door, turned around, came back out and stated "no. We don't have one." I could see her from the counter.
Took my daughter again as she was having issues with her phone. These same two young women told her it was, that she didn't know how to operate her phone. I approached and asked them to please check the phone and showed them what was happening with the phone. They told me there was nothing wrong. I told them if customer service was their job then they needed more training and needed to attend to customer needs. One of them started laughing. I told her she was rude and disrespectful and left.
My daughter went in to pay her bill. The same young women told my daughter that her phone number was incorrect. She told my daughter to come back when she had the correct phone number. I again approached and asked her to make sure she had typed in the correct number. She had not. I told her that being rude was not okay and before she accused someone of not knowing their phone number maybe she should check and make sure she knew how to type. I was pissed. She again laughed.
My daughter is still having trouble with the phone. She wanted to go their again today and I told her no. She said they had free phones and she was going to replace her phone. I stayed in the back of the store in a chair. They kept asking my daughter for her pin number. My daughter told them she had done a security question and did not have a number. They asked for the zip code of the bill so I provided it. They then asked my daughter to get her ID. She went and got her ID they then typed in her zip code. Then they told her they couldn't find the account. I provided the zip code again stating that I had provided it before they sent her to the car for her ID. The same young woman as the two previous times started laughing again. I approached the counter and told her she was rude and disrespectful and laughing is not funny.
They told me they had two more stores in Fort Collins that I could go to if I didn't like theirs. I told them I was putting my daughter on my Verizon plan as they may not be able to always fix my problem, but they do provide some semblance of customer service. They told me I was being rude and needed to lower my voice. I told them I would not lower my voice and I had never seen such incompetence as in their store. I walked out. My daughter came out five minutes later stating that she didn't get her phone because it was only free after she paid and got the mail in rebate.
I shouldn't have gone in there four times. I should have walked out the first time when the manager of the store didn't know how to take care of a customer. These two young women are two of the rudest people I have EVER met in a long time. My husband came in with me just to see what type of service they provide. We sat in the back of the store. He agreed they are absolutely the worst place he has been in. PLEASE DON'T SHOP AT THIS LOCATION. I WOULD LOVE TO SEE THEM GO OUT OF BUSINESS!!! WORST PLACE EVER.

I recently bought a new phone through Metro PCS. While I was happy with the plan I chose, the free phone I was given by the rep was sub-standard. I purchased a "protective" case and glass screen cover separately for my Coolpad, yet, the first time I accidentally dropped it, it quit working. Nothing on the phone or screen was broken. It simply went black. I dropped it on it's back, from a height of less than 3 feet onto kitchen tile. When I took it into the dealer, after a week, I was told it could not be repaired, and I would have to pay another $60 to $85 dollars for a new phone. Granted, I've had the phone for 3 months, but there is NO WAY I can afford another phone. Now I am stuck without a number until I get my tax refund 2-3 months from now. Not only that, the salesman showed me another phone, EXACTLY like mine, with the exact, same problem. I can barely afford groceries. I am heartbroken. DON'T BUY A COOLPAD!!!

After purchasing your product and a headset for $100 the item broke within nine days it was a horrible experience with your customer service. I do not wish to sign into a computer to be served to have my aunt questions answered. I feel it is an invasion of my privacy. Why should I have to do that in order to get some answers. This is absolutely wrong. My $100 headset is now broken within nine days. This is the most horrible experience I have ever encountered at MetroPCS. The customer service rep was yelling at me and I yelled back "You are a piece of crap." Not everyone has hundreds of dollars to spare for items they need for work. At least the product should work. I was given a high recommendation by the lead in the store.

Metro PCS has been very useful in providing my everyday phone needs. Proved they will work at what's needed to be done for the quality of all phones! But what do we do but just keep trying to find out which one fits each individual's needs. Metro has been very efficient on upgrading the phones and gradually fading out the old outdated phones. Thank you.

The internet service is not that great. You get buffering, sometimes you don't get any internet at all and I'm paying 60 bucks a month. Metro PCS claims they're going to fix it but it keeps doing the same thing. I'm seriously thinking about changing to a different carrier.

My service is out of Florida and I moved to Ohio a few months ago. My bill has been paid on time every month and I have no reason why it's been paid at all because I have not been able to make or receive calls or texts at all. I've tried to connect to WiFi calling and keep getting that I don't have a e911 address so that doesn't even work. The only time the WiFi calling worked is when the payment was a day late... then and ONLY then have I been able to use my phone. As soon as the bill was paid and Metro PCS restored I lost all services again. Isn't your slogan nationwide network? Sooo false!! Don't be taken in by this network, they want your money but don't give the service that you pay for!
Metro PCS Company Profile
Company Name:

Metro PCS

Website:

https://www.metropcs.com/