Consumer Complaints and Reviews

I would like to say how much I understand how people feel when they buy a car or truck that is a lemon. I have had this with Ford and GM. Fortunately for me, we now own our third Toyota and until they sell me a piece of crap I will continue to buy them. Our 2004 Corolla was traded in at 330000 kms and it barely had any problems... a black box and fuel pump under warranty and extended warranty and recall. My 2013 Taco has 92000 on it and just one parking brake cable under warranty. I can assure you that my Tacoma is the best truck I have ever owned and I drive the crap out of it because I have extended warranty and I am putting the automaker Toyota to the test. The dealer where I live in Brantford is absolutely one of the most honest and willing to help the customer. They actually measure the brake pads and tell you how your brakes look... amazing. Brantford Toyota is one awesome dealer.

Tried to have my '06 Tacoma inspected. The frame is rusted through - this is the first I've known about it or the overall problem. Called Toyota and they said that service was discontinued March of 2016. Thanks Toyota. I guess I'm out of luck and out of a truck. 10 years, 130,000 miles.

I can say that I've been approved for the recall for my 2005 frame. They said 6 month wait and deemed it safe to drive. Now going on 10 months, I called once a month with no answers to when they will get one in for my specific year seeing it's different after 07. During this time, my motor mount rotted off and destroyed my hood and the remaining motor mount. I called Toyota directly and said, "Sorry..." Long story short I patched it up myself to keep driving because I'm not eating a crazy rental bill. So that was month 7.
Next and most recent, I was driving on 95 and had my passenger side rear leaf spring fall out or break, causing quarter panel damage, sheared my e-brake cable and brake line. This is my first and last Toyota. Back to Chevrolet as soon as they fix this thing deemed safe to drive by my local dealership. Update!!! My state inspection expired and will not pass, so not I have to forfeit my plates to the DMV before they suspend my license. Thank you Toyota...

Yesterday I received news that my 2005 Toyota Tacoma frame was corroded to the point it won't pass inspection; the catch is I had the CRC treatment completed two years ago based on the limited recall. At the time I thought it was great that Toyota was fixing or replacing frames. After all, this was the second Tacoma I owned that had frame issues (first was my 2001 Tacoma). If I knew then what I know now, I would have pushed to have the frame replaced, or better yet I would have just gotten rid of it. I now have a well maintained truck that could run for another ten years, but is rotting from the inside out. A worthless, but otherwise good looking truck.
Toyota's answer? "Sorry the limited recall period has expired." Doesn't seem to matter that an inspection was performed during the period. Doesn't seem to matter that Toyota's fix for the issue failed to work; the CRC coating is falling off my truck because of the rust that was under the treatment. Seems to me if Toyota identifies an issue, the recall should actually fix the issue; not simply cover it with a band aid and then assuring me the issue was resolved when clearly it was not. A fix that doesn't actually fix an issue is a scam. Toyota should be ashamed of itself, this is simply disgraceful. I bought a Toyota because of its reliability, durability, and retained overall value. My expectation was that it would last as long as I was willing to keep it. Instead, I've been burned twice by frame issues. Never again Toyota. Buyer beware.

I find many of these negative complaints laughable. People cause their own problems or do not follow instructions or use common sense. Then they get screwed and blame the vehicle or company. I have a 2007 Toyota Tacoma. In spite of some issues, it's still the best truck I've owned especially after several Fords one of which caught fire. My truck is now 10 years old with about 120/K miles. Until recently I've not had any major issues. Just an exhaust shield that came loose and a gas recirculation valve that went bad. In the summer of 2015 I was reading about the leaf springs issue. I checked my springs and they were sagging and one had a small crack. At the time Toyota was not recalling the trucks for these. I ordered a pair of heavy duty springs and U bolts and installed them myself holding on to the original receipts.
Because I live in a snow belt state and not someplace like Alabama, I received the frame recall notice. I took the truck in for a belt replacement and asked them to check the frame under the recall. The frame was rusted some but they would apply a rust prohibitor. I had to schedule that as it was a several day process. They supplied a rental car free of charge. The truck was done on time. They spray a rubber like coating on accessible parts of the frame. They do not take anything off other than the wheels, or attempt to get into tight spaces. A few months ago I got a notice for the leaf springs recall. They finally decided to do a recall on them. I was able to send in my receipts and was paid in full for my costs of replacing them myself.
Currently I am ready for a service interval and will be having the auto-transmission fluid flushed and radiator flushed. I cannot lower my spare as the hoist mechanism is rusted. This requires cutting the cable to remove the tire and removing the bed liner. I do not have the tools to do this so the dealer will get the job. My Tire Pressure Monitoring System is also giving me a light. This can be my fault as I may have gotten the TPMS computer locked into loop mode by pressing the reset button at the wrong time. It may be the 10 year battery death which is common to all wheel stem transmitters. It's all part of maintenance. Overall I like the truck, it runs very well, shifts well, looks great and handles well. I will keep an eye on the underside as rust seems to be an issue on some components. If I were not retiring soon I would trade up to a new one.
How do I know I can trust these reviews about Toyota?
740,446 reviews on ConsumerAffairs are verified.
We require contact information to ensure our reviewers are real.
We use intelligent software that helps us maintain the integrity of reviews.
Our moderators read all reviews to verify quality and helpfulness.
For more information about reviews on ConsumerAffairs.com please visit our FAQ.

My 2006 Toyota Tacoma was recalled for the leaf spring issue. I took the truck to the dealer which confirmed parts were damaged and need to be changed and I was told to wait because parts are back ordered. That was about 2 months ago and when I check with Toyota they say to keep waiting. BTW, the leaf springs are available from several sellers. I think Toyota is dragging their feet and maybe they don't want to fix these issues, only create a record that they are "working on it". There is another recall that I am still waiting for a solution, regarding frame rust. I received letters saying Toyota was working on a fix, that was more than a year ago.

At 150,000 miles frame was checked by dealer. We were informed frame intact. At 160,000 miles rear differential, springs, shocks broke free. Neither dealer nor Toyota corporate would even acknowledge there is a safety issue with their Tacoma trucks. Surf the internet and see how many others have this same safety issue. The Federal Government, National Highway Safety Administration, Dept Of Justice, et al should be holding Toyota Corporate liable to all owners of these seriously unsafe vehicles. Please flood the internet with your own experiences with this total disregard for owners safety.

After reading other reviews it's clear that I'm one of many thousands. Our 2006 Tacoma suddenly started driving poorly. We took it to the dealer knowing already that we had missed a recall on the frame, and sadly it was shot. We got $500 for a 10-year-old truck with about 110K miles on it. I was real happy with the truck until then, but we won't buy another. At least it didn't kill us.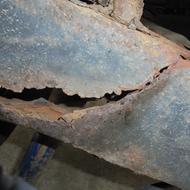 Driving my 1998 Tacoma Toyota truck at 65 mph and heard a click. Drove home at a crawl and found the frame had cracked completely through. There was only 56,000 miles on the truck. Toyota provided me with an in depth response indicating that a recall was sent to me. I never received a recall! The response can easily be quoted as "We are very concerned of the quality of our product, please go pound sand!" I scraped the truck at a loss of $3,000. Most importantly I do not trust Toyota with the safety of my family!

My 2007 Tacoma is getting a new chassis and new suspension on the recalls. It's with Stephen Toyota in Bristol CT. They gave me a brand new 2016 Camry SE loaner. Called me to said the transmission mount was shot, that was 190.00 job, I said ok. Went online. The part runs from 58.00 dollars to 85.00. The job high is 150.00 with labor. So they got me on the part and labor. I can live with that if it's new. There is a video online with a cam under the Tacoma, what it looks like when it goes. Also I believe there will be a recall on that, a lot of complaints. So tomorrow Wed they said it will be ready, so I'll be posting how the ride is. Also went in with a full tank of gas, and will be making sure my spare tire is there. So far my experience was very good.
Updated on 7/12/2016: I now have my truck back, with 1/4 tank of gas. My tank was full. New chassis and suspension and brakes lines, lower ball joints and anything that rusted. They said my back brakes can't be adjusted, that the adjusters need to be replaced for 335.00. Really? The parts cost 6.95 for each adjuster. I figured with 141,000 miles it's time for new drums. Got 2 drums, new hardware, brakes, and adjusters for 165.00. I'll do it myself. Also said my front end was making a grinding noise. No fooling. I was in the process of doing my front wheel hubs, when it was recalled for chassis. Did wheel hubs for 100.00 a piece. Took 27 minutes on each wheel. Love that YouTube.
So all in all they got me for the labor on the tranny mount. Toyota is okay with me. The mechanics I got nothing bad to say, except you scratched the bumper, I'll fix it myself. The service people are vultures who will try to pad the bill. When I had free oil changes, I watched the service reps sell cabin air cleaners that go for 20.00 to old people and women. They could do it for 90.00, what a markup. Just my two cents. When dealing with dealers, never finance with them, never trade in with them, (even at the end of the sale), never settle for the MSRP, and always buy a vehicle in Jan or Feb.

Have a Toyota tacoma. Went to a dealer to look at a trade-in on my vehicle. Was told I have rust and a hole in my frame. It was part of a recall by Toyota but because I moved I never received the recall notice. They said the recall ended. Is that even possible. I thought recalls never end???

Took my 2007 Tacoma into dealer today to be checked for recalled leaf springs. The dealer did a free inspection and found that my truck with only 30,000 miles has leaking O rings and transfer case with repair cost of 1700.00. This truck has been babied, is a second vehicle, has very little mileage. How can this happen?

Took tacoma in for frame recall inspection... was fine. Made appointment for spray... my wife took it in! They took it right in their garage for 1 1/2 hours then told her - it was good to go! Taking their word never thought no more about it... I was doing a brake job on it and noticed the sway bar was almost rusted off. I called KINGSTON toyota where we bought it brand new!!! To my surprise the manager of service department told me there was nothing he could do because we never brought it back for the spray!
I told him, "My wife had there for the appointment. You took it in for 1 1/2 hrs then told her it was good to go." He says he has no record of us showing up for the appointment - grrrr... he went on to say that if it was there for only that length of time - it must of only been the inspection! He told me they would have given her a rental because it takes 3 days to dry and they don't do the spray there that it gets sent out for that, and he would have record of that because he has to submit the bill to Toyota Canada!!! Called Toyota Canada and got pretty much the same story... They have no record of that vin# being sprayed! So there it sits in the yard as a pile of scrap!!! After owning 8 toyotas over the years.... never AGAIN! Btw it came brand new with no spare tire which is part of the safety check!!! We had to fight with them to get that!!!

My truck was left with a local Toyota dealer in October of 2015 for a frame replacement. In Jan. of 2016 I was notified that my frame was on its way. A few days later I was told they ran into an issue. The frame they received was not the correct frame for my truck. This was found after they started working on it. They told me they put a rush on my frame and were hoping to have it in a couple weeks.
Now it is May, and I still don't have my truck. I can't get an answer as to when my frame will arrive. I have been given a rental (numerous different rentals) to drive while my truck is out of service, which is great (at a cost of almost $7000 so far). But I am concerned that I may now have issues with my truck when (if) I get it back as it has not been started, and has been sitting in the same place since January. I've been a supporter of Toyota vehicles but this may change my mind.

We bought this vehicle just about 6 or 7 months ago at our local Toyota dealership. This truck had zero miles when we bought it and took it home. The transmission is already failing and has to be replaced.

Just talked to a person at Toyota California & told me the frames are made in Mexico & they're working as hard as they can. Why do I have a 2007 Toyota I can't use because bad rusted frame. I told them that in Mexico there are a lot of companies that could & would love to make frames for them. Also why don't they use Hydroformed frames like almost every other truck co., 2001 2500 Dodge 4X4 good frame, 1976 Ford 2500 good frame & snow plow equipped from new good frame play, Jeep 1986 CJ7 – never great frames but still solid.

We all know about the frame issues on the Tacomas and Toyota's refusal to fix them. They applied Corrosion Resistant Compound to my truck in 12/2014. It didn't help, the rust is still there and getting worse. Toyota is refusing to do anything more. Class Action Lawsuit in process. Contact Philip **. Attorney is in Arkansas but his name and law office appears in many posts. Spoke with him today and they are looking for more people to join.

Husband's 2001 Toyota Tacoma with 103, 000 miles on it. Frame was replaced several years ago after it was recalled due to rust. Now, the rear axle is so rusted out that fluid is leaking from it and it cannot be driven. Toyota refuses to do anything about it. Needless to say, we will never buy another Toyota again. In fact, we just bought a Honda. My husband LOVED his Tacoma, but we are extremely disappointed with Toyota's "We don't give a damn" attitude. Do they not realize that after enough people start bad-mouthing their trucks, it's going to seriously hurt their business? Apparently they don't care. I will make sure that nobody I know ever buys another Toyota if I can help it.

Toyota motor company has really gone to **. I've owned both of my Tacomas since new and they have always been registered, in Alabama. I have never received a recall notice about frame rust for either truck. Toyota hides behind their big company and all their high paid attorneys and comes up with all these stupid excuses to not fix these trucks. And our government as sorry it is does nothing either.
My wife has a 2014 Scion tc and we had to take it into the Toyota dealer where we purchased it last year because the a/c flooded the floorboard last summer. We were told that a filter screen was missing and apparently was not installed from the factory and the cowl had taken in leaves and debris. And the water wasn't draining off from the a/c box and flooded the floorboards carpet mats and all. Then they told us they wouldn't replace the carpet. Well I had to take my butt up there and show my ** then called Toyota motor company and told them I was about to go public with the media and all about this crap. The car is new. Sometimes that's what you have to do to get these sorry ass people to do anything about a problem.
Well we got the car fixed and got new carpet and mats and all. We have 6 Toyotas in all and I have to say Toyota has gotten sorry. And the truth is plain and simple they don't care. When they build a vehicle and it's sold to someone, Toyota motor company or the Toyota dealerships could care less if they ever see you again. It's the truth!
If TMC isn't going to fix these vehicles they built and got our hard earned money for, then I think seriously our government should step in and force them to do something. And for those smart mouth people that think they know everything I've heard all the stories about the frame rot and oh those trucks are 10-15 or more years olds. I've got a 1989 and a 1993 Toyota pickup and neither of them have any frame rust or rot. Needless to say I still love my Toyotas but really TMC needs to do more to treat their customers better, just do the right thing. And I know there will be some smart person out there that'll say "oh do you know how much that will cost?"
Do you think the customers that purchased these cheap built vehicles care? Toyota should not have cut corners on quality and they wouldn't have this over their heads would they? They got their dam millions from these poor quality rusted/rotted framed trucks. And all they do now is hide behind their attorneys. TMC should be forced to pay for their screw up. Wake up American government, do something about this poor manufacturing of automobiles. Leaving hardworking Americans in unsafe situations. Very dangerous situations.

My 1999 Tacoma has been babied and looks great BUT I got a recall three years ago to take it in to my dealer to have a undercarriage rust inspection. They
found lots of rust and said it was all taken care of. All I could see was a black goo that hid the rust. Last month it failed state inspection because the frame had rusted through and was unsafe. I contacted Toyota and their reply was 'too bad'. I assume there is no recourse.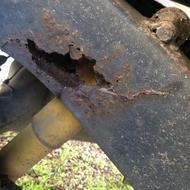 1998 Toyota Tacoma not safe to drive due to frame rust. Had the vehicle inspected at dealer in 2011 while still under the service recall. Was told to just have it welded back together at my expense. Haven't found a welder yet willing to do the work due the frame rusting from the inside out. Sitting at home and can't go to work for lack of transportation. Dead Tacoma at 190k miles. Never buy Toyota again. They had the chance to correct the problem in 2011 because my vin number was known to have a faulty frame.

Purchased a used 2004 short bed 4x4 Tacoma. Everything looked great up on top and the underneath was coated. Have driven it now for a couple of years and love the truck. However, the whole frame underneath seems to be rusting out from underneath. I called Toyota and took it to several mechanics. Toyota says that it should have been looked at before 2011 so I am out of luck. In the mean time the frame is rusting so bad it is about worthless and Toyota says nothing can be done. I would think there should be a safety recall on these trucks to replace these faulty frames even if they weren't taken in by the previous owners?

I have an '02 Tacoma Prerunner. Toyota did send me the warranty extension notice for the rusty frame issue. I brought it to the local dealer in 2009 the first time. I was told that it was just surface rust and that it's not a big deal. The second time in 2010 they put my truck on the lift and said that there was no real problem and that Toyota did not have a fix yet... they were still waiting for the treatment (rust inhibitor spray). Last year, I filed a complaint with Toyota and they told me the warranty was expired - sorry - Out of Luck! Also, the local dealer did not record my visits so there is no record. Curious - there have been other Toyota recalls that I brought to them. Why would I not address the most serious and expensive one?!? My frame is now rusted to the point of being unsafe and my truck is worthless. It should be worth $7K-$8K. My next recourse may be an attorney. I see there are a lot of unhappy Toyota customers.

I have received a few recalls on my '05 Tacoma. I brought it to the closest dealer. I was told it would be there for 2 - 3 weeks. They did a simple pass/fail inspection on the frame for rust. I received a call from the dealer, it had failed due to 3 rust holes on the frame. We had brought our pickup down sometime in April 2015 and it's still there! They have provided a loaner. It's going on 6 months and they still have no expected date that it will be finished! I've received another recall since it's been there for the leaf springs in the rear end. I got a notice last week that they are supposed to have a solution early 2016. I'm glad that they are fixing the problem but honestly if the frame of a vehicle is no good it's usually considered "totalled". They should really do a "buy back". Just wanted to share my story.

I have severe frame rust, rot, and holes on my 2003 4Runner. I've owned many vehicles and tend to keep them more than 10 years. This has never happened. A frame under normal use should not disintegrate as this one has. I called Toyota, filed a case number, but was clearly told too bad/so sad. The burden of repair or final disposition of the vehicle is entirely my problem.
I am disappointed in Toyota's response. This problem is clearly a safety issue. The most rotted part of the frame is in the front crossbar. As it goes, so goes my front end. Luckily I spotted it before I was traveling on the interstate at 70mph and hit the bump that finally causes it to snap. I will be taking it to the body shop and seeing what they can do - I do not have high expectations. Everyone should file a complaint with the National Highways Traffic Safety. Easy to do and there is a growing number of Toyota frame issue complaints on file already. I don't know the magic number, but please file your complaint. Safety in numbers.

2007 Toyota Tacoma V6 4WD TRD - The rear spring broke and when I dropped off the truck to the dealership, they found the frame dangerously corroded. The truck has been in the shop for 7 MONTHS! It is essentially worthless now. NEVER AGAIN TOYOTA!

My son owns a 2006 Toyota Tacoma. The truck is in excellent condition except for the frame which is rusting badly in the area near welds. There are no holes per the dealer inspection, so no action is required, and Toyota has no suggestion other than it isn't covered under the warranty extension due to lack of rust holes. Toyota has an extended service program to replace perforated frames or clean and apply rust inhibitor to those which are still intact. I contacted Toyota and requested a case number regarding this issue.
A Toyota customer service rep, who sounded irritated having to deal with me returned my call. I was then advised only a few cold weather states were covered in the frame warranty extension and Colorado is not one of them, unless the frame is perforated. Their campaign expires in March 2016. They are turning their back on the issue of a faulty product by blaming a defective product on a region of the country where salt is used to deice roadways during winter. Toyota no longer stands behind their product. Buy another from another manufacturer.

I have a problem with weather and outside temperature display. If no HD signal no display. I have been told that there is no fix. I should have been told this when I bought the truck. Maybe a shady dealer, I don't know. Can anyone help me with this problem? I was willing to put up a rear view mirror with outside temp and compass. Dealer says this will not work. Any suggestions. Please help!

I dropped off my 2015 Tacoma 2wd double cab for the 5k mile service. When I got it back I started noticing brake vibrations when I decelerated. They vibrated as though the rotors were warped. I returned the truck to Toyota of Orange and was told it is a known problem with the drive system, not the brakes. They advised Toyota knows about this but there is no current fix for it. They said the brakes are fine. It feels like the rotors are warped, and it's getting worse over time. If there is a sudden, unexpected stop, it feels like the brakes are going to fail. Not fun. But Toyotas response is, no fix. They are still selling these without telling buyers about the problem. That is not right.

Last year I purchased a 2002 Toyota Tacoma and now a year later the frame was so damaged they would not pass my inspection. I brought it to the Toyota Dealership and they claimed that the frame recall has expired after and since the previous owner had it inspected and not sprayed, Toyota would not warranty it. I have just thrown away a ton of money on this vehicle. It's pretty sad that Toyota can actually get away with this. The vehicle is only 13 yrs old with less than 100K miles and now is undrivable.
Toyota Tacoma Company Profile
Company Name:

Toyota

Website:

www.toyota.com