Best RV Manufacturers
We all need a vacation from time to time. When it comes time to load up and get out of town, nothing adds luxury to travel quite like a recreational vehicle, or RV. RVs come in all shapes and sizes, from luxury-style motorhomes to small camping trailers.
If you're in the market for an RV, consider first the type of vacations you want to go on. You'll also want to think about how much space you need and the luxuries like televisions, recliners and couches you want to include. Prices range from $10,000 for a simple trailer to $700,000 for a deluxe, luxury motorhome. Happy travels!

Compare Reviews for Top RV Manufacturers

Coachmen RV
Read 127 Reviews

Coachmen has been manufacturing RVs since 1964. Coachmen has a full line of motorhomes, toy haulers, fifth wheels, destination trailers and more. Coachmen became a brand of Forest River, Inc. in 2008.

La Mesa RV
Read 186 Reviews

La Mesa RV began as a single dealership in 1972. It has since grown to include dealerships in California, New Mexico, Florida and Arizona. La Mesa RV sells a wide variety of new and preowned RVs and trailers.

GulfStream Coach RV
Read 67 Reviews

Founded in 1971, Gulf Stream Coach, Inc. is a manufacturer of RVs and RV products. Gulf Stream offers a full range of RVs that you can find at dealers across the United States. Gulf Stream is a family-owned company.

Dutchmen
Read Expert Review

Dutchmen is an RV manufacturer that specializes in travel trailers of all types. Dutchmen makes standard travel trailers, expandables, toy haulers and fifth wheels. Thor Industries acquired Dutchmen in 1991.

Fleetwood RV
Read Expert Review

Fleetwood RV has been manufacturing motorhomes since 1950. Part of REV Group, Inc., Fleetwood RV specializes in class A (both gas and diesel) and class C motorhomes that you can customize with several options.

Forest River
Read Expert Review

Forest River RV has been growing into one of the largest RV manufacturers in the United States since 1991. Forest River sells several models of motorhomes, fifth wheels, travel trailers, toy haulers and more.

Jayco
Read Expert Review

Jayco, Inc. has been manufacturing RVs since 1968. Located in Middlebury, Indiana, Jayco takes pride in craftsmanship for its line of class A and class C motorhomes, camping trailers, travel trailers, fifth wheels and toy haulers.

Keystone RV
Read Expert Review

Keystone RV is one of the largest North American manufacturers of towable RVs. Keystone has a large volume of travel trailers, fifth wheels, lightweight campers, toy haulers and destination trailers.

Newmar
Read Expert Review

Since 1968, Newmar has been manufacturing RVs with attention to luxury and detail. Each class A motorhome is handcrafted to ensure quality. Newmar specializes in high-end models that keep you in the lap of luxury wherever you go.

Prevost
Read Expert Review

With roots stretching back to 1924, Prevost is a company that manufactures bus shells, touring coaches and luxury RVs. Prevost offers specialty conversions for its shells to customize motorhomes to meet your specifications.

Rev Group
Read Expert Review

REV Group is one of the biggest parent companies for large vehicle manufacturers in the United States. REV Group focuses on providing luxury RV from manufacturers like Monaco Coach, American Coach, Holiday Rambler and more.

Thor Industries
Read Expert Review

Thor Industries began improving RV standards when it acquired Airstream in 1980. Now, Thor Industries owns several RV brands that include Jayco, General Coach and others. Thor Motor Coach sells several different motorhome models.

Winnebago
Read Expert Review

Winnebago is one of the most popular names in RVs. Winnebago began selling RVs in 1958, and the company's fleet ranges from powerful deluxe diesel-fueled motorhomes to small mini campers and everything in between.
Common questions about RVs
What comes standard in most RVs?

When you starting to look for an RV, you may wonder what exactly comes standard in a trailer or motorhome. Though the finer points of these features will vary among models, each RV will have a version of the following rooms:

Bedroom: Bedroom areas usually have either a double or queen bed. Depending on the size of the RV, it may have more than one bedroom space with multiple closets for storage.
Bathroom: Almost all RVs will have a bathroom, or "lavatory," area. This area includes a toilet and sometimes a sink or shower.
Kitchen: An RV will have a kitchen with a sink and a range for cooking. It will also have a microwave. Next to the kitchen, you'll usually find a table and chairs in a small dining area.
Living room: The rest of the RV will be a sort of living room. Couches, chairs, recliners, a television and more may be available to use in this area.

What extra features can you add to your RV?

Just as your standard features will vary among RV models and types, your available upgrades will depend on the type of RV you choose. These extra features are some of the most popular.

Bed upgrades: Though many RVs come with a standard double or queen-sized bed, the sleeping rooms can usually accommodate a larger bed. King-sized beds are common upgrades for RV bedrooms.
Satellite upgrades: Most RVs will come with a TV, but if you want to watch regular programming, you may need a satellite dish. A satellite dish will boost your signal and help you watch your favorite programs on the road.
Extra storage: You can't have too much storage space in your RV. Maximize your space by adding shelves or closets in empty walls and corners.
Washer/dryer: RVs don't usually come with a washer and dryer. If you plan on long vacations, consider getting a washer and dryer to keep your clothes clean.

What external features do you need?

You won't be spending all of your vacation inside your RV. You'll want to park and then set up a camping area outside so you can stretch your legs and enjoy yourself. Here are a few additions to make your outside area as comfortable as the interior of your RV.

Solar panels: Solar power is becoming more popular with the RV crowd. Installing solar panels on the roof of your RV can help power all your accessories without using your battery or generator.
Grill mount: A grill mount attaches to a foldable arm that extends from the RV, so you can mount your portable charcoal or electric grill at a safe distance from the vehicle.
Sun shades: When you set up your outdoor area, you're going to want to create some shade. Sun shades and retractable awnings fasten to the side of your RV, and you can pull them out to create a more comfortable camping area.

What kind of fuel does an RV need?

When you're looking for an RV, you want to think about the fuel cost as well. Here are your fuel options.

Gas: Most RVs run on gasoline. Gasoline RVs usually work with regular unleaded fuel. You can use premium gasoline, but you likely won't see any change in towing power.
Diesel: RVs that need more power to move take diesel fuel. These RVs are usually capable of more demanding trips in the mountains or across rough terrain.
Towables: Towable trailers and campers require a vehicle capable of hauling them. If you have a large truck or SUV, you may want to look into towable RVs.

What sort of safety features should you look for?

An RV needs to be safe. Read up on your RV's construction and safety features before you make your purchase.

Chassis construction: Your RV's chassis consists of a combination of aluminum, steel, fiberglass and wood. Ask your RV dealership or check online to read about the safety features built into the chassis.
Reinforced roof: You'll want an RV with a reinforced roof if you might end up camping in rough weather. A reinforced roof will protect your interior from falling branches, snow, rain, hail or anything else that could fall on your RV.
Handling: See if your RV has high-quality handling features for trips over rough terrain. A good system of shocks can mean the difference between a bumpy trip and a smooth one.

How do you protect your RV?

An RV is an expensive investment, and you'll want to make sure it's protected. Here's how you can keep your RV running.

Warranties: Your RV will come with a manufacturer's warranty that lasts around two years. The dealership may offer to extend your warranty coverage for an extra fee.
Insurance: Like any other vehicle, your RV must be insured before you hit the road. Check with your current vehicle insurance provider to see if they offer multi-vehicle discounts. You can also look for insurance from specialty RV dealers.
Roadside assistance: Most RV dealers offer roadside assistance plans in case of a breakdown on the road. Services include tire changing, emergency refueling, towing service and more. Some insurance companies also offer these plans, or you can buy one from a third party company.
Types of RVs
Class A motorhomes
A Class A motorhome is a deluxe, luxury RV. It has the most interior space and storage of any RV on the market, and you can outfit it with deluxe amenities and appliances. It is, however, difficult to drive and expensive to purchase and maintain. Class A motorhomes are best for families or people who are going to spend months on the road.
Class B motorhomes
Class B motorhomes are the smallest motorhomes on the market. Class B motorhomes don't have the interior space of Class A or C for amenities and comfort, but they are less expensive and easier to drive. They are best suited for short trips for couples.
Class C motorhomes
Class C motorhomes are middle-of-the-road motorhomes. They're smaller than Class A and larger than Class B. Class C motorhomes are reasonably easy to maintain, and they can fit into most camping areas. They can accommodate families and handle long or short trips.
Travel trailers
Travel trailers are towable RVs that work with any vehicle with a trailer hitch and enough power to pull them. They are less expensive than full-sized motorhomes, and they come in various shapes and sizes, from family-sized deluxe models to small campers.
Fifth wheel trailers
Fifth wheel trailers are similar to travel trailers except that they have gooseneck connectors to secure them to a trailer hitch in the bed of a truck. This limits the number of vehicles that can haul them, but the trailers are easier to maneuver than travel trailers. They also tend to be larger, with more space for deluxe features and family members.
Toy haulers
Toy haulers are trailer RVs with extra space to store motorcycles, ATVs, bicycles or other small vehicles you want to take with you. This design gives you less overall interior space, but it's a good compromise if you want to bring some vehicles with you.
Camping trailers
Camping trailers are small, lightweight RVs that are best for occasional camping trips. Some models fold out to increase interior space, but camping trailers do not generally have kitchen or plumbing amenities.
How much do RVs cost?
Motorhomes
Motorhomes are divided into three classes. Class A motorhomes are high-end models that cost about $55,000-$300,000, depending on features and floor plans. Class B motorhomes are the smallest motorhomes on the market, costing around $40,000-$80,000. Class C motorhomes are smaller than class A and bigger than class B motorhomes and cost $50,000-$150,000.
Trailers
The cheapest types of RVs are trailers that you can buy. These cost anywhere from $10,000 for a basic foldable tent camper to $60,000 for spacious fifth wheel trailers.
Luxury RVs
Select manufacturers will allow you to customize an RV completely, choosing deluxe features and layouts to turn an empty shell into a high-end luxury vehicle. These can cost anywhere from $500,000 to $1 million dollars.
Thank you, you have successfully subscribed to our newsletter!
We value your privacy. Unsubscribe easily.
What do the experts have to say?

Headquartered in Middlebury, Indiana, Coachmen has been developing and manufacturing RVs since 1964. Coachmen became a brand of Forest River, Inc. in 2008. Coachmen has a full range of RVs, including motorhomes, toy haulers, fifth wheels and more.
Read More

La Mesa RV is a marketplace for used and new RVs. La Mesa began as a simple RV dealership in La Mesa, California, in 1972. It has since moved its headquarters to San Diego and expanded with dealerships in Florida, Arizona and New Mexico.
Read More

Gulf Stream manufactures RV and RV products, offering 26 brands and over 100 models. It has been a family-owned and operated company since its founding in 1993. You can find Gulf Stream RVs at dealerships across the United States.
Read More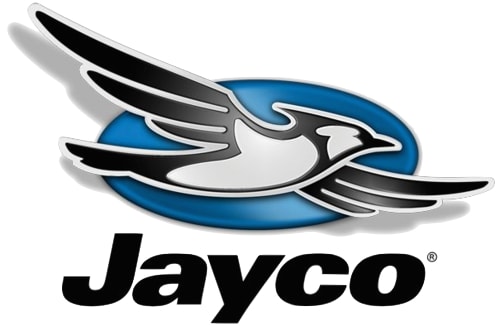 Founded in 1968, Jayco, Inc. is an RV manufacturer located in Middlebury, Indiana. Jayco distributes its full line of RVs to almost 300 dealers across the United States.
Jayco models: Jayco's line of products includes class A and class C motorhomes, camping trailers, travel trailers, fifth wheels and toy haulers.
Climate Shield: Jayco RVs are built with Climate Shield technology to keep the interior of the coach at a steady temperature even in extreme conditions. The RVs' shells are resistant to temperatures as high as 100 degrees Fahrenheit and as low as zero degrees.
Jayco engineering: Jayco RVs are built with a Magnum Truss roof system that can withstand 4,500 pounds of pressure. Jayco custom-manufactured frames offer high strength and durability, and every motorhome ships with the JRide system to improve handling and stability.
Jayco warranty: Each Jayco RV comes with a limited two-year manufacturer's warranty. Your Jayco RV is protected against defects in workmanship and materials. If you're the original purchaser, you also get a five-year parts and labor coverage warranty on select RVs.
Jayco EcoAdvantage: Jayco is committed to sustainability practices. Its EcoAdvantage program has recycled tons of scrap metal, wood and paper products since it started in 2014.
Best for: vacationers and campers who want an RV with many safety and engineering special features.

Founded in 1958, Winnebago Industries is one of the most well-known RV manufacturers in the world. Winnebago builds motorhomes, travel trailers, fifth wheel trailers and specialty buses.
Winnebago product line: Winnebago offers RVs of all types. Winnebago sells class A (diesel and gas), class C and class B motorhomes. Winnebago also sells travel trailers (deluxe and mini campers), fifth wheels and toy haulers. Each type is available at various price points with different floor plans.
Winnebago RV Insurance: Winnebago offers their own insurance policies for their RVs. RV specialists can help provide the coverage you need. Contact them for a free quote.
WIT Club: If you purchase a Winnebago RV, you are eligible to join the WIT club. For $39.95 for one year ($99.85 for three years) you get access to social activities and meetups across North America. You also get savings on Winnebago merchandise, six issues of WIT Club News and priority reservations on Winnebago Outdoor Adventures tours and rallies.
Ability equipped RVs: Winnebago's ability equipped RVs are designed for people with physical challenges. Wheelchair lifts, showers without step-ins and convenient controls are all tailored for people with mobility challenges.
Specialty options: Winnebago sells transport buses for commercial and specialty use. Winnebago can make RVs for bookmobiles, commercial transportation, mobile classrooms and mobile medical services.
Best for: vacationers who want a personal or commercial RV from a well-known company.

Fleetwood RV is a manufacturer of class A and class C motorhomes. Fleetwood RV has been in operation since 1950. Fleetwood is part of REV Group, Inc., one of the largest producers in the motor vehicle industry.
Motorhome specialists: Fleetwood RV specializes in motorhomes. Fleetwood manufactures several models of diesel and gas class A motorhomes. Fleetwood also sells the Jamboree, a class C motorhome that is smaller and cheaper than the class A models.
Build your RV: You can "build" your own RV with Fleetwood's online building tool. You choose the model you want, a floor plan, a color scheme and any amenities you want. Fleetwood will give you an instant estimate and offer you a free quote.
Fleetwood durability: Each Fleetwood RV comes equipped with a raised-frame foundation, a Tuff-Roof protection system, Vacu-Bond aluminum side walls and a powerlock frame system. These features insure a safe, durable ride.
REV Control Ryde: The REV Control Ryde system uses rubber shear springs to improve handling and suspension. This gives Fleetwood RVs a smoother ride.
Fleetwood Owners Club: For $20 per year, you can join the Fleetwood Owners Club. This membership gives you discounts for rallies and trips, access to the Fleetwood Motorhome Association classifieds and more.
Best for: vacationers who want a class A or class C motorhome.

Thor Industries began in 1980 as a manufacturer and distributor of towable trailers and has grown into one of the largest RV companies in the world. Thor is the sole owner of several subsidiaries, including Airstream, Bison and Jayco, Inc.
Thor Motor Coach: Thor's flagship vehicle is the Thor Motor Coach. Thor Motor Coach models include class A, class C and toy hauler motorhomes.
Thor RUV: Thor's RUVs (recreational utility vehicles) are motorhomes that maximize the storage space of a smaller RV. The Axis, Compass, Gemini and Vegas RUVs have greater maneuverability and more open space than most motorhomes of its size.
Find your RV: If you're not sure which RV is right for you, complete a quick survey about how you plan to use your RV. Thor will match you with the right RV to fit your needs. You can also customize your own RV by choosing the floor plan, color and features.
Coach Link sales advisors: If you have any questions while you're shopping for an RV, you can contact the Coach Link support team. A factory representative or sales associate will respond as quickly as possible.
Several subsidiaries: Thor Industries owns many subsidiaries, including some of the most well-established RV brands in the world. If you don't see a Thor Motor Coach that fits your needs, Thor will match you with one of its brands.
Best for: vacationers who want a class A or class C motorhome.

Dutchmen RV is a manufacturer of RV towables. Dutchmen's line include travel trailers, expandable trailers, fifth wheels and toy haulers. Thor Industries acquired Dutchmen in 1991.
Travel trailers: Dutchmen's line of travel trailers include the brands Aerolite, Aspen Trail, Coleman, Denali, Kodiak, Rubicon and Razorback. Each brand has different floor plans available to view online.
Expandables: Dutchmen manufactures Aeroline, Coleman and Kodiak expandable trailers. These are small campers that can unfold for more space. They are lighter than the other trailers, but they do not have the space of travel trailers.
Fifth wheels: The Denali and Voltage fifth wheel RV are multi-level, deluxe trailers. They are the largest trailers Dutchmen offers.
Toy haulers: The Razorback, Voltage and Rubicon toy haulers have extra space to haul ATVs and smaller vehicles. Dutchmen's toy haulers give you a mobile garage without sacrificing living space.
Build My RV: Dutchmen has an online tool that can help you find the right RV for you. Choose your brand, floor plan and amenities, and Dutchmen will tell you where you can find your nearest match.
Best for: vacationers who have a vehicle capable of towing an RV trailer.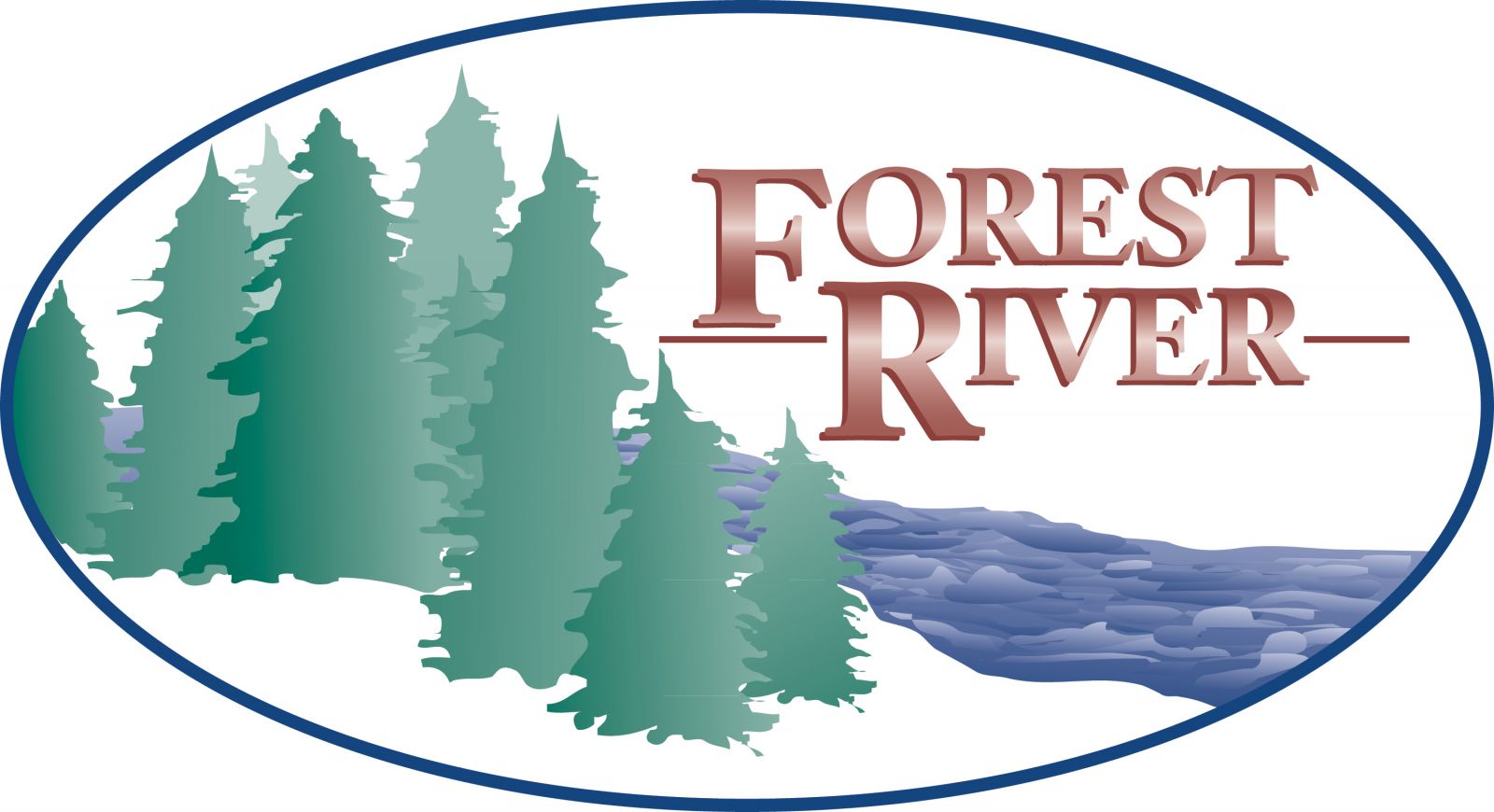 Founded in 1996, Forest River RV is one of the largest RV manufacturers in the United States. Forest River manufactures motorhomes, fifth wheels, camping trailers, toy haulers, travel trailers and destination trailers.
Motorhomes: Forest River RV manufactures class A (both diesel and gas) and class C motorhomes. Each comes with various floor plan and amenity options.
Trailers: Forest River RV's towable models include toy haulers, fifth wheels, travel trailers, destination trailers and camping trailers.
Coach-Net: Each new RV comes with one free year of Coach-Net roadside assistance. This includes emergency roadside assistance, RV service appointment assistance, nationwide trip routing and more.
Consumer resources: From towing guides and owners' manuals to payment estimators and how-to videos, Forest RV has you covered. These resources are available to anyone.
Forest River accessories store: The Forest River accessories store has apparel and merchandise for sale. Drinkware, bags, tech gadgets and even golf supplies are all available for purchase.
Best for: vacationers who want a motorhome or RV trailer.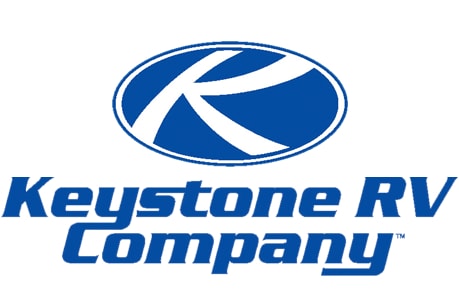 Keystone RV is a North American manufacturer of RVs. They specialize in towable RVs, and their products include travel trailers, fifth wheels, lightweight campers, toy haulers and destination trailers.
Trailer variety: Keystone RV boasts one of the largest selection of towable RVs. From small campers to deluxe fifth wheels, Keystone has a towable RV to fit anyone's travel needs.
Destination trailers: The Keystone Residence and Keystone Retreat are the company's destination trailer models. These models boast large living areas and bedrooms, and they are available with several different floor plans.
Build My RV: Keystone's intuitive Build My RV program allows you to select the brand and floor plan of any RV to help you find the right towable for you. The website has an online buyers' guide to help you find what you need.
Request a quote: You can request a free, no-obligation quote from Keystone for any RV. Simply fill out the form, and a representative will contact you shortly.
Virtual tours: You can take a virtual reality tour of several of Keystone's RVs. Use your Google Cardboard or Samsung VR headset to explore available models.
Best for: vacationers who want a towable RV.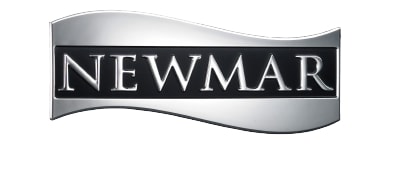 Newmar is an RV manufacturer that started handcrafting RVs in 1968. Though Newmar began by building fifth wheels, Newmar now primarily sells class A motorhomes. Newmar's product line of handcrafted, luxury coaches includes both diesel and gas motorhomes.
Handcrafted diesel and gas models: Newmar sells both diesel and gas class A motorhomes. The New Aire, Dutch Star Ventana and Ventana LE are high-end, diesel models. The Canyon Star, Bay Star and Bay Star Sport are lighter models that run on gasoline. Each motorhome is handcrafted and inspected to meet Newmar's high standards.
Newmar luxury models: Newmar's luxury model line includes the Mountain Aire, London Aire, Essex and King Aire. These motorhomes are built to represent the pinnacle of comfort travel and include amenities like tablet-enabled control, washer/dryer facilities, 4K televisions, large living spaces and more.
Newmar Mobility: The Newmar Mobility line of RVs are wheelchair-accessible motorhomes built for people with mobility difficulty. The Dutch Star 4311, Ventana 4311 and Canyon Star 3911 all come with wider areas, easy controls and wheelchair lifts.
Newmar Comfort Drive: Exclusive to Newmar's diesel and luxury models, Comfort Drive technology is a self-straightening steering wheel system. Comfort Drive lessens friction from drifting wheels and helps improve maneuverability.
Newmar Total Comfort: Newmar coaches are equipped with an exclusive central air system. Total Comfort's intelligent climate system of multiple ducts and vents allow you to control the interior temperature with a digital thermostat.
Best for: people looking for a specialty handcrafted class A motorhome.

Prevost traces its manufacturing back to 1924 when the company's founder built a wooden coach for an REO truck chassis. Now, its legacy of craftsmanship manifests in its line of shells for RVs and buses. Prevost's luxury RVs are built to your specifications, and you can use Prevost's partnered converters to turn any bus shell into an RV.
Built to your specifications: Prevost's RVs are made at your requests. Prevost builds the coach shells, and then you work with them and their conversion experts to turn your coach into a high-class, class A luxury motorhome.
X3-45 VIP: Prevost's X3-45 VIP is its most maneuverable model. The X3-45 VIP's bus shell is precision-molded to maximize durability and interior height, and its fiber composite construction reduces weight for an easier ride. You have multiple floor plan options for the X3-45 VIP.
H3-45 VIP: The H3-45 VIP boasts the most floor space for you to add all the amenities and luxury features you want. The H3-45 VIP's shell is made of Prevost's fiber composite precision molding, and it has large windows to let in more natural light.
Conversion services: If you want to convert one of Prevost's shells to a mobile office or entertainment vehicle, Prevost will help you. Prevost has partnered with several conversion specialists around North America to help you build the motorhome you need.
Prevost Owners Group: You can join the Prevost Owners Group for specialty access to RV rallies, vacation deals, used RV sales and more. You can also apply to be part of the Prevost Prouds, a chapter of the Family Motor Coach Association that promotes fellowship among RV owners.
Best for: people looking for a custom, luxury motorhome.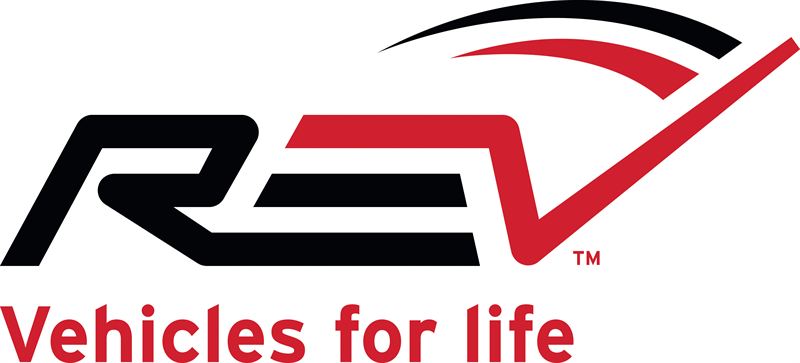 REV Group manufactures several different types of large vehicles, including fire trucks, buses, ambulances and RVs. REV is the parent company of 29 specialty vehicle brands, and among these brands are several manufacturers of high-end class A, class B and class C motorhomes.
REV Group RV brands: REV Group is a large parent company for several luxury RV brands. American Coach, Fleetwood RV, Holiday Rambler, Monaco Coach, Midwest Automotive Designs and Renegade RV are all part of REV.
Motorhomes available: REV brands specialize in class A, class B and class C motorhomes. REV takes pride in finding the most innovative additions to your motorhome.
Luxury-class RVs: REV Group's brands specialize in making luxury RVs. These feature-rich motorhomes are designed for style and comfort, giving you all the amenities of a home on the road.
REV financing: If you are looking to finance your RV, REV financing can help set up a payment plan that works with your budget.
REV service centers: REV has several service centers across the United States. These service centers are known for excellent customer service, and any replacement parts are guaranteed to be REV genuine parts.
Best for: people looking for a custom, luxury motorhome.
Disclaimer
Information in this guide is general in nature and is intended for informational purposes only; it is not legal, health, investment or tax advice. ConsumerAffairs.com makes no representation as to the accuracy of the information provided and assumes no liability for any damages or loss arising from its use.
Thank you
Keep an eye on your inbox, the latest consumer news is on its way!