Find the best portable solar panels
Take the power of solar energy anywhere the sun shines



Written by

Edited by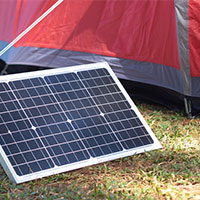 Permanent solar installations are ideal for homeowners or businesses looking to save money on energy. But portable solar panels can come in handy if you want to generate electricity on the go for a camping trip or some off-grid RV time.
A good portable solar panel typically costs between $200 and $500. Portable solar panels shouldn't be so lightweight that they're flimsy, but they shouldn't be so heavy that they're hard to transport.
Our picks for portable solar panels
When selecting a solar panel for your upcoming camping trip or hike, choose a product that's designed with features that are useful for you. Solar is a growing industry, and companies are always creating new products.
To make our picks, we considered factors such as weight, size, portability and cost. We also considered reviews from customers.
Our pick for camping
Goal Zero Nomad 100
Logo
Product details

Foldability for easy packing
Lightweight for easy hauling
Weatherproof


Buy on Amazon
The Nomad 100 solar panel is a 100-watt foldable panel designed for campsites and mobile base camps. The solar panel comes with a lightweight solar charging cable to connect to power stations and can be chained to other solar panels to collect additional power. You'll need to purchase Goal Zero's Combiner to High-Power Port Connector cable in order to connect multiple panels, so if this is your goal, make sure you've got the right accessories for this product.
Available for $399.95 directly from Goal Zero (as of publication), with discounted prices sometimes available on Amazon, the Nomad is a highly efficient monocrystalline solar panel. It has only one port, and it needs to be plugged into a power station to charge your devices. The company also sells portable solar chargers, solar generators and solar power bank kits.
What makes it great for camping?
The Nomad is foldable for easy transportation and is also weatherproof. At 10 pounds, this is a good product for campers who plan to drive to their campsite and unload, but some hikers may find it too heavy to transport for backpacking. Its folded dimensions are 20.5 by 15.5 by 2 inches.
Our pick for RVs
Renogy Monocrystalline Foldable Solar Suitcase
Logo
Product details

Sufficient power for an RV (200 watts)
Easy portability with a protective case
Easy setup for RVers


Buy on Amazon
This solar panel kit comes with two foldable solar panels, a practical case for easy portability and an adjustable stand. The protective casing comes with latches to keep the solar panels safe, as well as a sturdy, durable handle. The kit also comes with a solar-charged controller and alligator clips for connecting with different battery types.
Priced at $469.99 (as of publication), this Renogy product provides affordable, efficient solar energy.
What makes it great for RVs?
RVs need a lot of power for their refrigerators and other appliances. When you're looking for a solar panel for your RV, it's important to focus on wattage capacity, efficiency and ease of use, especially if you're planning to perform the setup yourself.
Our pick for cloudy days
Renogy 100 Watt 12 Volt Solar Starter Kit
Logo
Product details

High efficiency
Negative grounding controller
Corrosion-resistant aluminum frame


Buy on Amazon
This is a solar kit, which means it includes everything you need to get your solar system up and running. The 100-Watt 12-Volt Monocrystalline Solar Starter Kit can be described as the perfect start for people who are new to solar energy. It's highly efficient, with cell efficiency that can reach 22%. It works well for dry camping but can also be used in other settings, such as boats, sheds and cabins.
It's priced at $225.99 (as of publication) for the 100-watt panel plus a 30-amp PWM (pulse-width modulation) charge controller. The panel's dimensions are 41.8 by 1.38 by 20.9 inches, and it weighs about 14 pounds.
What makes it great for cloudy days?
On cloudy days, it's important to have a solar panel that's highly efficient so it can convert the little sunlight that's available into as much usable energy as possible. This kit's high efficiency really makes a difference; if you frequently take your RV or trailer to areas where it's cloudy or if you enjoy winter camping, this would be a smart choice for you.
Our pick for folding panels
Renogy 100 Watt 12 Volt Flexible Monocrystalline
Logo
Product details

Monocrystalline panel technology
Waterproof
Lightweight and thin


Buy on Amazon
When you're searching for a flexible solar panel, look for a monocrystalline solar panel for maximum efficiency. The Renogy 100-Watt 12-Volt Flexible Monocrystalline solar panel can be used in or on an RV. It's bendable, so it's easy to place just about anywhere. Panels can bend up to 248 degrees, which makes them easier to put on uneven surfaces.
Priced at $205.99 (as of publication), this flexible solar panel has a low cost and a high value.
What makes it a great bendable solar panel?
These solar panels are designed to be flexible; they can roll up for easy storage, and they can also be shaped according to the surface below them. They're easily mounted because they're extremely lightweight (4.2 pounds each).
What is a portable solar panel?
A portable solar panel is any device that can be transported and set up to harness sunlight and generate electricity. You might hear portable solar panels called several different names, including mobile solar panels, solar suitcases and portable solar chargers.
Unlike stationary solar panels, which are permanently attached to a roof or a ground-mounted racking system, portable solar panels usually include an adjustable metal kickstand that can prop up the equipment to receive direct sunlight.
For a portable solar panel to efficiently produce usable electricity, it typically must be connected to a storage battery or solar generator, where the power can be captured,  stored and discharged as necessary.
Hayden Kleinhans, manager of land development at Invenergy, a multinational sustainable energy company, explained it this way: "There's a lot more to going solar than just the panels. Although you can plug a USB into some portable systems, connecting a battery allows you to use all of the power you generate throughout the day."
» MORE: Best solar batteries
How much do portable solar panels cost?
The cost of a portable solar panel depends on the quality of the materials as well as the wattage capacity and efficiency rating of the equipment. While there certainly are cheaper options on the market, a worthwhile portable solar panel usually costs between $200 and $500. These panels typically come with a wattage of 100, 200 or higher.
If you'd like to save money on your portable solar energy system, you may be able to bundle your panel purchase with a solar generator or battery, inverter and charge controller system.
What to look for in a portable solar panel
To make sure you invest in a portable solar panel that's worth it, there are a few key features to consider before making a purchase.
Size and weight
First, look at the size and weight of the solar panel to see just how portable it really is. High-powered solar equipment can weigh 40 pounds or more, which can be difficult for some people to move.
Ultimately, the size and weight of your perfect portable panel will be determined by how you intend to use it. Before making a purchase, carefully plan for where you'll store the equipment and how you'll set it up when it's time to generate more power.
Special features
Perhaps the most important thing to look for in a portable solar panel is the added features or secondary equipment included with your purchase. If your portable solar panel is designed to be an all-in-one system, for instance, you may be able to save money on additional parts.
To set up your portable solar panel with ease, make sure that there's a kickstand or adjustable metal support included to angle your equipment directly at the sun. If you're buying portable thin-film solar panels, you'll want to know what parts are included to help you install your pliable array.
Power output and efficiency rating
While wattages and efficiency ratings can sound pretty technical, they're actually fairly easy to understand: Panels with higher output and efficiency ratings can produce more solar power for your electronics. Today, high-quality solar panels may have operating efficiencies of 18% and higher (you can find the rating in the product details).
In terms of wattage and power output, the size and capacity of your ideal panels depend on your energy demand. For modest systems, a 10-watt panel is typically the smallest recommended size for charging cell phones and other low-power devices. If you'd like to run your entire RV, off-grid cabin or disaster relief effort, the sky's the limit in terms of how large an array you can build by combining multiple portable solar panels.
Warranty period
To guarantee the quality of your purchase, finding portable solar panels with a lengthy warranty period is important. Although portable panels may not come with the multi-decade warranties associated with stationary solar panels, portable systems with two, five or 10-year warranties usually indicate high quality.
Pros and cons of portable solar panels
Compared with ordinary solar equipment, portable panels have both advantages and disadvantages to consider, and they're better suited for some uses than others.
The biggest perk of portable solar panels is that they let you generate electricity anywhere you take them, creating endless possibilities for travel and living off the grid. While you could install permanent panels on top of an RV, you would need to park in full sunlight conditions to generate power. With portable panels, you can park anywhere you'd like and prop up your panels nearby in the sun.
Portable solar panels offer a lightweight, low-cost, noise-free and emission-free way to produce electricity wherever and whenever the sun shines. This is also the primary weakness of portable solar panels, though; you can only use them efficiently for a limited number of hours per day in peak sun conditions.
Aside from sunlight limitations, portable panels are also more prone to damage and theft than permanent systems. Another practical consideration is that solar energy must flow into a battery to be stored; these storage devices can add significant costs, and they may limit the portability of your system if they're bulky.
Pros
Emission-free
Silent
Easy to transport and set up
Several practical uses
Low-maintenance and cost-effective
Cons
Limited usage time frame
Vulnerable to damage or theft if unmonitored
Require additional equipment for efficient use
Might be bulky
FAQ
Can portable solar panels be used to power all my electronic devices?

Yes. If your portable panels have enough wattage capacity and you pair them with a large enough battery, they might be able to power all your devices. But while a single portable solar panel may be perfect for keeping cell phones and other small devices charged during a camping trip, you'll likely need multiple sets of panels if you'd like to run air conditioning or another power-draining appliance.
How long do portable solar panels typically last?

Portable solar panels are created using the same high-quality technology as stationary solar panels, so they can last up to 25 years or more. That said, quality varies significantly in the portable solar panel market, and a limited warranty period may be an indicator that your panels will only work efficiently for a few years.
What maintenance is required to keep portable solar panels functioning properly?

One of the best things about portable solar panels is that they require very little maintenance to function properly. For the best experience, clean your portable solar panels at least twice annually, and never leave your portable solar panels out in stormy weather conditions.
What's the difference between traditional and portable panels?

Both traditional and portable panels use photovoltaic cells to generate electricity. The only true difference between traditional and portable solar panels is the location (or locations) in which they operate. Portable solar panels can be folded up into a suitcase or rolled up for easy transport, while traditional systems typically remain in one place throughout their operating life.
Did you find this article helpful?
|
You're signed up
We'll start sending you the news you need delivered straight to you. We value your privacy. Unsubscribe easily.