When should you get a pre-purchase inspection?
Consider a PPI on nearly any used car purchase



Written by

Edited by
Find Extended Auto Warranties near you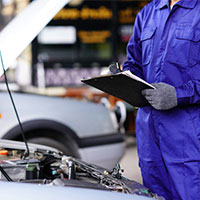 Buying a car can be a thrilling yet complex experience, so it's easy to get swept up in the process and ignore potential lurking issues. However, a pre-purchase inspection (PPI) can help safeguard your investment and ensure that you drive off not just in style but with confidence and peace of mind.
We'll cover when you should get a pre-purchase inspection, why and how to get one once you're ready to buy.
---
Key insights
Pre-purchase inspections are generally optional, but they're still a smart choice pretty much any time you're buying a used car or an extended warranty.
That holds true even if you're buying a certified pre-owned vehicle or an electric vehicle without an engine.
If you're buying an extended warranty, a clean PPI report can help you prove that any issues you encounter later aren't preexisting conditions.
Before you schedule your inspection, clear it with the seller so you know whether the process needs to be done on-site.
When to get a pre-purchase inspection
Generally speaking, it's worth getting a pre-purchase inspection any time you're buying an extended warranty or a used car — regardless of make, model, age or mileage. There are niche exceptions we'll discuss below, but in the vast majority of cases, you'll be glad you got one.
» LEARN: What is a pre-purchase inspection?
Do certified pre-owned vehicles need pre-purchase inspections?
The above statement also applies to certified pre-owned (CPO) cars and newer vehicles still under their factory warranties. Even though certified pre-owned (CPO) vehicles typically come with some sort of "quality guarantee" and a complimentary extended warranty, it's still best to have an independent mechanic take a look under the hood (and everywhere else). Here's why:
A good PPI will catch things that your warranty simply won't cover. As a quick reminder, auto warranties generally only cover factory defects, not issues resulting from damage, misuse or neglect. Therefore, it's not a safe bet to assume the warranty will protect you from any current (or pending) issues.
Not all CPO programs are the same. Generally speaking, a manufacturer-certified car must pass rigorous quality standards set forth by the automaker itself, but a dealer-certified car may simply be a used car the dealer wants to sell faster or at a higher price. Case in point, we've seen dealer-certified cars with rust, cracked windshields and bald tires.
CPO status doesn't guarantee perfection. While the risk that a CPO car will be a lemon is lower, it's not entirely gone, and there may still be serious issues that the seller missed (or neglected) to document. There's also an argument to be made that CPO programs present a conflict of interest. In essence, buying a CPO vehicle means you're trusting the seller of the vehicle to perform the PPI for you.
In the end, even a manufacturer-certified used vehicle with a squeaky-clean CARFAX report can still benefit from a third-party PPI. "Lately there have been a large number of vehicles being misrepresented by the seller, including big brand dealers. Mostly due to the fact that their inspection process is weak or nonexistent," wrote Eric Hamilton, founder of Whyte Knyte Inspections, in an email to ConsumerAffairs.
"One car that I inspected at a Ford dealer was very nice to look at, but behind the body panels were bent frame pieces and missing parts. Someone had wrecked the vehicle and instead of replacing all of the affected parts, they just put on new fenders and a bumper cover, making this vehicle very unsafe if ever in an accident. Oh, by the way, this car had a 'clean' CARFAX report."
Do hybrids and electric vehicles need pre-purchase inspections?
Electric vehicles (EVs) and especially hybrids still share many of the same mechanical components as regular gas cars (like brakes, air conditioners, etc.), so it's wise to have a professional mechanic look everything over before committing to a purchase.
You may also want to reach out to a local EV specialist to ask about their PPI process. Ideally, you'd want to find a mechanic that can thoroughly inspect the battery and provide what some are calling a "range report" on its expected remaining life span.
Are there any used cars that don't need pre-purchase inspections?
By default, it's best not to skip a PPI since it can save you from purchasing a pricey — and possibly even dangerous — lemon. That being said, you might be OK making an exception if either:
It has low mileage (probably less than 25,000 miles).
You know the owner personally and feel confident in how well they treated the car.
You've seen detailed service and maintenance records for the vehicle.
However, we've neither seen nor heard of anyone regretting a PPI. Even if everything comes up green across the board, the $200 or so you'll spend is a relatively small expense for additional peace of mind before such a big investment.
Why get a pre-purchase inspection if you're buying an extended warranty?
While most people only think about getting pre-purchase inspections before they buy a car, they're also a worthwhile investment if you're signing up for an extended warranty.
Some extended warranty companies will actually require that you get a PPI before your coverage begins, but it's a good idea to get one even if your warranty company doesn't require it. Why? Most extended warranty companies exclude preexisting conditions from their coverage.
A PPI establishes what condition your vehicle was in when your extended warranty started.
In theory, that means your warranty won't pay to fix anything that was wrong with your car before you signed up. However, in practice, it means your warranty won't pay to fix anything that you can't prove wasn't wrong with your car before you signed up.
Having an inspection report from right before your coverage started can help you avoid claim denial when the warranty company thinks the issue might have been a preexisting condition. (If your extended warranty is through your car's manufacturer, it may even be wise to have the PPI done by your local dealership.)
» LEARN: What is a vehicle service contract?
How to get a pre-purchase inspection
The following steps will help you connect with a great local mechanic and schedule your pre-purchase inspection as soon as possible.
1. Determine whether it'll be on-site or in the shop
Before calling up local garages, determine whether you can bring the car to the mechanic or if you need the mechanic to come to the car. The answer will depend on what type of seller you're buying from:
Dealers and used car lots typically won't let the car leave the lot unless you're on a test drive. They also rarely have return policies, so you'll need to schedule an on-site PPI. If a dealer refuses to let you perform one, it's best to walk away.
National used car retailers, like CarMax and Carvana, also won't let you drive off with the car to get a PPI, but they do come with 30- and seven-day return policies, respectively. That means you should be able to schedule your PPI early in the return window and return the car — or negotiate some free repairs — if your mechanic finds issues. There is some risk involved with this method, though, so it's worth familiarizing yourself with the ins and outs of the seller's return policy before you put your faith in it.
Private parties can have mixed reactions to PPI requests. Some may allow it if you present it as a condition of purchase. If they're a friend or family, they may even allow you to take it to the shop yourself. But don't be surprised if a seller rejects your request for a PPI, in which case it's best to just walk away.
2. Connect with a top-rated local mechanic
Pre-purchase inspections are common, so it shouldn't take long to find a mechanic willing to perform one for you. It may take a bit longer to find one who's mobile, but if you call enough shops, you'll likely find one eventually.
Also, if you're getting an inspection for a rare or expensive vehicle, try to find a mechanic that specializes in that make or model. They'll know what common issues to look for and how much certain repairs may cost you, so they can generally offer better advice than a generalist technician.
Just be careful to find a reputable mechanic with good reviews. Dustin, a ConsumerAffairs reviewer from Kansas, wrote: "Pre purchase inspection. Purchased car on advisement, insane and obvious issues missed. … From missed massive air bag deployment, bad clock spring, half the intake missing, alignment, shocks, fluid levels, at least three dangling connectors, two engine codes, and missing bolts, sheet metal screws and zip ties everywhere. … 20k investment, based all on the supposed expertise of what I can only assume are blind basket weavers employed as service techs for automobiles."
3. Schedule your PPI
In terms of timing, it's best to schedule your PPI right after your test drive. Be sure to get the seller's permission since they'll need to be available to meet with your mechanic and give them access to the vehicle.
As we mentioned earlier, some sellers may not let you perform a PPI on-site, but if your seller offers convenient returns, you may be able to get your "pre-purchase" inspection done after the actual purchase. And if the seller refuses to let you inspect the vehicle and won't offer a return window, it's probably best to just walk away.
FAQ
Do you need a pre-purchase inspection on a certified pre-owned car?

It's still smart to get a PPI on a CPO vehicle because being certified by the seller is not a bulletproof guarantee of quality.
Do I need a pre-purchase inspection on a used hybrid or electric vehicle?

Pre-purchase inspections are still valuable on hybrids and electric vehicles (EVs). Also, consider hiring a technician that can thoroughly test the health of the vehicle's traction battery, as these batteries can be very expensive to replace.
Is it ever safe to skip a pre-purchase inspection?

Let's be clear — many (if not most) people buy cars without getting pre-purchase inspections, and many (if not most) of those people don't think twice about it or regret their decisions later on. Whether you get a PPI largely depends on your situation and your risk tolerance.

So, even a risk-averse buyer might be fine skipping a pre-purchase inspection on a relatively new vehicle with a reputation for quality if they know the owner well and have seen the service records. That said, we've never heard of someone regretting their PPI.
Did you find this article helpful?
|
You're signed up
We'll start sending you the news you need delivered straight to you. We value your privacy. Unsubscribe easily.