Porsche extended warranty: cost, coverage and plans
Comprehensive and benefit-rich but too expensive — even for a Porsche product



Written by

Edited by
Find Extended Auto Warranties near you
Endurance Auto Warranty and olive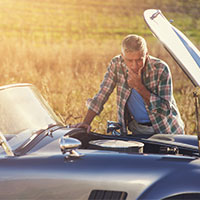 If you're a current or aspiring Porsche owner, you might be considering an extended auto warranty to protect your big purchase. After all, Porsches are known for many things — but a cheap cost of ownership isn't one of them.
Porsche even has its own extended warranty program, but is it any good? Keep reading to find out what its plans cover, what they cost and whether they're worth it overall.
---
Key insights
Porsche's extended warranties are called Porsche Vehicle Service Protection plans (or Porsche VSPs for short).
Porsche VSPs cost around $10,000, which means you're paying $2,500 per year of coverage not already covered by the factory warranty.
RepairPal estimates that Porsches "only" average $1,192 in maintenance and repair bills each year, making Porsche VSPs far from cost-effective.
You may find a better deal with a third-party warranty provider, but it's worth making sure that other Porsche owners are happy with the company before you sign up.
Porsche extended warranty coverage
Porsche calls its official extended warranties Porsche Vehicle Service Protection plans, or Porsche VSPs for short. ("Vehicle service contract" is actually the proper name for an extended warranty.)
These plans are designed to essentially extend your existing Porsche factory warranty, which provides four years/50,000 miles of limited (aka bumper-to-bumper) coverage and four years/50,000 miles of Powertrain coverage.
Porsche VSPs can stretch that coverage out to a maximum of 10 years/100,000 miles, meaning they can basically add up to six years or 50,000 miles to your existing warranty period.
Just keep in mind that auto warranties — whether they're factory or extended — are only designed to cover repairs needed due to manufacturing defects. So, if your infotainment screen suddenly goes black for no reason or you get a check engine light at just 5,000 miles, those issues would likely be covered under warranty.
However, repairs needed due to damage, negligence (like missed oil changes), abuse or misuse are almost never covered. Neither are cosmetics, wear-and-tear items (like brakes) or anything listed as an exclusion in your warranty contract.
» LEARN: What does a car warranty cover?
Porsche VSPs are available on most new, pre-owned and certified pre-owned (CPO) Porsches at the time of purchase. If you already own your Porsche, you can still purchase a Porsche VSP as long as your Porsche is still within the four-year/50,000-mile factory warranty period.
In addition, it's worth noting that certified pre-owned Porsches get a complimentary two-year/unlimited-mile extension of the factory warranty. That means as soon as your CPO Porsche hits four years of age or 50,000 miles on the odometer, you'll automatically get another two years of unbroken coverage.
Porsche VSPs can't be purchased online, so you have to go through your local dealer. Your two deductible options are $100 and $250, and the $100 deductible "disappears" if you take your Porsche back to the same dealer that sold you the warranty for warranty repair work.
Porsche extended warranty plans
Your two plan options with a Porsche VSP — Platinum and Powertrain — are pretty much direct extensions of your factory limited and Powertrain warranties. The former offers exclusionary bumper-to-bumper coverage (read: almost everything), and the latter only covers select engine- and transmission-related components.
The Porsche dealers we spoke with did not recommend purchasing a Powertrain plan.
| Component group | Platinum | Powertrain |
| --- | --- | --- |
| Engine | Yes | Yes |
| Transmission | Yes | Yes |
| Drive axle | Yes | Yes |
| Seals and gaskets | Yes | Yes |
| Climate control | Yes | No |
| Shocks | Yes | No |
| Suspension | Yes | No |
| Fuel system | Yes | No |
| Electrical system | Yes | No |
| Steering | Yes | No |
| Brakes | Yes | No |
| Navigation | Yes | No |
| Audio/high-tech | Yes | No |
Porsche extended warranty benefits
While you're probably more interested in an extended warranty for its repair coverage, Porsche VSPs also come with the following additional benefits:
24/7 roadside assistance with "enhanced benefits" that Porsche doesn't elaborate on in its advertising materials
Towing reimbursement of up to $250 for towing your Porsche to the nearest authorized licensed repair facility
Rental car reimbursements of up to $50 per day for up to 10 days
Trip interruption coverage of up to $200 per day for up to five days to help cover the cost of meals, lodging and transportation if your Porsche breaks down 100-plus miles from home
A disappearing deductible on the $100-deductible option, which waives your deductible if you return to the same Porsche dealer that sold you the Porsche VSP for warrantied repair work
All in all, these are above-average benefits for a manufacturer-backed extended auto warranty.
Porsche extended warranty terms and conditions
The official Product Agreement (i.e., contract) for Porsche VSPs contains pretty standard fare for an extended auto warranty. Still, there are a few key points you'll want to be aware of, especially if this is your first extended auto warranty purchase.
We've outlined those points below, but as always, it's best to read your contract in full before signing.
Maintenance

To prevent claim denial, you must perform all of the recommended maintenance at the intervals specified in your Porsche owner's manual. The warranty allows for a 30-day/1,500-mile grace period per interval, but if Porsche discovers that you changed the oil on your 911 at 8,000 miles instead of the recommended 6,000 miles, it may deny your claim for engine-related repairs.

Preexisting Conditions

As with any extended auto warranty, preexisting conditions won't be covered. That also means any problems you can't prove are totally new issues may not be covered, which is why it's wise to get a dealer inspection report (about $250) at the time of warranty purchase. That way, both you and Porsche have a record of which issues were (and weren't) preexisting on the car.

Transferability

If you sell your Porsche to a private party, you can transfer your remaining Porsche VSP term to the new owner by contacting the dealer that sold you the warranty and paying a $50 transfer fee within 30 days of the sale.

Cancellation and refunds

You can cancel your Porsche VSP within 30 days for a full refund, provided no claim has been paid. If a claim has been paid or it's been longer than 30 days, you can still cancel for a prorated refund minus any claims paid.

Exclusions

Porsche's list of exclusions is long for a bumper-to-bumper warranty.

Porsche VSPs won't cover regular wear-and-tear items like brake pads and clutches, spark plugs, bulbs, cables and vacuum hoses. Porsche also considers "hybrid and electric batteries and battery cables" to be wear-and-tear items, although Porsche batteries have a separate factory warranty to fall back on.

They also won't cover damage resulting from water getting into the intake or breakdowns of the frame/chassis, exhaust system, transmission cooler lines, wheels and other components.

Perhaps most notably for driving enthusiasts, Porsche VSPs won't cover any breakdowns that occur on a racetrack.
How much does a Porsche extended warranty cost?
For context, the average extended auto warranty costs around $2,500. That said, a Porsche is no average vehicle. With a base Macan starting at $60,900 and a well-optioned 911 costing well over $140,000, it's safe to say the average transaction cost of a Porsche falls near six figures. Logically, the cost of a Porsche extended warranty is likely to be high, but how high?
Porsche VSP costs
To find out, we rang up a few Porsche dealers, and here are the lowest quotes we were offered for various Porsche VSPs.
| Vehicle | Coverage | Term | Deductible | Cost |
| --- | --- | --- | --- | --- |
| 2023 Porsche Taycan | Platinum | 8-year/100,000 miles | $100 (disappearing) | $9,996 |
| 2023 Porsche Taycan | Platinum | 8-year/100,000 miles | $250 | $8,378 |
| 2021 Porsche Macan S (CPO) | Platinum | 10-year/100,000 miles | $100 (disappearing) | $10,675 |
| 2021 Porsche Macan S (CPO) | Platinum | 10-year/100,000 miles | $250 | $7,286 |
| 2021 Porsche Macan S (CPO) | Platinum | 1-year extension to CPO warranty | $100 (disappearing) | $2,100 |
| 2019 Porsche Cayenne | Platinum | 4-year/48,000 miles | $100 (disappearing) | $10,817 |
| 2019 Porsche Cayenne | Platinum | 4-year/48,000 miles | $250 | $9,886 |
Some things to keep in mind:
The above prices do not include tax.
The certified pre-owned 2021 Macan S includes a complimentary CPO warranty, which extends the factory warranty by two more years.
The 2019 Cayenne is totally out of factory warranty, meaning the term for its Porsche VSP starts on the warranty purchase date — not the in-service date. That's why it's presented as a four-year/48,000-mile plan and not an eight-year/100,000-mile plan.
Our chief takeaway is that Porsche VSPs are pretty expensive extended warranties. Across the board, these plans cost around $2,500 per year of coverage not already covered by the factory warranty.
Is a Porsche extended warranty worth it?
Value is relative, so a $2,500-per-year warranty might be worth it if your vehicle is expected to need $3,000+ in repairs each year. Does that mean a Porsche VSP is, in fact, financially worth it? Probably not, but your results may vary.
As a rule of thumb, an extended auto warranty is more likely to be worth it if either:
You drive a vehicle that's not particularly reliable.
The cost of the extended warranty is less than the expected cost of covered repairs.
Receiving a large repair bill could be financially ruinous.
You don't have a problem with paying thousands of dollars for additional peace of mind.
Since points three and four above are dependent on you, we'll analyze points one and two.
Porsche has a mixed record for reliability. J.D. Power ranked the brand 20th out of 32 automakers overall in 2023, with 208 problems per 100 vehicles after three years. Granted, problems caught within the first three years would likely be covered under the factory warranty, but Consumer Reports, which draws data from a wider range of model years, ranked Porsche 13th out of 24 overall, indicating that Porsches seem to have issues in their post-warranty years as well.
When things go wrong on Porsches, they're not cheap to get back on the road, either. RepairPal data suggests that Porsches cost their owners $1,192 per year in repairs and maintenance, nearly double the $652 average across all brands.
Porsches also make unplanned trips to the mechanic 0.8 times per year, and 21% of the time, those repairs cost $2,000 or more. (The average vehicle goes to the shop 0.4 times per year, and only 12% of its repairs are that severe.) That was enough for RepairPal to give Porsche a 2.0 out of 5.0 reliability rating, placing it dead last out of 32 automakers.
While $1,192 in repairs and maintenance per year is high, it's still far below the approximate $2,500 annual cost of a Porsche VSP. That means you'd more likely save money by paying for repairs out of pocket than investing upwards of $10,000 in a Porsche VSP.
So, what are your options if you still want some additional protection?
If you don't own a Porsche yet, consider buying a certified pre-owned vehicle. It may cost more than a normal pre-owned model, but it comes with a quality guarantee and a two-year extension of your factory warranty.
If you already own your Porsche, let's see if a third-party warranty company can offer a better deal on coverage.
Porsche extended warranty alternatives
We reached out to Endurance and olive, two extended warranty companies, to see if they could beat Porsche's quotes.
(The third-party prices below are for comparable bumper-to-bumper plans with a $100 deductible, albeit a nondisappearing one. As before, they don't include tax.)
| Vehicle | Porsche | Endurance | olive |
| --- | --- | --- | --- |
| 2023 Porsche Taycan (base) | $9,996 | $10,333 | Coverage not offered |
| 2021 Porsche Macan S | $10,675 | $10,333 | Coverage not offered |
| 2019 Porsche Cayenne (base) | $10,817 | $10,333 | Coverage not offered |
In the process of collecting these quotes, we learned two things:
Some warranty providers, like olive, won't cover Porsche vehicles, presumably due to their high cost of repairs.
Endurance's uniform quotes were able to undercut two of Porsche's offers by a few hundred dollars, but it's worth remembering that Porsche's deductible is disappearing — which could close the gap after a few repairs.
Given the high cost of Porsche repairs, it's still probably worth shopping around with other extended car warranty companies to see if you can get a deal that makes sense. In our experience, warranty quotes can vary considerably, so what you see from one warranty company may not be a good predictor of what another company will charge you.
Label
Authorized Partner
Company name
Logo
Contact
Summary
Learn More

Label
Authorized Partner
Company name
Logo
Contact
Summary
Learn More
Did you find this article helpful?
|
You're signed up
We'll start sending you the news you need delivered straight to you. We value your privacy. Unsubscribe easily.