Porsche maintenance: cost, plans and service schedule



Written by

Edited by
Find Extended Auto Warranties near you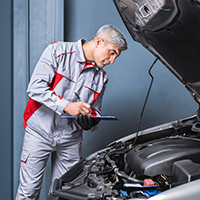 Just because you saved up to buy your dream car doesn't necessarily mean you can afford it. Maintenance and repair costs can add up fast, especially for luxury performance vehicles.
Keep reading to get a sneak peek into what you can expect from Porsche ownership, including how much it costs, how Porsche compares with other manufacturers and how you can save money later on.
---
Key insights
Porsche reliability can be hit or miss, but maintaining and repairing a Porsche usually isn't cheap.
Porsche offers one free scheduled maintenance appointment for its new vehicles.
According to RepairPal, Porsches need unexpected repairs twice as often as the average car, and those repairs have an above-average chance of being "severe."
An extended warranty can help you avoid repair bills once your factory warranty expires, but you may have to shop around for a worthwhile deal.
Are Porsches expensive to maintain?
Porsche owners typically spend an average of $1,192 each year on maintenance and repairs, according to RepairPal (a website that helps people estimate the cost of their car repairs). That's almost twice as much as the reported industry-average rate of $652 per year.
Porsche also placed in the bottom slot of RepairPal's reliability rankings — 32nd out of 32 brands — based on the severity of its repairs and how often they occur. This reputation isn't consistent across sources, though.
J.D. Power put Porsche 20th out of 32 brands in its 2023 U.S. Vehicle Dependability Study, and Consumer Reports ranked it 13th out of 24 brands for reliability in 2022.
"I see mixed results when it comes to Porsche reliability," said Mike Miles, a mechanic familiar with Porsches. "That might be due in part to the increasing complexity of technology. Porsche leans on high-tech features and that can go both ways — costly repairs or better reliability."
None of these sources argue that Porsches are particularly reliable vehicles, but there does seem to be some disagreement about exactly how reliable they are.
How Porsche compares with other automakers
According to RepairPal's data, there are two main reasons for Porsche's hefty cost of ownership:
Porsches visit the repair shop twice as often as other cars.
The likelihood of one of those visits resulting in a major repair is 21%. The industry average is 12%.
Check out the chart below to see how Porsche upkeep costs compare with what you might see from some other popular automakers.
| Make | Average maintenance and repair costs* |
| --- | --- |
| Porsche | $1,192 per year |
| Honda | $428 per year |
| Toyota | $441 per year |
| Ford | $775 per year |
| BMW | $968 per year |
*According to RepairPal
These figures are good for broad-stroke characterizations of each brand as a whole, but the reality of each automaker's lineup is usually more complicated. (One outlier could throw off the brand's whole average, in theory.) So, with that in mind, let's look at how some different Porsche models compare.
Porsche maintenance and repair costs by model
The Boxster has the highest reliability rating of any Porsche model on RepairPal, but it's difficult to put that in context. For example, the Boxster is slightly less likely to see the inside of a repair shop than other high-end vehicles, but it still ranks 15th out of the 17 luxury compact cars in its class for reliability. The Cayenne, meanwhile, received a rating of 1.5 out of 5.0 for dependability, putting it last among luxury midsize SUVs.
| Model | Average maintenance and repair costs* |
| --- | --- |
| Boxster | $952 per year |
| Cayman | $1,135 per year |
| Cayenne | $1,231 per year |
*According to RepairPal
If you want a better idea of what Porsche ownership looks like, it's helpful to break these statistics down a little further, though. Maintenance, the routine tasks needed to keep your Porsche in good condition, requires you to spend differently than repairs, which are the less predictable and frequently more expensive solutions to something going wrong. So, let's take a look at them separately.
Porsche maintenance schedule
Following the maintenance schedule in your manual is vital to keeping your Porsche healthy and on the road for as long as possible. (If you regularly miss scheduled maintenance intervals, you may have to deal with bigger breakdowns in the future.)
Your maintenance schedule will differ depending on the model you drive, so make sure to consult your manual for the most accurate information.
Example: Porsche Cayman maintenance schedule
If you don't own a Porsche yet and want a more general idea about what to expect, here's a quick rundown of the services recommended for the popular Porsche Cayman. (We'd still advise Cayman owners to check their manuals for guidance.)
| Interval | Service |
| --- | --- |
| 10,000 miles | Full synthetic oil and filter service |
| 10,000 miles | Multipoint inspection |
| 20,000 miles | Full synthetic oil and filter service |
| 20,000 miles | Multipoint inspection (with added components) |
| 20,000 miles | Brake fluid flush and fill |
| 30,000 miles | Full synthetic oil and filter service |
| 30,000 miles | Multipoint inspection |
| 30,000 miles | Spark plug replacement for Turbo/Turbo S models |
| 40,000 miles | Full synthetic oil and filter service |
| 40,000 miles | Multipoint inspection (with added components) |
| 40,000 miles | Spark plug replacement for other models |
| 40,000 miles | Brake fluid flush and fill |
| 40,000 miles | Tire sealant replacement |
*According to Rusnak/Pasadena Porsche
Note that not all Porsche models require synthetic oil, but most will require a change at each service interval if you want to keep your car running like new. (Mechanics often recommend synthetic oil regardless of requirements.)
Porsche maintenance costs
Porsche provides the first scheduled maintenance visit free with new vehicles, but if your ride is any older than that, you're on your own.
Your recommended maintenance schedule should make it fairly easy to get a good estimate for what you'll spend on maintenance, though. If you really want to get specific with your budget, find out what your local mechanics charge for the services listed in your manual and plot out those charges over the recommended intervals. (The cost of maintenance depends on your model, your location and your shop's labor fees, so it's hard for us to provide accurate numbers for this.)
Alternatively, if you just want a ballpark estimate of what different maintenance services might cost you, check out the table below.
| Service | Cost* |
| --- | --- |
| Tire replacement | $150-$350 per tire |
| Oil change | $200-$400 |
| Brake fluid replacement | $1,500 |
| Brake pad replacement | $1,000-$1,800 |
*According to Autoscope
Porsche repair costs
Estimating repair costs is harder because it's rare for two vehicles to have the exact same malfunctions throughout their lifetimes. That's why pinpointing an individual's expected repair costs is a tough game. (One Porsche might never break down, while another might never run correctly, and an average of the two would seem wrong to both owners.)
In general, you can expect Porsche repairs to be more expensive than for other vehicles because of the specialty components and knowledge needed to bring one of these vehicles back to normal. (You might have to take your Porsche to a specialist for some services.)
It's worth looking up common repairs for your specific model. Some issues, like the IMS bearing failures of the early 2000s, can be widespread and catastrophic.
We also noticed a trend in the reports of common problems encountered by RepairPal users. The most commonly reported issue on that site for the Boxster, 911 and Cayman was a failure of the air/oil separator, which was said to result in smoke, oil consumption and fuel trim issues.
RepairPal couldn't provide a singular estimate to fix the issue since multiple systems could be affected, but commenters reported the resulting issues costing them anywhere from $900 to $25,000 to fix. (The latter commenter required an entire engine rebuild, and it's a testament to the cost of Porsche repairs that it was potentially six times as expensive as the National Automobile Dealers Association's estimate for that service).
» LEARN: How much does it cost to replace an engine?
The good news is that Porsche does offer warranties for its new vehicles. Its New Vehicle Warranty lasts up to four years or 50,000 miles, covering the cost of remedying almost any manufacturing errors. However, once your Porsche passes either of those milestones, you'll be responsible for any repair bills it incurs.
There are options for protecting yourself from exorbitant repairs in the future, though.
How can an extended warranty or maintenance plan help?
Purchasing an extended auto warranty can potentially reduce the stress that car repairs put on your bank account. Basically, breakdowns happen, but with an extended warranty you won't have to foot the bill as long as the problem is covered under your warranty.
» MORE: Car warranty vs. car insurance
Porsche offers its own line of extended warranties, which it calls Porsche Vehicle Service Protection Plans, and we were able to find lower-price plans from dedicated warranty companies when we got quotes from two other providers. However, you might consider shopping around for cheaper options to increase your odds of coming out ahead financially.
(Warranty companies know Porsches are expensive to fix, and they price their products accordingly, if they offer them at all. On the other hand, even an expensive warranty can be worth it if you find yourself in a situation like the commenter who needed a full engine rebuild.)
» MORE: Pros and cons of extended auto warranties
Porsche also offers prepaid maintenance plans that can help keep your vehicle on the road longer and potentially save you money by hedging against inflation and price hikes.
Owners of 2018 models and newer can sign up for one of four different Plus Plans: two years/20,000 miles, three years/3,000 miles, four years/40,000 miles or five years/50,000 miles. The choice is up to you and depends on how long you'd like your critical maintenance taken care of.
---
Article sources

ConsumerAffairs writers primarily rely on government data, industry experts and original research from other reputable publications to inform their work. Specific sources for this article include:
Did you find this article helpful?
|
You're signed up
We'll start sending you the news you need delivered straight to you. We value your privacy. Unsubscribe easily.