Consumer Reviews and Complaints

I bought a manual 2003 Xterra when in June 2003 from a dealership and have been driving it ever since. It has 180,000 miles on it and has been awesome. The timing belt and clutch have been replaced, but that is to be expected. All other things done on it have been general maintenance. My only complaint is the paint crazing on the hood. I drive it daily to work, haul art in It, and take it camping. I love my Xterra and am glad I got a 2003, especially after reading everything posted here.

I bought a new off the showcase 2007 Xterra at the Miami Lake Palmetos Dealership. First the rim of the front tire a pin size hole, leaking air from 40psi to 15 psi, the fuel line gauge out $600 to fix. It had a recall but nobody notified me. The transmission cable shifter broke. Almost ran over a gas pump. Car kept going. ''No Park.'' More money to fix. I don't recommend anybody to buy a expensive Nissan car because these Nissan people don't care and the Dealership also don't care about the safety of the person behind the wheel. This car has been a Money pit. Go Toyota No 1, those Toyota run for ever.

I am the original owner of a 2000 Xterra XE purchased in summer of 1999~ V6, manual transmission, roll-up windows (lol). I have owned this truck for 18 years, and currently have 151,000 miles. To date I have only had to replace battery a few times, distributor, alternator, brake pads twice, water pump, headlight bulbs once. I am currently experiencing the dreaded radiator leak. (My husband JB welded it, and that has seemed to suppress it until it can be replaced. I put Seafoam in gas tank 6 months ago, experienced a backfire... I wonder if the Seafoam was a mistake... Xterra was fine until recently. Oh, and my rear main seal is leaking oil, to be expected for an 18 year old vehicle, and my AC has conked out twice, (first time 2005, and again in 2014 hoses are a problem).
Surprised and unfortunate so many people have had so much trouble with radiator ruining the transmission. I'm hoping the radiator is not connected to the trans in a manual as it is automatics. The reason I insisted on buying a manual w/ roll up windows, was to avoid costly future repairs... My Dad always said, "the fancier it is, the more expensive it will be to fix!" I am planning on keeping my truck for as long a possible, I'd much rather pay a few thousand to keep this one going than $20-$30k for junk with a bunch of fancy unnecessary gizmos that will cost a fortune to fix WHEN they do go out!

Recently I bought a 2015 Xterra Pro-4x, manual, with 31k on it in near mint condition. All was well until recently when at 36k (I had only put 5k on it) the clutch wore out at the exact same time as a linkage problem with the transmission (stuck in gear) left the car unable to be driven and a projected 2-month repair downtime. I approached Nissan Canada to see if they would be able to help cover the cost of a new clutch given the clear premature failure and association with another major drivetrain/transmission failure. After spending a lot of time on the phone with manager who appeared to understand the situation and initially was willing to help, I was handed down a final conclusion of "will not be paid as not under warranty".
While indeed a clutch is not typically covered under a warranty for this vehicle this should not happen at 36k, driven lightly, not used for towing or off-roading, and associated clearly with another problem (I would not be able to drive the car if the clutch was the only problem). I have driven manuals my whole life and have an Acura TSX with 190k on it with the original clutch and no issues. The lack of understanding and financial help from Nissan Canada cannot let me recommend them to anyone else. The clutch appears to be way under designed for the power and weight of this vehicle. Buyers beware if looking at a used one. Nissan screwed this up big time, and their customer service is poor.

The 2006 Nissan Xterra I have was bought used. I have had it for over 5 years now and can say it was worth every cent I have paid for it. Yes, the cooling system can fail and flush into the trans causing it to fail and the transmission will have to be replaced. What I did was go on YouTube and found how to fix that problem by putting in another radiator, rerouting the lines to separate the engine cooling system and the trans. Works very well. I have upgraded the headlights to replace the old faded ones, redid the brake system to high heat for better braking.
This 4x4 has also a replaced used driveshaft due to the failure of the old one from the factory. This unit now has 170000.0 miles on it and I can't see why it shouldn't make 300000.0. I change the oil every 50000.0 miles with a synthetic. When this motor dues go out, I will have it rebuilt. Remember to use all Nissan parts as well. After market parts will not hold up and will fail and cost you more money in the long run.
How do I know I can trust these reviews about Nissan?
885,230 reviews on ConsumerAffairs are verified.
We require contact information to ensure our reviewers are real.
We use intelligent software that helps us maintain the integrity of reviews.
Our moderators read all reviews to verify quality and helpfulness.
For more information about reviews on ConsumerAffairs.com please visit our FAQ.

Bought a used 2007 Nissan Xterra in August 2016 with 127,000 mi. for college age son. 9 months later the radiator cracked and leaked fluid into transmission which took out the whole car! Really mad after reading how many others have had this problem and the fact that there was a class action suit in 2012. Bought the car from a private party who was original owner and hoping she didn't have a clue about this problem, otherwise, what crappy thing to do (she is a friend of a very good friend)! The cost to fix is quoted at $5,000 - $6,000! The car is maybe worth that? Trying to decide whether we junk the car or pay to fix, but I'm not sure I trust this car anymore! Disappointed that the National Transportation and Safety Board doesn't consider the defective radiator to be a recall issue! Should have bought another Subaru!

After months of repeatedly having to tow my Xterra to the mechanic because it wouldn't start when temperatures dipped below 40 degrees, I thought it might be fixed. The mechanic replaced the ECM, which we hoped was the solution. I picked up the Xterra, drove it 17 miles, and it wouldn't start again. Turns out the TCM had failed, filling the transmission with antifreeze. This failure is apparently so common that finding a TCM is difficult. I'm junking the car. This was my sixth and last Nissan. The others were great, but Nissan has stopped building good cars.

I like many other Xterra owners got screwed by Nissan... My 2007 went to the dealership religiously every 3000 miles for service. I did everything on their recommended services. Then at 112,000 miles I was told the transmission is toast. I thought taking it to the dealership they would have my back and let me know of impending problems, I was wrong. Not once was I told about the faulty radiators, not once. I like many others would have had no problem paying for a new radiator if I had known about the problem. Nissan hid it from customers and for that reason I will never buy another Nissan and I will discourage every person I know to stay away from Nissan products.

In writing this review I am very upset. I bought my 2005 Nissan Xterra with high mileage as it was in great condition. It also had a two year extended warranty by the dealer. I have never used it to date. Ultimately I definitely paid a lot more than the vehicle is worth. Yesterday the transmission completely quit, vehicle was uncontrollable and there was no warning whatsoever. No check engine light came on. I could have been in a major accident. In the process of trying to troubleshoot the problem I discovered that there are major recalls on this vehicle and there was also a class action lawsuit against Nissan for the same issue my vehicle has.
Unfortunately I do not have a secondary vehicle and am missing work and I definitely don't have the money to put thousands of dollars into repairing this vehicle. I have never been notified of any recalls on this vehicle as many other Nissan Xterra buyers have not either. Now I am missing work and having to deal with this issue and can result in the possible loss of my job. This dealership never disclosed that this vehicle had so many recalls on major parts of this vehicle... They see $$$ signs first and do not care about the consumer. My advice is Don't buy a 2005 Nissan Xterra and beware of dealers who have no consideration for the consumer.

I bought a used 2002 Nissan Xterra five years ago and it has been great! I've been in accidents and put many miles on it and it's still kicking at almost 300k miles! I would definitely recommend this vehicle to a friend. I have had no major repairs. Changed the battery once and keep the oil changed every 3000 miles and that's it! One bad thing is that the radio speakers stopped working after 4 years. It's last long enough so I'm not worried about getting it fixed.

I am only writing this review after reading several forums searching for similar issues that I have had with this vehicle. I previously owned a 2006 Xterra, 6 speed manual trans. Never had a problem. But I traded it for a truck I liked and enjoyed that as well. My mistake was selling that truck because of hard times and no job. Well, months later I was able to get financed with a used car dealership and gave down payment on this 2002 Xterra. This was in 2012. I am still making payments.
It was overheating shortly after purchase yet the mech I took it to saw no reason. Replaced radiator cap. Drove it from North Carolina to California. Weather was cool, car continued to overheat but I learned I was able to stop, let it rest, add water. Once I arrived in California I had a first rate mechanic replace just about everything but transmission. He claimed nothing wrong with radiator. But got new fuel pump, water pump, motor mount, gaskets hoses and clamps. Probably a few more parts few months later and thousands of my retirement funds, it ran okay for a while.
I continued my journey to Nevada, December 2014. Going for an interview. As I approach the freeway 397, damned thing blows, smokes up a storms and stalls... (Did this in Cali once also, a neighbor came at me with extinguisher) One hose clamp cost me $140.00. My boyfriend replaced the radiator for me and all was cured. No SES light. No overheat. Perfect running hoopty getting me around. Now the weather changes. One morning the SES light goes on. Turns off as the day warms. A little cooler the next day light comes on and flashes. Light has remained on and will blink at certain RPMs.
Here it is 2016, almost 17, and this SUV is still a money sucking mystery with a flashing SES light (or solid). Nevada dryer, cold weather seems to trigger the knock sensor and that triggers misfire, and this makes the car shake. Oh, and a rattle. I am reading all these complaints and wondering about timing chain, coolant in the tranny, oh my gosh! I cannot put more money in this car. I don't have any. But I can say this, it was fine last week. And it does this off and on. All related to the knock sensor. So I know I will get no answers to my own car's issues. But hopefully this will help another lemon owner's stress, knowing they're not the only. Thank you for your time. P. S. I still believe in Nissan. This is my third but only problem child.

I've owned 5 Jeeps, 3 Cherokee XJ's and 2 JK Wranglers. The most recent was a 2012 Rubicon. The Rubicon was my dream vehicle. Sadly it turned into a nightmare. In the first year of ownership it spent 45 days in the dealer for mechanical repairs. 2 radiators, a new heater core (required removal of entire dash), transfer case, front locker and finally left side engine head. All within the first 27K miles.
Traded the lemon that was my dream Jeep in for the PRO4X version of the Xterra with leather and navigation. Love it! Put over 30K miles on it in the first year and not a SINGLE problem. Oil changes, wiper blades and software update are it. Goes anywhere we want it to. Soft beach sand, hard packed snow, steep old gravel mining roads are all cake walks. Rear locker works like a charm. Rockford Fosgate sound system is great. I would highly recommend this vehicle to anyone. Has more power than the JK, twice the towing capacity and I can sleep in the back. See the newx.org for detailed write-ups on building your back seat camping bed for two.

I have a 2001 nissan xterra and could NOT be happier with it. I am one of the few reviewers who actually uses the 4wd for off road, corn fields and pull a boat trailer and wood hauler trailer. This vehicle has been hands down the most reliable 4x4 I have owned. I have over 186,000 miles on it and bought it used with 149.945 miles on it. Replaced valve cover gaskets and one fuel injector - that's it in the 3-4 yrs I have owned it.
I am more familiar with the japanese motors and trannys and have owned a few older 90's Toyotas 4x4 pickups which where great fun and handle great off road. That being said based on the reviews on here I would not buy another xterra unless it is an older one 2000-2003 which seem to be exempt from the problems that I have found on here. The issues with the trans and coolant seem to be a manufacturing or design defect that appears a class action will remedy... it will take time people. Mine a 2001 xterra se has been great to me driven to Wisconsin pulling a boat, pulled 600-700lbs of elm tree in it with my landscape trailer, and it's my daily driver.
The issues on here seem to be year specific 2005 and newer and because of that I will not buy a newer one and appreciate the feedback that helps cement these decisions. The trans issue sounds like a doosey which is suprising because in all honesty the Japanese usually have such better quality because of such strict tolerances on their autos. Sounds like someone at Nissan has dropped the ball considerably to the point that the newer xterras should not be considered for new car buyers. I have owned chevy c-10 pickup, ford f-150 and a few Yota pickups so I have no allegiance to one or the other. The 2001 Xterra I own has been a great, fantastic suv, but other options won't keep me loyal to one or the other.

I have a 2006 Nissan Xterra SL, 4WD, no electric doors or windows. I have over 260,000 miles on it. When the time comes that it dies, I would want another just like it. I have changed tires 3X, 3 batteries, all brakes once and rear differential replaced. I have changed out 3 of the coil packs out of 6. It did develop a leak in the pipe at the firewall from the radiator - easy fix. I can't believe what a wonderful vehicle this one has been for me. I would recommend this vehicle to anyone. I'm a 63-year-old grandmother who is alone and needs dependability. I've owned many vehicles in my life, most of which didn't make it to 100,000 miles, except for a Toyota Celica that made it to 130,000. Every day that I go out to my Xterra and turn the key and it immediately starts, I am so grateful to Nissan for this vehicle.

I have a 2011 Nissan Xterra with 74k miles and I am the only owner. The vehicle has never been 4 wheeled and almost exclusively been driven on the highway. I have a grinding noise coming from the back of the vehicle. I took my vehicle to the dealer and they informed me I need a new rear axle for $2,500. The car is only 4 years old with 74k miles. In all the cars I've had in 30 years this is a first for me. No more Nissans for me. I'm going back to Honda!

The reason is the vehicle was bought in Nissan was bought used with about 24,000 miles on it. It had one other owner. It was bought in Maryland. Now the clutch need to be replaced after I have it 6 months of me driving it around town. I have a Toyota with over 57,000 miles on it which is manual. No problem. I have in the past had Ford van manual drive with 100,000 miles on it before. Clutch will not go bad after 30,000 miles unless made with bad parts. They say it not covered under warranty because it is a wear and tear issue. Do not buy Nissan used because they don't back their vehicles. It was a great vehicle while we had it. Ran great, handle well everything. The good review said you expect as the last run they would get all the bugs out and problems out.

Where do I start? I guess from the beginning. I had a 2010 Toyota Venza purchased new in 2010. Sold it with 40K in 2/1/16, never had a single issue with the Venza. Being that I'm a guy I had the great idea of selling it to CarMax so I could get me a used SUV and not have a car payments. I sold the Venza on 2/1/16 to CarMax for 15K. I purchased a 2005 Xterra 4x4 burgundy with 113K miles on it for $6,500. The car is gorgeous and is a one owner car too with all the service records from the dealer. What could go wrong? After driving 300 miles or so, my check engine light came on. I got a code related to my transmission. I looked online and I read regarding the Milkshake of Death! I was terrified and went outside to check my transmission fluid. I was done! My transmission had eaten the Milkshake of Death!
I took it to my mechanic. They replaced the Radiator and did two transmission flushes at a cost of $1,200. The car was running fine until this morning when I felt two jerks/kicks when coming to a stop. I have put only around 250 miles since the transmission flush. I'll put some Lucas transmission treatment and time will tell. If I have to replace my transmission this will cost me $3,500 to $4,500. Now I have also read regarding the timing chain. Here it goes another $1,500. Not to mention $300 to replace the fuel pump. I found one on Amazon for $150 and the mechanic will only charge me $150 to replace it. I think I'm better off repairing it and keeping it knowing that all the faults have been repaired rather than to sell it and spend 10K or more on another used SUV knowing I will probably have to spend more money on it.

I have had many friends and family that have purchased Nissan products and for the most part been good cars. I had a Nissan Xterra couple years back 2004 and it performed great. I live in the mountains so having 4WD is a necessity to get around at times. My road is dirt and gravel presenting dust and rocks to cars repeatedly causes problems for anyone who is not car maintenance smart. I was happy with the performance of car and never had a problem with motor or 5 speed transmission but the front clip on car began cracking and splitting. Refused by dealer to fix due to where I lived and road conditions.
First time ever had this issue since I lived here since 94 but ok. I got some cold rolled steel and 1/8 in. steel flats and started by pulling together and welding cracks then plated and welded supports. Problem solved. It added around 100lbs weight to front but she was a tank at that point and the increased strength per weight amazed others as one night I hit a deer running 70 when seen and after hitting breaks and correcting path to no avail still hit running about 45mph. No air bag deployment found that alarming then I go out to look at damage knowing that it's probably totaled.
Amazingly it ok. Bumper was cracked but plastic what do u expect, headlight blown and lost two KC lights. As far as the hood, fenders, and other body metal items at most small dents. All the welding and reinforcing I applied to support weight of body from tearing itself apart on dirt roads had also absorbed the impact and prevented impact from totaling car. Replaced brakes and wheel bearings and had to replace shocks quickly upgrading them along with steering to hold 32X10.50 R15s for driving through fields, muddling with friends and also for running in winter as we see a lot of ice than snow. My tire/suspension upgrade made gas mileage go down a little but increase in traction and stability made well worth it and made selling car easy.
I purchased a 2000 Nissan Xterra 4WD 3.3L 5 speed last year in May. I have not had many problems out of it although it had 219K. Had to replace fan clutch at end of summer and changed tires. Power steering began leaking so I took fill tank off. Cleaned, flushed, and replaced factory clamps after inspecting. Problem solved. Due to 25 mile commute to work and dirt roads I try to change oil every month at most once every two months and have taken off stock air filtration and equipped it with cold air intake with arrow performance filter wrapped with microbial mesh filter all housed inside plastic cover to protect from damage.
Yesterday I went out to check front bearings as it has been driving weird pulling and vibrating, excessive body roll in turns etc. I noticed that both rims cover in black dust like when you put new breaks on and front-end sitting visually lower. I went to put jack under car to jack up when I noticed that the suspension looked wrong. Its rubber stoppers are one inch from touching. Looks collapsed and across almost like it has a twist when looking at plates covering front axle. Ball joints still attached to upper and lower arms but appears that it has pulled them together. I am about to go and attempt to use cherry picker to support body weight as I jack frame up leaving no pressure on front suspension.
Due to many different designs I have seen so far used for them both with and without 4WD am looking design for mine up by VIN so I can compare and try to find out what happened and replace what's damaged. I do not know exactly what happened or when but know that for a while now front end has been giving me problems with shaking violently including shaking the steering wheel mainly at speeds around 50 to 60 being the worse while not as bad at others. Steering around curves wheel jerked as if losing power from pump wanting to straighten out bouncing hard. Then before this 4WD was not working correctly when engaged felt as if binding up and tires squalled. When I applied clutch it slowed quickly as if you stepped on breaks firmly. I am not sure exactly when this catastrophic failure happened but know it had to have happened or started around Friday evening 1/15/16.
How this did not cause the car to flip or complete loss of steering beyond me. I honestly don't see how the tires haven't folded up or fallen off with condition of roads and violent turns. I am both upset and lost as to what I am going to have to do to fix all this or if it will be even worth it. I am not sure if this was why my steering was shaky and why 4WD started to act up as I had trouble shooted all other issues I could think of and found by other posts in blogs and asking around at shops and auto part stores. No one mentioned to me about this happening anywhere. All ball joints were checked and good rubbers and bushings good connections solid not damaged and lubricated. It has had me completely stumped and now I have this problem.
So hopefully this may help out a fellow Xterra owner having same type problem and has checked everything I have as well multiple times. I did not see this happening as I have spent multiple hours under car checking front end and connections. Yea it is possible I may have missed something that lead to this failure. It is possible but I just don't see how. I will comment when I get car up and looked at to determine whether she is worth fixing or if it will cost too much or if damage is too extreme to be repaired weakening the integrity and safety of car. If someone can offer any help plz let me know.

When on Empty, and I put $15 in, my gas gauge doesn't go up... Why does it do this? I know there was a recall but would I still be covered to get the replacement? It has 153,000 miles on it? Need to get it fixed because I never know how much gas I have in my car.

My 2012 Xterra locks automatically when I get up to 15 miles per hour as designed. However, it also locks itself if left parked and running with the doors are shut - not by design. I purchased my vehicle at a local dealer who offers free car washes and twice someone pulled it in to be washed, left it running, got out of the vehicle, shut the door and it locked itself. They have had to use a tool that may damage my vehicle to open it. My Xterra has also locked on me many times to the point I do not get out of my vehicle without my keys in hand.
When I asked the dealership service associates why this would be happening, they could not speculate what might be the reason. I did not have time to wait so I left. I have looked online and MANY people have written about this same issue. Since the local service people do not know what it might be - I would like someone from corporate who may have a greater knowledge of this issue contact me with what it might be. I will then approach the local dealer with possibilities. I do not want to spend a fortune on fixing this issue if they do not know what to look for.

I thought Nissan was a good reliable brand that sold well-made cars. And I foolishly had my heart on the Xterra! I bought a 2012 with only 40,000 KM on it! Practically new! I didn't even have it for 24 hours when I was driving to work and almost got rear-ended twice when the transmission slipped on me! It drove perfectly fine the day before. There was no warning signs at all power when I pushing on the gas while I was driving down the freeway..... I took the car back to the dealership who took good care of me and let me exchange the Xterra for something more reliable. It was confirmed that it was the transmission and that was an ongoing issue with the Xterras. This is not safe!!!! What if I had been changing lanes? Shame on Nissan for not fixing the issue!

Bought 2009 Nissan Xterra, from time to time the vdc off / slip light would go on since purchased, contacted dealership and they advised me it had been raining and sometimes sensor will show when going from 2 to 4 wheel drive and will go off... So ok lived with it, doing it at the rare times it would do it - notice though it would come on during dry weather and didn't matter was in 2 wheel or 4 wheel... Made appt. with dealership for oil change and advised need that looked at this happening - they said my battery was weak so I got the battery replaced.
Later on took back to another dealership and they said Nissan wouldn't cover, talk to Nissan north American rep - basically said they wouldn't have a Tulsa dealership cover and if want can see if Missouri dealership would fix, since outside the normal Nissan warranty and that my Nissan extended warranty, which is the premier package bumper to bumper wouldn't cover -- really? Bumper to bumper isn't that with them! - that's why Nissan has 1.3 review scores out of 5 stars -- they don't stand behind their cars/trucks or their warranties.

Sitting in my 2014 Nissan Xterra Pro 4X with my friend in the driveway, with the car in park. Unexpectedly, all side curtain airbags are explode. After we pull ourselves together and try to regain our hearing, I immediately drive my car back to the dealership to get the car repaired. That was 21 days ago and NOTHING has been done and no one will return my calls. I have never been treated like this before in my life.

2 years ago was in need of a vehicle. Found an Xterra I could afford. First thing that went wrong was the driver's side window motor went. Then the check engine light would come on all by itself then goes out. Had no problems until last year when I was rear ended. The tire pressure monitoring system went, then my vdc and slip light came on. After numerous times of resetting the system ended up changing the vdc relay and another relay to the tune of $250. Finally got check engine light to go out. Then in Jan my rear caliper froze up and cracked my rotor in two. Ended up with another $250.
Now it's July and I find out my radiators leaked into my transmission. Did the bypass but it was too late. Damage is already done so it needs a new transmission. So last night I needed to go to the store, car wouldn't start. I replaced my starter. Still won't start. Now I find out it may be my ipdm which has a recall. But I'm out a car for now. Why didn't Nissan fix the problem that they knew was there before? Or was a recall too much money the company would lose.

I bought my 2007 Nissan Xterra in August 2013. I've kept up with regular maintenance such as oil change etc. It has not even been 2 years since I bought the car. I noticed the "service engine soon" light came on and took it to the dealership for checkup. I was told the following needs to be replaced: vent valve, transmission, radiator which was leaking fluid into the transmission, right rear axle and differentials along with the brakes. All these needed replacement. Total cost for parts with labor and tax was estimated around $10,000. I understand I bought the car used and currently has 126,000 miles on it, but gees, the cost for repairs is more than the car is worth. And yes I took the car to a different shop for a second opinion and was quoted thousands of dollars to get it fixed. So now, I am stuck with a vehicle that could break down anytime from now and still have about 8K left to pay on my loan. Certainly, I'm not blaming all Nissan's but this is really upsetting.

I bought my 2010 Xterra with an off-road package, brand new from a Nissan dealer. I have 58,000 miles after 5 years of ownership. These are the things I have had to do since I bought it: 1. Change oil every 3,500 miles - all covered free of charge by the dealership ($ 0); 2. Replaced tires at 55,000 miles - they were shot! (US$ 400); 3. Replaced battery at 4 years - it was done (US$ 120)
This has been a VERY reliable vehicle for me. My only 2 complaints are: 1. The hands-free bluetooth. It sucks. The microphone is mounted against the roof and it picks up all noise from the wind. It is impossible for anyone to hear what you have to say unless you are parked, there is no wind and you speak with your head/mouth pointed right towards the roof. 2. I am extremely careful with any of my vehicles. Even getting in and out and keeping them neat and tidy. The floor mats are of very poor quality. Even under very little stress, you will have to get them replaced after 4 years - they will start to fall apart after that.

I have owned my Xterra for 10 years and have been broadly satisfied with the car and the dealership. However, there were various issues with the car and the service, of which a faulty fuel gauge is one example that will cause me not to buy a Nissan product again. Two examples:
1) Certain years of the xterra have a faulty radiator. I found out about this when I was at about 105,000 miles - not through Nissan, rather through a lawyer who was promoting a class action suit. The problem had been known by Nissan for some months prior to my bringing it up and while I was still within the warranty period. Nissan's response, "essentially too bad, fix it yourself or sell the car. You are outside the warranty period." When I asked why no one had mentioned this to me until I brought it up, the response, "We have no obligation to do so."
2.) Faulty fuel gauge. I just had to pay $575 to repair the gauge. This has never worked properly, something I brought to the attention of the service folks on numerous occasions from the day I bought the car. It was never fixed because it did not show up on the system check. Response by Nissan customer affairs when I approached them to complain, "Too bad, we have no obligation to fix things that don't appear on our system checks.." The buying of a car is only part of the overall customer experience. Nissan does not seem to understand this.

Purchased '05 XTERRA as the 2nd owner in February 2013. In Feb. '15, Timing chain broke. Mechanic attributes failure to the PLASTIC tensioners Nissan installs to keep the chain tight/in place. Estimate of $5,000 to replace with used engine. No thanks. Still owed $8K on this POS and selling as is, I might get $2500. Have read countless similar stories from other X owners. Thought I was safe getting the manual transmission...thought wrong. If there is EVER a class action suit, count me IN.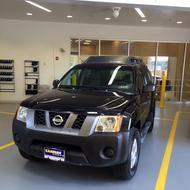 I bought a used 2007 Xterra from Carmax. They didn't disclose the major defect these Car have with a faulty radiator tank that eventually blows your transmission. I only have 62k. In February I found tranny fluid in my radiator. A Nissan dealership service insisted it didn't need the warranty work done so they flushed my radiator and sent me out the door. 2 months later it shifts hard and bumps at 40-45 mph. Take it to a different Nissan dealership and told my tranny and radiator broke and would be a $2500 copay since the $0 date was expired after March. I complained to Nissan consumer affairs that I reported it in Feb. with first dealership but they refused to honor it. On top of this, my timing chain is shot and will also be $1600. Completely disappointed with Nissan and feel taken advantage of. I thought I was buying a reliable vehicle. Ya, it looks cool but it will drain your wallet beyond normal standard costs of wear and tear.

Purchased a 2002 Nissan Xterra. Had it about six months was turning into a parking space in a shopping mall. Suddenly the engine started a high-pitched rev. Before I stop it the vehicle lunged forward as if the accelerator had a mind of its own. It crashed into four other cars before it stopped. Never had anything like this happen to me in decades of driving American made cars. From this experience I would never own another Nissan even if given to me for free. The officer that showed up on the scene said I was diving recklessly and issued me a $280.00 fine. Talk about turning a bad thing worse. He didn't see it happen but deemed it positively my fault and not the truck's.
Nissan Xterra Company Profile
Company Name:

Nissan

Website:

http://www.nissanusa.com/