Consumer Complaints and Reviews

I bought a 2014 Chevrolet Silverado Z71 4x4 and it has to be the worst investment I have ever made. To start that thing uses up a quart of oil every 1,000 miles. GM says this is normal! Also has the infamous engine ticking. Have had it in the shop multiple times because it got in the habit of having the interior, headlights and dash lights start flickering all at once then the steering wheel locks up making it impossible to steer, A/C and In-dash turn off then the entire truck shuts down. It has been to Friendly Chevrolet 3 times for the same issue only to be returned as "fixed" or the excuse of "unable to recreate."
After contacting GM/Chevrolet they have refused to stand behind their product and buy back this lemon advising me that if they are unable to recreate then the problem doesn't exist. So I took it upon myself to record a video and have proof of the life threatening malfunctions. There are also thousands of others experiencing the same issues on online forums and YouTube. DO NOT BUY CHEVROLET. THEY DO NOT STAND BEHIND THEIR PRODUCT AND THEY DON'T CARE ABOUT THE CONSUMER.

2013 Chevy 3500 - I have a 3500 and I swear this is the biggest piece ever made. We have fixed everything from a whole new fuel system to oil pan replacement transmission leaks. We have to completely redo the left brakes about every 3 months. The dealerships says it's because we drive the truck on gravel roads and we should be washing the brakes off everyday!!! We have a Ford 1 ton also and has just as many miles and the brakes have never been a problem. Then to top the whole brake thing we get them replaced from the dealership and I was driving home and the tire fell off the truck that was $1000 that Chevy would not cover. Now we just had brakes redone less than a week ago and I'm down to 4 lug nuts on the truck!!

I was going down my driveway, pulling a 16 ft stock trailer when the brake line on the drivers side rear wheel ruptured. I was able to stop, but only because I was going 10 mph and the electric brakes on the trailer engaged. Took to Chevy service and had to have all the brake lines replaced because of corrosion and holes in them. Replaced 2 front calipers because the pistons were corroded and stuck. Truck had to be towed to dealer. Dealer wanted to replace rear pads and drums because they were exposed to brake fluid, but we can't afford that right now. Total cost of repairs was #1647.94. 2/3's was labor because of the calipers. Truck is a 2005 with 61,500 miles. I am filing this to join the thousands of others with the same problem and to have the evidence to recover the cost for repairs from Chevrolet.

I purchased this brand new 2015 truck with less than 100 miles on it. Since day one I've had nothing but problems with the transmission. It's so bad that the service department has worked on it multiple times and now is in the service department again for 3 weeks!!! I'm paying for a truck I can't drive. Among the transmission I've had multiple problems with the driver's seat, had to replace the rims and tires, the tailgate fell off, the driver's door panel melted, the 110 outlet broke, and radio stopped working.

Traded in my 2007 Nissan Titan for a used 2014 Chevy 1500 crew cab. Bought the truck at a Corpus Christi dealership. It had less than 4000 miles on it. Truck had aftermarket rims on it. 24" rims look like a very nice truck. When driving back home which is 200 miles away we could feel slight vibration on it but was told that it was the aftermarket rims. After putting a couple hundred miles more, the vibration got worse. I googled what the problem could be. That's when I found out Chevy had a vibration problem called the Chevy shake. That's the least of my problem.
Now I was driving thru town while it was raining suddenly engine shut down. Took it home, got under truck and saw engine was leaking oil and I could feel a hole on the block. Somehow engine lost all of the oil and the engine blew up. Called so they could take truck to dealership and they came up with that the engine had water in it and it caused it to blow up. They don't want to honor warranty and they are wanting to use my insurance to cover the engine. If I could I would take my Nissan back in a heartbeat. 2014 chevy are coming out lemons. DON'T BUY A CHEVROLET. YOU WILL BE SORRY.
How do I know I can trust these reviews about Chevrolet?
634,774 reviews on ConsumerAffairs are verified.
We require contact information to ensure our reviewers are real.
We use intelligent software that helps us maintain the integrity of reviews.
Our moderators read all reviews to verify quality and helpfulness.
For more information about reviews on ConsumerAffairs.com please visit our FAQ.

I'm working on a 2003 Chevy 1500 2 wheel drive standard cab. In the brake lines are rusted trailer de meet the frame on driver's side beneath the door. As you open the door where the hinges are just file it's right under to the frame and that's where the brake lines lay up against the frame from the water I guess sitting there soaking up the brake line was soaking up the water causing it to rust. Seems like you could lift them up about 2 inches and it wouldn't be a problem or go to a better grade metal looks like braided lines all the way back. This is the third brake light out replaced on this truck and I only had it for 6 months prior to the month that I had it. The previous owner had the brake lines replaced. It's a serious issue and you all to make the brake lines with a better metal and stop trying to save money using an inferior brake line metal used stainless steel that will eliminate any rust problems.
Please I will be gladly to pay more for a truck with stainless steel brake lines rather than dealing with brake lines that are very difficult to get to and you have to take them to gas tank, take down god-knows-what underneath just to get to the brake lines and everything they touch. It seems like that Rush too so it's a terrible problem that you guys have. GM needs to definitely get on top of this before someone gets killed or hurt. I've lost my brakes twice thank God nobody got killed.

2013 Chevy Silverado with Rocky Ridge pkg...multiple problems. I bought my truck brand new in 2013. It currently has 66000 miles on it and I have nothing but problems with it. I already had to have #1 spark plug replaced due to it splitting. Now another one is messed up, back passenger door retains water inside the door itself every time it rains, the clear coat is peeling off my wheel wells, my stereo scans for channels constantly on its own, the ac stays on outside air, won't switch to recirculating anymore. I already had to have both tail pipes welded back on. Needless to say all the issues besides the #1 spark plug are not covered on the original warranty. Really disappointed in the product that they are selling for such outrageous prices. I won't buy another Chevy. That is for sure. I feel this truck is a lemon.

While driving to Idaho through Oregon my side curtain airbags and seat belts deployed for no reason at all. We drove on the rumble strip and they blew up. The dealer said computer ECM showed no problem. Everything was normal. PAC team was told to stop investigation and claim was transferred to Michigan. Claims rep who could care less and gave the Sam story to me as she told others on this site. The dealership has been fantastic. I have ordered 3 trucks so far and GM has cancelled all deals and assistance. Now I get notified there is another recall for airbags that won't deploy. In 2013 I believe 2 children were killed from these side curtain deployments. GM had to recall similar vehicles just a few years ago for this same problem. My insurance will not certify the truth and has other claims for this same problem. It is only happening to a small amount of these trucks and cars so GM can care less and deny everything...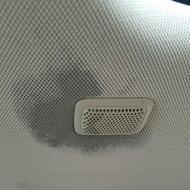 Purchased this vehicle "new" in Feb 2015 with 4,000 miles on it. Two months into ownership the vehicle went back to the dealership for multiple issues. The vehicle immediately had issues with severe vibration from the rear suspension. Vibration was so severe at 50-70 mph that passengers were terribly uncomfortable. The vehicle also has shifting issues mostly between 2nd and 3rd gears into acceleration. The dealer made a lot of excuses and kept the vehicle an extended amount of time to diagnose the problems with no fix for the vibration. The transmission and suspension definitely have design issues on the 2015 models.
After a long trip, the oil light came on saying low oil. Dealer changed the oil but could not explain why the vehicle was burning oil. The navigation system had some kind of short that took months to fix and now at 20,000 miles it has developed a leak at the Onstar speaker. Vehicle has spent more time in the shop than on the road in the past year of ownership. I traded a 2002 Avalanche for this crappy vehicle and I wish I had it back. I am astounded that GM/Chevrolet are not more proactive in trying to fix these issues and building a solid product. There is no way any of these vehicles should be the "most awarded" as advertised. A $40,000 expenditure for a "new, loaded vehicle" was NOT worth the money. The resale on these vehicles will be zip. I am looking for a new, non-GM vehicle.

Purchased 1 ton Chevy Pickup to pull 5th wheel rv. This vehicle has factory installed integrated braking system. The last three times pulling RV after two hours traveling the Trailer will bounce severely when brakes are applied on Truck. Feels like the truck is sending signals to truck to cause trailer to act like anti-lock brakes pulsating. Braking cause trailer to bounce. You have to remove foot off of truck brake to get it to stop. Trailer does not do this when pulled by other vehicles. Chevy will not admit there is a problem This is a hazardous issue as truck will not stop when this happens.

2014 Silverado A/C out - I bought this truck new and the a/c has gone out at 40,400 miles. Upon 5 mins of online research I see that this is a common problem among 2014-2015 GM trucks.

2014 Silverado 1500 Crew Cab LT - Purchased this vehicle a few months ago with 13000 miles on it. Been reading all the bad reviews and agree with quality problems. Owned a 2000 Silverado with 216000 miles never let me down. Think I've figured out what to do to help out with the idle and wired shifting and banging of gears with this questionable 6 speed tranny. Take total control of it by keeping it in manual 5 around town which keeps it from going into drop 4 cylinder mode and allows you to drive up to 50 mph without burning a lot of extra fuel.
Buy yourself a Range, plug it in for highway use only. Got a cold air intake and cut back duel exhaust - wow what a difference, well worth the money. Truck is way fun to drive. Am very impressed with the performance now. 5.3. Dropping 4 cylinders causes a lot of problems like oil disappearing. GM has no clue where it goes. l think that maybe the reason for rough idle maybe fouling spark plugs seems like my truck is doing so much better now. Seems like when slowing down and tranny gets between 3rd to 2nd gear giving it gas before the gear grabs causes the bang - just wait for the gear to grab and you can make that problem go away also. Modern technology oh boy!!! Hope this info helps you out.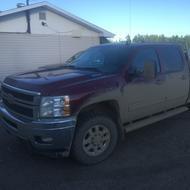 As far as I'm concerned it's been a great truck, never done me wrong. Just as the ones before it from GM, we did have a problematic GMC Sierra but never had a bad Duramax Silverado. But this review is specifically about my current 2013, which has run great from the beginning. Now it's at the 87000km mark, a great portion of which has been spent towing a heavy trailer on rough gravel, which it does with competence. I know 87000 is relatively low... But I really can't see it going south on me in the future. And if it does, I will be doing a much different review.
My only gripes so far are the def fluid which is just a pain and as I've heard gives worse mileage. And I have the feeling it will have a conniption and screw up one day, it's bound to happen to me in the middle of nowhere and I'll be derated. This has happened to me with the one GMC Sierra 3500 Duramax that I mentioned earlier and I know it's happened to friends in the past with their Silverado's. Also it's the loudest GM I've even owned, a LOT of wind noise. Being that much wind noise I'd think it's got a poorly sealed cabin but it doesn't seem to have any water leakage around door and window seals so who knows... It was annoying at first but I got use to it.
Something else is the engine exhaust break that was a new feature in 2013, it doesn't work as well as I think it should - mostly it doesn't work at all in manual mode where I down shift on hills with a heavy load on, but it works quite well in automatic if you just wait and let the truck figure it out it comes on, eventually... But it takes its time. And the most current problem, which actually is a problem, a fault in the built in trailer brake control module. Even though I have no trailer plugged in it still is coming up with the message "Service trailer brake system." It's coming up so often it has actually become annoying. It's a false computer code that I'll have to get fixed. But it's no big deal when in comparison to how good it's been. That's it, good experience and no real complaints.

My 2008 Chev Silverado 1 ton diesel would shut down whenever it towed our 40' camper. It would never pull it when weather was over 85 degrees or up mountain roads. It would go into safe mode or shut down completely. One time it shut down on the road 100 miles from Rapid City and had to be towed back and they said the oil was dirty when the truck monitor system said it still had 30% left. The dealership said they don't believe in the truck monitoring system and I needed to change the oil more often, $300 dollars later on the road.
After 8 years of the problem the dealership suggested changing the injectors at my costs of $10,000 since it was now out of warranty. All mechanics said they had seen this problem many times but injectors were suggested only after the warranty and I would have to pay. They would always reset the code and say I was good to go and the truck would shut down again. The Chev diesel sucks and no one knows how to fix it so I'm now drive a F250 gas with its problems.

January 16, 2015 I was involved in a car accident where I t-boned a mini van in my 2002 Chevrolet Silverado. I wasn't at fault - the van failed to yield on a left hand turn. My speed was about 40 MPH straight into the van, both my airbags failed to deploy. Chevrolet investigated and said I wasn't braking hard enough before impact. I had no idea how hard I was braking would be a factor in my airbags deploying. I thought it depended on impact. Chevrolet says they aren't liable and won't accept fault. Why have airbags if they don't deploy upon impact. How many people have to get hurt before Chevrolet fixes the issue and accepts blame?

I have 2014 Chevy Silverado with 47 thousand miles, my ac compressor froze. You would think for 42 thousand dollars you be getting a good product.

I've owned GM vehicles for more than 15 years and have always had great experiences until getting my 2015 Chevy Silverado. The truck started vibrating at highway speeds, around 12,000 miles. I've brought it in for service multiple time, and the dealer can feel the same vibration, but do not know where it is coming from. They had a GM engineer drive the truck and after he rode in the truck he recommended changing the ring and pinion in the rear end to no avail. The truck still vibrates the same. I've contacted Chevrolet and have basically been told to deal with it, the truck is within specs. They are trying to bribe me with a 60 mos/75000 mile bumper to bumper warranty. I asked them how does that fix the vibration problem. I was told if I do not take the warranty, they are closing the case. Extremely disappointed!

In or around November 2014 I purchased a new Chevy Silverado 3500. Right from the get go it had a slight lifter noise. Not bad enough to take in. Now with 19,000 miles on it, it getting consistent and I am getting the runaround - they are saying it is injector noise. Not what other dealers are saying it is - when they off me 5k off of what KBB says it should be worth. Very Frustrating.

Had this truck for 10 years and the frame is rotten. It makes no sense at all. We pull our camper with this we could have been killed. The place where the bumper is and where the towing gear goes was completely gone. Chevrolet should be ashamed.

My power steering failed after 4800 miles. Lucky I was not hurt. It happen all of a sudden. There is a recall on this item and supposedly it was done prior to this incident happening on 6\17\16.

Just bought new 2016 Silverado. It had 2 miles when I bought it. Started vibration with less than 400 miles. Why are they allow to sell a vehicle with known problems? I pay way too much to buy a lemon. Took it in and was told it had to have 500 miles in it before they would look at it because it's a known problem. If it's known they should know how to fix it and fix it no matter how many miles are on it. But it seems like they don't have a clue.

I bought a brand new Chevy Silverado. When I got it had 33 miles on it. Now it has like around 150 miles and it is sitting at the dealership because from a dead stop. It is sluggish, jump, bumps and takes off slow like the same problem Chris has from Florida. The dealership had it now since may 31 2016 and they have no idea what's wrong. They say gm is no help. If anyone had this problem and got it fixed please email me thanks.

Purchased two 2015 Chevy Duramaxes within a year of each other. Was really happy with its performance so that's why we bought the second one. We pull RVs for a living that's why we have so many miles on them. We were very adamant about changing the oil and servicing the trucks. Was pulling a small two axle 27' travel trailer through Indianapolis in cruise control at 55 mph when I heard what sounded like the engine was laughing so I took it out of cruise and that's when all hell broke lose. The engine started hammering very loudly. I knew immediately that it was done. As stated before never any problems. Write GM about problems and basically told "Sorry out of warranty." Now the second one is starting to making knocking noises at 107,000. I will never purchase another GM product again and I caution others. At 201,000 that Duramax motor should have just been breaking in. For the extra money a diesel costs you expect a longer life.

I traded in my 2013 Toyota Tundra (because of fuel mileage) and bought a new 2016 Silverado truck. No one at dealership told me or no disclosure that these trucks have a vibration issue! Seems like if a new item no matter what it is any problems (unresolved should be disclosed to customers). Well now I own the annoying vibrating truck--I'm not happy! I would have kept my old truck if I would have known about this issue. Seems to me there should be a disclosure about this issue before you buy the thing!!! I'm not happy with Chevy! I've recently lowered it and no change same issue vibrates!!! Beware of Chevy Silverados!!!

I purchased my new Chevy Silverado 1500 LT on February 25, 2916 and after one week of owning the truck it developed a small vibration and went to the shop for repair. They did a road force balance on the tires which made the vibration worse. So, back to the shop it went. Another tire balance and it didn't help. It went back to the shop for the third time and I was told there is nothing wrong with the truck. The service manager was very nice but told me he knows the truck has a vibration but there is nothing he can do to fix it. He said GM has problems. They know it but have not offered a fix. He said I would have to live with because that's what Chevy trucks do. Then he informed me of other problems, which I had noticed on a small scale. Problems with the transmission and electronics. My problem with GM is obvious, and I will never buy another GM product.
My problem with the dealer is they knew about the problems with the 2916 trucks and did not inform me of what to expect. They took my money knowing these trucks had problems. This is the fourth and last vehicle I have purchased from them. I traded the truck after only 2200 mile for a Dodge Ram, which I love! DON'T BUY A CHEVY SILVERADO.

I will never buy another GM/Chevrolet vehicle ever! The vehicles are cheaply made and no quality. And the customer care and making sure a customer is happy and satisfied, they are arrogant and do not care about the customers that buy their expensive vehicles. And the dealerships lie to loyal customers and cheat them on their trade-ins and service will lie right to your face and tell you nothing is wrong!!! When I take off work and wait for the issues to be repaired they come out to the waiting room and tell me the ticking noise is normal and they will do nothing. And they tell me the transmission not shifting properly is normal. Lies more lies and lie about lying! They lie to you before you buy the vehicle. They told me before I got the new truck they would put new all terrain tires on the new truck!! But after I get it they will not put new tires on the new truck.
They told me they would have a bed liner installed before I got the new truck but after I got the new truck they have not and will not install a bed liner! The dealership salesperson told me this truck gets 18 mpg city and 22 mpg highway. Another lie, this new truck gets 16 mpg city and 18 mpg highway! The salesperson told me this new truck has ON SCREEN MAPS AND NAVIGATION, IT DOES NOT, another LIE. They LIED about my trade-in. This new truck has less than 5000 very carefully driven miles and the transmission is not shifting properly! The motor has developed a very loud annoying ticking noise.
They never gave me the original second set of keys to a brand new truck. I went to the dealership many times and the owners would not show up to talk to me! I called and tried to talk to the owners. I emailed the owners to let them know how many lies I have been told and how I got cheated out of my trade-in and how unhappy and dissatisfied I am and have been, I even sent them a letter and they never respond!

Traded in my 2008 Silverado 1500 Crew Cab for a used 2015 Silverado 1500 Crew Cab with 13,600 miles in Aug of 2015 at Auto Nation of Pembroke Pines FL. So far I have brought the truck in for service twice. The truck vibrates excessively at idle and transmission shifts erratically when accelerating from a full stop or changing lanes. The first time they found nothing wrong. The second time they informed me that they were aware of these problems as they had many customer complaints for these same issues. Was told that GM was redesigning the motor mounts to correct the vibration issue. As for the transmission was told this is "normal" (Definitely not normal)!!!
The dealership installed shims on the existing motor mounts to "try" and correct the vibration. The vibration and transmission problems still exist. I am very dissatisfied with the vehicle and the fact that GM can't seem to find a solution to correct this very common problem. Was told by the dealer that this issue is happening with 2014-2016 Silverado, Tahoe, and Suburban models. Very, very disappointing!!! Think twice if you are thinking of purchasing any of these model vehicles. I highly do not recommend it. You will be disappointed...

I purchased a 2014 Chevy Silverado, 1500-4WD pickup. I currently have less than 20,000 miles on the truck. I began having brake problems around November 2015. I carried the truck to a GM dealer on or about 1/8/2016. The brake problem was not corrected, so I contacted General Motors (Reference # **). I was assured the brakes would be repaired. I have contacted and attempted to contact GM many times, from 1/8/2016 through 3/4/2016. GM is refusing to accept my phone calls and is avoiding contact in an attempt to evade repair of my vehicle.
I was involved in a minor accident 3/11/2016. I reported this to GM. In attempting to remain personally safe and prevent further injury and possible property damage, I attempted to refrain driving the truck and requested a loaner or rental car, GM refused. I am now being forced to drive a vehicle, even though it is unsafe and a danger to myself and others. Be aware that General Motors is aware of my defective brake problem and is delaying to avoid repair.
The vehicle is still under warranty (Bumper to Bumper, less than 20,000 miles). GM refuses to honor their warranty to repair a covered brake problem. I was told, by GM they would not pay for my injury and it would require six (6) weeks to decide if they (GM) would repair the brakes. GM refuses to repair BRAKES. Please be aware of the lies and the many misrepresentations to avoid honoring their warranty.

The exterior chrome trim on my 2015 Chevrolet Silverado has deteriorated rapidly after only 20,000 miles. The local GM dealer's service manager has indicated he has had a large number of customers with the same problem, and he agrees it should be a covered issue, however, GM has said it is an "environmental" issue and is not covered. I traded in a 2008 Chevrolet Silverado with a very similar chrome trim package that did not have this amount of deterioration after 7 years and 150,000 miles, that had been driven in the same "environment". GM has simply made the exterior trim with chrome film on it, substantially cheaper, such that it does not stand up to normal driving conditions. While I have been a long time GM customer, I will never buy another GM product if they did not stand behind their products any better than this.

Bought a new 2016 Silverado 1500 from Dyer Chevrolet in Vero Beach, Florida. The truck has a transmission or communication problem between throttle and engine. It is sluggish, jumps, and basically runs pretty bad at a slow take off from a stop. They acknowledge there is a problem and the dealership refuses to fix it because GM has no solution . At this time I just want to give it back. Worst truck I have ever owned. Looks good runs like **.
Chevrolet Silverado Company Profile
Company Name:

Chevrolet

Website:

http://www.chevrolet.com/