Car shopping shortage and struggles
More than 1 in 4 people looking to buy a car are considering going without one in the near future (survey)



Written by

Edited by

Key survey takeaways
28% of those currently looking for a car were thinking about giving up.
Only 2 out of 5 respondents looking for a new car were able to identify potential options in their price range.
Toyota, Honda and Hyundai were the top three car brands people were considering.
An ongoing shortage of semiconductor chips is keeping thousands of vehicles off the road and out of the hands of American drivers.
Supply chain problems can be traced back to the start of the pandemic, when the automotive industry shut down. Expecting a recession, automakers canceled orders, and chip manufacturers slowed or ceased production. Demand for new cars rebounded from the shutdown much more quickly than anticipated, and to make matters worse, the demand for chips for personal electronics also quickly swamped manufacturers.

So, what can you do if you're ready to buy a car? We surveyed more than 1,000 individuals to explore the struggles they've faced while recently searching for a new vehicle. Here's what to expect when car shopping in the current shortage, including a look at the most in-demand brands and some alternative transportation ideas that may provide a solution for you.
Settle for what you can find
Buying a car is a big investment, so many people know what they want and need in a vehicle before they even set foot into a dealership. Our survey revealed that many drivers are settling for what they can get during this supply shortage, while some people are thinking about giving up the search for a car at this time altogether.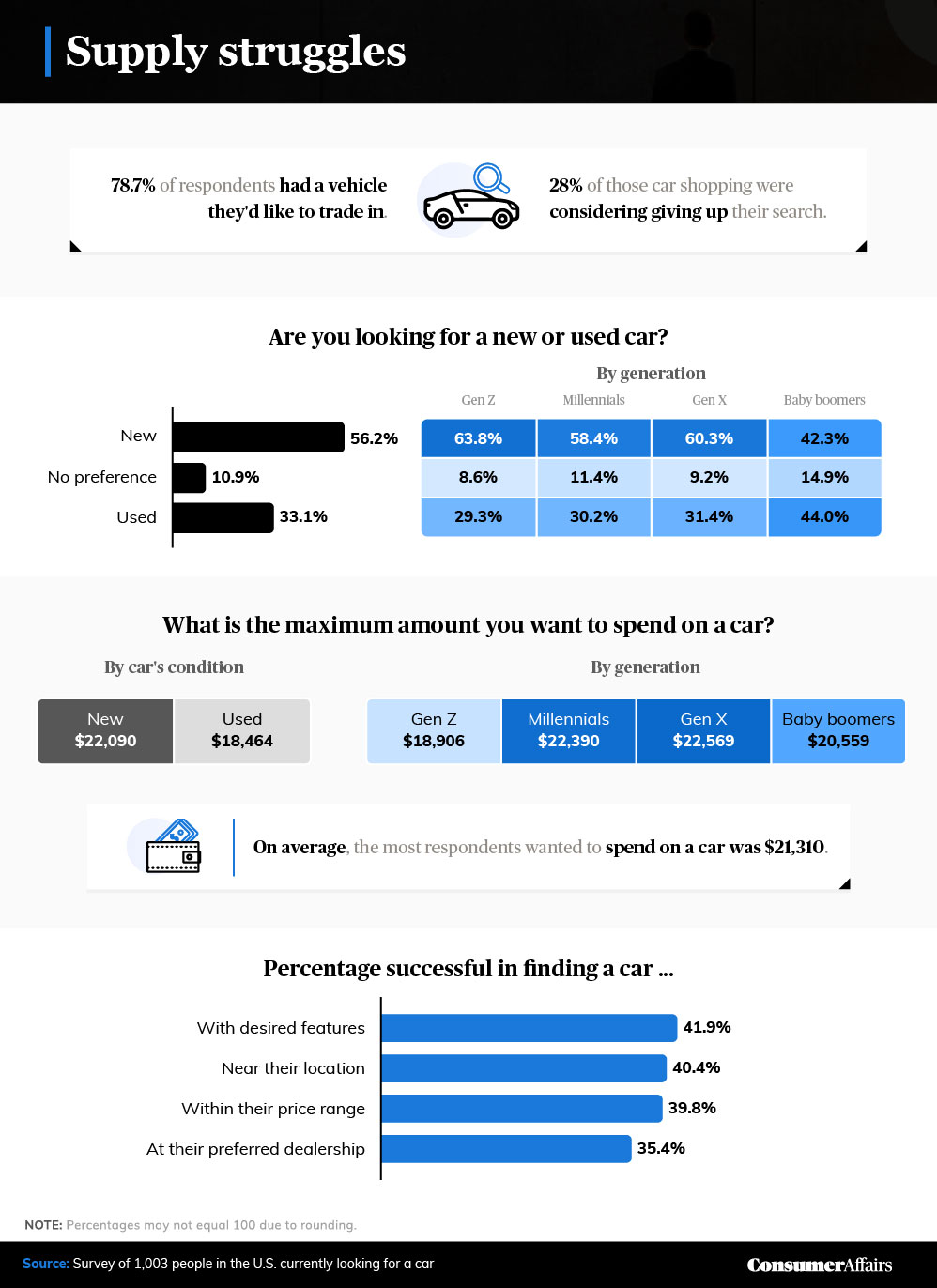 It's important to be flexible when shopping in today's car market. While about 40% of the drivers we questioned found what they were looking for, the other 60% settled for a vehicle that either didn't have the features they wanted, was located far from their home or preferred car dealership or cost more than they'd planned to spend. The average amount participants were willing to spend on a car was around $21,000.
It's definitely a seller's market at the moment, as prices for both new and used cars are high throughout the country. The good news is you may be able to get top dollar for your used car or receive more money for a trade-in than you could in a buyer's market. Either situation can help to make a new car more affordable.
According to our study, most Americans were looking to buy a new car rather than a used one, especially Gen Z drivers and people living in urban areas. Only 37% of rural drivers wanted a new car, compared to 67% of urbanites.
A recent Kelley Blue Book report confirmed that prices are currently sky-high due to limited supplies, but, luckily, apparently inventory levels are starting to improve. The report also found that even though you can expect to pay high prices for a new car, today's cars are much more durable and high-tech than cars from even just a few years ago. So, you may pay more than you want for a new car today, but it's likely to be worth it over time.
Change how you travel
Concerns about the environment, traffic problems and rising gas prices have led some Americans to change how they regularly travel. Now, the car shortage and high purchasing prices are motivating more people to consider transportation alternatives.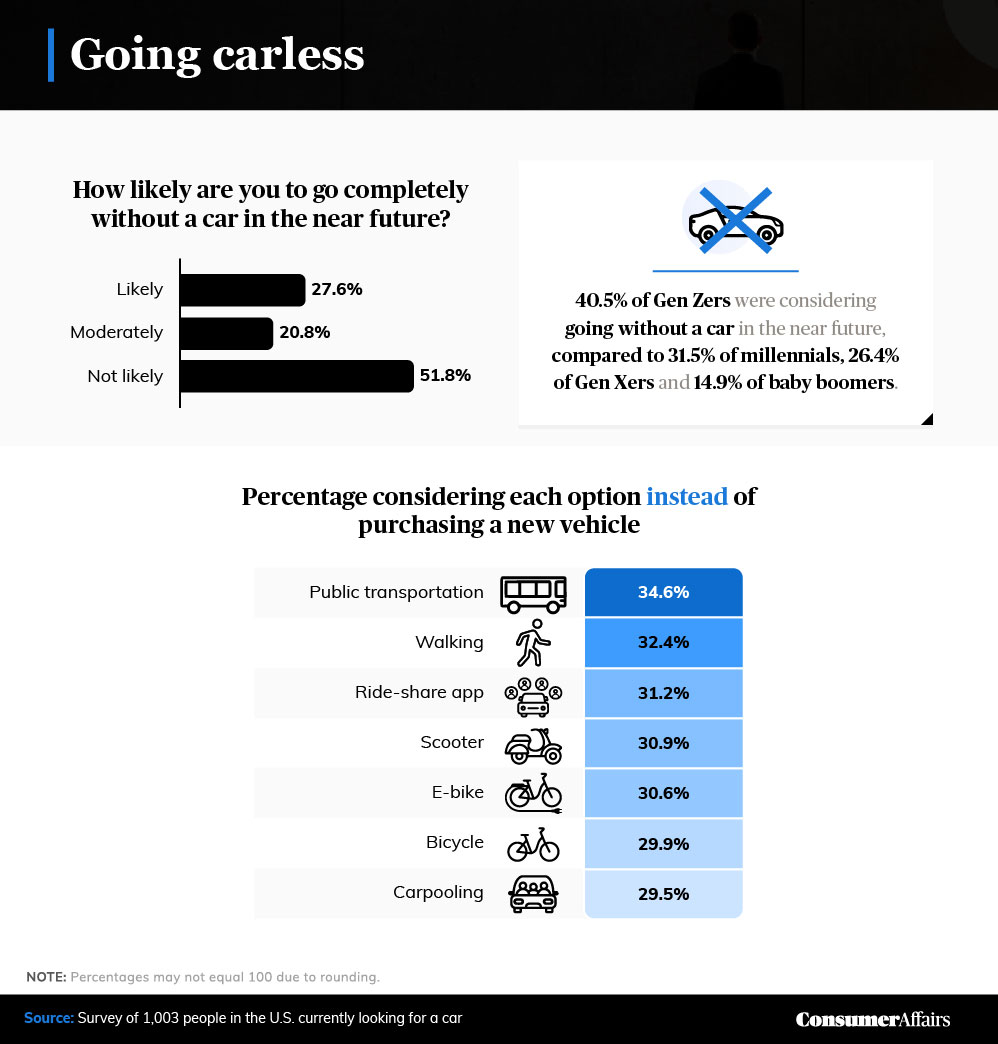 Many Americans enjoy the freedom and convenience that comes with car ownership, but our results showed that people are ready to make a change. More than 25% of drivers said they were likely to go carless in the near future, while another 21% were considering the possibility. Drivers aged 18 to 25 were more likely to consider taking alternative transportation, while baby boomers were the least likely.
Going carless is easier for those with reliable public transportation options. People who are able to walk, use a scooter or bike to and from their destinations may also find it easier to make the change. Ride-sharing and carpooling are other good alternatives to car ownership when you can't afford a car or are waiting for your dream car to become available.
Some drivers may not see these as viable alternatives due to the ongoing pandemic. According to a Statista report, 65% of Americans stopped using ride-shares due to the coronavirus outbreak. Carpooling with people you know might be a better alternative if you're worried about exposure to strangers. No matter how you travel, though, there are important precautions you can take to protect your health while traveling.
Choose less popular vehicles
Among those we surveyed, SUVs were the type of vehicle drivers wanted most, while Japanese automakers Honda and Toyota were the top two most in-demand brands.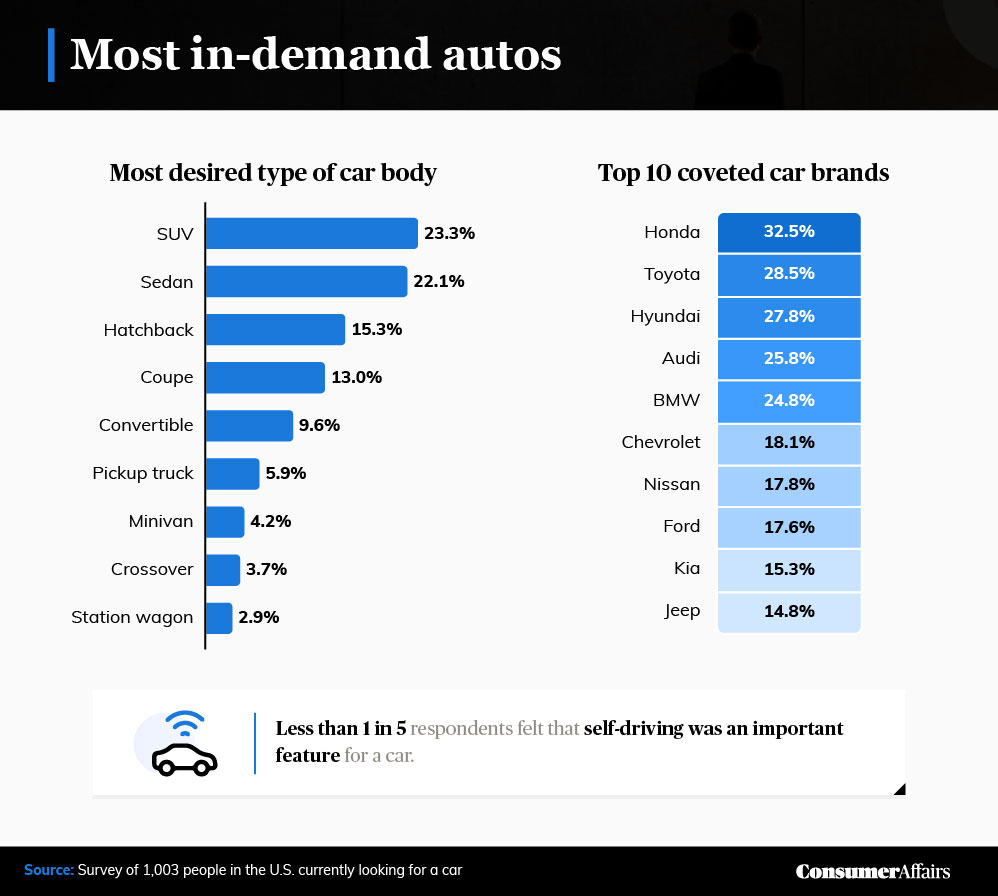 Space, comfort and safety are just a few reasons why Americans love SUVs. Due to the high demand currently, so it may be more difficult to find the one you want at this time. One possible solution is to consider buying a minivan instead: Only about 4% of drivers we surveyed wanted a minivan, while 23% of drivers wanted an SUV. Still, a minivan can be a comfortable, spacious and safe option with several practical features.
Our study also explored how age affects what people want in a vehicle. Gen Z drivers reported that back-up cameras were the most important feature to have, while more than 50% of baby boomers were more concerned about fuel economy and durability. A low outright purchase price was also much more important to baby boomers than to younger buyers.
We also observed differences between driver preferences in urban/suburban and rural areas: 15% of rural Americans were interested in buying a pickup truck, compared with only 5% of urban/suburban residents. Truck production has slowed due to the aforementioned chip shortage; with high demand and low supply, used cars and trucks command high prices in today's market, which is great news for sellers looking to offload older vehicles.
Inventory levels show signs of improving
In 2021, computer chip production couldn't keep up with demand, leading to shortages and consumer frustration. As Americans struggled to find vehicles, some chose to settle for what they could get, while others endured a long wait for what they really wanted. Some people are still considering alternatives or thinking about giving up altogether. If you're in the market for a new car, patience and flexibility might be the keys to your next automobile.
Methodology and limitations
We surveyed 1,003 people considering buying a car. Among the respondents, 35.1% were millennials, 11.3% were from Gen Z, 33.9% were Gen Xers and 19.7% were baby boomers. Fifty-five percent were men, 44% were women and 1% identified as nonbinary.
To help ensure that all respondents took our survey seriously, they were required to identify and correctly answer an attention-check question.
Survey data have certain limitations related to self-reporting. These limitations include telescoping, exaggeration and selective memory. We didn't weight our data or statistically test our hypothesis. The margin of error was plus or minus 4% with a 95% confidence interval.
Fair use statement
Finding a car can be difficult. If you feel this information could be helpful to your audience, feel free to share. Just make sure that your purposes are noncommercial and you link back to this page.
Sources

ConsumerAffairs writers primarily rely on government data, industry experts and original research from other reputable publications to inform their work. To learn more about the content on our site, visit our FAQ page.

Kelley Blue Book, "Is Now the Time to Buy, Sell or Trade-in a Used Car?" Accessed Feb. 3, 2022.
Did you find this article helpful?
|
You're signed up
We'll start sending you the news you need delivered straight to you. We value your privacy. Unsubscribe easily.