Consumer Complaints and Reviews

AAMCO Poughkeepsie, NY - Terrible Experience! They serviced my check engine light and 2 days later the light came back on! When I brought it back, they told me the issue was unrelated and transmission needed to be rebuilt (which is what a majority of the scam complaints for AAMCO say). Mind you I just passed a state inspection with no issues. They scammed me out of $400 and tried to get me to pay $3200 more for my "transmission issue." DO NOT GO HERE. Andy also lied to me and told me he'd contacted my warranty provider when in fact he had not. He also gave me misinformation about what my warranty would cover. I'm contacting the BBB and I hope the future scammed customers do the same.

Took my vehicle in for a transmission leak. The manager say and told me before I had it truck towed to him on Main Street in Woodstock Georgia that it would be a $250 diagnostic. Called me three days later and told me I need a rebuilt transmission for $2,800. When I told him not to do the work I will pick up the truck he told me it will be a $700 diagnostic charge. Two months later I had the truck returned after paying him $700 and paying additional $300 for towing and it does not even drive. The worst experience of my life. Thank you Dan.

This by far the worst customer service experience in whole my life. I had a problem with transfer case on my 2014 BMW X1 so I Google transmission
Shops in our area and found this one. I called and very friendly voice greet me Like it should be. Set an appointment. Next day I arrived at 8:00 AM to get my car fix. Everything fine. Manager took my car and I sat down in waiting room and as soon as manager saw me there whole hell broke loose. He told me to go away. I told him I have nowhere to go and I will hang around and wait for my car. After I said this he start spitting Any imaginable dirty word. I step outside and wait there. Car was ready in three hours.
So ask him for my car and he told me I will get my car at 5PM (car was ready at 11:30PM). I told him that I will call police and that made him crazy. He was running around and swearing non stop but meeting with police wasn't in his plans so he release My car and I was on my way. His name was Rock. He decline to tell me his last name. I call AAMCO but they can't do anything because have no control over franchise operations. So stay away from this shop and this manager-idiot. P.S. Mechanic who worked on my car was great. He did a good job.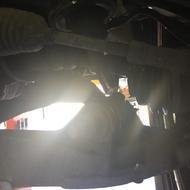 I went to Aamco in Phoenix AZ off of Black Canyon Highway and the I-17 with all four of my kids their ages are 8, 6, 5, 3. They looked at my car told me the issues but did not tell me that my control arm completely snapped on me and let me drive off endangering my life and all four of my kids. Thank God I took it another auto shop and they showed me the problem and let me take pictures of it. I'm so disappointed that I ever took my car there to Aamco and I hope something gets done about this. I will pursue legal action if needed against Aamco. I could be dead and so could my kids and Aamco would've been responsible and should be held responsible.

One of the worst experience with a car repair shop!! Took my car in on a Saturday and received it back on the following Friday!! NEVER called and updated me on ANYTHING dealing with my car!! They concluded that my solenoid block needed to be changed. The solenoid block retailed at $230 but I was up charged at $405 plus $219 for labor and a extra $35 for them using their own tools!! WORD OF ADVICE DON'T TAKE YOUR CAR TO AAMCO! Unless you want to be up charged by double!!
How do I know I can trust these reviews about AAMCO?
825,614 reviews on ConsumerAffairs are verified.
We require contact information to ensure our reviewers are real.
We use intelligent software that helps us maintain the integrity of reviews.
Our moderators read all reviews to verify quality and helpfulness.
For more information about reviews on ConsumerAffairs.com please visit our FAQ.

I Stanley ** had great service from ** AAMCO Transmission shop on 2001 S Cicero. Those guys were great. They were professional and courteous and most of all they were trustworthy. I will tell my friends and relatives to get all of their car work done at ** AAMCO. If you are quoted a price for the work on your car you can be sure it is right. You won't get cheated.

The story started about two weeks ago when my car broke down nearby from that place (AAMCO Transmissions & Total Car Care 640 Oak St Brockton, MA 02301 (508) 580-5431). A manager told me that they will do a free diagnostic to figure out what is wrong with my car and will call me later. Next day he called and told that the car requires full transmission rebuild, when I asked about price he told that in best case it will be around 2500$ in worst case around 3500$. I asked a few time to confirm that the price will not be more than 3500$, he told that It will be about 3500$ in worst case. After a week when I called to check what is with my car the manager told that they are still working on it but price will be around 5700$ now! Since It was too much (a new transmission costs around this price) I asked them to give the car back, the manager told me that they can do it but I have to pay around 1000$.
After some time they agreed to do it for 4700$ and since I didn't want to pay 1000$ for nothing, I asked them to proceed for 4700$ Today their owner called me and told that they actually can't fix the transmission, they can only replace it to used one if I find, buy and ship it. Without any warranty. So they basically can't fix it and I can't get my car back without payment of 1000$ for nothing.

My truck was towed to AAMCO in TR NY last week and they told me it would cost 4275 for transmission. Then I would have my truck 2 days later on a Tuesday. No call. Nothing. Wed when I call I hear Thursday then Thursday I hear Fri... Then on Fri I hear, "Took your truck for test drive. Brake line leaking." Funny brake line did not leak when it left my house. It will cost 4700... **. If it broke with them they probably did it. Negotiated to 4375. Told I would have my truck Sat... On Sat. Parts not in by Mon. Something not right. How do I call corporate. DON'T EVER USE THIS COMPANY. TOMS RIVER.

It took them ten months, eight visits and three different locations to get them to stop my transmission from leaking. Not to mention being charged for parts and labor that was still under warranty. Bunch of crooks. Don't give them business. Contacted corporate and they said I need to be reimbursed but since became silent. The water pump still leaks and check engine light for neutral safety is still on. $2,200 later, it's a wrap. They suck.

After reading many of the reviews it seems AAMCO as a whole is a horrible company. My experience was with the Fort Pierce Aamco in Florida. The whole ordeal cost me 4400.00 and I ended up with a ruined engine and undrivable van. Aamco corporate is a joke, only trying to appease you, but basically siding with the franchise owner and telling customers there's little they can do, but hope the owner does the right thing. That must be part of their franchise training, how to swindle the customer. I cannot believe that this company still exists, shameful! Makes me wonder why there's not an ongoing investigation into this company.

I took my suv in January 2017 to this Aamco, where Ian the owner, worked on it. My automatic suv after being driven for sometime you cannot accelerate it, and if you force the vehicle it will smell like burn. This was clearly explained to the owner and assure the parts they had to change will fix it. After paying over 1000.00 the car still does it. Now they said it has to do with the engine, etc... I wasted over 1000, when a more aggressive check or tests should have being done so I could decided how much money to spent. On top of that I am not sure anymore that certain parts were actually changed by looking at the car and the order or parts were out wrong on the receipt at first. I remember when I left my car another guy's leaving upset stating that, Aamco, now told him other things had to be done to his car and another 1000 for him... I wonder!

The short story is transmission was shifting erratically and going into limp mode. Brought it in and after their basic diagnostic said they had to rip trans apart. Rip it apart, show me the parts and tell me it's shot. Now I'm no trans specialist but I have been working on cars and transmissions for 30 years. The parts that they showed me barely had a mark on them but they insisted they had to replace the abundance of them. The trans fluid never smelt burnt or anything. Parts were still nice and shiny looking like new for the most part. Let them do the rebuild and they call me up and tell me the transmission is doing the same thing it did when I brought it in.
So now I've dropped $2500 to have the same problem. Since no one else is going to work on the trans at this point I let them figure it out. Turns out the problem was a $350 solenoid pack that was put in 4 months earlier. How on earth did they not run diagnostics on that. It's electrical on this trans. They put in the part and miraculously the trans shifts great. I brought that part up to Chris, the manager, showed him AAMCO's lovely little sign about if they put in parts the trans does not need they would take them out and was promptly insulted. He actually had the guts to tell me "I thought I was talking to someone mechanical". Well jackass was, me. I have no choice at this point but to pay the bill since I need the truck.
Waited a month to file this since I wanted to make sure the truck would work. I should have seen this coming. Chris, in conversation had mentioned how bad he screwed up his credit in small talk between us when we ran mine for the lovely AAMCO credit card. I thought he was going to fall from the chair when he told me "Wow, you've got great credit. You got a $4500 limit". All in all the trans that didn't need to be rebuilt, since it needed a $350 part cost me $2866.32. I'm not even sure the other parts were in fact replaced. As good as they looked they could have been put right back in. I suppose that would help Chris' credit dilemma.
So the bottom line is AAMCO needs to fix this or I file a complaint with the city of Crest Hill, every agency I can in Will County and the Illinois States Attorney. I figure the total job should be worth about $500, $350 for the part and labor. Diagnostics, which they totally screwed up, the parts they said were wrong, and weren't since a $350 part fixed the transmission, and any incidentals are AAMCO's problem.

Took car in to have transmission checked out, was not having any real problems, but car was getting some age on it and just wanted to be safe. He claimed the valve cover on the engine was leaking real bad? I had this repaired just 3 days prior and was not leaking or oil all over garage floor. Charged me $564.00 for $150.00 job???

AAMCO Boise, Idaho - They talked me into a new transmission. It worked for about a year. Then it had the same problem as it did when I took it in. Now it's back for the third time. Now they say they have problems with that transmission all the time.

I brought my SUV to have the transmission check to AAMCO by 3336 Losee Rd, North Las Vegas, NV 89030, the specialist ** took the SUV for a test drive and called me that it will cost $595.00 to check the internal parts and electronics of the transmission. I told him that I would drop by the next day to talk to him personally. As my son and I went to the AAMCO shop the next day, ** was not in and the person on the counter said he was on break, My son and I had waited for ** for an hour and upon arriving I was very angry since he did not have my permission to take my car for personal use, he explained that he was taking it for a test drive which, I didn't believe since my gas was almost full and when he brought it back. it was a quarter tank left. I decided to just take my SUV and had it done in a different garage. I don't think I would trust this company ever with my vehicle.

This place is the con of all cons. Took my Sonata there to get check engine light on evaluated for free. My trans wouldn't shift into high gear. I had a coupon for a free evaluation. When I got there he was busy so I said I'd leave the car. I gave him the coupon but he said, "No need" It was ok. He would call me the next morning. He calls me the next day and says that he would need to open up the transmission at a cost of $750.00 for a down payment. He could not tell me what was wrong with the trans nor could he give me a completed price. I said, "forget it". I was coming for the car. When I got there, the guy would not take 'no' for an answer. He said he liked my car and would fix the trans and if it was too much money, he would just keep the car. WHAT? I said, "No, get my keys" and he kept stalling and stalling.
When I finally demanded my keys or else, he said I owed him $109.00 for a evaluation. He said he worked 2 hours yesterday and 2 hours today on it. Once again I said "WHAT?" I said they could not even tell me what was wrong with the trans. He kept refusing to give me the keys and the car so I called the Toms River Police. Two officers showed up and I told him the story. He asked me if I signed anything which I did not. The officers asked the owner to turn over the keys to me and they still refused. Finally the officers told the guy at Aamco that if he did not turn over the car and keys to me immediately, that he would be arrested for theft. At that point, I finally got my car back. Stay away from this place. These people are scam artists!

So I just called AAMCO on Broadriver Rd in Columbia SC to have my vehicle looked at for a check engine light. The service man who answers the phone informs me that they DO NOT ACCEPT AAMCO CREDIT CARD for payment??? I replied, "Isn't this Aamco I'm calling? How does Aamco service station not take an Aamco Credit Card?" The man simply laughs and says, "Yes, you can take your car to Brown Motors Works and have them look at it." This is totally absurd to me. A car repair chain who does honor its own Credit Card...

They were very knowledgeable about my problems with my car. They were the 8th shop that I took my car to and they told me they would find my oil problem which they did. They fixed my oil pan, my transmission mounts, oil pressure switch, brake light switch, power steering hose. They let me know how much everything cost before they did any work. The best interaction I had with a repair shop in my life and I recommend this shop American International Automotive 845 N. Military Trail West Palm Beach, FL. 33415 AAMCO.

Very, very bad service. Went in with a small problem. They tried to tell me it was a bunch of stuff. Take advantage of you. Recommend to stay away. Robert the guy that runs the front is a car salesman. Watch out.

My brother had his transmission replaced by AMMCO Transmission located on Mt. Read Blvd in Rochester, NY in August 2016. He had my transmission replaced by another mechanic last summer (August 2015) which had a two year warranty and have had nothing but issues with that transmission. He tried multiple times to work with them to fix and they finally told me because the business was under new mgmt. that they could not honor their warranty. The new mgmt. said they can fix along with some other issues. However I would have to pay. He then took my car to AMMCO and work with Lou to get my vehicle fix. He was extremely pleased with their professionalism and attention to detail. He would recommend them highly. Thanks Lou.

I had full brake pads front and back, and rotors on the front applied along with a master cylinder in 2014. For almost over $800.00. About 3 months ago my brakes started squeaking when I backed out of the driveway each day. Since I have a 4 year old grandchild that I very frequently transport to her home to mine. I wanted to make sure that my brakes were good. They felt good, but just to verify. I have been going to this AAMCO for over 10 years and felt I could trust them. So, I dropped off my car at 8:30 AM on Oct. 12, 2016 (per their request) and waited for the call. And I took off work in order to be available to drop off and pick up that day. At 3PM on 10/12, I received a call telling me my rear brake rotors on the rear, were warped and the charge to replace them and pads would be 613.75. They would give me $50.00 discount and I had a $25.00 coupon, so the price would be 538.95. It should be ready by noon the next day.
I explained I had taken off work the previous day and only had the one vehicle, but it did not matter. On 10/13, I received a call at 9:30 AM telling me my vehicle was ready. I reminded them I would need a ride in, (their courtesy offer) and after missing a second day of work (and a very unhappy boss) someone showed up after 1:30 PM to pick me up. It is 6 miles between my home and the repair shop. First, I feel I was WAY overcharged for only installing two rotors/pads and they charged me $52 to clean my front brakes. Actual total for the bill was $614.00. GET REAL!! I questioned why my ceramic pads (they told me in 2014 they put the good pads on, ceramic) were bad after 2 years and was told that that is the life of most brake pads.
I am a single mom and on limited income so I will not be returning to this location 80907 for any further repairs. The time they kept my vehicle was appalling (29 hours) to merely do what was done to the vehicle and their schedule cost me an extra day's work resulting from AAMCO's next day's repairs and time I picked up my vehicle. NEVER again will I give AAMCO my business. Due to their excessive price and the time it took this time. This makes me sad because the mechanic mgr Steve there is a good honest guy. I do know I can trust him that the work needed was done.

This happened at the Leesburg, VA, AAMCO (same owner has three other AAMCO's in the area). Worst repair shop experience of my life - three months and running to fix a transmission for $6,100. I took the car in in late June (2016), got it back in late August after two months of lies from them, then, three days later, the transmission they rebuilt failed. They took three weeks to fix the second transmission, which then failed two days after that. It is almost October and I'm waiting for them to fix the transmission for the third time. Terry Bradley, the owner of the Leesburg, Chantilly, Sterling and Ashburn AAMCO locations, broke more than 10 promises that the vehicle would be completed very soon, in a few days, or some such claim. His staff promised to keep me updated, but (and I document all of this) failed to do so 13 out of 14 times over the three-month period.
After three weeks back in July, they told me they would pay for a rental car because of all the delays, but then, when I went to pick the vehicle up, they argued that the rental car bill was too high from the rental car company, Enterprise, that they sent me to (the owner finally did cover the bill). I was also charged $600 more - $6,100 instead of $5,500 - than the store manager originally told me the transmission rebuild would cost. The first round, they also forgot to install two parts - strut caps - that they were supposed to install while they had the transmission removed. They then forgot to order those strut caps during the second transmission fix.
Terry refused to offer me a rental car during the second and third rebuilds of the transmission even though he took several weeks longer than such a rebuild should take. So, I spent about $400 on a rental car while they apparently left my car sitting in their lot until they got around to fixing it. I would avoid any of these Loudoun/Fairfax County AAMCOs because they use the same mechanics and the owner of all four treats people the same way. I've already contacted the BBB and AAMCO about this experience. For their reputation, they should immediately cut ties with this group of four shops.

I took my car into this AAMCO on 9/6/16 because my check engine light had come on and I wanted them to do the free diagnostic reading to figure out what the problem was. Enrique, the manager, did the reading in under an hour and told me that the code had read that it was a "small emissions problem" and a smoke test would be required to see where exactly the air leakage was coming from. He told me that it would cost $250 for the smoke test and it would take 2 days to do it because they have to search very slowly for leaks.
I told Enrique that that price was very expensive and I couldn't afford it. He told me that anywhere I go I would have to get the test done to figure out what the problem was with the car. He said at least at AAMCO they could give me a print out of my diagnosis and I could take the car wherever I liked to get the repairs done if I didn't want to continue fixing it with their company. I authorized them to do a smoke test on 9/7/16 and found out that I was actually overcharged for the test. I asked World Auto Body and One Stop Auto Body in Eagle Rock how much a smoke test should cost, and they gave me values in between $75-$120.
On 9/8/16, I got a call from Enrique who explained that there was "vacuum pressure loss at the Vapor/Vacuum lines above the Gas Tank. The fuel tank would need to be removed (lowered) to inspect and repair those lines/hoses." The cost of that labor would be $620. I could not afford that price so I got a print out of this diagnosis, paid with my credit card for the smoke test. I decided to take the car someplace else for the remainder of the repairs. That same day, I brought the car to One Stop Automotive Repair in Eagle Rock and gave the manager Narcisso the print out or the diagnosis that AAMCO had done for me. I asked how much it would be to repair the vacuum lines or any leakages at the gas tank. He printed out an estimate of $350.
On 9/9/16, Narcisso did his own check engine light reading. He confirmed that "the malfunction code P0442 is active." He performed his own smoke test before lowering the fuel tank. He "smoked the evap service and removed the rear seat to inspect the fuel pump seal and found the seal to be well sealed at the time." He also "checked the fuel cap and the cap did not smoke and the cap seemed to be fairly new." There were no leaks in the vacuum lines. His smoke test diagnosed a different problem than AAMCO. He found that the "evap canister to be leaking". He recommended that the canister be replaced.
I was told by Narcisso that the misdiagnosis by AAMCO was grounds to ask for a refund for my smoke test reading. Not only was I overcharged by their garage but they said there was a problem with my car that didn't even exist. I have pictures and a video from the smoke test that Narcisso did to prove that there is only smoke coming out of the EVAP canister. The pictures and video show no smoke coming out of the fuel tank or vacuum lines.

First time I've been gaslighted as a sales pitch. I was misled, tricked. Once a car is taken apart, you're pretty much stuck and they know that. I paid to have my transmission resealed and if there were any additional parts needed, those would be extra. In other words, my transmission fluid must have been the right color and my car must not have shown signs of being damaged. My car was driving and shifting perfectly. No, take my car apart and then tell me I need my transmission rebuilt so that I can't take it to another mechanic or even donate it; a car must be complete.
So I try to get my car out of there, part of what I paid for being putting my car back together. No. Then I'm told it will take a couple of days. Then I get a multitude of sales pitches. I just want to tow my car out of there. Then they tried to charge me another 695 to put my car back together. They tried to tell me that I had agreed to a different service that didn't include the putting my car back together; I was being gaslighted. I'm not going back without a tow truck to rescue my car. So my car is still there. Still not sure what I'm going to do. I was googling RICO and racketeering and they meet the criteria.
How can we file a class-action lawsuit against them to stop these predatory practices? My daughter is grown. I can't imagine the stress they cause low-income families. Or their shady loan practices. Are people getting in serious financial trouble from being taken by these predators? This has been ridiculously stressful. How can a place that is so corrupt be able to legally operate in the United States of America? On the bright side, if you really hate someone, a gift certificate for AAMCO would be a great revenge. Please God, help me set my car from.

They did a free diagnosis and it took them twice to figure out what was wrong. Even after I had thoroughly explained it. After they had checked my transmission from the outside the problem got WORSE. They also wanted $456 non refundable just to diagnose what was wrong with my transmission... I went to Gary's transmission instead. DO NOT GO TO AAMCO unless you want to pay top dollar.

I took my car in for coolant flushed and thermostat put in and oil change. Then it overheated and my son in law said the thermostat was in wrong and no oil so AAMCO towed it from Tennessee to McDonough, Ga. And they said it was my radiator blocked so I believe them because when I lived in Seattle that's where I took my car because I have a warranty who has a contract with AAMCO and my car is still not fixed. They keep telling me lies so I called corporate and they have not done anything. A lady I talked to said she would get to the bottom of it and has not called me back and from other reviews that seems like a trend. This is not good business.

Not only was I overcharged HUNDREDS of dollars. Had to bring car in OVER and over. Company couldn't repair. Brought in for damaged throwout bearing. Picked it up and over 4,100$ later still had bad bearing at pickup. Was told to bring in again. Left same problem. Now the transmission sounds like it's gonna fall out and engine hesitates when gas pedal isn't depressed. They say bring in again. You've got to be kidding. Called corporate over and over. No one returns calls. Had Mike ** secretary answer. NASTY NASTY!!! And I just asked to speak to someone!!! BEWARE OF THIS COMPANY.

I the AAMCO in Sherwood Oregon really screwed me. I took my car in to get a oil pressure line on a fuel pump put in. Well it was on December 7th of 15 and when I got the car back and as I was driving it home it started killing off. Finally died. I pulled over to the side of the road. Try to start it again and it just click click so I went in, look under the front of the car under the hood and here there was a oil leak that leaked on the front of the plastic not on the motor so I didn't see no smoke. Well I had a tow truck. I called and called and called. A tow truck came and picked it up and brought it back there and they told me that it was their fault that the oil pressure line had not been tightened down and it blew off. Well then they said they had to keep the car and machine it because the motor was seized.
Well I had a bunch of oil leak problems. After that I found I could get the Mac Auto just about a week ago and they told me or they showed me I should say the underneath of the car because AAMCO told me they fixed all the oil leaks and it kept leaking but now called or showed me that it was all blue sealant all the way along the bottom of the motor. They tried filling it up with blue gasket sealant and it's just leaking through that and on top of it all my car was shaking after that and I called it AAMCO on that and I said "oh yeah you need a modem or AAMCO headset." My car motor on to my friend and left it sit there and I'm just really really disappointed and I'm guy and if anybody out there knows how I can get help to deal with people like this please let me know because I got to do something. I got a one-year-old baby and it's just terrible.
All AAMCO could be that way and they're saying they ain't going to fix anything else and I need to do some so this is my story about AAMCO. Don't ever take your vehicle to the Sherwood Oregon and call because they really screw people over that are disabled. I'm on SSI and they screwed me over so don't ever take your car there and on top of it all the manager told me that he could not tell his boss or he would be fired. Volvo and Mac auto pros said they should have put another motor in instead of rebuilding the bottom of the motor as it can cause a lot of other parts to fail.

Brought my 2004 Ford Van in for transmission repair. After a "free" check, I was told they couldn't determine what needed to be repaired unless they took my transmission apart (cost over $750.00 - no repairs included). At this time I was also told if it needed just the normal repairs the total cost would be $1350.00 (this included the $750.00 take apart charge). I was also told if "hard parts" were needed it would result in additional costs. I gave them the go ahead. I was called back and told there was a lot of damage and the cost would be $3500.00. I told the service manager that felt I should just junk the car and limit my loss to the $750.00 evaluation fee (which I deeply regret not doing).
The service manager then tells me the car is in such great shape that it should be repaired and I could get probably another 10 years out of it. I told him I couldn't afford the cost and he got instant approval for an AAMCO credit card with a $5500.00 limit. I finally agreed to the repairs but only to the quoted cost of $3500.00. Six days go by and I call to find out if my car is ready. I was told yes, but they were doing some final test and I could pick it up the next morning. About 15 minutes later, I get a call back telling me that the total charge would be nearly $4000.00. I told him that I was quoted just under $3500.00 and was told that this new total was due to sales tax (which I was lead to believe was included in the $3,500.00) and a whole bunch of additional charges I was never told about and did not approve. Even if the sales tax was not included as I was lead to believe it would have only been $245.00, not bringing the bill up to $4000.00.
The call was ended by the service manager telling me that I would see everything on the bill when I came in to pick up my vehicle the next day. I feel I was deliberately misled to achieve additional profits and this happened with them knowing (I told them about my health issues and I have to wear a Life Vest (an external defibrillator) which is visible to anyone) I am a disabled senior with major heart issues (congestive heart failure) that will probably lead to death in the near future. My conversations with AAMCO Winter Haven have produced no results or efforts to correct these problems.

Fairview Heights, ILLINOIS. April 1, 2016 I was 100 miles from St. Louis, MO, when my transmission failed. Eventually, my car was towed to AAMCO Transmissions in Fairview Heights, IL, on April 2. I get there on Monday, Apr 4, and asked about my options. After the diagnostic they told me that the transmission needs to be replaced. "How is that?" I asked. "You are a transmission company, can you just repair it?". And you know what? NO! THEY CANNOT REPAIR! They can only rebuilt it! And rebuilding will cost $3500.
And they told me, that it would be better just to put in a used transmission. "Ok. Do you have one?" asked I. They told me that they will find a used transmission for me. After few hours of waiting they told me that they've got a used transmission for $1100. I asked about the warranty on this transmission and this Kevin the manager told me that it is 90 days parts and labor warranty. I thought it was a very great deal and I agreed. He made a photo copy of my credit card information. As I stuck in Fairview Heights with my wife and child, I had not much options to choose from. I left my car there at AAMCO and asked my friend to pick us up. And that day, 04-04-16, we left for our home in Omaha, NE.
On 04-06-16 my card was charged for $1100 for a transmission. The next day Kevin called me to tell the car is ready but they cannot charge my card because of some issues. I told him that I will be there on Friday, Apr 8, and pay in person. I took a bus to get to St. Louis and then an Uber to get to Fairview Heights. Everything seemed to be good, I paid $900 for labor in cash, except I noticed that in AAMCO receipt there is not a single word about the transmission itself. I asked this Kevin about it and after that he gave me an invoice for this transmission assembly from Something Auto Parts to Kevin's and AAMCO name. After that I managed to drive back safely to Omaha.
In two weeks this transmission failed. I brought the car to local AAMCO in Omaha with all the papers from Fairview Heights AAMCO and left. The next day they called me and told that Fairview Heights AAMCO refused to pay for this warranty repair because I HAD BOUGHT THE TRANSMISSION MYSELF and THERE IS NO WARRANTY FOR THE LABOR!!! I tried to explain that I didn't bought anything by myself, I ordered a comprehensive transmission service. But all was useless! The local AAMCO manager said he doesn't care about anything! It is my problem to solve with Fairview Heights AAMCO shop! I tried to call Fairview Heights AAMCO several times. And the only thing I hear that I bought it myself and it's my problem now! This AAMCO shop just scams people by installing crappy parts, taking money for labor, and then reinstalling them again and again! Taking money for labor again and again! That's quite a business!
And you know what they include to their "parts and labor warranty"?? WARRANTY FOR TRANS. OIL AND OIL FILTER!!! And when I decided to get my car back from local AAMCO shop, manager told me that I got what I deserve because didn't want to rebuild my transmission and just wanted to save some money! THEY ARE JUST BIG FAT SCAMMERS!!! Filing a claim to the court.

Lauren FixAuto & Finance Contributing Editor
Lauren Fix, also called The Car Coach, is an automotive and auto finance expert. Her understanding of vehicles has made her the "go to" person on TV, radio, print media and the Internet. She has authored multiple books and writes a column for several outlets, including Parade Magazine, NewsMax and Car Coach Reports. She is a regular guest on major news and morning shows, discussing the latest updates on cars and car financing that will help drivers make smart decisions when buying, maintaining and financing cars. More about Lauren→

Anthony A. Martino opened his first auto repair shop, focusing primarily on transmission repair, in 1957 and expanded the Anthony A. Martino Company (AAMCO) in the early 1960s. The franchise now has more than 650 locations in the United States and offers a wide variety automotive services.
Franchise locations: AAMCO has independently owned and operated franchises, so exact services, prices and discounts vary by location. This fact also means that when customers visit their local AMMCO, they are supporting local business owners.
iGAAUGE: The AMMCO app serves as a roadside companion. It can tell users how far they are from the nearest AMMCO location, help them remember to keep a regular preventative maintenance schedule, chat with a technician to troubleshoot automotive problems and more. The app can be downloaded on Apple and Android devices.
Transmission services: AAMCO's founder originally focused primarily on the new demand (in the 1950s) for servicing automatic transmissions. The company continues to provide a wide variety of transmission services, including the most comprehensive transmission services in the industry the Power Purge® and Power Purge® Plus Transmission Flush.
Warranties: Warranties that come with products consumers purchase at one AAMCO or extended warranties purchased from one location will be honored at all franchise locations.
Best for AMMCO offers services to help any consumer who wants their auto serviced and/or repaired by professionals, especially those who are looking for a brand with locations nationally.
Compare Auto Service and Repair
Company Name:

AAMCO

Website:

http://www.aamco.com/