Consumer Complaints and Reviews

First of all, SWEPCO/AEP will get their money. No one is allowed to keep their electric service after the extension period - I'm fine with that. However, when a customer is considered poverty level they will likely be late paying their bill. Swepco now has implemented policies to collect $575 at three $192 installments. In the past, I've accepted help from LIHEAP, but for a family of 4, they could only give $113 toward my bill. And you can only use their assistance several times a year. I am in poverty so how can I afford this? This is an injustice!

This could be a very long review. I built my home 6 years ago. The first 6 months our bill was "normal", since then it has been outrageous! My home is well insulated and contains only energy saving appliances. When I called 5 years ago to see what happened the only explanation given was, "You used the power." I'm sorry but it's nearly impossible to run 60,000 kWh a year. I'd have to keep every light on and the heater running on 90 degrees every single year. I asked for an employee to come out and tell me why the bill was so high.
They agreed and he came and even he said he couldn't figure out why the bill was over $900 a month, every month. This company is greedy, and extremely unhelpful. I have never in my life been so disgusted with a company that is so unwilling to help. I actually had one representative snark and giggle on the phone. Not only is the way that rep carries their business poor, it's the worst company I've ever dealt with in my life. Price gouging is against the law and someone needs to take a hard look at the way they run business.

First off I understand the need to trim trees - that is not at question here. What is at question is the incredibly stupid process they use. At my house they trimmed one side off and left the tree in a very dangerous situation - all the weight now on one side of the root system. The tree was not trimmed properly and the trim points will rot. They did this on a tree in the back of the property and it cost me 1400.00 dollars to cut it down. When I asked them to trim the other side off - they told me that they didn't do that - that is a DIRECT lie. Numerous other trees are trimmed properly in Millersport and surrounding areas. Please trim the tree properly...

Since AEP took over the electric in my small town, electric rates went up $100 to $150 dollars, our winter has been warmer than last yr. Lexington Ohio had power outages. It took a week to ten days to fix the problem.

This summer, AEP neglected to come out for a reading for literally SIX months. So at the end of 6 months, everyone in my neighborhood got a bill for hundreds of dollars. Our bill was over $900 and the neighbors had to pay a bill that was around $600. When I called the company to ask why they didn't come out every other month for a reading like they had for the last 15 years that I have used AEP, they said they weren't required to do so.
True enough, when I contacted the PUCO, they said the law only requires electric companies to come to your property for a reading ONCE a year. They see it as the customer's responsibility to call and request a reading if they want one. I don't know about you, but I'm not staring at my electric bill every month to determine whether a reading was done. I have other fish to fry.
Especially after 15 years of the same pattern of readings, I wasn't aware I would need to all of a sudden start being vigilant about it. And of course, AEP had zero sympathy about their poor service and did nothing to help with the bill aside from offering a "payment plan," which just means your bill is going to be ridiculous for the next 6 months, and God forbid they don't do an actual reading during that timeframe because then your bill will be ridiculous for an entire year.
And to add insult to injury, they added a deposit on WHILE we are trying to pay back that ridiculous bill because *gasp* we paid late. We have never been disconnected. We always pay our bill. It feels like a pile-on for which we have no recourse. We don't stress about bills at all except from this company because it's a constant assault on our finances. Because of the way they've treated us, I'm looking into solar panels. AEP obviously has a monopoly on this region and I'm getting out from under it if it kills me.
How do I know I can trust these reviews about American Electric Power?
794,387 reviews on ConsumerAffairs are verified.
We require contact information to ensure our reviewers are real.
We use intelligent software that helps us maintain the integrity of reviews.
Our moderators read all reviews to verify quality and helpfulness.
For more information about reviews on ConsumerAffairs.com please visit our FAQ.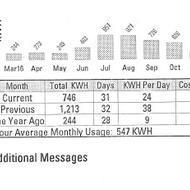 Our meter has had MAJOR fluctuations in the readings, some even impossible numbers such as February's reading of 1,213 KWH. This would burn out our old wiring if we actually used that much. (I am trained as an Electrician and PC Technician, I know what I am talking about on house wiring.) Not to mention the fact that I have a small three room apartment. Most 5 bedroom houses leaving all the lights on 24/7 would not use that much electric! The month of January used only 332KWH even though my actual usage was the same for both months. January was what should be. This is the third time in less than a year that this has happened. I tried going through PUCO but that was worthless, their response was to set up a payment plan to pay for these ridiculous meter readings!

Over the last 3 months we have had at least 3-4 power outages in our area, which is a concern to us as we run a business from our property for large groups which depends on electricity. When I inquired with Dave ** at AEP regarding our repeated outages (despite the fact that our electric costs have risen by 25% in the last decade) all he did is try to blame them on accidents in our areas even though a couple of our outages were directly the result of equipment failures.
The day after I spoke to Dave ** we had another 5 hour outage. I texted Mr. ** to inform him of the current outage and request a credit adjustment on our billing due to the repeated outages. So far Mr. ** has gone radio silent and has failed to response to my text messages. I don't expect to ever hear back from Mr. **, but I am sure I will hear from AEP if I don't pay my bill on time.

I have purchased 3 appliances within two years. Every time I complete the application for a rebate, they will send a letter stating not enough information or something to that matter. Not once have I ever gotten back any rebates and I did supply ALL information to them. They always come up with an excuse or state never received when you know for a fact they got it. Send all info out twice and again the same old story. False advertisement on their part. I finally just gave up. A waste of your time, stamp, etc.

My monthly bills got incrementally more expensive every single month. There is not a clear indication of the exact use of my electricity, and the charge is extremely murky and unclear. I live in a small apartment and I had to pay more than fifty dollars in the past billing cycle. And electricity is not even my heating source. I've just been using my refrigerator, my ceiling lights, my lamps and my electronics charging ports. Incredibly price mark up.

The good thing about having a tiny, double insulated house, is it retains its heat easily in the winter. Oddly enough that wasn't enough to keep me from getting a $400 dollar bill. I called about a possible error, they said there was no error, and that their rates had increased. My home has one tv, electric floor heaters that we keep on 65, one fridge, stove and washer/dryer and a laptop and Wii-U. I don't even have a deep freezer. I don't own a garbage disposal or a dish washing machine. How in the world could my electric get that high? Most of this winter in Kentucky has been 65 degrees! It's pure robbery!!

AEP shut off our power with no warning and nine days until our bill was due. When inquired about the situation I proceeded to get three different answers from three different people. The first insisted that I got an email, which I did not. The second insisted that there would "never be email notice" me a lengthy unclear description of how to find the information deep in my online account, not to mention a lack of patience and a strong attitude. The third insisted that we would have receive a notice by paper mail, something the other two representatives strongly denied. Even when discussing the situation of a family member with asthma on a poor air quality day, did nothing. I am so beyond frustrated with their lack of sympathy and lack or consistency with their info.

We moved here to Kentucky in 2015. We were required to pay 350 dollars for a deposit. Since living here every month we get threatening letters saying if we don't pay by a certain day they will cut us off. Each month we pay our bill. However looking over the last year and a half worth of bills we have had to pay 20 dollars here and 50 dollars there for "deposits". Was my first deposit that you negotiated with me prior to my move not good enough for you. Am I going to get all of these deposits back. Of course not. Because I was late one time and according to my contract if you aren't on time every time for 18 months you forfeit your deposit. You know this which is why you keep charging me a deposit. Well here's a kicker AEP. I'm moving. And I'm not paying my bill so take the last month's bill from all of those deposits you have charged me.

For the last few months I have been billed twice. The company and supervisors continue to tell me that it is my billing cycle. That they can bill me every 15 days. When I asked where I agreed they stated my terms and conditions. Well, I read through those and it does not state that they can bill me every 15 days. Two supervisors have called me a liar. They will not let me speak to someone in the executive office or corporate. One supervisors told me that I better just drop it or they will bill me even more. And what do you know, my light bill jumped up $50 after complaining. They refuse to assist me. I just want someone with some authority to care and look over my account. This is atrocious.

I sent a letter from a collection company telling me that I owned this company over a thousand dollars. I had to google the name to see where it was located at. I live in North Carolina and have never lived anywhere close to this company. I didn't give my consent to this company to approve electric in my name or anyone else but I am stick with a bill because no one would check the person ID that called pretending to me which I do have some clues to who it could be. I think this company needs to work on protecting people personal information instead of charging people that live out of state with big bills like myself.

My daughter and I purchased a new double wide Mobile home. It was set up on June 8th and power inspection was done on June 11. AEP was supposed to install the new service between June 16th and June 30th. As of June 30th still no power. When we called they gave us another date for the week of July 4th. Still no power on July 11. AEP contacted me and said the work order was on the truck and if it wasn't installed on Monday July 11th that it would be done on Tuesday July 12th.
Today is July 18th and we still have no power service. My first house payment is due and I can't even move into my new home. This is causing so many hardships on myself and my family. I'm at the end of my rope and don't know what to do, or who I can contact for help. I filed a complaint with the public service commission last week and have found out nothing new. I don't think it is right that I have to make payments on a home I can't even live in. Anyone have any suggestions, that would be greatly appreciated.

I have been waiting a week to get my power turned on. Everything has been paid and they've contacted my landlord as evidence I live there. I saw a post about someone saying people are only upset because they can't pay. I think someone who can't pay the outrageous prices they ask is a reasonable complaint when they are the only place to get power where I live. They have taken my money and refuse to call me back. I have a small child and have to be out of the place I'm staying if I don't receive a call this week. I'll have no way to contact them because all my money went to the ridiculous deposit. Also I'll be staying in a place with no power and out of the money I paid for the service. So to the person who posted about being unable to pay I paid my bill and they still are acting like this. They are abusing their power. They can set any amount and you have to pay it. They can turn the power on when they feel like it because we have no other option.

I am submitting a subsequent complaint on AEP as this company is an absolute disgrace to consumers. I have attempted to dig out of a massive balance with this entity for the past few months and I am unemployed, receiving unemployment benefits. Last month, around June 2016, I paid over $793 to reconnect my electric following shut off from an extremely rude employee that refused to allot time for me to run to Kroger to pay the amount as my son with asthma was in the throws of an attack. I am sick of this entity and its gauging of consumers.
Now, today July 7, 2016, an AEP service representative did knock on my door and offer opportunity to go pay $897.48 to avoid disconnection. I would like to know what human being has that type of funds? I am on unemployment and actually qualify for PIPP in which I recertified for at the beginning of this year and AEP refuses to re-establish given there is a balance that there is no way anyone could ever pay, that is experiencing financial hardship. I am no longer on PIPP and pay as a regular consumer. Who has $400/$500/$600/$700/$800/$900 per month to fork out to AEP? The least this entity could do is allow arrangements and it does not!
Further, if you complain to the PUCO, this entity appears to began to look forward to shutting you off and making your life hell. Moreover, at the time of recertification the amount to pay was $755 and that amount I worked to pay, only to be told that "Oh no, the balance has changed its $1300 plus. AEP is ridiculous and a monopoly entity deliberating taking advantage of consumers at not only at the poverty level but otherwise. In the community I reside, the electric bills for all residents is outrageous monthly anyhow. My aunt has a condo here she only visits 2 times per year and yet her bill is $200/month. How is that?
The entire community located at Appleway East Condos needs evaluated. AEP appears to be billing at rates that are not consistent with actual usage of the consumers in these residences in the first place! AEP then has the audacity and gall to refuse arrangements and demand monies in astronomical amounts; knowing the consumer cannot pay. I am unemployed, I have no health insurance or any alternate income and the stipulations that AEP requires without any consideration for the consumer is plain evil. My bill is reflective of my efforts to pay my debt despite being on unemployment and caring for an ill child yet AEP could care less. I will be copying this complaint to all media outlets for the sake of public interest and awareness.

Asked several times for tree to be cut down. Previous person from AEP told me it needed to be cut down. A friend just informed me that she and husband were refused help for relief after paying $500.

I have read some of the complaints and acknowledgements on this site as my experience as a new resident would qualify me as someone whom is obviously completely non-bias and impartial towards Power services in a state that is clearly over 1190 miles from my hometown of Colorado. I established service with AEP on June 3, 2016. On Sunday night, I placed a check for my deposit into the mailbox of my residence for my initial deposit of $82.00 and sent it off to AEP. After only living in this state for thirteen-days, my utilities were turned off without NOTICE.
When I called, the customer service I received was so poor. I was consistently told that "You didn't pay your deposit." I informed the customer service representative that I in-fact, I did pay my bill. The unfortunate adage here is, "the check is in the mail" and disgustingly, so many people use this line of reasoning as a bargaining chip. Then I asked myself, as a "College Professor" how much credibility do I have when my word is NO LONGER valid when I pay my bills, and I pay BILLS ON-TIME?!!
Secondly, I am at the mercy of a billion-dollar company that could obviously care less whether or not I have power. When millions of people are in need of power, one-household is insignificant. I have been treated just like my account number, a useless number or resident who -- to them still owes money to a large corporation; like many others "she is not going to pay us!" Unlike the previous post, I do pay my bills, I would NOT have arrived this far in my life if I hadn't. I imagine, per say, if any of AEP staff or workers were without power in the homes, they would feel differently. I have been told on numerous occasions that a technician "could, may, or possibly" arrive at my home to restore service within 1 to 3 business days. However, I was OBVIOUSLY not extended the same courtesy for my payment. AEP only counts the weekend as business days when charging clients for fees.
AEP has no communication system with their own contractors! UNACCEPTABLE! "Unfortunately, we have no way of tracking when the technician will arrive on-site." I have called AEP and it is NOW 52 HOURS that I have had NO utilities after living in this state for only TWO-WEEKS. I have been told, "I am sorry Ma'am but this our policy." -- UNACCEPTABLE!
I love when companies hide behind the word "Policy" - there is a reason for this! And, YES, there is that insulting policy?!! What does policy mean? A rule or measure in-place; thus, put into action by an agent or person of authority. Thus, their company policy obviously speaks enough. The fact that I am writing this review (As I have adamantly protested writing any reviews ever until NOW!) I hope will reach others to share their experiences and to NOT have them discredited by others to reassign BLAME. Shame on those who do!! And yes, my second payment has cleared my checking account...

I have had several encounters with AEP as our electrical provider, none of which are pleasant or helpful. Transformer explosion destroyed equipment in several houses in our previous neighborhood. AEP accepted no responsibility of assistance in replacing or helping with the problem. FAIL! On four separate occasions payments were misplaced and applied to another account, bill or auto-call advising of a cut-off date for non-payment of which checking with our online BB&T bank payment service, each time payments were made prior to due date for the amount requested. Two times they cut off the power, and one time I wrestled with them on the phone about the payment being made and "completed' by the bank on the 10th and the due date for cutoff was on the 15th but they still do not show the payment as of the 13th.
Even advising them that 2 older adults, two younger adults and 2 under age 3 babies reside in the large home and that cutting off the power in the hot weather is a health hazard. On one occasion they simply shut off the power, when a call could have alleviated the issue. All of which incurred a reconnection fee. I wonder if they are eager to charge and collect the reconnection fee? I called this last time and spoke with a CS agent and then her supervisor to which we decided on a additional day to see if the payment comes through. Still, no reprieve of a shutoff date. No admission of any error on their part or understanding about their bank situation. All it was, was an admonition to pay earlier and allow 3 business days for a "free bank service" online pay to make it to AEP. All-in-all, the customer service and just basic power service is poor and cold, nothing like their advertisements hype their company to be. Looking for alternative electrical opportunities.

I have read review after review on this site, and I have came to the conclusion that one thing is apparent. There are a great many people who have not paid their bills or have not paid them on time who want to complain. First off, if the power company (in this case AEP) requires a deposit or a considerably large deposit, this is not done for no reason. Someone would have to be a credit risk or have had a history of late/nonpayment for this to happen. My family has had AEP (Appalachian Power) my whole life. We pay our bills on time or early every month, and we have never had a problem.
The only time that I ever experienced an issue was when the compressor went out in one of the HVAC units a couple of winters ago and ran on emergency heat for the entire winter. My power bill exploded through the roof, and I didn't notice because I was on the Average Monthly Payment plan. I could've complained, but was that AEP's fault? No, it was mine.
Secondly, realize that every time that you have to have a company call you for collections, power on/off a pole due to nonpayment, or provide any service, that takes away resources that could be used for system improvement, efficiency, and any other number of ways to make your electric service better, and less expensive.
Finally, this is a shout out to the Ohio peeps on this site. Your state CHOSE to deregulate. This was to increase competition and drive down prices, but guess what? It also allowed in companies that sell electric like used cars. Start at this rate and two years later the fine print catches up to you. I guess this is more my rant of saying that some (not all) people need to look at their contribution to the issue before ranting themselves about a company. Are there legitimate complaints? Sure there are sometimes as no one nor company is perfect, but most of these are seem to be related to personal rather than business reasons to me.

We moved from last address contacted AEP and let them know we were transferring electric. Gave them our new address. They continued to send bill to old address and finally they got it corrected and sent us a 1300.00 bill and termination notice. They wouldn't take payments, instead they disconnected it until we pay 1100.00. It wasn't our fault they sent bill to wrong address. We were expected to be understanding but they weren't when we ask to make payments.

I received a light bill in the amount of $392.50 which includes this month and next month's bill plus late fees. This bill has a disconnect notice with it. There are several things wrong with this bill. My bill is due on the April 8th. My disconnect notice is April 25 which was sent out on the 14th of April. My original bill was 161.86 plus late fees which brings it to 167.21. My disclaimer has nothing to do with fees, but it has everything to do with fees and another deposit. I've paid a deposit when I first moved into my place several years ago. Two years later and now another one for 427.00. The bill says 305.00 but when I called the customer service representative said 427.00. I was not aware of them charging several deposits throughout the years of having lights on and never once turned off. There isn't any notion of this 427.00 unless they tacked it onto my bill without me noticing it.
My bill goes from 112.00 to 270 in a month's time and that's without the deposit. They base my electric on the previous year's bill which was someone else's bill. I'm a disabled mother of four children and can't afford to keep sending the CEO and their children on vacations. It's not right for the customers to pay another deposit because we are late on our bill when they charge us late fees and we have paid several deposits already.
The government needs to regulate this and put a stop to these financial institutions that get over on customers. I'm at a loss for words other than distressed. I can't pay my bills and I'm forced to bankrupt because of these overages. The customer service persons gets upset and tell you that they can't put the supervisor on the phone and they will call back but they didn't. I'm sick and this is causing my health to decline because of stressing over big corporations taking from poor handicap people. This isn't right and someone needs to address this.

AEP seems to feel that a couple of emails (which immediately went to spam) is all it takes to let you know that your contract is expiring. When you don't respond (and...how could you?) they feel it is fine to jack your rate up 40%. This is your reward for choosing them, never being late with a payment, and having good credit. Further, they will then do nothing to regain your trust or satisfaction, or retain you as a customer. There are dozens of other power companies out there. Don't use this one.

I've been trying to get my electric on for two weeks now. I have spent over $10 for new leases and transportation. I just moved in and paid the deposit and sent in the wrong lease. My girlfriend left me and I sent in the lease with her name and mine instead of the new one. She has even told them she no longer lives there and they want to add her $400 bill onto my account. We are not even married. I got that squared away and paid the deposit, now they are accusing me of fraud with the brand new lease that I sent in. They said I whited out a whole bunch of stuff and I didn't. So then because of my autism I had my sister call in and talk to them and they refused to talk to her. I don't know what they want anymore. My landlord is about to evict me because the power has been off for more than a week and repairs on my house have been delayed...

I would like to know how every month my bill is almost 70 dollars extra in charges at the bottom of the page. Charges such as PJM cost, energy efficiency program cost, cook nuclear plant life cycle cost, capacity settlement rider, State sales tax. I'm a single mom on a 13,000 a year income, no assistance and they get to charge me 70 dollars extra every month? Why?

AEP is bogus! Charge outrageous prices. Even though you attempt to pay your bill, if you don't pay what they say they shut you off. My husband pays 350 a month on electric, and yet still get disconnect notices. We both have explained to them I'm disabled and he's the only 1 working. All they say is they're sorry and it is what it is. Hell we've complained that our lines are messed up and needs repaired, but nope they don't wanna repair them.

Hello. My name is Chad and my experience with AEP has not been good. AEP is not a fair and reasonable company. Their customer service is horrible! They are not nice at all. I don't even think they listen after they get account number. VERY LAZY! So I went the entire summer without electric because I have a bill that is $2,000 and in order for them to turn it on there is a stupid and outrageous reconnection fee and a payment plan of $200 per month plus they made me get on a budget of $125. I said that I didn't want the payment arrangement and they told me I had to have it with the payment plan.
This is why I had no electricity all summer. Couldn't afford it with the other bills I have to pay. So November comes around and I was finally able to get it on with $175 plus another $154 deposit. My total bill per month is $325 for the next nine months. (Nine months is the longest amount of time they allow to pay off debt) That's the minimum amount they will accept in order to keep my electric on. They told me if I miss a payment they will turn it off and I will have to pay entire amount owed. Which is just over $2,000. How and why do they let these bills get so high in the first place? It's ridiculous!
So if someone wants to steal your identity and use it for electric, they can rack it up to thousands and move on and the real person is stuck paying the amount that AEP let get that high in the first place! We should ALL get together and put a STOP to this nonsense! They are ripping people off left and right with their high rates and fees and unreasonable payment arrangements! I'd turn to another electric company and tell AEP where to go and pay them about ten bucks a month to pay off debt, but there isn't one for Delaware, Ohio, I don't think. Any suggestions?

AEP had shut off my electricity due to nonpayment even though I had sent the check. They claimed they did not receive it. I have been with AEP close to 40 years and have never experienced the madness I did when this happened. The money was in the bank. They lost the check and yet refused to drop the reconnection fee and customer service reps were extremely unprofessional and lazy. If they would only take the time to read the notes on the account correctly then any ordinary individual should be able to resolve the problem effectively. I had phoned many times and all but one call was met with aggression and insulting remarks. The one good call resolved part of the problem only to have my next bill sent out with the same charges included.
Who is the manager of these individuals? That person should be fired along with any staff member who screams into the phone as the customer is attempting to explain the situation "STOP. STOP. STOP." And screaming, "we are having an adult conversation here." All along claiming that the customer is a liar, attempting to corner the customer with inaccurate readings of attempts to resolve the matter. I finally phoned the PUCO who put me in touch with the executive offices. I do not know if this is business as usual, but in my career, if these idiots worked for me they would all be fired and on the street immediately. I am not satisfied this issue has been resolved. If I am not seeing the credits on my next bill I will be contacting my state representatives and through them, recontacting PUCO and then putting legal pressure on the AEP company for damages.

Here in Columbus Ohio my energy bill has increased way more than last year. I had enough and started looking for another supplier I came across, free energy for life dot org, and they were able to help me save. American Electric Power has high energy charges and we need a solution. They are not the only supplier out there. Thank god for deregulation of energy.
American Electric Power Company Profile
Company Name:

American Electric Power

Website:

http://www.aep.com/