Consumer Complaints and Reviews

LATAM cancelled our flights (2 of us) and booked us on a flight 6 hours earlier. I absolutely CANNOT make the flight 6 hours earlier. Although I will get my money back from LATAM, I will not be able to get the money that I lost on the connecting flight. So they completely ruined my itinerary. Customer service was of NO help.
Never again!

I travel a lot and I deal with airlines a lot too, but dealing with this one has been the worst possible experience. I have called the so-called 'Help Center' to be 'helped' in my request, changing of dates of my return ticket, and after dealing with at least 15 useless 'executives' as they are called, putting on long holds, none of them have come with a resolution, please stay away from LATAM. They are not prepared to deal with complaints and requests, they are only prepared to get as much money as possible from you and with the worst attitude.

On Flight 4363 May 1st returning from Bogota to Miami, just as we are arrived in Miami, the crew member stated they were fumigating the plane, and that this had no side effect and was considered to be safe to all. Not so, I started to feel scratchy throat, and other passengers cough as well. It is May 19 today, I have been out of work for 3 weeks, was diagnosed with severe allergic reaction to spray used. It burned my sinus and respiratory track, I had asthma, sores in my sinus and developed pneumonia from it. I tried to find out why this was done, it is not a requirement to do this in the United States, but so far I have gotten nowhere with different transportation departments. Consumers be aware! This practice can kill people! Read article on USA today, Neurological Disinsecticides, people need to be inform. I will never fly this Airline again! Customer service is the worst.

Purchased tickets from CHEAPTICKETS.COM to visit Chile with my wife using LATAM Airlines. Since I am Chilean I thought I should patronize LAN CHILE. When I went to choose seats, I found out my flight was switched to AMERICAN Airline. The kicker is these SOB's (American Airline) charged me $450.00 in addition for the seats in their plane. I am very disappointed about the bait-and-switch deal. I cannot change this now, but I am very disappointed about LAN CHILE and the bait-and-switch game they played.

I agree with the person below who said "strongly suggest not to use their services neither online or by phone. Because of the merger between TAM and LAN Chile, their systems are not prepared to solve issues no matter what you need." I was due to fly to Sao Paulo today at 18:25 and received an email at 02:00 saying that my flight was delayed by 5 hours. Then at 10:00 am I received an email saying it was cancelled. I called and they said that there were no options for me to fly out today. I had to call several times to work out options and each time no one had a clue what they were doing. Some said my flight hadn't even been cancelled. Then they checked and decided it had.
I asked if they could get me to Rio (as I was going to miss my domestic flight because of them, but they said I would be charged). Then they said I could go via Santiago, then they decided I couldn't as it was a route change. I called several times during the day and had a terrible experience every time. I finally called to accept their offer of going at the same time the next day and then they said I was confirmed for the original delayed flight they had told me was cancelled which was about to leave. The online chat was only available in Portuguese and not even available to me because my reservation started with 045 which apparently means it's a LAN reservation, even though it was bought via LATAM. All in all by far the worst experience I've had with an airline. They have no idea what is going on.
How do I know I can trust these reviews about TAM Airlines?
791,307 reviews on ConsumerAffairs are verified.
We require contact information to ensure our reviewers are real.
We use intelligent software that helps us maintain the integrity of reviews.
Our moderators read all reviews to verify quality and helpfulness.
For more information about reviews on ConsumerAffairs.com please visit our FAQ.

I was on the flight JJ8080 on Wed, March 29th (GRU-JFK) and on my way to the airport I got a message saying that the flight was delayed in 11 hours. Then I called TAM to see what were my options and they mentioned that because it wasn't canceled I had nothing to worry on my new booking. When I asked about accommodation I was told that there was no accommodation available for me, which is ridiculous, because by the Brazilian law on flights delayed in more than 4 hours the passengers are granted accommodation.
Then 5 min later I've got a message saying that the flight was canceled and when I called TAM, again, to change my reservation the attendant kept me on the line for 45 min. (No kidding... 45 minutes!!! To process the change!!!) It's absurd!!! Terrible customer service. When I thought that the nightmare was over... I was placed on a 9:50 am flight and when I tried to connect to the wifi onboard so that I could at least work from the plane guess what... The aircraft was so old that it had no wifi!!! So I wasted an entire working day thanks to TAM!

Strongly suggest not to use their services neither online or by phone. Because of the merger between TAM and Lan Chile, their systems are not prepared to solve issues no matter what you need. I bought a ticket from their website (LATAM Airlines - meaning no TAM or Lan Chile) and can't select the seats that I want and even upgrade it to Comfort Seat. The nightmare starts when you need to talk to them through their help center. I was transferred to 5 different agents (sometimes from TAM and sometimes from Lan Chile) because my ticket apparently was issued by one of these companies (yes, I still don't know which company issued by ticket - neither they do).
Spent near two hours earlier today (April 3rd) and had no solution for my request. BUT IF I DECIDE TO CANCEL MY TICKET, I HAVE TO PAY A PENALTY FEE. A penalty fee for a service that hasn't been even concluded properly. Therefore, my suggestion, pick another company such as United or American where you can do all online and have a bit better service support from their help center. If anyone has any question and believe I can be of any help, just reach out to me.

My wife had to go to Brazil for family emergency. On the return, she bought a 1-way ticket from GRU to MIA on Dec.28th (day flight) for the expensive price of little over $1,643. The seat was by the bathroom doors so she paid another $70 to move to emergency row. When at the airport, she (and dozens other passengers) were put aside because the flight was overbooked. The company put her on evening flight arriving at 4 am at MIA and $200 for meals at airport hotel. No reimbursement for a regular air fare for the new flight; no guarantees she will have the same leg room seat she paid for. First of all, they should not oversell seats at this date and age of fast data. Second of all, you might think that consumers who paid an outrageous full price for a ticket should not be treated like this. Not flying this company anymore. Shame on you TAM.

This is my official complaint and the request for compensation for my medical expenses. I must say I have had the worst experience with my flight back to Australia from Colombia. After buying the airfare in February you guys changed the timing of the flights shortening my connection times from 1 and 2 hours down to 15 and 30min in Santiago and in Auckland. When I do my check-in in Bogota the guy who served me said that there is no way I will make the chile connection so I will have to stay the night and fly next day - to which I agree in Bogota. He advised that I will have to attend the international transfer desk and they will arrange everything from Chile.
To my surprise when I arrived the guys said - "well you will have to run to make the plane - if it leaves, then we will arrange alternatives!" - at this point I had to run all the way to gate 20! I suffer from asthma and the run was not helping. Once I arrived I was given my boarding pass - oh great. I made the flight, then even after selecting my seat with weeks in advance (window seat) you decided to locate me in the worse sit in the plane - middle-middle. At that time I'm just glad I made it.
Then my itinerary originally showed a connection of 1 hour in Auckland. Turns out that after a 12.5hrs flight my connecting flight doesn't exist - the screens didn't show the flight number you had provided and not one Latam staff member was around to assist passengers. You should try running across the airport to the transfer desk and multiple gates to work out what flight you are supposed to be on - well after flying for 18 hours my legs hardly responded and I fell multiple times running around the airport from one gate to the other until a Qantas member found out that I was on a flight that was about to leave - meaning my 1 hour connection turned to a 15-20min connection.
I run once again to the gate which was wrongly announced by the crew at landing - and I fall once again - at this point I'm exhausted, I'm angry and frustrated for your lack of communication. I was the last passenger on the plane - the Qantas crew were very kind and then told me 8 people missed the connection due to the mix up of the flight numbers and times. I then had to fly another 4 hours with bruised hands and knees and in the worse level of pain. Having to go and see a doctor on arrival at Melbourne and on top of everything having to organise my luggage collection as it didn't connect and was left in Santiago.
If you cannot make sensible connections you should review the way you are selling your airfares. This is the worst experience I've ever had. The staff on the ground were not helpful at all!
SO POINTS TO NOTE: Please ensure you write down all the details of your flights AT THE TIME OF BOOKING because your FLIGHT CONFIRMATION DOES NOT CONTAIN THE INFORMATION you need to fly. Don't buy the ticket directly. The flight agency might actually look after you better than LATAM. If you are asked to run to make your flight - DONT! Don't even try their customer service number. They will put you on hold - then hang up! Hope this helps fellow passengers!

We flew LAN from Lima to Punta Arenas, Chile. There was a technical issue; therefore the flight was delayed for one day. We was issued travel voucher for $600 credit or $200 cash and was told we can redeem back in the United States. We went to the Los Angeles airport twice, still can't redeem cash. The US-based LAN don't issue cash which we were told they do. They gave us number to call, but both numbers were not working. We called the LAN office at the airport more than 10 times, never reach anyone, so we gave up. We went to the airport again to talk to someone. They told us they need to submit the paperwork to the LAN office in Florida for the cash redeem. We never receive any update or the cash. I gave up working with them.

I am a US based travel agent. Our agency issued a ticket for a client on LAN Chile, 15 April 2016 at 5pm. The travel was to Rio on 31 July 2016. The client is a student attending the Olympics on assignment. When she arrived at the airport for her flight and there was no reservation. Apparently, LAN Chile had canceled the reservation 35 minutes after the booking and never notified the agency. After a 48 hour delay and missing her first assignment, the client was forced to purchase a new ticket for $5900. Since our agency wasn't advised, the ticket was canceled. We paid the ticket through ARC.
We have been trying to get a waiver code for a refund since 31 July 2016 but LAN Chile refuses to cooperate. I have contacted every published number for them. Their customer service refuses to help me because they say I need to speak to the travel agency support desk. Rolf at the travel agency support desk, either hangs up on me or transfers me to the customer support desk. I have made over 150 calls so far.
I finally reached a gentleman, Joe ** in Los Angeles who is supposed to be the Senior Sales Manager for LAN. He helped me one day making 3 way calls but getting the same results, either disconnected or transferred. He said he would contact the office in Santiago and get a resolution for me. He hasn't called me back and it's been over a month. I leave him a message every day but he doesn't respond. I have sent him a certified letter which he has refused. This is no way to do business. LAN is claiming there was never a ticket. They advised the client that we never issued a ticket. I have provided both the reservation number and the ticket number but they still refuse to do anything about it.

NEVER ever purchase a plane ticket directly from LATAM. Only purchase your ticket through a USA-based travel agency or a USA-based web page. ALWAYS purchase travel insurance. What's wrong? LATAM does not honor their reservations. I am a frequent flyer; in LATAM's Platinum Category. LATAM will bump anyone or arbitrarily change your flights and your schedule. If you purchase your tickets with a USA-based travel agent or travel web page, they will solve any issues caused by LAN. I made the mistake of purchasing several tickets this year directly from LATAM (ex TAM) and now I bitterly regret doing that. In the past, TAM was a jewel among airlines. Now that they have merged with LAN and become LATAM - we are all at the mercy of whatever scheduling or customer service clod LAN inflicts on us.
For example: I purchased Thanksgiving tickets for myself and the General in January 2016 directly from LATAM (ex TAM). I had confirmed every detail INCLUDING the seats for the General and I. Now, I discover that supposedly several flights are suddenly "unconfirmed". In other words, LATAM took thousands of dollars of my money for a trip back to the USA for Thanksgiving and right now it appears that I will not be able to spend Thanksgiving with my family in the USA. On another flight, also purchased directly from LATAM, I was arbitrarily bumped on my return flight from their morning flight to their evening flight. I already contacted LATAM via their Facebook page on Tuesday. Well, it's Thursday and still no answer.
NEVER ASSUME THAT YOU CAN CALL LATAM. LATAM's Customer Service phone numbers frequently do not work. Sometimes ALL of their call centers in the USA and South America will be "out of service". LATAM often will oblige you to contact them via their Facebook webpage. Their webpage promises a prompt reply. That promise is simply laughable! I contacted them on Tuesday Aug 16 regarding the trip where I was "bumped" from the morning flight to the evening flight. On Wed Aug 17 they wrote back asking for my reservation code. I sent them the reservation code. Then they wrote back again re-stating they could do nothing without my reservation code. Two days later and nothing has been resolved.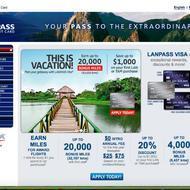 Something really unfair and illegal is happening with LATAM and their credit card LANPASS. With the credit card consumers earn one MILE per every dollar spent, however in the LATAM website they don't do the conversion, instead of getting 1 mile I get 1 km. ONE MILE IS 1.6 KMS so I am missing a lot kms. The conversion is as follows. 1 Mile = 1.60934 KM. LATAM case number is **. After several calls I don't know what to do anymore! So frustrated! This is false advertisement!

My daughter was travelling from Toronto to Cusco Peru to do some work as a volunteer and her luggage was lost. Latam staff at the airport was not qualified to assist her properly giving her the wrong information and never created a claim ticket. The agency she had signed up to to do volunteer work (a program she paid for) could not take her any more due to her missing supplies. It's been 3 days now and they still can't find her bag. I have been on the phone constantly for 3 days trying to find assistance in locating her lost bag. Every Latam staff I have spoken to provide me with a different answer or blamed the initial airline (Started with American Airline to Latam airline operated by AA) or simply "we will contact you"... Very disorganized organisation... Very sad that a young person put forward her money and time towards helping Peru as a volunteer and gets that type of treatment.

My daughter was traveling to SFO to Cuzco, and Airline lost her luggage. It has been more than one day and they can't even locate her luggage and does not take any actions to give her all lost items. Truly worst airline, and you never should take LATAM Airlines... Truly this is not acceptable.

TAM is the worst airline I ever travelled with. I highly recommend any person contemplating a travel with TAM to choose another airline. I was supposed to fly from Sao Paulo to Mexico City. We landed in Brasilia at 1 am with very limited explanations from flight attendants. I am stuck in Brasilia with no one from the staff of TAM helping us. Help has been limited to minimum from now. We had to wait for 3 hours last night (1 am to 4 am) inside the airplane and then another 4 hours (4 am to 8 am) to get an hotel room and a replacement flight (an explanation, a smile and a glass of water would have been highly appreciated). I hope the replacement flight proposed this afternoon will finally take, as many of us have to go to work tomorrow but it seems that it is not a concern for TAM.

Apparently, if you buy a full priced ticket, you might actually not have a seat if they oversell. You don't get a choice; they will reroute you. So they doubled our travel time, and in exchange, we got 2 "food" vouchers to a fruit stand valued at 5 dollars apiece. Not cool at all. This type of overbooked-uh-oh-change-your-plans is not safe for a frequent traveler.

LAN oversold my flight and offered a voucher (to exchange for future service, or for cash) to those willing to give up their seats. I chose cash and submitted the voucher for payment. They said it takes 2-3 weeks, but it has been 3 months. I have made many calls to request a resolution, but their service truly SUCKS. Those people read from a script to give the same answer all the time: "we are working on it", "we will contact the voucher department", "we will send you an email within 24 hours"...bla bla bla...and none of this is true. This airline has no clue about customer service. Their voucher offers are a scam. Don't ever accept their vouchers because you will never see the money!!! I will never fly this airline, even if that means I have to pay more to a competitor.

SOOO UPSETTING... my parents lost their flight from Santiago to Sydney for medical reasons so I was told that they had lost the tickets and we were forced to buy new ones which we did. Next day my parents went to the airport and they were put on flight the next day to Sydney on the original ticket. I have called to cancel the 2nd tickets and I was told there is no refund and the first tickets were cancelled including the return because they missed their flight and there was no record of them taking the flight.
NOT ONLY THAT! On the aircraft my mother had pieces of glasses in her food, she swallowed one small piece and managed to take one bigger piece of glass out of her mouth. My parents made a complaint on the aircraft and we have had no response. This has been so stressful for my family. We are losing money and health especially my mother with her health condition. This instead of being a joyful time being reunited with my parents has been a NIGHTMARE. VERY DISAPPOINTED WITH LAN AIRLINES.

I previously reported that my daughter's bag was extremely delayed because after more than 11 days it had still not arrived at its destination, Iquitos, Peru. Well, it has finally arrived. LAN, in conjunction with American Airlines, was able to get the bag released from Customs in Lima. It is now being held at the Iquitos Airport for pickup by my daughter. I am certainly relieved.
Original Review
Eleven days after my daughter's arrival in Iquitos, Peru, LAN Airlines has yet to deliver the only bag she checked. I understand it is held up in Customs in Lima. It took days for the LAN baggage service in Iquitos to deal with it. They say they have sent the necessary Customs paperwork to Lima. There, LAN must deliver the paperwork to American Airlines, which took her to Lima from the US. Has this been done? Is anyone looking for her bag? I have no idea! I messaged them on Facebook, and they keep saying they are "insisting" on my case.
The problem began when her flight out of Denver was delayed, and American Airlines put her on a United Flight so she wouldn't miss her connection from DFW to Lima. However, after arriving in Iquitos, my daughter had reservations to go on a side-trip and is now without internet service. The LAN online option for tracing baggage says "INVENTORY RECEIVED/TRACING CONTINUES. PLEASE CHECK BACK LATER." But how much longer will this tracing continue?

Flying from Lima to Miami and seating on seat # 26H in a flight close to 5 hours in duration, I discovered the following issues. The TV was inaccessible, meaning it simply did not work. No pictures, no games, no nothing for 5 hours. That not only was frustrating but I felt that you are losing quality control in your aircraft, and this issue must be happening to many other passengers as in fact it happened to my entire row H. But it not only happened in my way back to the USA. It also happened in another LAN flight going from Miami to Lima on December 19th, Flight 2515 in seat 18H where the TV screen didn't even light, meaning it was totally disconnected.
Your lavatory did not drain the water correctly. This was noticed by me way prior to flying while passengers were being seated and I used the lavatory to wash my hands. I could open the Faucet however the water did not pass through the drainage. The pocket in front of my seat was filled with small bubblegum papers and residuals of napkins. What all these issues noticed by me, says about LAN, is that you are more interested in cashing and flying, than the passengers good experience and comfort, and of course, the lack of maintenance and cleanliness of your aircraft fleet, since I see there is a lack of maintenance.
God forbid this same lack of maintenance is not upon brakes, safety equipment, food conditions, bacteria, etc. When I called the attendant, she said she was going to reset the equipment. When I saw nothing getting better I called the supervisor a lady, who said that the system was broken. Easy to say. Hard to digest in the long trip. I'm a frequent flyer with # ** and I travel the most I can with LAN in the routes you have, however, unless this matter is resolved and reviewed, taking the time to not only to fly, but to maintain your fleet, I believe I will need to see other options available. I look forward to hearing from you soon.

Background: I am a loyal, frequent flyer of TAM Airlines (in the "Red Category"). ConsumerAffairs is our only means of assuring that "issues" are brought to the attention of those in charge. Persistence is required to overcome the FEW yet annoying, ignorant, untrained personnel who are as disinterested in TAM and TAM's stellar reputation as they are in the client and the Law of the Land. Three back-to-back incidents occurred during my check-in and departure from the Miami International Airport, December 10, 2015, on flight JJ8091 that TAM management should be made aware of. General ** and I arrived about 4 1/2 hours prior to our flight. We had our bags wrapped. Then we proceeded to the check-in area.
#1. A female who seemed to be a "greeter" attempted to block our access to the preferential line for TAM "Red Category" customers. I showed her my Red Fidelidade card. She did not even know what Fidelidade is. She was quite rude to the General; she told him we could not "sneak" into the preferential line if we had tourist class seats (Almost laughable as there was no one in front of us!). Not to be stopped by her, I simply waved my red card in the air and asked (loudly), "Isn't this the line for Fidelidade Red Category?" It was, of course. And the agents waved us forward.
#2. We went through the check-in. The agent was a very nice, efficient, well-spoken lady. I liked her. But then, the damnedest thing happened. The agent commented that I had a wheelchair reserved. I said yes. She then said, "I had requested 'special attention'". I explained, "I requested a wheelchair - AND - I made it clear that I cannot go downstairs. I was told to always make that clear when going to Sao Paolo since TAM flights sometimes deplane out on the runway with those steep movable staircases."
She then said she "was cancelling the special attention request". She next asked me for a Doctor's Note. I told her that I gave my Doctor's note and TAM'S own form (filled out by my doctor) to TAM in April of this year. At the Asuncion airport, they told me they were sending that form to TAM headquarters to keep on file. Next thing, she told me she was going to cancel my wheelchair!! I had to tell her very sternly that would be against U.S. Law under the provisions of the ACAA (Air Carrier Access Act).
She called over her supervisor. I was quite careful to ask them to SPEAK IN SPANISH so that General ** could understand the conversation, and of course, be a witness to this conversation. The supervisor reiterated the claim that it is TAM's policy to require everyone who requests a wheelchair to present a Doctor's note PRIOR to each flight. FACT: THIS IS NOT A PUBLISHED TAM POLICY. Rather, this seems to be a gross misperception or abusive, bullying.
The airline does NOT have the right to request a Doctor's note/medical certificate for a wheelchair. An airline cannot request a medical certificate unless the person: is on a stretcher or in an incubator; needs medical oxygen during flight; or has a medical condition which causes the airline to have reasonable doubt that the person can complete the flight safely, without requiring extraordinary medical assistance. "For passengers who require mobility assistance with wheelchairs, TAM provides a special service to ensure all necessary aid. You can request it from our Sales, Fidelidade and Service Center at least 24 hours prior to departure." Air Carrier Access Act.
#3. Boarding. I handed the boarding gate person both my Boarding Passes, my U.S. Passport and my Paraguayan Cedula. He began to flip through the pages of my US Passport looking for a VISA to enter Paraguay. I said, "You won't find a VISA, I have a Cedula, I am a resident of Paraguay." He tells me that he will NOT allow me to board; that an American cannot have a Paraguayan Cedula. That it's "illegal" - complete nonsense. I was wheeled over to the TAM counter.
I caught the eye of a male supervisor by waving my cane, passport and cedula in the air while I said "help!" (A tall, handsome fellow). The supervisor listened to me and exclaimed, "That's ridiculous, who told you that!" Thank goodness for him. He had me turned around and wheeled right back to the head of the boarding line. He said something to the young kid at the boarding gate that I didn't quite catch; either "you don't do that" or "why did you do that".
As we all know, TAM requires passengers to accumulate 50,000 base points on international flights to remain in the Red Category. To that end, I have already purchased three round trip tickets for 2016; with another 2 to 3 round trips in the planning stages. Frankly, these three back-to-back incidents make me wonder and worry about my upcoming trips.

Lan airline cancel the flight and sent me and my family to a hotel Lima, Peru to wait for a new flight. And in the taxi the airline gave us to go to the hotel, we got bitten. Also they stole a camcorder. They hit me. My family ended to a doctor. We put the claim to Lan airline the first day of December. They were not even contact us and have not even done anything to resolve this attack.

On a flight from Iguazu to Rio de Janeiro my suitcase was broken into and the same thing happened to my friend on the same flight. The lock was cut open but it was still there. Nothing was taken as I am aware of and I usually carry anything of value in my carry-on bag but it is not nice anyway. I didn't realize this until I arrived to our hotel and I cannot find anywhere to report it. Reading about other people's experiences with this company I don't even want to try!

They lost 3 luggages and they didn't care. They took my phone and never called me. I am still waiting and not even a courtesy call. I learn from my friends that are frequents travelers that this became very normal for Lan Chile to lose luggages and not to take urgent actions. One of my friend received one week after. I travelled for years with Lan and used to be good, but now it is exactly as their partner American Airlines. Last year I also have a problem. They cancelled the morning departing because they didn't have enough passenger and I had to wait another 6 hours (Took me almost 2 days from Canada to Cordoba, Argentina). Also their seat are wore out. I had to put 2 pillow on my butt because was painful to be sitting many hours on a piece of wood. Of course, this is the last time I travel with this ** airline, year after year is turning to be more garbage.

I booked a multi-city flight on TAM Airlines for July and August of this summer from Miami to Salvador da Bahia, then to Rio and finally back to Miami. I fell ill while in Salvador and missed my flight from Salvador to Rio. I called the booking agency to let them know I was unable to travel and I thought everything was resolved. I waited until I recuperated and bought another one way to Rio, not realizing or receiving notification that TAM cancelled my return flight home from Rio to Miami. When I got to the airport on August 26th to check-in, the airline personnel informed me my reservation had been cancelled and that I'd have to buy a new ticket. When I asked how much for a one-way ticket back to Miami they wanted to charge me 7,000 reals (equivalent to $2,500 usd on that day). That was 4 times what I spent on my original multi-city flight!
They wouldn't and didn't help me recuperate my original reservation and I missed the flight, despite arriving in GIG airport 3 hours before my scheduled flight. I wound up sleeping in the airport until I was able to find a reasonably priced one-way ticket home. I told them I didn't mind paying a fine as a result of the missed flight in Salvador, but they said no, my original reserved ticket back to the US no longer exists and I'd have to buy a new flight. I wound up buying a new flight, but with another company, GOL.
When the ticket agents exhausted their VERY limited recourses, I called the customer service hotline, which was even less helpful. Every time I called I selected English in the automated menu, but they kept redirecting me to Spanish speaking representatives in Colombia, every time! Luckily, I speak enough Portuguese that I was able to just go ahead and converse with a Brazilian representative, but I got nowhere. TAM refused to help me with my original flight, so I'm refusing to fly with them again. They boast about being the largest airline in Brazil, then in the same breath tell their customers there's nothing they can do to help them. TAM is a shameful corporation and has lost at least one client...

Do not give LAN your money – if you want a refund on refundable tickets (or even a credit) you will never see your money again. We purchased refundable tickets (paying more for the option to cancel) but when we called to cancel, we were told by two different LAN customer service agents that they would not refund our money (except the taxes) because of "regulations." This despite the fact that I have a confirmation email from LAN with the terms and conditions of the tickets, showing that they are refundable.
I then drove to the physical office listed on the LAN website in Los Angeles, only to be told by LAN check-in counter agent at LAX that the office is permanently closed. This agent was kind enough to look up our tickets in his system and print out a receipt showing that the tickets are refundable. I then called customer service again and the agent told me the tickets were fully refundable and that he was processing the refund. He then told me that the refunds department would be in touch. However, I never heard from the refund department, and then received a credit on my credit card for the taxes only (a discrepancy of $4300).
I contacted the complaints department and filed a claim for the refund via email (the ONLY option). After two weeks I received a reply (via email): "We apologize for not having answered your inquiry in due time; we are working on assisting customers proficiently. If you do not receive a prompt reply next time, we invite you to call us at any of our Contact centers. Our representatives will be willing to help you in any matter." No refund. No information about my refund. No information about my claim. Appalling that a multinational company can take your money and then just decide not to give it back, ignoring the terms of the ticket purchase.

I purchased 2 flight tickets to Ecuador for the amount of $1,107.46 which I pay with my credit card. The next day I have to cancel those tickets but to my surprise they told me that I will get my credit in 15 working days. I don't understand why it will take that long and besides the bank will charge me interest on that amount for those 15 days. I'm retired and I can't be losing money that way. I believe the authorities should do something about this company's policies.

Flight cancelled in march. Lan agreed to compensate me, but nearly 5 months on still no compensation. Received just lots of broken promises. Now seeking legal advice to claim for more damages. Very poor customer service. Even when I did eventually get a flight it was terrible delayed. Poor food. I can't believe they claim to be south America's number one airline. Utter disgrace.

Received an email stating I had purchased airfare through them. I did not. I sent a request to investigate. I received an email asking for my credit card information. The person's name on the receipt was Ricardo **. Per the customer service rep. I was listed third as a traveler. I asked if I was listed as the purchaser and the customer service rep said he could not tell me that. He did say that the call was monitored and that he could not look that up without the additional requested information (credit card info). I told him that I am uncomfortable giving my credit card information to find out if I was the purchaser. I am displeased that Lan.com would not answer a yes or no question given that I am victim here. They seem to be protecting or hiding something. Truly awful to know Lan.com practices this type of business.
TAM Airlines Company Profile
Company Name:

TAM Airlines

Website:

https://www.latam.com/en_us/