SWISS International Air Lines
Consumer Reviews and Complaints

As an aunt I am concerned whenever my nieces or nephews travel overseas. Imagine my distress when I learn of my niece who is traveling by herself for the first time is told her bag has gone missing. Then is told by Swiss Air that they have found it and will get it to her soon. It has now been 10 days and still has not been returned. I FIND THIS VERY INEXCUSABLE from such a well known airline and am disgusted and would never advise anyone to use Swiss Air.

I was. Lefted from 7:45am until call Swiss Airlines 800 number at 10:35am. I was lefted in place with no assistance after being lefted by Handicap Service Department. I also had to go through a security check. My flight was schedule for departure at 11:05am. I had to use restroom. After almost 10 minutes they sent someone to assist me. I notice my seat was not right so they sent us over to transfer not knowing was TSA. They were very rude and I said my seat was changed because I was not to have a aisle seat. I was also told that there were no closer seats to the departure door by the window. Which was not true. I was put in the back.
Last year I experienced the same problem from Frankfurt not receiving the best service for Handicap Service. I'm not understanding if this note that you should be accommodation or make sure you can fulfill the job for ADA and everybody passes it to the next person. No one wants to take ownership of an ongoing issue for ADA is concerned.

I went through hell trying to book a ticket from Zurich to Budapest and return. At one point one selects Light, Classic and Flex. No way of determining how much you pay if you check a bag with Light. Spent 30 min on different sites, trying to find the answer. No luck, and finally called Service. "Oh, you wait until the very end, then you can pay 15 euros or 45 at the airport." "Oh - you think I can mind read???" This was juxtaposed with the site continually feeding in NY-Zurich data, that must have come from a cached servlet, even though I had completed, booked and ticketed a flight from NY already.
Then I was told "Oh, you should have closed your browser and started from scratch," which is not how well-programmed websites work (and I worked in IT for 16 years, and taught programming for a Fortune 100 IT company). Then by the time I got to the final screens, the seats were no longer available. Actually, they were when I then called, and was told the price has jumped up from 94 to 149 US dollars. Spoke with Faith ** and then a supervisor White **, who blew me off and said "Write a letter." Instead I cancelled my r/t from NY -> Zurich, since I was well within the 24 hrs for free cancellation. I'll go to Budapest a different route, and will take a train to Zurich... Swiss Air will never get any more of my money...

While I was trying to lift and move around a chest, it slipped from my hands and got dropped on my right toe resulting in a devastating injury and crushing of the toe accompanied by massive bleeding. The result of that, my half big toe has been amputated. I was under treatment at Kaiser Permanente for this disability. My doctor had prohibited me for any kind of travel for at least next three months. I, therefore, asked Swiss Air to refund my ticket on genuine medical reason. With my repeated attempts they simply refused to do it. I lost $1500+.

Swiss Air have made themselves very difficult to contact and are currently making it impossible to make a complaint. There are no published email addresses and if you use an old one like contactus@swissair.com they just tell you to use their on-line forms. And here is the clever bit. Their online forms don't work. The mandatory "Select Date" field is greyed out and you cannot progress past that part of the forms. So you can't complain. That is my first complaint about Swiss Air.
How do I know I can trust these reviews about SWISS International Air Lines?
882,235 reviews on ConsumerAffairs are verified.
We require contact information to ensure our reviewers are real.
We use intelligent software that helps us maintain the integrity of reviews.
Our moderators read all reviews to verify quality and helpfulness.
For more information about reviews on ConsumerAffairs.com please visit our FAQ.

I was making a transatlantic flight and purchased 3 sessions of expensive Swiss connect, 2x 50 mb and 1 x 120 mb. I had automatic updates turned off but before I could update my email and even start answering them, I was out of Mb. I lodged a complaint with Zendesk-Panasonic Avionics Customer Support. The response was basically "too bad loser". I want to make others aware that this service is a rip-off and the Customer Service even worse. Don't use Swiss Connect.

I was supposed to take a flight from Zurich to Belgrade with Swiss. I checked in and passed the passport controls on time. However due to the fact that my laptop fell from the belt and got possibly damaged, I stayed longer in the security zone. When I arrived at the gate I had to realize that the plane had left about 10 minutes early. The lady at the gate was extremely rude and not the least helpful. They never issued a last call and wouldn't answer why they did not do so.
Also the staff at the transfer desk was completely unhelpful. They wouldn't even consider any possibility to change the booking. I had to buy 3 new tickets. I was promised that my bag would arrive within 30 minutes. It arrived well over 3 hours later, during which I had to wait around in the airport with a small child. I have to mention also that the flights which I took with Swiss on the route Belgrade-Zurich and vice versa were very often delayed. There was even one with 5-6 hours delay due to technical problems. All in all I will avoid Swiss at all cost due to their extremely poor customer attitude.
After reading the reviews here on Consumeraffairs I realized that my return flight might be cancelled. They never informed us about this – and I visited several Swiss desks yesterday. So I would have been on the return date at the airport to be informed that I have no valid ticked. So I just call Swiss and they do confirm that the return ticket would be cancelled unless I buy it back!!! This is appalling! Both the lack of professionalism and their conduct of business. Swiss sucks!

I take a connection flight from Paris-Zurich-Boston. When I arrived the gate at Zurich Airport, I could not check in. Because they staff claimed as a Chinese, I needed a e-Visa to USA. However, as a F1 Visa holder, I never need a E-VISA. I kept arguing with them, and finally, a supervisor made a phone call to US Embassy. They reconfirm my statement. However, the flight have already flew away. I had to stay at the airport for another 24 hours to catch the same flight at the second day. When I came back, I filled a complaint form on their website. However, their attitude is really bad and irresponsible.

The flight I had from Zurich to HK about two weeks ago was a nightmare, a few passengers were upset because they couldn't sit together with their friends and families and there was this one guy sitting next to me, he was particularly upset and fought with the flight attendants. Anyway, when that guy felt asleep and leaned on me I kindly asked the purser for help but was told that I should stay silent because that guy is a troublemaker and that I should not wake him up, in other words, I should just let him lean on me for the remaining 8 hours of flight. That guy did wake up as I spoke to the purser and so they started another round of argument, the purser literally told him he isn't flying enough to know he doesn't necessarily get to sit with his wife when the flight is overbooked. It was outrageous and irresponsible what that purser said so when I arrived hk.
I called +41 (0) 848 700 700 (to be precise) to make a complaint, I asked specifically if that is the right place to make complaint and was told yes and that I will get a response within two days. Yesterday, which is 10 days after I first called and still waiting for an answer or apology, I called again but was told complaint can be made only on their website by filling out a form!!! I was like huh??? Is this a joke? She said I must have called a wrong number but I have the record on my phone and that is just the same number I called. I understand bad things could happen, but this company doesn't bother to do service recovery and that is not okay. Stay away from Swiss air, they have no customer service.

Booked a flight LAX-Tel Aviv 3 passengers in economy total $2886 to fly in March 2016. On the day of our flight, there was a terrorist attack in Brussels and my wife refused to fly. I called Swiss Air and they told me to change the date to July will cost me another $4,458. I reluctantly agreed but paid. On the date of the flight SWISS said I had not paid and billed my AMEX card another $4,418 AND THIS IS IN ECONOMY!!!
Also I had paid $49 to save certain seats total $147. On the date of my flight they gave me these seats I wanted but charged me another $297. These people are thieves without shame. The 3 women at the check in (one Asian, one hispanic and one **) were extremely rude and short tempered. NEVER AGAIN WITH THESE PEOPLE.

I bought two tickets from Zurich to Tokyo. I called swiss air agency to make a reservation of 2 seats together, for me and for my girlfriend. Swiss Air agent made a reservation of 1 seat for me, and said he can't make a reservation of second one for my girlfriend because of computer problem (ticket bought via ana flights) so I told him immediately, "I don't need only 1 seat, I need 2 seats together." So I asked to cancel this reservation of 1 seat. They charged me 24 euros + 3.5 phone for this 1 seat. And then I never saw my money even if explained to Swiss Air what happened.

I am a million-miler on American and close to that on Air France. I have flown many other airlines world-wide. Sometimes there are inconveniences but my experience on Swiss reminds me of an internal flight in Zaire. My wife and I were due to fly Florence to Geneva at 9:35 pm on Sunday 11th September. We had our boarding passes pre-checked but, arriving at checkout, we learned that our flight had been cancelled. We were instructed to go to the city bus station (we don't know Florence), take a bus to Bologne (about an hour but they were unable to say whether there were any buses available at that time of night), find a hotel, then take a flight to ISTANBUL (!), then fly to Geneva.
Total time would be 19 hours for a flight that would have taken 1 hour 20 minutes! In the end we stayed in Florence and took the train to Geneva. Since then we have written twice to Swiss to ask for refund of our expenses plus compensation but have not had any reply. The flight reference was **. We have since heard other people's stories of this company. The bottom line is: avoid this airline if you possibly can.

Arrived in Los Angeles from Vienna via Zurich with a missing wheel on my checked baggage. I spent about an hour reporting it and filling out forms to an agent in a different part of the airport. I never heard back from SWISS so I sent an email. After going back and forth including sending photos and a copy of my luggage receipt $289.90, I was offered two choices: take it to a repair shop (turns out no one will replace a broken wheel on a spinner suitcase) or accept SWISS's offer of $57.98. HOW DO THEY GET AWAY WITH THIS?

This is by far the most terrible airline I have ever encountered. I don't know what the Swiss Air folks pride themselves on but I'd rather slit my wrists than ever fly with them again. Customer service is beyond any criticism, flight arrangements are appalling. It is beyond me why would anyone fly with them more than once. My wife and two young children were travelling from ORD to OTP with a change in Zurich. First, we had requested and promised a bassinet. Inside the aircraft - it was denied for no apparent reason. Secondly, the flight arrived a bit late in Zurich and the connecting flight was missed.
The Swiss Air people were completely ignorant of the issue and only with great hesitation and apparent displeasure found a different flight, 8 hours later, with a connection through Vienna. The customer service people (when calling the USA phone number) have been equally inept throughout. The day before the flight, when I called to confirm the flight time and details, they would just say "I can't help you with that". Even for as simple of a question as asking to confirm the flight time??? I've flown with over a dozen of different airlines and this is by far, the worst of them all.

I booked a round trip ticket for my wife and I from Los Angeles to Budapest and paid for extra leg room on each flight for the total of almost $1900. I called Swiss Air and asked if they have any passport policy and I was told that as long as a passport is valid, I should be able to fly. We arrive at the LAX and we got rejected and were not allowed to board the plane because my wife's passport had only 2 month cushion from the time of departure and we were told their policy states 3 months. I told them that I called their customer service and they told me there's no policy but they told me I was given wrong information. We had to go back home and we spend the next 2 days getting my wife an emergency passport.
I called back to reschedule our tickets and were told no seats available on Swiss but we can fly with Lufthansa. When I told them that's ok, they came back and said we had to pay an addition $300 per seat per flight for the total of $1200 for rebooking. So we were only give 2 options, one to forfeit our tickets and lose $1900 or pay additional $1200 for rebooking. We had to go to Hungary so we were basically FORCED to pay the $1200. Now, we already paid for extra leg room for each flight but when we got on the plane, my wife and I were give 2 separate seat with NO extra leg room and when I called them AGAIN, they said there's no refund. Bottom line is, Swiss Air customer service is disgusting. They blame the customer and charge them even more and do not take responsibility for having incompetent agents that provide wrong information. My wife and I will NEVER fly Swiss Air again.

Absolutely poor experience with Swiss on the following route: Moscow - Geneva - Marrakech. The crew were really lazy, arrogant and unprofessional: they refused to speak to you in English, using only French, even if it was clear you are not a fluent French speaker. Most of them never smiled and had very superior attitude to them. Shockingly, the crew on Moscow - Geneva flight have decided it was okay to go, lie down, cover themselves in blankets and have a nap right on the passengers' seats without taking their shoes off after very rushed service. Blankets were never offered to any of the passengers.
Food is lacking both in quality and presentation and gives off a strong "low cost" feel to the experience, though it is quite tasty. On the way back from Morocco the experience was just horrendous: they stuffed everyone into the plane and right after that they told us that it's snowing in Geneva, so we'll be staying in the ground for about two hours. No one bothered even thinking about letting us out of the plane, serving food or apologizing.
Geneva itself is a disastrous airport, and the transit was very poorly organized with the staff keeping the transit passengers, some of which had sick infants, in the area without toilets, power outlets or vending machines for 1.5 hours with no explanation. They were also refusing for some time to call a nurse to the sick child, which is absolutely shocking! Flight to Moscow was then delayed by almost 3 hours with zero information and/or apologies, while all the airport Swiss staff were having a nice chat and laughing. I have never thought Swiss is such a poor and low-quality carrier, and the whole experience, while not so cheap, was ever so negative and stressful. Never again.

Swiss removed their telephone customer service numbers a few months back and now expect all complaints to go via email or the post. Obviously when you're trying to resolve a problem this makes it very difficult to contact anyone. Not that contacting Swiss customer service will do you any good; they might as well be ex. directory. I've had several issues with Swiss in the last 12 months, and really the only way this is going to get better is to drive them out of business so a new company serving Switzerland can be formed.
Here's an example of Swiss customer service: their flight out of London City was delayed by an hour-plus. In the meantime, out of the same terminal, flights to London Heathrow were taking off half-empty. Requesting I take the a Heathrow flight to get to my meeting on time, the desk agent tells me "Swiss will never let you" (they know what Swiss is like - useless). Sure enough, I'm left stranded in Geneva while half-empty Swiss flights leave for Heathrow.
When I complain to customer service, I'm sent "We're so sorry the flight was delayed. We have to consider safety first/the weather was bad/the incoming flight was late..." Yada, yada, yada. No attempt to explain why I wasn't allowed to take an earlier flight. Hopeless. You might as well complain to your pet hamster (if you have one).

My ZRH-SG flight rebooking was done wrongly and I did not realise it until I tried to do the check in (return flight). I wanted to fly on Sunday night from SG and arrive on Monday morning in ZRH. I was booked to fly on Monday night instead, arriving on Tuesday morning. When I called the helpdesk and after waiting for a long time to be connected to an agent, I was told I have to pay rebooking fees for the second time according to the policy!?! The agent said it was my fault as I have not checked the rebooking confirmation and I have already took the flight out to SG on 10 Dec.
I admit it's my bad and I just noticed 4 Jan and assumed that's the date I arrive in ZRH (Monday). I was put on hold and the agent confirmed with his manager it's absolutely my fault and I have to pay the rebooking fees. When I said I'm not going to pay, the agent said the Sunday flight I wanted is fully booked. I requested to hear the voicelog for the rebooking changes anyway and I was told that it seems like I'm unsure about my rebooking, hinting once again it's my fault (yes, that's 'exceptional' customer service).
When I said I'm sure that I asked to arrive on Mon morning, like my original flight, I was told the voice record is deleted but when I asked how long the records are kept in general the agent was unable to answer me. The call I made for rebooking was end July/early Aug so it has not even been 6months!! There was no customer service to speak of! There was no proactive help offered at all when I called to inform them of the mistake and the inconvenience caused. The only 'help' received from the agent was directing me to lodge a complaint on Swiss.com when I asked what can I do.
Before the call ended, the agent wished me a restful flight so I can go to work recharged on Monday morning and I had to correct him that I'll be landing on Tuesday, thanks to the rebooking mistake! I wonder if he was the one who made the rebooking mistake in the first place... I feel that there is just blame shifting to the customer so as to suck out more money from the customer whenever possible. This incident will certainly deter me from flying with Swiss in the future, unless I receive a satisfactory explanation from Swiss (I've lodged a complaint).

Everyone knows the security situation in Europe and that the capital cities in Europe like London are not safe, especially after the recent attacks there. We also know that the situation isn't something that Swiss can guarantee and therefore we wish to play safe as we don't want to expose ourselves to a potentially risky environment. We called in the customer contact centre in Singapore to request that we forego the Zurich - London - Zurich legs of the flight [Ref: We were informed that if we skipped these 2 legs our ZURICH SINGAPORE return would automatically get cancelled and that the team in Singapore has "no control" over this.
Given that we are simply foregoing 2 legs and Swiss can potentially even resell these tickets, I find it nonsensical to receive such an inconsiderate response especially given the circumstances within which we are requesting this. We need someone to provide a more sensible and considerate response to this! SwissAir response sounds like they place even a human consideration now in the hands of a machine throwing the rulebook at me to say why they cannot think beyond their stupid reasoning. Swissair customer service sucks. Don't fly Swiss.

I had a flight from TEl Aviv to Zurich in a small old plane, couldn't move... I took the connection in Zurich to San Francisco and again a bigger plane but very very tight sitting no place to my feet or almost no room to stand up in between... When arrived , my suitcase has not arrived and Hopefully it will... I'm taking important medications and I'm staying abroad for 2 month and my pills are in my luggage and all my cloth, jewelry and presents too...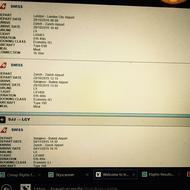 Swiss Air is as bad as Ryan Air! Trying to rip you off any chance they get! I bought their ticket online completely oblivious to the fact that I'm not allowed luggage (because it was a third party site), it did not mention the fact I'm not allowed luggage. I travelled with a baby and baby wasn't entitled any bag either (although their website claims babies are entitled 1 bag regardless of travel class).
I only found out when I rang them to check my luggage allowance. They said both baby and I are not allowed any luggage! So I asked them to buy an additional bag and gave them my card details to purchase it. However they never mentioned it was only one way! When I was checking in for my return flight I was charged another 30 euros to return the bag back!! They conveniently forgot to mention that I was paying only one way (you would think they would at least mention it) and slapped me with a massive fee on the way back. Also beware if you are buying a Swiss Air ticket via web or a third party, they never mention the fact that you're not allowed any luggage.
Also their staff forgot to check me in for my connecting flight which was a nightmare because I didn't know which gates to go to and their transfer desk at Zurich Airport was empty. They also forgot to link the baby to my flight so I had a lot of problems checking in. However they didn't forget to charge me the additional fee for the one and only bag I made the trip with!

I flew from DME to SDF through Zurich and Chicago. The flight from Zurich to Chicago was with Swiss Air on 6/30/15, which was about an 11 hour flight. The plane had no air vents, no air conditioning running. It was 85F, humid and stuffy on that plane. If I knew I was going to be stuck for 11 hours with no air conditioning on a hot and humid flight, I would have bought a different ticket. By the time I landed in Chicago, my blood pressure was up and I had a horrible migraine. If you are going to have a non-functioning plane, you really shouldn't have people flying on it.

On a flight from Zurich to Barcelona on 15 May 2015, Swiss Air manages to lose my suitcase. Following the procedures with immediately report to 'lost and found'. I was after several phone calls to Swiss Air Staff, talking with what I would describe as incompetent staff, I was informed to submit the 'Claims Report'. Waiting the mandatory 22 days till the airliner try and find your stuff, elapsed. My Claims was not met 100% but at level that I accepted. I was then on 15 June (one month after reporting the loss), informed by email from Swiss air customer services, that my claim would be paid within the maximum time of 3 weeks. It is almost 4 weeks now and I still have not seen a single cent of my claim.
For me, Swiss Air should be shameful. First the lost luggages, then take 22 days to look for (probably never did) as it has gone missing right in front of their nose. Worse is that after many phone calls and emails, that Swiss air never reply too. You still have got nothing. I my views the airliner is arrogant and incompetent handling customers claims. They take pride in comparing themselves with even worse airlines, as I was one explained by one of their reps, who told me that other airlines take up to a year!

On May 15, 2015 Swiss International's flight LX052 flew from Zurich to Boston with all economy-seat armrests "stuck" in a 45-degree angle. It was hard and uncomfortable to get in and out fast. When I asked them, Flight attendants couldn't explain the reason for this.

I have purchased 2 tickets to Tanzania. Swiss Air have taken money from my account and have taken the same amount which is still pending. We are calling them every day, always the same story - "call next day." Can't even talk with the manager or with someone who is responsible for it. They are completely useless, no customer service whatsoever. This is just simply theft. It has been already a week. Worse airlines EVER!!! NEVER EVER AGAIN!!! And who gonna pay for my phone calls to them!!!

I purchased 2x return flights from LHR - ZRH. I have paid the flights and a small amendment fee, however they are holding the same amount via Visa. So I am unable to access over £350 of my money. My bank has been extremely helpful and given me all info to pass on to Swiss. Swiss International tickets have been rude, unpleasant and sniggered at me down the phone. There was one nice person whom gave me an email address but no one as yet has replied. The girl today said she would personally call me later today..... it's now 8 pm. Now I want to cancel everything and at the moment they have £721.11 of my money!

Horrible airline. I flew several times in their business class. Very poor service with arrogant and unfriendly crew. Customer service is non existing. I wrote a letter to their CEO, Mr Harry Hochmeister but I've never received a reply. The head of customer service based in Zurich is arrogant and with a complete lack of skills.

My husband and I were booked on Swiss from Valencia to Prague with a change of aircraft in Zurich. Our initial flight was at lunchtime and initially delayed for about 30 minutes, then another 2 hours and then indefinitely. After 3 hours delay we were entitled to refreshments and were given 2 vouchers of 10 euros each. Of course we know 10 euros buys you almost nothing at an airport. About 5 hours after our initial departure time we were sent an sms saying our flight is cancelled and we will be put on another special flight at 3:30 am. This was over 12 hours after my scheduled flight. Of course my connecting flight was gone, but since I was booked on Swiss on the same ticket they would rebook me, but I'd only get details in Zurich. I lost the money for 1 night's hotel stay in Prague and the taxi that I had booked. We were given accommodation in Valencia for the night but no dinner.
On our flight we were only served nuts and water as opposed to a light meal. Since we had a considerable wait in Zurich and would only get to Prague at lunch time we had to buy our own breakfast in Zurich. Also we should get about 250 euros per person for the cancellation. On our return we put in our claims as suggested by the Swiss officials at Valencia airport on departure. Swiss denied all claims saying it was an extraordinary circumstance. At the airport we were told it's a technical problem. I've browsed several websites and it seems Swiss gives the same excuse to all. Also according to regulations technical snags and maintenance is not categorised as extraordinary circumstances. So disappointed!!

I was expecting to go from dxb to mad passing by zrh in a trip that will take maximum 9hr and 50 mins. Unfortunately there was a problem with the airplane and total no of hours the trip took was more than 24hrs. No compensation were given. After arriving in mad, my luggage were lost and after 48hrs of waiting in Mad the luggages were found. The trip back from Barcelona to zrh was also delayed for issues in the flight. I will never and ever use this airline neither going to recommend it to any.

I booked a return flight with Swiss Air and on the week before I was due to travel, I realized I needed to change my outbound flight so phoned Swiss Air to see what could be done. It turned out to be more expensive than my whole return flights to change it, so I phoned Swiss Air a second time and asked if I could cancel the outbound leg, but keep the return leg, to then going to book the outbound 1 way via a different airline that had more flexible times. The man I spoke to told me it will cost more to cancel 1 leg so best I just miss the flight and forfeit the outbound, but still catch the return as planned. The man advised me that this was my best option.
Whilst on holidays a few days before I was due to return home, my partner went to check-in online for both of us but found my ticket had been cancelled. We called Swiss Air to which they replied my ticket had been cancelled because I missed the first leg. I explained that this is what I had been advised to do and had discussed this with a Swiss Air representative, to which they replied that they had no record of my call. I told the representative that I can prove that I made the call by showing my call logs and they said that because they didn't have the call recorded they will not honor the ticket. They indicated that normally their calls are recorded but this must have been a breakdown in their processes. They then offered me a 1-way ticket for double the price that I paid for my return ticket to be on that plane. The staff who spoke to me on the phone were extremely rude, asking me if I was "done yet" and telling me that there is no issue with their system and being a global company cannot account for every call that they receive.
SWISS International Air Lines Company Profile
Company Name:

SWISS International Air Lines

Website:

https://www.swiss.com/us/en