Consumer Complaints and Reviews

My family and I (husband and three children) had the worst experience that we've had in a long time at this particular hotel called the Rodeway Inn by the beach. I am very unhappy and outraged about our experience and how customer service has treated us. We had dirty linen for the majority of our stay. We were not provided with an alarm clock or a coffee maker, and the refrigerator was leaking and did not work properly to keep food items cold. When I attempted to present these issues to the office manager named Sonja, he immediately told us to leave if we didn't like it! We were totally horrified and was unfortunately not able to pick up and go to another hotel, considering the fact that we were there on emergency basis.
I would strongly advise that all potential guest stay clear from this hotel because of the unprofessional living conditions that this entity is continuously providing to the public. I have an increased level of concerns for the extreme health code violations that are being breached, especially when there are children staying there. Hopefully I will get assistance concerning this horrifying experience.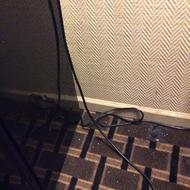 The room we rented for the night was so dirty. We spent the whole night killing roaches crawling on the wall and bed. We asked the hotel management for roach spray. Instead of moving us to another room, they just gave my husband a bug spray. And they let us spray on our own. We had to stay outside for at least 30 minutes to let the fumed room air out. We had no choice but to stay because of the hurricane Matthew, this was the last available hotel. We paid $59.00 a night for one room. Customer service was so poor. The smell of the room was really suffocatingly worst, cigarette smell was so bad. Our stay was a nightmare but we did not have any choice at all. We think that this hotel need to be investigated or checked. The walls are all stained that looks like blood stains. I can send more photos of the mess.

Manager rude. I made reservations online. When I get there ask if he could help me. I said I had a reservation. He said credit card or cash. Told him on reservation it gave both cash or credit. Told him I chose cash. He said it was can clear at 600 of clock I can. Clearly pay either way make 30 dollars hr gave away more than this old man that thinks he is something. Told him I'd swap it to credit card. He said he out of rooms.
Now clearly this man is not in the right spot to be working here. I will get you a lawyer and sue his company for discrimination. Effective everybody he asks like this to maybe after getting sued a few times and being fined a few times maybe they will threw his old ass out. ** place is a piece of ** like his employees and he's definitely are a radical piece of ** and I got a better room across the road. Cheaper at Baymont Inn, treated with respect. I'm calling corporate right now to complain. Everyone else should too.

In 2015 I wanted to upgrade my device and upon contacting Sprint, I was given the option of the iPhone Forever Agreement. I was under the VERBAL agreement that I was in this promotion. NOW in 2016, I see online, and on the Sprint Zone Application that I am NOT eligible for an upgrade of the iPhone 7. I called to hear that I am NOT an iPhone Forever promotion member, that lease agreement was 18 months, not the 21 I am under. I explained that I was VERBALLY explained by a Sprint rep last year that I would ALWAYS be able to upgrade to the NEWEST iPhone when they came out. Explained that Sprint could pull the tape from the conversation, and my total HOLD TIME ON THE PHONE, WHILE AT WORK, IS NOW 1:11:30 with LITTLE conversation. A SUPERVISOR couldn't even fix this situation.

When I stayed at the Rodeway Inn in Whites City, New Mexico my experience was awful. The desk clerk was so rude that I will never stay at another Rodeway Inn again. The breakfast was very limited and there were no forks. When I requested one the desk clerk became angry and yelled at me. My roommate was also treated poorly by the same clerk.
How do I know I can trust these reviews about Rodeway Inns?
609,949 reviews on ConsumerAffairs are verified.
We require contact information to ensure our reviewers are real.
We use intelligent software that helps us maintain the integrity of reviews.
Our moderators read all reviews to verify quality and helpfulness.
For more information about reviews on ConsumerAffairs.com please visit our FAQ.

Your manager was rude, no service at all. We stayed 4 nights and had to talk to Deanna to get clean towels. I changed the trash and took it out. Your manager would not give me a receipt, had to argue with him. He told me I did not pay him, I paid the booking company, and that you made no money from the booking company. He lied and my receipt was right there all the time because once again Deanna had already printed it out for me. And it smelled in our room because they were cooking in the room across from us. No internet, it was not working. Also at the end of the motel by the laundry there were old air conditioners and mattresses piled everywhere.

When we got to the hotel the rooms was not clean, bugs all in the room. The manager of the hotel was real nasty to us from the time we pulled up. The manager family live in the hotel. No privacy when you open your door. They was always there. I saw a bed bugs, roaches. The ceiling was cracked. It was leaking. I feel they need to be shut down.

I purchased room confirmation r 5-14-2016 for QUALITY INNS through Hotwire 2-2016. I asked for non-smoking room and breakfast/Wi-Fi was part of the commitment. When we arrived the hotel name had been changed to Rodeway. Earlier, we had received email from Hotwire assuring us all would be the same service and commitment we had been promised with Quality Inns. However, we were given a room that reeked of smoke, no breakfast was offered and Wi-Fi was awful. They moved us to a very cramped room where all was dirty, bathroom tub did not work, no towels, etc. For one night we would endure. Then we found they had stolen a gift basket delivered to hotel for us and our journey. After discussing all issues with manager and various clerk persons we at least received 50.00 reimbursements for basket (They found the empty basket after several days of our persistence). THE REST OF THE STAY WAS AWFUL. RECEIPTS ARE ATTACHED.

I took my adult daughter on a R and R trip for Mother's Day and it was a disaster. There were roaches in the room!!! The carpet was filthy, it was sticky with gunk. I spilled some water and tried to clean it with a towel and the towel turned black with dirt. I felt horrible. The people at the desk were really bad as well.

On April 30, 2016, we went to the Rodeway Inn in Gainesville, TX. After checking in, we went to our room. I opened the door and was aghast at what I smelled and saw. This was absolutely the filthiest room I have ever stayed in. The smell of urine was unbearable. The bathroom was dirty so needless to say no showers were taken. I took pictures. I have a picture of the base of the smoke alarm that had been removed. Violation of law. I was told it was the last room and no refunds after paying.
We opened the door and turned the a/c on full blast. I sprayed a full can of Lysol and then we left for about 3 hours. When we returned the smell was still there. No longer will I ever stay at a Rodeway Inn and I intend to dispute this with American Express. We were in room ** in case anyone else has experienced this. Also calling the Fire Marshall for that area. Also the deadbolt was pulled out of the wall.

April 30th 2016, my wife and I went to stay at the Rodeway Inn in Gainesville, TX. Upon arrival, I noticed that the outside was not very well kept. My wife checked us in and we drove to our room. When we opened the door there was a stench that emanated from that of a wet dog. You can tell just by looking around that there was a lack of any housekeeping. My wife walked into the bathroom and the bathtub nor the toilet had been cleaned. The refrigerator had a thick layer of mold around the molding and it was dirty and rusted on the inside. My wife quickly called the front. Upon arriving to the room the clerk asked what is wrong and we asked him "Don't you smell that?" He said the room smelled fine. We proceeded to show him the fridge and he attempted to take the mold off with his fingernails and attempted to wipe the rust off with his hands. My wife asked for another room.
The clerk gave us the key and when we got to the other room, it was just as bad. The bathtub nor the toilet had been cleaned. There was a dead bug next to the bed and garbage under the bed. The microwave only worked when the door was opened and the refrigerator was just as dirty. The room smelled just as bad as the 1st one. We went to a local store and purchased some cleaning supplies and disposable gloves and Lysol. I sprayed the carpeting, the bed, bedspread, pillows, the toilet and the sink. We came back hours later and the room still smelled the same. We thought about just asking for our money back and going home but we were so tired and driving the hour or so home at night did not seem too smart.
We reluctantly lay in bed but decided we would wash up and shower when we got home the next day. That is how disgusting the bathtub was. We took video and pictures which we will post on YouTube and we are going to contact Choice Hotels Corporate offices which sells the franchises for Rodeway Inn Motels and tell them the same. This place also has a AAA rating and we are members of the AAA motor club and we will be giving them a call as well. Rodeway Inn nor Choice Hotels will ever be getting our business.

My experience actually started off to a great start. I was treated very kindly and liked all the employees very much! I had asked specifically about the rules and followed everything that is expected of a hotel guest. Everything changed on the 1st of May, when I had decided to do my laundry which I had put off for quite some time, so I packed up all three of my large suitcases to the laundry room, sorted them, and paid for the wash cycle in both machines. After my clothes had been washing for about 3 or 4 minutes I decided to grab a few things from their vending machine on the other side of the building.
When I returned there was a man with a flashlight (I was later told it was the manager) yelling and screaming at me to GET MY STUFF NOW AND GET OFF THEIR PROPERTY. I was so confused, embarrassed, and when I tried to ask what this was all about he wouldn't say anything but "GET YOUR STUFF AND GET OFF THE PROPERTY NOW." I have never been so hurt in my life. I just kept saying, "I'm sorry for whatever had happened. Please just stop yelling at me. Please, what have I done wrong?" I said, "Don't you remember me from the last few days? We had talked a few times." He replied, "NO, I DON'T ** REMEMBER YOU. NOW JUST GET OFF THE PROPERTY."
At this point I am crying and trying to pull my clothes out of the washer soaking wet, begging the manager to tell me what I had done wrong. I was later told a man who he thought was somehow with me had used a hose to rinse his hands and apparently because of this man I don't even know I was publicly shamed, mocked, and made to feel like I was an unwelcome trespasser. I hope no one else has to ever go through this.

This is a review of the Rodeway Inn and Suites in Hershey PA, on Hershey St. This place was a nightmare. Upon checking in my wife noticed the bedspread had a bodily fluid with crusty whiteness close to dried milk. We took off the bedspread and after five minutes both started to itch immediately. This place has bed bugs. Also, the curtains were held together by hooks that would not completely shut allowing Peeping Tom access. The bathroom was just gross and you would be scared to get clean in there. I tried to get a refund at least for the next night we had booked but with them. Not so much if you are locked in a contract with Priceline.com scam middle man. I am out $400 on this vacation because I booked two rooms with them. Rodeway Inn will never get my business again nor will Priceline. I am gonna ensure everyone knows about this sketchy business deals they are making with hotels. This hotel is nasty. Please never stay here.

This was the worst hotel I ever stayed at and the hotel manager was so disrespectful. It's a pity he even has a job. This Rodeway Inn was in Miami, Florida. If you go there you'll be sorry. The staff even stole our phone chargers out of the room. DO NOT GO.

We stayed at Rodeway Inn, Twenty Nine Palms California for one night. We paid an extra twenty five dollars to have our small dog (22lbs) in the room with us. Our dog got sick and threw up on the bed spread, leaving several stains. We reported to the hotel upon checkout. They said they would have to charge us, $250 for the bedding because they said couldn't wash it. We took the bedding with us since we were being charged for it. The next day we washed the bedding ourselves and all the stains came out, no problem.

Stayed one night in the Rodeway Inn in Olathe, KS. The front desk clerk was nice enough but the lobby smelled bad. Smelled kind of like mildew. The room I was given had that same smell as well as being dirty. The tub had hair in it. The tub itself looked like it had seen better days. Also, the coffee maker in the room I had was broken and the sink had rust stains in it. I was charged way more for this room than it was worth and the bed was very uncomfortable. That place is in very desperate need of a renovation. I will not be staying at a Rodeway Inn anymore. Very sad that the owners don't take more pride in their business.

We didn't check into our room until 11 pm. We were all exhausted and went to bed within 5 min of getting into room. In the morning went to turn on vanity light and it didn't work, no big deal. Went and told the front desk, and asked if there was possibly another room I could use the vanity in, and was told no that they were booked (which I doubt seeing we were able to get a room at 11 pm), but there was a public bathroom I could use. Go to make a cup of coffee and the coffee pot had layers of dust, there was white specks that were easily wiped off, the cups on top had no plastic wrapping on them, and the inside of pot had crusted coffee. The cup and ice tray had red/brown from cups. The bathroom/shower had 2 towels and that was it. The phone had crusted stuff all in between the #'s. The sheet on the one bed had holes and was so thin it was almost transparent.
Upon checkout we asked to talk to the manager and we were telling him how dirty and gross things were. We were not asking for our $ back, just wanted him aware. As I was attempting to show him the pics, he looked at 1 and said if we weren't happy we should have said so when we checked in. I stated it was 11 pm and didn't realize we had to do a inspection of our room before going to bed. He then said there was nothing he could do and completely ignored us trying to show the rest of the pics, and continued on his computer without even looking at us. That is when we got mad. Like I said we weren't asking for $ back or anything. To be snubbed by the manager when you are trying to let him know the condition of a room was just unacceptable!

My wife and I have stayed in the Rodeway Inn located on 5995 W. Irlo Bronson memorial highway located in Kissimmee Florida. In the past and never had a problem until now. There were 6 of us going down for a family trip and also to celebrate our granddaughter's 3rd birthday. I am in a wheelchair. We called to have a handicap room. We were told that it would cost us extra to have a handicap room (come to find out it is against Federal law to charge extra, we just found that out) so we decided to get 2 reg room instead. When we arrived front clerk was nice. When we went to our rooms it was OK a little stuffy and smelly, into to our vacation we ask the front desk if we could use their microwave to heat up our granddaughter's dinner because it was cold.
We were told that they need a $50 deposit and $11 for the microwave and I ask, "Please can you just put this in your microwave, it will only be 2-3 mins so my granddaughter can have her dinner." I WAS TOLD NO. They need the deposit and the rental fee, and I needed to have a room upgrade to receive the microwave. I was so upset I told them, "No I will not do that" and their response was, "Call Olive Garden and see if you can take it back so they can heat it up for you." I could not believe what I just hear. I told them I am in a wheelchair, I can't afford to keep taking taxis and they say, "There's nothing we can do." So I left and went to my room. I will not lie to you, I had tears in my eyes.
Then my daughter brought my granddaughter to the pool for a while. They were having a good time then some little kids came to swim and when we turned around to they were swimming NAKED! Their parents were there. We grab our granddaughter out of the pool and went to our room and called the front desk to tell them if they can do something. We waited and went down to the pool again and they did NOTHING!
Towards the last 5 days of our vacation, my daughter's room had an awful smell. The maintenance men told us they had a bad back up in the room next to her (sewer backup) and we call the front desk (AGAIN) and they said nothing. So we decided to wait until we came home from our vacation to call and talk to the manager **. I was told to leave my number and she will get back to me and guess what still waiting. WE WILL NEVER STAY IN ANY RODEWAY INN HOTELS AND WILL TELL OUR FRIENDS AND FAMILY AND WILL POST WHAT HAPPEN IN THIS HOTEL.

Stayed one night at Rodeway Inn in Huntington Park, CA located at 6340 Santa Fe Ave. We arrived about 8 PM and checked in. The guy who checked us in was really nice. My husband is disabled so we requested a ground floor, handicap room which we received. The room itself "seemed" decent at first, until we realized that the bathroom door had to really be forced to open. It scraped the floor horribly. Not good for someone in a wheelchair or a walker who needed to get to the bathroom quickly and who doesn't have any upper-body strength. The baseboard in the bathroom was separating from the wall and it looked like there was a dead cockroach on the floor. The sink's faucet was very loose, too.
Anyway, the clincher was that we needed to have a 6:30 AM wake up call for a very important appointment with a spine surgeon the next morning. When my husband picked up the phone to request the wake-up call, the cord separated from the handle and the bottom half of the phone base was missing and had a huge red light blinking. So, he held the phone cord into the handle and got a call into the office for the wake up call, covered the broken base with a wash cloth to cover the red light blinking and we tried to sleep. It was now 10:00 or a little after. Soon we started hearing VERY loud, Spanish music which was blasting through the walls. I stepped outside to trace the noise and realized we were connected to a Mexican restaurant. Their crew was cleaning up and they didn't leave until 11 PM. So we went to sleep and I woke up right around daybreak. I was expecting that wake up call at anytime. It never came.
As it started getting lighter outside, I woke my husband and asked him the time (his watch was the only clock in the room). He said it was almost 7 AM. We never got a wake up call. I called the desk (by holding the phone cord in) and asked why we didn't receive our wake-up call. The guy on the other end could only say, "uh-huh". I asked if he tried to call, because right then I noticed that the light was flashing which told me the phone cord made it impossible for the desk to reach us. He said, "yes, I try call you". I told him we didn't get the call BECAUSE THE PHONE WAS BROKEN!. His response, "uh-huh". That's it. No apologies, nothing. Just a "uh-huh". Unacceptable service. Our room was perhaps 15 feet from the office, and this lazy guy could have easily came and knocked on our door. What has happened to customer care in this nation??? It's crazy bad.

Was charged 20.00 extra on my credit card. My husband and I both agreed that this motel was the biggest rat trap we had ever stayed in in our life. The TV Did not work and the whole motel was filthy. I did not even put my feet in the tub when showering. I showered in flip flops. Now to add insult to injury they added an extra 20.00 to my credit card and when I called I was told that it was because I damaged a pillowcase and a towel with make-up. Are you freaking kidding me. I don't even know if they wash their towels and pillow cases because everything was so darn filthy. Manager said that is why they leave the little wet ones thingies to wash make up... Please there was no wet one thingies at this motel! I paid 89.00 to start out with which I thought was terrible enough because of the nastiness of this motel then another 20.00 for damaging a towel and pillow case.
They must have some pretty stupid house cleaning, because the manager said that they could not get the makeup out. I myself remove my makeup at home without even the use of bleach and have no problem washing it out and the towel and pillowcases are white and could be bleached. I told the manager that I would definitely be getting on every social media that I could and let others know about what a terrible motel this is. She said that is usually what people do when they are in the wrong. They write hateful things.
I am sorry but I write a lot of reviews and I have never ever had to write a hateful one, but lady Rodeway inn is in the wrong and I would be doing a disservice to a potential customer "NOT" to let them know what a rip off you are. Oh yeah you can keep my 20.00 because you do need if far worse than I do. Motel that I am reviewing is 2900 n IH35, Austin TX 78705. tel 512-477-6395 and the manager I talked to if she wasn't lying about that too was **.

The worst stay ever. Never again. At checkout if that was the manager she needs to be trained how to deal with people that are paying. Check in was the worst of all. I was checked in by woman. She was sitting when I go to the desk. OMG sitting. I work at a top of the line high end resort and that right there we could not do. The place is a rat trap. They need to do a lot of work on the whole building in and out and on the staff. James however was very helpful and pleasant!

Rodeway Inn in Lyons, Illinois is not a place anyone should be staying at. Choice Hotels should be ashamed to associate themselves with this hotel. The rooms are filthy. Black mold on door frame in bathroom, carpets are filthy, bedding not clean, grounds keeping is non-existent, bedspreads have holes in them, check in/out staff unfriendly to the max, caulk around toilets black and disgusting. This place needs a health inspector NOW! NEVER AGAIN!

My name is Mark **. We stayed at Rodeway Inn on Hamilton Park Rd. Chattanooga, TN May 22-24, 2015. We had two rooms. My daughter, Bethany, accidentally left a Cinderella make up kit on the bed. She called and was told they had it and they described it to her. Arrangements were made by Pish for it to be sent to her and he was to call for credit card information to pay the shipping. This call did not happen. He and Bethany played phone tag for a long time. Finally, our relative, Esther, who lives in Chattanooga stopped by to physically pick it up. She was told the office was locked and the manager with the key was not available. My husband were there this weekend. We tried to talk to the manager so we could get the situation resolved. Even though he was scheduled to be, he was not there for the entire weekend. This is utterly unacceptable!

Billings, Mt. Rodeway Inn - The location was good, off the interstate, although next to a hospital, and the helicopter was very active. My experience with other Rodeway Inns was great. This particular Inn was the worst hotel experience I have ever had. I booked a non-smoking room. There was a cigarette butt on the carpet next to the bed. Burn marks in the furniture. The bathroom was moldy around the shower. Worst of all, the bed had bedbugs -- I killed two. It was horrible. I had to get the housekeeper to re-vacuum the room. I see I am over the recommended character count. I could go on. I suggest Rodeway Inn makes a unscheduled visit to this Inn. The building was in need of paint. Weeds growing 3 feet tall around buildings. Trash and litter in the parking area, especially the building in the back. Thanks for listening.

Very disappointed in this facility. It was dirty, not well maintained. Yes the building was old but that is no excuse for the condition of the room. I checked in late, if I had checked in earlier I would have left. The room smelled, not enough space between bed and desk. The walls were patched in several places, was there a fight? The floor was dusty. No security chain on the door. Several of the lights did work. Oh yes, I almost forgot to mention the bugs hanging out in a ceiling corner. At checkout I paid cash. The clerk voided my credit card. Said it would be credit back to my account. Still waiting to see if it does. However I had to ask for a cash receipt. I wanted proof that I had paid my bill. The clerk seemed very put out that I even wanted a cash receipt!

My boyfriend and I were going to stay two nights at the Rodeway Inn and everything seemed to process smoothly when checking inn. We got our room # and keys and unloaded our luggage completely before the man who checked us in yelled that our card had been declined. My BF went back to the office and tried scanning our prepaid card again, no luck. So we tried scanning the card charging only one night 65.00 + tax - no luck. So we returned the keys and the employee told us to try checking in online. After calling to check the balance on our card we had enough for one night with money still on the card and tried checking in online but had trouble with the website so we turned around and went back home.
The next day Made two small purchases w/ the card and my third small purchase was declined stating I had only .04$ on my card when I should have had at least 50 or more dollars on it. Lo and behold, an unauthorized amount of 50.00$ was charged by Rodeway Inn & Suites, which didn't make sense since the price of one single room was 65.00 + tax. After calling and showing up in person to dispute the transaction the employee argued with me saying that if the transaction was processed that Rodeway doesn't hold the funds and they had no history of the transaction in their system. She spoke very poor English and kept raising her voice to me when I tried to understand the amount approved and when the money would be returned to my card.
She had no answers besides saying Rodeway wouldn't hold the funds and they didn't put through the transaction and said the money should already been returned to my card. Which it wasn't and still hasn't been two days later. Every time I call to talk to an employee they say they have no record of it without even asking for any specifics about the incident & that the money should have already been released, which it hasn't. Tomorrow morning I'm calling their corporate office to have money refunded and to tell them how unhelpful and rude their staff had been to me and my significant other. Next time Motel 6 here I come!!!

Made a reservation via Hotels.com, same day, July 3, 2015, $139.95. A little high, but it was the holiday. Had no complaints until later that evening. We tried to extend our stay via Hotels.com, but the Rodeway had blocked access. I mistakenly thought check out was noon. Most places we have stayed, that was the time. We were awakened to banging on the door from Housekeeping. I was informed of the difference (it was 11:20 at the time). I then went down to extend, and was told the price would be close to $300.00!!! Only because of the holiday. I was in shock. I said we would just check out. I was then told we should just let them charge us the late fee and pay the difference for the room. I said "NO THAT WAS RIDICULOUS!" So I went back up to get us together and pack. Mind you we weren't showered, packed or dressed.
We walked out of the door at around 12:15-12:20. I thought everything was over. I look at my bank statement and Rodeway has TWO $50.00 Charges for what I found out were late checkout fees! I cannot get the property manager on the phone, called customer relations and we kept being, "disconnected". I am beyond frustrated. The manager did not say a word about the extra charges when we checked out, and it wasn't on the bill. Mind you other guests were checking out the whole time this was going on. I heard nothing about a late fee, which lead me to believe that either no fee was being charged or it would be a surprise charge, like it was for me. I think this is sneaky, underhanded, and egregious.

We were in Baltimore for our son's wedding in June 2015 and decided to stay 2 nights in a midtown hotel. My husband Rod chose the Rodeway Inn on St Paul Street for its price and convenience to restaurants, etc. Our daughter and her kids were with us and we got 2 rooms. Our room #105 is the subject of this complaint.
It was very hot in our room. I found the air conditioning's outflow vent behind a large picture over the bed (see photo). I removed the picture and placed it in what I thought was a safe place behind the fridge. I then looked into the vent (see photo) and discovered it almost occluded with I don't know what... Gunk? Debris? I informed the gentleman at the front desk about the hot room, the picture and the disgusting vent. He went upstairs to adjust the AC, or so I thought, but it didn't help. By the way, our daughter's room was very chilly!
Our first night at Rodeway Inn we had gone to a restaurant and came back to a dimly lit room. My vision is impaired due to recent eye surgeries and I bumped into a suitcase in front of the picture. Down I went into the glass, breaking it and getting several nicks of my own! I informed the front desk (Mr. **) and he said, "OK, OK." When I mentioned the cuts he again said, "OK, OK."
The next morning he informed me that he'd spoken to his "boss" and the replacement glass would be "very expensive". At checkout my husband took care of the bill. He doesn't like confrontation so signed the receipt for 2 room 2 nights for $560! FOUR HUNDRED DOLLARS of that was for MISCELLANEOUS! I've also included photos of filthy base boards and fridge. I had more, like one of a broken chair, a moldy ice bucket, but I exceeded my download limit!

Stayed at this disgusting dive on July 12, 2015. The rooms and the grounds were utterly disgusting. I would be amazed if the place is cleaned once a year. This particular night they were having the driveways resurfaced. The smell permeated into the room. I was unable to sleep. I complained to the night auditor. He told me I would have to wait until the manager came in. Since I came in from out of state I did not have my own personal vehicle to go someplace that would accept pets. I had to call someone who lived 3 hours away to come and get me. I went in and spoke to the "manager" and aired my anger and dissatisfaction. She was extremely rude and refused to give me a refund. This chain seems to have several complaints logged against them. The clientele is primarily transients.

Rodeway Inn Portland Airport - I traveled from Denver Colorado to Portland late yesterday evening. Originally I had booked with another company that I had stayed with before, but with the exceptional promotion with $50 gift card from Choice hotels I ended up switching. Only to find out the promotion didn't apply to my stays booked through choice. I stayed with them though because they managed to beat the competitor's price by $20 if I stayed. When I arrived the shuttle driver was courteous and kind, even loaded my 45 lb bag into the van. When I arrived at the hotel and checked in the same driver that loaded my bag, then placed me across the parking lot in a room on the 3rd floor with no elevator. I recently suffered a stroke and it was assumed I would be able to carry this up 3 flights of stairs.
When I arrived at the room it was overly hot. Someone had turned on the heat and it took almost an hour to cool down. After the room cooled I did find it clean and adequate. If I was rating the room alone I would stay again. However, in the morning I went down and asked if it was possible to purchase the continental breakfast. I was told "No" that it was only based with occupancy. I have worked in hotel management before. Our job was to be efficient, kind, courteous, and always go out of our way regardless of the price paid at a room. To this I have to say a two star rating is almost pushing it....
Rodeway Inns Company Profile
Company Name:

Rodeway Inns

Website:

https://www.choicehotels.com/rodeway-inn