Consumer Reviews and Complaints

My family, along with another family, were traveling through Colorado Springs, in our RV's/Travel Trailers and called the Rodeway Inns in Colorado Springs to reserve a room for the night as we could not get into an RV park. The General Manager, Heather, assured us that we would be able to park in their lot, she stated they had Bus parking. When we pulled up to the street the Motel was on, it looked like the worst ghetto ever! Homeless bums were sleeping on the street corners. The parking lot for RV's, Busses and trailers was locked and Heather stated she had to unlock it.
There were bums sleeping in the gated lot! So much for secure. She stated she couldn't open it at that time, since she was checking in guests. We circled the ghetto for a several minutes, at 9:00 PM. When I let Heather know we could not make it into the small parking lot, she argued with me, and hung up on me. She refused to answer my calls again after that. I circled the streets for 30 minutes while calling back. She canceled my reservation, and refuses to reimburse my money! Too bad there are no negative stars! This one would get -10+.

This is the reason you never stay at the ROADWAY INN AT VIRGINIA BEACH, VA. No answer.Stay away
Original Review
I stayed at the ROADWAY INN AT VA BEACH in May. The hotel rooms had mild dew smell. The place was dirty and smelly. The cleaning ladies tried to spray the rooms but did no good. I complained to choice hotels but got no results. It took two weeks for them to get back to me. Very upset with the service.

My family and I checked in the Rodeway Inn at 5952 Lincoln Ave. In Chicago IL. Checked in on July 5th which was first night. Next morning my daughter was bitten by bed bugs. She first thought she may had an allergic reaction to something. The next night July 6th. Woke up next morning, she discovered she had been bitten again. We were in room 33. My cousin also woke up with bite marks, my other daughter, myself, my granddaughter, and my mother who actually flicked on off her clothes. Cousin went to complain, worker said, "Oh yea, we just treated for bed bugs 4 months prior." Went to complain, she said, "Sorry about that." ** the manager said that she would not charge us for any the stay and that our money would be refunded within 3 to 5 business days.
** said that she could not put us up anywhere else. All that she could do is have us put our clothes in a bag and housekeeping would spin them through the dryer for us. That she could get us in only in a hotel that is under the Choice hotel at per her discount. Needless to say as of 7/17/2017 no refund, after she told us that our money would be refunded within 4 days. Don't, I repeat don't stay at the Rodeway Inn at 5952 Lincoln Ave in Chicago, IL. I don't recommend that anyone stays at any properties of Choice hotel. The customer service sucks.

Checked into Rodeway Inns in Florence, KY. Big mistake. Dirty, with ripped carpet. Wake up bang at my door at 9:15 with a do-not-disturb sign on the door. Went to get up and got a charley horse in my leg, screaming in pain. Whoever was knocking ran off like a game of ding dong ditch. Complained to the rude woman from the front desk, then received hang up phone calls on the room phone every 15 min ensuring, I couldn't return to sleep. Didn't check out till exactly 11:00 so they didn't win and get in my room till the last minute. Never stay at a Rodeway Inns. They suck.

A few weeks I had checked into the Rodeway Inn, Indicated at 95 Wallace Road in Nashville TN. My check in was @10:41 pm on 06/14/17 purchasing (4) nights, I parked my truck at the closest available space to my assigned unit. Around 5 am I left for work in a company vehicle. Later that afternoon around 4 pm I returned to find my truck was missing, assuming it was stolen I called the police (non emergency number) and was asked to check with the hotel first which I did. The manager said they did NOT tow the truck but the desk clerk gave me a phone number to call. I called and was told they had my truck and it was towed by management. The next day I retrieved the vehicle at a price of 234.00 dollars.
After my stay I did approach the manager this time with paper work, to my surprise he runs and gets in his car and recklessly speeds off. Since then I have returned several times yet the staff says that he is not there. I have no doubt that the vehicle was towed by mistake, however the manager was the most unprofessional person I have ever met. Checking into this hotel does not include recording vehicle information. Budget lodging at it's very worst.
How do I know I can trust these reviews about Rodeway Inns?
883,201 reviews on ConsumerAffairs are verified.
We require contact information to ensure our reviewers are real.
We use intelligent software that helps us maintain the integrity of reviews.
Our moderators read all reviews to verify quality and helpfulness.
For more information about reviews on ConsumerAffairs.com please visit our FAQ.

We were booked into the Downtown Rodeway Inn for June 13-16. When we checked in and went up to our room it was disgusting. Dirty, very small, very old and worn and I would not kennel my dogs there. Went back to front desk after viewing the room and told them I refused to stay there because of terrible conditions. I ask for a refund and they refused. When I go home to Arizona I tried to contact Choice Hotels corporate. They also refused a full refund and refused to allow me to talk to anyone in their management chain. Since that no contact. I lost $294.70.

We had reservations to stay at the Rodeway Inn (Jamaica, NY) at the end of May and booked with them based on them being affiliated with Choice Hotels (which I thought had a good reputation). We were enjoying downtown NY when I got a call asking what time we planned to check in (check in was after 1). I told the girl between 6 and 7. We got there at 6:30 and was told that our rooms (two were booked) still had people in them that wanted late checkout but they would get them out and have our rooms ready in 5 minutes... I am NOT going to go into a room 5 minutes after people are leaving and NOT having a clean room (it takes more than 5 minutes to do that!).
While we were waiting to find out when the rooms were going to be ready - we noticed the two security guards, the locked room for the girl to stay behind (and I think bulletproof glass) so was already nervous about the area we were in... Noticed in the vending machine they are selling condoms - huge red flag... They are renting rooms by the hour at this hotel. Choice Hotel needs to know that they are getting a bad name being associated with places like this. I did go look at the room they were going to give us (after the pimp dropped the key back off) and they were just changing the sheets - dark and stinky. We left quickly and walked to a hotel on the other side of the highway. This place is being run as a whorehouse... Thank GOD we didn't stay here. I am not sure what type of disease we would have left with!

The Rodeway has been a great experience. The maids are very nice and it seems like they have been there a long time. I like familiar faces. The management there is also very friendly and understanding. Excellent customer service from all staff.

On May 16th my husband and I stayed at the Rodeway Inn in Vicksburg, en route to a vacation in Florida. We had reservations and arrived 10:00 pm. We were put in room at street level. Tired we turned the lights off and went to sleep. My husband got up several times during the night. In the morning we opened the curtains only to find a copperhead curled in the middle of the room. Naturally this freaked us out and my husband somehow got out the front door to tell the manager. By this time, onlookers were curious as to what was going on. I was so panicked that I jumped on the bed as far away as I could get from the snake. Finally a maintenance man came and managed to get the snake into a bucket. Couldn't get out of the room fast enough.
My husband went into the front desk to finalize payment and not one person said "sorry about that". Personally I thought it would have been good business to offer us free room. I have pictures that I have taken of the copperhead on the floor but I am unable to send through this review. If you contact me I will be glad to send to you. Actually I don't think we will ever stay at a Rodeway Inn again. Please publish this so that others can be aware. God forbid if that copperhead bite me or my husband. I think God was protecting us that night.

We checked in Thursday late at night into Rodeway Inn Encinitas North, CA (we prepaid thru Hotels.com) and had to extend our stay another night. The next morning (again thru Hotels.com) because we became seriously sick with a stomach bug that night. My little child and myself stayed in bed the entire day. A few days later I saw a charge of $55 on my bank statement charged directly by Rodeway Inn, Encinitas North, CA.
The manager on the phone claims it's for cleaning. Says there was pee stains on the bed and they can't use the mattress! First she claimed they threw out the mattress and so I couldn't come in and see proof. Then she changed her story and said it's for "cleaning". In fact, there were no pee stains on the mattress, and furthermore had she replaced the mattress, it would have cost a lot more. She has also refused to provide any evidence that it cost them an extra $55 to clean the sheets or whatever she claims the cleaning is for. I have threatened to take her to court and if she doesn't refund our money, I most certainly will. Believe me, if you stay there, you're a glutton for punishment! We stay at many hotels for vacation and relaxation and never has any of them ever charged us a dime for cleaning or damages, even though I've been taking my daughter with me since she was an infant in diapers.
Furthermore the prices are ridiculous. Thursday night the price was reasonable but on Friday, it cost us about $98 to stay there! I only extended the stay by one more day because we were too sick to get out of bed. If I wasn't in so much agony from stomach spasms, I would have left that day. And now I find we were charged yet another $55 for no good reason! That place deserves to go out of business for ripping off customers. I will pursue my rights in court if I have to, and not because $55 is worth the headache but to make sure those crooks don't do this to others or get away with robbery, because that's EXACTLY what that is: ROBBERY!

Hershey PA. 1733 East Chocolate Ave. To start this place should be condemned. The room was dirty, the TV, Microwave, refrigerator, light above the sink, and the sink drain did not work. I requested to have these items fixed and nothing was done. I was traveling with my two daughter and (16 and 7), the place was unsafe and the drug use outside in the parking lot was plentiful. The activities that took place were from racing a remote control car around the parking lot of an employee (25 or older) to partying till 3:30 a.m.
My family was scared and felt like they were in hiding because of the people that not only worked there but the people that were living there using the hotel as their residence. As was exiting the room at 7:30 a.m. Three (3) teenage boys exited one room and got on a bus for school. These rooms are being use as apartments and not hotel rooms. This was an extremely bad experience and I would not recommend or ever stay in another Rodeway Inn. Absolutely disgusted.

Booked this room and was charge 1/12/17. It was for 4/8/17. Called from airport 3X to let them know my plane was late and would be in late, going on cruise the next day. Called from airport when landed and was informed they gave my room away. 8 ships in port, no rooms in town, 65 husband. 70. We stayed in airport as I thought I pay for a room I own it till the next day at 11. Corporate on phone could not help. Called me as I was getting on ship, told me they reversed charge and want to give me 50% off next visit I told her never again with the company. Got home, they charge my card again??? And the desk clerk should be fired. His name is Jeff! The first day of cruise. Was also too tired. Don't fly delta (Don't Leave The Airport 9 hr. Delay in JFK!!).

I was very displeased with my stay at this hotel. They have roaches, the room is very filthy, and it comes without a phone, the outside is full of drug addicts, it smells horrible, the floors are very sticky and my sheet were stained. Overall I regret my stay at this hotel and I do not recommend it to any and if you do stay, stay locked in your room because very dangerous outside but make sure you bring a can of Raid because the roaches are very big.

I stayed at Rodeway Inn Fife, Washington the week of March 16th 2017, beside the very low quality of the room with mold all over the shower and bathroom, the sink in the vanity area, the lamp shades are all torn up and look to be rotted and in the entire week stay room service only came by to offer exchange of towels, the complimentary breakfast was empty almost an hour before it was to end and the office staff refused to refill anything.
But absolutely worst of all, after my boyfriend left in our vehicle, who they considered maintenance man had come to my room and unlocked my door preceding to barge right in until he seen me laying in my bed and immediately started to apologize and ask if I had everything I needed! I called the office immediately to make complaint about this. All they did was yelled in background asking if they sent maintenance for any reason. She had gotten back on phone and said "I don't know, sorry". Sincerely, Completely dissatisfied customer.

My husband and I spent the most dangerous night of our lives in the decrepit, prostitute/drug-ring Rodeway Inn Skytop, in Kingston, N.Y. The other guests in the hotel, including those in the room just beside ours, were sex workers, drugs dealers, angry pimps and many, many, many clients. Their activities, fighting and hours of vomiting kept us up throughout the entire night till the next morning, as we listened to person after person drive up, slam their car doors, then the motel room door behind them every 15 minutes. At 4:00 am one of them began banging furiously on our room door. When we didn't answer they continued to bang until my husband asked what they wanted, cigarettes was the reply.
We spent the night trapped inside our room fearing for our lives, until they all left at 6:30 am. With that incredibly loud room door slamming one last time behind them. For $66 this filthy, smelly motel does not even look as if it's in business as you drive up, it should be closed as condemned property or at the very least should be professionally inspected as it surely needs it. The carpeting is sticky and the rooms stink. For $10 more, in the $70 range, there were plenty of other hotels and motels in the vicinity which would have been worth the upgrade. Some comments on this motel say "You get what you pay for" and I can assure you we did not pay for a night of hiding from prostitutes and drug dealers, strung out of their minds. The walls are so thin that all of the smells and smoke seeps through the rooms and at about 8:00 the next morning the cleaning ladies were banging around with a loud vacuum and gossiping, which we could hear clearly through the walls.
When we spoke to the manager and his wife about this the following morning they accepted no blame claiming only that we should have told them at the time (despite the post in the lobby stating the front desk closes at midnight) and after much instance on our part, they agreed only to a partial refund, begrudgingly and with no sympathy or shame. We called the police, who explained that the owners of the Skytop were willingly allowing these activities to take place. We also spoke with an employee who told me that our experience was simply a normal night at the Skytop, happens all the time. It has haunted us since.
It was nearly impossible to get through to customer service. I called 4 times and was on hold for 45 minutes. The representatives speak minimal English and kept repeating the same blanket replies which had nothing to do with the questions asked. Supervisors refused to come to the phone as they were "busy with other clients" and continually promised to call back: They never did. All they would tell me was my, "case was considered closed" and offered me a Choice Rewards Card, where I could gain points on future stays.

I checked into Rodeway Inn on the evening of February 18th. Upon arrival in the lobby, I was met with friendly staff at the front desk who checked me in. At the same time another couple was voicing concern about their room and wanted a refund. They also had reserved their room from Expedia as I had. The staff explained that there was nothing they could do to refund their money as a result of their dissatisfaction with the room. Their complaint was that their room was dirty, had no heat and mold was somewhere in the room. They were not offered a refund.
I proceeded to check in mainly because I had been to 4 other hotels and NO ONE had a vacancy that evening. I was stuck. I received my key and went to my room on the 6th floor. The room was very cold but I decided to give it a chance to warm up. Three hours later, the room was still not warm. I called the front desk who recommended a few troubleshooting measures, none of which worked. Staff also came to the room to check on the temperature. He agreed that the room was cold and brought a space heater to me.
The room had a very ominous feeling in that the bed covers looked dark and murky, (I did not sit on them) and there was no cover other than the sheets. I was doomed to be in a room that was cold, no clean blankets, nor any covers between the blanket and sheets. I sat to watch TV that was mounted in the adjoining room, not the bedroom wall and decided to freshen up. It was then that I noticed the mold on the bathroom wall near the sink. I choose to avoid the area and use the bathroom itself but felt cheated for the remainder of the time I spent at Rodeway Inn. It was by far the worst experience ever in a hotel. I called the front desk to voice my concern and spoke with the manager on duty. He referred me to the person in charge that would report in the morning. This morning person just so happened to be the night manager's dad!
The next morning I spoke with the "so called" manager who promptly informed me that he, the dad, worked for the son and that the son was the head manager. On top of all the other issues, I realized that the manager was less than honest and truthful! The son told me that the dad would be responsible for issuing credits which is not the case! How frustrating and totally unprofessional! I am in the process of reporting this hotel to the health department but also seeking to obtain a refund for the costs of the hotel. I would prefer to give this hotel "no stars" however, this was not an option. Signed, Extremely dissatisfied.

I checked into your facility on Christmas Eve, went to the room, was not given wifi password, no phone in the room. So had to get dressed and go back out. Clerk was very nice. Carpet between the beds had numerous spots of food. The next morning blow dryer would not work, but no phone to report it. Person I called said "Oh, you should have gotten dressed and went out in cold weather to walk to the office with wet hair to report this." Yea right!!! Carpet was dirty. The free breakfast no utensils to spread butter or jelly or even cut the English muffin. When I called Consumer Affairs to report it. I got that "Oh, the facility is being updated so no phones. You should have went to the office to report blow dryer would not work." He addressed the issues to the Motel, but did not address them at all to me.
Very, very poor customer service. Definitely would not recommend Rodeway Inn to anyone. The only paper I received was a paper with my room number crossed off and another one written in, with **, fax #, check out time, and mailing address and email address. There is no place that has the receipt number or that it was paid.

When we checked in, we could tell the place was dirty but there was nothing else I could do at that point. There was no hot water, the towels were like sandpaper and the heater had a musty smell making my son's asthma kick in. He had to keep going out into the cold just to be able to take a deep breath. It was the middle of the night. I couldn't do much. I tried to complain the next morning but the front desk attendant looked at me like I was crazy. I asked for a manager but apparently they aren't around on Sundays. I just want my money back. That is all I ask.

Checked in to a room late at night. Tired from driving...opened door to room (requested non-smoking)...found stacks of old beds and ruined chairs! And, stunk like smoke. Obviously a non-room used for storage?! Went back and clerk gave us new key to another room. Entered to room with apparent musky/moldy smell. TV didn't work and when looked behind dresser to ensure it was plugged in, saw disgusting dust balls, cigarette butts, half empty bottle of something (mold inside), & various trash. Left to get money back and leave. Was on my charge card and clerk said "Only the manager can make the refund on his computer, and he would take care of it the next day".
It is now 4 days later, the charge is still on my account (per online balance on my card account). Called to speak with manager twice, not available and now not in until 2 days from now. Spoke with clerk 10 mins. ago and says she barely knows how to pronounce his name much less spell it and doesn't have a"box" to put messages into! Thus, have called my card company to remove that charge...but recommend ConsumerAffairs to investigate this hotel manager. And recommend to anyone reading this DO NOT STAY AT RODEWAY WEST in Albuquerque New Mexico.

I made a reservation with Rodeway Inn Red Hills, St. George, Utah with the understanding via a Booking.com agent that the reservation was able to be canceled up to 24 hours of arrival. Now Booking.com is saying that's not true, and that the manager of Rodeway Inn, a certain Chenna, is the only one who can refund the money if she chooses to. But after multiple calls the hotel, speaking to someone only once, there is no resolution. And now I can't get through to them at all. I'm very disappointed at the customer service and am glad to not be staying there. But I do want my money back. Lies told by Booking.com should not be my responsibility.

My friend and I booked a 3 night stay here over the weekend and on the last evening we found bed bugs in the bed. My friend had red bumps on her arm and we thought they were an allergic reaction to something but it made sense when we found the bugs. We didn't want to stay on our last night when we found them and I just wanted my money back for the night we didn't stay. The front desk lady called her boss and they laughed and after she hung up she said there's nothing they can do. I'm pretty disappoint with my experience here. All I wanted was my money back for the night we didn't stay. Who would want to sleep in a bed with bed bugs?! We didn't have a choice really but to leave.

My daughter made reservations 4 month in advance through Choice and when her and her friend arrived at The Rodeway Inn the owner George ** was extremely rude and would not help these girls with their reservations. He said he could not find her name in the computer stating that she had reservations, only because they spelled her name wrong. She proceeded to give him her credit card she used for the reservation. He told her he did not have time for this and ignored her. He lacks good customer service... as well as his staff whom were extremely rude and everyone I spoke to was not honest, and avoided a resolution. I called several time, left my name and number for the owner to call me and then escalated this to Corporate CEO Steve Joyce phone number **. I also emailed him at: **. Never heard back from anyone other than some silly email from what they call: is escalation. What a joke!

My family and I (husband and three children) had the worst experience that we've had in a long time at this particular hotel called the Rodeway Inn by the beach. I am very unhappy and outraged about our experience and how customer service has treated us. We had dirty linen for the majority of our stay. We were not provided with an alarm clock or a coffee maker, and the refrigerator was leaking and did not work properly to keep food items cold. When I attempted to present these issues to the office manager named Sonja, he immediately told us to leave if we didn't like it! We were totally horrified and was unfortunately not able to pick up and go to another hotel, considering the fact that we were there on emergency basis.
I would strongly advise that all potential guest stay clear from this hotel because of the unprofessional living conditions that this entity is continuously providing to the public. I have an increased level of concerns for the extreme health code violations that are being breached, especially when there are children staying there. Hopefully I will get assistance concerning this horrifying experience.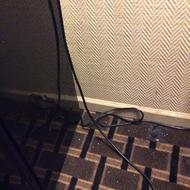 The room we rented for the night was so dirty. We spent the whole night killing roaches crawling on the wall and bed. We asked the hotel management for roach spray. Instead of moving us to another room, they just gave my husband a bug spray. And they let us spray on our own. We had to stay outside for at least 30 minutes to let the fumed room air out. We had no choice but to stay because of the hurricane Matthew, this was the last available hotel. We paid $59.00 a night for one room. Customer service was so poor. The smell of the room was really suffocatingly worst, cigarette smell was so bad. Our stay was a nightmare but we did not have any choice at all. We think that this hotel need to be investigated or checked. The walls are all stained that looks like blood stains. I can send more photos of the mess.

Manager rude. I made reservations online. When I get there ask if he could help me. I said I had a reservation. He said credit card or cash. Told him on reservation it gave both cash or credit. Told him I chose cash. He said it was can clear at 600 of clock I can. Clearly pay either way make 30 dollars hr gave away more than this old man that thinks he is something. Told him I'd swap it to credit card. He said he out of rooms.
Now clearly this man is not in the right spot to be working here. I will get you a lawyer and sue his company for discrimination. Effective everybody he asks like this to maybe after getting sued a few times and being fined a few times maybe they will threw his old ass out. ** place is a piece of ** like his employees and he's definitely are a radical piece of ** and I got a better room across the road. Cheaper at Baymont Inn, treated with respect. I'm calling corporate right now to complain. Everyone else should too.

In 2015 I wanted to upgrade my device and upon contacting Sprint, I was given the option of the iPhone Forever Agreement. I was under the VERBAL agreement that I was in this promotion. NOW in 2016, I see online, and on the Sprint Zone Application that I am NOT eligible for an upgrade of the iPhone 7. I called to hear that I am NOT an iPhone Forever promotion member, that lease agreement was 18 months, not the 21 I am under. I explained that I was VERBALLY explained by a Sprint rep last year that I would ALWAYS be able to upgrade to the NEWEST iPhone when they came out. Explained that Sprint could pull the tape from the conversation, and my total HOLD TIME ON THE PHONE, WHILE AT WORK, IS NOW 1:11:30 with LITTLE conversation. A SUPERVISOR couldn't even fix this situation.

When I stayed at the Rodeway Inn in Whites City, New Mexico my experience was awful. The desk clerk was so rude that I will never stay at another Rodeway Inn again. The breakfast was very limited and there were no forks. When I requested one the desk clerk became angry and yelled at me. My roommate was also treated poorly by the same clerk.

Your manager was rude, no service at all. We stayed 4 nights and had to talk to Deanna to get clean towels. I changed the trash and took it out. Your manager would not give me a receipt, had to argue with him. He told me I did not pay him, I paid the booking company, and that you made no money from the booking company. He lied and my receipt was right there all the time because once again Deanna had already printed it out for me. And it smelled in our room because they were cooking in the room across from us. No internet, it was not working. Also at the end of the motel by the laundry there were old air conditioners and mattresses piled everywhere.

When we got to the hotel the rooms was not clean, bugs all in the room. The manager of the hotel was real nasty to us from the time we pulled up. The manager family live in the hotel. No privacy when you open your door. They was always there. I saw a bed bugs, roaches. The ceiling was cracked. It was leaking. I feel they need to be shut down.

I purchased room confirmation r 5-14-2016 for QUALITY INNS through Hotwire 2-2016. I asked for non-smoking room and breakfast/Wi-Fi was part of the commitment. When we arrived the hotel name had been changed to Rodeway. Earlier, we had received email from Hotwire assuring us all would be the same service and commitment we had been promised with Quality Inns. However, we were given a room that reeked of smoke, no breakfast was offered and Wi-Fi was awful. They moved us to a very cramped room where all was dirty, bathroom tub did not work, no towels, etc. For one night we would endure. Then we found they had stolen a gift basket delivered to hotel for us and our journey. After discussing all issues with manager and various clerk persons we at least received 50.00 reimbursements for basket (They found the empty basket after several days of our persistence). THE REST OF THE STAY WAS AWFUL. RECEIPTS ARE ATTACHED.
Rodeway Inns Company Profile
Company Name:

Rodeway Inns

Website:

https://www.choicehotels.com/rodeway-inn