Consumer Complaints & Reviews

Purchase tickets in mid-June for traveling in August. Called them in late July for seat assignments but was told the reservations was canceled by the airline 2 days after booking (I was charged the same day for the ticket and their service commons)! They said their support team going to fix it immediately. After one week and spending hours with them, nothing done! Finally dispute the charges and rebook different flight (higher price since the time was closer to departure). DO NOT USE THIS COMPANY.

I have used OneTravel for a couple of years. This year I have had one problem after the other- mainly due to the service center. The staff, which is obviously based in India, does not understand name spellings, and it appears English. It caused me to have a cancelled hotel booking for no obvious reason and another booked under my middle initial.

OneTravel made my reservation to travel, spelled my name wrong with a confirmation ** and then want me to pay $30.00 (thirty dollars) to correct the spelling of my name to the airlines. Caribbean airlines told me that I will have to pay the airline $25.00 to take out that "S" in my name. My name is Margaret and OneTravel spelled my name Masrgaret.

Well I buy my air tickets from them and I needed to change the flights after a couple of days. Some things move so I contact them over the phone, email. Nothing happened. They ask me to contact them by phone and nothing. They just want your money but no customer service.

I purchased tickets for my husband and I, I noticed our last name was spelled incorrectly. I immediately called OneTravel to have this corrected, I was informed there would be a $50 fee since I had just purchased the tickets 30 min ago I asked that the tickets be cancelled. The correction was made on my last name but not my husband's. I called OneTravel again. This time I was informed I would be hearing from someone in approx 3 weeks. I got the call and an email. I was asked to fax my husband's passport, I did so as asked. One month later I sent an email asking for an update, I was informed he was taking care of other passengers who were traveling sooner than my husband.
I waited another month before sending another email asking for an update. This time I was informed the correction would not be made until one week before my husband travels. I asked if this was normal, I was informed he was too busy but if things should slow down he would take care of it sooner, I asked if there was a possibility that my husband wouldn't be able to travel, OneTravels rep's response, "I don't think so, it's a simple spelling error." Ok if it's so simple why hasn't it been corrected. I called Aer Lingus, this is who we will fly with, they can not help me as I booked through a third party.
I took to Twitter. I was lead to believe I was talking to a OneTravel rep. I was asked for the credit card info that the travel was booked with. I was promised a $100 credit for my troubles. Instead my credit card info was stolen and numerous fraudulent charges were made. Chase was on top of this, credit card canceled, lesson learned. I then tried to follow onetravel.com forum. This company selects who can follow them on Twitter. I was blocked from following them. If this is an legit business with nothing to hid you would let anyone follow you on Twitter. I did read other reviews, I should have taken them more seriously. I am disappointed in the airlines that continue to do business with this company. They treat travelers so poorly. Is there anyone who can help consumers.
How do I know I can trust these reviews about Onetravel.com?
554,286 reviews on ConsumerAffairs are verified.
We require contact information to ensure our reviewers are real.
We use intelligent software that helps us maintain the integrity of reviews.
Our moderators read all reviews to verify quality and helpfulness.
For more information about reviews on ConsumerAffairs.com please visit our FAQ.

OMG what an experience. I was set to book my own flights on the airline website and decided to check TripAdvisor for rates just in case. They sent me to OneTravel that quoted a "complete" price of $300 less. Well, ok, they must be a big company that get special rates, and since TripAdvisor sent me there I thought "why not"? Filled out all the info, confirmed the price, clicked on "Buy" and instead of the confirmation page I got a page informing me that price was no longer available, but would I like to pay $200 more? Immediately my phone rang.
The caller (Indian call center) identified herself as CheapOFlights and she was calling to finalize my order. So blah blah, the complete price would be $400 more than the price they originally quoted on the site (there's your bait & switch), and I better buy now because there's only 3 seats left on the flight (there's the pressure).
After a short conversation, I told her I don't know what kind of scam they were trying to run on me, I am not taking the offer, and goodbye. Fortunately I react to pressure tactics like a cat reacts to a leash. But I can see how they would trap their victims with their well-practiced script. She called me back immediately to tell me we were cut off somehow. Yes, that's what normally happens when I hang on on someone, and I again told her that I was not interested in their scam, and goodbye. I could hear her still talking as I hung up again.
Now thoroughly uncomfortable, I called my credit card company to make sure they didn't try to process the charge. While I was talking with them I said "what the heck, cancel the card and send me a new number." They agreed, no big deal to them. So I don't have to worry about my card number finding its way somewhere it shouldn't.
If you're reading this after your experience (oh yeah, after canceling my card I went looking for reviews ), I feel your pain. If you're reading this before dealing with OneTravel or CheapOFlights... OH HELL NO. In my many many years of doing financial stuff online I have never encountered a situation so distasteful. And shame on you TripAdvisor for pushing me into their arms. You've come down a few notches in my book.

Horrible company horrible service - the company is located in Maharashtra Gujarat India and is part of CheapOair... bought tickets, got a purchase receipt but two days later someone called me that the tickets were canceled. I said, "WHY?" He said when I was buying the tickets the price changed... REALLY??? Tickets that I already bought just changed on me, so instead of 14th my family ticket was changed to 23 of Feb BUT ** WHY??? Plus asked me to pay an extra 154 dollars. WHY???
We missed the family wedding and blame goes on in the family that only if I had bought the tickets through a right place we wouldn't have missed the wedding and I couldn't afford to buy emergency tickets for them but... No one should ever have to go through this. NO ONE. You buy tickets... they stop purchase... withhold your money and buy tickets for you for a later date and then same later date ticket is sold to you at a higher price. Stay away, bad practice, bad business, bad service - you will regret. CheapOair and OneTravel is same.

These people are shady. The first problem is that they use people from India to answer their calls and they barely speak English. They lied when buying the insurance that there is a 100% cancellation fee. So when I go to cancel my flight because my boyfriend and I broke up, they said that I would only get a refund if it was within 24 hours. Otherwise it would have to be an emergency in order to cancel, although they hide it away, not even providing a link next to it to look further into the rules about getting this. All it says is: Coverage Includes: Trip Cancellation, Trip Interruption, Trip Delay, Baggage Delay.
But they did say if I would like to I could change the location in which I was flying to. I said I would call back with the location and I just had to verify the dates with a friend. I called back to give them the flight I wanted and was going to switch to and then they decided to tell me then that it would be an extra $200 charged by the airlines to make the change so now I would be paying $632 instead of the $432 that I spent. The guy failed to mention this when he suggested it to me! These ** are sneaky and want to walk all over their customers in order to get money. Never again will I book with these people and I will recommend that none of my friends do either. And I am going to leave this review on any site that allows me to because they are awful.

My fiance and I purchased a ticket for a flight to and from Miami Florida. Right after the purchase we noticed the departure date was the following date and not the date we wanted so we immediately called to cancel. We received an OTP number to confirm the refund request. Then we received a letter stating the ticket was cancelled and the airlines will refund the money. After 14 days we called OneTravel. An agent answered and told us that the airline does not debit the money from the account until after 24 hours, and simply places a hold until after 24 hours.
As such if a ticket is cancelled within 24 hours the money is never taken out of the account. Upon calling the bank to verify this the bank presented us with a bill statement which showed the price of the ticket was taken out of the account 3 days after cancellation. We called back and another agent was very unhelpful. I then told him I will report this to BBB, at that time he got upset, began yelling, and told me policy does not allow him to assist me now that I mentioned BBB. We were then resorted to the painful and time consuming dispute of these charges. Do not buy from this company!

3 days before the trip I checked to confirm the car rental through OneTravel. I was told everything was a go and a confirmation # given. Upon arrival I called the contact # and was told the company I was assigned to was out of business and another company was to cover their contract at the same cost to me. After a 5hr flight and about an hour phone conversation with the company who was supposed to cover the agreement, I was charged three times the agreed price for the car. Super rip, I feel as though my pocket was picked. From 89.00 to 300.00--very unfair!

I bought two one-way tickets from Salt Lake City to Madison, Wisconsin for my disabled brother and wife with the travel protection plan for an extra $50.00. Had to cancel flight because they weren't up to it. Went to cancel and here is what they told me. Even though I paid them an extra $50.00 for this, I have to pay a "cancellation penalty" of $200.00. I have to file a claim with the insurance company to get my money back. When I explained that this was not discussed with me when I booked, and it is not on my confirmation, they said it was in their policies link. I don't see a policies link. I am currently on hold to speak to the manager about this, and it has now been 42 minutes.

OneTravel deceived me to buy ticket and they never mentioned that I could not change the schedule. They wanted me to transit in Norway for 21 hours and when I refused they now said my ticket was nonrefundable. They also gave my accounts details to Travel Guide Insurance and WCT insurance who also stole money from my account. OneTravel is a complete group of thieves.

A friend and I booked a flight from Amsterdam to where we thought was Oslo. Agent never told us airport was 1 and 1/2 hours outside of the city. When we arrived, there was no one in the airport to speak with and no bus was there. We ended up taking a taxi for 250 euros!!! Take care what airport they send you to.

Purchased RT air ticket in Feb 2016 and had to postpone trip. OneTravel issued credit for $588.19 and I was charged $50 change fee. Tried to use the credit today and accepted a penalty of $135 for another ticket but 2 different agents insisted ANOTHER $100 fee for no reason. I asked for supervisor but they both had no explanation and hung up.

I bought a flight to Medellin from Santo Domingo with OneTravel, feeling well about the good interface in their web page, must admit is rather friendly. Regretfully, they cancelled the flight and sent me an email saying that I requested such thing, I immediately tried to get in contact with them--hard thing to do, called more than 10 times to both of their phones and nobody answered, left several emails and nobody answered.
Only the chat service worked and I must admit that is an awful service because of the time you need to wait (more than 20 min), plus the application doesn't work well for typing. The chat operator told me that my bank did not authorize the purchase, I told her that I personally contact the bank to let them know about this flight and that this have NEVER happened to me, after buying more than 10 flights with that credit card. Plus, why don't they notified me before cancelling the flight? I needed it to buy a more expensive flight with a worst schedule and wait 2 weeks to get my money back!!! Please, I took my time to do this, do not buy from them.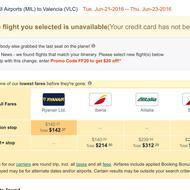 I was sent to OneTravel after wanting to purchase a round trip ticket from Milan to Valencia. I placed my CC info in to purchase the ticket through the ONETRAVEL website and received a notice that the ticket was NO LONGER AVAILABLE and my CC was not charged. I then went on to purchase another ticket only to find in my bank account that the original ticket WAS charged to my account but not through OneTravel. It was charged DIRECTLY through Ryan Air. So then there was no order number or trace that OneTravel had anything to do with the booking. Now Ryanair will not refund the fraudulent charge by OneTravel and OneTravel has been giving me the runaround all day claiming there is nothing they can do even though my CREDIT CARD number was CHARGED. I was never on the Ryan Air website during the first transaction try.
Ryan Air representative even ADMITTED that they saw the ticket was charged through an outside agency, not by me, but will not give me the full refund that I have a right to. And now OneTravel is stating that the Ryanair rep later took back that it was purchased through OneTravel, but I didn't hear that because they HUNG UP on me when I was in a conference call with both OneTravel and Ryanair. My only explanation is that Ryan Air and OneTravel have some kind of underground scam going that hides each other's faults through the excuse of "computer glitches". Now 200 euros was taken from me and will never be returned because of their 'faulty' computer system.

I book my flights with OneTravel, had no problems with it, but I rented a car through them too. I had paid $74.00 dollars as a reservation, the rest of the fees were going to be paid at the car pick up. When I got to my destination the price was 3 times higher, so I canceled. 4 days later called OneTravel to get my money back. A person from India answered - not very polite, told me that I needed to canceled. Cancelation was already made!!! So after an hour or so he said he canceled, and my money would get reimbursed in 3 to 4 weeks. Well out of $74.00 dollars all I got reimbursement $15.00. I would never book anything from OneTravel ever!! I will spread the word about the way they do business, just a bunch of thieves!!! I still going to have my credit card to investigate it!

After numerous telephone dealings with OneTravel, I have found the company next to impossible to deal with. I have asked twice, through emails, for detailed accounting for the charges of tickets, but never received. According to those within the airline industry, OneTravel is known to be dishonest and once the ticket has been sold, they are not interested in hearing from you. Their customer service is lower than poor!

Negligent booking information. We flew on June 6 from Catania, Sicily, to Rome on a Ryanair flight booked online with OneTravel. At the airport we were told that since we had not printed boarding passes in advance Ryanair policy we had to pay $50 each for 2 boarding passes. OneTravel's receipt for this flight says nothing about printing boarding passes in advance or paying a penalty. OneTravel is indifferent to our problem. A supervisor said it was our responsibility to know the Ryanair policy. He said, "When you book online, you are your own travel agent." If that's the case, who needs OneTravel?

I booked a flight on the US site instead of the Canadian one. In speaking with the agent he immediately needed to re-direct me and did not resulting in a THREE hour call!!! He was unable to do simple calculations and this resulted in having to use another credit card. There were confusing multiple "fees" charged. When I tried to figure it out with an American agent she was hostile and impatient. In fact there were hidden extra charges which they defrauded me of. This was possible because of the vulnerability of the exchange thing. She did not apologize for the confusion instead she left me feeling like I was an idiot. I am not racist but I have to say that the agent's accent in India was so thick I could not understand half of what he said and I needed to ask what he was saying which was stressful plus the extended length of time it took to book. Do not book a flight with this company as they will find every opportunity to rip you off.

I'm not going to go into a long detailed description of my experience with OneTravel.com suffice it to say that they are criminals. Their agents lie and say anything they need to do to get you to make reservations. They flat-out lied to me about the cancellation penalties. I've never had anywhere near this type of experience with all the other major companies such as Expedia, Kayak, Orbitz, etc. I just wasted $50 for nothing.

I booked a trip with OneTravel for March of this year and bought the insurance. I did not realize that they changed that flights after I had purchased them and required traveling all night long on the trip back. When it got closer to travel dates I verified all flights. I called OneTravel and told them that I did not want to travel all night and this is not what I picked. They said there would be a charge of 600.00 which I told them I bought the insurance and they said "oh that doesn't work for this." They also charged me 249.82 to get my seats moved up to business class.. which they did not. On my paperwork it said it was but not thru the airline.. so we were in the very last seat of the airplane. They are horrible to work with and would not refund my money for the seats either. I do not think they should be allowed to be in business, the worst experience I have ever had. DO NOT USE ONE TRAVEL. The airline even said do not book thru them.

I travel all over the world, and I have never experienced a company like OneTravel. First of all, I had selected a flight and I was transferred automatically to OneTravel. All the telephone agent knew was to repeat stock phrases out of her (I imagine) guidebook. No personal aid whatsoever. So I have to contact the airline myself and endeavor to work it out with them. Go Voyages, Expedia, even e-dreams are much better and friendlier.

My wife and I had bought two tickets for her mother and a friend and we needed to change times of flights. One travel got it all screwed up. We sent 7 emails and no one answered us. When we called them no one know what to do and charge us more money and got it even more screwed up and didn't talk very good English. They never call you back and always charge you more money for nothing. We were charged over 2500.00 dollars for two tickets and they will not talk to us. What a ripoff. They should be closed. Do not buy from them and you will be very glad you didn't. I will tell everyone I know about how disrespectful and dishonest this company is.

My son is in the US Marines, he searched online for discount military travel and this site came up. He booked flight home and bought the flight insurance in case his orders were changed. His orders were changed and his flight needed to be rescheduled for 2 days later. The service provider (from India) told him he could not help him without paying excruciating change fees. My son asked about the flight insurance and was told to call them directly. The flight insurance they do business with Seven Corners, 303 Congressional Blvd., Indianapolis, IN 46302, Phone: 1-877-444-5013, Fax: 1-317-575-2659, Hours: 8:00 5:00 EST Monday - Friday. My son cannot call during these hours so I called for him. I discovered that OneTravel, who lists themselves as Military Travel, chose to not allow for Military Orders Change as a reason for a refund or change using flight insurance. So my 18 year old son was sold NOTHING. It was in the policy, they say.
I looked at the policy, it is 7 pages and size 9 font. I also assumed a Military Travel site that sells flight insurance would honor out military with allowing changes based on something way outside of their control, like change in orders and report dates. Added bonus...OneTravel shared he did not receive the Military Discount on his ticket as my son must have missed the instructions even though he felt certain he checked a few boxes indicating military AND the, "You'll have to show your ID" message. DOUBLE RIP OFF. He lost this entire ticket AND had to buy an expensive last minute flight.

I purchased tickets, online to fly Insel Air from Curacao to Bonaire. I got double billed so I contacted One Way and they said I bought two sets of tickets. One Way said I didn't but they'd like me to send them all my credit card statements to verify my claim. I contested one of the sets of airline tickets with my Credit Card company and they recovered the $$$. Then One Way travel called to say that my tickets needed to be paid for. Multiple phone calls and emails and One Way said everything was now correct. I arrived in Curacao and Insel Air said my tickets had not been $85 in fees and $105 to One Way for "processing". Please avoid One Way. Next time I'll call Insel directly and buy tickets.

Unless you enjoy spending hours on the phone and paying money to fix someone else's mistake, stay far away from this company. I am not someone who typically writes reviews, and even after being frustrated after the FIRST issue, I was happy it was resolved. Yet here I am. The first issue is that my flight dates were changed without my knowledge. When one of the representatives was unable to help me I asked to speak with a supervisor, so which I was told, "Well what are they going to do?" "Well Sir, that is for them to decide." They wanted to charge me $200, plus the difference of the airline. I was fine with paying the difference, if there was one. But why am I paying for switching my flights back to the correct flight times? - that I never changed in the first place.
The representative told me it was probably because I chose flexible dates. Okay fine. After about an hour of arguing, being hung up on (no, I did not curse nor disrespect any agents), we were finally able to compromise on paying $100 total which included the difference for the new flight. Got a confirmation email, everything was straightened out. Okay great. Then, three days before I'm set to fly out, I get another confirmation email with yet again the WRONG DATES. Called them to make sure that this was corrected. After being transferred about 10 times, and ridiculous wait time, being hung up on AGAIN, and another nearly two hours, it was finally corrected back to the original dates needed, again. Safe to say I'll be sticking with Expedia... or you know, anything else.

I had serious family problem and I needed to travel fast. I used OneTravel. I booked a ticket but I needed to name spelling correction. I called them and the Indian agency man said they can not able to fix my problem. They need to cancel my already booking ticket. I'm not expert for travel so I do not want lose all my money so I accepted but I need to pay rebooking fee $360 something for it and is gonna be going to be right. When he canceled my first ticket from one alphabet problem in my name, he cannot redo for the same. I lose the date!!
He take me in the dead end again!!! He recommended to go the next day what is available and stay for extra day for my destination. I felt I have no choice. I needed to do it. After he's done with a rebooking I didn't got any confirmation email form. I call the operator again I got a different one. The lady says, "Everything is gonna be good." She gonna take care of everything for me. After one hour I still didn't got a confirmation email! I looked around in the OneTravel front page and I just found out, they have a "spelling correction" option. So I did it my self. That was easy and simple. Remember the first agent says is not possible! But I got a code what I needed give for the operator just need to call them again.
I still didn't had confirmation email for my any change so I called them again. Now I got a third person, he was very helpful. He says he can see everything on his monitor and not need to change my original time. I can fly on my date and time. He sent me the confirmation mail what I ask in the first call, but it I needed for spent 3 hours for fix everything.
Two day later when I was in the airport (is two hour away from my home). I'm in the check-in, I saw up my booking confirmation letter. They told me I have problem, I do not have a ticket numbers in the letter and I'm not even in the airport system. I can't fly!!! I need to call the company who did it the booking. I have no ticket behind the booking!! I was speechless :(. I stand over there two hours from my home and 9 flying hours away for my destination. Where is my mom who died two days ago? I was a man in black suits who just did crying on the fool of terminal corner floor.
Did call the OneTravel helpline, listening the promotions music again, wait and finally someone picked up. The agent Indian guy who was in my first call two days ago for exchange my first alphabet on my name, he says he's sorry but is all my fault. Even I had a confirmation mail with right name, right time, he canceled my fly but is possible. I didn't got his email for it. Of course, he want help me that situation, just I need pay more $270 for got a airplane but is going for the Middle East first not for Europe what I needed for and I didn't accepted after he got another fly but I need to travel little for it a different States!! 2-3 hour travel ONLY. I told him, "It's not possible". His next idea to go to other Middle East country what is really cheap, good deal, just $167 with a big discount just for me. I told him I'm not paying for that company, even a $1 they should need to give me a big refund, not ask more and more money.
So finally I got a next day date same time, same airline what I wanted for Europe. That help is took 1 hour 26 minutes. After we broke the phone line my bank text me the OneTravel charged me twice that day again - $768 and $14. The OneTravel company charge 4 times under 2 days. What can I do? I did call them again and listening the promotions. Finally someone picked up and they did promise, I going to got my money back under three days. When I'm not I need to call them again. So I went home, I spend 9 hours that day for all stuff and I'm was in my own bed.

After making a reservation with OneTravel, I got a call at 3h00 am in the morning waking me up in the middle of the night to verify my credit card info after which everything was fine!! Two days later I got this mail telling me that my reservation has been cancelled... I have to start again the process of booking, but I will certainly never use this amateur site again... OneTravel, what a disappointment!!!

I have say they cheat. Don't ever use this company anymore, that are full of garbage. I bought tickets 3 month before we travel. They change my time without give us hotel. The big problem is they told me if I purchase insurance and we I cancel my flight, they will refund my money. Now I want cancel my boy tickets, and they told me my ticket is no refundable. They are cheated me. I been call them 2 weeks now. Nobody solved my problem. They are just bad. Important thing I have say three time, don't ever booking any trip with them. Don't ever booking any trip with OneTravel. Don't ever booking any tickets with OneTravel. They are full of garbage.

ConsumerAffairs Research Team
The ConsumerAffairs Research Team believes everyone deserves to make smart decisions. We aim to provide readers with the most up-to-date information available about today's consumer products and services.
OneTravel is a Pennsylvania-based travel website that was started in the mid-1990s.
Newsletter: OneTravel uses a daily newsletter to keep its members updated on the latest deals.
Hotels: Travelers can find discounts at over 84,000 hotels.
International travel: OneTravel books hotels in and flights to countries all over the world.
Business class flights: Travelers can specify that they want business class flights so they can focus on options that match their needs.
Rewards: OneTravel members earn points that they can use to lower the prices of flights, hotel rooms and rental cars.
Best for International and budget travelers.
Basic Information
Company Name:

Onetravel.com

Address

1050 E. Flamingo Rd.
Las Vegas, NV 89119
United States

Year Founded:

2008

Website:

http://www.onetravel.com/