Consumer Complaints and Reviews

Me and my 84 year old Mother were forced to stay at the Motel 6 in Fayetteville NC as we were victims of Hurricane Matthew and we spent out of our own pockets over $2,300.00. We have never stayed in a more dangerous and violent motel. Every other day there were police raids, the U.S. Marshals were there looking for people. The amount of criminal activity was something I have never seen in my entire life. Drugs being bought and sold, prostitution and you name it and it was going on there. I brought this to the manager's attention and it did not seem to bother or phase him as long as he was making money and would rent a room to anyone as long as they had money.
The best was one night and I am in a wheelchair, I was assaulted, beaten and robbed and I had to call the local police immediately and they came, filled out a full police report and left. The management there offered no help or assistance and did not offer any refunds at all and simply did not care. So, in turn I had to hire a private attorney and commence legal actions against them to get my full refund and other damages associated with the incident. Whatever you do and trust me on this, do not ever stay at the Motel 6 in Fayetteville NC as you will regret it for sure as they do not care about anything. Good luck to you all.

The room rates are too higher than you expect for the quality of the room you get. I was there March 14, 2017. No microwave or refrigerator in room for 51.77. Are you serious? And on top of that the room 249 toilet does not flush. I checked in about 1 pm and did not get service. I called to office. He said someone was to come but they did not.

I have stayed at least 10 times at this Motel 6 10694 Olson Dr., Rancho Cordova, CA. Last night was around number 11. Let's see, that's around $1,000 dollars total. Now, that might not be much to them or whoever reads this, but it's a lot to me, the widow of a United States Army Veteran. That is about what I get every month as his widow. It was late and I went to the Motel 6 that I knew to be the usual and expected with an AARP room as before. It wasn't. I didn't know AARP and Motel 6 broke their "6 dollar love connection".
I am not an unreasonable person and was not asking for the Sun, Moon and Stars. No, I was not. Just to honor that 10% since I didn't know. The night old lady with the teenage hair, refused to acknowledge my long time customer status. I had to stay because it was late, so I had no choice. Then she tried to sell me wifi too. How many older customers is Motel 6 going to push out the door to Wyndham Rewards? I know! Me and 103! I am telling you, If word gets around, and it will, that Motel 6 does not care about almost 60 year old people, they will lose customers rapidly and gain rough people. That's why there are multiple security guards on site.
She put me next to the ice machine as an obnoxious loud noise (that repeated every 2 minutes), woke me up through the night. After only 5 hours of sleep, I talked to the front desk woman, who had no better words of customer satisfaction, but kept saying, "It's just the way it is" as she dismissed me roughly. Same thing happened with the 18 year old foreign voice at 1 800 557 3435 customer service. I just checked their website online and it looks like Motel 6 has been bought by Blackstone Group. By my experience last night, Motel 6 is no longer the Beacon of Light, but another trashy motel that don't regard older long time customers and probably not new ones either.

I have stayed at this Motel 6 in Bossier City, LA in 2016 and now in 2017. The ice machines (2) were not working on either visit. The staff is nice and the room was OK. But, if you have coolers or need ice, plan on spending at least an additional $2 per day to buy ice at the convenience store. Not sure if they plan on ever fixing the ice machines...

I recently stayed at the one in Frederick Maryland. On the website it stated it has a micro fridge but didn't. We went to the front desk but no ironing boards. When we arrived the room was cold so I assumed because it was empty they had the heat off. So we turned it on and left for the store. When we got back we thought we had the air on instead of the heat but we didn't so we figured it was a trick to it. Let me back up a little. When we came back from the store they had the handicapped ramp blocked with ironing they were throwing out. Well my sister is in a wheeled chair so I had to clear the ramp to get her up the ramp. So we had to leave for a funeral. When we came we tried the heat again. Still it didn't work. We called the front desk and she told us we had to turn it off and turn it back on again and make sure it's on 71 degrees so we did.
Now we leave to try to find something to do. By the time we returned my 7 yr old granddaughter was asleep and my sister in the wheel chair was tired. I tried the heat again and called the front desk and told her the heat didn't work. She told me she could move me to the second floor. I walked past at least 3 empty rooms so now I was supposed to leave my granddaughter in a room by herself while I tried to get my sister to the second floor. I turned it down and thank goodness I brought a extra blanket for our 6 hour drive so we curled up and called it the night. There was no fridge like advertised, handicapped ramp was blocked with debris, no clock and no heat. I'm so glad we only needed it for one night.
How do I know I can trust these reviews about Motel 6?
717,175 reviews on ConsumerAffairs are verified.
We require contact information to ensure our reviewers are real.
We use intelligent software that helps us maintain the integrity of reviews.
Our moderators read all reviews to verify quality and helpfulness.
For more information about reviews on ConsumerAffairs.com please visit our FAQ.

When I planned to stay at Motel 6 in Portland Maine Fri, sat and sun. Sat night the police came to my door and arrested me on a warrant for an unpaid fine that was ten years old. This motel gives the names of everyone staying in the hotel without your consent. At no time did I give them permission to give out my name to anyone. This is a violation of privacy. Upon my release from jail the next day after paying my forty dollar bail I returned to get my money back for sun because I was not there they refused and put me on a never rent to again list. What the hell.
They give police my name, have me arrested, refuse to return my money and Bar me from returning. This was the worst treatment I have ever been thru by any business. I should be compensated for the hell they put me thru. And never rent to me again for what. I did nothing wrong. I was alone and being respectful of the hotel. Really confused about all this. I would advise you to never stay there.

Front desk relations - Paid for room. Was not ready. When I returned the room was occupied. Another room was given at no discount or good reason for my room being taken. The other room was infested with roaches. Again only a 20.00 dollar discount offered. On my refusal of offered refund I was trespassed by police.

As of March 1, the relationship between the Motel 6 chain and AARP has been discontinued. I found this out when I went to renew my free AARP WiFi at the front desk this morning. I was told that Motel 6 no longer offers free AARP Wifi for Seniors. In addition, there is no longer a 10% AARP lodging discount available. Some individual Motel 6 franchises will continue to offer a 10% senior discount... but depends on the location. A sad development. I have been trying to find out why AARP and Motel 6 have severed their long time relationship... to no avail.

My fiance and I stayed at Motel 6 on Benson Hwy in Tucson Az in February 2017. We were there to visit his 90 year old mother for a week. Very happy when we checked in, area not the best but fine, clean room to start with. They do not however change sheets but every 3 days which I can handle. The 4th day we spent 12 hours with mom and came back to the motel bed was made, bathroom looked fine until I realized there were no clean hand towels and washcloths but the dirty ones were still there. Hmmm? Ok mistake no problem I can live with that. After all I have done housekeeping lots to do (if done right) Then shower and bed.
Well last night my fiance cut himself so there was a little blood on the sheet, well lo and behold the sheets were the same ones we have had since we got here. I went to the office on the 5th day and asked for clean sheets and towels, hand towels and washcloths. Please take dirty ones, no problem... 12 hours at moms back to Motel 6. Night took shower. No wash cloths or hand towels. Took the dirty ones though. Went to get into bed, blood stain same spot no clean sheets 5th night!!! I was mad.
Please if you decide to stay insist on bed changing and whatever else you need or want or need. I will be talking to the manager when she comes in at 6:00 am. Get mad at her 1st thing in the morning and she will remember us all day so I'm sure the desk clerk that promised it would be done and the housekeeper will know what happened. Update tomorrow morning!

I have stayed in Motel 6 motels all over North America. Normally, my stay in any one of them is fine. But I want to alert consumers about the motel that I just stayed at in Miles City, Montana. That sorry excuse for a business should not carry the Motel 6 brand name nor should it be in business at all. I came off a bus in the middle of a snowstorm and my room was already bought and paid for. But when I got to the motel, I discovered that the heat didn't work in that particular room. The spreads were terribly wrinkled on the beds and the glass in the mirror sported a large crack. So the "management" offered another room but when we opened the door we discovered that the room had not been cleaned. The heat worked but the room was a mess! So I had to sit in the corner, late at night and after a harrowing bus ride through a storm... and wait while the "management" performed her version of cleaning of bad service.
The room was not totally cleaned nor was it cleaned properly. But I was too tired to make an issue out of it, at that point. I was just exhausted. I tried to watch TV this morning but the TV was all messed up. But the REAL kicker was when I tried to take a shower and discovered that there is no hot water available. So guess who gets to walk out of here today without a shower? To the buyer beware: Don't rent a room here. This motel has absolutely no business carrying the Motel 6 brand name.

The Motel 6 at 1623 E. First st. Santa Ana seemed alright the first few nights. One day the manager took my room key because I wasn't the registered person (although I was on room as guest) he said that my roommate would need to give me the key. Which he did or how else would I have it. I spent 3 hours in the rain and cold before my roommate woke up. Manager told me do not tango with him because he is the manager and no one would take my side. I questioned him and asked him what I did, but after asking for his employee's name, he didn't like that and kicked me out. I called Motel 6 complaint line but no response.

Motel 6 Denton is a great place to stay. The management is very friendly including the whole staff. The rooms are nice and clean. Very quite with no loud noise. I recommend this place for the experience and price.

On 2/2/17: Today I received a disturbing phone call from my Hispanic employees stating that Motel 6 located at 2727 white ave Bakersfield, ca 93304 661-834-2828 - refuse to let them stay at their hotel today because all of the guests staying at Motel 6 have Mexican IDs. These Mexican IDs are government issued, completely legitimate identifications that are approved to use for the I-9 form for confirmation of identity. I would also like to point out that my employees have stayed at this exact Motel 6 several times prior to 2017 and never ran into this issue. Apparently, this new policy is happening in all Motel 6 in Bakersfield. I can only imagine it's happening in all of California.
On 2/3/17: update - I used Hotels.com to make the Reservation for the stay at Motel 6 located at 2727 white ave Bakersfield, ca 93304 661-834-2828. Hotels.com is filing a complaint against #Motel6South for #discrimination of #race and #nationalorigin and has provided a full refund though Motel 6 refused to provide a refund or even comment on the issue!!! In addition to the refund #hotelsdotcom also provided a voucher to be used at any hotel. Good Job Hotels.com.

I husted at the Motel 6 in Sparks Nevada across from Braille City multiple times never have I ever had a problem with any of the employees at this place except for the night graveyard shift front desk woman the big Samoan overweight **. Sorry for the crude language but I don't have no other way to put it. My husband simply went down this morning to ask for another key things he was getting ready to go to work and we only have one key and she refused to give him a key and then went into telling him that our room was to be clean today by housemaids. First of all if I don't want housemaids in my room coming in.
My second housemaids were just in my room 2 days ago. I'm pretty sure it was a housemaid for Motel 6 cuz I took her 5 bucks but this front desk lady who we do not know her name because she will not wear a nametag and does not reveal her name to anyone when you ask need something done about her attitude and the way she talks to guest. So if you have a plans on staying and Sparks Nevada at the Motel 6 be prepared for this Beast to make your day go sour as soon as she opens her mouth to you

I checked out after 20 minutes of checking in because I felt unsafe and the room smelled like smoke. 18 of those minutes were spent in the parking lot on the phone with customer complaint services and arguing with the front desk lady. They refused to refund me from the start and I left in tears, receiving no compassion from the manager. They treated me like dirt.
This location felt unsafe before I even entered my room. There were several men loitering in the back of the hotel, where my room was and my non smoking room reeked like smoke. I walked in the room, and walked out. After returning to the front desk, I let the receptionist know that I did not feel safe (especially because I would have to be taking my dog out at night) and that my room reeked of smoke. I told her I do not want to stay here and I would like to get a refund. She told me "no". The conversation that followed was completely horrifying. As I was in the lobby looking for a number to call for help because she was of none, she told me "go make your phone call outside or go to our room"... the room in which I told her I don't want to stay...
The way she talked to me was shocking and very, very unprofessional. I left in tears and then called the next day to speak to the GM. He was of no help either. I would share the conversation here but it is very long and unpleasant. An nightmare. Do not ever go the Macclenny Motel 6 located at 1499 South 6th Street. **, the general manager is in the wrong business and is running a dump of a hotel. What a waste of $70 and a nightmare. The staff at this hotel could care less about their customers. Giving Motel 6 a very bad name. There was 0 solutions offered, and the manager at the front desk literally said to me "no one can help you. Go to your room".

After losing my apartment to a house fire I booked an extended stay at this Motel 6 on Ogeechee Road in Savannah. After checking in for $293.00 for 6 days I discovered horrible conditions. Upon entering the room #323 I first noticed the boarded up window missing its glass. I then noticed the dirty floors and carpets, broken cabinet drawers, iced over mini refrigerator, soiled and dirty microwave and the ROACHES!!! I notified the manager of my disgust and he stated "There are no refunds" and I was stuck with that room.
The first evening I witnessed numerous acts of drug dealing right outside different rooms on the 3rd floor in the open, no effort to conceal this abhorrent behavior. Throughout many nights my door was often knocked on at all hours from prostitutes and dealers looking to see if I "needed" anything? Management cares nothing to rectify the problems at this facility. I notified the local police department to share my concerns about the prostitutes and drugs readily available and was told it is a "hotspot" for these shady practices... Never will I ever stay at a Motel 6 again, I would prefer to be homeless or sleep in my vehicle.

When I was younger I stayed many weekends in Motel 6's with my dad. I can remember how cheap it was because I stayed for free and the rooms were always really nice and most had pools so for a young kid that was pretty exciting. Now that I'm older and have kids I was in need of a place to stay for a month while looking for a place to rent in Roseburg Oregon. I decided to stay at Motel 6. I soon realized that I wasn't a little kid any longer because the rooms were not cheap and there wasn't a pool for my kids to enjoy, not to mention nobody could stand a chance to sleep in cause the employees who worked there were so loud, it felt like our room was where all the cool kids came to hang out lol, there was constantly people talking loud and banging the clean up carts into the walls, dogs barking, etc, etc.
I couldn't believe it, I was paying on average 65.00-70.00 a night and couldn't even sleep past 8:00 am. The employees were always sticking their noses in our business and it made it a very uncomfortable stay for me and my wife. Honestly I don't ever remember staying in a Motel 6 and not leaving there happy and wishing I could stay one more night. I'm sad to report that from now on, don't bother to leave the lights on for me because I will be staying at Howard Johnson's for about 5-8.00 less a night and I'll be swimming with my kiddos.

Rented a room for a week and the first night I am getting settled in and see a bedbug. I immediately contact the office and am told that they can't move me or refund me for the night. I packed my bags and am thinking about taking legal action. They were so nonchalant.

My room was burglarized and police were called. There was no forced entry. A week has gone by and the manager/owner has yet to turn over surveillance footage and the key card data. Management has reviewed the video and are aware a master key was used. I have not had any contact with management. 1 staff member has been excellent, she did apologize. I feel this motel should have turned over this vital information to police immediately. In my opinion they are acting shady. This motel should have taken this situation more seriously. I'm so upset and feel violated by this thief and this motel. I feel this motel has not treated me with respect.

I always book a room here. This time was by far the worst. I started off in Room 220. Used the restroom, flushed the toilet and water started coming from nowhere. But before that there was roaches on the floor that were moving so I went to the front desk and asked for my room to be changed and it was changed to Room 218. That room was fine until I seen something really red and small crawling on my pillow not once but twice. Got up, pulled the cover back and their was a damn bedbug crawling in the bed. I went to the front desk and said I was upset. I had my proof.
The lady that was at the front desk said all she can do is change my room for right now. I paid for a king size bed then I was transferred to a double bedroom. I was told I couldn't get a refund until the exterminator checked the room out. Then I said "since you can't refund me can you comp me another night's stay." I was given the same answer. I'm so upset. Will not be booking rooms here anymore.

I checked in after a hospital stay and was quite upset. The desk clerk was completely professional, courteous and genuinely friendly. He was a gem! From the cleaning crew, housekeeping, grounds, all were wonderful. This is an active area, staff is hoping, all with smiles. I am enjoying my stay very much. My original booking thru Hotels.com then I extended my stay through the Motel 6.

I like Motel 6 reliability and consistent cleanliness. I stayed at Motel 6's when visiting family as I traveled up and down I-5. You don't have to haggle with the front desk over prices. I hate that every person gets a different price like a used car lot at so many other motels. There is a sense of honesty, and cleanliness. The slightest thing not right and so quickly they make things right. Like when German fixed my heater in minutes and it's been cold. Thank you Motel 6.

I came in to check in motel and noticed clerk had lobby full. Seem to have an incident with one of the guest she was handling. I saw she was just under a huge amount of stress that was going on all at once. It was finally my turn and I asked the clerk, "Hon, what is your name?" She told me Tina, and says, "Is something wrong that I might be able to help you with?" I said, "Oh no. Just admiring the fact that through all the commotion and lobby full with people you remained calm and helpful and kept a smile on your face through it all."
She says, "Well I love people and understand that we all tend to have some not so good days, and I always try to stay friendly and helpful even when someone is giving me a hard time because not knowing what they have been through going through." So I just felt the need to share that with those who have had a not so good experience at a motel, hotel. They still have good, friendly and smiling employees. Thank you Tina! Job well done!

I made a reservation on Motel 6 which the online registration messed up. When submitted the reservation date swapped to the same the date I made the reservation not the day I wanted to stay. So when I got my confirmation the date of booking was passed. Then I tried to get the issue corrected and they were not helpful and kept my money. Basically stole $100 from me. This was beyond inappropriate.

To start the employees were rude. The room was horrendous. The air vent in the ceiling was so caked with dirt and rusted and corroded. There were yellow stains running down the walls. The carpet was so dirty we wouldn't take our shoes off. The maid carts rolled by like every 15 minutes, but they certainly didn't do much cleaning. The bedding and the carpet had burn holes, even though we were informed that we would be arrested if we even smoked within 8 feet of the building. Railings were ready to fall off and the concrete stairs were crumbling.
It was so bad I wouldn't even bring my dogs there. I think they cater to the local prostitutes, certainly not the average travelers. The jail that is on the A&E show sixty days in is only 2 miles away. I think the jail would have better accommodations. Very unsavory people hanging around and working there, didn't feel safe. Thanks to Brian at Zee's automotive for getting our truck fixed so quickly and we were able to get back on the road and we didn't have to stay the night in that hell hole.

The first day I came in to check in the lady in the front desk was on her phone cursing and totally ignoring me. She was the older ** woman. She checked me in quick as possible. Didn't direct me to where my room was. Was very rude the whole time. I was on the phone as I get to my room. I opened the door and the first thing I saw were roaches. The second day I go to the front office to let them know how was my day. They told me to come back and speak to the manager. I went back around 9 a.m. Spoke to the manager Danielle. Very sarcastic. She sounded like she was being sarcastic and her in her The Voice I was moved to another room. As I'm walking around the corner to the back office the house cleaning staff were all outside. One of the housekeepers was a male and he was dancing shaking his butt and cursing and so were all the other stuff laughing and thinking it's funny. I had a very bad experience here.
A few hours later I hear one of the guests stating that she has been here for 2 months with her kids and her kids wanted to decorate their window with Christmas things and the manager Danielle told her she needed to take them down. So then she asked if she can put a little tiny Christmas tree in her room for kids to the fact that she was going to be for Christmas and was told no. If she's been here for that amount of time I would think it would only be fair for her to be able to put up a Christmas tree for her kids and her room even if it's just a tiny one. The girl was not rude at all. Danielle was very rude and no sympathy towards this guest.
I then went back to my room and ask housekeeping for towels. They told me I had to go to the laundry when I get my own house. As I'm walking towards the laundry I see all the housekeepers outside over there by the laundry room smoking those periods. Meanwhile no one was able to give me notice. I had to wait till 4 o'clock in the afternoon to be able to go get towels in the front office. Later on that night the parking lot was full of police and people were just walking around the property yelling and screaming. One lady had about 9:10 people in her room. Was not able to sleep at all. No one in the front office cared. I spoke to Jeremy to let him know what was going on and he said he would take care of it rolling his eyes then started to complain about always having to take care of everyone else's job I'm very dissatisfied with this property. I will never be staying here again. I hope they switch it up and get better management and staff workers.

The Motel 6 in Fairfield, CA was horrible. The bedspread was soiled, not to mention the thread bare sheets. The pillows were flat and cases dirty. They refused my AARP card, then asked me if I wanted a 10% discount. I took the 2 hour drive home instead.

Rude customer service and horrid rooms. I reserved rooms 4 times the last 2 weeks in Nov. 2016. I live local and use hotels while I travel for my business with my dog in tow. Every stay has had issues. The first stay at the Dania beach Fl. location, I entered the office, I caught myself from slipping from the water on the floor inside the door. They were pressure cleaning. I mentioned they needed a mat or something to the man at the desk, he said they were bringing a mat, as he rolled his eyes. I would be coming back to get ice and didn't want to be slipping on water again. It took forever to check in as he was busy flirting and playing and chatting with his co workers. No directions to my room or anything, ignored as it seemed to take 3 people to accomplish 1 task, I had to come back for wifi. I was not told you have to tell them you want it and pay extra.
Again I come back for other issues, no mat ever came and I watched a little 3 yr old girl hit with the pressure wash water going to the office. The room stunk badly, I turned on the bath fan, opened the room door, the sheets gave me a rash in 1 room, sheets felt wet and clammy, a spider had already started a web from the wall to my luggage. The smell of mold and toilet was overwhelming, the shower was greasy dirty. AC circuit blew shortly after check in. Walking in my socks, they were black with dirt. Squiggly hairs, regular hair and on several towels, eyelashes and hair on pillows and in sheets, and stains on the blankets. The last room I quickly checked out of due to absolutely no blankets on the bed, hairs on most of the towels, eye makeup, lipstick and a stain. The wifi would not work.
The man Leroy at the desk berated me about no blankets available and the wifi, refused to tell me what I needed to bring to the office to fix the wifi? I was told to call tech support myself. I finally checked out at 8:30 at night. Uncalled for and unacceptable. I had 1 okay room out of the 4, I was just careful what I touched. Guest Relations department at 1-855-787-9864 if this number still works. Will be getting a call from a very sad disappointed customer looking for an apology and a refund. It's now 10:30 pm. of this last experience, finishing this review of frustration with this staff at the Dania location.

In planning for a trip to Albany, Oregon, I made an online reservation for a 1-day stay. Upon arrival, the office could not find my reservation. When I presented the confirmation email to the person at the desk, they quickly noticed the phone number was to the Motel 6 in Albany, NY. The individual at the desk stated this has happened to many other customers. After hearing about this same thing happening to other customers and knowing that I am very careful about checking the information on my reservations prior to confirming, it leads me to believe that there may either be a system glitch or something very unethical happening.
When I called to try and straighten it out, they refused to accommodate, citing the cancellation policy over and over again. It was cold and pouring rain that day and we had nowhere else to stay or the funds to pay twice. After explaining my situation to the Customer Service Rep, my request was refused. I'm wondering if someone can look into this situation. Also, how many other customers either paid twice, or had to do without shelter due to Motel 6 refusal to help the customer make the switch from one location to another without penalty?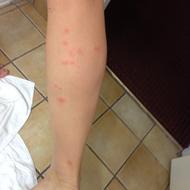 I'm absolutely disgusted and appalled!! My sister and I went for a trip up to Portland and we stayed at the Motel 6 on SE Powell. After my first night there I noticed some bites on my hand and arm but had never had bed bugs so I didn't think much of it. On our second night I noticed swelling then on our third night I woke up completely covered from neck to toes with bites. After looking online I found that the bites were consistent with bed bug bites.
After telling the office and showing them the bites, they "had an inspector come" and check the room and claimed they found nothing so would not return my money. I can't believe I'm being called a liar. It's the most painful thing my skin has ever been through and they're telling me it didn't happen and refuse to give my money back. We also took pictures of the most disgusting and infested mattress I've ever seen which they had out next to their garbage. At this point all I want is my money back but I will not stop until this is rectified. Receipt number: **.
Company Name:

Motel 6

Website:

https://www.motel6.com/#/home