Consumer Complaints and Reviews

I recently got a "free" night for using Hotels.com ten times. After wading through the website I finally found out that my "reward" was only $66.20. That is hardly enough to pay for any decent hotel room in America. I discovered on my travels, that most hotels easily beat Hotels.com rates by $10 or more dollars. For ten stays, that amounts to about $100. So, had I booked all of my hotel stays directly with the hotels, I would have gained $33.80 over the Hotels.com reward. Some hotels will match the best price offered anywhere on the web. Look for that, if you really need to save a few bucks. My suggestion is that people use the Hotels.com to find hotels in the area they want and then book the hotel directly from the hotel website. A Google search will also find the hotels, so in reality, there is no reason for Hotels.com to even exist. My best recommendation is to stay away from Booking.com and Hotels.com altogether.

Should have read all other reviews! Absolutely NO price match! Could have saved 600$ booking at hotel site, sent ALL required documentation and then some, on phone 2X a day for 10 days, teaching English as a 10th language to Philippines reps. My booking said taxes and hotel fees include in price. Was charged 200$ for these anyway by hotel who said that they contacted Hotels.com and were told the fees were NOT included in price! What a JOKE! Circus Freak show!! Do not join or you become one!

Do not believe them. You MUST book the room with them BEFORE you can ask them to match the lower rate. And then they will use ANY excuse to deny you the price match. They won't accept a screenshot of the lower rate. They won't accept your email receipt from either the cheaper site, the hotel, or your credit card statement. They won't even call the hotel to see if you are registered. By the time they "pretended" to investigate the lower price of the other hotel listing site, the hotel had raised their rates from $133 to $177. Of course, Hotels.com didn't even suggest that I pay the $177 rate... No, they simply replied that the price of $133 that I had submitted was not true, so the deal was off. As though I was a liar.
THEY are the liar. They wait too long to check the prices. I got the hotel from Farefinder.com and through Elvoline.com for $133. Hotels.com was like $226! I only wanted Hotels.com for building up my nights for a free night's stay. No worries, I am canceling my account as soon as my upcoming trip with a Hotels.com room is complete. Do not trust them! Had I purchased Hotels.com room at a slight discount at their "non-refundable rate" I would be screwed.

Given the number of complaints against this organization I am not optimistic this will do much good by here goes. I booked the Canalta Hotel, in Hanna, Alberta for April 9,10 & 11, 2017. I did not select any other currency (which is an option) when I booked other than the CDN currency showing at the top of the screen. I didn't really look at the amount I was charged for the hotel on my credit card statement until after my stay when I started putting together my expense account.
I have stayed in this hotel numerous times but discovered when I looked more closely at my credit card statement they had charged me roughly the correct amount ($353.28) but in US currency. When this amount is converted to CDN, it worked out to $483.26 about 35-40% more for the hotel room than if I had just showed up off the street and asked for a room. The Hotels.com customer service on fixing this has been horrible so far and told me essentially this is all history and cannot be fixed. What they have done is criminal and they have to be made to make things right. I will not let Hotels.com scam me and make me pay the extra $129.98 CDN. for this bogus charge.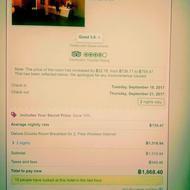 Their site quoted me in Thai Baht and Dollars the actual amount it would cost to stay in a hotel. 54 dollars! I booked it and somehow ended up being charged 76 dollars. I complained showing a photocopy of the actual information stating I had to pay 54 dollars! They just ignored the facts the proof and fobbed me off. The actual amount I was going to pay was clearly stated and twice! Thai Baht and the equivalent USA dollars were showing the approximate same amount. Yet I was charged 76 dollars!
Having again checked out the price several times and got the same quote, 54$, I sent them a photo I took of their site. The fob off answer was so idiotic it belonged in a faulty towers script. Their answer was the price of the hotel was actually now costing more than the increased price I paid and the advertised increased price on their site I accepted so until it came down they could not do anything to give me back the money they had overcharged until it went back down to 54$ when I could reapply.
How do I know I can trust these reviews about Hotels.com?
762,011 reviews on ConsumerAffairs are verified.
We require contact information to ensure our reviewers are real.
We use intelligent software that helps us maintain the integrity of reviews.
Our moderators read all reviews to verify quality and helpfulness.
For more information about reviews on ConsumerAffairs.com please visit our FAQ.

Hotels.com promised me a price match refund after I completed my stay and paid at the hotel. I did exactly that, but when I followed up for my refund, hotels.com said my claim was invalid and they would not honor the price match. This is AFTER they already reviewed and agreed to my claim and saw multiple copies of evidence on the original price. They admitted it was their mistake and they should not have agreed to the price match yet they did NOT pay the promised refund. So it's their mistake, yet I am the one getting penalized. I'm the one who lost the money and they're the ones who did everything wrong. And the refund amount was only $30! Bottom line, hotels.com do not honor price matches. They have no integrity at all. Do not trust them. (Most hilarious thing: The company with the better price was their parent Expedia. Yet somehow hotels.com doesn't recognize their parent's lower prices?!)

I use my Mobile app to book most reservations. They have a code MOBA8 for 8% off when app is used. After 3 stays and multiple searches I've never been able to use it. I finally called the customer service number to be told yes one of my reservations I should have been able to use it but since I didn't contact them before checking in they couldn't credit me. They plaster my e-mail with secret price offers and other savings codes and I've had no success. Then the one time it was an error they can't help. I've booked almost a 1,000.00 worth of rooms in the last year and for $15.00 they can't help me. I believe their coupon codes are misleading and the policies are far from consumer friendly.

DO NOT EVER USE HOTELS.COM. THIS IS THE WORST CUSTOMER SERVICE EXPERIENCE I HAVE RECEIVED. I booked the Palace Hotel in Paris for mid-January through Hotels.com. I checked my credit card statement only to find I had been charged twice for this booking. I called the Hotels.com customer service line in early February (which by the way the number is very difficult to find) and was transferred several times. Despite the long time it took to get put in contact with the correct person, I was told it would be taken care of and that they would follow up with me in the next week. I waited. I received no phone call.
So I tried emailing Hotel.com. No response after weeks. I sent a very strongly worded email and finally got a response in LATE MARCH. After WEEKS of back and forth they finally "confirmed" that, yes, indeed I had been charged twice after already having sent my credit card statements. However, once it was confirmed I was told the hotel would have to get in contact with me. Once again, I never receive a call or email from the Palace Hotel. So I email. No response. I contact Hotels.com again asking them to help me get a refund.
They are completely useless and tell me I am the one that has to retrieve my refund from the hotel even though I booked through Hotels.com. They tell me that the hotel tried to call me however I never received a call. I finally call the hotel myself and no one can speak English and they refuse to grant me my refund. This is the worst customer service I have received. I asked for help and have been questioned the whole way about whether I was actually charged twice and once I provided hard proof they refuse to help me get a refund. Worst experience ever.

Expedia, pls take us out of our misery and throw money at Hotels.com or merge your system into one. Hotels.com is the most confusing user unfriendly site I have ever visited... The call center in the Philippines is staffed with wonderful and gifted employees--it is sad how you set them up to take all the heat from disgruntled customers because your business model design is far too scattered and not user friendly. I am gold but I will use my free nights and stay clear of Hotels.com and Expedia...

We called hotel.com to receive discount on room 24 hrs prior to our arrival! When checking in guest was checking in and paid 20-30 less than we did and they advertise cheaper discount when using them! Also asked for AARP or military discount! Very surprised to realize we had paid a higher price! We then talked to another couple and they got even a lower discount! Contacted hotels.com and they refused to issue refund stating that was the price of that hotel!!

I booked online with Hotels.com but incorrectly selected May 4th instead of May 5th. I needed a hotel to be able to attend my only daughter's commencement ceremony. Realizing my mistake immediately I called Hotels.com and they said couldn't do anything about it and to call the hotel directly, which was Best Western. They told me they could change the date no problem but then told me there was no availability for the following day. I tried to find another Best Western within a reasonable driving distance, about an hour drive would have been acceptable as I was desperate. There was nothing in any other Best Western in the area. I asked for a cancellation and they refused. They said Hotels.com had to process the cancellation. I called Hotels.com but they insisted it was the hotel that needed to grant the cancellation be waived.
I called Best Western back and asked for a manager or supervisor. The front desk person told me the manager had left for the day. I asked when I could reach them and she said they don't give her a schedule of when they are available. I tried calling multiple times on different days but was told each time the manager or managers were not there or had left for the day with no idea when they would be there. I called the Best Western corporate again for help but was told only the specific site I booked with had the authority to help me get the booking cancelled. Over two weeks later the corporate office finally told me they had availability for the day I wanted but were requiring a three night minimum. I was never told that by the front desk that was an option which I would have taken but by now I had made alternative arrangement for the 5th.
Finally after multiple calls, the front desk lady could recognize my voice by now. She treated me with animosity and was condescending. I repeatedly asked to speak with the manager and she now started saying she was the manager. I reminded her she had told me on the very first call that she was the only front desk person and did not have the authority to refund my booking despite this was just a keyboarding error. I persisted and Best Western agreed nearly three weeks later to cancel my booking and charge me 53 dollars. While that seems beyond generous to Best Western, $50 to many people is a big deal. It's gas money to get to the town that is 6 hrs away to see your only child graduate from college. I'm sick of corporate greed. I'm sick of disregard for fellow man. I will never again use Hotels.com nor Best Western that's for sure.

Hotels.com just lost a customer for LIFE. I will never use them again. I booked a hotel through them that offered free cancellation. My company had already booked me a room so I cancelled the Hotels.com reservation and they literally less than an hour after I booked it and they charged me the full price of the room. I failed to see the fine print that said I had free cancellation after an HOUR of booking my hotel. I was a loyal customer but not anymore. Never will use them again.

I am extremely upset with my booking experience through Hotels.com. I was presented an email with a 10% off booking code, applied the code to my transaction following the guidelines for using the code from the email, was presented a discounted price, hit purchase and then was charged full price. I believe I was swindled from Hotels.com, I will never recommend this site or use this website again. Horrible business practices and deceptive advertising. I tried to call and handle this situation immediately and was given the brush off.

I called Hotels.com to make a reservation and redeem my free night. I was told that I was not able to do so as I had not registered as a rewards member. Every time I have booked through Hotels.com I have had my bookings recorded and it always welcomes me and states my name after signing in. The other person on the line told me that I was not registered and therefore my nights of which I have close to 15 that are listed on the site are void. He manually set me up as a rewards member. I mentioned to him again that all my bookings are present and when I sign in everything is there. I was totally under the impression I was a member and it never had stated otherwise. They could not do anything nor tried to. I am very displeased with their system and will take my business elsewhere.

They say they have a price guarantee, but when you let them know you found a better price they do not honor it. I emailed the day before my stay at a hotel of a lower price with all of the information. They did not honor. They said I turned it in after I had registered at the hotel. I sent proof of a email they sent me with the price guarantee dated the day prior, but they still came back and said I sent it in after I checked in. Not the best way to do business, especially since I sent proof. It's really hard to get anything straight with them.

I took 6 calls to their service center to get them to issue a refund for a hotel stay that I cancelled. Incredibly incompetent service people. They do not know arithmetic and make silly mistakes in additions and subtractions! Will never use this service again. I paid $899.24 for a reservation that I later cancelled. After 6 calls to their service center, I still haven't got a full refund for this amount.

So I booked a room with Hotels.com on the day I was suppose to have the room I was staying in NYC with friends and I live 2 states over so I need a place to stay with my family while I went to some business events. I booked the room, got the confirmation email, the money was taken out of my bank account and was heading to the city. In the meantime I received another email from Hotels.com saying my booking was cancelled. It also stated it needed my attention but when I looked at the email it was more than a joke. It's telling me I need to do take action but yet in the same email it said "DO NOT CALL CUSTOMER SERVICE. THEY CANNOT HELP YOU WITH THIS MATTER!" It also had no instructions or reasoning for the cancellation so I did call customer service. I didn't know what else to do seeing how their email was no help and had no instructions.
I also noticed my confirmation # was different from the cancellation email so I had thought it may be an error on their part. There was an error little did I know what scammers this site actually is! When I called the customer service number not only was the lady nasty but she was no help. It sounded like she was reading from a script. She kept telling me my booking was cancelled due to card issues so I would need to call my bank. I had advised her the money was already taken out and it's no issue on my end nor my banks but she kept repeating the same script. I guess she can't just say, "Hey we're scammers. We took your money and cancelled your booking." I do want to add my room was expensive. It was $400 a night plus fees so I was really pissed at this point. I asked for a "Manager".
I got the runaround finally when this so called "manager" got on the phone. He had the same script word for word then acted like he couldn't hear me and hung up! Of course I called back and again the lady gave me the same thing word for word. I again asked for a manager & yes you guessed it the same thing and again he hung up on me! At this point I was ready to file a police report or something. My husband called twice he got the same script. I was able to re-book the room by calling the hotel and in the end it cost me less than this horrible scam site. My bank finally reversed the charge and everything seemed fine. I had a few friends by the phone. They heard everything. They will NEVER use this site after my experience and I will let everyone that will listen about this scamming site.
3 days have passed and my bank was charged again for this booking! Excuse me but not only didn't you deliver the hotel when I needed it & cancelled. Yes I have receipts but you have the nerve to recharge my card? That's not only illegal but it's FRAUD! Now I have to put a fraud claim on these scammers and cancel my card so they don't get a cute idea & recharge again. This is way to much stress for a hotel room and honestly not even worth it do yourself a favor book straight from the hotel you want to stay at or just use a travel agent. NEVER USE HOTEL.COM UNLESS YOU WANT TO GET SCAMMED CHARGED OVER & OVER AND BE WITHOUT A ROOM.
I could imagine if you were traveling out of the country or if you have no more money to book a room because hotel.com that does happen! I give this fraud website a negative 100 and will never book with them again. I also will contact the BBB and make sure these scammers don't get away with this or do this to anyone ever again!

My booking was for 4 nights Sat thru Wed. Hotels.com showed rate as $455 per night. I later found out that this was the rate for Sat night. The rate for weeknight was much lower $375. Hotels.com applied the higher rate to all nights. When I called they said the price match is only applicable if you call 24 hours prior to check in. The customer service representative offered me $100 voucher for the inconvenience which I refused. I asked him to charge fair price. I won't be doing business with this website ever again. They are losing customers due to their cheap tricks.

I used Hotels.com to book a Hotel stay in Pigeon Forge thinking I would get the best price. I was wrong. When I was checking in someone in front of me was also checking prices for a 3 night stay just like mine and the price from the hotel was cheaper. When I asked the front desk clerk about it he was surprised that I was paying more than their rates. I e-mailed them and all I got back was an emailed directing me to a website. I then called after I arrived back home and was told I had to let them know 24 hours before I check in that the price was cheaper.

I have had nothing but trouble with this website. I had been using Expedia with absolutely no problem but thought I would try Hotels.com. The website has now twice switched dates of my reservation which I did not catch until I printed the itinerary. I saw the error and called right away. They said there was nothing they could do to change the mistake because of the hotel's policy. I called the hotel and they said it was Hotels.com that has the policy. So it was a runaround. This was not my mistake. Somehow the online system defaults to a date you do not select when the page refreshed. Then they will not help you. There are plenty of other choices! Stay away. Customer service is nonexistent and unhelpful, and website seems to have a landmine that will cost you in time and money!

I created an account but Hotels.com has no record of despite my ordering and cancelling hotel bookings. I tried calling their customer service number and was directed to new bookings. Their rude rep told me I called the wrong number and she then gave me the same number I originally called!!! I've been waiting online to speak to their customer service department for 20 minutes. ENOUGH - I will never use them again.

I booked a hotel that offered free tickets to a waterpark resort. Found out it was dry tickets to walk in the resort (something anyone could do), one hour later. I called to change reservations. Gave them a hold number with a 16 minute expected wait. No call. Cancelled reservation, but read in the fine print I would still be charged. Then spend another 10 minutes on hold only to have the call disconnected when they were transferring me to another dept... Then another 25 minutes on hold to see "if we can cancel with the hotel". Our vacation and days off are precious. Don't waste yours with this corrupt agency with the worst customer service in the world. BEWARE.

We thought we were getting a reasonable rate by using Booking.com for our hotel stay at the Sheraton Grand but it turned out to be a bad deal because we used Hotels.com. When we checked in and got settled in our room we tried to log on to the internet and we got a message that it would cost us $20 per day to use their internet!? We immediately phoned front desk - and they told us because we booked through Hotels.com we would have to pay for things like internet access - and if we had booked direct we would have free internet access. Can't really blame the hotel since we've been in the accommodation business ourselves and we know Hotels.com is the most expensive for hotels to use (we used to have to pay 30%). My advice to anyone is - DO NOT USE Hotels.com!

I had to go to an out-of-town conference and find a hotel in Conway, SC at a last minute. I came to Econolodge, and the price the front desk staff quoted me was higher than that of hotels.com. The front desk proceeded to tell me that the only way to get that price is to book through the hotels.com website which I did. Front desk staff suggested that sometimes it takes up to ten minutes for that reservation to come through on their computers and 45 minutes later there was still no information received from hotels.com. The hotel claimed that they had to override their system to put me in a room.
When I called hotels.com customer service, the automated phone system warned that there would be a 26-minute wait time for a customer service representative. 56 minutes later a customer service representative came online and said that there was nothing they could offer me other than a $25 credit on a future booking. I've already wasted an hour of my time trying to book a hotel room through hotels.com once... Why would I put myself through that kind of misery again?

Worst customer service ever. Double charged and was unable to explain to the customer service rep that we were double charged and she just could not understand the concept of My call and it was very difficult to understand Her. Never will I ever use your service again.

I have tried to use Hotels.com because it was suggested by Google. I defined the location (Dusseldorf) and dates of my reservation on their website. Everything looked good but, at the moment I had to provide my credit card info, the booking date was not shown. I assumed it was still correct so I proceeded. Turned out that the booking was done on a completely wrong date. I tried to change it but, for the selected date there was no availability in that hotel. I tried other hotels but they were all fully booked for the dates I needed.
The website was inviting to take either telephonic or e-mail contact with Hotels.com but no Tel number or e-mail was provided so I had no choice than cancel my reservation. This happened no longer than 15 mins after I made it but apparently was already too late and I was only reimbursed 10% of the amount. According to unclear cancellation rules I could only be reimbursed if my cancellation was done a couple of weeks earlier (so, in fact before I actually booked). This is what I have no hesitation to call cyber criminality.

Hotels.com is permitting non-hotels to use their site. I made a reservation from a real estate company pretending to be a hotel on Hotels.com. The real estate company did not own the property. The real estate company then listed false services on the Hotels.com website. The real owners of the hotel complained to Hotels.com to remove and Hotels.com ignored. It is impossible for a consumer to make a logical and informed choice when Hotels.com hides the identity of listings and does not correct website. The prices Hotels.com list can not be trusted since false information is listed on the website.

I booked a reservation on hotels.com. And my reservation and come up I called customer service to confirm that the correct information was placed for that reservation. I was calling them in February for a reservation I was making in March. When they told me that they had set up two different accounts and that they were combined them and correct the dates I trusted them. They set up the two accounts as one account but one of the dates did not display. On that same day I got a email that I had a no-show for the hotel stay booked with Hotels.com. The hotel charge me for a stay in the wrong month. They indicated that the reservation was made as I have made it and they would not refund my money of $85. I think it's disgusting that conduct business this way and they do not support their customers and that the customer is charged for mistakes that they do not correct on their website.

My wife & I had a very bad experience with Hotels.com the first time we used them. The reservation confirmation received from Hotels.com had the correct check in (April 25, 2017) and check out (April 26, 2017) dates and amount ($77.18) quoted. The booking agent (Chris) told my wife that we would be billed when we actually arrived at the hotel and that we could cancel up to 5 PM on check in date. The next day our credit card company notified my wife of a charge from the hotel (Jonesboro Inn & Suites, AR) for an amount ($79.80) greater than that stated on the confirmation (extra fees). My wife called the hotel directly and asked them why we were charged before our arrival. They said that the reservation was for March 25th instead of April 25th and since we didn't show, they had to bill us.
My wife told them that the confirmation was for April 25th not March 25th. They said they could do nothing about it and that she would have to speak with Hotels.com. My wife called Hotels.com requesting a credit for $77.18 and after 2 hours on the phone, they (Dakota & Ella) could only offer her a voucher (up to $100 not including fees or taxes) for my next booking through them. Neither the hotel or Hotels.com would admit they made an error. When I asked Hotels.com to make the same reservation, they said it was no longer available at the hotel we had originally booked. Also, If we use the voucher at another hotel, the room had to be prepaid.
When I asked what if I have to cancel, they were not clear on how I would get my money back if the room rate was more than $100. Needless to say, we didn't book another reservation. Also, the last thing the Hotels.com Customer Service Manager, Ella, did was to cancel our reservation. What was she cancelling, since the hotel said they didn't have one? Very confusing!! As a result, we may have to spend over our budget because of the error. Just one big mess. Loss of our valuable time and good chance money. All we wanted was a credit for the original amount we were billed.

I recently booked a hotel in New Orleans for myself and my daughter on Hotels.com. When we arrived the hotel had no reservation for us. I showed her my confirmation email with the confirmation number but she found nothing under our number or our names. I was concerned about being charged and she assured me they would not be charging me since they had no reservation or any info about me. I called Hotels.com and they insisted I would be charged because I didn't cancel in the allowed time frame.
She was extremely rude and ultimately hung up on me after telling me I would be charged for the entire stay ($1200) because it was too late to cancel. How does one cancel a reservation that was never made? I cancelled my card but they were able to charge me $242.92 before I cancelled. I am working with my bank to get my money back. Needless to say I will never use Hotels.com again. They are scam artists that don't deliver what they promise. They only want to take your money. DON'T USE HOTELS.COM!

ConsumerAffairs Research Team
The ConsumerAffairs Research Team believes everyone deserves to make smart decisions. We aim to provide readers with the most up-to-date information available about today's consumer products and services.
Hotels.com is a website dedicated to helping travelers find lodging at hotels, motels and resorts. It lists deals from over 325,000 hotels around the world.
Free hotel rooms: Travelers receive one free night for every 10 they book.
Group discounts: Hotels.com offers discounts for large groups.
Secret Prices: Travelers can access Secret Prices by downloading the Hotels.com app, subscribing to emails or becoming Hotels.com Rewards members.
Negotiation tool: The negotiation tool at Hotels.com lets travelers set their own prices to get better deals.
Last-minute deals: Hotels.com regularly has up to 20,000 last minute deals for travelers.
Best for Budget travelers.
Hotels.com Company Profile
Company Name:

Hotels.com

Year Founded:

1991

Address:

5400 LBJ Freeway

City:

Dallas

State/Province:

TX

Postal Code:

75240

Country:

United States

Website:

http://www.hotels.com/