Consumer Complaints and Reviews

The reviews are pretty accurate and selection is huge. Getting a free night for every ten nights of stays is terrific since they cover so many hotels in all areas that it's not hard to stay in places that meet your criteria no matter where you're going. And many reservations are refundable in case your plans change.

The hotel was fine. But my problems is not with the hotel it's with Hotels.com. I paid $932 for seven nights when I get to the hotel. The hotel charged my $63 extra which I was not aware about. I called customer service. I told them what happened. They were like "We sorry because you were not aware about this" which is too late for me, but they said "We are going to give you $30 coupon" that I can use in a year. I was mad because paying $63 in the hotel was not in my plan. I have used many apps and never pay anything in the hotels.
Anyways NOW we came to the rewards program they have which is spend 10 nights get the one nights free. I used in Orlando FL seven nights Ok and then my way to home I spent 2 nights in Johnson city TN which I used the $30 coupon. Total of nights is 9 nights now. Only applied in my account 4 nights!! I called them to find out why. Guess what was their answer. Their answer was "We can not give you the another nights because we gave you a coupon with $30." When she told me that I did not know what to do I laugh or I cry because it was funny. Of course I will take advantage using the coupon. So because they gave me a coupon they take 5 nights out of my reward. I did not want to used hotel.com when I paid the $63 but after the coupon I wanted to give them another chance which I wish I did not. Bad experiences. I will not recommend any of my friends or family.

I am kicking myself for making a reservation through Hotels.com rather than directly with the hotel. I'll never do this again. My friend and I were planning a 90-mile drive for a one-night getaway at the Galt House Hotel in Louisville. The afternoon before, we saw that a large amount of snow was predicted, and we decided that it would be better to postpone our trip for another night. Given this exceptional circumstance, we didn't expect any difficulty. However, the hotel would do nothing for us... They said we needed to contact Hotels.com. It was impossible to do so. You aren't able to talk to a real person, but instead go through Voice Mail Hell. It kept telling me that it couldn't find the details of the reservation, even though it recognized that we had a reservation. I called the hotel twice and they wouldn't help.
We've finally decided that we're going to drive, despite the bad weather. Hopefully, we won't get stuck on the interstate. I will never, ever use this "service" again and I highly recommend not using them. I also think it's reprehensible that hotels allow bookings through this website, especially since it's not at all transparent that, if there's a problem they will do absolutely nothing to help you.

Room was dirty and my dog got a serious infection from the fleas etc. Apparently, hotels.com does not check the places they send you to. I will never use this company again. As of now my Vet bill is $300 plus.

I usually start with Hotels.com and then once I get a rate - I check with the hotel to see if they have the same rate. Many times they do have the same rate. If it is the same - I book directly with the hotel.
How do I know I can trust these reviews about Hotels.com?
667,311 reviews on ConsumerAffairs are verified.
We require contact information to ensure our reviewers are real.
We use intelligent software that helps us maintain the integrity of reviews.
Our moderators read all reviews to verify quality and helpfulness.
For more information about reviews on ConsumerAffairs.com please visit our FAQ.

After dozens of nights stays through Hotels.com, I had a VERY VERY disappointing experience. I called Hotels.com and they recommended the Welk Hotel in Cabo. The cost was $975/night, so expectations were high. The room looked 30 years old, dirty, dark, buggy, stale. It was incredibly disappointing. For $975/night, you don't get maid service! How is this possible? My family was incredibly disappointed. We later found out that another family next door paid 25% of what we paid on Hotwire.com. I would have been disappointed at 75% less. I called Hotels.com 7x to complain. I either was not connected or they hung up on me.
After waiting 45 minutes, they finally picked up. If you are booking a new reservation, the wait time is 2 minutes or less. If you are complaining about an experience, wait 45 minutes. After finally connecting, they told me it was not their problem. I will NEVER use Hotels.com again. They are horrible. NEVER stay at the Welk. It is disgusting. Stay at the Cape or JW Marriott for less money and a cleaner, newer, hotel with better service, food, and overall experience. For $975/night, I expect a nice experience. IT DID NOT HAPPEN and Hotels.com recommended it!

I called instead of booking online due to some questions. I found my hotel online for 266 a night although the hotels.com agent stated their price was higher although they would match the price. I said ok as long as they matched it. He then told me that my first email would be for the higher price charge and the next would be with the lower. I then found out I didn't get the lower price. The agent never told me of a credit, coupon... why would I want a credit when I could have booked it myself online for the lower price.
The agent was a scam, liar and this reservation was a FRAUD... the agent wanted the sale for his benefit and didn't tell me the truth. Customer Service said they'd help although no email with credit charge change which they said I would receive. I will dispute the charge with my credit card company as fraud and will not pay. I'm in federal law enforcement and if you feel you are a victim when using your credit card, don't let them win. You have rights when these scum companies try to rip you off.

I have used hotels.com many times last year and gained my "free night" reward. When I learned it was about to expire, I called and spoke to a representative. After holding on the line forever, he came back and told me they would grant an extension for another year. I recently tried to use that reward, but was promptly told it had expired! After being transferred from one rep to another and even call-dropped a couple of times... I finally spoke to a "supervisor". Of course, who can understand these people they hire overseas!? She said something I could not understand and then hung up on me! I will NEVER use hotels.com again!

I book a Queens bed at Hotel Sentral JB through www.hotels.com and instead of getting Queens size bed, I've gotten 2 single bed at the arrival. The lady at the reception straight away told me there is no Queens Bed room and just given me 2 single bed. I was shock and upset. The picture and description saying A but I got B instead. Totally misleading this website www.hotels.com. BEWARE of using big company website like www.hotels.com. I will never use it again. Shame on you www.hotels.com!!! Another thing the website saying I will get room with a view, what view!!! View of construction site on 2 side of the hotel building. Jesus!!! Totally misled! The room is dated and tatty, forget mentioning the rest. Nuff said. I'm going to get noisy construction sound by tomorrow morning 8 am.:'( Shame on you www.hotels.com. I will never use your website again.

I have used them for about 8 years. I have booked at least 80 to 120 rooms with them. At first they were pretty good, but have gone downhill recently. I had a very bad experience recently and I really hope it changes as they are one of the easiest sites to use.

Attempted to cancel a reservation a service made for me a month in advance. I emailed and tried calling to cancel with no response. I then two weeks in advance cancelled it via my credit card and they put it back on after the date. Very bad business. I also received a notification that it was solved. "Your request ** has been marked as solved. To reopen this request, please reply to this email."

I made a reservation by calling hotels.com and when I arrived at the hotel my reservation was nowhere to be found. I didn't receive a confirmation # via email and when I called customer service I was told by 3 ** that they couldn't find my reservation until they transferred me to a 4th representative who was able to find it. My card had already been charged and it was a very stressful 20 minutes when I thought my girlfriend and I were stuck in Atlanta with nowhere to go. In the end it came down to a name spelling error (and apparently phone number and email misspelling too). Finally got it figured out but the overall experience was terrible. I don't recommend hotels.com to anyone. Book it somewhere else.

I would not recommend booking anything through Hotels.com (which is really Expedia). Last two stays I used them and I had reservations issues each time. I almost did not even get the room even though I already paid in full for it a month ago. You do not want to show up to a Hotel and find out your reservation is incorrect and they have nowhere because it is via a third-party reservation. The only way to make 100% that never happens is to book through the hotel. My recommendation is to use the app to find Hotels and reviews and then once you pick one call the Hotel directly and save yourself a possible reservation error. I also found out that many times the price at the Hotel is the same or cheaper when you call the Hotel directly and book through them ensuring that there will be no problems with the reservation once you check in.
Hotels.com has some hidden fees and my stay ended up being about 20 dollars more per night than had I just booked through Hotel. My last two issues: I book the room for a couple nights and for some reason Hotels.com book each night as a separate reservation. That meant I was required to check out the next day at 11 am and check back in to another room at 3 pm. I talked to the manager and luckily, they found a room I was able to use continuously and not have to check in and out. However, since it was still booked as separate reservations I had to pay the incidental deposit for each night of my stay instead of once for the entire stay. I have used Hotels.com for the Thanksgiving and Xmas and each time there was an issue with my reservation. I then booked 3 nights over Christmas on Hotels.com that I paid in full at the time of booking.
After a long driveway get to the hotel only to find out they only had me booked for 2 days starting on the next day so they didn't have me down for a room on my arrival. Showed them my confirmation and my paid in full but they said since it was booked through third party they couldn't alter the reservation. They needed Hotels.com to resend the reservation and funds or something like that. The Hotel manager was extremely helpful. She called Hotels.com and was doing her best to take care of the issue. The one representative hung up on her but the next one was better. After 1 hour and 45 minutes of standing in the lobby we were finally able to go up to our room. I don't even think they squared it away with Hotels.com at that point. I just think the hotel felt bad for us.
We were lucky to even get a room that night (that we already paid for) because it was the Holidays and everything was getting booked up. It took so long that we missed the Movie we had tickets for with some of our family. Bottom line - why risk it? It failed for me twice in a row. I actually have a room booked through Hotels.com for New Years but after that I am finished using them. I learned my lesson.

I needed a hotel close to JFK because of a 12 hour layover. I used Hotels.com and I checked and double-checked my details before clicking to book. However, moments later when I received the email confirmation, the dates were off by one day. Of course, I had selected the non-refundable lowest rate because I had double checked my details and knew I would need this room. I immediately put in a request for a modification. I received a response back from Hotels.com that the reservation had been changed AT NO CHARGE and the updates were reflected in the email below. However, the wrong dates were still in the "revised" reservation.
I spent over an hour trying to contact the hotel and customer support by email because I was in China and could not make a call outside my province. I finally found a way to get an online chat buried on the Hotels.com web page. The great rate that I originally booked was history. The price went up an additional $71 dollars for the night. I will NEVER use Hotels.com again.

While traveling I got stuck in Atlanta. The airport was so kind to connect me with Hotels.com. Hotels.com set me up quickly with a room for $115 (total cost of stay). Wow! So easy and helpful. When I received the bill from hotels.com, I was charged $131.35. Hmmm... I reached out to them and this was their response: "We have checked your purchase and billing history, the amount that has been charged for your hotel reservation in Hilton Garden Inn Atlanta Airport North is indeed $131.35. For your reference, the room rate is $109.00 per night and the taxes and service fees is $22.35 per night. Our site should have stated the break down of total amount before you proceed with payment on the payment page." I no longer use Hotels.com.

After booking via Hotels.com, I telephoned the hotel for confirmation & was told by Kevin that I had to do an EFT directly into their bank account. I advised Hotels.com sent them a copy of my bank statement as well as the Guest House (with TWO different amounts on the invoice). I telephoned the Guest House & Cornell the owner said that Kevin did not understand the booking system & that she would get back to me & sort it out. (Monday) By Thursday we had been trying to phone the Guest House for days + emails they were not acknowledged, getting only an engaged signal. After booked flights / hired car costs we were worried that they had taken our money & this was a scam. We, in desperation phoned the local police - this angered the owner Cornell & we then received rather rude, irate emails & call back. BEWARE!!! We have still not heard from owner nor Hotels.com re: our money!!!

Having had two conversations with the customer services team and filling in two online query forms reference the receipts generated by the website I have not had a suitable response to explain the calculation of taxes & fees on the invoices - these do not conform to UK tax rates. Hotels.com are paid direct but seem not to have any responsibility for the calculation? Up until 3 months ago the emailed receipts were correctly calculated. As a vat registered client I need accurate invoices to reclaim the correct amount of tax. It is getting to the point where I am not booking any more hotels through the site because of this issue.

I recently used Hotels.com for the very first time. Within 30 minutes of using this site, my bank account was hacked by a company out of the U.K. The unauthorized purchase was made through an Expedia account, which is in the family with Hotels.com. I have never had any of my accounts hacked, and it totally blows my mind that the "security" measures from this company would fail so badly. I will never use Hotels.com, Expedia, or any of the other companies within this family of businesses.

The site misrepresented the hotel as non-smoking and the room as non-smoking. When I arrived the room was a smoking room that I as an asthmatic could not stay in. The hotel, nor Hotels.com would do nothing to accommodate this and I'm fighting with the credit card company to prove that I'm not the one at fault.
The hotel was an Embassy Suites hotel who I also blame for dealing in such a disreputable manner. Hotels.com and The Savannah Airport Embassy Suites are both guilty of fraud and cover each others tracks by blaming the other party for not being flexible.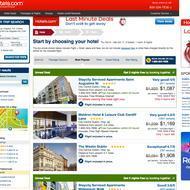 When booking Ireland trip through hotels.com website the price was 2 people total $ 2,174.00 ($1,087.00 per person). But could not complete booking so-called hotels.com and was told pay $3,235.74 and submit Best Price Match Guaranty with webpage screenshot that shows my price then they will refund me $1,061.74. SO I DID. After trip I claimed to BPMG. I've reply that says "it is processing" BUT no reply. Claimed 2 or 3 more times and called them finally but they told me they can't find my itinerary number in their system and same answers again. NO more communication possible because they can't find my itinerary numbers. I feel now it's a TRICK.

Hotels.com advised that we could cancel the reservation 24 hours prior to our stay. We did cancel one of the 2 nights 48 hours in advance. We have not received a refund. When called they left me on hold listening to announcements which says that they make refunds within 24 hours, and if I had not received the refund, call our credit card company. They charged me close to 183.22 extra which includes a 40.25 tax and recovery fee. They finally picked up after 15 minutes on hold and end up saying they have no control over what their billing department does.

Booked a hotel through this company, but had a death in the family so I was forced to cancel my trip. The hotel was happy to refund and cancel the reservation without penalty. Hotels.com customer service said the hotel would have to give the refund. Not true, hotels.com is responsible for the refund. Then they said they would have to hear directly from the hotel to ensure that the reservation was cancelled without penalty. Hotels.com customer service has been the worst department I have ever experienced in my life. They will not get any of my business and I travel all year-round.

I was double billed for my stay. Prepaid with this scrappy company and then by the hotel where I stayed because they do not trust hotel.com to pay. So I paid double for my room and when I called hotels.com about it they HUNG UP ON ME. This is by far the worst middle man company. You will save more by calling the HOTELS yourself. Who needs a middleman when they screw you. STOP USING THIS COMPANY THE HAVE NO COMPANY MORALS.

I have been dealing with the worst customer service ever for 3 days! This morning a representative told me the issue was resolved and they were restoring my rewards points and also giving me a free one for my trouble. She assured me the rewards points would show up within 15 minutes. When they hadn't shown up after an hour, I called back and ended up speaking with a supervisor who said nothing could be done.
Though I have all the proof necessary to show I had a current book through my original account they couldn't even tie that booking to the new account! I had emails from every booking and even a screen shot that showed the 5 rewards points I had accumulated! They didn't care! I asked if they could cancel my account, was told no, I'd have to do that myself. Before doing so I called the hotel to make sure I could rebook my ongoing reservation through my Hilton Honors and found out Hotels.com had already cancelled that reservation!!! Thank goodness I had called! THE WORST!!

We had planned our wedding anniversary as usual and decided to visit Curitiba in Brasil. I am an Indian living in Brasil. So we planned and booked our travel plans and decided to stay at San Juan Johnshcer, Curitiba. Unfortunate event happened in my family back in India due to which I canceled my flights to Curitiba and tried to cancel or alter my hotel stay booking with Hotels.com.br.
Let me clarify here the price was special deal non-refundable. But, when I saw FAQ on website in there it was mentioned. "We can consider and understand in case if there's an emergency situation and you have to cancel booking." But, further it was mentioned that "to call our Customer service hotline." Apparently the first time I called I got a very polite person who spoke English and understood my problems. But, due to network problems the phone ended. Só next day I had to call them again in the morning because the following day I was flying to India. I called in the morning first call. I asked if he can speak in English. No Portuguese only and he spoke English little bit. Then I tried to speak in broken Portuguese and asked him if he can assist me in English. He put my call on hold and I was waiting for 2-3 mins.
Second call same day after I hung up after the first incident. One girl answered the call and I spoke again in broken Portuguese asking for assistance in English. She said "call after 10-10:30 am person who speaks English will help you." Ok waited till 10:30 am and called again. Same repetition of call after 11 am and then I got stressed as I was already under a lot due to the circumstances. I asked my wife and she explained her the situation.
The customer service hotline in Brasil for hotels.com is the worst. Staff don't know how to talk politely and respectfully. And even after explaining the situation I didn't get even 50% of my payment and the Hotel which I booked at they charged my CC for 3 nights a sum of some R$640 approx divided in 3 payments. What a rip off and such impolite, disrespectful staff on the customer service hotline.

I was not told of the $75 nonrefundable pet deposit fee for all dogs. I mentioned during a phone conversation with the hotels.com agent several times that I would be bringing a dog with me. When I got to the hotel the desk clerk said that this happens all of the time with the hotel booking sites and it is better to book through the hotel directly. I checked and booking through the hotel was the same price as booking through hotels.com website. Lesson learned!

Worse customer service. I think their customer service is outside the USA. I booked with hotels.com. One of the reservations was not acknowledged by Cosmopolitan Hotel in Las Vegas. The hotel was fully booked that day so they can only have one of our reservations. We decided to go next door to Bellagio Hotel and cancel the other reservation with Hotels.com. Hotels.com does not want to give refund on the reservation that was booked even though Cosmopolitan Hotel admitted they messed up on one of our reservations. They had told us that they will not charge Hotels.com for the reservation but Hotels.com refuse not to cancel and not still would like to charge us for canceling. I have an email from Cosmopolitan Hotel saying they never charged Hotels.com for canceling the reservations. BAD, BAD Customer service from HOTELS.COM. NEVER AGAIN WE WILL USE HOTELS.COM for our company bookings!

I am a regular user of Hotels.com, well that is until now. A few weeks ago I looked on their website and did a research on a hotel in Paris. I never booked, didn't get a hotel confirmation, and I even checked their website as I had a stay before my Paris trip somewhere local in Chicago and it showed that that was my only stay... nothing about Paris whatsoever.
This morning I got an email from a hotel in Paris saying that I am being charged as I never showed up or canceled my stay!! I called Hotels.com customer service, mind you I am a silver whatever which obviously means nothing to them. Got placed on hold for 5 mins then this lady who checked my profile and confirmed that I have no booking, said I should call the hotel. She said someone there is a booking even though it is not reflected on my account!! I asked to speak to a manager.
18 mins later I finally spoke to someone who claimed to be the manager. She said I should call my credit card. I insisted that this is their issue and they should sort it out. Then she said she will call the hotel and asked me to stay on the line. I told her I had to go as I am calling international and I would appreciate a call back or an email back with an update, her answer was "I can't promise"!! Are we serious here? You can't promise. I am a client not your personal friend who you are trying to set expectations for!! Completely unreliable. Once I am back in the US I will ask my credit card company to sort this out. What a disappointment... what a horrible and untrustworthy customer service department!

We booked 3 rooms through Hotels.com for a large group to travel to a funeral. When we found out we could stay with someone local, we canceled our entire reservation. Hotels.com only canceled one room, for which we received a refund. We called to follow up and were told "We're very sorry, that is our error. We will refund the remaining $1033.76 immediately." Needless to say, they did not. We called two more times and were told the same lie, never any refund. We called again and were told they refuse to refund the money because the rooms were never canceled!! Right – never canceled due to the error of Hotels.com – not us!
We decided to try one more time, and were told they understood the situation and our frustration and would refund the money and send us a $200 voucher for our troubles. Unfortunately, again, a lie. The final call we were again told too bad, they refuse to refund the money, and 'unfortunately the recording of the call when we originally canceled the reservation doesn't exist'. We were told there was 'no one higher' to escalate the call to but we could write to headquarters. What a scam. Do not use Hotels.com unless you like throwing your money away.

We had booked trip to London. Upon arrival, the hotel tells us, they have no agreement with Hotels.com, so no booking. I call Hotels.com, long story, but I have never EVER experienced anything so unprofessional! I had to be on the phone with them for four (4!) hours, and in the end their solution was - "please book yourself, and we will compensate."
During the four hours, three times I was told they had sorted it out with the hotel. I then checked with the hotel, who each time told me, they had no agreement with Hotels.com - so three times they told me a direct lie, to get me off the phone. Once, they told me, I would be given a 100GBP compensation, for walking around in London, not being able to get a shower and change clothes after my travel. Now, they tell me, it is not registered in their system, so they will not give me that compensation!? I ended up having to book myself - which a Friday night at 19.30, is more expensive, than original. That was the advice Hotels.com gave me - but now they refuse to refund my extra cost.
I have never been handled so unprofessional before. There is absolutely NO customer service, nothing like helping the customer out. The associated cost, I have had, and giving me compensation, should be marginal - but still they won't give a dime. Worst experience EVER. I will NEVER EVER again use Hotels.com and advice all I meet to not go with Hotels.com. In talking to numerous people I get similar to my story. So that is apparently a typical way, they handle business.

ConsumerAffairs Research Team
The ConsumerAffairs Research Team believes everyone deserves to make smart decisions. We aim to provide readers with the most up-to-date information available about today's consumer products and services.
Hotels.com is a website dedicated to helping travelers find lodging at hotels, motels and resorts. It lists deals from over 325,000 hotels around the world.
Free hotel rooms: Travelers receive one free night for every 10 they book.
Group discounts: Hotels.com offers discounts for large groups.
Secret Prices: Travelers can access Secret Prices by downloading the Hotels.com app, subscribing to emails or becoming Hotels.com Rewards members.
Negotiation tool: The negotiation tool at Hotels.com lets travelers set their own prices to get better deals.
Last-minute deals: Hotels.com regularly has up to 20,000 last minute deals for travelers.
Best for Budget travelers.
Hotels.com Company Profile
Company Name:

Hotels.com

Year Founded:

1991

Address:

5400 LBJ Freeway

City:

Dallas

State/Province:

TX

Postal Code:

75240

Country:

United States

Website:

http://www.hotels.com/