Consumer Complaints and Reviews

I booked a six night stay at a hotel paying $3,989.76. They charged my credit card for the entire stay at time of booking (more than 3 months in advance). Then a few weeks later, I wanted to modify my reservation and only stay 4 of the 6 nights. They refused to let me change the reservation and said I'd forfeit the $1,330 for the two nights. I called the hotel directly and they said it was completely with Hotels.com and that had I booked directly with them, they would have made the change. Don't ever use Hotels.com!

Made a booking 4 months ago, at least I thought I did. I never received a confirmation email of the booking. A few months later, I remembered about the booking I "thought" I had made, as I had it scribbled on a piece of paper. So I thoroughly searched my email, and no record appeared. Checked deleted items, junk email etc... no record. I logged onto Hotels.com and typed in my email as if I had forgotten my password. It said if I had an account, it would email me a link to reset it. No email ever came. I did it again, and no email came again. So, I assumed I must have dreamt making the booking. Some added context - I usually always use Booking.com to make bookings, so I thought must have just looks at Hotels.com and not made a booking.
THEN, I get an email from Hotels.com reminding me of a booking (yes, I must have made it after all!!) in 4 days time. Problem was, that particular hotel had a cancellation policy that charged the full amount for the entire booked stay if canceled in 5 days. So, I ended up with a cancellation fee of nearly $2,000. I will never ever use Hotels.com. Their systems are clearly hopeless when compared to other booking platforms. Very angry.

I use lots of hotel booking company but have never been charged same day??? Then 3 weeks before my reservation tried to cancel but they offer NO REFUNDS!!! UNHEARD OF!!! NEVER USE THIS COMPANY AGAIN!!

My wife and I recently completed a two-week road trip which included five nights in Rapid City, SD starting on 9/27/2016. The hotel we reserved in Rapid City was Country Inn & Suites. Having stayed at other Country Inn & Suites in the past, I confidently booked the stay weeks in advance. This turned out to be a mistake as this property is not well maintained. The entire first floor has a unpleasant musty smell of smoke and mold. I expressed my concern at the time we checked-in and was assured the hotel was completely non-smoking.
I was given a first floor room. Since we were going to be there for 5 days I asked for an upper room as I didn't want to be looking at car grills when we were relaxing in the room. No such luck. This hotel appears to cater to foreign travel packages and it appears the upper rooms go to these companies. After getting to our room, my wife and I decided the smell was more than we could handle but since it was late and the lobby was full of travelers, I opted to take the issue up with the front desk in the morning.
If you have had any issues in the past with a hotel booked through Hotels.com, I am sure you are aware of the figure-pointing that can go back an forth between the hotel and Hotels.com. Sadly, this was the runaround I entered into on 9/28 when I asked to check out early and get a refund for the remainder of the reservation. It ended with the Hotels.com representative referring the case to the sales department at Country Inn & Suites and an indication a refund would be forthcoming. My wife and I then moved to the Residence Inn. A few days later I received an e-mail from Hotels.com that Country Inn & Suites would not be providing a refund for any part of the 5 day stay (I only stayed 1 night). My recommendation, avoid Hotels.com and book directly with your hotel. This is my final runaround with Hotels.com.

After I made hotel reservations through Hotels.com, I chose to pay upon arrival. My reservation was for two nights. On the day that I was to go to my destination, the trip was canceled. Unfortunately, the time that I made the call was after the minimum time allowance. I knew that I was going to be billed for one night and that was to cost $132.45. I was fine with that. However, imagine how shocked I was to see $264.90 taken out of my bank account. We contacted Hotels.com and they said the hotel did it. We contacted the hotel and they said Hotels.com did it.
We contacted Hotels.com a second time and they found the mistake. I was told that it would take approximately 14 days for the money to be returned. Well over a month later, we had still not received the additional $132.45 they had illegally taken out of my account. They did email us a receipt showing they were returning the money. My wife contacts them today and they completely deny everything. When she covered the fact that we had a receipt from them, they immediately told her it was the hotel. We will not ever use Hotels.com again. Their customer service is among the worse I have ever seen. They are not honest and they love to pass the buck and blame others.
How do I know I can trust these reviews about Hotels.com?
609,317 reviews on ConsumerAffairs are verified.
We require contact information to ensure our reviewers are real.
We use intelligent software that helps us maintain the integrity of reviews.
Our moderators read all reviews to verify quality and helpfulness.
For more information about reviews on ConsumerAffairs.com please visit our FAQ.

I booked a room, paid for it in full, but the hotel had no record of it when I arrived and they had no rooms available. There were no rooms within a hundred miles. I just wanted a refund so I could drive another hundred miles and find another room. Foreign customer service person kept asking me if I wanted to cancel my reservation, and if I did she would have to get approval from the hotel manager or there would be a one night penalty. She could not understand that I did not want to cancel, that I wanted a room, or a refund. She had a very thick foreign accent that I could hardly understand and I will NOT be booking through hotels.com ever again due to the poor customer service, poor communication and vast disappointment.

I made a reservation using Hotels.com to stay in a hotel OCT. 7th. I called them to cancel my reservation on Oct. 5th (The actual hotel accepted full refunded cancellations up until 4pm on OCT. 7). Their phone system found my reservation and asked me to confirm my cancellation which I did and said that I should expect a refund in 24 hours but that it may take the bank up to 3 days to post it.
On Oct. 8, I received an email from them asking me to rate my hotel experience!!! The hotel had charged me a non-show night and Hotels.com refuses to take responsibility for their faulty process. I will never use them again! If I had forgotten to call and cancel, I understand... I wouldn't even worry about the money, but Hotels.com failed to provide a simple service which was to cancel my reservation! Their system led me to believe that I had successfully canceled my reservation.

I still can't believe this happened to me this week. I booked a room in Chicago through Hotels.com, I needed a place in the Chicago North Loop. I got a confirmed room at "Corporate Suites in the Heart of Magnificent Mile" for $142. The address on my emailed confirmation was "East Ohio & North Michigan Avenue." Shortly thereafter, I got another emailed confirmation from a different hotel at a different location. This confirmation showed the same $142, but also added a $95 per day room cleaning fee!!
I emailed back to the second hotel canceling what I thought was a mistake. I drove to Chicago, parked my car in a ramp near East Ohio and North Michigan, and made what I thought would be a short walk to the hotel. For the next hour, after multiple phone calls to Hotels.com and walking endless blocks around the north loop, I realized I had been stupidly scammed. There is no hotel "Corporate Suites in the Heart of Magnificent Mile." Hotels.com had booked me in the mistake place with the $95 per day cleaning fee, I found a Red Roof Inn. Never, never again with Hotels.com.

I booked my trip to the UK using Hotels.com. Everything seemed to be going well until I tried to make a change to one of my bookings. Rather than arrive on the day I had planned, I wanted to arrive two days later but still check-out on the same day. When trying to make the change online, the site told me that needed to speak to a representative to make that change. Mind you, I was in the U.K. and making that call was costing me $1/min. The representative told me that the hotel was completely booked and he couldn't do anything for me. I said that it shouldn't matter if the hotel is fully booked, I already have a room. He said that to make the change, he has to cancel my booking and then rebook it because the hotel was fully booked, it wouldn't allow him to make a booking.
At that point I got angry and informed him that what he was attempting to do I could have done myself at no additional cost. He then told me that I wasn't the one paying for the phone call! I cancelled my booking and booked at another hotel without help from Hotels.com's terrible customer service team. Next, I noticed that one of bookings was not reflected on my rewards and that I was missing a number of rewards. The rep informed me that, according to the terms and conditions 1) points expire after a year but I could have called in prior to that and they would have kept them active for me and 2) because I used a coupon -- one generated by Hotels.com, mind you -- I was ineligible to receive my rewards. He kept referring to terms and conditions.
Well, you know what, their terms and conditions is hidden on their site. When referencing easy to find Rewards FAQ, NONE of this is mentioned in it. I find it abhorrent that a company wants to hold a customer liable to their terms and conditions but will make no attempt to remind customers of this by messages when booking with a coupon or friendly reminders that their points will expire. Do yourself a favor and avoid using Hotels.com!

If something goes wrong you may not get reimbursement. I should have read these reviews first. Very very business unfriendly. They incorrectly made out the invoice and after 3 days and 10 phone calls decided that they could not change it. As a result I will not be properly reimbursed and am personally out the money. Their customer service is of no use.

I booked a hotel reservation & tried to cancel < 6 hrs later due to a cancelled trip & was told that the cancellation fee was the amount of room rate, even though it says Free cancellation on website! I will Never use this service again; total RIP OFF!

Had a really unpleasant experience with Hotels.com. Made booking for a hotel close to West Lake in Hangzhou, China on a Friday and on Monday when my friends and I arrived at the hotel, was told there was no reservation made despite being sent a booking confirmation email from Hotels.com! Called the website and after some time, was put up at Holiday Inn as the previous hotel was at full capacity. Had to spend money on taxi again to go to Holiday Inn which is really far from West Lake and has nothing within its vicinity. Holiday Inn is nice but we lost so much time and money travelling back and forth to the hotel. Highly doubt I'd ever book anything with Hotels.com anymore!!

I booked a room last night at 3am last night because my husband and our 5 children had to evacuate from a category 4 hurricane, worst one in our state's history. I booked a reservation and paid over 600 dollars for a two night stay at the Reunion Resort in Kissimmee. We drove 3 hours to get there after packing the car and securing our house. We arrived and were told at check-in that they didn't have our reservation and were out of rooms and had to tell many people that and turn people away.
Meanwhile, Hotels.com took the 600 dollar plus out of my credit card and didn't refund it at all. I spent over 2 hours dealing with Hotels.com with no resolution and also with my credit card company only to find out that my money will be tied up until hotels.com issues a refund. The customer service is horrible and I will never use that site again. I am so livid that we drove all that way to evacuate only to be turned down at a hotel. If I book a reservation and pay in full for it, I expect there to be a room or be given enough notice and an immediate refund for the money I paid that is now tied up.

I live in Canada, have a Canadian Credit Card, booked a Canadian hotel through Hotels.com online for work, last minute, received the provincial government employee rate, reasonable rate 143.46 for 1 night. When I reviewed my credit card statement the charge was 193.02 Canadian. When I called Hotels.com I was on hold for at least 45 min, after being disconnected when I asked to speak with a supervisor. Hotels.com explained the discrepancy by stating that they charge in US dollars and that is fine but when I looked at the top of my web page it said CAD funds, and nowhere on the receipt I was sent or the recent activity page for my account on Hotels.com does it say the charge was in USD funds, but the supervisor told me he can see I had chosen the UD currency.
Which doesn't even make sense, when I look on my computer my automatic default setting is CAD, so he wants me to believe I had deliberately chose to change to USD instead of Canadian. I have no choice but to pay the bill, and I advised the gentleman that I was not pleased and would be telling others, and he basically said "be more careful on the websites you choose." So I will be more careful about the websites I am on by notifying others to be very aware of Hotels.Com and their pricing schemes.

Never ever book a room thru this website. Horrible customer service and their guarantee is nothing but BS. We booked and paid in full a room/apt that came with a kitchen on July 14, 2016 for a weekend in San Diego. We received another email confirming our reservation on Sept 25th which was 4 days before the trip. The email also stated that our reservation was guaranteed and paid in full. We were just arriving in San Diego when we received a call saying that they overbooked and we no longer had a place to stay. We literally sat in a parking lot for 3 hours waiting for hotels.com to find us another room.
The first agent we spoke to sent us to another hotel and then told us we didn't have that room either. That agent said she would call us back but apparently didn't want to be bothered by our situation and never did call. We called back after waiting for a hour and in the end, they could not find us a room, anything like what we had guaranteed with them. This reservation was the type that if we cancelled we would have lost all our money. Funny how we lose our money but if they cancel on us, too bad for us. I called again and asked what does having a guarantee mean to them. No one could give me an answer except to say "Sorry this happened".
There is so much more to this story which made it all the more aggravating, like not being able to understand the agents, they have no idea where things are like Petco Park, didn't even know when we explained it was a baseball field, wanting to give us a room nothing like and nowhere near to what we had booked and paid for, but this is just the shortened version. It basically ruined a weekend away we had planned for months.
Called today, 10/2/16 and spoke to another agent which kept blaming the property itself and could not answer the question "What does guarantee mean?". He just kept giving me the same robotic response that it was the property itself that was to blame (I had called the property that day also, and of course they told me it was Hotels.com's fault). I asked to speak to a supervisor and again she started giving me excuses. She also could not answer my question. Basically there is no guarantee no matter how far in advance it is booked or even if it is paid in full. We got screwed and no one cared.

We booked a hotel in Porta Delgada Portugal with Hotels.com for one night. Due to a flight delay of one day by our airline we were not able to keep our reservation since the hotel required us to be there by midnight or they would cancel our reservation. I called hotels.com from the airport who called the hotel. The hotel told them that it was not a problem due to our extenuating circumstances. Hotel.com then booked us a room at the hotel where we were staying the following night since we could get there later and we were staying there the next day. We got a confirmation email from hotels.com that our reservation was cancelled. I then got an email 3 days later that the hotel was going to charge us anyway. (They booked us for two hotels in the same night and got paid for both.)
After talking to multiple managers at Hotels.com they informed me that they couldn't do anything about this and we were going to be charged $140. Each manager said that they would look into it and call me back which none of them did. They admitted that it said in the notes that the hotel agreed to cancel for free but were not willing to give me names of any of the hotel employees or hotel.com employees. If we knew in advance that we were going to be charged anyway we would have gone to the hotel late and not assumed that it was cancelled. We have documentation of our cancellation email and the bill for the second hotel showing that they double booked us. We would like to take legal action to get a refund.. They gave a hotel voucher for a future stay but would prefer to get our money back. I do not feel comfortable using them again.

I made a reservation today on Hotels.com for The Painted Buffalo in Jackson Hole hotel for 10/14, prompted by "free cancellation" in green type next to the price on their site. When the confirmation email came, it said something ENTIRELY different: that I would lose the 1st night's fee for ANY cancellation from today on. So I immediately called to cancel (within 2 hours of when I booked). They said the Hotel insisted on two $15 "processing fees". Under protest Hotels.com did offer their own $40 voucher. Fair enough - but still VERY deceptive and keeps me spending $ with them. Never again.

They screwed up my booking so I didn't have a room when I got there. Had to book another hotel. Charged me anyway. Refused to respond to me. These people are low lifes. Straight up criminal. Avoid at all costs.

I booked a hotel room 9 months in advance for my son's college graduation- the most important event in my family's life. Hotels.com sent us a confirmation number- I thought we were set. When we called the hotel to ask a question about the reservation, they had no record of it at all. It is now too late to rebook anywhere. The Hotels.com rep said there was a "computer glitch." Don't EVER TRUST THIS WEBSITE FOR ANYTHING IMPORTANT IN YOUR LIFE. Please.

My family and I used this site to book hotel in Aruba. We book July and our trip is in November this year. The airline canceled the original departure's date and we need to fly a day later. We called every part involved (hotel, car, and hotels.com uk) to explained the unwilling changed. Every party involved, but hotels.com uk agreed to refund one day because the change was our desire but hotels.com uk informed us that in order to do it, they need to book us again and subtracted one night but we need to pay more money??? The person that represent the company and told me that she was the higher level to speak with. "Sofy" had no intention to help us or refund any money, instead she wants to charge us more???
Please that is a rip-off and customer services was not a customer services at all. On the contrary she did not allow me to speak with any other person and even though every other part involved understood that we did not have any part involved in the change, this site did not gave us not even the effort to help us, and never answered our questions back. Please do not use this site!!!

I got an unsolicited email from Hotels.com for their service of finding a hotel room at discounted price. I booked a room with them for The Winds Resort Beach Club in Ocean Isle Beach, NC on 7/29/16 for 9/11/16 to 9/15/16 for 145.00 a night. Hotels.com immediately charged my credit card for $671.80. I called Hotels.com about this and they stated the place I was to stay required upfront payment and if I changed my mind, my credit card would be credited.
I showed up at the "Resort" on 9/11. I was given a room across the street from the beach facing a street and a marsh. The building had four rooms and I was in one of them. I was the only one in the building. The location was isolative and did not have offer what I needed so I did not want to stay longer so told the people at the front desk I wanted to leave in the morning, which would be 9/13. They said in order to be refunded for the next two nights, I had to contact Hotels.com and was told that Hotels.com required the upfront money from me, not them. I called Hotels.com and was told they had to check with the manager and they would contact me the next morning. I told them I was leaving by 10:00 and wanted to hear from them by then. No one called and I left anyway. I did not get a call that day or any day and did not get an email.
I called Hotels.com on 9/17 again and the person stated she would call the resort and to stay on the line as I was told in previous phone call. She came back on the phone and told me the same as I had been told before -- that the manager of the resort was not there and they would contact me. She stated this time that Hotels.com does not make phone calls and I would be contacted by email in 72 hours -- 72 BUSINESS hours. I was told that since I was calling again that this would start the 72 business hours clock again. Therefore, at this time, I may not get my refund for the two days I did not stay at the resort.
I felt the resort did not live up to its presentation on the site and since I was traveling alone, I did not feel comfortable in the buildings that were empty. I resent the fact that Hotels.com charged my account the day I booked. I have not had this happen at other sites I have used. Although the room was cute and clean, it was not worth the amount I was charged due to location. I am most dissatisfied with Hotels.com being so quick to charge my account and so slow to deal with my problem and return my money for the two nights I did not stay. I also resent the fact they did not contact me the next day as I was told when I wanted to leave.

This is a bait and switch operation. I entered the dates for my stay in September but when I completed the reservation, the date I booked was in October. Of course, the room rate was none refundable (that should have been my first clue). I had to call Hotels.com and go through the hassle of getting my date changed and, of course, it was at a higher cost. Bottom Line? DO NOT use Hotels.com!

This is my experience recount from our recent travel booking with Hotels.com. I had booked a hotel stay with Hotels.com from our stay at the Luxor Hotel in Las Vegas on Aug 26, 2016. We originally booked the room with the hotel at a rate of $95/night. However, a couple of days prior to the stay, I decided to check the rates for the rooms and found that the prices had dropped to $75/night. I had checked these rates directly on the Luxor website. I then decided to make sure that this was the actual rate on other websites, in particular on Hotels.com so as to eliminate the possibility of a discount from directly booking with the hotel.
However, I saw the rates on the Hotels.com had also dropped to $75/night. After looking at this, I decided to contact the site - both through telephone and social media. I was looking to make sure that I receive the price-protection on my booking due to the publicized 'lowest price guarantee' and shows the following rules on their website:
"Found a better price? Check it's the same room at the same hotel on the same dates 2. Submit your request. For refundable bookings where the cheaper price is available on Hotels.com, call our Customer Service, or alternatively, cancel your existing booking online under Your Bookings when signed into your Hotels.com account and re-book online at the cheaper price. For non-refundable bookings or refundable bookings where the cheaper price is available on another website, just fill out the form below and we'll check the details. All requests must be made by 23:59 the day before your stay, at the latest. 3. We'll re-book or offer you the difference.
For a refundable booking: If you find the cheaper price on another website, well check the details of your booking and refund you the difference immediately or, if you are paying at the hotel, after you have completed your stay. Your bank can take up to 30 days to process this. If you find the cheaper price on Hotels.com and give us a call, we'll re-book the cheaper price and refund the original (higher priced) booking. We will refund you immediately but your bank can take up to 30 days to process this. For a non-refundable booking: Once we've checked the details of your booking, we'll give you the price difference in the form of a coupon for you to redeem on any future booking on Hotels.com. This will be sent to you by email. Coupons terms and conditions apply."
The telephone operator did not refer to this possibility and was simply dismissive about our claim for a refund on our prices. The social media representative (on Twitter) tried to humor this request. However, once I submitted this request, the representative started to make requests saying that they wanted this: "Please provide a screenshot of the lower rate which includes the hotel name, room type, number of guests, cancellation policy and booking dates and all must be displayed altogether in one page and must have the same details as your existing booking."
I tried to explain and tried my best to accommodate for this request. But then finally, I was provided the following reason for the denial of my claim charges: "Unfortunately, we are unable to match the price because the lower rate that you have provided is a result of a Non-refundable booking while your original booking is for Refundable. Please note that to match prices, it should include the hotel name, room type, number of guests, cancellation policy and booking dates and all must be displayed altogether in one page and must have the same details as your existing booking."
It is extremely surprising that the price protection is only being provided on the bookings that are 'refundable'. It is difficult to make sense of this statement since if I had the option of refunding the booking directly, I wouldn't even try to deal with Hotels.com. I would highly recommend people to be aware of the undercutting nature of business of Hotels.com and make them more aware of the risks consumers are being subjected to without making this clearly available to our knowledge.

In mid-July 2016, I used Hotels.com for the first time. I reserved and paid for my first 3 nights at a hotel in Puerto Ayora on the Galapagos Islands. I picked the room with a detailed list of the hotels amenities, photos, maps and check-in information, etc. and I immediately received a confirmation notice in my inbox with a reassuring notice that read "Your reservation is guaranteed and all paid for."
With peace of mind, I arrived from Quito on August 8th at the hotels front desk. The owner not only told me that he does not have the reservation but that he does not deal (ever) with hotels.com. He pointed to a large notice on the wall stating that Hotels.com reservations were not accepted. He then showed me the registry of present and future guests - all were reserved through booking.com. He was kind enough to give me a room for the said three nights (at a loss to him for I was in a room for 4) and I paid cash. With a receipt in hand, I decided to pursue reimbursement when I returned to Canada.
Upon my return, I called hotels.com to explain what happened. I was reassured that they would investigate and respond within 72 hours. One week later I called again and was told the same thing. I received an email the next day from their customer care asking for a copy of the receipt. I scanned my receipt and the hotel brochure (with its current contact information) and waited 8 days with no response. I grew tired of waiting (I am now entering my 4th week). I contacted Visa to have the mid-July charges withdrawn. Action was taken immediately but was told that I may need to wait for up to 8 weeks for reimbursement not a real concern.
Here is what really troubles me though: How can hotels.com state that "Your reservation is guaranteed and all paid for" when my hotel has no affiliation with them? This is fraudulent and I believe hotels.com is simply piggy-backing on another 3rd party reservation company to prey on their potential customers (I wonder how many other reservations (i.e. travelers) out there have been duped by hotels.com.)
Hence this cautionary tale. To those who use these 3rd party company services, be careful. Check with the hotel you book with (by phone, email, or website) to see if in fact the reservation is legitimate. In this case, the original confirmation email had no contact information apart from the hotels address and a phone number which didnt work. There were no alarm bells because the amount of detailed information provided in the confirmation email (hotel address, photos of the rooms, the hotels amenities, etc.) made it seem so legit. This was the last time I will use hotel.com for any hotel booking. I think Captain Obvious would agree.

It is obvious Captain Obvious do not work here! I tried over a month with phone calls and emails with Hotels.com to change a reservation. When I called they would say they called or email the motel with no response **! When I contacted the motel it took less than 12 hours for a very courteous response, the motel was trying to help all they could. But motels.com would not let the reservations be changed. It would take motels.com 10 days to respond.
When they did respond they would address me by some other name and ask for information, that was copied and pasted from the confirmation email, to the email addressing them. So when I sent back the email I made the info bold and highlighted. I finally had to call them one more time. I took pity on the customer service rep, telling them that they did not want to talk to me and get me their supervisor. I never raised my voice, cursed, made a threat, and they hang up on me. Twice! They keep lying to me. I WILL NEVER USE THIS SITE EVER AGAIN AND I WILL TELL EVERYONE I KNOW! And I have a BIG MOUTH!

I booked a hotel for Malaga, Spain through this site. It showed me a list of hotels with the prices in euros but as soon as my name, address, credit card number were introduced my card was charged in US$(!!), without asking for confirmation. No, my card is not American, it is a Spanish MasterCard issued in Spain. I had calculated approximately 228.00 euros, I got charged 365.00 euros.
Because the price for the 3rd night was shown correctly but the price for 1st and 2nd nights was different as it depends on the dates selected and the amount of nights (and the position of the stars in relation to the moon but only when waxing) da da da da all of which, naturally, are not pointed out or explained until after the operation has been completed and they have my, yours and everyone else's money in their grubby little accounts. "Little" is used loosely here as their accounts must be anything but. Called them, "so sorry can't help, just submit a claim online." Right. I'll keep everyone posted on how that works out for me. In the meantime... STAY AWAY FROM HOTELS.COM!!!

I had a bad experience with this multinational internet-based company whilst on honeymoon in Spain from UK. We had booked two night's accommodation in Madrid to complete the trip. The day before our departure for Madrid from a rural part of Spain I received a text informing us that the hotel was unable to honour the booking, and giving a premium rate number in the US. I spent an hour talking to an operative in Arizona (I think) whose first language was not English trying to sort an alternative.
I was eventually assured that this was done, but the next day discovered that it had not been, prompting another stressful, and very long, couple of transatlantic conversations with two other operatives in a different office somewhere in the US with poor English. I lodged a formal complaint after returning from honeymoon, but heard nothing. I will not be using this company again, although I still receive promotional emails from them with monotonous and brainless regularity. I would advise fellow travellers to treat Hotels.com with some caution.

Hotels.com seemed great, until we got to our hotel! The photo showed a lovely place, what we found when we arrived was old and tired looking. That wouldn't of been much of a problem, although disappointing, we were only staying one night, before leaving on a trip overseas. Our room was fine, but it became quickly apparent that the sink and shower were both plugged, to the point that neither could be used. We had come in late, and the desk clerk said it couldn't be fixed, but the manager said they'd give us a refund. We were too tired to go somewhere else, so we stayed, confirmed the refund the next morning and left for our trip.
After waiting a month I finally contacted Hotels.com about the refund, and they said I should of followed through sooner, too bad. I wrote several letters, they tried to contact the manager, who apparently didn't care. Then they just ignored my e-mails. I would never be able to recommend Hotels.com after this adventure. Buyer beware.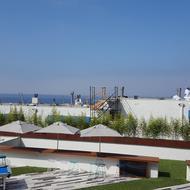 Description of property location were, "near beach", with a picture taken at an angle to suggest next to the beach. Hotel Hermosa is at least a mile from the beach on a huge hill making walking there extremely difficult. The ocean view largely consisted of scaffold, back/sides of apartment buildings. The room booked was unusable due to very narrow steep spiral staircase that my wife could not navigate due to her arthritic hips. They moved us to a cheaper room but Hotels.com refused to change the price from the more expensive room. They would not let us cancel either. Hotels.com customer service transferred us 6x before hanging up on us. We found our room being listed by the hotel website at about a 10% discount from Hotels.com. Hotels.com refused a refund of the difference. Hotels.com is rivaled in poor customer service only with utility and government customer service. The room also smelled of stinky feet.

The entire operation is filled with crooks and liars. We made a reservation and paid in advance for 2 nights in what turned out to be a super-subpar motel in Wildwood Crest, NJ. The room was beyond gross and when I sought help from the site, they proved to be useless and extremely duplicitous. The phone operators offered me a $200 voucher to offset the expense of moving to a clean place even though we spent more than double that amount. And when it came time to use the voucher, it turns out there is an exceptional set of rules and ways to use the voucher rendering us with NO refund, NO option except to pay for the 2 nights in ANOTHER hotel. I am beyond furious and feel the only one who benefited from this deal was hotels.com. There are so many places from which a reservation can be procured. AVOID HOTELS.COM AT ALL COSTS!!! (I would give them zero stars if that was an option!!!)

ConsumerAffairs Research Team
The ConsumerAffairs Research Team believes everyone deserves to make smart decisions. We aim to provide readers with the most up-to-date information available about today's consumer products and services.
Hotels.com is a website dedicated to helping travelers find lodging at hotels, motels and resorts. It lists deals from over 325,000 hotels around the world.
Free hotel rooms: Travelers receive one free night for every 10 they book.
Group discounts: Hotels.com offers discounts for large groups.
Secret Prices: Travelers can access Secret Prices by downloading the Hotels.com app, subscribing to emails or becoming Hotels.com Rewards members.
Negotiation tool: The negotiation tool at Hotels.com lets travelers set their own prices to get better deals.
Last-minute deals: Hotels.com regularly has up to 20,000 last minute deals for travelers.
Best for Budget travelers.
Hotels.com Company Profile
Company Name:

Hotels.com

Year Founded:

1991

Address:

5400 LBJ Freeway

City:

Dallas

State/Province:

TX

Postal Code:

75240

Country:

United States

Website:

http://www.hotels.com/