Consumer Complaints & Reviews

My family and I used this site to book hotel in Aruba. We book July and our trip is in November this year. The airline canceled the original departure's date and we need to fly a day later. We called every part involved (hotel, car, and hotels.com uk) to explained the unwilling changed. Every party involved, but hotels.com uk agreed to refund one day because the change was our desire but hotels.com uk informed us that in order to do it, they need to book us again and subtracted one night but we need to pay more money??? The person that represent the company and told me that she was the higher level to speak with. "Sofy" had no intention to help us or refund any money, instead she wants to charge us more???
Please that is a rip-off and customer services was not a customer services at all. On the contrary she did not allow me to speak with any other person and even though every other part involved understood that we did not have any part involved in the change, this site did not gave us not even the effort to help us, and never answered our questions back. Please do not use this site!!!

I got an unsolicited email from Hotels.com for their service of finding a hotel room at discounted price. I booked a room with them for The Winds Resort Beach Club in Ocean Isle Beach, NC on 7/29/16 for 9/11/16 to 9/15/16 for 145.00 a night. Hotels.com immediately charged my credit card for $671.80. I called Hotels.com about this and they stated the place I was to stay required upfront payment and if I changed my mind, my credit card would be credited.
I showed up at the "Resort" on 9/11. I was given a room across the street from the beach facing a street and a marsh. The building had four rooms and I was in one of them. I was the only one in the building. The location was isolative and did not have offer what I needed so I did not want to stay longer so told the people at the front desk I wanted to leave in the morning, which would be 9/13. They said in order to be refunded for the next two nights, I had to contact Hotels.com and was told that Hotels.com required the upfront money from me, not them. I called Hotels.com and was told they had to check with the manager and they would contact me the next morning. I told them I was leaving by 10:00 and wanted to hear from them by then. No one called and I left anyway. I did not get a call that day or any day and did not get an email.
I called Hotels.com on 9/17 again and the person stated she would call the resort and to stay on the line as I was told in previous phone call. She came back on the phone and told me the same as I had been told before -- that the manager of the resort was not there and they would contact me. She stated this time that Hotels.com does not make phone calls and I would be contacted by email in 72 hours -- 72 BUSINESS hours. I was told that since I was calling again that this would start the 72 business hours clock again. Therefore, at this time, I may not get my refund for the two days I did not stay at the resort.
I felt the resort did not live up to its presentation on the site and since I was traveling alone, I did not feel comfortable in the buildings that were empty. I resent the fact that Hotels.com charged my account the day I booked. I have not had this happen at other sites I have used. Although the room was cute and clean, it was not worth the amount I was charged due to location. I am most dissatisfied with Hotels.com being so quick to charge my account and so slow to deal with my problem and return my money for the two nights I did not stay. I also resent the fact they did not contact me the next day as I was told when I wanted to leave.

This is a bait and switch operation. I entered the dates for my stay in September but when I completed the reservation, the date I booked was in October. Of course, the room rate was none refundable (that should have been my first clue). I had to call Hotels.com and go through the hassle of getting my date changed and, of course, it was at a higher cost. Bottom Line? DO NOT use Hotels.com!

This is my experience recount from our recent travel booking with Hotels.com. I had booked a hotel stay with Hotels.com from our stay at the Luxor Hotel in Las Vegas on Aug 26, 2016. We originally booked the room with the hotel at a rate of $95/night. However, a couple of days prior to the stay, I decided to check the rates for the rooms and found that the prices had dropped to $75/night. I had checked these rates directly on the Luxor website. I then decided to make sure that this was the actual rate on other websites, in particular on Hotels.com so as to eliminate the possibility of a discount from directly booking with the hotel.
However, I saw the rates on the Hotels.com had also dropped to $75/night. After looking at this, I decided to contact the site - both through telephone and social media. I was looking to make sure that I receive the price-protection on my booking due to the publicized 'lowest price guarantee' and shows the following rules on their website:
"Found a better price? Check it's the same room at the same hotel on the same dates 2. Submit your request. For refundable bookings where the cheaper price is available on Hotels.com, call our Customer Service, or alternatively, cancel your existing booking online under Your Bookings when signed into your Hotels.com account and re-book online at the cheaper price. For non-refundable bookings or refundable bookings where the cheaper price is available on another website, just fill out the form below and we'll check the details. All requests must be made by 23:59 the day before your stay, at the latest. 3. We'll re-book or offer you the difference.
For a refundable booking: If you find the cheaper price on another website, well check the details of your booking and refund you the difference immediately or, if you are paying at the hotel, after you have completed your stay. Your bank can take up to 30 days to process this. If you find the cheaper price on Hotels.com and give us a call, we'll re-book the cheaper price and refund the original (higher priced) booking. We will refund you immediately but your bank can take up to 30 days to process this. For a non-refundable booking: Once we've checked the details of your booking, we'll give you the price difference in the form of a coupon for you to redeem on any future booking on Hotels.com. This will be sent to you by email. Coupons terms and conditions apply."
The telephone operator did not refer to this possibility and was simply dismissive about our claim for a refund on our prices. The social media representative (on Twitter) tried to humor this request. However, once I submitted this request, the representative started to make requests saying that they wanted this: "Please provide a screenshot of the lower rate which includes the hotel name, room type, number of guests, cancellation policy and booking dates and all must be displayed altogether in one page and must have the same details as your existing booking."
I tried to explain and tried my best to accommodate for this request. But then finally, I was provided the following reason for the denial of my claim charges: "Unfortunately, we are unable to match the price because the lower rate that you have provided is a result of a Non-refundable booking while your original booking is for Refundable. Please note that to match prices, it should include the hotel name, room type, number of guests, cancellation policy and booking dates and all must be displayed altogether in one page and must have the same details as your existing booking."
It is extremely surprising that the price protection is only being provided on the bookings that are 'refundable'. It is difficult to make sense of this statement since if I had the option of refunding the booking directly, I wouldn't even try to deal with Hotels.com. I would highly recommend people to be aware of the undercutting nature of business of Hotels.com and make them more aware of the risks consumers are being subjected to without making this clearly available to our knowledge.

In mid-July 2016, I used Hotels.com for the first time. I reserved and paid for my first 3 nights at a hotel in Puerto Ayora on the Galapagos Islands. I picked the room with a detailed list of the hotels amenities, photos, maps and check-in information, etc. and I immediately received a confirmation notice in my inbox with a reassuring notice that read "Your reservation is guaranteed and all paid for."
With peace of mind, I arrived from Quito on August 8th at the hotels front desk. The owner not only told me that he does not have the reservation but that he does not deal (ever) with hotels.com. He pointed to a large notice on the wall stating that Hotels.com reservations were not accepted. He then showed me the registry of present and future guests - all were reserved through booking.com. He was kind enough to give me a room for the said three nights (at a loss to him for I was in a room for 4) and I paid cash. With a receipt in hand, I decided to pursue reimbursement when I returned to Canada.
Upon my return, I called hotels.com to explain what happened. I was reassured that they would investigate and respond within 72 hours. One week later I called again and was told the same thing. I received an email the next day from their customer care asking for a copy of the receipt. I scanned my receipt and the hotel brochure (with its current contact information) and waited 8 days with no response. I grew tired of waiting (I am now entering my 4th week). I contacted Visa to have the mid-July charges withdrawn. Action was taken immediately but was told that I may need to wait for up to 8 weeks for reimbursement not a real concern.
Here is what really troubles me though: How can hotels.com state that "Your reservation is guaranteed and all paid for" when my hotel has no affiliation with them? This is fraudulent and I believe hotels.com is simply piggy-backing on another 3rd party reservation company to prey on their potential customers (I wonder how many other reservations (i.e. travelers) out there have been duped by hotels.com.)
Hence this cautionary tale. To those who use these 3rd party company services, be careful. Check with the hotel you book with (by phone, email, or website) to see if in fact the reservation is legitimate. In this case, the original confirmation email had no contact information apart from the hotels address and a phone number which didnt work. There were no alarm bells because the amount of detailed information provided in the confirmation email (hotel address, photos of the rooms, the hotels amenities, etc.) made it seem so legit. This was the last time I will use hotel.com for any hotel booking. I think Captain Obvious would agree.
How do I know I can trust these reviews about Hotels.com?
596,017 reviews on ConsumerAffairs are verified.
We require contact information to ensure our reviewers are real.
We use intelligent software that helps us maintain the integrity of reviews.
Our moderators read all reviews to verify quality and helpfulness.
For more information about reviews on ConsumerAffairs.com please visit our FAQ.

It is obvious Captain Obvious do not work here! I tried over a month with phone calls and emails with Hotels.com to change a reservation. When I called they would say they called or email the motel with no response **! When I contacted the motel it took less than 12 hours for a very courteous response, the motel was trying to help all they could. But motels.com would not let the reservations be changed. It would take motels.com 10 days to respond.
When they did respond they would address me by some other name and ask for information, that was copied and pasted from the confirmation email, to the email addressing them. So when I sent back the email I made the info bold and highlighted. I finally had to call them one more time. I took pity on the customer service rep, telling them that they did not want to talk to me and get me their supervisor. I never raised my voice, cursed, made a threat, and they hang up on me. Twice! They keep lying to me. I WILL NEVER USE THIS SITE EVER AGAIN AND I WILL TELL EVERYONE I KNOW! And I have a BIG MOUTH!

I booked a hotel for Malaga, Spain through this site. It showed me a list of hotels with the prices in euros but as soon as my name, address, credit card number were introduced my card was charged in US$(!!), without asking for confirmation. No, my card is not American, it is a Spanish MasterCard issued in Spain. I had calculated approximately 228.00 euros, I got charged 365.00 euros.
Because the price for the 3rd night was shown correctly but the price for 1st and 2nd nights was different as it depends on the dates selected and the amount of nights (and the position of the stars in relation to the moon but only when waxing) da da da da all of which, naturally, are not pointed out or explained until after the operation has been completed and they have my, yours and everyone else's money in their grubby little accounts. "Little" is used loosely here as their accounts must be anything but. Called them, "so sorry can't help, just submit a claim online." Right. I'll keep everyone posted on how that works out for me. In the meantime... STAY AWAY FROM HOTELS.COM!!!

I had a bad experience with this multinational internet-based company whilst on honeymoon in Spain from UK. We had booked two night's accommodation in Madrid to complete the trip. The day before our departure for Madrid from a rural part of Spain I received a text informing us that the hotel was unable to honour the booking, and giving a premium rate number in the US. I spent an hour talking to an operative in Arizona (I think) whose first language was not English trying to sort an alternative.
I was eventually assured that this was done, but the next day discovered that it had not been, prompting another stressful, and very long, couple of transatlantic conversations with two other operatives in a different office somewhere in the US with poor English. I lodged a formal complaint after returning from honeymoon, but heard nothing. I will not be using this company again, although I still receive promotional emails from them with monotonous and brainless regularity. I would advise fellow travellers to treat Hotels.com with some caution.

Hotels.com seemed great, until we got to our hotel! The photo showed a lovely place, what we found when we arrived was old and tired looking. That wouldn't of been much of a problem, although disappointing, we were only staying one night, before leaving on a trip overseas. Our room was fine, but it became quickly apparent that the sink and shower were both plugged, to the point that neither could be used. We had come in late, and the desk clerk said it couldn't be fixed, but the manager said they'd give us a refund. We were too tired to go somewhere else, so we stayed, confirmed the refund the next morning and left for our trip.
After waiting a month I finally contacted Hotels.com about the refund, and they said I should of followed through sooner, too bad. I wrote several letters, they tried to contact the manager, who apparently didn't care. Then they just ignored my e-mails. I would never be able to recommend Hotels.com after this adventure. Buyer beware.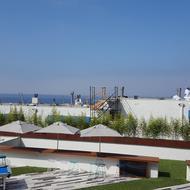 Description of property location were, "near beach", with a picture taken at an angle to suggest next to the beach. Hotel Hermosa is at least a mile from the beach on a huge hill making walking there extremely difficult. The ocean view largely consisted of scaffold, back/sides of apartment buildings. The room booked was unusable due to very narrow steep spiral staircase that my wife could not navigate due to her arthritic hips. They moved us to a cheaper room but Hotels.com refused to change the price from the more expensive room. They would not let us cancel either. Hotels.com customer service transferred us 6x before hanging up on us. We found our room being listed by the hotel website at about a 10% discount from Hotels.com. Hotels.com refused a refund of the difference. Hotels.com is rivaled in poor customer service only with utility and government customer service. The room also smelled of stinky feet.

The entire operation is filled with crooks and liars. We made a reservation and paid in advance for 2 nights in what turned out to be a super-subpar motel in Wildwood Crest, NJ. The room was beyond gross and when I sought help from the site, they proved to be useless and extremely duplicitous. The phone operators offered me a $200 voucher to offset the expense of moving to a clean place even though we spent more than double that amount. And when it came time to use the voucher, it turns out there is an exceptional set of rules and ways to use the voucher rendering us with NO refund, NO option except to pay for the 2 nights in ANOTHER hotel. I am beyond furious and feel the only one who benefited from this deal was hotels.com. There are so many places from which a reservation can be procured. AVOID HOTELS.COM AT ALL COSTS!!! (I would give them zero stars if that was an option!!!)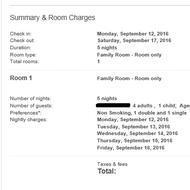 I saw one Bangkok hotel advertised 1 night for MYR 195 for a family room and we decided to stay for 5 nights. We have 5 people over here, so I thought I get a cheap deal. When I entered the credit card information, it didn't stated how much is the total price. So I just clicked and book the room. But once the room is booked, the total price they show is big different from what I calculated.
How come they can charge me extra 50 % from what I paid for the room. RM 195 x 5 nights = RM 975, but they charge me for MYR 1382, MYR 400(50%) for the taxes and fees. OK, I'm fine if they want to charge me for 10 or 20% tax and fees which around MYR200. But ** for the other MYR200? I've attached an image as a prove. Guess what, I'm lucky that I can cancel the booking and get a full refund. But right now not sure really can get a full refund for this.

On August 3, 2016 I took a trip to Las Vegas Nevada and stayed at the Palazzo. Hotels.com sent me email after my stay to rate so I did. My rating about hotel wasn't so good. I had bad experience with housekeeping customer service and the front desk. I called for extra towels they never came. TV remote didn't work. Called. No one came went down to front desk. They had someone come up. They confirmed remote was bad but they never brought a new one. Wrote all that in my review. Was about to book a hotel again through them and I saw my last review it was completely changed. It said I rated them excellent and the review that was posted said. "I recently went on a trip with my wife. Excellent experience. Front desk service was excellent and very helpful and nice." Their words not mine. First of all I'm not even married. Really disappointed that they would do something like that. I travel a lot and will NEVER use them again.

Booked a hotel several months ago through Hotels.com and then cancelled booking one month before date of arrival through Hotels.com. Received a confirmation notice but hotel charged me anyway because they said Hotels.com never notified them of the cancellation. Went back and forth for over a week with the hotel and Hotels.com only to find out they never did notify hotel of the cancellation. Every time I tried to call it was a joke and the communication through email was a joke!! They finally just started ignoring my emails! I can't believe they are in business! NEVER again. I will use CheapTickets.com from here on out. Can't something be done??

Requested rooms be oceanfront and adjoining this was a family celebration. They tried separate the group putting us on different floors, and after complaining to management they had found rooms on the same floor. The pools had green algae, black mold, and peeling paint throughout. When I complained about the pool, someone came out to scrub the green algae in the pool while people were swimming in it. The lounge chairs had bird droppings on them, and one room smelled like cat urine. The carpets, bathrooms, and shower areas were dirty and had mold on the floors and on shower curtain. The sheets and blankets had holes in them. The balconies were unsafe, the railings did not even connect to the wall, and concrete was broken, cracked, and showing rebar. Phone did not work, and rooms keys kept failing, and frig wouldn't stay closed.
Amenities consisted of WIFI, Cable, Non protein breakfast, only carb friendly, and a pool and hot tub... standard in all other local hotels in the area. It cost me even more money to rent beach umbrellas and chairs down on the beach because we couldn't swim in the pool. I don't know how this hotel passed any kind of inspections to continue operating. Others also said they would NOT let their kids swim in this pool.

I tried to book a hotel through the hotel.com website and was not sure the booking was successful as I was not sent any email confirmation. Needless to say I was charged for the booking! Despite not receiving any confirmation, how would I have checked in to the hotel with the booking details? Customer service was unhelpful. They agreed it was their computer system error but refused to refund me, suggesting I try the hotel directly. I believe this is unethical and am looking into small claims, as this seems to have happened to many customers.

I book a hotel in Hawaii on Hotel.com at an advertised price of CDN$261.94/night for 6 nights for a total of CDN$1571.64. When I looked at my credit card statement it indicated CDN$2081.27. This is US$1571.64 x 1.32. Hotel.com had not converted the CDN$1571.64 to US$ and passed the US$ charge to the hotel. The hotel told Visa US$1571.64 and Visa charged me the currency conversion rate. Not the hotels fault. Despite a long conversation with Hotel.com they were not willing to admit their error and said there was nothing they could do. Very poor way to do business. I will not use Hotel.com again.

I would never use this company again. Not only did they cancel my booking without my knowledge, we had to pay an additional $100 for a room that literally had the shower next to the bed. Customer service is a joke. Policy is a joke, nothing is clear print and you get no results when filing a complaint! Not even a discount for your next trip. Nothing but an apology! First and last time I use this site! STAY AWAY! NOT WORTH IT.

I called hotels.com customer care because their help's description of how to book a free night left me with several questions on how to do it. I called customer support and each time I asked a question, was put on hold for several minutes. The fellow would then come back and read some instructions to me for navigating their site, but the instructions didn't always match what their site has. I ended up not getting any questions answered after spending 32 minutes on the phone with "Mike" from customer support. At that point we got disconnected (I believe this was a cell phone dropped call, not that he hung up).

Asked for room on August 18-19, 2016. The dates were re-set for September. Also, the site stated that the hotel we chose was pet friendly. Upon calling said hotel, we found this to be untrue. The site failed to correct the info. We were out $83 due to this site's problem, not ours. I was blamed for putting in wrong dates. I did not do this. I would not care about this if I had not read several other reviews just in the past two hours where the dates had been changed without people knowing. Yet, this site asks you how they did. Well, this site sucks! Like I stated before in the direct review to the site; would you buy something completely blind? If a car didn't work, never will, and did not come with 4 tires, would you still want to be charged? Well, this site doesn't care if you lose your money.
First time I used this site, I was out $200 because the hotel did not book us for a room. We did not know until we arrived. Horrible service, no phone number, no refunds, and nothing has been done. I gave 1 star because there are no negative stars. Hopefully Consumer Affairs will take a look at this site and fine them or shut them down. This site does not have the correct info about the hotels they book. For example, "pet friendly." Ours said it was and when we called, this was not true. We tried another site that only asked for a credit card for confirmation, not a charge for something we had not seen yet. Why charge people for something they may not get? Does not sound like anything more than a scam! Paying taxes on the scammed money or just using credit cards to steal identity? Either way, the consumer should beware of this horrible site.

I booked a room at the Red Lion Hotel in Federal Way WA. 20 minutes later we walked out because the room was unclean and smelly. We left the hotel and went to another hotel for the night. On our way to finding the second hotel, I called Hotel.com and explained that our room was horrible and I could not stay there. They said to dispute it with our credit card company. Our credit card company said our card transaction were clear enough that she could tell we did not stay at the Red Lion Hotel that night. We received a letter today from the credit card company stating that Hotels.com is still going to charge us for a room we DID NOT STAY IN! This is very poor customer service. We have now canceled our account with Hotels.com because they do not stand behind the hotels they represent.

I booked a room in Reno in August for September 2, 2016. They immediately charge your credit card while on the phone with them, when booking the room I received no verbal advisement whatsoever that there would be a charge if I decided to cancel, as luck would have it we had to cancel less than 24 hours later and then they indicated that there would be a $25.00 charge when doing so? It's not the dollar amount. It's the point of charging me less than 24 hours later. They say that it mentions this on the reservations, true but it mentions that on the confirmation AFTER YOUR RESERVATIONS ARE ALREADY BOOKED.
I am sorry but that is total ** and VERY deceiving and VERY BAD BUSINESS PRACTICES. As a result now I of course completed the cancellation and WILL NEVER USE THE SERVICES OF HOTELS.COM EVER AGAIN. In Fact I am telling all of the people I know of this deceiving business practice of Hotels.com and they too will never utilize their service. I was very dissatisfied with this experience!! As a 30 year veteran of the community of law enforcement I can tell you it borderlines on fraud and it's just the wrong way to conduct business!

The week of 11 Aug 2016, my family stayed at Founders Inn in Virginia Beach. This may have been a good hotel at one time -- not any more! The first room we had to be moved from because we could not get out of the room! They said it required re-keying but when Grandmother tried to take the kids to the pool -- she could not get out of the room. Good thing there was no fire! We were told maintenance man said it could not be "plained" anymore so we had to move.
Additionally, there was a clanging sound all night long waking us up as well as the kids. Next room, the beds were concaved-in, the shower stall was clogged, and the sink was clogged. The one maintenance man worked late into the night and left what was pulled out of the drain -- which smelled awful -- in the shower stall. We could not wash, we could not take a shower, we could not brush our teeth. They said they would get everything fixed so we wouldn't have to move again.
Needless to say -- not everything got fixed. The beds were terrible. We are still suffering from back aches. "Smiles" and "sweetness" goes only so far! How management reacts to problems is the key to a well-run hotel. When we were checking out, the person ahead of us complained that the towels were not picked-up and they were given a 20 percent discount on the room. After all that we had been thru, it took management a week before they responded and we got less than 20 percent off the cost of the room. Additionally we were NEVER given a copy of the bill... I would NOT recommended this hotel to anyone for ANY reason.

First when making your reservation through hotels.com, they will ask for your cc number to hold the reservation, but then charge the full, non-refundable amount to your card, because they are giving you a "special" price. Well I can assure you that in our case, Hotels.com was actually MORE expensive than booking directly with the hotel. When I called hotels.com to ask them why this was, they said they would give me a coupon for $25 towards future bookings. I asked them to just refund my card, and they refused. I asked them why would I use you again, if you are the same, or more expensive, than dealing with the hotel directly? They couldn't answer that. But they refused to price match or refund my card and instead I am supposedly supposed to get a $25 coupon, which I have not yet received, doubt I will ever receive, and probably won't use anyway.

Hotels.com is a scam. They promise you a free night after 10 booked hotels, but the nights expire. They don't say that anywhere. They also don't respond with problems, so beware that if you have a problem with a reservation they won't ever respond by email and good luck getting through by phone. I won't use them again and I think you shouldn't either.

I was offered a 88$ rate for that ugly hotel in Rimouski QC Canada. I took it for 2 nights and was charge 163$ per night by Hotels.com. They never replied to my complaints and requests for a refund. After 10 night booked using their website, I'll use my free night then: good bye Hotels.com for ever.

Incomplete information provided by Hotels.com led to erroneous charges.

I am the complainant company in this case registered under Companies Act 1956 holding the name ** engaged in construction and development of real estate properties in the state of Goa. It has a good market reputation for its customer satisfaction, quality, and ethical practices. The complainant visited London to participate for an exhibition at Olympia Exhibition Centre for which he booked the room in Access West Kensington Richmond court North End Road London, W148SB, GB 4402037634638 through Hotels.com paying Rs.89,785.37 as it was very close to the exhibition area. However the address given and location shown on the website while making the reservation was different from the place where complainant actually stayed. The actual apartment location where complainant stayed is much far than the false marking done on the maps.
The complainant's reservation was done for pin code no. W148SB, however he was informed that his location was at pin code no. W14 9ES. The place where complainant actual stayed was far from the exhibition area, which was very costly, time consuming and very inconvenient for the complainant. The complainant spent 50 pounds every day to take and bring his material to Exhibition centre. Also on the reservation email sent by the opposite party to the complainant it was mentioned daily housekeeping facility but actually it was weekly housekeeping.
The complainant mailed the above facts to the opposite party. The opposite party reverted back to complainant's mail offering him a coupon of Rs. 500 which he can use against the future bookings. Through mail on 28th April 2016, opposite party informed the complainant that 150 GBP has been approved. And within 72 hours it will be refunded to him, mentioning that it will take 7-15 business days to complete the refund process. However, the complainant requested for minimum 50% mentioning that he liked the apartment or else he would ask for a full 100% refund for the same.

On July 15, 2016, my family and I drove to Leura, Blue Mountains region of Sydney, NSW for checking in Leura Camellia for 2 nights. The reservation was duly paid and confirmed via Hotels.com around 3 months prior arrival. By the time we arrived at the property around 5 o'clock evening and the daylight was getting dimmer because of winter, we were all taken aback that there were none of human's signs and the cottage was locked and out of light. We just managed to peep inside of the house through window. Some beds and furniture were there. It just looked like nothing more than a civilian house. I knocked on the door and walked around the property for many times. Still nobody around. Finally we met a woman who was walking dog and asked her if that house was a hotel or a lodge for tourists or not. Her reply shocked us a lot that "There were nobody living inside for months!"
She further added that she walked dog every evening and passed by the house. She knew better than anyone in the area. I finally called Hotels.com hotline for last resort. But their lousy service was really passed me off. First of all, they put me on hold for half an hour and promised to find out the hotel's owner for us. But the call was dropped off due to unstable reception. We got nothing to do but wait. After another half an hour, they called back with different person, who seemed not to quite understand the story and asked me elaborate again. After that he put me on hold again. Another 15 minutes elapsed, the call was dropped out again. We felt very desperate and helplessly at that moment. We started looking for room for ourselves in Leura. Unfortunately, all rooms were sold out in the area. We got stranded for 4 hours until 9 pm when we were able to find a room at the rack rate to squeeze our party of six!
The funny thing was Hotels.com did not call me back ever. After I went back Hong Kong and called their hotline for lodging complaint the most fed up part had just begun. First of all, they would not let you find the right person and department to entertain your complaint. When you called them up, your call would be randomly diverted to either Beijing or Malaysia booking representatives. Every time you needed to repeat your story over and over again to different representatives who picked your call. After making relentless complaint calls, they simply refunded the payment of what I paid for the room by the notice of email without any explanation of why was it happened, not even an apology to my stranded experience!
They also did not answer me whether this hotel listing was faked or not. This 'Laura Camellia' had still been listed on Hotels.com for some time after my complaint until I wrote very bad review to them. After having terrible experience with Hotels.com, I cast a big doubt that how did they assure to prevent vendors from selling faked hotel room or stopping this kind of scam. Worse of all, Hotels.com did not play any role should there be any emergency or complaints arise. This is the worst irresponsible business entity that I have ever come across.

I've had to follow-up on the phone 3-4 different times, after I emailed in all documentation (screenshot of better competitive price, receipt of my actual stay) to get my Price Match. Each time I'm told the case has been escalated to support and I should be getting the refund within 3-7 business days. I still have not received the Price Match. Demand to speak to a supervisor and complain about the service. They will give you a voucher for a future stay for your troubles.

ConsumerAffairs Research Team
The ConsumerAffairs Research Team believes everyone deserves to make smart decisions. We aim to provide readers with the most up-to-date information available about today's consumer products and services.
Hotels.com is a website dedicated to helping travelers find lodging at hotels, motels and resorts. It lists deals from over 325,000 hotels around the world.
Free hotel rooms: Travelers receive one free night for every 10 they book.
Group discounts: Hotels.com offers discounts for large groups.
Secret Prices: Travelers can access Secret Prices by downloading the Hotels.com app, subscribing to emails or becoming Hotels.com Rewards members.
Negotiation tool: The negotiation tool at Hotels.com lets travelers set their own prices to get better deals.
Last-minute deals: Hotels.com regularly has up to 20,000 last minute deals for travelers.
Best for Budget travelers.
Basic Information
Company Name:

Hotels.com

Address

5400 LBJ Freeway
Dallas, TX 75240
United States

Year Founded:

1991

Website:

http://www.hotels.com/