Consumer Complaints and Reviews

I was not told of the $75 nonrefundable pet deposit fee for all dogs. I mentioned during a phone conversation with the hotels.com agent several times that I would be bringing a dog with me. When I got to the hotel the desk clerk said that this happens all of the time with the hotel booking sites and it is better to book through the hotel directly. I checked and booking through the hotel was the same price as booking through hotels.com website. Lesson learned!

Worse customer service. I think their customer service is outside the USA. I booked with hotels.com. One of the reservations was not acknowledged by Cosmopolitan Hotel in Las Vegas. The hotel was fully booked that day so they can only have one of our reservations. We decided to go next door to Bellagio Hotel and cancel the other reservation with Hotels.com. Hotels.com does not want to give refund on the reservation that was booked even though Cosmopolitan Hotel admitted they messed up on one of our reservations. They had told us that they will not charge Hotels.com for the reservation but Hotels.com refuse not to cancel and not still would like to charge us for canceling. I have an email from Cosmopolitan Hotel saying they never charged Hotels.com for canceling the reservations. BAD, BAD Customer service from HOTELS.COM. NEVER AGAIN WE WILL USE HOTELS.COM for our company bookings!

I am a regular user of Hotels.com, well that is until now. A few weeks ago I looked on their website and did a research on a hotel in Paris. I never booked, didn't get a hotel confirmation, and I even checked their website as I had a stay before my Paris trip somewhere local in Chicago and it showed that that was my only stay... nothing about Paris whatsoever.
This morning I got an email from a hotel in Paris saying that I am being charged as I never showed up or canceled my stay!! I called Hotels.com customer service, mind you I am a silver whatever which obviously means nothing to them. Got placed on hold for 5 mins then this lady who checked my profile and confirmed that I have no booking, said I should call the hotel. She said someone there is a booking even though it is not reflected on my account!! I asked to speak to a manager.
18 mins later I finally spoke to someone who claimed to be the manager. She said I should call my credit card. I insisted that this is their issue and they should sort it out. Then she said she will call the hotel and asked me to stay on the line. I told her I had to go as I am calling international and I would appreciate a call back or an email back with an update, her answer was "I can't promise"!! Are we serious here? You can't promise. I am a client not your personal friend who you are trying to set expectations for!! Completely unreliable. Once I am back in the US I will ask my credit card company to sort this out. What a disappointment... what a horrible and untrustworthy customer service department!

We booked 3 rooms through Hotels.com for a large group to travel to a funeral. When we found out we could stay with someone local, we canceled our entire reservation. Hotels.com only canceled one room, for which we received a refund. We called to follow up and were told "We're very sorry, that is our error. We will refund the remaining $1033.76 immediately." Needless to say, they did not. We called two more times and were told the same lie, never any refund. We called again and were told they refuse to refund the money because the rooms were never canceled!! Right – never canceled due to the error of Hotels.com – not us!
We decided to try one more time, and were told they understood the situation and our frustration and would refund the money and send us a $200 voucher for our troubles. Unfortunately, again, a lie. The final call we were again told too bad, they refuse to refund the money, and 'unfortunately the recording of the call when we originally canceled the reservation doesn't exist'. We were told there was 'no one higher' to escalate the call to but we could write to headquarters. What a scam. Do not use Hotels.com unless you like throwing your money away.

We had booked trip to London. Upon arrival, the hotel tells us, they have no agreement with Hotels.com, so no booking. I call Hotels.com, long story, but I have never EVER experienced anything so unprofessional! I had to be on the phone with them for four (4!) hours, and in the end their solution was - "please book yourself, and we will compensate."
During the four hours, three times I was told they had sorted it out with the hotel. I then checked with the hotel, who each time told me, they had no agreement with Hotels.com - so three times they told me a direct lie, to get me off the phone. Once, they told me, I would be given a 100GBP compensation, for walking around in London, not being able to get a shower and change clothes after my travel. Now, they tell me, it is not registered in their system, so they will not give me that compensation!? I ended up having to book myself - which a Friday night at 19.30, is more expensive, than original. That was the advice Hotels.com gave me - but now they refuse to refund my extra cost.
I have never been handled so unprofessional before. There is absolutely NO customer service, nothing like helping the customer out. The associated cost, I have had, and giving me compensation, should be marginal - but still they won't give a dime. Worst experience EVER. I will NEVER EVER again use Hotels.com and advice all I meet to not go with Hotels.com. In talking to numerous people I get similar to my story. So that is apparently a typical way, they handle business.
How do I know I can trust these reviews about Hotels.com?
633,951 reviews on ConsumerAffairs are verified.
We require contact information to ensure our reviewers are real.
We use intelligent software that helps us maintain the integrity of reviews.
Our moderators read all reviews to verify quality and helpfulness.
For more information about reviews on ConsumerAffairs.com please visit our FAQ.

When needing a hotel for two nights while taking a class in Perimeter recently, I made a reservation through Hotels.com. I was excited at the thought of staying at the Crowne Plaza Hotel in Perimeter, as it is one of the finest hotels in the area. When I arrived and attempted to check in, I was told there was no reservation for me for that evening, that my reservation was made for a different date. The hotel was trying to help correct the issue, but the Hotels.com operator seemed unwilling to work with them. They told her there was a room available, that she just needed to change the date on her end. She said she could not do that. She then told us the reservation was nonrefundable.
My excitement to be there immediately turned to concern and fear. It was late and I was traveling alone. And while I felt safe upon arriving at the Crowne Plaza Hotel, the fear of having to find another hotel, a reputable hotel within my budget, at 11 o'clock at night, was greatly concerning for me. I told the operator that I wanted to dispute my reservation being made for the wrong date. She said they could check my online footprint to see if I had indeed typed the correct date, but it would take weeks before information would be available.
The manager at The Crowne Plaza gave the operator at Hotels.com permission to refund me the money, but when the Hotels.com rep spoke to me, she told me I would have to use it on another hotel being offered through Hotels.com or I would lose the money. So my $108 per night rate then went up to $411, which I could not afford, as it was far beyond my budget. She did this even though I was already at The Crowne Plaza and could have stayed there, paying the hotel directly, for less money than she was charging me to leave and stay elsewhere.
I believe the Crowne Plaza did everything they could within their power to remedy the situation for me and I'm very appreciative of the kindness of their staff, management and even the valet who waited patiently by my vehicle while we both thought I was simply checking in... And continued to patiently wait until we knew whether or not I was going to be staying the night. The situation was very upsetting. And having to deal with all of this late in the evening, the night before a very important class, after driving more than 11 hours to get to Atlanta, made it even worse.
I do not foresee using Hotels.com again in the future, but would like to encourage anyone staying in the Atlanta area to stay at the Perimeter Crowne Plaza. Their kindness was comforting, especially in a moment I was on the verge of tears. The reservation I was then forced to take through Hotels.com was at Embassy Suites. Sadly, it was simply a continuation of my nightmare visit to Perimeter that week. I would not recommend using Hotels.com and I would not recommend staying at Embassy Suites in Perimeter.

I have had the worst customer service experience with hotels.com. Zero commitment and professionalism. It's more like a fraud than an actual service provider. I made a booking through hotels.com as a referral from my friend. As per hotels.com email, I was supposed to get a $50 bonus when I would use the link in the email and my reservation is more than $200. With an agent's recommendation, while we were on the phone, I made a reservation of $309, which satisfied all the criteria to get the reward. The agent asked me to confirm the reservation and then he would apply the reward deduction from his end. I had no intention to book if the agent had not assured me the reward. As soon as I gave him the confirmation number, he transferred my call without notifying me.
I was bouncing back and forth through few departments. Finally, one agent picked up and said that she would talk to a manager about the issue. After a little chat, the agent assured me that the manager had agreed to provide me a $50 refund to my credit card. I was asked to wait 5 mins to get a confirmation email. I didn't receive that email in more than 24 hrs. When I called again on the next night, a different agent picked and refused to give my $50 credit back. I was so furious. Finally, I asked to cancel my reservation. I would ask anybody who is reading this to stay away from hotels.com if they don't want to be harassed and deceived. "Bad" is not even a rating I would use to describe my experience properly. It's way worse than that.

This is the worst experience I have ever encountered when trying to make a hotel reservation! Customer service was horrible as they continued to put me on hold and even hung up. I could not understand a word they were saying! Please think twice about utilizing this service.

Booked 4 rooms online with Hotels.com in Delhi India. All confirmed with booking numbers and paid on credit card. Arrived at hotel today and it was padlocked and had been closed for 7 months. Have had to stay nearby hotel at over $200 a night per room!! Never again.

I have stayed in 27 different hotels this year and have stayed a total of 48 nights in hotels. I have spend a large amount of money using this website and have an account with them. When I went to redeem one of my free nights it wasn't showing I had any to use from their 10 night get one free program. After calling them they tell me my account is not a rewards account but ask me to log in every time to get the rewards. They would not help me in combining my account or offering me any of my free nights that they could see that I had earned. This being said I spoke to not one American who could speak English. I am very unhappy and will no longer us this company to book and night for a hotel stay. Customers please stay clear of this website.

I have used Hotwire and Booking.com many times in the past without issues. I recently booked two different reservations which I was fine with. I checked my email for my hotel reservations shortly before I was leaving. I found the two that I had booked and then a third for a Hostel in New York City. I have no recall of making this reservation and had no intention ever of staying in a hostel - it was fine when I was I was in college but now I like more comforts and amenities. I called hotels.com on the phone number listed on the website. I talked to customer rep #1 who told me she could not pull up the account because I had actually booked the reservation on tripticket. I hung up there and called Tripticket. The customer rep there told me she could not access the reservation because the record showed I had booked through "Hotel US". I looked it up online and this was Hotels.com.
So I talked to Rep #2. I emphatically told her several times that I had not made this reservation and I never had an intention of staying at this hostel in New York. She put me on hold twice to talk to the hostel and told me they would only give me a credit at the hostel for the next year, which I told her many times that I did not want. I asked to talk to a supervisor or fraud department and she told me there were none, and that there were no other numbers I could call at hotels.com to find out how this happened.
I made this request (even more emphatically) several times and she kept telling me to call the hotel. I told her the problem was with her site, not the hotel. I expressed my dissatisfaction, that I would disseminate this story, that I would never use this site again, and that I would be contacting the fraud department of my credit card company. She again redirected me to call the hotel. Be very careful if you have an account on this site. I am closing mine out now. I only hope that this may save someone else this situation with this warning.

I made a reservation through Hotels.com for a stay at the Marrakech hotel in NYC for Nov. 4-7th. I canceled the reservation on October 25th which was well within the Hotels cancellation policy. To my dismay on returning from my vacation the credit card that had been left on file for the reservation with hotels.com had been charged the full amount of the 3 day stay. Despite 4 customer service calls a supposed complaint number the final answer from Amanda ** "customer service specialist" is they will not issue a refund to my credit card because the hotel says it did not charge my card!!!
I have sent copies of the charges, the receipt number of the bank transaction made by the Hotel Marrakech with their merchant number the dates of the transaction and hotels.com refuses to accept any responsibility!!! Does anyone have information on filing a complaint on this company in NYC??? I recommend to never book a hotel through them. Because if you have a problem my experience with them has been zero solution!!

I stayed at the Days Inn on Sept. 28 and 29, 2016 in the worst room ever. The knobs had been taken off the a/c so that you could not adjust it. The carpet was filthy. The water faucets in the bathroom were antiques and did not work properly. The wallpaper was falling off the wall. I left a headphone radio laying on the bed that my deceased father had given me years ago.
When I got home and realized that I had left the radio I immediately called them on September 30. I was told that no radio was found in the room. I called back and finally got to talk to the manager who denied that anything was found left in that room. I then wrote a letter to the CEO of Days Inn complaining about my radio because I distinctly remembered it laying on the bed. I never heard from the CEO but on Oct. 22, I mysteriously and surprisingly received a call from the manager telling me that my radio was found. This was 3 weeks after I was told the radio was not found and after I had written a letter to the corporate office. To this day, I do not have my radio (Nov. 13).
The CEO will not respond to my pleas. He was on "Undercover Boss" and cried over a couple of his employees. He is a fake from the word go. He does not care about his customers much less his employees. The crying was all for show. If you look at the picture of the hotel on TripAdvisor, it shows a nice hotel with a pool. This is far from reality. The pool is not even operational. The lobby looks great but the rooms are old and run-down, and filthy, and there is a thief working there.

I searched for a hotel reservation in Ridgefield NJ while traveling. I was 10 minutes away from the hotel. I went to hotels.com via a mobile phone. Seeing a fairly low price I booked it. When I arrived at the hotel they had no reservation. They searched only to find one made two weeks prior to my visit. I immediately called them and was told because it was a special rate they could not change the date or issue a refund. No such terms or date were visible when the reservation was made. Only when I read the confirmation e-mail was this information presented. The point here is that the search yielded results not for the date set, the fact that it was nonrefundable did not appear, and they refused to rectify the situation by changing the date. This is a violation of contract law. I called them within 15 minutes of making the reservation to inform them of their mistake. My bank even tried to deal with them with no success.

I booked through Hotels.com based on a location of the hotel when I pulled it up in their website. I was traveling. After booking, I pulled up the hotel address on the GPS and saw the hotel was North, instead of South. I called to cancel, and due to the hour, they were unable to refund my money because the manager wasn't in. I couldn't get many answers due to the language barrier; the agent was located in the Philippines. The hotel called me later to tell me they processed the refund, the employee had reached out to the manager. Days later, I still didn't see the money in my account. I called Hotels.com and they couldn't see the transaction so they had to call the hotel again to confirm. The manager wasn't there, so I still don't have my money. She had no way of viewing refunds, and could only process a refund if she could speak with the manager.
So, Hotels.com gets money and unless a customer calls and follows up, they hold onto the money and don't refund. "G" was nice, but again, I spent a lot of time on the phone due to the language barrier. She couldn't understand what I was asking so she repeated a lot of the same information. Will not use them again as long as my memory is intact. Horrible. They don't track when hotels refund them. Also bad that I can't talk to someone from the US who would be able to clearly understand me.

I have owned and operated a boutique Hotel for over 16 years and have recently been innkeeping in other hotels. Every time there is a problem with an overbooking issue or an improper charge, the first I say to the guest is "Oh, you must have booked through Hotels.com". Almost without fail it is Hotels.com. My advice is to avoid Hotel.com....they are the worst. Remember the contract you have is between you and your OTA (online travel agency), ie Booking.com, Expedia, Priceline, Hotels.com. Please when your OTA screws up your reservation do not blame the hotel... blame your OTA. It is almost always the middle man (OTAs) that drops the ball. The honest truth you should call the hotel directly to make your reservation. At least you can be sure that there is a responsible party on upon your arrival.

I booked a hotel in Beijing, ibis Beijing Dongdaqiao, last July through hotels.com. I arrived at the hotel with the address shown in hotels.com site and there was no hotel to be found. I was lost and called the customer service several times. They kept transferring me directly to the hotel and it kept getting disconnected. Every time I called back because there was no direct contact number of the hotel provided, I had to explain the situation all over again. After several calls, several transfers, I finally managed to get the address of the hotel and arrived after standing on the street 35 minutes being lost. There was no apology from the hotels.com and they never changed the hotel address that is wrong.
Now I just booked a hotel in London for my business trip, Travelodge Southwark, and was sent an email saying that the hotel is overbooked so I need to change the hotel reservation with a new option, Central Park Hotel, which is literally 24 minutes away from the original hotel by CAR. And in the e-mail it says 2 minutes walking distance from each other. I'm currently in a call with one of the representatives from the hotels.com and they have been putting me on hold with no reason for 20 minutes. Absolutely absurd. Never will use this ** hotel reservation service ever again. Ridiculously unprofessional and extremely poorly trained staff also.

#1 make sure you are completely 110% LOGGED IN. If you are not. Nothing you do will go you to email, app, etc. That is the problem I am having. They say they can take an itinerary and connect it to account LIES! You cannot download account/travel info in other countries (no wifi outside US) without logging in = potentially THOUSANDS of $$$ to log in, in a foreign country. #2 option/advice PRINT EVERYTHING. Every single email you get. Do not get credit card. Do not create account. #3 just don't use Hotels.com... I never will again...

Obviously, I am too trusting a person. I called the number for the hotel, only to be through to Hotels.com. I spoke with a man who gave me the price of the room (which was around $60 or so). I mentioned that I needed long term parking at the hotel and asked if that was available or not. He put me on hold, came back and said that long term parking was around $36 (I think he said it was $7 @ night, except the first night). So, I booked the room with the long term parking at the hotel. Once I got to the hotel, I was charged $11 for parking and was told that parking isn't paid through Hotels.com and I should have called the hotel directly. I called Hotels.com to request a refund and was only offered an $11 refund for what the hotel charged me or a $30 voucher (good for one year) at any hotel listed through Hotels.com. I'm not about to book through them again because they charged me for parking that I had to pay for at the hotel.
I spoke with a representative, then her supervisor. I wasn't able to get my $36 back for the parking they charged. Now, I am to write a letter to the corporate office in order to get someone to listen to the recorded messages to get my money back. This is ridiculous. A supervisor ought to be able to gain access to the original call and provide a refund on my credit card. I will NOT use Hotels.com ever again. What a rip-off!

I usually book all my hotels with Hotels.com but their customer service is horrible. I had to speak to 4 representatives to try and get problem solved only to be told that I have to do it, and they will walk me through it.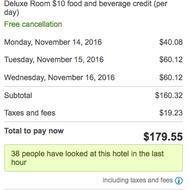 They are corrupted. Even when you call them they say yeah we are going to save you money. Then when you get to hotel they charge you the resort fees etc. and you end up losing money. Their customer service is a bunch of cold-hearted robots because I called up with this complaint and they have no sympathy and did not even admit their fault.

I didn't know when booked my hotel reservation was through this retarded company. I book Nova Platinum Hotel for Jan but wants to change so I called the hotel directly but the hotel associate told me to call Hotels.com since the booking was made by them. STAY AWAY FROM THIS COMPANY OR YOU WILL BE VERY SORRY AND KEPT YOU WITH NO CHOICE BUT TO DISPUTE THE CHARGE.
Here's what was my experience when I call these people. First I don't know what country that I called but the first guy I call I think he was eating while talking to me and said that he will contacted the hotel to make the change for me. NOT CANCELING. Waited 10 min. The line got disconnected and second time I called the lady in the phone had such a deep accent. Then I was not able to understand a word so I hang on hope to get some help, place on hold and the line got cut off again and called third times. This guys takes the trophies to be the most retarded. I don't understand a word that comes out of his mouth and the whole conversation was awful. This guy sound like someone who just got out of a bar and hangover.
DO NOT GIVE THIS COMPANY A CHANCE IF YOU ARE NOT SURE ABOUT YOUR TRAVELING DAY OR WANT TO MAKE CHANGE. Hotels.com please don't help people who travel as you may think you just causing people problem and why google even let your stupid company to think that you are helping people. GO TO HELL Hotels.com.

I booked a hotel at Montauk which I wanted to change to another hotel. I contacted the Hotel who claimed I can change the date if I reported before two days for arrival. I tried to change the date, but no luck. Hotels.com has suggested that they would take care of it and guarantee a change of date to avoid losing my money spent at the hotel I initially reserved. After all the two weeks trying to get the date changed, Hotel.com came back with an email that no change of date can't be done. I called back and ask for a change of date not a refund, and Hotels.com refused to help. I lost $766 due to their lack of cooperation. I spoke to the service person, and they stated I can change my hotel and they will take care of changing the date to the original hotel. They failed to comply and I lost all my money. I am writing this review as I was totally disappointed that they didn't comply to the original commitment.

I used to always use that service for my hotel bookings. Lately I have noticed that their main focus is profit at the expense of customer service. I booked a hotel through them hoping to use 1 free night I have accumulated with them. After I was done booking my reservation I realized that it didn't account for my free night which would have cut my cost by half. So I called them on the phone only seconds later to rectify the matter. They told me that according to the policies of the Hotel I was staying at cancellation was not permitted.
However when I spoke with the clerk at the front desk, where they told me, they had no such policy. I spoke with a manager there, who just repeated to me over and over the same thing as if he were a robot and wouldn't budge from there. Moreover, back in July, I went on a long vacation where I stayed at various hotels for a one-month period. All of them booked through Hotels.com. However they record none of that. Please stay away. They're not worth the aggravation.

I belong to Hotels.com and I am extremely upset with them. I booked a hotel in Canada and went online to my bank and they charged me in USA funds. So the hotel cost was $94.46 plus taxes and I was charged $149.57. I called them immediately and there was nothing they would do. You would think since the Canadian dollar is much lower than the US dollar that I would be charged less in USA funds. My friend booked the same hotel for the same night and was charged in Canadian funds for the $94.46 plus taxes. I told them to cancel the reservation and I would rebook directly with the hotel, but unfortunately the hotel would not let me have a booking as they were full unless I booked for 2 nights, now online it says I must book for 4 nights. What a ripoff. I checked my bank today and I did get a refund but because of the low Canadian dollar I only got $142.01 so again I was ripped off. Will never deal with Hotels.com ever again.

Our company has booked 16 rooms through the Hotels.com, but we was overcharged. My colleague contacted them (both Hotels.com and the Comfort Inn Manchester) for nearly one month, the Hotels.com asked us to email the hotel, but the hotel has no reply until now! My colleague spent 50 pounds to make the phone calls, and much time to email them in the past month. Until now, the hotel.com even didn't reply us. Customers trust you, then booked through you. You should not just take the commission, but do nothing! I think you should have the responsibility for both the hotels you advertised and the customers! It is really an awful experience we met.

I try to book for a room in Munich and do a search on google. So it came out a few links about hotels in Munich. I click on one of them. It display the hotel close vicinity to the central of Munich with great price. It was Royal Munich hotel which I am interested to book. It indicate I can book through hotels.com with hotels.com link provided for me to click on it. Once inside hotels.com, I selected the date from 7th Nov to 10th Nov and click the book button. It indicate the price as I need but the date was changed to 6th Nov to 7th Nov without me noticing it as I thought I have already indicated my date to stay. I proceed to the payment unnoticed the date has been changed without my acceptance. Payment go through and while I process to print my itinerary I found out the date has been automatically change to 6th Nov check in and 7th Nov check out.
I immediately called hotels.com, they told me they cannot cancel the booking for me unless the hotel approve. Nicely they offer to call up the hotel and was told that the changes can only be done 5 hours later because it is mid-night 2am in Munich. I waited for 5 hours till about 2 pm. Called hotels.com again and again they offer to call to Royal Munich hotel. I waited for about 10 minutes and the operator reply to me that the date can be changed to 7th Nov check in and 10th Nov check out but instead of the offer price of S$103.40 per night, it jump up to S$365 per night. This is obviously trying to cut my throat on the mistake that is not done by me but the design of the website of hotels.com put customer into such unbearable situation and hopefully in your desperation to get a urgent place to stay, you will accept their unreasonable offer.
Well too bad for hotels.com, I decided to lose my S$103.40 and say goodbye forever to them. The staff of hotels.com offer a refund to me in the beginning but try to explain to me the situation and also try to convince to take the offer. I insist that I would like to cancel the booking and at the end, she eat her words back and denies that she did not offer to refund me instead asked me to hold on while she try to connect to Royal Munich hotel to persuade them to allow me to cancel the booking. This again is another trip. She left me on the phone over 34 minutes in order to make you lose the patient because the mobile will counting every cents on the mobile bill while you are waiting. I finally give up and tell myself it is an bad experience that I learn. However, I will not allow this to go silent. Each individual out there may be another victim like me.
I guess the arrival of airbnb has hit on the hotel business so badly that agent like hotels.com has to resolve in such a tricky way to cheat customers. It end up a blessing in disguise because my friend who is with me help me to get a apartment on airbnb with price within my budget. Considering the S$103.40 I had been eaten up by unscrupulous company like hotels.com earn me a knowledge to book my stay forever with airbnb.
So to everyone out there, if you really need to stay in hotel try out booking.com. This site never ask for payment. Cancellation is free. Payment only make at the counter of the hotel when you check in. Help me to spread this to every of your friends that happened to choose Munich as destination for holidays. My lesson to lose the money is well spend if it mean to help many others from falling into the trick of hotels.com. Please send this to all your friends and circulate this message as an attention to everyone out there.

I booked with them but when I arrived after eight hours of driving they couldn't find my reservation. A quick conversation with the hotel let me discover that they had booked it for the next weekend and there was a cheerleading convention in town. Not only did they have every room at my hotel booked but at the surrounding hotels as well. The person working the front desk knew *before even looking* that I had booked with hotels.com. She informed me that it is a regular problem. If they are booked up then hotels.com will book you for the next weekend. Then they try to upsell you an exorbitant last-minute room when you call too tired from your trip and away from a desktop where you can find an easier solution.
Surprise, surprise. When I called she was "coincidentally" spot on. They said they could get me a room for five times my original booking price. Never, ever use hotels.com. My opinion is that they are about two steps below the guy selling watches out of his trench coat at three am in a dark ally and about half as trustworthy. Save your money and book elsewhere.

I have been using Hotels.com for several years. After requesting a price match that the hotel agreed to honor, and having to deal with Manager whom I believe is named Maury. I will not longer be using Hotels.com. They try to scam people and do not do what is best for the customer. They have major system issues that prevent them from doing what the actual hotel can do which ends up costing the customer more money. They waste your time with multiple client services reps for no reason. Overall, after this experience I am done with Hotels.com.

I had to cancel the booking of a room at La Quinta Inn & Suites Sunrise Sawgrass Mills (Sunrise, FL) and I requested the refund of the amount I had paid. They sent me, by email, a refund receipt. But such reimbursement was never paid. I contacted my bank manager; she opened a claim on the case, but the investigation by the bank proved that the refund was never made. I got in touch again with Hotels.com, and they sent me the receipt again. I'm right in the middle of this dispute between the bank (Regions) and the hotel (Hotels.com) without receiving the money back.
Hotels.com Company Profile
Company Name:

Hotels.com

Year Founded:

1991

Address:

5400 LBJ Freeway

City:

Dallas

State/Province:

TX

Postal Code:

75240

Country:

United States

Website:

http://www.hotels.com/