Consumer Complaints and Reviews

Copa Airlines has now more than doubled their prices for domestic flights here in Panama. It is outrageous that all these airlines are allowed to get away with this price gouging while at the same time making record profits. And to think that some of you actually believe that they appreciate their customers!

We were flying from Lima, Peru to New Orleans with a break/transit in Panama City. We landed in Panama on time, my husband went to the banos/bathroom as he was feeling sick and cold, we had eaten different meals on the flight from Lima. The flight boarded on time and we taxied to some spot and then waited over 30 minutes before moving again. During this waiting my husband had to use the sick bag, there was only one for our two seats. There was no announcement as to why we were waiting to take off even though the plane had boarded on time.
There is an announcement for cabin staff to prepare for takeoff and then we head off. The plane has leveled off but the seat belt sign stays on and lights are off. Twenty five minutes into the flight three people have got up to use the toilet but seatbelt sign still on, no messages in Spanish or English, no turbulence. My husband has now been holding a half full sick bag for around 50 minutes and we don't have a spare. Seatbelt sign eventually off I press the call for the steward, call sign goes off with no help.
On the second try a lady arrives, my husband holds up the bag and asks for water, even saying 'aqua.' I ask for another sick bag. She looks like she has never seen a sick bag in her life and looks at us hopelessly. We repeat, "Water and sick bag please and pass the bag." She disappears, at least she took the bag, but does not return with a spare bag or water. Fifteen minutes later I press the call button again, after about eight minutes a different steward arrives, we ask for water and a sick bag, she doesn't seem to understand sick bag so I opened the pocket to show what was there and mimed throwing up, she nodded returned with a water in a plastic cup (hence a small serve) in about three minutes and came back with two bags after another five.
After half an hour or so my husband was sick again, he really was very discreet and as quiet as possible. I pressed the call button and after ten minutes a steward arrived and we handed over the bag, though the presentation of the bag seemed to perplex and surprise the steward, and asked for water, getting a small cup in about three minutes and another bag dropped in passing about five minutes later.
When the food trolley arrived the steward wouldn't make eye contact with my husband in the window seat and looked to me, I got water for my husband and a drink for me. I wasn't going to risk the food as it was the previous flight that had caused the problem we think. Luckily he wasn't sick again, we made one more call for water, but that was because the two third full cups were not a lot of water.
We're told we will be landing in twenty five minutes. About ten minutes later US customs forms are delivered. Well in my case dropped from over my shoulder behind me by a different steward, it was the Spanish version. I hit the call button, and one of the female stewards nervously comes to my spot, I hold up the form and say, "English please." This seems an unusual request and she rifles through the pile of forms and finds an English one. I can't believe our being English speaking is so difficult since we are about to land in New Orleans!
I feel like the cabin crew are barely trained, surely English for sick bag please while holding a used one is no leap. But most significantly there was no basic human caring, no sympathy. Even if one person being sick is scary surely they should do their best to make us comfortable so we don't disturb other customers? I don't think other customers were aware because we were very quiet but also the lights were off for the whole flight from 6:30 pm to 11:00pm except for the last ten minutes of landing, I felt the whole light off thing was to minimise any service opportunities. I tried to use the website to complain about our treatment. When I get to the right section it says I have to load the form in Google chrome. I download and use Google chrome and the same message appears, clearly they are not interested in improvement. We won't be flying COPA again.

I've traveled with Copa at least half a dozen times. As far as I could tell, they did everything right, and they beat the competition on price. I was surprised by all the negative reviews. Yes, it's true that if you talk to 6 Copa employees you will receive 6 different answers. But that holds true for everything in Central America.

Bought a ticket with Copa Airlines from Chicago to Brazil with a layover in Panama City. I wanted to use my Star Alliance Premier upgrade for the way back. According to United's website, the way to do that is to call a United Mileage Plus rep and they will do the upgrade for you. And so I did. With my upgrade confirmed, I began my trip. When I tried to board my return flight, I was called aside to the counter, where I was told that my return ticket is invalid (although I had a boarding ticket showing a seat number). Why? Because the COPA can see the reservation for a business class ticket, but they cannot see that it was paid. I said, "Fine, please put me in an economy seat instead." "No we cannot," they said, although there are economy seats available, I cannot board the flight at all.
Here I am, in Sao Paulo, with a paid, confirmed boarding ticket in my hand, with vacant seats on the plane, but I am denied boarding. WHAT??? Well, the COPA reps tell me to call reservations and ask to rebook. On the phone, COPA reservations reps say they cannot see how much was the fare because it was bought through a travel agent so they cannot do anything about it (?). Can't rebook, not even for a penalty. Computer says no! As one of the reviewers above me said once they go into "not our problem" mode, there's no way out. "Go talk to your travel agent, go talk to United, not our problem." Called United, they insist that they did book an upgrade for me, but they cannot do anything because it's not their ticket. Go call COPA... Catch-22.
UPDATE: United budged and put me on a flight back... Even they couldn't cope with COPA! If it was up to COPA, I think I would be stuck in Sao Paulo forever. In summary, I've been mistreated and abused by airlines many times before, but this certainly sets a new record. And if you are considering flying COPA I say to you: NO! NO! The sweetness of the fare is not worth your well-being and mental health.

On 03/02/17 my friend and I had a flight to Panama City from NYC JFK schedule for 8:55AM on Copa Airlines. We arrived at the airline counter at 7:50AM, 10 minutes before closing the check-in desk (which can be verify in their security camera system). The agent informed us she was about to close flight for check-ins and because we didn't do our check-in online (a Copa airline system that does not work) and have bags with us she was not able to check us in.
She suggested to call Copa customer service or come back to her later on. She also said the airline was going to charge us for putting us into the next flight schedule for 2:25pm and that it could be less expensive for us if we decided to do it right there with her instead of calling customer again. She recommended us to come back to the counter at 10:15am and look for help and try to get into the next flight. We did so.
Unfortunately for us the new agent, after us telling her the incident said our reservation was completely cancelled due to a NO-SHOW (no matter we were there 10 min before the closed the flight). She also said we had to pay a fee of 140 dollars per person and to buy a new ticket to come back because ours was also cancel. This new ticket to come back to NYC was around 1000 dollars.
We left the counter to discuss our financial options and after 15 min we went back to her to explore fair and accessible options for us. Close to 11:20am we spoke to two other different agents asking for help.The looked at each other like not knowing what to do. One of them tried explaining the other one the charges we were supposed to pay but even her couldn't understand why and how much. Apparently neither of the agents who were talking to us were able to calculate the correct charges and/or give us options.
Overtime we went back to the counter it was a different amount and the prices were inconsistent and higher every time. At 1:10pm, 15 min before closing the second flight to Panama, the agent notified us with the correct amount we were supposed to pay. It was $1200 dollars per person. We explained we did not have that kind of money and that we were willing to pay the fee and begged them to put us on the flight. They said NO. The only way to take the flight was buying a new ticket from them right there for $1200 dollars. At 2:25pm the flight left. An hour later after debating about solutions we decided to call Copa customer service again and ask one more time for help.
After more than 40 minutes of waiting someone asked me to tell him the situation one more time, then she put me on hold for another 10 minutes. When she came back she said our roundtrip flight was cancelled because we did not arrived (which is not true). I tried to explain what had happened so she could help us since I was still hoping someone would give us options and understand the situation. I asked four basic questions about our situation and for each of them she put me on hold. It took 5-7 minutes per question. In the forty minutes duration of the call this person did not understand what we were going through. What she offered us was continue waiting at the airport for 8 more hours and pay a penalty of $280 dollars plus $150 dollars for agency fees and other $108 for other fees and $1000 dollars for the flight back to NYC.
As the reservation was made through Expedia I contacted them around 5:00pm. They explained to us the only charge we had to pay was $280 and I could be able to use the ticket at any time in the future. They said Copa had cancelled the flight. She suggested to take the third and last flight Copa had schedule for that day at 1:00am. She said if we decided to take that fly we could work all the changes on Copa website or at their counter by 10:00pm and that they, Expedia, will contact them also to discuss the situation. An hour later I tried to check the information on the Copa website and after several attempts I was not able.
I called Copa customer service again and they said we already were on the next flight for 1:00am. After almost 13 hours at the airport I called them again to notify them I wasn't going to be able to fly. I was already feeling sick and not in good condition to be on a plane. The person this time told me they already had withdrawn $280 dollars.
This is the worst experience ever. Copa Air service is insensitive. It is solely designed to get more and more money from its customers without any human consideration and without offering any kind of customer service. Their ticket brokers at JFK, JFK managers, website check in and customer service over the phone are inefficient. In more than 20 years that we have traveled we had never experienced a bad treatment like this, such complicated and inhuman service.
How do I know I can trust these reviews about Copa Airlines?
848,010 reviews on ConsumerAffairs are verified.
We require contact information to ensure our reviewers are real.
We use intelligent software that helps us maintain the integrity of reviews.
Our moderators read all reviews to verify quality and helpfulness.
For more information about reviews on ConsumerAffairs.com please visit our FAQ.

I purchased a ticket online for my father to attend my aunt's funeral. When reviewing my credit card activity I noticed the amount of the ticket charged twice. One charge was Copa Air and the other Copa Web. I immediately call customer service to resolve the issue and was then directed to email the escalation department for assistance. I sent my information and received an automated email as a response saying that someone would contact me in 48 hours regarding the issue. No one did! I called customer service again and they said no information was received and to resubmit the information again and wait another 2 days.
The lack of communication is ridiculous! After almost an hour on the phone they miraculously find the email I sent and tell me it's being worked on and I should hear from the agent in charge of my claim, Genesis **. I received one email from this person and nothing more. Considering this is their mess and it consistently happens (based on past reviews). For anyone reading this DO NOT PURCHASE ONLINE WITH THIS AIRLINE! In the end you will pay more out of pocket than what you think you are saving. HOW MANY MORE DAYS FOR A REFUND?

My father had a return date for April 03, 2017. My mother and I called multiple times inquiring about return date changes. My mother agreed to changing it to February 9th, 2017. There was a fee but nothing was paid for. Upon calling my father to let him know the new return date he declined due to illness. We called back since we didn't pay for the change. We were under the impression that the flight return date change was not finalized. We made multiple attempts explaining the situation to keep original return date and even asked to speak to manager or supervisor and the manager on duty refused. Only communicated through the representative we were dealing with. As a manager that is completely unprofessional and poor customer service. We were told there is no return date on our flight now. We paid over 1000 dollars for the ticket, and were told we have to pay for a flight change to return to Canada.

I would like to inform all customers that this airline is so inefficient and worst of all has no work ethics. They charged my card with no authorization and now I HAVE TO BE FOLLOWING them for my refund. Their departments lack of communication and don't know the correct processes for which they all provide a bad service. When we initially called on Dec 6, 2016 we asked if they requested a Yellow fever vaccine to fly to Bahamas. They said NO. When we get to Panama City we can't board since we weren't wearing the yellow fever vaccine. We are now claiming to be refunded for Bahamas tickets that we never used, on top of that, they charge extra my card with NO AUTHORIZATION and with no valid reason. They should not be part of Star Alliance.

I booked a trip through Groupon and the airline my deal came with was Copa Airlines. Long story short, my connecting flight was delayed causing me to arrive to the Copa's check-in counter at 4:10 PM and my flight to my final destination was suppose to board at 5:44 PM. There was no one at the check-in counter. A TSA agent gave me a number to call Airport Customer Service to report no one was at the Copa counter. After I did so, someone came up but would not let us check in. He said we missed the three hour window for international flights to check in. NOWHERE ON THEIR WEBSITE DOES IT SAY THEY CLOSE CHECK-IN THREE HOURS PRIOR TO A FLIGHT BOARDING.
He didn't care that we already paid for the flight and our connecting flight was delayed. We asked him for a later flight and he said nothing was available for that evening or THE NEXT TWO DAYS. We ended up flying one way with American Airlines because Copa wouldn't let us board. When we tried to return they charged us each an $160.00 "missed" arrival flight fee! They would not let us fly home if we didn't pay it. Keep in mind, this is a flight that we already paid for!!
When we got back to the States, I contacted their Customer Service and that's when I really found out how much of a joke this "business" is. On their automated email signature it says they will respond to your email within 15 DAYS, and they responded to me in 14! Wow. I spoke with Evelyn ** and Diana ** and they stand behind their airline agents not assisting us with check-in.
I now see why my deal through Groupon was so cheap. No one would book with Copa if they had the choice! If you want further verification of Corrupt Copa, read their review on Consumer Affairs, their Boycott Copa Airlines Facebook pages, Yelp, etc. They only had 3 desk open and it's 2016 but they don't have self-check-in kiosk. COPA JUST WANTS YOUR MONEY. PLEASE RUN!!

On December 10, I arrived at the Toronto airport at 4:20am to check-in for my 19 hour flight to Guatemala. I had 2 50 lbs. bags to check in and had 2 small carry-on plus my laptop bag. I was asked for my passport and then I was asked to see the carry on bags. When I showed her, the agent told me that I had to get rid of one. I told her to charge me for the other one and she said no in a very rude voice. After, she said, that if I didn't get rid of one, I would not be able to travel. That's when I called my friend who had dropped me off to come and pick up one bag. To my surprise, the agent had called the cops on me. She told the officers that I was intoxicated and that I was danger for all the passengers. I was no intoxicated. I started crying and went into a state of shock and had a panic attack. I've never had any problems with the law. I am a good Canadian Citizen.
The manager informed my friend to tell me to go back in an hour and that he would check me in. I was in no state to fly. I had been crying for a very long time. Now, Copa Airlines has said to me that if I want to fly I need to buy another ticket at a cost of almost $1,000. I was going to Guatemala to spend Christmas with my family and celebrate my niece's 15th birthday and my nephew's 18 birthday. 34 years ago, my father was killed on December 30 and my brother is celebrating their birthdays on December 29 to have better memories. Unfortunately, Thanks to Copa Airlines Staff, I'll still have the sad memories of my father's assassination.

It has been four days since our terrible and traumatic experience with Copa Airlines. About 4 months ago I bought my grandmother, Maria **, an airplane ticket to go visit my aunt in Chile from Colombia. Her booking number was **. I trusted Copa Airlines to transport and be attentive to my 75 year old grandmother since she was traveling alone. It is with great regret that I say I should not have put my grandmothers wellbeing in the hands of this airline. My grandmother has been traveling for almost 20 years to the United States and Spain with various airlines; therefore, she is not new at flying and dealing with different providers. The experience she had with Copa Airlines on Tuesday, November 29th 2016, has been by far her worst.
My aunt Consuelo dropped my grandmother off at the Copa Airlines check in counter in Santiago, Chile at around 9 a.m. on Tuesday, November 29th. After checking her in, she left my grandmother in the care of the third party company that offers the wheelchair transportation services to seniors and trusted that they would take her to her departure gate on time. After all, this is the reason why they are contracted by Copa Airlines and why my grandmother gave the woman a tip. My aunt left my grandmother at the airport three hours before her flight which was scheduled to depart at 12:26 p.m. The woman who transported her in the wheelchair across security dropped her off at gate 17 and told her she would be back to take her to her designated departure gate once it was announced.
Over 2 hours passed, and as time approached boarding time, my grandmother alerted the Copa Airlines personnel that she needed to be taken to the correct gate. These people assured her that she would be taken on time and that the woman would be back for her. When my grandmother realized it was almost noon she started becoming very upset because she knew that if she wasnt taken to her departure gate she would miss her flight. At this moment, one young gentleman tried to rush her to her gate only to find out that her flight had already departed. This incident unleashed a series of events. My grandmother missed her connecting flight to Panama and as a result her flight to her final destination - Pereira, Colombia, which was scheduled for later that evening at 9:34 p.m.
The Copa Airlines employees at the Santiago Chile Airport apologized for their negligence of transporting her and set her up to fly 11 hours later to Panama. My grandmother spent 11 hours sitting around waiting for the flight that would take her to Panama. While in Chile, the employees put my grandmother in the VIP lounge where they made sure she was comfortable until her next flight and not left alone in case of an emergency. My family and I found out about the inopportune event when my grandmother called and we immediately contacted Copa Airlines in Chile. They assured my grandmother, my aunt and I that she would also be put in the VIP lounge in Panama since she would arrive at 6 a.m. the next day and would have to wait over 16 hours until 9:30 p.m. when her next flight would depart because there is only one flight per day to Pereira.
When I called the Copa Airlines USA customer service number on the 30th of November to verify that my grandmother was still in good health considering the strenuous circumstances she was being put through due to their negligence, the manager Christina that came on the phone tried for over 2 hours to call the Panama airport and locate my grandmother in the VIP lounges. After waiting for 2.5 hours on the phone, Christina came back to tell me that they had lost my grandmother after she had been taken off the airplane and that she was not in one of the VIP lounges as had been promised.
Apparently she had been dropped off in one of the departure gates to wait for the next 16 hours alone. My grandmother was left completely unattended for over 16 hours at a random gate in an airport. Christina informed me that she was trying to contact the manager on duty that day, Mr. Arnunfo ** so that he can make proper arrangements for my grandmother while she was at the airport in Panama. The manager Christina was not able to locate Mr. **. Furthermore, when we contacted the Copa Airlines in Chile where my grandmother had been the evening before they assured my aunt that she was in the VIP lounge in Panama, which was not true.
My grandmothers health was put in jeopardy by Copa Airlines. If the woman at the Chilean airport had taken her to her gate on time, my grandmother would have not spent over 36 hours in airports waiting to get to her final destination. When I bought her ticket months ago, I took great care to explicitly buy a ticket that would prevent her from waiting in airports a long time. Furthermore, I purchased travel protection. All of that didnt matter at the end. All the extra money I spent did not matter because my grandmother arrived to Colombia on Wednesday night, over 38 hours later with swollen feet and enormous fatigue and discomfort on her back and legs.
It has taken me four days to calm down and write this complaint. Also, I have been in conference with my lawyer reviewing the possibilities of a lawsuit against Copa Airlines for negligence and for putting the welfare of an elderly customer in jeopardy. My grandmother has been visiting her doctors in Colombia and they are completing a thorough checkup in order to rule out permanent damage from the exhaustion and fatigue she suffered while in the care of Copa Airlines. I request a full refund for this trip. I am embarrassed to find that Copa Airlines is in part a Colombian airline company. You would think that they would take care of their own people, instead of turning a blind eye when clearly it was their mistake that my grandmother missed her flight and was left alone to suffer for almost two days.
It is revolting to think that this is how Copa Airlines treats their customers, especially the elderly whom require more attention and are left in the hands of their third party companies, which provide services like wheelchair transportation. An airline that makes these kind mistakes should not be in business. This mistake could have been costly. It could have cost my grandmothers wellbeing or even worst, her life. More severe health complications could have afflicted my grandmother as a result of waiting two days in airports completely unattended, all thanks to the negligence of Copa Airlines.

I recently booked a flight on Copa Airlines for a personal event in Guatemala. My flight plan was O'Hare, Panama City, San Jose Costa Rica, and Guatemala City. My flight down was uneventful, but the return flight was a nightmare. I arrived at the Guatemala City airport at 3:45 am for a 6:15 flight departure. I joined several people in line. There were no ticket counter personnel in place, so we stood around waiting... and waiting... and waiting. Finally, at almost 4:30 am, a few women sauntered into position behind the counter. After spending several moments flipping their hair, chatting with each other, disappearing behind a door and then coming back, they started checking in passengers. It was a very long process, as each check-in was punctuated by several side conversations with other check-in personnel or miscellaneous airport personnel walking by.
I was finally checked in at 4:50 am, leaving me 35 minutes to clear security and be at my gate by the 5:27 am gate check-in. I did get through security and made it to my gate. I boarded my flight, which was only 5 minutes late in departing, by some miracle, and we arrived on time in Panama City. That is where the real nightmare began -- I didn't realize it, but the antics in Guatemala City were just a warm-up.
I had an 8 hour layover in Panama City, so I thought I would find something to eat, browse the stores a little, and get to my gate in plenty of time. However, customer service at that airport is nonexistent. Service was so excruciatingly slow in the food court that I finally ate the Guatemalan candy in my carry-on that I had purchased as souvenirs for friends at home. I got a bottle of water and a Coke at some stand and began to peruse the boards to see if my departure gate had changed from what was on the original boarding pass.
I looked at those flight boards for 7 hours, and my flight was never posted. I went to the Copa customer service desk, but there was never any personnel staffing it. I went to gate number 4, where I was supposed to depart, but was told my flight wasn't scheduled for that gate. I went back to the central area, checked customer service, which still wasn't staffed. Checked the boards, which still weren't updated, and sat at Gate 20. After about 4 hours of this, a woman leisurely strolled up to the customer service desk. I immediately approached her, was told I would have to wait while she checked something else, and then looked on in astonishment as she finally got up, walked away, and disappeared. It was another 45 minutes before someone came back.
I was finally told my departure was at Gate 4, so I went back over there to wait for another 3 and a quarter hours. A flight to Quito was boarding, but I waited through that and the new information that was posted confirmed it was my departure gate. I settled in to wait, with my water and Coke purchased at the airport. There were 2 other people waiting for the flight, both of whom were trying to rest. This proved impossible, as no fewer than 12 women appeared, apparently ready to perform another security screening at the gate. They sat in all the customer seats (which were by now filling up with passengers), screeching, gossiping, and cackling at the top of their lungs. This continued for well over 2 hours.
Then, as abruptly as they had descended, they all got up and meandered over to the security screening equipment, while one woman started appearing before passengers, giving them commands in Spanish. As I didn't speak Spanish, I didn't know what she said. When I said, "No habla Espanol," she rolled her eyes, spluttered off something else, then pointed in back of me. It appeared we were going through another security screening, as the entire area had been cordoned off. Fine...
It was now one hour before the flight was to depart, all the passengers were appearing for the boarding check-in, and after spending 2 hours sitting around listening to the security personnel trade personal gossip, they were finally going to start working 300+ passengers through a screening. So I went through the screening, where they confiscated my water and Coke. When I told the I had purchased them in the airport, they just jabbered, waved their hands, and threw the liquids in the trash. I wouldn't have minded if there was a sign in English explaining it was policy or something, but I was angry that there was no one who could explain anything in English. I found a seat, waited... and had to go to the bathroom before the 5 hour flight I was about to board.
I grabbed my bags, walked under the rope, and went to the bathroom. When I returned and attempted to re-enter the waiting area, one of the women planted herself in front of me and started talking again, jabbing toward me with her finger. I repeated I didn't speak Spanish, so she then pointed and gave me a shove toward the screening line, which I went through again.
No one spoke a single word of English; there were no signs or instructions in English; and this was a flight that was going to Chicago, Illinois in the US. Needless to say, after all the screenings, which proceeded at the pace of a turtle stuck in hot tar on the road, the flight was half an hour late departing. While the flight crew was fine, they could not make up for the downright insolence and in-your-face attitude of the airport personnel.
The icing on the cake? When I finally arrived home, eager to give my kids their souvenirs, I opened my bags only to find complete mayhem. The worldwide accessible, TSA-approved locks that I had been assured by Copa Airlines were easily accessible by their personnel with a key? Gone. They had not only been removed from my bags but were not returned, leading me to believe that the baggage security in Panama City had never bothered with a key, but just cut them off. And my baggage?
They had opened every zippered bag, every wrapped object, every plastic bag with dirty clothes and souvenirs and cosmetics, etc. and literally just dumped it all together in the center of each bag. It was a jumbled mess, with liquids over everything because even the clear Ziploc bags that held my shampoo, etc. had been dumped and the bottles had come open (or were perhaps deliberately opened). Several of the souvenirs I had purchased had been stolen, as were a few coins and notes of Guatemalan money I had unwittingly left in a zippered bag.
Dishonest. Rude. Unprofessional. Deliberately aggressive and unwilling to help. Take your pick of an adjective to describe Copa and the Panama City airport in particular. I will be writing to my congressmen, state representatives, and the Department of Transportation to find out why we allow this airline to do business with the United States. I will be avoiding this airline in the future, and I would highly advise anyone else to do the same.

This company has no places to insert a middle name. However when you put your first and last name, the company said that your name is incomplete and you will not board the plane. Now when you're trying to explain the situation they say that it is impossible to add the name. They always mention that it is a policy of not adding the extra missing name. In addition, they say you have to buy another ticket and the money that you spent to buy the previous ticket will be refunded after taking the necessary taxes in the next two months.
Further, customer service representatives don't know what they are doing. When you call or write an email, everyone will give a different answer. They bounced customers around in their call center and treat them like pigs. If you don't speak Spanish, they will hang up the phone in your face as well. When you inquire about a refund, they will tell you that they are not responsible in order to avoid paying the full amount.
I clearly don't know why the United States allow this airline to do business in the U.S or land in our shores. They are not compatible with the fair business practices that we have in this country. They should remain in Panama and treat their people like that rather than create glitch in their system in order to steal our citizens' money. I will contact the department of transportation to report this unfair act. I notice COPA Airlines is a company that does not understand customers and they treat them like pigs. It is time to petition this company and look into their business practices. Perhaps and only perhaps customers can get a peace of mind. Please please get rid of COPA so that they don't land in our shores.

I flew Newark to Panama City on United flight 1021 on 9/11 and then had a connecting flight on Copa flight 216 on 9/11. It was all one ticket and the 2 airlines have a code share.The United flight was delayed, and I called up Copa from Newark to inform them that I would be cutting it close on my connecting flight, and they said they will work with United to make sure I don't miss my flight to Rio assuming the United flight got in within a reasonable time. I was going on a business trip, and to me being in Rio on time was critical. To my dismay, while United made up for the delay, the Copa flight from Panama left leaving me stranded until the next day. United provided me with overnight hotel stay and it took me two hours to get out of immigration and customs at Panama City.
The following afternoon, I reached Tocumen airport to get on my rescheduled Copa flight to Rio Janeiro. This time, Copa's flight was delayed, and yet they didn't inform the passengers until they arrived at the gate. There was no apology, customers were laying around like cattle and the delay was over 3 hours. By this time, I had unnecessarily spent ~24 hours at Panama City which was horrible as I lost one day's worth of work. The flight from Panama City to Rio is almost 8 hours long, the seats in business class don't even recline beyond 45 degrees, and it's an overnight, very uncomfortable flight. Food was terrible, there are loud TV announcements going off in the middle of the night.
The fare wasn't cheap. For the delay caused and the unapologetic, customer insensitive behavior, Copa's behavior and service is like that of a third world airline treating its passengers with no dignity. My colleagues who flew United all the way from Newark to Rio through Houston or American through Miami, had no issues at all. I dread going back home as I will have to fly Copa again. That will be my last time. I would advise everyone to avoid this airline and Panama City airport.

I was charged $142.60 (ONE HUNDRED FORTY TWO DOLLARS AND 60 CENTS) for ONE (1) suitcase and it was NOT delivered to my destination: SAN JOSE, CALIFORNIA. The manner in which the customer is treated does not justify the amount charged. The aggressiveness and lack of respect to the consumer, makes one feel as you are receiving a FREE service when the reality is that the end DOES NOT JUSTIFY the manner in which they conduct their business. I will request a refund of my $142.60 because I am retired with a fixed income and COPA lost my baggage, after a brutal verbal abuse from their representants.

I traveled to Brazil before the Olympics from late April-May, 2016 with Copa Airlines. Originally had traveling arrangements and 2 roundtrip tickets to Brazil in March. Unfortunately, I had a emergency, was in the hospital and had surgery! There was no alternative to cancelling flights or receiving credit for flight cancellation even with proof of documentation for medical emergency. When I called Copa Airlines to change my flight for a future date I had 2 options; Lose my flight = loss of money. Pay for a new flight. Either way I ended up losing money. I want to be credited for a future flight or my money back for buying 2 round trip tickets. There should be alternatives for EMERGENCIES!!!

COPA Airlines. Getting your confirmed tickets purchased with Aeroplan will involve a great deal of luck. Round trip Toronto Canada Guayaquil Ecuador transiting through Panama (and Bahamas on return) purchased with Aeroplan points. COPA is a Star Alliance member, and my tickets were purchased 4 months prior to travel. I received documents from Aeroplan that all was confirmed. One month prior to travel I decided to e-mail COPA to confirm my reservations. No reply.
Problem 1... outward bound. Arrived Panama via AirCanada Rouge for connection to Ecuador via COPA. Went to get our boarding cards from COPA agent. "Nope, you have no tickets." The COPA agent was banging on the computer like it was her first time. After 30 minutes looking, "nope, no tickets. Not our problem, you need to call Aeroplan." What????? I'm in Panama with no phone, and my flight is in 1 hour. Isn't there something else you can do like talk to a supervisor? "Nope, not our fault, call Aeroplan."
Luckily, the flight crew was still kicking around from my AirCanada flight... explained the situ... showed her my confirmed itinerary. She went in to her system, pulled up my e-tickets... yup, everything is fine... COPA are idiots (like this isn't the first time)... let's go. So, now I've got an AC employee holding COPAs feet to the fire... After 20 more minutes or so and another employee... yup there we are. Seems we have confirmed tickets after all, but tickets booked with points are put into a different place and blah blah. Got our boarding passes. Later on I thought what about coming back??? Went to a different COPA agent, she popped in my name, up comes all the info for my return trip... yup... were there... no problems. Printed off my full itinerary to assure me. OK.
Problem 2 homeward bound. Day before travel went online to see my COPA reservations for Guayaquil Panama - Bahamas. In Bahamas I switch to AirCanada. I'm not worried about that. Only thing coming up is Panama - Bahamas, no Guayaquil - Panama. Tried inquiring via their chat service, but that was a useless endeavor. Off to the airport. Yup, I have a confirmed ticket from Panama, but not to Panama. "Well, how can that be? Don't you see it's the same trip?" "Yup, we have your name but Aeroplan obviously didn't confirm the seat. There are seats available, but none that I can give you because you're in the points category points fly standby." Well that's a new one.
"No no no look at all the documentation I have Aeroplan says confirmed, COPA itinerary I got in Panama says confirmed I am not standby." I explained the problem I encountered (and resolved) on my way down... try looking elsewhere. "Nope, you have to call Aeroplan." Tried convincing the agent she has to look for me in a different way. "Nope, not our fault, call Aeroplan." 1 hour later no success talking with a human from Aeroplan. Only sitting on hold before the automated system booted me.
Back to desk, "please try harder to find me." Same response. "Only option is to buy a ticket Guayaquil - Panama... only first class left. $800 please." Off to travel agent across the hall. Yes, she'll sell me one but she's worried I would be stuck in Panama given this comedy of errors that is COPA... I should go back and get proof in my hands that Panama - Bahamas is confirmed.
OK, back to COPA... but now I ask to talk to the shift supervisor. Same story... "nothing we can do... call Aeroplan... their mistake..." blah blah. "No no I'll accept that. I just want you to print off confirmation of my Panama - Bahamas ticket. And if possible, a document showing the screw up on the Guayaquil ticket so I have something to use when I get home and talk with Aeroplan." Whenever I have problems with companies I always try to turn verbal into written. Watch Judge Judy for insight into that. OK, she can see me but doesn't know how to print my confirmation. She calls someone. Blah blah... click click click. Oh, look, my seat on Guayaquil was just confirmed BS... I understood the conversation perfectly. She was just told how to pull me up... JUST LIKE I was trying to explain about what happened in Panama.
I have my tickets. All is well. Later on, check on line, yup, everything is now showing. Morale of story. Be prepared to go through hell to get your tickets when booked with Aeroplan. This is not the fault of Aeroplan, but clearly COPA employees do not know how to use their own system. And when confronted with the need to step up to go above and beyond to help a (about to be) stranded traveler, their default mode seems to be "not our problem." Yes. Yes it was, in both cases.
If you find yourself having to deal with COPA to get your confirmed tickets, once they go into not our fault mode, you'll need to find some way to change the script so that they're forced into doing an action that makes them have to talk to someone else who is hopefully more competent. They will not do it willingly. Only when you can maneuver them into a situation where they cant use not our fault as a reply will you have a shot at getting a different outcome. I don't know if this is a cultural or corporate attitude, but I only got unstuck in both cases by luck, in my opinion. I don't like traveling on luck.

My wife and I traveled with Copa on the way here to New York and the air stewardess was extremely rude with me, but I didn't make a big deal out of it. Today my wife is returning to Brazil with a layover in Panama City. Now they tell her that she is on stand-by! We bought confirmed tickets for more than 1,000 USD back in March and now they say she's on stand-by because they overbooked the flights due to the Olympics. Is this a joke or what? Steer clear of this airlines if you can! We got sucked in due to the extremely low prices, but the old adage never fails: You get what you pay for.

Copa is a very dishonest company. I was forced to purchase a ticket at the airport to return to Nicaragua, before they would issue boarding passes to me and my traveling companion. The price for one-way was almost $500 dollars. Roundtrip, $392. She had bus tickets showing she was returning to Nicaragua. I could see the scam here. The ticket counter said they were not valid? We purchased the tickets. After getting home, we noticed the price on the tickets was $342. I guess the guy at the counter got a $50 tip. I think they are thieves. The ticket dates need to be changed, I am sure NOBODY at Copa will do this without a huge fee. Guess she can use the ticket to return to Nicaragua and come back on the bus... Customer service at Copa SUCKS!

Do not I repeat do not ever ever send your dog through Copa Airlines. My dog was abused. My dog was going from JFK to Cali Colombia. So the flight was from JFK and stopping in Panama for 12 hrs. I had no choice. This was the only flight that could accommodate him. I was assured that in Panama that my dog would be taken care of. He would be walked and fed during this time period. I was told to leave the food and water taped to the top of the kennel which I did. When he left that was done. I was told numerous times by Copa that they had facilities and caring people that would take care of my dog's needs. Also I left the dog's leash and collar taped to the kennel which I was told to do.
Well what happened was disgusting. The dog was never walked or fed for the entire time. When I picked him up inside the kennel the dog had no choice but to pee and poo in the kennel. The food and water were still taped to the kennel. Nobody did anything so for almost 24 hrs my sweet dog was in horror. Nothing was done. Unreal. They all lied to me.They also stole my leash and dog collar. I should of known better when they would only accept cash. Very very bad company. My dog drank 3 bottles of water as soon as he got out of the kennel. Of course I put the water in his bowl. The water was finished within 3 min. Please do not send your pet with this place.

OH... MY... GOD! I usually don't read or write reviews because experiences can be drastically different case to case, but I should have done my homework in regards to Copa Airlines. Hands down, the worse airline and worse experience I have ever had, so writing this review was a must. Never mind the constant late flights with ridiculous time spent on the tarmac, or the uncomfortable flights; that I can deal with. What is unacceptable is the TERRIBLE APATHETIC customer service at every turn.
I was on a return flight Lima-San Francisco with a layover in Panama June 24 2016. I knew I had to leave the airport in Panama and may miss my connecting flight. I tried to make the airline aware of these unexpected errands because of checked baggage. There was nothing they could do about stopping my bag. Fine... Understandable (if that was truly the case). I did not make the connecting flight, however a friend who I was traveling with did and called to tell me that my bag was in SFO and hers was still in PTY. Why? Because they pulled the wrong bag off the plane... WTF. They told her my bag would be sent back that same night. It wasn't. She picked her bag up the following night and my bag was still sitting in baggage claim.
I've spoke to customer service every day for 6 days trying to locate the bag and they didn't even know it went to SFO. Now they can't even locate it. The numbers they give me to contact baggage claims in SFO and PTY are never answered. Somehow, my calls are conveniently dropped when speaking to "customer service representatives". When the calls are not dropped, I get the same speech: "Someone will call or email you within 24 hours"... Never happens. They'll say anything just to get you off the phone and push the issue to someone else. Just about everything in these other reviews I've experienced or have seen first hand happen to someone else during my travels.
If I could have given Copa a half star or no star, I would have. If I had 4 thumbs, they would have received 4 thumbs down. On a scale 1-10, they would have received a 0. Moral of the story, DO NOT SUPPORT a company like Copa Airlines; "THEY GOTSTA GO". Instead, pay the extra few bucks for a competitors service and help ensure companies like Copa stop getting away with this BS. Good luck and safe travels friends... but remember to support the competition.

I have very bad experience with Copa Airlines, I just like to suggest to everyone please do not travel with Copa Airlines. My sister lives in Belize. She has booked her ticket from cheapticket.com for her and her 6 yr old daughter from Cancun (Mexico) to New Delhi (India) via Cancun to Panama, Panama to Rio de Janeiro (Brazil), from Rio de Janeiro to Dubai and from Dubai to New Delhi. All tickets was confirmed. So on 17 June 2016 when she reached at Cancun airport at Copa Airline counter. They say "your tickets are not confirmed." She showed them all confirmed tickets but they didn't let her fly.
After that on 18 June 2016 we call to cheaptickets. They pickup the call, talk us then put our call on hold for 40 to 50 min. After that without any solution they just hang up the call. It happens 2-3 times. Finally on 19 June 2016 we talk to them for 16 hours. They talk with Copa airline and Emirates. After then they provide us new tickets 9 hours before departure. Its takes 10 hours to go Belize to Cancun via road. But luckily she reach on time. On 20 June 2016 when she go to Copa airline counter. Again they say the same ** that "your tickets are not confirmed." It's very hard to travel with child - she have to go back to Belize which is 10 hour drive. I'm very disappointed with Copa airlines and cheap tickets. She has suffer with all these things. It was an emergency in India. And she is still in Belize.

Copa Airlines - Flight 534. I have bouts of very intense spinal pain and I needed wheelchair help. Out of Bogota, I had that help but was in severe pain because my flight was delayed 2 3/4 hours, then we Sat on the tarmac for 20 minutes before take-off. The seated are very close together, giving no leg-room for anyone over 5'6", especially when the person ahead simply "must" lean back.
Apparently they forgot to order the bus to take us to the terminal at the end of the flight so we were left standing in the aisle for another 20 minutes. And they also forgot the wheelchair they had made such a point to promise before take-off. I am not a frequent flyer, but I have taken about 100 flights in the last 10 years. This was, bar none, the worst flight I have ever taken. I will pay more to use Avianca Airlines for future Latin American travel.

I flew with Copa, Los Angeles to San Salvador (with an overnight layover in Panama) on February 27, 2016. Despite the inconvenient layover, I thought the flight was alright. My backpack never arrived at the baggage carousel in San Salvador. An employee offered to help me after seeing me waiting long after everyone else left. We filed a Delayed Baggage Report there at the airport. I stayed in La Libertad, close to the airport, for a week just waiting. No backpack. I filed a Passenger Property Claim Form with an employee at the airport that detailed the value of every item I could remember in my backpack. I contacted Copa countless times via phone, email, in person at the airport. Without anything more than 'they should contact you' as a response.
After over two months, they emailed me that the backpack was lost and offered to cover a fraction of my claim. I responded that the claim (which I generously underestimated) should be paid in full. Now, May 11, 2016, it has been over two weeks since that email and despite talking with them over an hour on the phone, I've still no resolution. Moral of the story: Copa's customer service is horribly organized and I would advise against trusting them with your baggage.

I made a trip using COPA from the US to Paraguay. Upon arrival I was told my luggage was "open" by the COPA staff. Im not sure how this would have happened unless it was open by someone. In any case, the agent told me this and we tried to go through to determine what was missing (if anything). A few minutes later another agent comes with items that "came out" of the luggage. We still didnt know what was missing so we said we would file a claim. The agent said he would make note of it so we left. I followed up with customer service, and now they are saying since I didnt file a claim within 7 days of the flight they couldnt do anything. I told them the claim was noted on my arrival. It took them 3 weeks to even respond to the claim. And I rewrote a letter to them and still no response.
I understand that not all complaints can be answered immediately, but the time frame for them is that they will reply within 30 days. For a company that is trying to provide "world class service", they have a long way to go. The planes and service were mediocre but for the price, I assume that is where the value lies. If I were to fly this airline again, I know I would need to lock up my bags since they have unethical employees who go through bags. Im sure if they did an investigate at this airport it would be easy to catch. Since they dont value customers it will probably never happen.

My wife's luggage that was purchased new in December was damaged beyond repair by Copa Air on a flight from Panama City to San Jose, Costa Rica. The soft side luggage had the frame bent into a "z" pattern on one side. The counter for Copa determined this was "minor" damage. A letter to Copa confirmed this position. So the baggage is damaged beyond repair by "minor damage". I took it to a warranty replacement center for Samsonite and they confirmed that this was negligence on the part of the Airline's personnel and that the bag was not repairable. Further, their opinion was that this is not "minor damage". If I can avoid it, I will never fly Copa again and want others to be aware of the risk with regard to luggage and the total ignoring of customer service and arrogant treatment that I received at the hand of Copa. Beware... Do not use good luggage... They do not stand behind anything with regard to damage.

I just flew this Month 03/2016 with my Rugby team (and a couple of Wives/Girlfriends) from Boston to Buenos Aires with a stop in Panama City and the same route back home at the end of the month. Aside from the fact that there was no entertainment for 5.5 hrs., the TV's came down twice during the flight to show COPA advertisements. The real problem came on the return flight, or should I say once home. My pack, when I received it from the checked luggage belt was unclipped and one pocket unzipped. I thought... Oh great.
It was very late after 13hrs of flight time, I just took it home and unpacked it the next day. I found my carefully packed bag (to protect fragile gifts) was completely ransacked. None of the gifts were taken, just valuable personal property. I immediately called Logan Customs and TSA. They assured me that they ABSOLUTELY DO NOT open bags unless the owner is present. After talking with some of the others on the trip I find out that 4 others are missing property... We had 39 in our party, THATS 10% WTF. After some research, this is very common with COPA and a stop in Panama city. So, after 7 phone call to COPA and 2+hrs on hold, a plethora of arrogant, unhelpful "Customer Service Reps" (No Service Reps) that speak less English than a 1st year ESL student and a miserable phone connection to boot, I was "accidently' disconnected 4 times.
I tried filing a claim online... The website does let you submit your claim, SHOCKING!!! I had a Native Speaker friend call to initiate my claim. It was like pulling teeth even for him. ALL I CAN SAY FOLKS IS, PLEASE RECONSIDER GIVING THIS AIRLINE YOUR BUSINESS. I've used LAN/TAN and they're a little less corrupt.

On Friday January 29th 2016, I was scheduled to fly Toronto-Panama-Rio de Janeiro with Copa Airlines and my sister, Gabriella **, was scheduled to fly Montreal-Panama-Rio de Janeiro with Copa Airlines. The purpose of our trip was to attend our cousin's wedding on January 30th, 2016. When I presented to the check-in counter at Pearson airport, your customer service representative asked me for a visa. I explained to her that although Canadian citizens require a visa to go to Brazil, I have dual citizenship and can enter Brazil without a visa with my Bulgarian passport. As I was meeting my sister in Panama and we were flying together to Brazil, she had my Bulgarian passport with her in Montreal.
Nonetheless, your customer service representative refused to issue my boarding pass Panama-Rio as I did not have my Bulgarian passport with me at check-in. Since my sister's check-in was at the same time, the Montreal customer service representative contacted the Toronto check-in desk and assured her that I do have a valid passport to enter Brazil and they suggested to swipe my passport and issue my boarding pass from Montreal. However, the Toronto customer service representative chose to disregard that option, cancelled my flight and suggested for me to purchase a ticket for the next flight from Panama to Rio with Copa for 3000$.
I tried to explain to her several times that I wasn't violating any rules and regulations, as I was going to leave Panama and arrive in Brazil with the proper paperwork in hand, yet she threatened to cancel all my flights and prevent me from leaving Canada if I did not respect her decision. Therefore, she issued my boarding pass Toronto-Panama, cancelled my flight Panama-Rio and left me stranded without a ticket to my final destination. Considering the circumstances, I had to purchase a one way ticket Panama-Belo Horizonte-Rio de Janeiro, causing an additional travel time of 16hours, an unexpected financial burden of 1608.67$, and not to mention the physical and emotional stress I underwent as I missed my cousin's wedding, which was the reason of my trip.
In 2008, I traveled Montreal-Buenos Aires-Rio de Janeiro with American Airlines, under the same circumstances with my dual Citizenship and did not experience any of the above mentioned problems. I left Canada with my Canadian passport, connecting in Buenos Aires, and arrived in Rio de Janeiro with my Bulgarian passport.
As a star alliance member and frequent traveller, I have never received such poor customer service. At Pearson airport, your customer service representative was not only rude, unprofessional, and lacked a basic understanding of international laws, but most of all she was aggressive and unhelpful. As I try to put myself in her place, I think there were many different ways she could of approached and resolved the situation. She could of accepted the Montreal customer representative to issue my boarding pass using my Bulgarian passport as he recommended, which would of allowed me to fly as scheduled. She could of assigned me a seat on the next flight Panama-Rio de Janeiro 6hours later with Copa Airlines, without charging me 3000$ for the ticket as I had already paid for my trip.
As you read this, I hope you can put yourself in my situation and ask yourself whether or not you think I was treated fairly by your team member. How would feel if the following had occurred to you? As mentioned above, there were many ways to resolve the situation, none of which should of involved having to purchase a separate ticket or being delayed by 16 hours. Therefore, I ask to be fully reimbursed for the additional expenses I was imposed by the incompetence and lack of knowledge of your staff member.
Having read the online reviews of your airline company on various websites, it is undeniable that your customer service team does not understand the importance of developing and fostering long term relationships with clients in order to allow the long term growth and success of Copa airlines. You will note a growing number of negative comments and experiences by various travellers around the world, that I hope you will read and take constructively in order to improve the quality of your services and long term success of your company.

We booked a flight from Miami to San Jose (CR) with a layover on Panama. Pricing of the tickets were low enough to warrant the stop at Panama. Things began to look not-so-good upon our arrival to SJO. There was a minor traveling alone, and to our horror the minor left the airplane unescorted by airline personnel. This is absolutely inexcusable and shows gross negligence on all airline personnel. Had this been my kid, they would have been sued.
For unforeseen reasons we were forced to change our return date for this short vacation, and we contacted Copa customer service. The first thing they uttered was "there is a penalty fee". $160 isn't terrible. Then they advise us that we have to go to the actual airline office in San Jose because they cannot do that over the phone.
We waste a whole morning going to their office and talking to the [extremely obnoxious] customer service lady. First she restated that there was a $160 penalty per ticket. Then she goes ahead and says that there are no seats available at our rate range, and we would have to upgrade all 4 tickets to executive class, at $1400 each, plus, of course, the $160 penalty. This was simply outrageous. Then she quickly suggested we try another airline. Of course we were going to try another airline.
We got our flights booked in American at $400 each later that day. Out of curiosity we checked if there were seats available in Copa for that date, and to [not really] our surprise, there were tickets available at about $400 on the same date we were traveling. Copa is a greedy company that knows absolutely nothing about customer after-care. Once they have your money, they will treat you like dirt, and if they can squeeze more money out of you they will.
Needless to say, this was the first and last time we use that airline. We were surprised when we started reading other reviews here in ConsumerAffairs about this airline, as they seem to align with our experience. Copa should not be in business. On these times, where there is high competition for traveler's hard earned dollars, a company that has the level of customer service that Copa has, falls way below the average expectation of travelers.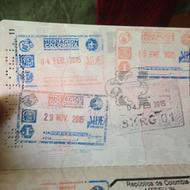 My family and I were systematically discriminated base on national origin. Copa deny us boarding to a fly leaving Los Angeles and with final destination Colombia. New Colombian passports are require to leave Colombia. To leave the USA you can use the old passport, have form of identifying yourself with USA authorities and have the old passport to identify yourself as a Colombian citizen. As such Colombian citizen you can enter your country, but to leave Colombia you must process the new passport once you are in Colombia.
After November 24, 2015 the old passport was not good to leave Colombia, but again, as a Colombian citizen you can enter Colombia. If you, a family member or a friend were denied boarding, not allow to continue your journey into Colombia or were mistreated by Copa for this issue, please contact me at **. Legal action might be pending as Copa is too negligent to do what is right for customers. As an air passenger you have rights. Copa is just another company which has to respect individuals and work on our behalf as a paying customer.
Copa Airlines Company Profile
Company Name:

Copa Airlines

Website:

http://www.copaair.com/