Consumer Complaints and Reviews

We made reservations online, unaware that the reservation could not be canceled or changed or refunded. We were supposed be staying at Comfort Suites for a closing on our home near Rainbow Springs FL. The woman we were buying our house from got sick so the closing date had to be changed and gave them plenty of notice and Comfort Suites would not take into consideration the woman sickness and would not help us at all re-schedule. They did not have any compassion at all! This company is very unpleasant to deal with and they kept our $600.00 and would not help us one bit. Never again will we use them and this is a warning to those who are considering staying there!

Party of 4 Arrived Thursday June 8th after a 8 hr drive from Dallas TX at 3:30 pm, We rested couple hrs then hit the island to take in what the island has to offer which isn't much. The very next Morning we went to beach which we had "Exclusive Access" walk to beach from the hotel. We packed night before beverages and food to make a day of it. We spent about 3 hrs on beach while eating, snacking, drinking. Unannounced to me there Is a "Law" for NO GLASS which I did have a SIX PACK in cooler.
We were Confronted by a very rude man in a Padre Island City ordinance truck asking about 1 bottle sitting in the arm rest, keep in mind none laying on ground. He then explained himself that they are signs everywhere on island and!!! EVERY HOTEL!!! I then asked him to call his supervisor and they didn't arrive till 30 mins later. I received same info. Listen to this A UNIFORMED POLICE OFFICER told me "relax sir it's only 1 bottle. I have seen people get away with 20.00 fine in court." I then asked him to follow me to room to get my wallet. He said that wasn't needed. Just to give him my address, name, and social #. I complied only because of what officer said and my family was all packed up and standing in hot sand.
We proceeded back to hotel same exact way we came down looking for these "signs". Nowhere to be found walk way nor Comfort suites, Interior or exterior. I then asked to speak with a manager. She wasn't in. I asked Front desk guy "Hugo" questions about signs. He didn't know any information at all. I then asked when the manager would be in. He replied that he didn't know. Next morning after breakfast at hotel we went to gift shop across the street. May spent about a hour. Upon return we noticed Worker from our hotel zip tying a SIGN to the very door we first took to the beach that read "NO GLASS ANYTHING ON BEACH"... Now anyone in their right state of mind and does not need problems like 500.00 tickets correct?
I asked him how long since they didn't have the sign or was it new? He said sign has not been there for week.. So I finally spoke with manager. A female Hispanic that was beyond rude not helpful at all. I simply asked about their sign policy she cut me off and said there is no policy and its courteous from Comfort Suites to customers.. Ok so a customer that just paid 1100.00 for 4 days or any customer is not important to you? She replied that they are not responsible and said they could not in any way discount anything for the troubles of a PAYING customer. I then asked for corporate office info and ended the conversation with her... Buyer beware. Very rude staff, Stale faces, Incoherent, Overpriced, Pool is very very small. I am going higher up even if I need to contact news agency. I have videos and pics on bridges, roads, hotels.

After traveling 9 hours in my car, my sister and I arrived at Comfort Suites in Nacogdoches, Texas at 3:12 pm on December 24, 2016. It was so hot in the lobby and hallway I almost lost my breath. We checked in and went to the room and left to go celebrate Christmas Eve with my son and his family. After returning back to the hotel later that evening, we went to our room and proceeded to get ready for bed. I had my pj's on and made the bed down to see a dark stain on the bottom sheet. I picked it up to examine it to see what it was, but it disappeared. I let go of it and the stain appeared again, so I raised the bottom sheet to look and the mattress pad and there was blood on it. It was the most disgusting thing I have ever seen in my life. I immediately called the front desk and the guy told me that he could me us to another room. I took him up on his offer, even though I was so very tired and frustrated.
He gave us another room on the same floor and I looked it over good, I thought. We went to bed and the next morning (Christmas Day) we noticed that the ceiling had ladybugs on it. When we left to go back to my son's house on Christmas Day, I stopped by the front desk and told the clerk about the ladybug and he said he could move us to yet another room. I didn't take him up on that offer because I didn't feel that the ladybugs would pose a threat to us. I ask to speak to the manager, Renee **, but he told me that she wasn't in yet. That was at 10 am. That night when we arrived back, I stopped by the front desk again and ask to speak to the manager. The clerk told me that she wasn't there, but would be there the next morning.
The next morning, Monday, 12/26, I went to the front desk on my way out again and ask for the manager. The clerk told me she wasn't there, but would be there later that day. That night when we arrived back, I ask to speak to the manager again, but she wasn't there but would be there the next morning. The next morning (Tuesday, Dec.27) was when we were to check out. I went to check out and ask to speak to the manager, but she told me that she wasn't there, so I left a message for her to call me back. The clerk assured me that the manager would call me that day, but she didn't.
I called again today and the clerk told me that she wasn't in, but that she did give her my message and would give her my message again. All I wanted to do is to let her know about the problems I had and to possibly have a discount for my 3 night stay. I told the clerk that I will never stay with that chain again. Oh, I went on their website to write my review, but it is impossible to get to it.

Stayed on Nov 22 until Nov 24. We accidentally left a bag Louis Vuitton bag worth $5.500 brand new and lots of jewelry 18K gold worth $700.00. I went to the hotel the next day, when I found out we left the bag on the floor after we dragging 3 luggage down and 5 coats and lots of shoes. And my BF said "Did bring the brown bag?" I said "We forgot." I call again and again the hotel sometimes I go in person asking the front desk, they no found. It's so sad for dishonest answer. I went to the police department to report. I hope I will get it back. My sentimental value. My bangles bracelet 18k 7 are white gold 18k, 7 are yellow gold 18k. I'm so helpless and I know I did check properly the room before we left in hurry for thanksgiving. I need your help please. Thank you for your time.

I want to provide the details of the horrible customer service experience my three sisters and I had at Comfort Suites Historic District in Savannah, Georgia during September 23-25, 2016. For the sake of brevity, I will enumerate each issue that we experienced.
1. The hotel reservation staff member initially did not honor the rates I was given when I booked via Expedia.com. I was told that I had to prove to her the rates when I booked per Expedia. When I asked to speak to the "acting manager", he upheld the clerks actions, by saying that he's had trouble with Expedia and that they've asked many guests to show their reservation letters to prove their rates.
2. I discovered that my checking account was charged in error twice after check-in.
3. The room was not cleaned properly; upon entering the room, on the headboard of the bed were multiple finger prints.
4. There was only one shuttle bus. On Friday night we called twice over a span of 20-minute intervals requesting a pick-up to return to the hotel room. We were never picked up, we ended up walking 4-5 blocks back to the hotel.
5. While sitting in the hot tub all of 2 minutes, noticed a ring of dirt around the whole of the tub.
6. Our key cards kept malfunctioning. When we asked to have them recoded, in essence we were scolded and told "you need to make sure that you don't have the card by your cell phone, credit cards."
7. On the last night of our stay, I realized that my card had now been charged four times inappropriately. When asked for an explanation of this matter by the acting manager, she replied "ma'am I can't tell you what happened". She never attempted to resolve this matter or promise to follow-up to find out the cause of the error.
8. Spoke to the acting general manager regarding being asked to prove my room rate, to which he began to tell me that asking for proof of the rate was something they asked many customers to do; and went on to say that reservations are only to hold the room, not the rate.
9. When I attempted to contact the hotel's customer service to complain, was left on hold for a total of 30 minutes and no one ever came to the line.
How do I know I can trust these reviews about Comfort Suites?
825,614 reviews on ConsumerAffairs are verified.
We require contact information to ensure our reviewers are real.
We use intelligent software that helps us maintain the integrity of reviews.
Our moderators read all reviews to verify quality and helpfulness.
For more information about reviews on ConsumerAffairs.com please visit our FAQ.

It's simple. I paid cash for 2 of the 3 nights, the hotel hit my card two and refunded only one. The phone and a/c didn't work, reported to the front desk no action taken. The manager apologized about the billing but didn't resolve issue totally. There were roaches in the room also reported, no action taken. This is typical of hotels that are franchises, the owner don't care about their reputation and always have issues with billing. Beware what you give for payment, if there are issues don't expect to be resolved. Please write any and all complaints against this business in all social media.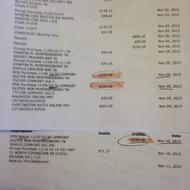 Stayed at hotel Nov. 6 & 7, 2015. At checkout on Nov. 8 I paid cash for the entire stay. The debit card I used to secure the reservation was charged twice on Nov. 6 & credited once on Nov. 10. The manager is never there & will not return my calls. I've written emails & letters with no response. I've had bank dispute center working on getting a refund. The manager tells them I received a refund. He seems to overlook the fact that I was charged twice. They informed me last week they are giving up & I need to continue the pursuit myself. I contacted the Choice Hotel's customer relations. I received an email yesterday stating too much time has passed for them to do anything.

I made a reservation but I didn't get a chance to make it to the hotel. But they still charged me a full price of 137.00 plus changes. Or any price at all. And I don't think it's fair. I want my money back. I didn't give the hotel permission to take money from my account. So you know what! Your company suck and unfair. I want my money back. You really suck. I want my money back!!!

We booked a room online for the Comfort Suites/Inn in Pelham, AL. The hotel stunk and the halls had trash and were dirty as we made our way to our room. The room was filthy and didn't seem to have been cleaned from the previous guest. We went down and asked for a refund. The clerk refused saying we would have to go through the online number since we booked online.
The online number said they needed an okay from her to refund our money. She refused to talk to them unless they called her directly. I asked her to write her name down for me as I was going to report her for her rude attitude. She refused telling me that's why she wears a name tag. Her name tag said Keisha. She told me if I called in, all they would tell me is that she is one of their best. She was rude and very condescending. When the online service called her, she repeated her name as LaKeisha. The online service was very nice to deal with, but Keisha told us they were 3rd party.
After coming home, I read reviews that several people have reported filth and bed bugs on this location. I'm thanking my lucky stars that we were able to stay awake to travel further down the road to find a clean and courteous place to stay. I'm not sure which I would give a lower rating to, the filthy room or the rude clerk. Equally disgusting.

Had two rooms at this hotel. After checkout we were charged $162 for smoking in the rooms WHICH WE ABSOLUTELY DID NOT!!! Every front desk employee saw our party EXIT the building and smoke outside NUMEROUS times. Just because there was remnants of cigarettes and cigars in the room, not ONE was lit in the room. If we took the time to exit the building and smoke outside EVERY TIME, why on earth would we smoke in the room? So I take it, because we were a group of ** males. You are RACIST and ASSUMED we smoked in the room. Check the security video as you watch us exit the building each and every time to smoke. So unless you want to be ROBBED by this hotel and treated like 2nd class citizens that think they can get over on you. Do NOT stay here especially if you are **.

Well, last two times I used Comfort Suites for staying because there is indoor pool for our kids. When we arrived one in Elkhart, IN, there were two ladies who wears regular t-shirts and there is no professionalism. There were kids with swimsuits running hallway. She told us "There are lots of kids in the pool, if your kids wants to use pool, they can go after 10 pm..." Which the pool is open from 6 am to 10 pm. When we came back from dinner at 9 pm, there were still many same kids were in the pool, so we decided to go in early next morning. We woke up at 7 am and went down to eat breakfast, there was no front desk clerk. Their orange juice was watered down which was absolutely no taste. Horrible. Their coffee was watered down and taste horrible. Donuts was still in plastic package and melted icing. Then, there were bunch of kids and several parents came down. These were the kids in the pool night before.
We noticed a lady who is holding a baby and trying to getting food with these group. It looks like they are her friend. But we find out she was working at front desk... But she was getting breakfast with friend. We went back to our room and we asked the pool is opened which is supposed to be opened at 6 am. The lady answer the phone and she said "No pool this morning because there were too many kids were in the pool last night, it did not get cleaned." Our kids were so disappointed. Our 7 year old daughter said, "They should have cleaned during night. So other kids could use it at 6 am" which it said in the hotel room. We decided to leave. When we returned the key, that lady saw us but she was busy eating and holding her baby and didn't even come get keys or nothing... It was terrible experience and I do not recommend to stay this Comfort Suites to anyone. There is no professionalism and no class at this hotel.

Overnight stay at Comfort Suites - St. Joseph, MO. I would "never" suggest to anyone to stay here. We arrived after 8 pm and got a room (it was fine). During the night the motel rented the room next to us. We could literally hear word for word of the conversation of the people next door and when they did go to bed they snored!! It kept us awake all night! I mentioned it to the checkout person when we left. Don't stay here - we will never again.

I am in my seventies, have chronic bronchitis, cannot be around smoke and was very sick when this occurred. Without a refund of any kind, actually adding another $150 for a smoking fine, a hotel manager called police to have us thrown out on the coldest day, while listening to my heavy cough. My son denies he smoked in the bathroom, but manager did have picture of what looked like a butt and dust or what he said was ashes around sink. I said I would talk to my son, but manager called police and had them throw us out. I had to go to an emergency doctor for medication and it cost over six hundred more to get an early plane and stay overnight at an airport hotel waiting for our new flight home. I have been a guest at Choice Hotels since the eighties, nothing ever happened. I was never treated so badly in my life. I had to follow up at hospital back home. I would not throw a dog out in Denver on this incredibly cold day.

Comfort Suites in Monroeville, PA made a mistake with our reservation. We booked for two nights Friday and Saturday night. Upon our return to the hotel on Saturday evening, we were told that we had to vacate the room as they had booked our room to someone else. We asked to speak with a manager by phone, but she refused to take our call and told the desk clerk that the GM would deal with us on Monday morning. However, we were leaving on Sunday to go home. We were 350 miles from home at 11:00 pm on Saturday night without a room. Our problem did not seem to concern the desk clerk or GM that they were throwing out two senior citizens.
We returned to our room not knowing what to do, but shortly thereafter two policemen were at our door demanding that we leave immediately or place us under arrest and spend the night in the county jail. Very disappointed in the manner in which Comfort Suites deals with their guests, and completely shocked that the General Manager, when called by phone, flat-out refused to assist us in this terrible situation. Let this be a warning to anyone who considers booking at Comfort Suites.

I'm staying at a Comfort Suites hotel in North Bergen, NJ on 1200 Tonnelle Ave. I check out in the morning and 9 am cannot come fast enough. Let me start with check in. I presented my organization credit card authorization form. I gave it to the desk clerk who said she needed to resubmit our credit card (even though our director of operations got the card authorized days earlier and hotel cards are not charged until the end of the stay). 10 seconds later, she said the organization card was declined. I asked to review the form and found that she had a form that belonged to someone else. When I brought this to her attention, she didn't apologize, instead she asked me why I gave her this form. I had no idea who was listed on that form and knew I never had that form in my possession. And again, our card was authorized and the money was cleared.
We check in and everything is fine until morning. One of my teens, all here for a youth leadership conference in Manhattan, went downstairs for breakfast. She was joined by two more of her peers a short time later. She and her peers were questioned by two staff members who needed to verify that they were guests of the hotel. By the time they finished questioning them, one of the teens was so upset, she decided not to eat. What added to their insult was the group of white teens who drew no attention from staff and were not questioned. They came back to the room and told me about the incident, but when I went downstairs, I could not find the staff person(s) and I saw no one at the front desk.
After returning to the hotel at 1145 pm last night, while walking towards the elevator, a front desk staff person questioned all of us about our group and asked if we were actually guests of the hotel. I responded explaining that we had been here since Friday afternoon. I took the teens to the room and returned to the front desk to ask why my party continues to get questioned about our status as guests. He proceeded to give an extremely weak excuse saying Comfort Suites age cut off for children is 12. He also said he felt it was a fire hazard having all of us in one room (even though the room advertises that it sleeps up to 8 people).
He went on to explain how NY law prohibits that many people in one room and if he were at the desk at check in, he would have said something. I explained how we booked on Expedia and Comfort Suites has an child age drop box that goes up age 17 AND the room was advertised as a suite for up to 8 people. He stuttered saying he would need to look into this and gave a very weak apology.
Basically, it's clear we were treated unfairly because we are black! I am careful not to make this claim too quickly because it's important to examine all factors that contribute to an incident but, in this case, I can say with certainty, this had everything to do with race. I leave this hotel this morning with an extremely bad taste in my mouth. I am hurt, humiliated, and feel staying here was a huge mistake. My rating: 1 star... F for failure. With many regrets.

Comfort Inn Suites 6224 Torok Circle, Huntsville, AL The 1 star is only because the person at the front desk was courteous. I checked in on 21 Oct 2015 and checked out on 22 October. I saw small bumps on my face. The morning of 23 October there were more bumps that appeared in my hair, neck chest and under arm. I also have a small hole on the side of my nose, under my right breast area from the scabs from the mites. I called the manager and she told me her name was **. I explained in detail what was on my body as a result of the stay the night before. She immediately dismissed my accusation. I also recorded her saying that the sheets and pillows from each room are washed and cleaned every day.
I told her that the bumps that I have on my body aren't normal asked her to think of it as if she had a mom or sister that stayed at a hotel and then the next morning they had bumps on the body. She said that she was call the commercial Cooks pest control and have them come and look at the room. Several hours later I received a phone message that they inspected the room and found nothing. However, I actually called the place myself to see if anyone was called to the facility to check and I was told no. This means ** lied to me. I had to go to the emergency room due to the amount of bumps on my neck, face and chest area. The medicine costs over 100.

Account: **. Room #311. We stayed Oct. 1 thru Oct. 3 at Comfort Suites (TN376) in Pigeon Forge, Tennessee. When we arrived, we discovered stink bugs in the room. The receptionist came up with a vacuum cleaner and removed part of them. After he left, I had to kill approximately 10-20 more. I was told the whole hotel had them. Our knob on the bathtub was loose. You could hardly adjust the temperature for your shower.
A remodeling had been done and the bath door opened outward instead of inward. When open, you could not open the closet door. They were in too close proximity and kept hitting. The closet was a small one and if I had brought a large suitcase, it would not have fit in the closet. The small suitcase I had brought kept hitting the sliding door and I had to move it so I could open the door. VERY FRUSTRATING! This was one of the worst stays at a Comfort Suites hotel I have ever had!!! This does not reflect on the receptionists at the front desk. I had no problem with either one of them. They offered assistance every time I asked for help.

I had reservations for 9/4, 5. When I called on 9/3 to cancel both days I was told I would be charged in full for both days because of a 48 hr notification policy. Then I tried to just cancel the second day. I would still be charged for both days. Tried calling corporate and got nowhere there either.

Checking out a room to see if it was suitable for my wife who is handicapped, left card and ID at desk, room was not as they described so I told them no thank you and went to another motel. Later found a charge for $234.13 on my debit card. Called them back and got a long nonsense answer. Manager has never called back. Have notified my bank and they will attempt to remedy problem. People should not have to go through this. This is a charge I never approved of and never signed... This was at the Comfort Suites on Mira Mesa in San Diego, CA.

We were staying in Pigeon Forge, Comfort Inn Suite at Dollywood, Ln. We decided to upgrade our room and on the first day that we had came back to the room at 4pm, my room had not been even touched, except the dirty towels have been removed. I had to go find the cleaning guy to come clean my room as the room was still left like it was when we left. He just seemed like he did not care. He placed the towels in an unprofessional manner under the sink and I had to remind him to leave the shampoo and other toiletries in the room as that is what we used. I also had to remind him of the trash cans. He never wiped down anything and just was in a hurry to go home.
The next day he did come in but the bed was just thrown together and he had not even placed the towels again under the sink as we had none. The bed had just been thrown back together with no professional bed making skills noted. I went to the desk and complained and we got nothing but an "I am sorry". The manager stated that she would come up and make my bed and clean my room. I told her I did not want that as that employee should be shown how to do the rooms right and or be terminated. I also had to place the toilet paper on the roll as it was empty also. Because of the crappy service my wife and I left a day earlier to go somewhere else that really cared about the paying customer. We will not be going back to stay at any of their locations as we were not happy!

Returned to our room from a day at the park and it was freezing. Turned heat on to get the chill out and it didn't work. Mom recently ill with pneumonia and had surgery so called to ask for help. Guy came up and confirmed it was broken. Said get back if another room available. Never returned or called. Went down an hour later and we're rudely told no heater or other rooms or other available hotels in the area. Paid a great deal to be treated rudely and sleep uncomfortably.

The room we were rented was dirty -- black lint or something blowing from the A/C. The lamp shades were torn & one having fallen down the lamp center. The tub (shower) took over an hour to drain, the bathroom door did not close, the area around the tub was moldy appearing & the ceiling above the tub showed water damage. We checked in at 1:09am & out at 7:10am & were charged $118.80. When I mentioned all of this at check out, the clerk claimed not to know about these problems.

We checked into the Comfort Inn Modesto California. Upon registering into your hotel we were not asked to register our car as is usual at all hotels. We asked attendant if they had security cameras. They replied yes! We however DID NOT ask if they were "Working security cameras". The attendant should have disclosed they DID NOT HAVE WORKING working cameras at that time. There were two attendants at the time of registering. We moved our car under a security light and a security camera. We were awakened at 1:20 a.m. by the female clerk telling us our car had been broken into and the Modesto Police department was outside waiting for us. When we got outside the police department was waiting for us. Someone had broken out our back passenger window and stolen numerous items from our car.
After one hour with the police officer giving him our information. He told us the clerk did not have our car registered and he had to run our Arizona plates to find out who owned the car. My husband moved our car to the front door of the hotel. He then walked the perimeter of the hotel in hopes that he would find some of our property that was stolen. He noticed the male clerk from earlier registration asleep in his car in the front of the hotel.
We spent until 5:00 a.m. making phone calls to take care of the car burglary. At 9:00 am my husband went down to explain that we had been burglarized and we would not be able to make the 11:00 a.m. check out time. The clerk assured us that we could have the extended check out time of 2:00 p.m. at no charge. Upon our check out we encountered the manager and explained our situation to her. She said the security cameras were not working due to painting. There were no signs of painting going on upon our arrival or our checking out. I assure you that is correct as my husband has been a painter for over 40 years.
There wasn't any hospitality or apologies given to us at any time of our stay with the Comfort Inn. In my opinion your hotel was negligent in not telling us the cameras were NOT WORKING and also in trying to charge our credit card for the extended stay charge. Your hotel is a disgrace to the chain of Comfort Inns! We will NOT be staying at your chain again and I assure you we will discourage anyone and everyone we know NEVER to visit the Modesto hotel at 2025 W. Orangeburg Avenue. Modesto California 95350. or for that matter the Comfort Inn Chain. We left your hotel feeling cheated out of the truth, feeling devastated over what had happened to us at your hotel. We stayed there in "Good Faith" and trusting in your employees and manager and left there feeling that we were not told the truth and feeling violated because of it.

I made a reservation at a Comfort Suites Hotel on Saturday, July 18th, 2015. This was a out-of-town getaway for a birthday celebration. I paid $221 for a King Jacuzzi Suite, which was the only available room at the time. I had one adult and an 18-yr-old and a 16-yr-old with me. I was forced to pay extra for two roll away beds, which were horrible old flat plastic mattresses with linens that looked like they were from the 1970's. The Jacuzzi wasn't even working properly. The TV was extremely small. The pool was very small as well. For the price I paid, I expected much better amenities. We didn't even stay at the room most of the day and night, but when we did return, there was a large group of fraternity men that were grilling and tailgating in the parking lot with open intoxicants and the smell of marijuana was very strong. The entire hotel smelled like weed at one point.
When we woke up and went to get breakfast, it was about 9:50 a.m. The breakfast bar closes at 12. I attempted to make some plates and the attendant was very rude and started pulling items off of where I was cooking waffles right as I was making them. I said that I was just trying to make a couple waffles real quick. She stated that "if everyone keeps coming at the last minute 'we' will not get out of here until 12:30." She was very rude.
On top of all of this, about an hour after checkout, I received an alert from my bank that an additional charge of $150 was debited from my account. I called immediately and the front desk lady said that the room "reeked" of weed. I was shocked. We are non-smokers and had children with us!! Their attitude and demeanor was ridiculous. I mentioned to the manager about the partying frat "boys" and they just ignored me. I am sure it was because it was the same staff girls that were out there smoking and flirting with them as well.
I am in contact with my bank disputing these charges because I was put on hold several times and when I did finally get in contact with a representative, it was like talking to a wall. So, I am completely dissatisfied with this stay and the high amount that I was charged for it. I will never stay with Comfort Suites again, and I will make sure that I will never recommend this chain to anyone ever again. The problem with these types of hotels is that they are greedy, money hungry people with zero knowledge of professionalism. It is a shame that we are the ones that suffer for it.

While on vacation for the 4th of July I stayed at the Comfort Suites in New Bern NC. Located at 1006 old cherry point road. I am a combat veteran who just wanted to enjoy time with my family. I left the hotel room and returned shortly after realizing my wallet was left under my pillow. The hotel staff had stripped the sheets off of my bed by the time I had returned to my room but my wallet was nowhere to be found. They supposedly were in the process of cleaning my room but instead I was robbed.
My military ID's, drivers license, pistol permit, fishing license, insurance card, security license, medical care along with five debit/credit cards and a few hundred dollars were in my wallet. The hotel staff claims to have never seen my heavy duty wallet but I know the hallway camera will say different. I involved the police department but seeing how I live in another state, I doubt my valuables will turn up. I just need my ID's, they can have the money. I just want everyone to know the Comfort Suites of New Bern NC staff members have robbed me, a frequent customer. Please help. July 4, 2015

Staying at the Comfort Suites at 210 E Acequia, Visalia, Ca. 93291 on June 6 thru June 8, was charge a smoking fee. I had small children with me and do not smoke infront of them. Huge construction across from my window with smokers and large equipment running. Along with a large concert held outside on Friday night. My windows were open. Check out girl said they smelled baby powder when I left... hello kids!!! I was referred by State Farm as my house was under construction and needed about 3 more week stay.. I shared information with State Farm and they will no long refer this hotel.

Being from NJ, we chose this hotel based on the proximity to the events we were attending and on-line reviews. Basic hotel etiquettes were not met. There were stains on the floor, the love seat, and the walls. There was a cigarette in the toilet when we checked in (non-smoking room). We brought this to the staff's attention and our room was switched.
The 2nd room was slightly better although there were stains on THAT love seat. The front desk associate told us that was due to former guests leaving wet pool towels on the furniture and they were in the process of cleaning/replacing them. One of the handles on the dresser was broken off. We had a 2 night stay and the coffee pot was never cleaned. Pillow cases were ripped. There's a swimming pool, and we were told to use the towels in the pool room, but there were no towels there. The chairs and tables by the pool were stained and mildewed. There's also an odd odor throughout the hotel - not bad, but odd. We made mention of some of the issues to the staff. The staff, I would say, was the only pleasant part of our experience.

We had been driving for 10 hours with a 5 year old, promising her she could go in the pool when we got to the hotel. We chose this hotel because of the pool. When we parked, (finding a space was already a problem) we could immediately smell chlorine and hear kids screaming from the pool area. We checked in to a handicapped room which was at the end of a hall on the 2nd floor and as far as I could see the only handicap accommodations were a couple of badly placed grab bars in the bathroom. So we went to the pool and it was overrun with about a dozen unruly kids (12-15 years) and looked dirty. No adults and the desk clerk could hear them.
So we went to eat and three hours later, trying to keep our promise to the child who reminded us often of the promise, we tried again. The same out of control kids, running jumping, screaming. Still no adults. We did not want to go to the lobby in our swimsuits and it seemed silly to complain because it was obvious that the clerk knew what was going on. With all the chlorine we could smell we hoped the pool wasn't as dirty as it looked so we tried to go in. We nicely asked the wild kids to please be careful because we didn't want the child to be hurt and we didn't want her to be splashed because she would get water in her ears and had to fly the next day. They ignored us.
So we tried the outdoor pool area (although it was cool out) and more of the wild kids were out there actually spraying a hose. We did tell the desk clerk but no action was taken. Then we were refused a receipt when we left and the bad review we tried to leave on their website was refused. Their website also refused to let me leave a complaint. Never again will we stay at ANY choice hotel.

I took my wife to Texas to visit her family. While there she got sick so we decided to go to a hotel the last few days of our trip. We were quoted one price via phone. We never bothered no one, heck, we even cleaned our own room. We only asked the staff for towels and traded in the dirty ones. We even tipped the houseladies. While we stayed there it seemed okay. Now comes the awful part.
Upon checkout, we were not given a bill. We were in a rush to catch a plane and a man, who "claims" to be a GM, goes by 2 names said he would email us a copy. He never did. Upon calling, we were told they charged us a 'smoking' fee for us smoking in their room. This never happened! So we asked to speak to manager, lady said she's the manager and we did smoke and she was in the process of gathering up employees to attest to it. I explained "No, we even smoked outside with employees!!" As a fact, my son purchased a pack of cigarettes for one of their workers as she was down on her luck and my son is kind. It took me numerous emails to even get a copy of my bill. We knew it was incorrect as I called my credit card company and they said there were numerous amounts from comfort suites, pending!!! They were not even going to tell me they overcharged us!!!
Here is my main complaint: I AM NOT THE ONLY ONE, FROM WHAT I'VE READ, BEING DONE LIKE THIS! Mr. ** is using 2 different names and stealing from us consumers. He told my wife "If you don't like it, complain to Consumer Affairs", this is how I've learned of this site. How much LONGER AND HOW MANY MORE CONSUMERS MUST BE RIPPED OFF BEFORE ANY ACTION IS TAKEN? This GM knows he is getting away with Theft and Fraud, so he and all these other Choice Hotels, aka Comfort Suites, are a disgrace to what our justice system is all about. I am begging: someone please hear the outrage of myself and all these other customers!!!! This is so wrong. So very wrong.

As a repeat customer within the past 3 weeks we were refused the same service that was given to us, (my friend, her son, myself and my kids), on our previous visit. The front desk attendant ** refused to take my debit/visa card, the one I used on our last stay, because it was a visa/debit card. When ** checked the system to see if we stayed before, ** stated there was no record of a previous stay using that card. Because I had heart trouble during our travels my husband followed not long behind. He was picking up a prescript. for me and on the phone asked if he could give his credit card to **, again he said NO! My husband then called again and asked if he would just take it to start the check-in and he would be there in a few minutes with the card. ** said NO.
The only service he said he could provide for us was to cancel our reservation through expedia without charge. I was so angry as I was with my son who was getting on a plane at 5 a.m. for soccer in Italy and we had to look for another place to stay. Went to Marriott down the road, was asked to slide my card, sign the box and they told me to have a good evening. Took 2 minutes of our time, same as our first visit to Comfort. Would not recommend anyone to stay at Comfort Suites for the treatment we received as return customers. We travel to Seattle a lot and was happy to continue giving Comfort Suites our business but not now.
Comfort Suites Company Profile
Company Name:

Comfort Suites

Website:

https://www.choicehotels.com/comfort-inn