Consumer Complaints and Reviews

I have made and prepared for the flight of my dog through Cathay Pacific Cargo. 2 hours. That is TWO hours before I leave for my initial flight from YEG to YVR, they called to tell me that they CANNOT send my dog on the agreed flight. And my dog has to stay an additional day with them. I was to board a flight scheduled 2 am, 10 mins before my dog's agreed flight schedule. So no one could be with him then. They had said no one would walk and watch him if he stayed, so I obviously opted to not let pit through such agony to wait an ADDITIONAL DAY in the cargo area, in his kennel on top of 20 hours of transit. It's cruel, and it's heartless. It's animal abuse.
So at the last minute, I had to find a dog sitter as I had to go on my flight since it is a very important one before I see my family - whom I have not seen for years. When I got to my destination, I found out that my intended dog sitter bailed on me. So now, while in a foreign country, I find out that the well being of my dog is in question! An event that would NOT have happened have I given enough time and ALTERNATIVES. I have to reschedule my flight back in a few days just to fix everything. This was to be a permanent move. Now, I do NOT know how to proceed in THIS aspect of my relocation.
There were NO alternatives offered by your staff. Now, I have the hassle, and problems facing me because your staff did not give me anything other than an "I have to leave already coz I'm off" and no one was answering the phone when I phoned back! The hassle that I went through to get all the preparations done, all the TIME SENSITIVE papers I have vehemently accomplished for my dog. The hassle I am putting on a few people - who all know what happened, back in Edmonton. The costs for me to rebook everything, from flights to hotels to rentals, not to mention the fees I paid for my dog to get everything ready in time. I expected better. We expected better considering your reputation as an airline company.
This whole ordeal is mentally, physically and financially STRAINING. It's frustrating, and it's disappointing. I have NEVER encountered such poor customer service from a GLOBAL company. I hope you will fix your system, and most importantly, TRAIN your staff better. Bad staff and bad system is poor marketing. It sets back the millions you spend on advertising, and it drags the company's name into the dirt, along with the work of some of the good people working there.

I was calling the Cathay Pacific customer service to ask about baggage inquiry. The lady in the phone said the limit was 50 pounds. I misheard it and thought it was kg, so I cut her and asked "did you say pounds or kg?" She responded but sounded annoyed. Afterwards, she continued talking about extra luggage cost, and I asked her that I'm flying business class so please give me the cost for the business class baggage cost. She stopped and said to me "You gotta listen and stop talking if you want me to answer your question."
I was like WTF. I flew with Cathay Pacific ever since I was 5 years old and my family members have been loyal customers for more than a decade. This is how you treat your customer?! I called the USA customer service and I'm not going to lie, the girl who picked up the phone call is very rude and obviously doesn't put the customers first. Cathay Pacific's customer service in Asia is absolute class. They're so respectful, kind, etc. This girl I just called (British accent) is rude. Yes she answered my questions, but with little respect. She didn't have to ask me to shut up and listen to her, simply she could maybe listen to my new question and answer according to my new question about business class luggage cost. I don't care about the economy luggage cost. I wish I could rate that call.

I am a Regular flyer and use Cathay pacific as my Carrier also for Friends. I purchased a Refundable ticket for my Friend and alas had to cancel the ticket and was promised a Refund of £780:90 after over 60 was taken off. This refund was sent to my Old HSBC account in error as your staff were informed this account had been closed for some months.
At the time I asked for a refund and calling Twice thereafter I was informed by Reservations at Cathay pacific UK who spoke to the refunds department that My recently used New bank card at Nationwide would be the card this £780.90 refund would be sent to, indeed they give the correct last Four Digits and Correct expiry dates of my New Bank card!
After this refund was made on the 27th April 2016 I was left to phone around wondering where my money had gone to, Phoning my new Bank and Cathay Pacific several times. Finally Cathay Pacific Reservations said the refunds department had sent my refund to my Old Closed HSBC account Not what I was informed twice before by them, and I should call the bank myself and ask for a Cheque to be sent to me, Literally washing their hands of it!
HSBC did not wish to know telling me it's up to Cathay pacific "They sent the funds!" was all they said and I had to wait over 30 Minutes in a phone line to hear that! MORE EXPENSE! Cathay pacific were contact several times by phone since with this update and asked where my refund of £780:90 was, and finally You're VERY slow to respond to emails and phone calls 'UK Cathay Pacific Refunds department' actually called me (7th May 2016) while I was left to again contact my Old closed bank at HSBC. HSBC said Cathay pacific should contact them and ask for a "Payment Raise" (a Search for funds). I had to contact Cathay Pacific UK Refunds Via your UK Reservations to explain this again.
I was informed finally on Friday 6th May 2016 by Your Cathay Pacific Refunds department who still had No Idea where my Refund of £780.90 had gone, they may know more by next week she said apathetically? Several expensive Phone calls later to all concerned, Including Cathay pacific UK Reservations, Refunds, HSBC, CAA, Financial Ombudsman etc, etc I still have NO Idea when I will get my £780.90 Refund and this whole appalling Unprofessional Treatment has left me Financially in difficulties, with Huge phone costs and extreme upset that has led to ill health due to the Burden of Phone calls, Time & energy attempting to resolve this mess and distress unnecessarily created by Cathay Pacific UK Refunds Department etc.
I am Utterly appalled at the way I have been treated as a Loyal Cathay pacific customer who thought Cathay pacific was Better and more professional than this? Still My Refund of £780.90 is nowhere in Sight. I have made a complaint To the CAA and will be pursuing this vigorously I will be reviewing my Experiences in Consumer Reviews across the globe and contacting BBC Watchdog to name but only a few. I am seeking compensation for the costs incurred etc and a Full refund. This is Disgraceful the way I have been treated and I am horrified at the deliberate Indifference of all concerned at Cathay pacific concerning this Mess. No customer let alone a Regular Loyal Cathay Pacific customer should go through this Unprofessionalism.

On January 29th I flew from JFK to Vancouver on Cathay Flight CX889. This night flight then refuels and goes on to Hong Kong. I was in seat 65D (Economy) and had an empty row. I decided to lie down and sleep for a portion of the flight using the pillows and blankets provided. Towards the end of the flight and after landing I started to itch small bites on exposed skin on my hands, arms and neck. Two days later, as I write this, I am absolutely covered in clusters of itchy red welts especially on arms, torso, neck and face and more are appearing daily. (Apparently bed bug bites start to appear within hours and can keep showing up days later after the initial bite). It is clear that the seat and row I was in (or the pillows and blankets) were infested with bed bugs and that they feasted on me while I slept for 3 hours. I guarantee that anyone sitting in those seats before or since will be experiencing the same thing. It is absolutely disgusting.
I have written to Cathay to complain about this but heard nothing back. I think it is disgraceful that the airline does not do a better job of keeping their seats and cabins clean. These seats probably have people sitting in them for up to 20 hours a day as the plane goes back and forth from HK to New York via Vancouver. The airline is simply failing to take the necessary precautions to properly clean (deep clean) and vacuum the seats and crevices where these bed bugs inhabit. The pillows were not in plastic bags and for all I know were used on the previous leg. I call on all travelers to boycott Cathay Pacific until they can prove to the public that their planes are bed bug free and that they have improved their cleaning and hygiene standards to prevent their customers from being eaten by parasites. Unless they are very nice to me(!!!) I will now use only Air Canada who flies the same route.

My family and I traveled from Singapore Dec 23 2015 CX690 to Canada via Hong Kong. The flight was delayed for more than an hour at Singapore. We managed to get on the plane to Toronto at Hong Kong but our baggage were not. We were told that we were get our baggage delivered to our house the next day (Xmas eve). Our baggage did not show up and nobody bother to call and leave a message. We were waiting at home the entire day so we can wrap our xmas presents before Xmas. I had left a few messages at their Pearson airport. I always regard Cathay as an elite airlines but I have to discount it now.
How do I know I can trust these reviews about Cathay Pacific Airlines?
633,474 reviews on ConsumerAffairs are verified.
We require contact information to ensure our reviewers are real.
We use intelligent software that helps us maintain the integrity of reviews.
Our moderators read all reviews to verify quality and helpfulness.
For more information about reviews on ConsumerAffairs.com please visit our FAQ.

On 5 Sept. 2015, my daughter bought tickets (promo for 2) from Kuala Lumpur to Seoul on 23 Nov, 2015 and back to Kuala Lumpur from Seoul on 3 Dec 2015. Due to unforeseen circumstances, she has to leave for Seoul on 5 Nov, 2015. We have called Cathay Pacific office in Kuala Lumpur two times and also went to Cathay Pacific Penang to ask for a change of name but was declined and we informed that then we would have to forgo my daughter's ticket to Seoul but will come back to Kuala Lumpur on 3 Dec 2015 on the return part of the ticket. NOBODY at your office CAUTIONED us about the CONDITIONS set about the PROMO for 2!! I had to foot another RM811 to be able to travel to Seoul on 23 Nov and my daughter's ticket was 'burned' just like that. Is there anyway that Cathay Pacific Airways give me some percentage of refund?

We flew from KUL to SFO via HKG on the 5th Nov 2015 with CX722. We didnt get our luggage at SFO airport and had to wait nearly an hour to check with baggage officer. We were promised that we will receive our luggage by the next day latest by noon and were quite unhappy that we didnt get it even by now at 6.15pm. I have a meeting to attend tomorrow and all my documents are in that bag along with my clothes. This is terrible as you are not professional in handling such simple issue of delayed luggages. Tag number of our luggages are ** and **. Cathay compensated both of us 70 dollars each and I wanted to ask you what can we buy with that little amount of money in SFO. We are really not happy with Cathay. I hope you can sort out this problem as soon as possible because we need our bags.

Our KA622 flight with Cathay (connecting flight DragonAir) was a horrible experience. After 15 hrs of waiting in HK for a connecting flight they delayed us by 3 hrs to 10:20 pm. An hour before the due departure they update us via the airport screen - flight delayed again until 11:15 pm. We went to the counter of Cathay Pacific/DragonAir and all 5 staff were either playing on their mobiles or looking away. I had to stand in front of one staff and basically had to say hello to her 3 times to get her to look up.
I asked her about the gate number as the flight was about to leave in an hour. She said it was too early to tell and I would need to speak to DragonAir (literally sitting next to her). Do you have no common sense? Or is it just pure laziness? After asking her several times she finally decided to turn to her right and ask her colleague from DragonAir.
After 2 delays, we are still sitting here at 10:20 pm and no plane in sight. Cathay Pacific and DragonAir (HONG KONG) have incompetent and horrible front desk staff. They don't care about customers, feedback and don't want to take responsibility for anything. Never again. For anyone flying in the EU or USA who have experienced delays go to www.getairhelp.com. Unfortunately doesn't work for us as it only applies to those countries. We should have stuck with our usual - Emirates, Singapore, Qantas, Airasia and Jetstar.

I had boarding pass to Cathy Pacific Airlines from HK to Sydney on 9 Oct 2015 (CX111 6:50 pm departure). Due to the networked airline delay, I was put on to the next Cathy Pacific flight to Sydney (CX101, departure 11:55 pm), and offered Cathy Pacific Lounge. At Cathy Pacific Lounge, I was asked to wait, because computer did not tell them I have been awarded Cathy Pacific Lounge. So waited and waited, staff at front counter were not busy, but no sign of help.
After several push, a small woman known as Rachel ** said, "We have nothing to do with XXX Air. You should talk to them, go to 21 floors (?) and to their office, go and talk to them, not us..." I asked her to call instead; she said it is not her problem. I explained about meaning of Airline Alliance. She said, "We are alliance, but it is their problems, not ours etc." What a bullshit reason to reject a customer? I expressed this directly to her. She threatened to cancel my flight if I do not apology to her and she did.
Several managers came, did not act against her bad behavior, but advised that if I say sorry to her, I would get into the Lounge and get on my flight, because she is a Manager. I was shocked such person could be a Manager. The worst counter staff among all the staff at Cathy Pacific Lounge. I note that there are many web-based complaints about Staff at Cathy Pacific Hong Kong are rude; I certainly add my world worst experience and pointed out the poorest customer services by the manager Rachael **. She (Rachel **) is manipulative, rude and with poorest communication skills. She should be send-off for re-training, or be suspended off her role as a manager. I am a professor in Transport Logistics. Well traveled around the world for over 30 years. Has been worked in Hong Kong in the late 1990's for 5 years. I witness the worsened poor customer service and communication at HK Int'l Airport.

My parents flew with Cathay Pacific from Indonesia to JFK. They were returning with CP as well. We checked in online according to the ticket we bought, with routes JFK to HK with 2 hours transit in HK and then from HK to INA. At the JFK airport we were helped with a young guy. We were told that one of the baggage was overweight and has to pay $100. We tried to negotiate but he's insisted us to pay so we went to the cashier to make a payment but the cashier said "It's OK. It's FREE". We went back to the counter and the young CS gave us the boarding pass to my parents without saying anything about the ticket from HK to INA. We expected that all the tickets had the same exact schedule from the time we bought it.
My parents went in through the security and to the gate. We drove back home and 15 hours later received a news from our sister back in INA that was communicating with our parents that got stuck in HK without realizing the boarding pass from HK to INA was not match with their initial tickets booked in INA. Our parents couldn't negotiate much with the CP's CS in HK due to a lack of speaking English. Basically Cathay Pacific has been neglected to inform our parents that the initial schedule couldn't be meet. But instead they cheat and tricked us. We wish to pursue this complaint to a legal action against Cathay Pacific.

My horrible experience to USA by Cathay Pacific Airlines. The reason for opting Cathy Pacific was complete flat bed experience and reaching Hyderabad and then to Vijayawada at a a shortest possible time. Moving from one terminal to another terminal in Chicago as per your team's advice was literally unbearable and surprisingly team at American Airlines nor at British Airways were cooperative with us and they just treated us an unwanted guests to them. Probably this could have been avoided with the presence of your team member with us.
When we approached Cathy Pacific after returning from AA, to our surprise they said they have closed the office and they could not assist us in way. After lots of pleading they rerouted through British Airways. They could have consulted us before rerouting but they themselves brought the itinerary and gave us Flight Interruption Manifest, and they left off without even listening to our requests.
When your team doesn't care their guests, why will British Airways listens to us? Again, after lots of discussion they gave us a boarding pass till Mumbai and asked us to take the delivery of our luggage to transfer them to domestic. We reached London Airport at 10 a.m. on 15th July, 2015 and we were just idle in that lounge till 9 p.m. We went to BA office to accommodate us in BA flight to Hyderabad which was scheduled at 3 p.m. but they ignored our request and informed us that there is no Cathy Pacific counter in London. (We are not aware of the fact even today.)
We were taken for a task at Mumbai Airport. When we approached Jet Airlines, they said, "No booking was made by Cathy Pacific and they don't have to honor your Manifest without any reservation." The next alternative they suggested was to buy a domestic ticket for 9600 each which departs at 4 p.m. and have to pay the excess baggage charges of 300 per kg. We got the Indigo flight which departs one hour before Jet Airways and purchased the ticket for 8200 each and paid Rs.13,750 as excess baggage fare. I was under opinion that Jet Airways is also a partner of Cathy Pacific but as we travelled by BA they said we will not be eligible to get miles on our Jet Privilege Card.
In Mumbai we were asked to go to domestic terminal which is again at distance and you should think about our situation after travelling about 45 hours non-stop from Detroit. We also could not buy any duty-free items for our kids as they have to be checked in with excess baggage. As per the original plan, we were supposed to reach Hyderabad by 12-10 midnight of 15th and purchased tickets in Aircosta which departs to Vijayawada on 16th, 9 a.m., and those tickets got wasted and we finally reached Hyderabad at 5 p.m. on 15th July. We took a cab and reached Vijayawada at 1.30 midnight.
In this entire episode, if at all we did any mistake, that was buying the ticket from Cathy Pacific Airways. It is the mistake from Cathy Pacific to keep a very small time gap at Hong Kong to Hyderabad connection. During our onward journey to Chicago from Hong Kong on 29th June also our flight was delayed by more than one hour and we could not recognise the impact on that day.

I had checked in at Brisbane airport for my flight CX156 at the business class counter for my return journey to Delhi via Hong Kong. I have a 10 hour transit time at Hong Kong airport and wanted to know from the girl at counter if hotel accommodation is provided and what are the rules. She put me across to their manager Mr. ** when my ordeal started. He was brusque and rude and dismissive about my queries and asked to step aside after check in till he checked about my eligibility.
After waiting for about 5 minutes he was trying to give some excuses about my ticket not being booked correctly but all this while he was very evasive. When I persisted with my query and my eligibility as per international rules politely he became rude and agitated and tried to become confrontationist. I was appalled by his behavior and made a quiet exit without resolving my issue. It was a sad experience despite spending on business class travel when at the counter a manager level person with good experience behaves in such a shabby manner. Sad state of affairs indeed.

I fly with Cathay Pacific from Sydney to ChangSha, transit from HK in May. Our flight delay was delayed for one hour. When we arrived HK airport, we meet with Cathay Pacific's ground staff. He took us along with the other two ladies on board to Dragon Air. One of the lady asked the staff about the luggage, his asked was DON'T WORRY, the luggage will be in the Plant. When we arrived ChangSha, the luggage wasn't there. Both my husband and I can't speak Mandarin, and no Cathy Pacific's staff to help. Lucky one of the lady explained to the airport lady we are with the tour, can't come back to pick the luggage up in the airport, and they said I will had it the next day and will send to our hotel. It was after one hour I leave the airport. The picked up driver and the other passages had to wait for us.
Thanks to Cathay Pacific, we didn't get the luggage after THREE DAYS. We had nothing to changed, worst is all our MEDICATION is in the luggage. My husband need his daily. We not happy at all. When we fit back, SAME THING to the other passages too. As far as I concern, Cathy Pacific just don't care the customer have the luggage with them or not. I mean if you know the luggage is not in the plant, why tell LIE? I will never fly with Cathy Pacific any more. I wrote to your office and complained before, still waiting for the answer. I think like your guide line say. I am fair and honest, and have right to complain.

I spent HK $700 extra to buy the extra legroom seat for my round trip from Hong Kong to San Francisco, because CX promise that this kind of seating will give passengers a more COMFORTABLE journey. I took CX 892 on June 30 from Hong Kong. When I was on-board, I did not find space in the storage above that window seat. Also I found there was a slot with a lot of CX brochures untidily inserted thus I cannot lean on the window for resting.
I had called one of the cabin crew to express my frustration. But she said extra legroom seat was only guaranteeing for the space in front of the leg, she cannot help for removing the brochures or getting the storage space then she left. Thus that I had to put my bag on my lap or beside my leg, but all along the journey, none of the cabin crew care of my situation. Until the period landing to SF airport, one staff coming to me and accused me that I should not put my bag beside my leg to against the rule. I feel really disappointed and unhappy by spending extra money to buy such a special seat, so I sent my feedback to CX to express my feeling. However the reply from the Supervisor (Dan **) of Cathay Pacific Customer Relation Dept pointed out that extra legroom seats "offer more legroom than other seats in the economy cabin. However, the space and comfort around these seats depend on the aircraft configuration".
Since I have also bought a extra legroom seat for my return journey, I asked CX to ensure the same thing will not happen again by cancel my extra legroom seat or change the seat number, but CX refused me both requests. Well, HK $700 is not that muc. The point is the principle. I take a very good lesson from Cathay Pacific!

I was planning on taking my therapeutic dog to live with me in Thailand. Booked flight over 3 months ahead of time so I could do all the necessary paperwork. Paid over $500 to do all the requirements and purchase cage. The day before flight tried to confirm everything. AA flight to LAX no problem but on confirming Cathay Pacific flight was told I need a transit permit to change planes. Cost $150 and it would take 2 weeks to receive. Needless to say I did not get to take my dog. I even purchased premium economy ticket for this flight and felt no different than regular economy.

I have to say "I'm really disappointed". I flew Cathay Pacific Airline from Kansai airport to Taipei in July. The departure time has been changed three times. However, the service was ** bad. I have to say I met the most terrible crew ever. She was rude and snob. I was sleeping when she gave me the on-board meal and I couldn't hear what she said because I wore the headphone and seated nearby the engine. Then I woke up and she asked what I want (She even didn't know what they offered today, she checked the meal when she asked). I replied and she said I couldn't hear you with **'s face. There was a guy who seated next to me and wore the suit. She was really polite to talk to him. I wouldn't fly Cathay again. I bought the seat but I had different service. It's unfair and ridiculous. I wouldn't fly it again.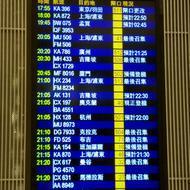 I was taking KA396 operated by Dragon Air/Cathay Pacific from Hong Kong to Tokyo Haneda. After being on the flight for two hours, the flight still didn't take off. Then we were told the flight cannot take off due to some technical problems. All passengers had to get off the flight. Because of the delay, I was not able to catch a domestic flight from Narita. I understand it takes time to switch from Haneda to Narita, so I arranged seven hours to switch the airport just in case the flight. However, I did not expect the flight got delay for over 5 hours. I asked the staff Dragon Air/Cathay Pacific to help me out.
At the beginning, a female staff was quite helpful until the male staff (at the middle of the photo) said they won't take any responsibility on the issue since my connection flight was not operated by Dragon Air/Cathay Pacific. I was told I can book another flight and then "try to claim the expenses back" from their customer relation center on their website. I went through every corner of their website but could not find such an option. All major airlines would give customer compensation due to delay caused by technical issues of flight. However, Dragon Air/Cathay Pacific didn't mention a single word of compensation during the whole waiting and flying period. The only "compensation" was just a $10 food court voucher at the airport.

Flights get taken out... mechanical problems happen, I have no issue with that. But the morning of June 26 at LAX will haunt me forever regarding bad service.
Due to take off at 9.40 am we were alerted that they'd encountered a problem with the mechanics... told to wait. 1 hr later were good to go, everyone put in order to board the plane then wait... and wait... and wait... oh there's another mechanical problem (what the hell are these planes held together with, blu tack?). Next thing, they're asking for any travelers who have a transit at Hong Kong to speak to the desk. I go over, 5th in line of about 40 (high five)... But before long the Chinese and Hong Kong passengers start to surround the desk... another line forms just as I get to the front of the queue.
The Cathay assistant tells me that the newly formed line is actually the new transit line and I have to join the back of that one (SERIOUSLY!!!). Ok, so I do. 30 minutes pass and the original queue I was in starts to deal with the remaining Chinese passengers who are due to transit (are you kidding me?). 30 minutes later at about 11:30 am, we get told the plane is kaput and we all have to go back to the check in desks... near 300 of us march down to the check in desk. Great I'm 15th in the queue. After 60-75 minutes of being told nothing at all people start to get restless... call goes out for any Hong Kong passengers to get into a separate line. They get put on a flight instead of those who are due to transit from Hong Kong, what??? One American guy next to me had to transit from Hong Kong to Okinawa to get on a cruise and had little time to spare.
NO, you'll have to wait for a Hong Kong national who's only transit will be HK airport to taxi to bed... common sense? Yeah, if you're a complete moron. By this time I've went from being 15th in the queue of over 250 passengers to middle as the Chinese have swarmed the desks and it seems that queuing doesn't apply to them as the Cathay staff have started to serve them. When I brought this to the attention of a Cathay staff member her response was "it's Asian culture". As I'm standing next to my THAI wife and a family of MALAYSIANS who have also been pushed to the middle of the queue (GET A GLOBE MS CATHAY PACIFIC and see where those nations are on it). Anyway the next 3 hrs we spent standing around being ignored, lied to and generally treat with as much disdain as the incompetent Cathay staff could muster for us NON Chinese/Hong Kong nationals.
It was my first and will certainly be my last Cathay Pacific journey. The staff are incompetent, poorly motivated, badly organized and quite frankly, I'll say it... if it becomes between you and someone from HK or China then forget about it, you're losing. If I was given the option of flying with Cathay Pathetic (not a typo) or going to the dentist to get unnecessary root canals with no anesthetic then... "tilt your head back and say aghhh".

So me and my friend purchased two companion fare tickets from Hong Kong to Taiwan. When we were leaving from Hong Kong, there was a problem with my friend's visa so she wasn't able to fly out. The cabin crew then asked me if I were to stay in Hong Kong with her or continue with my flight to Taiwan. After discussing with my friend, we decided that I will continue and fly to Taiwan while she stays in Hong Kong.
A few days later when I was making my trip back to Hong Kong, I was at the counter checking in and received my boarding pass. I asked the counter crew if I can get a partial refund for my friend's ticket because I remember when I was booking the ticket it say that if the ticket was completely unused, they would be able to refund around half the fare. The counter crew then made some calls and retrieved my luggage (it was sent off on the luggage belt) and he told me that I couldn't use my original ticket because policy says that I will have to travel with my friend in order to use my ticket and that I will have to pay for a whole new ticket.
I then explained to him that my friend never left Hong Kong, I did pay for two tickets and even though she didn't come, couldn't I still use my original ticket? He then said that the Hong Kong crew didn't realize that and never should have let me used my original ticket. I then had to purchase a new ticket but I had to take a much later flight even though I still had plenty of time to catch my original flight. I asked why I wasn't able to go on my original flight even though I already paid for a new ticket. And he just said that I couldn't use my original ticket. I asked him "So you are going to send a flight with empty seats away and make me take a later flight? Are you listening to how ridiculous you sound?" And he said "Yes but that's the only thing you can do." There goes my last trip with Cathay. Now I see the reason why it keeps slipping down the airline chart.

I tried checking in online 48hrs before departure. In all instances, check in could not proceed once I reached the seat selection screen, citing technical problems... both times, within a week!!!!! On early arrival for check in at the Cathay Pacific counter, my sister and I had absolutely awful seats. Am never using them again. Also, it reinforced what lousy choices my aunt and cousin makes.

I flee with my 3 children last Feb. My kids are ages 7, 3 and 16 months old baby. I asked one of the flight attendant to watch over my kids while me and my 7 yrs old daughter went to the bathroom. When I returned to my seat I saw my daughter on the floor lying down and the attendant told me that my daughter fell on the floor. She did not even pick up my daughter. When I saw my daughter on the floor I pick her up And I told the attendant "This is the reason why I ask you to watch over them". I also noticed that she is so far from our seat where my kids are sleeping. After a few hours, I noticed that my daughter had a bruise on her nose. I did not know if she hit her head. I was monitoring her the entire flight for any signs of complications.
I called the supervisor and talked to him. The supervisor told me that they are not trained to babysit kids. I was so shocked when he told me that. You don't need a training. You just need a common sense. If she was just watching over my 2 kids and staying near the chair that is not going to happen. Our vacation was put on hold due to we need to go to the doctor immediately. I could not sleep for 3 days. It was so stressful.

I booked a long haul trip with Cathay for the first time, having traveled extensively with other airlines. I found cheap flights and booked Adelaide-Hong Kong, Hong Kong-New York (JFK) and return. Tried to book seats and discovered that a discounted fare didn't enable that, and I had to wait til 48 hours before the flight. Ok, weird, but I waited.
48 hours before the flight my online check went smoothly until I got the screen where you choose your seats. They were all booked up. Completely. Tried repeatedly, searched the site for info (none), waited for the call centre to open - rang them and was told 'Your fare doesn't allow ANY online check-in for ANY of your flights on this trip. You need to wait til you get to the airport to get a seat assignment from the seats that are left.'
What fresh hell is this? Why would any airline want dozens of people (there were at least 20 in the same boat on this plane, she said) going through this hassle, calling up, wondering what is going on, instead of letting them book?? It's a 6.30 a.m. flight from a small airport - I was planning on arriving at 5.15 due to the 29 hour trip ahead of me, now I have to be there at least at 4.30 a.m. to try and get a seat that isn't in the middle of a row... have never seen this before and won't be doing it again!

It doesn't matter what time of day I call them, if a member of theirs or not, I can easily wait 30 minutes or more (as I write this I am on speaker-hold in Hong Kong for 37 mins already) for someone to just pick up the phone ("we are still searching for the best matched member of our team"). Er, the best person right now is SOMEONE WHO WILL PICK UP THE PHONE! This is not a free phone number either. This "service" is DIRE!!! An utter disgrace in this day and age.

Not courteous, rude, disrespectful. His name is ** of Hong Kong Airport. Was asking about tagging a luggage with fragile items but refused to answer. Repeated my question thinking he didn't understand/hear me. He answered angrily shouting "you always say fragile! Fragile! Fragile! Can't you wait?!"

We traveled on a flight to UK from Sydney. The inflight entertainment was not working and was informed of this by the pilot on boarding. We were also informed to make a claim for the lack of the facilities. We encountered rudeness from staff, who were really not helpful in any way what so ever. Angry passengers were shouting at each other and my children experienced this anger from the passengers which was the worst part of the journey.
After 6 months of complaining and waiting I was finally offered compensation knowing that we were all given the details on leaving the plan to make a claim and we followed the procedure as per their info. I was surprised of the delays. However the compensation came in a form of Cathay Pacific vouchers which I have nowhere to use. Been chasing since to have them changed but have had no reply.
They have a one year life and are now coming to expire and still have no idea of how or where I can use them. No response from the company still. So all wasted!! Never again will we use Cathay Pacific. Never recommend them - their compensation is wasted too as they don't mean to give it to us otherwise they would have given us an option on the form of compensation we would like. Not happy in any way. Will be very surprised if they answer/reply to this! Curse them!

Why does it take 6 to 8 weeks to refund a ticket? Oh I get it, so they can put those dollars in a fixed deposit for a month and make 23,000 USD. Thanks. Also, I cancelled online but they said I have to call the Global Call Center. OK, so I have been trying 5 calls to HKG now from Saturday afternoon to 6am Sunday morning and no answer, after at least ten minute hold every time. What gives?

I have been flying Cathay for a number of years now and joined the Marco polo club for the mileage points. Every time I have tried to redeem points from Marco polo club it's like pulling teeth with no anesthetic. The level of restrictions is beyond the pale. My most recent episode is current. I had requested to redeem a return trip from BKK TO YVR ON JANUARY 12, 2015. I checked dates on the web site for the dates I would like and counted well over a hundred and twenty seats available on the 3 days I requested. I contacted Marco polo club to initiate my redemption and was told there are no seats available. I explained that I had the site open on my computer at the time and it showed clearly available seats but for sale only.
They would be happy to sell me another ticket but would not redeem me any of my points. They offered to put me on a waiting list for 38 days. Just leave you hanging. This is the worst mileage redemption program I have ever encountered. The level of complexity, excuses, all very lame at best do nothing to satisfy the loyalty they profess to offer me as a customer.
They are Quick to take your money but don't try to redeem your points, they make it so difficult. Like a previous writer, I should really reconsider my business relationship with Cathay. If they would simply redeem the points when asked for, they truly would be a great airline. Cheap, petty and problematic, not to mention inconsiderate of their customers loyalty to them. I'm sick of it.

This is in reference to an in-flight incident and injury I sustained while on Cathay Pacific flight from Manila to Hong Kong on 3 days ago on my way to the US when the overhead bin opened when the aircraft was making its touchdown in Hong Kong. A bag with a laptop and other stuff that belongs to another passenger fell from an unsecured overhead bin and hit me hard in the head causing my temporary loss of vision, difficulty walking and severe neck and back pains. The airline staff (purser, cabin crew) did not do anything immediately until I begged for help and until other passengers were summoning for help.
I was rushed to the local hospital and I was accompanied by one of their employees and initially they only wanted to do X-ray but I requested for a head CT scan being a former medical student that I am. I was in so much pain and having a hard time walking but was discharged anyway to take the flight to JFK from Hong Kong. The impression on the medical certificate was minor head injury, neck injury and lower back injury, but the pain intensity scale escalated to 6/10 even after receiving Tramadol IM on my gluteal muscle for the pain.
When I got to the US I was in so much pain and my brother who is also in medical field called the office of Cathay to ask for assistance regarding the situation because I was in terrible pain and can hardly move my neck. But the staff of Cathay in the US said they cannot do anything about it because it happened in Hong Kong. This is a civil liability of the airline and complaint or request for assistance can be filed in any jurisdiction where Cathay Pacific has operations. It is a clear manifestation of airline and employees negligence because first and foremost carriers should adhere to a high standard of their care for their passengers governed by Federal Aviation Administration. The overhead bins should be checked and secured to ensure that it does not open when the aircraft is in motion, more so to cause injury to its passengers.
As a commercial airline, Cathay should exercise vigilance in all aspects of aviation including maintenance, operation, inspection and loading baggages in the overhead bins. I hope they made an incident report on this because I am determined to take legal actions about the injury I sustained due to the airline's negligence. Cathay Pacific does not seem to care about my condition. So I guess it's better to let the injury lawyers handle this matter.

I flew from San Francisco to Manila on December 22-24, 2014. I was not allowed to take an earlier flight to Manila from Hong Kong due to the minute I arrived in Hong Kong from San Francisco my luggage was lost. During the course of my 12 hours waiting in Hong Kong for my original departure to Manila they found all but one of my 5 pieces of baggage. I paid for extra baggage in the amount of $450.00 US Dollars in San Francisco. I was buying a coffee in Hong Kong because I had to check in every couple hours to see if my last piece of baggage was found and when I turned my back for just one minute from my baggage cart someone stole my $600.00 US Dollar cell phone from my back pack.
I never was allowed to change to an earlier flight despite having qualifying airfare and there were many seats available during the several earlier flights to Manila. I flew to Manila and they still had not found my last piece of baggage. They found it 10 days after I arrived and the military grade baggage trunk was destroyed along with many items stolen from inside of it. My limited edition Jeep luggage set was also damaged on this flight. I have filed several claims for the stolen items and have only been ignored by the Manila office and the Hong Kong office just refers me to Manila without even reading my complaint. They never paid me any compensation at all for the theft of over $1600.00 US Dollars of my stuff nor have they ever paid any compensation for delayed baggage.
This is the worst airlines I have ever seen and I encourage everyone to file complaints against them and email their complaints office and file complaints with civil aviation authorities. When an airlines has such a bad reputation for lost and stolen luggage it shows a serious security risk on their flights.

Cathay does not take flight safety seriously and its crew clearly has no training in how to handle in flight security threat. I was on a flight from HK to LAX on Dec. 29th. Three hours into the flight, the crew moved a man to sit in the empty seat next to me. Since this was not a full flight, I asked for the reason. They told me it's because a family would like to sit together. Afterwards I noticed this man was acting strangely and begin harassing me. I went to the back of the cabin and report that I was not comfortable sitting next to him.
The crew removed him. (Later I found out, they only moved him to the row behind me!! Thus he was able to continue harassing me during my sleep! Speaking of bad judgment and lack of safety training) and told me I could return to my seat. After I fell asleep, I felt someone touching me, I opened my eyes, and this man was standing in the row behind me, staring at me. I immediately got up and ran to the back of the cabin to alert the crew what had happened. This is when they told me that this man has been drunk and had already harassed another lady, and the husband of the lady was going to get into a physical fight with him. They then proceeded to give him a warning.
What follows was chaos. I finally was moved to a different area of the plane. Even though I was shocked at what happened to me, I was most horrified at how the Cathay crew handled the entire situation. They put a drunk man next to a single female passenger, even though there were many empty seats available throughout the plane, ignoring my safety. They lied when I inquired why this man was placed next to me, thus I was never given a chance for to protect myself. Among the chaos, it took them at least 40 minutes to find a new seat for me, even though there were plenty of empty seats throughout the flight. My personal belonging that was place under the seat in front of me was never retrieved and never turned in even after we landed
This was a situation that could have happened on any airline, and granted, its a very simple flight security threat. But because of the ignorance and bad judgment of the Cathay crew, it reflects how poorly they are trained when facing a possible security threat during flight. In a day and age when air travel security is such a fragile topic, my most horrific find is how Cathay handled this situation after I have landed and reported this to Cathay (Btw, the only way to report this was to submit a message on their website, no phone operator would transfer me). All they did was have someone named Prajwal ** write me an email and saying they are sorry for my disappointing experience and a Cathay voucher of $100 will be mailed to you in 3-4 weeks.
First of all, I am so emotionally distraught by the way the crew handled this situation, I will not choose to take Cathay ever again, so the $100 voucher is meaningless and useless. For the past years, I have been flying First Class with Cathay, and had been rating Cathay as one of the best airlines. This time I choose Economy and I am quite glad I did. Because a security breach in Economy could affect the lives of the entire flight. I would warn anyone who is considering taking Cathay to think twice: You are putting your lives in the hands of these crewmembers when you are traveling in mid air. More than anything, you want to be sure that you and your family's safety is the crew's top concern. Do not take Cathay until they are ready to take flight security seriously.
Cathay Pacific Airlines Company Profile
Company Name:

Cathay Pacific Airlines

Website:

http://www.cathaypacific.com/cx/en_US.html