Atlantis Resort
Paradise Island, Bahamas
Consumer Complaints and Reviews

My sister took me to the Atlantis Resort at Paradise Island. Beautiful beaches & pools. The staff was absolutely the rudest I have ever experienced. Always wanted to go there, but will not be going back. Would suggest going to Hawaii if you are looking for paradise.

My family and I booked a trip to Atlantis around four months ago. A week before my trip I started reading the reviews on this website and they were all so negative, so I was worried the trip wasn't going to be as fun as I hoped! I got here at Atlantis 8 days ago and I'm really confused as to why the reviews are so negative. I really feel like we're at different resorts or something! Their customer service here is so professional and everyone I've talked to has been just so nice! Every employee I walk past greets me and asks how I am. I seriously recommend doing the activity called, Trainer for a Day, as it was one of the most amazing experiences! They take you behind the scenes, I got to ride a dolphin, and swim with the stingrays. They even have a photographer take pictures of everything for you!
I read so many complaints that the rooms were dirty, but stepping off the elevator onto your floor you can literally smell how fresh and clean it is, same for when you walk into your room. It's also super convenient because you can pay for everything on the resort with your room key! The food is also very good. I read another review on here that was talking about how they had a nut and dairy allergy and the chefs failed to inform that they were using almond flour in the bread or something... I have a bad nut allergy so reading that review really scared me and made me very cautious of what I was eating at first. I don't understand that review either because I ate multiple sandwiches from different places along the resort and food from pretty much every restaurant they have and never had a problem!
I would recommend going to Murrays for breakfast because their food is so good, and they have one of the best brownies I ever had! Also, the cove/the beach is the nicest I've ever been to, and the waterpark is so fun and great for kids. The only complaint I would have is that they automatically add a 15% gratuity on your bill. But other than that, this resort is truly amazing and I would recommend it to everyone!

2nd and last time we will be staying at Atlantis. We were here 3 years ago and had a great time. This was our 3rd trip to the Bahamas and sadly most likely our last. I honesty do not feel safe. My husband left his phone charging in the hotel room while we went to dinner and when we came back the phone was gone. While we were at dinner I was getting fraud notifications from American Express on my phone but was not able to dial out. I was going to use his phone.
As soon as we got back to the room and noticed the phone was gone we immediately notified front desk and of course no one was much help. They "filled out a report" but we know we're not getting his phone back. The maid did come for turn down service while we were at dinner and there were two men painting all day in the room next door. I can only assume where the phone may have gone. This has ruined our vacation and not how I wanted to spend our last night here. I cannot get off this island fast enough!

My fiancé and I recently spent four nights at the Atlantis Resort in the Bahamas. We really enjoyed ourselves the first three nights, and even commented that it would be a great place to bring a family in the future. That changed on the last night. On our last night we, and multiple others on our floor, listened as a woman on screamed from her room begging for help. We could hear a loud altercation going on in the room (what sounded like someone being thrown around, with loud crashes into the door and walls). We could hear her and a male voice screaming at each other loudly as well as her repeatedly screaming "HELP". We, along with others on the floor, called security MULTIPLE times describing the situation and begging for them to come help.
After nobody arrived immediately and the sounds coming from the room continued to worsen, we ran downstairs searching for help. The first two security personnel members that we stopped told us they were not allowed to leave their current posts but that someone would be up shortly. In fact, one resort employee (a woman working the front desk in the lobby) threatened to call security on us if we did not stop "causing a scene" in the hotel lobby. It was not until we screamed that we would make sure the hotel faced a lawsuit and PR nightmare if they did not get upstairs immediately to save the screaming woman, that a single (apparently unarmed) male security guard, accompanied by a petite female manager, finally went upstairs.
I would estimate that AT LEAST 20 minutes passed between the time guests from our floor first called security and the time that security finally arrived. The things that can happen to a person in a violent situation in a 20 minute span are horrifying. What is equally horrifying is how long it took Atlantis security to respond to the situation. To have security take that long when someone is literally screaming for help like their life depends on it is completely unacceptable and frightening. I encourage everyone to think twice before ever staying at, or bringing their family to, Atlantis.

When I read the negative reviews of Atlantis on Paradise Island, I wondered if they were ratings for the same place. I was there 4 times, my daughter was there 10 times, and we had nothing but wonderful experiences. We do normally stay at the Cove and most recently at a Royal Towers' Regal suite, so it may be the case of 'you get what you pay for'. However, we never encountered a rude employee, bad food service or bad food throughout the resort. Maybe we were just lucky. If I would criticize anything, it would be the lazy river during our May 2017 stay. It had black "stuff" floating around at the entrance, and the water felt "thick", like it needed changing or filtering.
One person fell off the tube during the Rapid River ride, and was dragged for a few moments, I even bumped into him inadvertently and as he was being dragged he bumped my adult daughter off her tube too, but a lifeguard jumped in right away and caught up with him, and all was well with him and with my daughter as well. Neither of them complained and in the end laughed about their little adventure down the rapid river. It is unfortunate if there is, indeed, a "you get what you pay for" mentality, as many of these reports indicate. I hope never to experience that.
How do I know I can trust these reviews about Atlantis Resort?
829,326 reviews on ConsumerAffairs are verified.
We require contact information to ensure our reviewers are real.
We use intelligent software that helps us maintain the integrity of reviews.
Our moderators read all reviews to verify quality and helpfulness.
For more information about reviews on ConsumerAffairs.com please visit our FAQ.

Recently we spent 11 nights at the Cove. We have been traveling to the Atlantis property for over 13 years so before the Cove even existed. We were spending our vacations there 1-3 times per year. It was our families favorite vacation destination until our recent trip at the end of March. They have their adult pool where the staff looks the other way as many inappropriate/illegal activities go on. We traveled with our family so only went to adult pool area 1 time to get take out food and 1 time for my wife to get a drink - less than 1 hour total over the course of our 11 night stay. Unfortunately, the actions they allow at the adult pool and throughout the resort negatively impacted my stay when a group of overly intoxicated young adults came out and were having a wrestling match right in front of the towel hut where the employees congregate at the end of their day.
Their wrestling match affected me because they landed on the side of my leg and my wife told them to watch out and be careful as I just had back surgery. After saying some derogatory words to her one of them punched her in the side and the group scattered with half running up the hill towards the Cove (the wrestling match continued and one almost fell into the shrubs with water running down - there are cameras right there which I suggested they review) and another group running towards the Reef. Hotel employees and security all pretended to see nothing. All we wanted to do was stay down at the beach and enjoy the beach as the evening wore on because our trip was ending.
The next morning at 5:30 am I went down to see the Cove manager and the front desk guy said he was setting up for a large group but should be back within an hour. I came back to see him about 6:15 am. He took a couple notes of the incident and said, "I would like you to report this to security. Is it ok if security contacts you at 9:30 am?" "Sure," I replied. Unfortunately security didn't contact us until much past that and the only thing they offered to do was take a picture of my wife's side where she was punched. Was that for their own protection or to actually do something to the people who hit her? (Not sure who a picture of her side would help their investigation and we would just spend needless time sitting in the room waiting for security). Atlantis and particularly Cove security is there for the sole purpose to make sure no one staying there goes onto their property - not to keep others safe.
During my brief conversation with the Cove manager his cell phone was ringing multiple times and he was panicking each time it rang until he ultimately excused himself to have front desk worker answer the phone. It was at that point I realized that my 1-3 trips a year to the Cove are nothing compared to the group he was taking care of. After all, if I've traveled there 25 times in 13 years I'm sure that group he was handling will more than make up for me not coming back. My hope in writing the review is that it will alert other to the unsafe resort Atlantis and the Cove have become. It is such a shame because it is one of the most beautiful places we've ever been. My son's brand new iPhone was stolen, my wife was called derogatory names and punched, and this was supposed to be our vacation.
We were so excited to come as we were scheduled to come in October 2016 but missed out due to the hurricane so this really made this trip extra important to us. Now instead of the beaches, pools, and family activities I'm left with memories of theft and assault. It is ironic that this incident happened the night after I took my son for a walk to get pizza. We saw a security guard with a German Shepherd. Questioned him what that was for and he said it was an attack dog for guests who won't comply with instructions. If you're at a resort that doesn't have a safety problem, why would they own such a dog? I'm sure Atlantis will be fine without my business. As I explained to them when you have beautiful year round weather, lots of activities, and a beautiful beach you will always draw the crowds. I just hope that someday Atlantis and the Cove will go back to a management group that cares and understands the property, guests, and employees.
Atlantis will always be a special place to us, but this last 11 night visit has left such a bad feeling that it is hard to get past and return anytime soon. We realize we are going to pay a premium for everything at this resort, but in turn we should receive premium amenities, service, SECURITY, and the greatest/relaxing vacation. Unfortunately, due to security we all went home with the incident of my wife being punched in front of a group of Cove employees as our lasting memory.

Injuries in Adventure Cove, no staff to help. My family and I were injured in the rapid river ride, we could not find anyone to help us, or offer us any assistance. The staff did not care, and was not helpful at all. Even we're hurt and bleeding they did not care to help or transport us to the nurse's facility. Security staff were very rude, I was pleading for help and mercy. They told me to walk to the nurse's office and no first aid to help at all. Nurse was extremely rude. I will never go back there again, simply for that reason, it's not safe, and in case of injury, they are not there to assist the injured.

Where to start??? We arrived late on 12/26/16. We were tired and hungry. Our room smelled like smoke, the room was extremely overpriced for what we got and the room service took 2 hours that night and the food was terrible. My assistant called at least 5x to speak with someone and all she could get on the phone was a customer service rep who was no help what-so-ever. No one ever called her back from the actual resort. They did offer to move us to another room higher up in the tower, but that was it. Throughout the entire stay the customer service was consistently bad and way too expensive. We actually changed our flight and left a day early. A $20,000.00 vacation that was actually worth about half of that. The kids enjoyed the activities, but we will never come back again.

My stay at Atlantis was nice - great pools and a beautiful view of the ocean. However, besides the fire alarm going off four times in one night, my biggest complaint about this hotel is the way they treat their animals. The cats they have on the resort are extremely friendly and sweet. They don't beg, and they never bite or scratch. However, after speaking to several employees, I learned that management frequently rounds up as many of these cats as possible and euthanizes them. This infuriates me. Another employee told me that before there were cats (and I only saw 5 during my whole stay - they aren't covering every inch of the property or anything) they had a rat problem due to the large amount of waste the resort generates.
I don't know about you, but I would much prefer a few cats to hundreds of rats. Also, all the cats that I encountered at the resort were neutered (thanks to a generous employee who does his best to care for the cats and their medical needs - therefore they are also all vaccinated as well). If you are planning on staying at this resort, please consider speaking to management about the way they treat their animals. It has greatly impacted my opinion of this hotel.

Atlantis Bahamas, fraudulent continues to charge my credit card. They will not call me back or return emails to rectify this situation. The entire stay was over priced and poor service is their standard. In my situation I was there at a conference. I work til 8 pm every evening only to return to my room and find it has not been cleaned. But yet you get charged a gratuity for housekeeping every day. Getting from one building to another leave an hour to ride the hotel bus. Prepare to pay even too much for water, each bottle is $8.00. I would not mind paying for good service and high-quality food, but this isn't the case here. Also you cannot trust this place to fraudulently charge your credit card and refuse to return communication to correct.

I recently purchased a day excursion for Atlantis Water Park from Carnival Cruise Lines as I vacationed with my Grandson and husband. I was horrified as I watched pool employees hustling regular beach chairs and umbrellas to sit by the pool. I'm not talking about specialty cabanas or special chairs that I realize cost extra. The pool boys place towels on the lounge chairs and when you sit on a chair they tell you that all these 8 chairs are for Peter.
It is obvious that none of these chairs are being used as my husband observed the transactions taking place throughout the day. People who wanted to purchase the chair would pay them off. He even saw one man's umbrella that he purchased was resold when he left for a while. The guest was not happy. I did ask several pool employees about this practice. They seemed to be totally unconcerned. This seems to be acceptable practice around the pool. The brochure stated that pool chairs are free as long as available. So the employees place the towels on the chairs making them unavailable. The employees then hustle to make money off this practice in plain sight of superiors. Not good for future business.

If I could give them a zero rating I would. From the moment we checked in the VIP Host check in clerk was rude and had the worst attitude. We got to our room and wanted to take a nap and there was blood stains on the sheets. We tried to sleep and there was loud music but we thought it was outside. We spent the day out at the pools and beaches and the bars are not clean, sticky and outdated. After a full day we got to the room to sleep at 11 pm. The music was extremely loud so I called the front desk and they said they would send security - an hour later the music was still obnoxiously loud and they were banging on our wall. We called the front desk to speak to a manager at which time he said he would come to see us. At 1 am the issue was still not resolved and the manager said he spoke with the mother of the teens and took care of it and they couldn't move us.
They couldn't do anything at all for us, not even a simple sorry. You come to relax and they let teens rule the halls and blast music. There is zero security in the hotel and definitely none to the guest bedrooms. They let whomever whenever in the hotel. We went to Jean Georges restaurant one night and the host was nasty and rude! I can't imagine why people stay here at all. They treat everyone poorly. The room cleaning service is the worst I've ever had, even in places much much cheaper it's much better. We had coffee in the hotel coffee pot and she didn't clean the pot and left dirty used laundry bags. We left and ordered a limo the night before to take us to the airport and we had to wait 20 minutes for a pre reserved limo. The head of car services said they had a shortage but didn't say sorry. They could care less if you ever come back. If you can afford it stay at the OneandOnly resort where everyone is treated with respect and appreciation.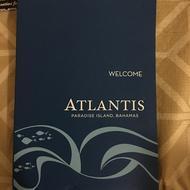 The place sales itself, is beautiful; but the staff is very rude. They seem not to understand that their main source of income are us the tourists. We stayed at the Royal towers. It was very expensive, specially the food. Buy the meal plan if you can, because even that is very pricey but worthy. The room were not clean properly. Room service was horrible. I ordered chocolate milk for my daughters. 3 hours later I had to call back to find out they never put the order through.
At the store where they sell souvenirs the workers were very disrespectful; most of the staff is very rude. I complained with the manager. I hope that helped a little bit but honestly go there on your cheapest budget, or you will be very disappointed. After I spent 16 thousands to go there just to sleep on a dirty room, and be treated like I was begging. They should do a great clean up of the staff and train them well because the place is beautiful but the treatment you will get is not worth that kind of money. With a fraction of that you will go to places that you will feel good and be treated with respect.

Overall Atlantis is a beautiful experience. However for the price I paid and the fact that I booked and paid in full four months before I arrived (they had my money for 4 months). The staff at the coral towers were rude and basically said tough luck on the condition of the room. I was led to believe that I would have a room to accommodate my whole family. It is what I paid for.
I ended up with a room with a bed and a roll out couch ($300/night). There wasn't enough room for us all to unpack. I lived out of the suitcase for the majority of the time. My husband and daughter were able to unpack. There was one working electric outlet in the room and almost no working lights. The wifi was hit or miss. When I complained I was promised someone would be in in the morning to fix the electric and the lights. I'm here one more day and I'm still in this horrible room and my daughter spend her vacation sleeping on a couch. I have a view of the staff coming to work in the morning. None of the beautiful views of Atlantis and I did early check in. I've complained every day I'm here and nothing. I've stayed at Days Inns with rooms in better shape than this for $90/night. I asked them to comp me for the 3 nights that they overprice the room. I was told "You paid. We don't comp." The staff was horrible about all of it. So what's my next steps?

Overall, Atlantis was the worst vacation experience we've ever had. We would never recommend Atlantis to anyone and especially not the All-Inclusive plan. Every aspect of our vacation was sub-standard compared with the many other All-Inclusive vacations we've been on. Atlantis is overrated and overpriced, terrible experience. We were not told that we'd have to pay security deposits for each room prior to check-in. The staff throughout the resort were not familiar with the All-Inclusive plan. Tracking the All-Inclusive bars and restaurants was completely inconvenient. The All-Inclusive menus in select restaurants was lacking. The check-in process took 2 hours. The process of billing everything to the room and settling up at the end of our stay was a pain, stressful, and was horrible service. We were only able to find one pool with a bar and there were no servers walking around taking orders.
Throughout the resort, there were no servers taking drink orders. Lines for some restaurants were extremely long for those on the All-Inclusive plan. At check-out we had to speak with the front desk manager to get $600 in incorrect charges removed from our bill. Our room was a mix of furniture that didn't match, looked very run-down, and dated.

We just returned from a 6 night 7 days stay at Coral Towers. When I read the above reviews I think, did we stay at the same place? I do not know what people expect. It is a vacation destination. It is going to be more expensive than at home. We had a wonderful time. I will admit I was getting a little nervous after I read some of the reviews. If I had listened to them we would not have gone. It was relaxing, beautiful. The room was just what I asked for. Walk in shower, the room was clean, no smell. The staff was always friendly. Housekeeping cleaned our room daily. I would go back in a heartbeat. I will admit, sometimes it was a little difficult finding a handicapped ramp but after several days we learned where to navigate to find them or elevators. It was a wonderful vacation.

My husband and I took our daughters, their husbands and 4 grandchildren to Atlantis in March of 2016 for a week. I asked for a handicapped room with a shower chair and arranged for a motorized wheelchair. The wheelchair was exchanged for a motorized scooter when I complained that the battery life did not exceed 45 minutes. The only outside elevator was broken, so we could not go down to the water park to watch the grandchildren. We were able to get to the pool directly behind our hotel; but, my husband could not use the pool as it did not have a lift. When we asked about the other pools, we were told that none of the pools had lifts.
We continued to have battery problems with the wheelchair and it was not unusual to have to stop in the hall, plug in the scooter and wait for 30 minutes before we continued on to our destination. My husband is a below the knee amputee, is 6 foot 2 and weighs 300 lbs. The shower chair was small and the legs bent under him. Customer Service said that was the only chair available. He could not take a shower and washed out of the sink the entire week. He was very happy to go home. We will not return.

We booked our vacation through AAA. Spent $15,000 for round trip airline tickets for my family of 6 and booked 4 nights at The Cove. We arrived at 3:15pm and were told our room was not ready and had to wait in lobby till 4:00. Our luggage was immediately taken and we could not changed into our bathing suits while waiting. After getting into our adjoining rooms we realized it was not what we were sold. We paid for one room with a king bed with an adjoining room of two queen bed. Instead we were given two rooms with one king bed and one queen. Our children took turns sleeping on cots. The doors to the balcony were next to impossible to open and after complaining a serviceman appeared at our room to repair it on the 3rd night at 11:15pm. We told him he could not repair it at that time as we were sleeping.
We have a nut and dairy allergy in our family and even after the chef came to our table to hear our allergies our food was often served with nuts and cheese. One night my daughters got an anaphylactic reaction to bread served at the Bahemi Club. We were informed by one chef that the bread was nut free and after it, my girls reacted and got hives and started vomiting. A second chef told us the bread is made with almond flour. We rushed out and I gave them Benadryl and epipens. It was a miserable night. The Cove felt bad and said they will pay for our next meal at the Dune and personally meet with the chef to review our allergies. After personally meeting with the chef to again review our allergies our meals came out with cheese.
The employees are like robots with fake smiles and move at snail's pace. They speak under their breath and hardly make eye contact. They were rude to special needs child by initially telling him he could not use the pool because he can not wear their paper bracelets without pulling it off. After initially being informed it was not an issue before our arrival he was demanded to wear the bracelet. The employee was annoyed and would budge saying it was policy. I actually cried at this point. After seeing my reaction, the employee said "I guess he can go, but he's supposed to wear a bracelet."
The trip was a nightmare. The rooms were an issue, the food was an issue, their insensitivity to special needs was disgraceful. And the more we tried to rectify the issues more issues came to surface. Finally made it to a bar for a relaxing drink at 5:50pm and was told we had to get a drink at different bar because they stop serving at 6:00pm. We informed them it was 6:00 yet and said he was leaving. This place is a scam!

I spent one night at Atlantis attending a conference there, but two days after I got back I started to itch all over my body, the itching got worse and worse day by day. I went to my doctor thinking that it might be eczema, but the shocking news was when my doctor asked me, "Have you been travelling?", and I replied: "Yes I was in Atlantis." After that he told me, "You got infected with scabies from the hotel." That was shocking. I never thought I will get scabies from a five star hotel, but apparently they did not even bother to clean the bed sheets. I am suffering from severe itching and sleepless night that all from spending one single night at the Atlantis.

My fiancé and I traveled here this past weekend for Valentine's Day. The only reason why we stayed at the Atlantis was because I came here as a kid with my family about 15 years ago. Let me tell you - it has CHANGED. I'd rather stay at a La Quinta than this dump. Right after we swam with the dolphins on Sunday, we went to the Sports bar in the Casino to watch the ponies. We walked up to the bar and the bartender started asking my fiancé questions about his watch. We ordered one drink each and shared a glass of white wine (within a 4.5 hour period of time). We both started to hallucinate, our mouths began to go back and forth from salivating to drying up, we became extremely aggressive and dizzy. I only remember bits and pieces so I am trying to recollect to the best of my ability here. I remember the security doing absolutely nothing.
I kept repeating myself over and over and over again and felt as though everything was a dreamlike sensation. The staff/security separated the two of us because we let them know of the violence and roofies (we believe were Ketamine, and we're waiting for a blood test) we were exposed to. The security was a joke - they completely swept it under the rug. The next day, the woman who I apparently spoke with (yet I don't recall ever meeting her in my life) offered to get their private investigator involved. OK let's do that so you can burn the tape. We have the US Embassy involved and are taking the steps to prevent this from happening to another person. This is a serious incident of assault from their staff which cannot go unaddressed. Please do not stay at this resort. The Bahamas is not what you think it is and neither is the Atlantis.

I visited Atlantis for one day when we got off a cruise ship. The park was very overcrowded, but they continued to sell tickets to make it more crowded. The worst part was half the water slides were closed and the one that were opened had no water tubes. People were literally begging for water tubes as people came off the slides. It made the whole experience sad and uncomfortable. How can such a wealthy resort run out of cheap water tubes. Thankfully, only one day of my vacation was ruined. For the people who travelled only to Atlantis, their whole vacation was ruined.

My wife and I took a cruise and purchased tickets to Atlantis for the port. All I have to say is to never go to Nassau. Never go to Atlantis. It is poorly managed with employees that don't and don't do their job. The beach was closed, half the water slides were not available. I will say that the river and the slides that were open were a lot of fun. But everything else about the park was terrible. We arrived at the port at 9:00 AM. By the time we got to Atlantis it was nearly 11:00 AM. We were told that towels would be complimentary for us. Then our "guide" said that "THIS IS NOT A TOUR" but he walked us around the entire park which is absolutely massive.
It was a very slow walk also since we have handicapped people in our group. By the time we go to the only spot that apparently had towels, it was already 12:30 PM. We were hungry at this point so we ate our "free" lunch that we paid for was decent but its $20 for a snack wrap. By the time we finished that and got in the water it was a little after 1:00 PM. Again, half the slides available, and no beach available, and I wanted to go snorkel in the water that they advertise but surprise surprise that wasn't available either. We paid about $400 for the 2 of us to go down the same 5 slides. We had to be back on the boat by 5:30 so we didn't have a lot of time there. AVOID NASSAU at all costs. People are extremely rude there.

Stayed here 1st week in January 2016. Please do not stay here for what so ever reason and pass the word around. We were here for our daughter's 10th bday and believe me when I say it was hell on earth. They charged us fraudulently, were very rude, rooms are dusty and dirty, very over priced. I truly regret coming to the Bahamas just because of the useless hotel I will NEVER be back. I have stayed at Atlantis Dubai several times and I can tell you it's nothing like this. They must be under different management because this place is the worst place I have ever stayed in my life and believe me when I say I have been to many hotels. I have evidence on all the topics I mentioned and I am filing a formal claim and complaint against them

The Atlantis is a massive, dirty, overcrowded, overpriced, 1990's style dump!! The carpet in our room was so dirty, the beds, uncomfortable, the furniture, cheap and ugly. There were water stains on the ceiling and the room smelled very mildewy. I have stayed in Holiday Inns that are much nicer. The food is barely edible, and costs a mini fortune. It cost $160 for my 2 daughters (10 & 12) and I to eat a buffet dinner. Seriously? The pools, and beaches are so overcrowded. The lines for all the water rides are insane, but to make matters worse, the hotel allows all the tourists from the cruise ships into the water parks which then only makes the lines that much longer. I can't believe I paid $850 a night for that experience. I could have stayed at an elegant Ritz Carlton for that price. I will NEVER go back.

I have been living in Nassau for a year now but time and again I hear complaints and become a victim of Atlantis's indifferent approach towards business and customers both. I booked a table for 12 people on 27 Dec. at Mosaic and spoke to the manager on duty, Enith **. I requested her if she could put a few placards on the table with a small message from me to my staff and she agreed to it. So she gave me the address and I sent her an email with the message. I also spoke to her regarding carrying my own whisky/vodka to which she said she would charge me a corkage of $50 per bottle to which I also agreed.
When I checked with them as I was leaving home for the hotel, a Ms. ** picked the phone and told me they didn't have any instructions on putting up and placards and maybe it has slipped Enith's mind. She also said that they can only allow me to bring wines for $50/bottle but my whisky/vodka would not be allowed. When I told her I had mentioned this to Enith and she had agreed, she said she would talk to Enith and call me back. She called back to say that Enith had forgotten to tell her about the placards and had thought that the whisky/vodka I was bringing was to be given as gifts and not consumed! This was the most ridiculous explanation I have ever heard. They were very rigid and would not agree to anything. And I had also invited people and had to go ahead with the dinner, and also have their drinks.
Then they also called their Director of F&B, but he also refused to accept that his staff had committed what she had and completely denied me all my claims. I have heard similar complaints from numerous people as I deal with hundreds of tourists here. I feel if the attitude of the Atlantis staff changed for the better, this hotel could charge double the prices and people would happily pay it also.

If you book through Atlantis, then beware. When you book a room and flight, they give you the total package price but that is not true. You can book through other online agencies for approximately the same price which does include the airfare. What Atlantis does not tell you is that the airfare will be billed separately by the airline. You don't find this out until after you book it and only then do they provide you the terms and conditions.

Every vacation package that I have in the past included room and airfare. Recently I booked a package from Washington Dulles to Nassau. My package price was $2,810.31 which included a moderate room, taxes, and surcharges for a 6-night stay from Washington Dulles to Nassau. When I was making the booking, before checkout, it showed me the room reservation and flight details. I naturally assumed these were the total charges for the room and airfare. I did not see itinerary which included the airfare charges until after I made the purchase. I just contacted Atlantis and asked why I was being charged by the airline also, which they then advised me the package price did not include airfare. That comes to a total of $468/night. They are very unethical in their practices. Buyer beware.

I'm not writing this review to complain about the outrageous prices for food or WiFi charged at the resort. I think by now everyone knows what they're in for when they decide to vacation at Atlantis. Nor am I writing this to dissuade anyone from staying there. It's definitely a beautiful property with lots to do. I'm writing this because I am not only Shocked but utterly Disappointed in the customer service or lack thereof provided by this resort as a whole. We stayed at the resort from 9/19 to 9/26. The place was near empty, no lines for slides or food which was real nice. Unfortunately on Monday 9/21 our beach bag was stolen from a lounge chair next to the lifeguard at the bottom of the Challenger slide. We had sat there 3 consecutive days and had chatted with the lifeguard a few times because my son went down the slide probably 50x a day.
Upon noticing that the bag was missing we asked the lifeguard who was able to describe in detail the bag (which was covered by a towel) and my daughters pink flip flops but didn't see anyone take it. He signaled for security who now informed me that I must file a report immediately and only 1 person was allowed to go. I'm with my wife and 2 kids. My wife is crying and the kids are upset. I explained to the security guard that our bag was stolen, we had planned to eat lunch but we have no room key now or money. "Can you take my wife and kids somewhere we they can get water until i return?" "Absolutely not" was his response. "Have your wife go back and get another copy of the key." So I had to leave them there because it was so urgent that I fill out this report.
I stood in a security shack with 3 other couples who also had their stuff stolen from the pool area and was told to itemize what was stolen from the bag and write it down. While discussing my situation with the other victims and comparing stories I was told by the young lady behind the desk "its a shame y'all White people are stealing from each other here on vacation." When I mentioned for the amount of money we all spent to vacation here I highly doubt anyone on vacation would be stealing iphones that are useless once they're turned off. Her response was "someone would notice if a black person took your stuff but its y'all white people stealing each other's stuff so how are we to notice."
I'm not here to make this about race at all. I'm just appalled that this was the response I got after having my stuff stolen at a 5 star resort. While waiting to be ushered up to another security room my bag appeared carried in by a resort staff member who claimed to have found it in the men's bathroom in a stall under a towel. When I questioned him further he had no answers and walked out. I was thrilled to have the bag back. Naturally my watch, my wife's iphone and cash were gone. They finally usher me up to security room where I'm met by Akeera. I explain to her my situation, hand her my list of goods stolen to which she responds, "This is a matter of lost and found. I cannot help you check back there tomorrow."
Lost and found? My bag was stolen. Contents removed. Why have I wasted 2 hrs on vacation filling out forms? When I asked about surveillance video I was told there is no video in public places. The entire resort is public space. Am I to believe there are no cameras by the water slides? Or by the entrance to the Dig aquarium where my bag was found in the bathroom? Hard to imagine. I then asked if I could use the phone to call Verizon and cancel my phone and was told "no go back to Harborside and use the phone in your room."
From where I was in the resort that would take me at least 25 minutes just to get there. Never mind there and back and I still had no idea where my wife and kids were going on 2 hours. I did luckily get to use the phone at the coral towers concierge. I was led there by a security guard. Etienne was more than accommodating and was able to call Verizon. Days later after countless visits to my room by security and filling out the same forms I was told by head of security that "thieves go on vacation too."
My response was that thieves from Idaho or Chicago on vacation would be smarter than to steal useless iphones and leave an expensive designer beach bag worth more than the contents in it in a bathroom stall. Sounds more to me like one of your staff members took my bag and couldn't leave the property with a woman's beach bag so dumped it. A thief could have walked right off the premises with the bag or back to the room and disappeared.
We attempted to speak to a manager at royal towers more than once and were constantly shuffled from concierge to check in desk and told no one was available at the moment. I managed to file a long complaint at harborside discussing how rudely we were treated. I bumped into both other couples in the next few days who had their bags stolen and we all discussed how poorly we were all treated.
One couple was carrying around all their beach stuff because they had no bag. Atlantis couldn't be bothered to even give them a complimentary cheap bag for their troubles. I'm not writing this to complain about outrageous prices or what some may consider my own negligence for leaving a beach bag on a lounge chair covered at a 5 star resort. I'm writing this for others like myself who are considering spending a lot of money on what should be a beautiful family vacation and expecting topnotch service and not getting anything close to it.
We were never apologized to or offered any kind of support or compassion from anyone at Atlantis. The only sincere apology I received was from my cab driver on way to airport who insisted that it was hotel staff that stole my stuff and to please not take this bad experience home with me because that is not what Bahamian hospitality is all about. Too late. A Lot of money spent for my kids both 6 and 7 to be traumatized and asking to never go back to the Bahamas.

We arrived at Atlantis Resort on 8/22/2015. We stayed at the beach tower room 4108. After many researches for family oriented resorts I decided to take my children to Atlantis for a seven days family vacation. When I booked the room and chose the tower I was a bit overwhelmed with the different tower choices. After reading and researching I decided to book the beach tower which was a disappointment. The customer service at the beach tower was very poor. The one time I decided to stop at the front desk to ask a question the attending person refused to look at my face to answer my question, when I approached the desk he was involved with paper work, and I asked him if he would prefer me to wait until he finished what he was doing and not even looking at me he told me to "go ahead and get to my point."
At that point I was frustrated because anytime I went to Royal tower and any tower above the royal the service was very good and employees were very polite but at beach and coral towers I felt very mistreated in many ways. My daughter asked me every day to go on the Jet Ski and on Friday 8/21 I decided to stay at the beach and take her on a Jet Ski ride. When I saw 2 employees carrying the beach chairs I approached them to request one and they replied that they were not giving any chair but I could just grab one. So I walked towards the chairs to grab a few chairs for me and my children and a manager named Marvin told me that I wasn't allowed to take any chairs because they were cleaning the beach.
The beach hours of operation was from early morning until 6 pm and this happened at 12:00 pm. I tried to explain that I just needed chair for about one hour, just so my daughter could try the Jet Ski. He refused to listen and called me trash. I was really upset at that point, many other guests were using chair. It was a beautiful sunny day, no rain, no lightning and was not able to enjoy my day at the beach.
The beaches behind royal and cove towers were not being "cleaned" but the jet skis were only available behind the beach tower. So I decided to grab a chair when the manager Marvin approached me, grabbed my right forearm, and tried to push me to the floor. A vendor named Pamela was watching the scene as well as many others vendors and hotel guests and was horrified the way I was treated. The manager Marvin also threatened me to call security and throw me out of the hotel. This all happened in front of my children.
Marvin's boss Dennis was watching the entire scene and did not move until he saw Marvin physically assaulting me. Dennis was willing to listen and allowed us to take the chairs. After the incident my children were scared, my daughter was afraid to walk around and my vacation was spoiled. I did filled an incident report with the hotel and according to them an investigation will be made but no apologies were given to me or my children. This was a $7000 vacation and just the fact that I did not choose the most expensive towers shouldn't be a reason to be treated the way we were treated. I have stayed in many different resorts before and never had to go through such a horrible experience.

Atlantis was so short staffed that it was really hard to get help due to it being "slow season" - August 24-September 2. If you are trying to run a business especially a resort of such magnitude you should have staff on every corner. Food was so expensive, we decide to put ourselves on a budget - $100 per DAY. Very easy and hard at the same time when you have 5 children all under the age of 12. Other guest would "steal" your beach chairs when you are away swimming. Saw guest fist fight for tubes. Heard every curse word imaginable. They run out of towels. Life guards are sitting around and chatting with other staff members. Never coming back there again. Not worth the money! Please avoid if you can. It's not worth it.
Atlantis Resort Company Profile
Company Name:

Atlantis Resort

Website:

http://atlantisresort.com/