Consumer Complaints and Reviews

Air Canada lost my bag in Newark coming from Porto to Montreal the 8th January and I am still waiting not just for the bag but for their call to give any information or at least an apology. Every time I call I have to wait around 40 min and their staff give ZERO information. They forward you to their claims department, which (surprise!) has no phone number and you must send a (paper) letter. They do not share their delayed/lost baggage policy to avoid customers from spending money potentially to be refund. It is embarrassing how this company treat customers, Air Canada has the worst customer service and care I have ever experienced. Good luck.

This company has no regard for its paying customers. The worst customer service that I have ever experienced. I will never travel with them again. They refuse to answer questions about flights that are delayed. We received more information by looking at the departure screens that are set up in the departure area. On a recent flight to Florida the flight was delayed more than 3.5 hours, numerous gate changes. Finally at midnight after being in the airport for 7 hours there was a plane that had arrived that would be available to take us to our destination. I'm embarrassed that this is our national airlines. I understand why they are losing money each year, nobody seems to give a crap. Good luck Air Canada. You stink...

We booked a vacation with Air Canada to Cuba from Calgary. Our flight was delayed for three hours so they put us on a flight to Ottawa and then to Varadero. We were initially supposed to get to Varadero around 6 in the evening but we did not get there until midnight. We then waited for an hour at the airport for our baggage which did not show up. There was no Air Canada person to contact and local people could not speak and understand English. Finally after about an hour Air Canada rep showed up and filled the Baggage claim form. We were then told that the resort we had booked has some issue so we are being transferred to another resort. We did not get to the resort until 3 in the morning. We had two rooms booked one with queen bed and another one with twin beds. We were told the resort only had rooms available with twin beds. We finally got the room around 4 in the morning.
Next morning we got up, we were in Cuba but had no toothbrushes, clothes, bathing suits etc. Well we went to the Air Canada rep at the resort and asked when we could we get our luggage by and he said he is not sure and that we should just go the town and buy whatever we needed. We pretty soon realized that everything there was twice as much but we had no choice so spent $200 and bought some of the things we absolutely needed and $200 seems quite a bit but not in Cuba where just one toothbrush at the resort cost us $5. Our luggage did not show up until three days later.
Funny part is since I came back I have been trying to find a customer service number for Air Canada but there is none. Air Canada knows how much they screw up so they don't have a number where customer can call with their complaint. Only way you can file a complaint with Air Canada is by emailing or faxing which of course nobody responds to. I travel quite a bit and have travelled with many different airlines. This is not my first time travelling with Air Canada and every time I travel with them I say I will not travel with them again, but then I fly with them again thinking that this time it will be better experience but Air Canada makes it worse every time and I am truly done with it. Air Canada I can say is worst of all the Airlines I have travelled with and its staff is very rude and unhelpful.

My son's bag did not make the same flight as him on 8th Jan 2016 from Phoenix to Dublin. Understanding this happens from time to time, he filed the relevant paperwork in Dublin and awaited delivery, anticipating it would arrive within the two days he was staying in Dublin. The bag arrived in Dublin 3 hours after he left for Barcelona - this was 3 days after he had arrived. He had previously shown the foresight to add a notation on the baggage claim form that he would leave for Barcelona on 11th Jan, and indeed (according to the tracking website) the bag arrived in Barcelona that same evening. Still all seemed like it was going as expected, if not exactly to plan.
Since then he has been patiently awaiting his bag. Today (Saturday - 3 days after the bag arrived in Barcelona) he called the luggage desk at the airport and was told he could go to collect the bag rather than wait for delivery. He took a taxi there, only to be told the bag could not be located. So far, this is simply a series of unfortunate events (although wasting his day could probably have been avoided fairly easily). However, my problem is now with Air Canada not being available to provide any advice or guidance. I called their baggage service line and was put on hold for over half an hour before I gave up; I attempted online chat 3 hours ago and am STILL awaiting an agent to initiate the conversation. I emailed and have not even received confirmation that my email was received.
My son is expecting to start school on Monday and needs his bag and its contents to do so. He is traveling on a student budget and is unable to replace his bag contents. This isn't a difficult problem to solve - we simply need a bag to be where it is supposed to be, and we need the airline and its representatives to take responsibility for doing so. However, my experience so far is that Air Canada and its agents are unreachable, incompetent or both. This is an appalling blot on what I anticipated would be a smooth and perhaps preferable route to Dublin which I visit often for both work and family, but at this point I would be a fool to do anything but stick with British Airways (who have certainly left my bag behind on more than one occasion, but were always able to have it catch up with me within one or two days at most).

I am a disabled veteran. I am a frequent flyer, and have a lot of experience with air companies. I always fly with the same carry on, and never had problems. Today January 14 2017, I was flying from LAX to Toronto Canada. I was the only passenger that his carry on was measured. It was 0.5 centimeter longer!!! Other passengers were with a bigger carry on, and were allowed to take it on board! So I was not allowed to take it on board. I am a disabled person with stuff I need during the flight. Alex the supervisor was rude and unprofessional. I had to pack all my stuff in a small backpack. No more Air Canada for me!
How do I know I can trust these reviews about Air Canada?
693,146 reviews on ConsumerAffairs are verified.
We require contact information to ensure our reviewers are real.
We use intelligent software that helps us maintain the integrity of reviews.
Our moderators read all reviews to verify quality and helpfulness.
For more information about reviews on ConsumerAffairs.com please visit our FAQ.

The 2016 Christmas was supposed to be a special due to a bad year of health and job loss. So my wife and I were invited by our American friends to spend Christmas in New York and New Year in Miami. Our outbound journey was BHX >DUB>YYZ>SYR. Yes I know 3 flights but as the time of booking that is all we could get and it was Aer Lingus followed by 2 flights with Air Canada. The flight from Dublin to Toronto was 3 hours late taking off but we were reassured by Air Canada that our connecting flight would be rebooked in the air and sure enough an hour before landing many passengers in the same situation were rebooked which I gave them 10 out of 10 for doing so. However as we were waiting in the lounge for our final flight an announcement was made to say the flight had been canceled due to routine maintenance. Really so why was it booked for us?
The only flight now was to Rochester so we got that booked and then we were told the same story as the previous flight but they would get a plane over. We were assured that our checked baggage would be transferred with no problem. By now the connecting flight was some 4 hours late and our friends would have to drive from Syracuse to Rochester to pick us up. Eventually we took off and arrived at midnight. Guess what now no luggage. It had been left at Rochester Airport.
SO after a 2-hour drive with our friends we spent a further 2 hours (it's now 4 am the following day) getting hold of someone to lodge missing/delayed baggage. I won't bore you with rest of it but we eventually got our luggage at 3 pm on Christmas Day!! Bearing in mind we flew out on the 23rd December. Just to add further pain we had delayed flights on the way back and guess what lost luggage again, but it did arrive the following. All in all they do not even deserve any rating whatsoever!!!

I wrote to Air Canada -- no response. I am writing to express my disappointment and anger with my recent journey to Varadero, Cuba. I have been to Cuba numerous times in the past with no problems. I was expecting much more with an "Air Canada vacation." I know to lower my Western standards in this beautiful country and the people, and the beaches thankfully helped make our vacation a relatively pleasant one.
The problems started when I was notified by email that our flight changed to a 10 p.m. departure from YVR. This meant an over 8 hour layover in Toronto rather than the original same-day flight. We found another passenger who had the same experience and was given a hotel room to stay in due to the inconvenience. Nothing was offered to us, even when I had to call a week ahead of the flight to ask about our 30 day confirmation email I was supposed to get. We found out at YYZ that an earlier flight went out that we could have easily taken.
Thankfully we had lounge passes for Air Canada. We went to the domestic lounge to use them and your employee examined the passes, and said we should instead go to the international lounge as it was better. We did that and they notified us that our passes were no good, and could do nothing for us. We were unable to go back to domestic due to our international ticket. There was absolutely no accommodating our needs and being accountable to providing us false information. I expect when I deal with a company that I can trust their words. We were furious and had to make do with uncomfortable airport seating for 8 hours after being up all night.
When we arrived in Varadero, we could deplane as the paperwork wasn't complete so we had to wait about 20 minutes. We then boarded the bus and couldn't leave till about an hour later as Air Canada lost some people's luggage. We arrived quite late to the hotel and missed dinner other than some scraps left over. We proceeded to our hotel room and en route, bulbs were burned out, ceilings were falling apart, steps were broken, walls were crumbling, doors were broken, and elevators were shut down for good. It was like walking into a shanty town.
We get into the room and the place had lights broken, lamp shades melted, a phone that didn't work, a shower that was missing parts on the tap, and pillows that lacked any support. Worst of all were the bugs that scattered off the bed when I took off the cover. It was disgusting! I went to the front desk to complain and change rooms, and they could do nothing. We had to sleep with bugs crawling around.
The next morning I spoke to the Air Canada rep as I tried to call the number on the ticket to complain to you directly and the call couldn't connect. Miguel was nice and tried to help out. He looked into another hotel but it would have cost us $500 extra. He told the managers to give us a villa room instead and asked us to check with the front desk later as they had nothing for us yet.
We went back to the front desk at 3 p.m. and had the choice between two rooms, not in the villa, despite what Miguel instructed them to do. The new room was better and moved our things there. This whole change wasted more of our vacation time, as well as the anger we had in tolerating bugs and a ** room. In our new room we never received our beach towels despite a few requests with the front desk. It took two days to get new towels. Then toilet paper took another day at one point in time.
A couple of days later our toilet stopped working and it took all day to get it fixed as we were told that the mechanic knocked on our door twice to fix it and we were not there. We were never told we had to be and also, who would expect a client to wait for a mechanic to fix a toilet?!!! I am on vacation. These experiences made our vacation very frustrating and we made the most of it. I am shocked that this is ranked as a 3 - 3.5 star. We were treated by Air Canada and the hotel like 1 stars.
On the return trip I requested to the Air Canada agent in Varadero to seat us close to the front of the plane as we had a connecting flight. We boarded the plane and realized we were placed in row 31 of 32 rows! If that wasn't enough, the food items were very scarce by the time it was our turn. All they had was one pizza and macaroni and cheese with snacks limited to junk food. The flight attendants were very unfriendly and unapologetic; very matter of fact and never saw one smile on their faces as they served guests.
I would also suggest you review the hotels you place guests in and have them and your Air Canada staff treat guests with greater respect and dignity. The only one to do so was your representative at the hotel. I truly believe that customer service is the one differentiator companies have left and the way "economy" passengers are treated is appalling. I expect a prompt response to this. I fly both Air Canada and West Jet regularly for business and this treatment to me and my wife is unacceptable, and didn't make our experience a true vacation.

I originally had a direct flight to Ft Lauderdale from Halifax which was cancelled and re-scheduled for the next day which didn't work for me. I did manage to get it back to the original day but am now missing most of the day which I had planned for in Ft Lauderdale. Even this flight time was changed a few times afterwards with minor adjustments in departure times. Now I'm within 24 hrs of a major snow storm 30-40cm and AC won't change my flight until they deem there is a problem!!! I guess it's okay for them to randomly change my flights around but when it comes to a real problem I'm left in the lurch. Way to go Air Canada. Talk about poor customer service. Don't think I'll be flying with them again.

I am very disappointed and I feel like a fool for trusting Air Canada. I have made a yearly round trip BOG-Toronto-BOG since 2011 and was happy until this one, with the flight, staff and Air Canada in general. You then without letting me know at the time of purchase tricked me by not letting me know that I was going to fly with AC but instead with Rouge. Seats were extremely uncomfortable, staff were rude, no TV screens, at the check-in offered an upgrade which I accepted and then did not delivered...
Now I find out that I have to take the same air carrier (Rouge) which if I knew I would have flown with someone else, so I tried to get info or try to figure out how much it would be to fly in Business by phone and it took me 30 mins on the queue and 45 min for the guy on the phone to try to figure out the price... CA$740. Not happy at all. Will not fly with you ever again and will go to social media and add one more bad experience to the others your company has online and word of mouth.

The Canadian aviation needs a total overhaul! I can't believe Canadians are willing to fork out that outraged airfares for a low service! As a Canadian expat in Asia, accustomed to the 5-star services of Cathay Pacific, Singapore Airlines, and Japan Airlines when I returned to Canada flying the domestic segment was so appalling! Even the international segment was not at par with any of the Asian carriers but at least because of foreign competition, AC was no too far behind but neither great.
To my fellow Canadians, I don't know why you folks are so afraid of foreign investments into the aviation business? It's time to be customer focused and get rid of those unions. No doubt it's no bad to be an AC staff because they milked the customers and feed their staff with outrageous benefits. I know because a friend of mine works for AC. Canadians are so lagging behind in aviation and the mobile technologies. Come to Asia and see how are we Canadians are so behind. Ditch those unions blocking the progress!

This is by far the absolute WORST experience with an airline I have ever had. The customer no service agents absolutely take total advantage of your time and unfortunate mishaps in life and have absolutely no problem at all taking all of your money and never looking back. I would GREATLY DISCOURAGE ANYONE getting a TN Visa book a flight on Air Canada. The agent had reassured us that the ticket was refundable if anything went wrong and upsold the useless insurance as well. The agent laughed at me on the phone said it was our fault because we should have known the TN visa could not be issued and we were ignorant and uneducated.
WHAT? WAS HE DRUNK? The border MANDATES you get a ticket BEFORE APPLICATION, it is a requirement of IMMIGRATION. He then told us that all I could do was change my flight for a huge fee and that was our problem. Yes, he used the words, "your problem". He said I would be better off staying at home if this is the case and maybe shouldn't be working. Absolutely unbelievable and totally sexist and prejudice. I would like the attorney general in Washington to know about this and am planning on filing a complaint. Everyone in the US should call or write to the office in Washington at: (202) 785-5980.

I traveled to Toronto from Istanbul by Air Canada on 18th July 2016. They lost my luggage as usual. I'm writing this comment on 15 December 2016 and they still couldn't find my luggage. Also they have not paid my money that they have to pay. I have sent countless email to them about that. They have never responded yet. I'm preparing to go to court before I leave Canada. Whenever I call their customer service they only say "we are so sorry we apologise". They never inform me clearly about my luggage's situation.

This is a complaint about some very unfair harassing, disrespectful and uncalled for treatment I experienced from flight attendants onboard flight AC 26 from Shanghai to Vancouver on December 3rd 2016. I am a very quiet shy female of Indian decent. I have to wear a bandana on my head due to an embarrassing hair loss condition which makes me even more shy and has eroded my self esteem. Immediately upon boarding I did notice most of the flight attendants were older on the aircraft. One particular flight attendant named 'Nazareno' I believe was his name had greying short facial hair. I feel, he was acting like a Demi God dispensing commands over his 'empire' within the aircraft.
He made me feel as though he was 'picking' on me, singling me out. I was sick with a bad cold and very stressed from a long tiring trip in China where I had suffered food poisoning and diarrhea of which I still had residual symptoms aboard this flight. At the beginning of the flight I walked to the back galley and asked for a few refills of water there because I was extremely thirsty and feeling dehydrated. Nazareno seemed irritated with me and asked if I was sick and asked whether I had a fever that I must notify him because if that was the case I was not allowed to travel like that and would have to get off the flight!!! The flight had already taken off and was well in the air by this point!
I told him I was sick with a cold and cough and had suffered severe food poisoning and illness in China. He seemed unsympathetic. I also witnessed my husband ask another female flight attendant in the back galley to fill his water bottle, so he could take some medication. She politely did. Only after she had done so, Nazareno who had witnessed the other flight attendant filling my husband's water bottle did he say it's against Air Canada policy to fill water bottles for passengers. This didn't make sense to watch the other flight attendant doing it and then make such a statement after the fact!? Many of the statements Nazareno was making were nonsensical as well as nasty and harassing.
At the meal service I asked for a red wine and shared it with my husband. I was sharing all my wine with my husband. I asked for a second wine when the bar service came around after dinner, to try to relax. I shared this with my husband also. We were already about four hours into the flight and I went to the back galley to ask for a wine where I encountered Nazareno. At this point I had only 1 wine. This flight attendant Nazareno was immediately 'nasty' with me stating that the bar is now closed. He was interrogating me about whether I had a wine at dinner. I explained I had only half. He told me the bar is now closed. He had no right but unreasonably refused me service. He refused to give me a wine telling me he has the discretion to refuse anybody wine. It was clear I was not in any way intoxicated. I was completely sober. He insisted he has had 30 years of experience and that I will have to wait.
He refused me any service without valid reason!!! I was in disbelief. I told him I intended to complain about his rude and harassing treatment. He refused to give his name. I was stressed already and was becoming more stressed after all the resistance and bad attitude from Nazareno and found this flight attendant being nasty and unreasonable and purposefully rude, and unfair with me. He knew very well I was not drinking unreasonably. Naturally I was explaining my case to him, feeling like I had to beg this man for a drink. Only because I was questioning him as to why he was treating me so badly was he becoming impatient and annoyed and asked me if I want to talk to someone in charge. I said yes that I did because I have paid my airline fare and have the right to have a wine. He called to someone over the phone and eventually another male attendant came to talk to me.
While waiting in the galley, Nazareno continued arguing making a big deal out of nothing. He started telling other flight attendants things about me as I started to leave to return to my seat which was near the rear of the plane, because I was finding it painful and stressful talking to Nazareno. He was making no sense. I feel that Nazareno dislikes his job and takes it out on passengers like myself and my husband. He was trying for some reason to falsely give the other flight attendants the idea I was over drinking. This was ridiculous because it was evident I was completely sober. However this rude man made me feel embarrassed in front of other passengers as I was being accused of raising my voice which wasn't the case. I was only arguing my point that I only had 1 wine at dinner. Of course I felt upset. I am human after all and felt this man was harassing me for some unknown reason.
He then accused me of causing an 'altercation' only because I was disputing his refusal of service. I also asked him what was the problem and why is he giving me a hard time for no reason. Asking him why is he not serving me a wine when clearly I am not over drinking. Is this an altercation??? I do not think so. Before I left the galley, he had called another older gentleman flight attendant who was supposedly in charge to speak with me. He had much better customer service skills and an ability to de-escalate rather than escalate and cause stress and problems where non is warranted. I asked him if he thought I was perfectly sober. He said yes then he doesn't disagree. I explained to the second male attendant that I felt Nazareno was picking on me and causing trouble for me. This second male attendant eventually brought me a wine.
I noticed Nazareno was scarcely in my area now and not serving the aisle where I was sitting anymore because I had told him prior during the unreasonable refusal of service, that I wanted his name because I intend to complain about his harassing, unfair treatment towards me. I thought this nonsense was over with when the bar service came around again more than 6 hours into the flight. I ordered a wine and was given same by a polite oriental attendant. Then a blond, larger older woman flight attendant I believe her name is Carol, approached me and interrupted my movie warning me again that this wine will be my last wine for a while!! She said all the crew have been watching me and talking about my wine consumption and that it's their job to pace people by having no more than one drink in 1 hour. I said it's over six hours into the flight and I haven't had anywhere near to that amount.
She started causing an embarrassing scene in front of everyone making me out to be a troublesome passenger who needs to be warned. It was very rude and uncalled for again. She again disturbed me by starting to argue in the middle of the aisle which was ridiculous and very uncalled for and again I felt as though I was really being picked on for some reason. All of this had been instigated by Nazareno. Carol could see visually that I was fine and not in any way drunk or acting disorderly. I was sitting quietly in my seat. I pointed out this very fact to her and again and she couldn't disagree. I was again left feeling embarrassed and singled out. I told her that I feel I'm being harassed, and unfairly treated and will make a complaint. I asked for Nazareno's name but she refused to give it out citing I can just describe him in my complaint but names of crew are not given out. I found it ridiculous when all the crew wear name tags!
It seemed to me the flight attendants were all sticking together backing this Nazareno even though he was the very person instigating problems and stress. I tried to ask another flight crew his name and was told those name tags are not their real names! At the conclusion of the flight I had gone to the back of the plane where Nazareno was situated again, upon arrival in Vancouver to get Nazareno's name but he refused to give me his name and he even went so far to attempt to hide it from me with his arm and he then made a scene by calling the Captain on loudspeaker to say I AM harassing him! Only because I'm asking for his name!!! I didn't think that is harassment! It was all unbelievable. I left because I had managed to glance at his name tag. Air Canada makes announcements on the loudspeaker in the aircraft telling passengers to ask the crew for anything to make them feel more comfortable and make the flight more enjoyable.
This is far from what I experienced. I was already stressed out to start with and I felt some of the airline attendants seemed to do everything in their power to make me feel more stressed and literally try to push me over the edge. Luckily I am not aggressive enough to cause any problems, but felt Nazareno was looking to instigate trouble for me. I felt he was trying to push me over the edge. That he was trying to be the straw to break the camel's back so to speak. I hear about air rage incidents on the news and have sympathy for those passengers knowing how unfairly and unreasonably I myself have been treated and feeling maybe nasty flight attendants like Nazareno and Carol caused them to snap. I feel that he and Carol are not nice people and definitely not professional employees. They and others like them are a disgrace to Air Canada.
I find some of the crew on many Air Canada flights in my experience are downright nasty and act as though they are on a power trip. They act like tyrants and feel they can do so with impunity. They make stressful flights worse not better or more comfortable. I am not surprised to hear about air rage incidents with the type of flight attendants like Nazareno and Carol working for Air Canada. They certainly did not make me as a passenger feel relaxed or comfortable. I have experienced this disrespectful treatment on this and other Air Canada flights. If people are treated with respect they will respond accordingly. It's only natural human behavior. The nasty harassing treatment I received made me feel singled out and persecuted. I felt I was harassed, disrespected and treated very unfairly by Nazareno, Carol and some of the other flight attendants. It was completely unjustified.
I agree with not letting someone over drink, but this was clearly not in my case. I almost feel these crew are trying to be tight with the liquor so that they can keep it for themselves. They were acting like a pharmacy dispensing narcotics!! All together I had only had 2 and one half wine on the entire 9-10 hour flight.
I wonder if Air Canada management know about some of the poor quality, nasty unprofessional staff they have working for them. This very poor service. I feel I was treated so badly. I feel like filing a human rights complaint because I feel as though my basic human rights for dignified treatment were completely violated and for the pain and suffering caused to me by Nazareno and other Air Canada crew on this particular flight. I have flown countless times for business and pleasure with Air Canada.
Many of the Air Canada flight crew I have encountered have been extremely rude and disrespectful crossing the line of human decency and respect. I feel that these flight attendants feel justified somehow to take out their frustrations on passengers freely. I feel that flight crew 'feel' justified it's their right to disrespect and be rude and unfair to customers indiscriminately at their will should they choose to with impunity. I dread taking Air Canada flights because of the nasty treatment I often experience from the flight attendants only on Air Canada. I feel some of the crew need training in how to treat people respectfully and attendants who have had years of experience I find are the most rude and seem to be on a power trip due to their seniority. I feel this man, Nazareno was biased towards me for some unknown reason. It was very hurtful to experience this. I feel I was made to feel less than a human being.
The crew have the power to make a big difference to whether a passenger has a stress free and enjoyable flight. Because of Nazareno, I was left feeling like I was going to have a nervous breakdown after all I had been through. I felt like crying because I was so upset and still had the Vancouver to Toronto leg of my flight to fly with a four hour stopover and no sleep. I had been awake all night for 9-10 hours on the long tiring flight with a nasty bunch of flight attendants on a power trip. I am very shocked at the bad and disrespectful treatment I got from Air Canada. Flight attendants on this particular flight has been the worst I have experienced so far.
It was the most awful experience to end my holiday in China flying with Air Canada. My experience with the nasty, harassing, unfair and disrespectful treatment from Nazareno, Carol and other flight crew on Air Canada has been enough to cause me to choose another airline in future even I have to pay a little more. Beware if you encounter this crew and try not to ask for service in order to avoid same experience or better still use another carrier for a peaceful more dignified flight experience.

I was traveling with family of two kids and husband from New York to Toronto on December 2nd 2016. As per rule you have to board according to your zones. So, we did. When we reached inside and started putting our stuff the carryon bags, to our surprise the cabin up the seats were already taken by other people. So the Air hostess came and instead of helping us, she started staring at us. When I started making some room for our bags, she interfered and said this all is full now. Look for some other place. We told her it is on our seats. She replied "oh it's first come first serve." You have to keep it on your laps or just put it on floor. Her name was EMILLIE. Very rude, so unpleasant. The whole flight of one hour and 45 minutes I kept my coats and bags on my laps and we divided some between our kids also. we only got room for one bags very far from us.
This is the customer service they give. Either I should have argued with her on this matter or kept quiet. because they have the right to throw us out of the flight and make any excuse. My flight **. DO NOT FLY BY AIR CANADA. TILL POSSIBLE. THEY ARE R... **. She was so kind and nice to the white family who were just behind us. Because that lady offered to take back her coats down and make some room for us. And this AIR HOSTESS refused her and told her "no no it's ok." As all the people who boarded before us have all their bags laptops, three to four jackets up in the cabin. What the hell? Why can't THEY HAVE THEIR jackets on their laps? Why this difference between people? What are they told in training that you have to prefer your own country people and ignore every other human race...

On November 21, 2016, I booked a ticket for my son Adam ** to travel from Toronto to Fort Lauderdale for a medical procedure (for which I had prepaid $8,200.00 USD) on December 01, 2016, under reservation code MINAXE. He was to travel with his service dog, Duke, for whom I had been in contact with the Air Canada Medical desk all week to ensure his seats have been designated and confirmed on the flight. I personally paid for Adam's flight using my credit card as I often do with my three kids, Adam **, Sasha **, and Alyn ** who study abroad. At the time of booking I was issued a Reservation Code - MINAXE; a receipt confirmation of this transaction along with the confirmed itinerary; and confirmation of medical approval for Adam and his service dog. At no time, was I told Adam would have to bring a credit card to prove payment thereof prior to enabling him to travel.
It took Adam three hours to drive to the airport from the suburbs. He arrived at the airport, as required, two and a half hours prior to his flight. The system did not permit Adam to check in 24 hrs prior indicating he would be required to check in at the airport, with no reason given. Adam thought it may be due to his service dog attending with him. Upon arriving at the airport, Adam was asked to present the agent with a credit card, which of course he did not have, for the flight was booked by me (his mother) using my credit card which was in my possession in Fort Lauderdale. Unfortunately, I was in Fort Lauderdale having flown out on the 28th of November in preparation for his surgery and to receive him on the 30th as per his booking and therefore was not able to get to the airport in Toronto in order to present Air Canada ticket agent with my credit card which they physically wanted to see prior to issuing Adam a boarding pass.
Adam was asked whether he purchased the ticket on his credit card and he indicated he didn't know. It was his mother who purchased his flight tickets for him. Adam called me to explain the situation at which time I spoke with a ticket agent handling this matter and explained the purchase and further provided via text message, a photo of my credit card number, my itinerary and confirmation of Adams flight received from Air Canada upon confirmation of booking and payment, a copy of my Amex statement indicating proof of payment using my Amex Card, along with correspondence to and from Air Canada Medical Desk pertaining to this reservation.
Irrespective of this, Adam, along with his dog, were denied boarding and greatly traumatized at a time when he is already disadvantaged having the need for an emotional support dog as well having to deal with a medical emergency. As a result of Air Canada's negligence in first accepting payment and issuing a ticket upon which plans were made, in this case, it pertained to a medical emergency, has left us not only jeopardizing Adam's health for a missed procedure, but furthermore, caused us to lose the $8,200.00 prepaid for this procedure which was not refundable. Adam had a valid ticket with Air Canada with authorization to travel with his support dog, Duke, as indicated in my emails attached herein.
It is beyond comprehension, when a ticket is purchased, a reservation code is provided, along with a confirmation of itinerary and confirmation of price, and plans are made accordingly, in this case a medical emergency booked, only to learn that Air Canada had the power to wrongly renege on its ticket issued and deny Adam to board and make his flight to Fort Lauderdale. After repeatedly calling Air Canada Customer service I was denied access to a manager or a supervisor to assist me in this regard. All agents indicated there was nothing they can do.
I am unsure if this flight was oversold and it was a tactic used to deny a passenger from boarding his flight, or whether there were other reasons only known to Air Canada, but this is wrong. Both Adam and his dog suffered tremendously having made a three hour drive to the airport and then given the runaround and traumatized by the events leading up to them finally not able to travel despite having paid for and being confirmed on the flight to Fort Lauderdale for November 30, 2016, at 16:35 pm. They were both stranded at the airport overnight with absolutely no accommodations provided by the airline for their wrong. Air Canada made no effort to correct its wrong or accommodate him despite desperate pleas by both he and myself.
What was even more astounding is that even after crying over the telephone and pleading with agents to help with over 13 calls, I was either misrepresented, lied to, or hung up on with no one willing to help, and when I finally reached someone by the name of Christian **, who identified himself as a Customer Service Manager from Tampa, I was informed that there was nothing much he could do. As you can see, this is appalling! No one should have to succumb to so much suffering over the handling of this by Air Canada, and yet after notifying them of an emergency health crisis, still decided it was not going to do anything to assist in undoing its wrong in the first instance. Air Canada is always looking to put the blame elsewhere and they never seem to have senior managers or supervisors available to handle and immediately deal with crisis situations such as this.
Upon reviewing others who have cared to leave reviews about Air Canada and its staff online, I noticed, Air Canada enjoys a lowly review of 1 out of 5 stars, with many disgruntled passengers who have been poorly treated and mishandled with customer service at the lowest possible level. All you have to do is go online and read the many reviews people have left online, along with racial accusations of Air Canada, in its dealings with its customers. The ratings clearly reflect the level of distrust, frustration and suffering witnessed at the hands of Air Canada.
My next step is to commence a legal claim against Air Canada for all damages suffered hereunder, and to make all aware of Air Canada's business practices with its customers. Something must be done! No business would survive this type of poor business practices, unless it enjoys the monopoly Air Canada enjoys (with the exception of WestJet). This matter needs to be looked into. This was not my first occurrence of this nature with Air Canada. I along with countless parents book seats all the time for our kids who study abroad, who have no access to credit cards if they are travelling alone. If Air Canada is going to implement such security requirements, it must inform customers who purchase tickets for their kids to ensure their kids won't be subjected to this type of trauma when arriving at the airport to board their flights with Air Canada.
I am a loyal Air Canada traveller who travels immensely and book my kids with Air Canada all the time with quite a few trips booked in the New Year. I have booked a flight for my son Alyn who is returning home for Christmas, and then heading to Florida for a week's vacation with his friends. Will he be succumbed to this again? When asked Air Canada what steps I can take to ensure this doesn't happen again in the future, I had no answers nor recommendations from Air Canada. I don't know at this point how kids whose tickets are bought by parents are being subjected to abandonment at the airport with no notice or warning from Air Canada. Unless of course, our family has been wrongly targeted as a result of our skin colour, for this is not the first time my kids have been traumatized in this manner by Air Canada. THIS IS SIMPLY UNACCEPTABLE AND WRONG AND SOMETHING NEEDS TO BE DONE.
In addition to looking for compensation for damages suffered as a result of Air Canada's refusal to honor the Air Canada ticket lawfully purchased for my son, it is my intention to also proceed with my story with the Toronto Star as well as CBC so that awareness can be made by those who have suffered needlessly as a result of Air Canada's business practices and its poor customer service practices. I am urging all those who want to join me in commencing a class action lawsuit against Air Canada to contact me or my counsel so that we can finally force Air Canada to make changes to the manner in which it handles its business practice and customer service. In addition to numerous phone calls to Air Canada, a letter was also sent through Air Canada's complaint email, all of which have thus far been ignored and no response received by us.

I booked return flights from Calgary to San Juan for Christmas. When I booked back in September 2016 they only had business class on the outbound flight. I checked the website often in October and November and saw that there were business class seats available. I called about 7 times over the last 30 days to the "customer service line" they provided 1-866-529-2079. I am hoping to upgrade my return flight to business class. Each time I was on hold for 2-3 hours, and eventually I had to give up waiting.
I tried contacting other phone numbers on Air Canada websites, but got directed to this same phone number everytime. Some of the people answering their calls were not friendly and would cut me off or transferring me without warning me so. I sent 2 emails now to their other "Customer Care" and they don't even bother getting back to me. I have concluded that once they got your money, the care stops! There are many other competitors out there. I learned my bitter lesson with Air Canada and will give my business somewhere else.

Terrible experience. I've never seen less legroom. I'm using up the last my Aeroplan miles then I will never fly with them again. There's so many better options out there. Air Canada and Aeroplan are affiliated and they are absolutely terrible.

Was travelling with Air Canada from YYZ-BLR via Frankfurt, with my wife and 2 little daughters. Air Canada did not issue a boarding pass from FRA to BLR, they quoted technical problem with the system. When we reached Frankfurt, we were shocked to know from the boarding desk that our tickets were cancelled without any reason or resolution. We had to run around the airport to locate Air Canada staff. They acted like it is an everyday affair, and asked me to wait 2 hours to get me tickets to a different flight. They finally gave me a reference number for a flight that departed 9 hours later and vacated the premises. They did not offer us any help and we were left to fend ourselves in the airport with no local currency.
9 hours later, the code share airlines said that they did not have any tickets for us. They were considerate to call Air Canada themselves to sort out the issue. It took another 2 hours to sort the issue and we could finally board the flight from Frankfurt to another unplanned transit airport, Delhi. When we arrived there, our baggage was missing. And as expected, there were no tickets to our final destination. The other airlines continued to be courteous and talked to Air Canada again to re-book our tickets to final destination BLR. We reached BLR almost a day later. Our baggage arrived 5 days later. Our return journey was very similar. The check in desk was on phone with Air Canada for 2 hours before they could issue our tickets.
On return, I reported the issue to the Service desk. They were very inhospitable. It was the same attitude throughout. It took them 3 months to tell me that they do not have a clue about what caused the glitch. And they said, as "good will", if I book tickets on AirCanada.com for full price for a future journey, they will waive off 25% of base price. I told the agent that I do not want any coupon, I need to know why inconvenience was caused, she said she does not care about what I want. I asked to talk to her supervisor, and she wished me good luck with that. I am now writing this in sheer exasperation about Air Canada's rude behavior. I would avoid this airlines in my future journeys.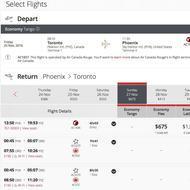 Today I went to the Air Canada website to buy a return ticket from Toronto to Phoenix. Looking at availability I decided to chose a Business Class outbound because it seemed like a reasonable deal, but the return Business Class was higher than I would like to pay so I selected to travel back in Economy Class. So out in Business, back in Economy.
But before confirming the reservation I thought I'd just check how much more the Business/Economy ticket would be compared to an Economy/Economy ticket, and I couldn't believe what came back! The same Flex Economy ticket for Phoenix to Toronto costs $110 MORE when matched with a Business outbound compared to when it's a simple Economy return! Why?
Why should I pay more for my return portion because I bought a Business Class on the outbound? Does Air Canada have some warped view that if I can afford a Business Class ticket one-way then I must be good for a higher priced Economy coming the other way?? And this has nothing to do with discounted Economy tickets selling out and becoming unavailable when I made my 2nd query - I did the same query over 2 hours later with the exact same result. I would love someone at Air Canada to explain to me the rationale for this and why I should not feel like they're trying to rip me off.

Our complaint relates to flight AC030 on Sept 27,2016 from Beijing to Vancouver. Our seats had been booked and paid for in April 2016. We had confirmed seating in aisle seats 27g and 27h. We discovered we had been moved to the middle seats in row 64, the very last row without notification. We were the 5th customers served at the check in counter as we had arrived 35 minutes before the ticketing office opened. The ticketing agent and AC representative both said all the seats were changed because AC changed planes, but could not explain why we had not reassigned aisle or why we were given the middle seats on the last row, the worse seats on the plane. They said there was nothing that they could do. The AC representative told us to complain on the website and he was happy to give us his name because he knew nothing would happen.
We both have health issues so that is why we had requested aisle seats. If AC had told us six months ago when we purchased our tickets that we would be assigned middle seats on the last row, we would have not have taken this flight. Getting the seats we paid for is part of the contract between us and AC. It took AC six weeks to respond to our complaint. They blamed the computer system for reassigning us from aisle seats in the middle of the plane to the middle seats on the last row. Our booking system automatically reseats customers on the new aircraft, and sometimes the exact same seating options may not be. AC offered us the standard discount on a future flight, but since we do not have any need to fly next year AC offered us nothing of value.

Worst customer service I faced with Air Canada. We had newborn baby travelling to USA from New Delhi. We bought ticket through agency but was never informed about transit visa during booking. When we were at airport, we were denied tickets & denied flying. Airport staff of Air Canada was pathetic and damn rude, they only said it's our fault of not having visa. We requested them a number of times if something can be done for the newborn, then he suddenly started typing something for 15 minutes, I thought he is doing something for us. After 15 mins when I checked, "did you able to find anything for us," he said "no I was doing my own work." Come on. When customer is standing in front of you at least you can inform them about it. It's not us. There were around 15 passengers who had faced this issue. We had to run from here & there to get new ticket from another airline but Air Canada officials were not concerned.
My simple questions to them was that it's ok. It's our fault that we didn't have visa, but then what's your responsibility when you send every day 15 people home. At least you as responsible carrier can inform passenger a week before about making sure of visa. If not at least you can have something at counter that we need transit visa, after standing in queue for hours, we get our turn then we have to listen that we don't have transit visa. At least it could have saved time for people to get another flight. I am very much fed up from airline and its officials. They are happy to overbook the flight and then send passenger home and making money. It's very pathetic airline & I recommend not to fly again.

My wife and I used Air Canada to return to Montreal from Fort Lauderdale (flight 1609, Sunday October 30th), and it was almost impossible to be served in one of the official language as mentioned on your website: Our brand is the manifestation of the promise we make to our customers. In short, our brand is all about who we are, what we do and how well we do it. Offering service to our customers in their language of choice is an integral part of how well we do our job. Air Canada's goal is to make sure that every customer gets the most consistent, enjoyable and safe travel experience and leaves with a positive lasting impression.
Unfortunately the impression left by this travel experience is very negative. Air Canada seems to have no respect for French speaking Canadians since it does not have the decency to put some French speaking flight attendants on a flight to Montreal. Call me an OLD GRUMPY OLD MAN, but this old man is really insulted when one of your flight attendant asked us to point to images on your menu. We had never been served this way on other airlines (Lufthansa, Swiss, Alitalia). They seem to regard their customers with more respect than Air Canada. On the other hand, we would be very happy with the service if we were English speaking passengers and would probably recommend the names of the flight attendants for the Dialogue Award but we are not and would certainly not recommend any names.

AVOID AIR CANADA (AC) if you can, there are other airlines you can fly which will provide much better flying experience. Last August my wife and I had to fly with Air Canada from Washington to Toronto. Because of some circumcises, I had to change our tickets (in good time and according to their rules) to Washington Montreal. I was promised to get a refund for my old ticket. For months now they play with us in a very ridiculous way, even though they have all the necessary documentations from us. Until sometime ago they said, it is too late now for a refund. This is their strategy.
It is unbelievable that AC does not emphasize their refund system or there is something else bigger in order for extra earnings in their pockets. I found out later that the complaint list is too long for AC and we are not the only cheated and disappointed customers. We travel extensively and have flown internationally with other airlines, but Air Canada was the only airline that has underperformed and continuously disappointed us. Absolutely awful customer service. Please share this, in order to protect other people like us.

Booked my flight in May 2016 with Air Canada to Orlando for Oct. 2016. My trip was planned perfectly. So I thought! From Toronto to Orlando then shuttle to my well deserved 7 day cruise. I get to the airport...check in 3 hours early with my friend. I get to the counter 30 min. before boarding and tell them I don't have a seat and at check in they would not give me a seat as well and 24 hours before I could not check in online! OK...to make this short my friend and I got denied boarding, missed half our cruise. Paid out of pocket to make it to St.Thomas and paid for hotel there too (not cheap especially last min. booking). Air Canada could not accommodate a flight. We had to book with Delta.
So now trying to get my money back for flight and hotel. Sent 4 emails, mailed out a package to customer relations and faxed them. Still no reply! How is this not wrong? Not even an apology!!! Just a standard email reply that all customers get!!! Air Canada...you need to compensate me for my trip! This is not fair! You have to contact me by phone and I want an explanation as to why no one gets back to me!

On July 14, 2016 my elderly mother, wife and I had an Air Canada flight from London ON to Toronto then to Paris France. As instructed we confirmed our flight 24 hours prior to departure. We arrived at London International airport on July 14th, 2 hours prior to departure where we were informed that the flight to Toronto was cancelled. Because we had a connecting flight leaving at 6 pm I asked the check-in agent if there was an alternative way of getting us to Toronto. She said no there was not. She did tell us that she could get us onto a WestJet flight but we would need to claim our luggage in Toronto, get a shuttle to the Air Canada terminal and then check-in our luggage again. She told us that if we did that then we most certainly would miss our connecting flight.
I asked if Air Canada would provide us with a taxi ride to Toronto. She told us that we could submit a request for reimbursement when we returned from our trip, but she could not provide us with a taxi voucher. As we were dropped off at London International Airport, we had no other choice but to take a cab at a cost to me of $250. On the way to Toronto, the cab driver told us that the cab we were following also had passengers distant for Toronto from the same cancelled flight and that they had been given a taxi voucher by a different check-in agent.
Upon returning to Canada we contacted Air Canada who informed us that they would not reimburse us for the cab ride and that I would need to put a claim through my trip insurance company. They declined because they do not reimburse for cab ride, they informed me that Air Canada should reimburse me for that.
Today I received from Air Canada a refund of $29.98 for 3 passengers. I would like anyone who is in the process of planning to travel to seek other airlines that can cancel a flight at any time without considering the ramification that it leaves the passengers in. There are other airlines.

My fiancé and I left Brisbane bound for Canada for a 30 day holiday of a lifetime. In her possession was a Samsung Galaxy 7 Edge (not a Samsung NOTE). The captain of that flight announced the warning of the Samsung Note was not to be used on that flight or attempts to made to be charged with the onboard charge ports. Warning noted thinking that even though hers was not the type in question but she still chose to turn it "off" just in case! That was fine up until we were on board returning to Brisbane on the night of the 23/10/2016. Just before the doors to the plane were to be shut the captain of this flight announced the same warnings of "Samsung NOTE" and who ever had one to please identify to the cabin supervisor.
My fiancé was upgraded to business class due to receiving blood clots to her lungs on arriving to Canada and was being escorted home with a flight nurse while I was seated in economy class, so thinking her phone was one (she didn't know) she handed it over to the cabin supervisor. He said he had to confiscate it for safety reasons so she asked for him to bring it to me so I could take the SIM card out as she didn't know how to, I had no idea how to either but I tried to reason with him saying the phone WAS NOT A SAMSUNG NOTE AS PER THEIR WARNINGS that it was in fact a SAMSUNG GALAXY7 EDGE WHICH HAD NOTHING TO DO WITH THE SAFETY WARNINGS THAT WERE ISSUED, but he still said it had to go!
We taxied off a couple of minutes later and when we got to the altitude I ushered an attendant asking that I get a receipt for the confiscation. He replied that he did not think this was possible. I said I needed something from them so I could make a claim under our travel insurance. He said he would see what he could do. On exiting I again asked for the receipt but was told I was not getting one as that phone was taken "under the airline safety policy issue". I said that was then classed as THEFT. He was nonresponsive so I left the aircraft and am now finding myself dismayed at a perfect holiday only to be marred by the incompetence of the cabin staff, especially the CABIN SUPERVISOR.
I am also left astounded that when those of us that are left to make complaints we are ALL DIRECTED TO THESE BLOODY INDIAN / PAKISTAN CALL CENTRES who are very hard to understand, are told they "understand" or "very sorry for our problem". I will not however let this mar my love for Canada or its people BUT I WILL DEFINITELY FIND OTHER CARRIERS TO FLY WITH!? END OF RANT!!!

I bought a ticket to New York from London, traveling Air Canada via Toronto. I'm a Russian citizen and I was traveling a lot using other air companies. That's the first time company didn't ask about visa for transit area (I guess it's a common practice, isn't it!!!) and didn't mention they don't have a transit zone. That's why right now I stand in Heathrow, all my plans broken, no refund given, trying to change tickets to another company. I can't describe my mental state, and I'll never use Air Canada in my life again!!

After having to deal with several inequities in service with Air Canada as well as problems experienced at Toronto's Pearson Airport, I went home thinking that perhaps I'd done something wrong to have been treated so shabbily. Then I checked out **, where it states: "Travellers with visual, hearing, mobility or other disabilities should be aware that many other countries do not have accessibility standards comparable to those in Canada. Many countries do not have facilities to provide access to people in wheelchairs or provide services for those with hearing, visual, or other requirements."
FURTHERMORE: "For this reason, you should research the services available for travellers with disabilities in your destination country by contacting its government office in Canada. You should also check the website of the airport at your destination to familiarize yourself with its services for travellers with disabilities." Knowing that I was only travelling to Florida and back, I had no idea I would be required to familiarize myself with regard to travellers with disabilities - IN MY OWN COUNTRY!

Avoid Air Canada (AC) if you can, there are other airlines you can fly which will provide much better flying experience. In 2015, a flight delay (8 hours) has caused us missing our cruise ship in Rome. We had to get a hotel room and find our own way to the next port, and the total out-of-pocket cost was about $1,000. We wrote to AC, no compensation was offered but we were given a 20% discount for future flights.
This year, 2016, we decided to use the 20% discount (wrong decision on our part) and give AC another chance. We flew from Las Vegas (LAS) to Rio de Janeiro, Brazil (GIG), with layover in Toronto (YYZ) on September 9. One of three checked luggage was missing so we filed a claim with AC's lost baggage counter in Rio. The counter agent located the missing luggage and said it was still in Toronto. Why would three bags checked in at the same time, two made it and one got left behind, no one knows. The agent said AC has multiple flights daily from Toronto to Sao Paulo, Brazil and our missing luggage will be routed from Toronto to Sao Paulo the next day, and then onto Rio, to the hotel we are staying.
On day 2, the baggage never came. We now discovered we had prescription medications stored in the missing luggage so we started calling the delayed baggage number provided on AC's website. After more than a 30-minute hold time, we were connected to a Call Center agent that are based outside of United States. The first agent was extremely difficult to understand and was not able to provide any clear information of our luggage. We then asked to speak with a supervisor (of course more hold time).
The supervisor confirmed that the luggage never left Toronto and the Toronto baggage department declined to route the luggage through Sao Paulo. Instead, they will put it on a flight heading to Rio four days later. After we informed the agent that the delayed luggage contains prescribed heart condition and high blood pressure medications and it is imperative for us to get the luggage, the supervising agent said he would communicate the matter with Toronto baggage department and will call or email us with an update.
On day 3, no luggage nor updates so we called again. Now we are raking up expensive international charges on our cell phone. Same story, Toronto is still sending the luggage via the next flight to Rio in a few days, but not sooner. We told them since we are travelling, we will not be in Rio when they deliver the baggage. After many more calls to the Call Center, Rio Airport Baggage and a trip to the Rio Airport, AC finally decided to route the baggage to Buenos Aires, Argentina, our next destination. On day 6, now September 15, we finally received our delayed baggage.
It is unbelievable that AC does not emphasize in directing delayed luggage to their customers as a priority, or as soon as they are able to. They have daily flights to Sao Paulo, but they refused to utilize it and insisted to wait for the next flight, in a few days, to Rio. We have friends that flew other airlines have also lost their luggage, but were all able to receive the missing luggage within 24 hours.
We know with millions of baggage to handle each day, it is a daunting task and mistakes do and will happen. The big disappointment on Air Canada is the overall lack of sense of urgency (ignoring the information given to them regarding the medication issue), poor customer service (Toronto baggage department arbitrarily deciding to send the missing luggage 4 days later, and not any earlier through another city which has more direct flights from Toronto), and, lastly, poor communication with customers (delayed baggage handling at the Call Center, average long period of hold-time and the agents were either untrained or understaffed).
We travel extensively and have flown internationally with other airlines, such as British Air, Virgin Australia, Korean, EVA Air, Cathay Pacific, United, American Airlines, Delta Air, Qatar Air, and Turkish Air, all within the last three years. Air Canada was the only airline that has consistently underperformed and continuously disappointed us.

Absolutely awful customer service. Lost my carry on bag which they asked to be checked in at the gate since there was no room on the airplane. Blows my mind how that is possible since you have an idea how many travelers are on the flight. Food and beverage awful. From Toronto to Prague flight - no idea where we were the whole flight since there were no TV's and nobody ever informed us. Never ever flying with them again. It's been almost a month and my bag is still lost. Nobody ever called and apologized.
Air Canada Company Profile
Company Name:

Air Canada

Website:

http://www.aircanada.com/