Consumer Reviews and Complaints

Coupon codes are not applied to online orders. The message says it will apply at the end of the order. That is not true! When you call to have the code applied to your order they tell you they can't do it until the order is shipped. SUCH A SCAM! I'll never but another thing. THE CHILDREN'S PLACE=SCAM!

I purchased uniforms for my son online that is now in pre-k. At first they said he had to wear uniforms. Then they changed so I went to return them. I didn't want my money back. I wanted a store credit to get other things for him even though I had my receipt and items were still in the packaging they came in. I call the store before I went in and after I got there the same person I talked to said I couldn't because it was 2 days past the return date. I would you sweet and if I no receipt and wanted my money but all I wanted was a store credit. I will not purchase anything else from them and I WILL MAKE SURE I TELL OTHERS NOT TO AS WELL NOT TO SHOP WITH THEM.

Purchasing online with this company seems simple enough until your order is incorrect and then I have to say -- good luck! The toll free phone number provided is constantly a 30 minute wait time so I don't believe they have many employees manning the phones. There is an option to email your issue to them and I tried that, provided order number and specifics. Received an immediate canned response thanking me for my email and stating I would receive a resolution within 5 business days. 15 days went by before I called and endured the 30 minute wait. Finally spoke to a representative from another country and she promised to credit the account. I'm not confident this will be done.
ADDITIONALLY: When I placed original order I earned "place cash" entitling me to $10 off $20 purchase and I could use up to 6 coupons. I attempted to place my order and all went well - even discounts were showing UNTIL I continued to confirm/pay for the order. At that point A big banner came up stating their site was down for maintenance. Convenient that this happened on the last day I could use my coupons, don't you think?

I applied for the charge card under the assumption I can use it the same day for the 30% discount they offer when you apply. WRONG. They do not offer you the code or account number when approved (they use same bank as other stores who do allow you to use same day). Called customer service was told I had to wait 2 weeks to receive coupon in mail... NOPE cancel my account please! Never again...Do not waste your time...

So this August 2017 they have a on going promotion spend 20 and get 10 back towards store credit. I received my promotion so I decide to make another purchase during checkout. It said promo was expired. I tried to call them was on hold for an hour 30 and never spoke to any one. I email them. Nothing till this day.
How do I know I can trust these reviews about The Children's Place?
882,235 reviews on ConsumerAffairs are verified.
We require contact information to ensure our reviewers are real.
We use intelligent software that helps us maintain the integrity of reviews.
Our moderators read all reviews to verify quality and helpfulness.
For more information about reviews on ConsumerAffairs.com please visit our FAQ.

I'll admit The Children's Place has some pricey clothing especially when your child grows so fast and seasons always changing. Your children never really has time to wear out how much money you actually invest in the clothing. That's why I choose to shop when they have deals going on. It's the ONLY time to shop there, well recently I received an email with a killer back-to-school sale. I decided to check out their online website and make a purchase. Now before I go into details I'm just gonna say it's better to shop in the actual store so you can know exactly what you're getting and see the quality of what you're getting. Well the deal was online ONLY and so I decided to go ahead and take my chances online. I proceeded to go to my cart, I hit checkout through my PayPal account and BAM! order finished! I didn't get a chance to confirm my home address, my billing address, nothing!!
They pulled my old address from my PayPal and auto filled the address on my children's Place account. I have never had a website do this before! I immediately called customer service to fix this issue. Now It's about 2am and the voice Machine says they will reopen at 9am. I didn't want my order to be processed and shipped to the wrong address, so I called technical support, the wait time took 45mins!!! Like who the hell is also calling children's Place technical support at 3am? By the way It turns out your wait is almost an hour long no matter what time of the day you call. Anyway, Every customer representative is an Indian woman! Not trying to be rude, but they are very hard to understand and feel they do not sympathize with your problems, they are almost robotic if you will. I explained my issue and she proceeds to tell me I'm the lucky caller and won a $25 gift card!
I'm confused because I have a problem here that she is not attending to it. She keeps putting me on hold, transferring me to other Indian women who seem to have no idea how to help me so they keep passing me around like playing a game of hot potato. After an hour of repeating my problem to several different representatives they disconnect me, I didn't understand why I was hung up on? I was cooperating, I didn't raise my voice, I just wanted my problem fixed! I immediately called back and my phone would automatically hang up as if they were on the other side declining my call after one ring. I was so upset after trying multiple times of not being picked up. I waited and called at 9am. After another 45min wait, another Indian women answers. I again explain the situation on how my address is not correct on my order and I need it changed before it's processed and shipped.
She puts me on hold for another 30 mins and says, "Sorry, there's nothing I can do for you once you submit your order." I explain, "So what!? My order ships to my old address and I'm out my money?!" She claims she will hurry and leave a note on my order that says to cancel it and should receive an cancellation email in 30-60 mins and then proceeds to put me on hold and then hangs up. Annoyed I wait for the email and nothing!!! Fed up, I called PayPal and asked them to see if they can decline the funds for the order. I also explained it was being shipped to the wrong address. They seemed helpful and said after the phone call they will do everything in their power after we hang up to contact the merchant.
Several hours later I get a cancellation email on my order from children's Place but they kept my money? I still have yet to be refunded my money!! Or heard any word on that supposed $25 gift card "I won". This is by far the WORST CUSTOMER SERVICE I'VE EVER DEALT WITH IN HISTORY!! I literally made this account to write this review!! I hope children's Place will one day see these reviews and help better their customer relations. I will shop elsewhere in the future. Be very cautious of this company, from reading other reviews they almost seem fraudulent!

Back in May, I opened a credit account with The Children's Place. I made one big purchase, so I could get my first time user discount of 30% off. The girl who opened my credit card made her own purchase while I was shopping. I got an email receipt for my purchase. Not for the other one. I tried to contact the credit card company. They refused to credit my account. They sent me a receipt with a purchase claiming I did it.

The Children's Place in Canada has awful customer service! DO NOT shop at Children's Place. They have extremely horrible reviews and very bad quality clothing as well. Recently, I accidentally purchased 2 exact t-shirts for my son from 2 different purchases. I had already thrown away the store receipt when I realized that I have 2 of the same shirt for my child. I visited the store to explain to the staff that I do not have the receipt but the shirts still has all the tags intact. I asked if I can kindly exchange one of the shirt I purchased for another shirt in store... Same style just a different graphics on the shirt so that my son doesn't end up having 2 of the same shirt. I was told "NO" so I asked for the customer service phone #. She wrote it down with her name and said, "You're wasting your time calling". I sent an email to Children's Place and it's been almost 2 weeks and still haven't heard from them.
So I went back to visit the store hoping I can speak to the store manager and see if she can help. She also said to me that she cannot help me so I called the customer service phone number. The total wait time and trying to get hold of a live rep took me 45 mins. I finally spoke to a lady and I couldn't understand a word she's saying. I had to explain several times over and over my issue and at the end she told me she cannot help me without a receipt. I ask her if someone else with higher authority can help me and her exact words to me was, "I do not have the authority to connect with you someone else". This experience was very upsetting because all I wanted was to exchange a same style t-shirt for another. I wasn't even asking for a completely different shirt and their Children's Place brand name is printed on the shirts so it's not like I purchase the shirt elsewhere and trying to exchange it at their store.
After 2 weeks of trying to get my problem resolve via email, phone calls and in-store visits, I'm still unable to get help. The staff are rude, unhelpful and clearly does not care about their customers. I even ask the rep on the phone if they don't care about their customers going elsewhere to shop and she said to me, "Then, that would be your choice ma'am". DO NOT shop at Children's Place. They have extremely horrible reviews and very bad quality clothing as well.

The worst customer service EVER! If you do not have a gift receipt when you receive a gift forget about getting an exchange or store credit! They will only exchange for size. What happens if you don't like the pattern or they don't have your size??? They don't care!!! Like I said, the worst customer service! DO NOT SHOP AT CHILDREN'S PLACE! They DO NOT CARE about customer satisfaction! These are children, they are picky and could not want something for the smallest of reasons! Even the corporate office was of no help! They could care less! The worst return and exchange policy! There are plenty of other stores who care about their customers... Shop anywhere else but Children's Place!

Worst experience with the customer service. The Contact Us number has a minimum 25-30 min wait time no matter what time or day you call in. The customer service agents are not able to resolve the issue on the spot. All they will do is escalate and moreover the customer doesn't have any visibility over the escalations. No emails confirmation, No progress details, No update. The only way to know the updates is call back in on the contact us hotline and wait for at least 30 min to talk to an agent. Worst Customer service ever in this age, where things should move faster with all the technology in place. These guys have a definite looong way to go to be at par with their competitors.
I had purchased a gift card, which was misplaced. All I requested is to cancel the gift card purchased and issue a new one. It is over 60 days now and I am still waiting for the gift card to arrive in mail. And for this request to be processed I had to call in 4 times be on a minimum 30min wait and hear the rep response that my request is escalated and there are no updates yet. Finally, I think I have already given up on my $50 gift card. I don't have the patience and the time anymore for another 30 min wait call. Worst experience!

I use to love shopping at The Children's Place and now I really hate it. I applied for a Children's Place credit card and was real excited that I receive it until I made a purchase and it was declined right away. I called the Customer Service and they couldn't ever tell me why my purchase was declined and on top of the exclusive offer I receive wasn't any good. So I tried to make another purchase and it was declined again because of insufficient funds. I called the Customer Service again and they said I would have to wait five days for the money to be back on the card. I ask why when they declined the purchase right away. They still couldn't give me an explanation. This is so unacceptable.

Buyer Beware! I place my order April 17, 2017, and received a confirmation that they shipped it on April 20, 2017. Well they took my money and now my package is still in transit to UPS since April 20, they haven't updated where the package is at or nothing. I call The Children's Place, and, of course, they gave me the runaround, after 45 minutes of holding. I emailed them and they said they will get back with me. I called UPS and they telling me the tracking detail is wrong. I wish they will credit my account so that I can purchase my grandchildren thing at a more reliable place. This is the worst online shopping experience I have ever had. I have been an online shopper for over 10 years. In my opinion, The Children's Place is a ripoff.

I want to start by saying I actually created an account just so I could post this review. I've never spent time reviewing a place even if I did have a bad experience but my God Children's Place is next level. So, I tried ordering on their website when they were having promotions going on (always too expensive otherwise) and none of my credit cards were working, so I figured it's a glitch on their website and called, they couldn't help me. So, I bought an e-gift card to place the order and it didn't come with a pin. Called them and they said it's sold from a third-party seller so they can't do anything about it. Called the website and they said it's how its sold to them so call Children's Place back.
So I'm calling back and forth for a few days (on the phone all day for 5 consecutive days) and they say, "for all the trouble here's a promo code and call back when you place the order, whenever that may be, and we'll offer you a price adjustment and honour the prices that were going on when I wanted to order but wasn't able to". So finally today call again and they tell me, "okay we've sent out another card by mail this time but it'll take 4-6 weeks"!! I'm like, "well that's too long, I'll just buy another card and I'm ready to order, can you offer the price adjustment", and she said no! They conveniently couldn't find that offer in their notes!! And she proceeds to tell me that the promo code was in replacement of the price adjustment. I tell her we'll take back the code, I just want the price adjustment, and she said no. So I told her I won't be ordering and giving them a very bad review.
I really wish I had just listened to the reviews here so I could've saved myself all of this headache and all the wasted time. Please do not buy from them. And to top all of this, I called my local Children's Place and the manager said she would give me a price adjustment and I went in and took a good 45 minutes picking everything out and figuring out sizes and such, and at the end of it all she totaled double what it was in my cart and said that's the best she could do, so not a price adjustment at all either! I'm never buying from them again. And if you're smart, you won't either!

Do not shop here!!! They will not return ANYTHING without a receipt, not even for merchandise credit. Unheard of! If shopping for girls I recommend Justice. Yes, they are a little more expensive, but the clothes are more hip for tweens and they accept returns without a receipt that us crazy busy Mom's might run into. I have spent so much money at Children's Place throughout the years. No more. They lost a customer for good and with that policy could probably care less. There are ways for retailers to control people that abuse returns without receipts by their membership numbers or drivers license numbers. Their person was also so rude at the register at Fair Oaks Mall. NEVER going back! Save yourself the hassle as well!

I have shopped with this company consecutively for 5 years and these 2 years has been the worst with getting proper customer service and courtesy. My last incident is the end of me shopping with them and I wouldn't refer anyone to buy anything from them. I missed a coupon by $5 and was willing to spend the $5 to get the coupon but because the order shipped, I was unable to spend the $5 in order to obtain the promotion. I basically understood that they would rather me return the $100 in merchandise rather than allow me to spend the $5. Ok, your loss because you have lost a loyal Diamond member and I will be returning the order once I receive it.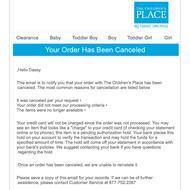 I placed an order 3 weeks before we going overseas. When I saw that the stuff are not arriving I checked my email (I'm not on my email every day) and I saw that they cancelled the order god know how, they didn't even say a reason. I wanted to place the order again because I needed the stuff and I didn't have enough time to find other staff so I called the customer service to ask them for express shipping for free. Fair, no? It's not my fault. After waiting 20 minutes on the line the officer told me again and again that it's impossible and they have nothing to do. I asked for manager, the manager was much worse. He said that it will take 48 hours to find out why it cancelled before they do anything... THIS IS RIDICULOUS. When I got angry and I asked him to find a real solution he simply HUNG UP!!! This is CRAP SERVICE. You know that Carters are gonna get all my deals from today.

Somehow I ended up with two accounts. It took four calls to customer to fix this. All they had to do was combine the accounts into one. They finally did it but did not transfer my points and put me back to 0 points. I've called two more times and still no points. This is the worst customer service ever. First of all if you're gonna have your stores in the United States you need to have some English speaking reps. I can't understand them and they don't understand me. I had a lot of points. If I don't get my points I will never order from this company again and I have 1000 friends on FB that I will also tell every one of my friends. I'm usually a very patient but now they are gone and I'm done being nice.

Return policy - On 1/27/17, I went to the Cutler Bay location to return a dress I purchased in October 2016. The cost of the was $19.97. I was told by the sales person that my receipt was expired. Unbeknown to me because I never looked at the receipt after I made the purchase nor did I ever have to return any item. I was told by the salesperson that I was allowed to exchange the item for a bigger size which was perfect! Unfortunately, the size I needed was not available. I asked if I could have a different item that was around the same price. I was told the store was unable to let me get a different item. I'm very upset because I spend hundreds of dollars with this store on a yearly basis and just this one time I was not allow to get a different item! Where the exceptional customer service and customer satisfaction??? I will never shop at this store again!

I wish I read the reviews before, I would have saved a headache. We bought three pairs of shoes for Christmas and they were small. So we went to the store in Wheaton mall in Silver Spring, Maryland to exchange them with the receipt. We were greeted by a rude cashier and another rude person who was supposedly a supervisor. The cashier was very angry, she was very rude and she told us that we won't be able to exchange them. When we asked her about the reason, she told us she can't tell us the reason. We tried to contact the customer service department, and never called us back.

I returned my daughter's clothes on 1.2.2017 and it's 1.17.2017 and I still haven't received my money back. I was never informed the day I made my refund transaction that there would be 7-10 business days before I received my credit card transaction refund back. I had to contact their 1.877.827.7895 in order to find out about their refund policy. It is very unprofessional to take my money immediately but then I have to wait 7-10 business days to get my money back. Every time I call their customer service number, they still are waiting to find out the reason that it's taking so long to receive my refund.

I placed an order 2 weeks ago for Christmas pajamas for my son so he can wear them on Christmas eve. Today, 2 weeks after I placed the order, they cancelled it. Said it was out of stock. Unacceptable! Now my son has no Christmas pj's because I am working & cannot go out & shop which is why I ordered them 2 weeks ago. Disgraceful. They offered me a $5 coupon which was the amount of the rewards I used for the purchase so they offered me nothing.

I am appalled at the terrible customer service provided by The Children's Place. After my situation I decided to Google, "The Children's Place reviews" only to find a smothering amount of horrific reviews so decided I must add mine... I ordered some baby clothing items for my brother's newborn in Alaska. When I went to check out I noticed the outrageous shipping amount of $15 but against my better judgment, removed all but 2 items from my cart to make it affordable enough and checked out.
I received my confirmation email stating it was a 2nd day air delivery. Why that was my only option aside from next day air for $25 is beyond me when many other stores offer standard or free shipping to AK. Well, I had a second email in regards to my order. It stated that only 1 item had shipped because the 2nd item was not in stock and that they do not fill back orders! They did not charge me for the unshipped item but they never contacted me to let me know prior to see what I would like to do, or that it happened in general. So, I paid $15 for 1 item to be shipped.
I called that day to speak to customer service and waited over 20 minutes on hold before I had to end the call because I am a mother of 2 small children. The second day, today, decided to call again to get this sorted out and waited 45 minutes with no answer. I had to once again end the call to tend to my 5 month old. I am completely displeased with The Children's Place and will never shop there again and make sure all my friends, family and social media followers are aware of this.

I am very dissatisfied with the customer service at Children's Place located inside Southland Mall Miami FL. After waiting in line for an HOUR I was told by the "manager" that I was not able to exchange a gift I received without a gift receipt. The tags were still intact on the pajama. I understand there are certain policies which btw is not right and extremely UNFAIR on Children's Place behalf, but there is something called common courtesy. The manager could have done an exchange as a courtesy for standing online for an hour with my 4-yr old son. On top of that this "manager" named JULIE took her time, made me wait longer to give me her bosses info which btw was the wrong number. Extremely inconsiderate employee you have representing this store. This faithful customer will no longer be returning.

I purchased a couple of outfits for my daughter for Christmas at The Children's Place in Kingsway Garden Mall, Edmonton. I have purchased quite a bit of clothing there for my daughter over the years when they have sales otherwise I can't afford it. When I got home I realized that the saleslady had left a security tag on one of the hoodies, (no alarms went off as I left the store). I called them the next day to let them know and see if there was something they could do about this. They told me the only thing they could do was if I went back into the store and they would remove the tag for me. However I live 180 km away from Edmonton and I am not going into the city again anytime soon especially not before Christmas so I asked if I could have a new hoodie sent to me and a return shipping label and I would send this one back to them.
The lady at the store said that they would not be able to do that but that customer service might and gave me the phone number. I then proceeded to call customer service. The person I spoke with said that there was nothing they could do but have me drive all the way back to Edmonton (almost 2 hour drive one way) to the store I purchased it from to have them remove the tag. I explained that I did not live in the city and how far away it was and I was not going to be able to make another trip in. I then asked them if I could have a new one sent and I would send this one back. They put me on hold and apparently asked someone else then came back on the phone and told me there was nothing else they could do, so I then asked if they would be paying for my fuel for my vehicle and km as it would be wear and tear on my vehicle as well as 4 hours out of my day.
I was then told again that me returning to the store was all they could do, so I then asked if I could speak with the manager. When the next person came onto the phone I found out that they were only a supervisor not a manager so I first apologized to them if I was raising my voice and explained to them I realized that this was just their job but that I was getting very frustrated with the whole thing and needed this matter fixed. I then had to explain the whole thing to them again and asked if I could have the hoodie sent to me. They again put me on hold to apparently consult with someone else then came back on the line with a new solution. I pay to send the hoodie into them and they would send the new one out to me and then they would reimburse me for the shipping.
I then explained I not only did not have the money for the shipping but that by the time they received this one and then sent the new one out it would not be here in time for Christmas and that this was their fault this all happened in the first place and I should not have to go through all this just to get the hoodie. I was put on hold once again and then told if I could not do that then there was nothing more they could do. So again asked if I could please speak with the manager. I was put on hold again or so I thought to only realize that they had hung up on me! I was so angry I had been on the phone for over an hour and then to be hung up on. I had no time to call them back as I had to go to work. I am so disgusted with the service I receive that I am telling everyone I know and putting this on here as well as anywhere else I can so that other people can see what kind of service to expect when having an issue with this retailer.

I recently had a baby so of course people had bought us gifts for her. Unfortunately one of the presents bought we didn't get a gift receipt for it. The item bought wasn't something I had really liked and it was also short sleeve. It's too cold right now to put anything short on my baby, so rather than just letting it sit there I went to exchange it for something I can put on her. I chose what I wanted and after waiting forever on line got to the register to only be told I can't do the exchange because I don't have a receipt. I would have to exchange the dress for a different size.
I explained it was a gift, I didn't get a gift receipt from the person that bought it and why should I be forced by the store to put something on my child that I don't like. So now I'm stuck with a dress that my daughter will never wear. I've never experienced this in any other store, all I did was provide an ID and no problem. Children's place return policy really sucks and the quality of clothing isn't even what it used to be. Definitely will not be shopping in Children's Place!!!

Ordered online. Sizes were way off. Returned to store so I wouldn't have to pay shipping and handling fee. Guess what - store doesn't honor prices I paid, so I had to pay much more for same items in different size. Return policy is worse than any store I've ever been to. The customer service is horrible... online and in store. Never shop there again!

Awful outcome about cash refund after my debit card was used to make a purchase. I have the receipt and was offered a GC because I lost my debit card and the funds one can't be returned back to my account or cash given to me only a gc is offered. What's the use of emailing the receipt and keeping a customer tracking system to prove all transactions when all you the customer will receive is a hard time. Just go to Carter's. Better customer service and quality clothes.

I purchased 4 shirts & 4 pricey glacier fleece pants just 2 weeks ago in the Augusta, Maine store using my Place credit card. Made the mistake of removing the tags & tossed the receipt, only to discover the shirts were too small. Went back to the store w/the 4 shirts & requested an exchange for same shirts in one size larger (S vs XS - same size dept) - they refused an exchange or store credit - even tho they had a pile of the same shirts & I had purchased on their store card - they claimed they couldn't look up my purchase from exactly 2 weeks prior on their own store card... that's a crock as WalMart can look up my recent purchases on my regular Visa! I wasn't asking for my cash back or even store credit (although I would have accepted either) - I only asked for an exchange and they refused!!! I used to spend easily $1,000+ per year at The Children's Place for the past 3 yrs - but after that, card is cut up & I'll never shop there again.

I recently tried to make a debit purchase in store. For years, I have struggled with the large screened terminals in the Canadian stores; they are touch insensitive which means you have to enter your PIN number without protecting it; anyone behind you can see it as you enter it and (as has been known to happen) if there is ceiling camera, it can be easily read from up there. A good friend had her card number viewed that way and without having her card taken, money was removed from her account in Russia!
When I tried to cover up my PIN while entering it yesterday, the touch insensitive screen made it difficult to enter the correct number. I tried twice and then the terminal warned me that I had one time left and before allowing me to enter it again kicked me out of the terminal and left me without the use of my debit card over the weekend! The clerks were clueless and asked me to use another card (Losing my Visa card in the same way was a great option!). I left WITHOUT making a purchase!!! I did go to the children's GAP and made all my purchases there instead!
A word of advice CP, should there EVER be any issues with my account you will be the very first place I lead the inquiry team to check. There is NO REASON that individuals should feel unsafe when making store purchases. What is the reason for us to shop at your store if that is the CASE??? Move to the 21st Century and either use tap technology or rent a terminal that allows for safe transactions!!! This is a record that your store's terminals exposes customers to risky financial transactions!!!
Also, at the Eaton Centre location, the manager finds it appropriate to exchange looks and giggle about customers. I witnessed this on a few occasions aimed at more than one customer and even overheard what she had been commenting on; "weight and clothes; the way a customer looked". How shockingly offensive and inappropriate!

Horrible online customer service. I was waiting online 30 min and they just picked up and hung up on me!!! I must spent over 300$ per month with Children's Place. My account online is not working so I was trying to get some help. Waste of time!
The Children's Place Company Profile
Company Name:

The Children's Place

Website:

http://www.childrensplace.com/shop/us/home