Consumer Reviews and Complaints

There was a time when these tires were made well. Now they are dangerous. My wife and I were driving out to enjoy our Labor Day holiday. The front passenger blew out at 65 mph and thank GOD, I was able to maintain control. These tires had plenty of good tread. I am contemplating legal assistance because of the body damage it caused. The Discount Tire store I bought them at were helpful but this is potentially deadly issue. Do not buy these tires! They are not worth the risk.

I have been a loyal B.F. Goodrich Tire owner. I own a 2004 F250 crew cab 4x4. I have had 5 Lt 265 75 16 10 ply tires go bad on me. I had one peel off and bend my right rear quarter panel damaging my truck pretty bad. The other 4 tires at different times created a bubble where the thread was peeling off the tire. I had purchased these tires at Tire Kingdom. I do not blame them for the failure of these tires. I had Tire Kingdom prorate tires and I always end up taking a beating on the tires not to mention remount balance valve expense. This has happened 3 times. I have documented receipts for this.
This time I called the B.F. Goodrich customer complaint number when I had two more tires go bad. They told me to go to Tire Kingdom, that they wanted to document and get these tires. They may have to recall them. Well guess what, basically when Tire Kingdom called them it just boiled down to another prorated. I was very disappointed I left. Felt I had to do this at least. I will never buy another B.F. Goodrich tire again. Five bad ones is enough for me.

There is a clear improvement compared with KO2... but still, not everybody drives competitions in deserts. Your design while good in winter and off road... it is a total fail in any emergency braking on wet if you also trigger the ABS. Have you ever considered that your design is not optimal for wet? Where did you get your B rating??? Did you installed them on a tank or on a car with no ABS? Just try them on 1.5 tons car and you will understand what I am saying. Not to mention that your C design pattern does not clear well mud. What's the point in having a great tire if you have such major fails on it? Change the design you lazy Baja winners... not all people drive with speed in deserts! Go for a more AT3 design on the inner part and keep the walls and I will buy your KO3!

I got this BFG Long trail TA Tour tires 07/14. Supposed to last 60000 miles, the truck has now 33000 miles and I need to change already the tires??? I did rotations and all the checkups periodically, for me this is the worst tires ever because of the durability.

I have tried Goodyear, Michelin, Cooper, and Bridgestone. The best results have been with Goodrich. The others were not even close. Goodrich tires last longer and perform better than any other tire I have owned. I have driven in mud, snow, rain, and ice and have had no problems. I previously thought Michelin was the best, mainly because that's what my Father always liked. I had some good results and some bad results with them so I started trying other brands. I finally tried Goodrich in 2003 and have been using them ever since. Great tires.
How do I know I can trust these reviews about B.F. Goodrich Tires?
883,201 reviews on ConsumerAffairs are verified.
We require contact information to ensure our reviewers are real.
We use intelligent software that helps us maintain the integrity of reviews.
Our moderators read all reviews to verify quality and helpfulness.
For more information about reviews on ConsumerAffairs.com please visit our FAQ.

Had Bridgestone Serenity that didn't get the mileage we're supposed to - SO replaced w/ BF Goodrich on warranty switch out. Was concerned as Serenity's were supposed to be so quiet. Cannot tell any difference between the more expensive Bridgestone vs: the new BF Goodrich at all.

I had a set of B.F. Goodrich Rugged Terrain T/A P265-70/17 on my truck. Loved them so I bought two more sets this time. First set almost two years and this set I have had for about four months. They go great in mud, snow rain and I feel great because they hold the road very well. A little road noise but not much. The tires perform great. I love these tires, my son also put these on his F250 and hauls a welder. He thinks the tires are just great also. Wish they would still keep selling the same tire.

The B F Goodrich Radial T/A has good handling and wear. It's very durable, very good ride, no vibration, no defects, no pulling to one side, and no internal separation. Good tread design for all seasons, IMO. I had a set of these before and they lasted at least 50,000 miles with regular rotations. I replaced them before they got really worn and dry-rotted. When my current tires need replacing, I hope these are still around. I have been very pleased with these B F Goodrich Radial T/A's on my truck. The white letters really set them off and look great. Plus they're easy to clean, even after several months worth of road dirt and brake dust.

The tires are very poor! Very little tread left, two have blown out and were irreparable, one had broken belt. In less than two years and only 22k miles, I am having to look at buying four brand new tires because these Goodrich tires have worn terribly and were NOT abused or subject to extreme or harsh road conditions. I check pressure weekly and try to maintain my entire vehicle properly. These tires have been a huge disappointment and have been extremely undependable.

LT275/65R20 - This replacement tire brand was recommended by Discount Tire after the original Goodyear Wrangler tires were not available. The Road Hazard Warranty was not honored after a blowout and they tried to sell me a set of the exact same tire with the same road hazard warranty. I've had the tires for 47,000 in mileage, in which the majority of miles were highway miles. The tires were noisy and bounced anytime there was a bump on the road or the highway was not smooth. Replaced tire(s) after R/R tire blowout causing $5,600 damage to my vehicle. More than plenty of tread was left on the tire. Remaining tires however appeared brittle with signs of cracking. Same tire in sizes 16 & 18 had been previously recalled by NHTSA. Had I known this before my blowout, I would have replaced them despite not being the same size tire being recalled. I recommend anyone driving on these tires should consider replacing them immediately.

We have a Dually F350 king ranch, crew cab, long bed. The left inside tires made a tump, my husband thought the front driver's tire might had blown out, we were going 50mph of that. We didn't hit anyone but it sure did cause over 4,000 in damages to the truck! Crazy thing the tire remained inflated. Is there a class action suit going on. These tires are defective! Dangerous! Can you please help, thank you.

I purchase a set of tires (White letter TA Radial's 255/60-15) from Sam's Club on Oct 13, 2015 to go on a 1978 corvette pace car which is a collector's antique. After a few months the white letters on the tires began turning dark. Got in touch with Sam's they referred me back to BF Goodrich. They ask me to get in touch with Goldsboro Tire Company, they looked at them and called BF Goodrich. BF Goodrich on Oct 5, 2016 they replace the tires with a new set of the same size. Now the tires have been on there since Oct until now this set of tires have also started doing the same thing.
Goldsboro Tire went back today Dec 30, 2016. They contacted BF Goodrich about the same issue and I was told that they were not going to do anything unless I pay 50 percent on another set. I am not going to pay 50 percent of the cost. I would like to get my money back or a different set. I am not getting what I paid for a white letter tire. Your help would be greatly appreciated. The price of the tires were $685.36 from Sam's Club plus I paid $66.19 to get them taking off and replaced the second set.

With only 13K miles on it, my BF Goodrich TA Advantage developed a bulge. They blamed it on my driving but I don't remember hitting a pothole or scraping the tire. Even if I did, it would have been minor since I don't recall, and my tire should not have developed a bulge like that. BF Goodrich refused to reimburse me for the tire and it still has a lot of tread on it since I hardly drive in those 4 years of owning that tire.

I have had 3 catastrophic blowouts in the last 500 miles on my BF Goodrich Mud Terrain T/A KM2 tires. These tires have only 17,000 miles on them and have always been rotated and pressure-checked by their authorized dealership. One blowout caused an estimated $2600.00 in damage to the front fender and surrounding area. Michelin denies any responsibility and says that I hit something. I am filing a consumer claim with the State of Washington Attorney General and plan legal action even if it cost more than the repair. Does anyone know of any active or pending class action suits as I believe that I have a very strong case?

I don't drive my truck a lot because of cost, that's why I buy good equipment. My truck is a GMC HD 2500 diesel 02. I bought my tires in 2013 in 2015 I had my first separation blow out coming down a windy mountain road north of Phoenix, Az. Severe separation left the tread on the highway and blew! The next tire I lost was right in the city of Parker Az. Lost the tread but was able to drive in a short distances to a tire store On the still inflated casing. These 2 tires had less than 13000 mi. on them.
This 3rd tire separated in town, I was able to drive to the store that sold them to me for warranty! I think even with all the bad publicity I would feel safer with Firestone. My tires are 265+75+16 E. Someone Or somebody should do something! While I was at another of the chain stores I ran into 2 other men with similar story and a friend of mine has also lost 2 BFG's to separation. Now these are not small car tires and cause a lot of damage to our vehicles to hear some corporate Richard say it because of low air pressure. B/S. It's too easy to go to one of these chain stores and have them air your tires.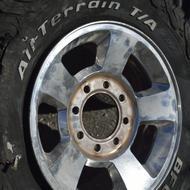 On February 9, 2016 I purchased the set of four BFG All-Terrain TA Ko2 tires in size: LT 265/70R17 LRE RWL. These are the so-called "Baja Champions." On Monday, October 10, 2016, while driving on Highway 58, a divided 4 lane highway, my 2005 Dodge 2500 Diesel 4wD, suffered an unexpected and catastrophic tire failure. This event occurred across from Edwards Air Force Base at approximately 11:00 AM. The temperature had not yet reached 80 degrees and I was traveling on cruise control at exactly 70 mph. Later, after arriving at home and having had some time to settle down and think, I calculated the odometer as having been at 98,578 when the incident occurred. Since my odometer reading at time of purchase was 88,245, the tires had 10,333 miles on them when the incident occurred.
Until the incident the tires performed beautifully on both pavement and gravel roads which is the extent of their use as I usually use this truck to pull my 20 foot Lance trailer. I do not use my truck for off road use. Because this sidewall blowout came as a complete surprise on a smooth road I believe there may be some internal defect built in that you should be made aware of. Had this blowout occurred 30 minutes later when I was traveling down Tehachapi pass toward Bakersfield, and been on a front tire, then I and my passenger would most certainly have been killed.

I had a similar experience to others here. My tires were about 3.5 years old, with about 30k miles. They had been rotated and had the air pressure checked on regular basis, including when I started on this trip. While towing a 9500# trailer on the NJ Turnpike, I heard a sound like an explosion at the rear of my vehicle, accompanied by an extreme vibration. Luckily I was able to get over on the shoulder, although it was not very wide. I have experienced an occasional flat tire and side wall blow out in my life, but nothing like what I saw, which was a loss of all the tread, and extensive sheet metal damage to the rear quarter panel. The separating tread had acted like a "mace" while rotating before it came totally off.
Changing the driver side rear with 18 wheelers whizzing by was not fun. The good news is that my local family owned tire company took care of sending all the tires off (Michelin/BFG wanted them all back). I replaced them all with Michelins as I needed the truck back. I have not yet paid for the new tires as of yet, waiting to hear from the Manufacturer. It seems apparent to me from reading here that the BFG's were defective and that's why they want them out of circulation. Lucky there was not a fatality. My expectation is that since Michelin is the parent company now of BFG they will provide the new Michelin branded tires gratis to me. State Farm stepped up and paid for the truck repair, which was substantial from the body shop. BFG was very quick to throw that cost onto the insurer when they found out I had coverage.

On September 25, 2016 I was driving my Ford F350 with a set of BFG KOs all terrain tires on it that have only about 11,000 miles on them. Felt a vibration on the truck and before I could pull over, the tire tread separated from the tire causing major damage to the right rear wheel well, bed area, tail light and the air bags under the bed. Like other complaints, the BFG company wants me to send my tire in at my expense if I file a complaint for damages or they will replace all the tires, but I have to pay for mounting and balancing. I will already be out my 500 dollar deductible for the truck repair. I agree, do not buy from this company, they will not honor their product.

1st set of BFG KO2 on a new Ram 2500 Diesel and 2 were out of round. Those 2 were replaced. The new ones wouldn't balance and the original other 2 were balanced 3 times with no luck. The whole set were replaced. The new set would not balance and vibrated. I had to pay again to have them balanced. They still vibrated. I fought with BFG customer service 16 times. Finally they replaced with a different size hoping this would correct the problem. Nope... had them balanced 2 times already and they are worse than the last 2 sets. Now NTB bent one of my wheels and my lug nuts are chewed up from taking these on and off a total of 11 times. Not to mention when they completely took the tires off the rims and rotated them around. The sizes were 325 and 35 on a 20 inch wheel.
I called the local 4 wheel parts and they won't even sell you these tires. They warrantied 28 sets and don't want the hassle of them so they stopped selling them. He said the bad sizes were 285, 275, 315, 35, 265, 325. I've been to the tire store 19 times for inspections and rotations and balancing and still have a very very bad vibration and can't drive the truck. Oh and btw, I have a combined 2500 miles on all sets so they're all new tires. So beware... unless you want to throw away 2000.00 buy something else...

I have a 36x13.5 50R18 that had a blowout, third one in the past three years (vehicle damage all three times). Long story short, we purchased the vehicle used and we honestly thought the first two blowouts were due to the tires being old. The most recent blowout is a tire that we purchased (we purchased two for $500 each!) I took the tire to an authorized dealer at the request of the claims department (the dealer confirmed it is defective). I later received a letter requesting that I send the tire via UPS or FEDEX to South Carolina, at my own expense initially. I live in Arizona. This is an outrageous request, the dealer confirmed it is defective, BF Goodrich should make themselves fully responsible for the shipping.
I spoke to the person "handling" my claim and he confirmed that this was the process and that they would immediately reimburse me as soon as the tire was received. It is completely unfair and unprofessional to ask this of a customer. I have already spent over $1500 in the past three years due to the blowouts, I do not feel I should have to spend anymore. You are a 700 million dollar a year company in North America and you cannot send your customer a return label for this?

After reading all the reviews, I can only say, add one more similar experience. We bought 4 BF Goodrich Advantage T/A 215/60R17 at Pep Boys in February 2013. By May 2015, one of them was coming totally apart. They replaced it for free, as faulty product. By Sept 2016, the tires are severely and unsafely worn out at only 33,000 miles of life and only 2 1/2 years. Not even close to the 75,000 miles they are warrantied for. We were driving back home with a terrible shaking, our ABS would not even turn off all the way. The tires definitely will need to be replaced soon. We will be speaking to the Pep Boys store and see what they say.

Well exactly 2 years and 1 month ago I purchased a set of 4 brand new B.F. Goodrich All-Terrain T/A 275 70R18 tires for my 2006 Ford F-250. Let me begin with I am the type of person who thinks safety first and am constantly on top of my truck and tires since it is the family travel vehicle and I tow a 9 thousand pound travel trailer with it. I check my tire pressure and the tires themselves regularly for any possible problems that they may have. I even cover the tires from the Sun since I only drive the truck a couple times a week. Well this past weekend I was returning from a camping trip and was 600 miles from home when I started feeling a slight vibration while driving. I pulled over immediately at the next rest stop and inspected my truck and trailer tires and air pressure. Not seeing anything visible and being that it was 9 pm and no tire stores are open at that hour, I continued on going driving a little slower than normal.
Then with in about 10 miles the vibration got worse and before I could get off at the next off-ramp I had a complete blow out of the passenger side rear truck tire. Which almost caused me to lose control of the truck, it also sent the tread that blew off flying in front of my truck onto the left lane next to me. This caused a vehicle that was there to swerve crazily to avoid the tread almost colliding them with the vehicle that was next to it. After pulling over and calming my very scared family down, I went out and saw that my rear quarter panel was ripped, cut open and mangled up like a tin can. Also my exhaust pipe was bent up and into the frame where it reduced the out flow of exhaust considerably. The tire itself was shredded and destroyed. Luckily I carry tools with me and was able to change the tire and repair the exhaust pipe enough so that I can continue on home.
So I continue on home thinking that my bad experience was over with the vehicle rolling nice and smooth again, but about two hundred miles down the road I start feeling the same vibration coming from my driver's side rear. It's about 2 in the morning now having no spare tire now I immediately pull over and find a campground to spend the night so that I can find new tires in the morning. In the morning I go to a nearby Tire Kingdom which was open and begin my hunt. Well they and their two other stores in town only had one off brand tire in my size. Since it was Sunday some of the local stores were closed. To my surprise they called a couple of competitors to try and help me out but no one had it either (kudos to them).
Upon them inspecting my tires they found a bubble under the tread of the driver's side rear tire. So I had them replace that tire with the one tire they had and was told not to use the tire with the bubble in it unless I wanted to experience another blowout. I then limped all the way home praying that neither of my front tires blew up. So after I got home I called B.F. Goodrich and inquired about the tires. They immediately started a claim process to my surprise. But once they found out that I didn't have the blown out tire in my possession anymore they said that they couldn't help me out since they couldn't inspect the blowout. I asked if it was really reasonable for me to carry a unrimmed blown out tire with metal wires sticking out of it home. They didn't care.
Then I told them that I had pictures of the blowout and the one with the bubble in it. They then offered me a discount on a new tire for the one that had a bubble in it, but couldn't do anything about the tire I was forced to purchase because it was a competitor's tire. As to my 2 front tires they told me to go get them inspected, which in my mind is useless unless tire places now have an x-ray machine on hand to inspect tires because just like the other 2 defective tires they look perfect and are rolling perfect. Anyway I hope this helps some of you out and more importantly saves a life or two.

I purchased a set of BFG tires from American tire depot. After 2-1/2 years and just over 20k miles on the tires I noticed severe cracking around the tread and sidewall of all four tires. After doing some research on the tires I discovered there were many complaints about BFG tires and also a recall on the load E tires. I called BFG to explain my situation and the recall that I had found on their website. I opened a claim and then returned back to where I purchased the tires and also Americas tire company to have the tires inspected. Both companies said I should not drive on the tires because of the danger of the excessive cracking in the rubber. American Tire Depot apparently ordered new tires and called to tell me a week later that the tires were in stock so I scheduled to have the tires swapped out.
I dropped the truck off the next morning and after the tires were mounted and balanced I found out BFG would only cover 25% based on the tread wear and not the full cost of the tires! After several calls to BFG and speaking with Todd from customer service who was a complete joke, said he would credit me 45% of the tire except he could not tell me the price of the tire because american tire depot had their cost which was now higher than when I first purchased the tires at $770.00 mounted and balanced. Now two and a half years later it is costing me another $680.00 for tires. The sad part is the Company admitted that they had a bad batch of tires because of poor quality rubber and yet according to BFG does this in no way shape or form affect the tread on the tire "really". How stupid can they think a person can be...
So my advice to anybody looking for tires out there, stay as far away from The Michelin company as you can because they own the BFG and the Uniroyal names and definitely do not stand behind their own product or warranty!!! Do your research on the recalls issued for all of the Michelin, BFG and Uniroyal tires. "The safety of your family depends on your diligence". Sincerely, One very unhappy customer!!! Also don't ever try to get names or transcripts from the recorded conversations between you and the Michelin Corp that they claim "is for quality control purposes". They will not give you this information.

I drive a ford excursion 4x4 with the rugged terrain 265/75 R16. While driving my kids to school the other morning I felt a vibration start, so I drove straight my local tire dealer where I bought the tires (less than 3miles). My left rear tire was beginning to develop a bubble (separation) so I had them install the spare. Disaster averted. Not so fast. The bad tire was placed in my truck in the spare tire holder. The next morning I opened the door to get in my truck and I see pieces of plastic and insulation everywhere. The tire exploded overnight causing extensive damage to the interior of my truck. It even caused a little body damage on the outside. All the interior panels directly in front of the tire were a complete loss but thank God my kids were not in the truck at the time of explosion. The tires do have appr 27,000 miles, but I never dreamed they could be a bomb when not even installed.

On May 5,2016 while traveling eastbound on I-10 approx. 2 miles from Winnie, Tx. I blew out one of the B.F. Goodrich tires on right rear of my motorhome. (2004 Coachman Santara on a E-450 Ford Econoline frame). Tread belt came completely off and tire blew almost in half. After contacting my ins. company road service, they sent a repairman out to install spare. I continued on toward my destination. Approx, 2 miles west of Orange, Tx. (45 miles down the road) the other B.F. Goodrich tire on right rear blew out. It also blew off the tread belt completely. Was able to drive 15-20 mph to reach Orange on the spare which was still inflated. In fear for my safety and that of my family I found a tire store that had correct size tires and had all of the B.F. Goodrich tires taken off and replaced.
If one of the front tires had blown out I would most likely have wrecked the vehicle or turned it over. Contacted B.F. Goodrich after I got back home and was told they needed to see tires to verify I had not run over debris or ran tire underinflated. I always check tires prior to going on freeway. Since I was approx. 100 or so miles from home and still not reached my destination, I had no way to keep tires and bring them back home with me. How would I live in motorhome for balance of vacation days with 6 tires stacked up inside? B.F. Goodrich rep was very rude when I pointed this out. Her remark, "what do you want us to do, just write you a check?"
Tire dealer sent tires in for recycle but told me the manufr. date on the two tires that had blown out was 31-11 and 41-11. Which falls within the recalled tires date. At this time I am waiting for estimate from RV service center to assess damage these tires did to rear and bottom of my motorhome. Storage compartment, exhaust pipe, floor above wheel well, air lines to air-ride boot, wheel well flare and damage to side of RV where exhaust hit. Save yourself a lot of time and trouble and avoid B.F. Goodrich tires.

BFG Tires fr. Sam's Club - began to vibrate, shake steering column/unoccupied passenger seat; bal. inside & out, rot./align. at every oil change - problem got worse. After reading the issues, removed the tires from my truck. BAD PRODUCT!!

I went into SAM's club and told them I needed 4 brand new tires. I told them I wanted a all terrain tire. The guy talked me out of the tires I wanted and insisted I get the other tires which I found out later they were having problems with the tires they insisted that I buy. I had a bolt - yes a frickin bolt in my tire with a flat end on it. These tires are very soft and that is why people are picking up ** in their tires that normally would not even stick in a tire. I'm not happy with these tires which cost me 800.00 and they refused to replace it. They drilled a huge hole in my tire and patched it... Really I mean that's a blowout ready to happen. These tires have horrible reviews. I will not refer anybody to SAM's to buy these tires and what makes me mad is they knew of the problems when they sold them to me. I guess the commission they would make off the tires was more important. Not a happy camper!!!

In mid August, I was driving with my roommate and her sister to an event in Massachusetts. We had been on the highway nearly the whole time, about 1 1/2 hours, with a few spots of construction about a half hour or more past. While on a clear stretch of highway, almost completely smooth and clear, my car started to shake. I turned to tell my roommate my car, a 2012 Ford Focus hatchback, has probably overheated and I had to pull over. Through the back passenger window, I see nothing but smoke. I tapped the brakes and tried to coast to a halt from about 65-70 mph.
We ended up sideways in the grass median, and finally came to a halt about four inches from the opposite guardrail and about a foot away from a four foot ditch, with no real damage to the car, but the three of us were obviously terrified. I got out to look while calling the local police (since I had no means to get it out of the median or put on the donut). The entire tread had ripped off the inner sidewall. About an inch of rubber was still on the actual wheel. After we got to the mechanic (just BJs, since I had their warranty on my tires), we saw the tire again.
A four by two chunk of tread had ripped off. If we had been any less lucky, we could have crashed into that ditch and damaged the car and ourselves, or smashed into the bridge pylon just beyond and possibly gotten killed. My dad - who I called as he had the paperwork for my tires - attempted to get in touch with the company. Nothing. They ignored the fact that three people could have died because of a defective tire. I check the tires before I go anywhere, having had a slow leak in the set that came with the car, and they were in perfect condition before we left. I will never buy BF Goodrich again, or Michelin, if they can be comfortable knowing they own a brand that is notorious for catastrophic failure but do nothing about it.

I bought a set of these tires 18 months ago. About two months ago, I noticed one of the tires' tread was separating. I returned the tire to Americas Tire Company under warranty. They advised this tire is not longer being manufactured but they located one in Texas, I live in CA. So I waited about 2 weeks to receive the new one.
On Friday, 11/27/15 my rear tire tread separated from the tire, and the tire blew up while towing a 40' trailer causing over $13k in damage to my truck. I was barely able to control the truck and trailer, and come to a stop on the side of the freeway. A part of the truck was ripped off as a result of the tire separation, and was sent toward my passenger side front trailer tire causing it to have a rapid air loss. Needless to say, 2 of the 4 tires have already failed and in looking at the other two tires there are signs of cracks along the tread. I filed a claim with Michelin who owns BFGoodrich, and they so far are taking care of me except they want me to pay for new tires because I told them I no longer wanted the original BFGoodrich tires.

I bought a pair of BFG KO2 tires for my 2008 Cummins on Nov. 9, 2015. Two weeks later, driving 70 MPH on I-80 near Truckee, CA catastrophic tire failure. Nearly caused a terrible accident and damaged my immaculate truck. I read reviews before I had bought the tire, and was still convinced by the boys at Discount Tire that this was the best tire for my truck. "150 complaints?" they said, "we sell millions of these tires and have never heard of the issue. 150 complaints is what a 1/2 percent of the people that run this tire." I should have listened to the reviews, tires had less than 1000 miles on 'em. I don't know what will happen with Discount Tire and BFG on Monday the 23rd, but I will keep you posted.
B.F. Goodrich Tires Company Profile
Company Name:

B.F. Goodrich Tires

Address:

P.O. Box 19001

City:

Greenville

State/Province:

SC

Postal Code:

29602

Country:

United States

Website:

http://www.bfgoodrichtires.com/