Consumer Complaints and Reviews

I sent in the application for rebates on my 4 new Cooper tires and the answer was "Invoice received" and a few days later I got an e-mail saying it was on hold because no invoice received! I should have known it was a scam from the beginning! Just letting everyone know. Don't waste your time and let Canadian Tire know also that they shouldn't be advertising the offer!!!

In October of 2015, I brought my 2007 Jeep Liberty into the most respected tire company where I live. I had explained my concern and disappointment in the Goodyear All Terrain and the tire dealer highly recommended the Cooper Discover AT3 tires as I live in a mountainous region. I agreed to take his recommendation and he installed the new tires on my Jeep and I demanded and paid for an alignment at the time of the tire purchase.
From the time of the first oil change, I was told about the abnormal wear on the tires and have had them rotated every 5k miles. These crap tires were completely worn out at 19k miles, and when I mean bald, I mean smoother than a baby's butt. I looked up Cooper Tire warranty online and they are supposed to be good up to 55k miles. Not. I took the Jeep back to where I bought the tires and was told that the asphalt roadways ate up the tires. I was told that I literally have to have the name, date of birth, and fingerprint of the first born of the person who rotated the tires, time, date, air temperature, and the color and consistency of my most recent bowel movement to have Cooper honor the warranty on their tires.
Needless to say, I had to fork out another $700 bonus for 4 new tires. These are absolutely the worst tires I have ever purchased and I will never buy another set of these junk tires ever again. Screw Cooper Tires and their BS warranty and poorly made tires. Amazing how nobody honors their warranties anymore, and the quality of everything has gone to the toilet, while the prices have gone up. BOHICA!

I had a Cooper Tire retailer (Canadian Tire) install 4 Discover A/TW tires size 265/70R17 on my 2013 Ram pickup in late October 2015. After 30,000 km (18,000 miles) the rear tires are worn to the wear bars and the fronts are over 50% worn. Alignment at install was correct and tires have been on paved roads for their life with no loads. The original Goodyear winter tread tires ran 70,000 km (42,000 miles) and were rotated twice with less wear than the current rears. Retailer says nothing they can do and customer service rep said he has a set of Coopers on his car that are worn out at 10,000 kms. I have been driving for 50 years and can honestly say I have not seen tire wear like this since the age of the bias ply tires of the 1970's. Looks like my first and last set of Cooper tires.

This tire cord I have been having problems with at this tire for the last year. The tires had about 35k miles. The 1st year they were great. Since then I have had multiple balance issues, and extreme pulling issues. The tires were rotated every 5k and I had the front end aligned thinking that was the issue. The tire dealer kept telling me Cooper would not do anything about the initial issues. Then I was going to work driving 65 on the highway when I felt a vibration and a complete failure of the sidewall on the left rear tire. The tire dealer said they had another customer that had the same failure in last couple of weeks. Regardless of whether Cooper does anything about these tires I will never buy Cooper again. Here is a picture of the tire. Do not buy Cooper tires.

I purchased four Cooper CS4 Touring tires for my Lexus RX 330. I purchased the tires because of the 80,000 mile wear out warranty. After about 35,000 miles, they are bald and are needing to be replaced. I rotate my tires regularly like you're supposed to do. I took my vehicle back to the store where I purchased the tires. They said they contacted Cooper Tires and was told that I probably didn't rotate them often enough or keep them at the correct tire pressure, and that they would not do anything for me. I will never buy Cooper tires again! They are worthless tires! I wish I would've read all these complaints before I purchased them. Now I'm out spending more money on new tires that should've lasted a lot longer.
How do I know I can trust these reviews about Cooper?
668,849 reviews on ConsumerAffairs are verified.
We require contact information to ensure our reviewers are real.
We use intelligent software that helps us maintain the integrity of reviews.
Our moderators read all reviews to verify quality and helpfulness.
For more information about reviews on ConsumerAffairs.com please visit our FAQ.

I purchased 2 Cooper tires for my work vehicle at about 51,000 miles. The tires were put on the rear of my Grand Caravan, and a tank and a half of gas later, one had such a huge bulge on the side wall, that it popped off the rim. I changed to the spare on the side of the road, then got it replaced, and had to pay for a new one. The shop did the labor for free, but I still ate the cost of the tire. Fast forward 2 days and the other "new" tire does the same thing. I am now awaiting a replacement for it, and losing out on work at the same time. If I could give negative stars, I would. The tread still has the little mold strings on it, that's how few miles I got out of these tires!!

Had to replace 4 Cooper Tires after 14,000 miles! Completely bald!! I am in utter disbelief. Tires should last 3x as long. Do NOT spend your money on Cooper Tires. It is an utter waste. I am fuming. I would give negative stars if I could.

This past June 2016 I was told during my annual inspection that my 2014 Nissan Rogue needed 2 new tires. The dealership had told me they could get me 4 Cooper Mastercraft HSX Tires for a discounted cost. These tires came with a warranty in case anything happened to them which sounded like a great deal. On August 17, 2016 my front passenger tire developed a huge bubble. At this time the tire had less than 720 miles on it. After having to have it towed to the dealership upon inspection the tire itself had no damage to it but the inner wheel was beyond warped. They kept insisting I had hit something which I knew was untrue and made me pay for a replacement wheel even though the dealership assured me it was be covered under the tire warranty. $346 later I got my car back.
Not even a month later on Tuesday Sept. 13, 2016, while driving my three small children home from school my back passenger tire blew out. I have been driving vehicles for 20 years. I have never had a blowout ever. For the second time in less than a month my vehicle needed to be towed to the dealership. Upon inspection of this tire they found some abnormal beading around the wheel to the point were they were unable to even blow the tire back up. Again the dealership was insisting that I had hit something. I was driving on on a back road that is known to often have deer on it. I never go above 20 miles an hour on this specific road. Again they had wanted to not honor the warranty and had wanted to charge me again for the tire.
Only after I threatened to walk away from the 10 months that is left on my lease did the dealership say they would now take on the responsibility/burden of getting the company to honor their warranty for the tire. I never write reviews but I feel that it's very important to let people know that they think they are getting a good tire for a good price. The truth is not only are these tires poorly made, the very company who makes them will not honor their own warranty. At this point I feel so uncomfortable driving my vehicle because I feel at any minute one of my tires just going to randomly burst!

I purchased 4 of their top line ties a couple of years ago, they bounced so bad and two different "Cooper Tire" dealers told me they were defective. After much time on the phone with their customer service, I did manage to get 4 new tires. They didn't bounce but as they wore they became loud - real loud. With just 30k miles on them we changed them due to the noise issues. Car seems like a new one now, rides better, very quiet again, We did not replace them with COOPER - I was a Cooper Tires advocate until this issue. I will never buy another COOPER Tire again. Would suggest you look at anything except them!!!

Had 4 Cooper CS5 Tires installed and driven on for about 40,000 miles, need replacing already. I'm not a hard driver and would have expected them to last more than a year and half of mostly rural and highway driving.

I am replacing a set of 225x60x16 CS4's with a set same size of CS5's. I drive an '09 Mazda "6" and racked up 82 K miles with virtually no problems. Half of the 82k was highway, the other half local. I'm hoping for the same results. Stay tuned.

If you buy cooper tires and get a rewards card, cash right away, there is a short expiration date and they will not make good on it. When you get money back, it should be yours and not for them to take back. Corp. America way of boosting the bottom line. Very disappointed in their greed.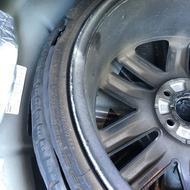 After having to get four new tires I decided to try Cooper passenger tires on my gli and that was two years ago. Since then I have replaced all 8 due to tire blowouts and have had zero issues with any other tires. I am slowly replacing each tire and this was another new tire that is less than 6 months old of driving with maybe 5000 max miles on it! Do yourself a favor and never buy these tires! As they say, "You get what you pay for!"

I purchased a 70,000 mile set of tires as I have done for the last 15 years from cooper dealers. My tag was to be renewed so I took my suv for inspection. My vehicle failed inspection because of tires. They had approximately 15,000 miles @ the time on this set. The dealer could have cared less. I contacted Cooper Tires and have been waiting on a response for more than a year. I will never purchase another set of tires from this company. I would suggest you not purchase any unless you like to throw away 587.00 dollars. WHAT A RIP OFF!!!

I also had more than 1 Cooper tire come apart on me. However the recent front driver's side tire that came apart completely wrecked my car and my children and I are lucky to be alive. This issue has yet to be resolved with the tire dealer so I will not mention their company name. First my tire began to wobble going faster than 50 miles an hour and right as I was going to have it checked it came apart 12 miles from my home. I have not been give a rental car to transport my children and as I planned the company who sold me 4 of these tires just in the last 3 months is trying now to find an excuse to not compensate me for the damages or offer any relief as of yet nor have they updated me on any decision made. These tires are dangerous and should be taken off the market!

We ordered Cooper Tires from Amazon on May 18, 2016. They arrived May 23rd, and we had them installed on May 24, 2016, Tuesday. On Thursday of the same week we had our 1st blown off - the rim rear tire. We had about 20 miles on them. Then on Saturday of the same week we had our second blown off - the rim on the other rear tire. We had about 40 miles on them. At the request of our local tire shop we brought the truck into their shop for them to check the front tires. Both front tires were ready to blow off also. The tire shop more than likely saved our lives.
FOUR TIRES, OFF THE RIM WITH LESS THAN 42 MILES ON THEM. We contacted Cooper Tires to report the problem to them. We weren't asking for anything from them other than to report a possible liability issue with their tires in hope that they would check them out and prevent possible deaths. We were treated very rudely by their rep Pam, who insisted that it wasn't the tires but the shops fault. Seriously... WE WILL NEVER AGAIN BUY COOPER TIRES. BUYER BEWARE. AND WE WILL MAKE SURE NONE OF OUR FRIENDS AND FAMILY DO EITHER.

This is the WORST tires company I have ever had to deal with. I DO NOT recommend purchasing these tires. I have had nothing but problems with them. Brand new tires and I've had to patch them 3 times, I drive on city streets and don't even use them for the "all terrain" purposes. I will never purchase anything nor recommend this horrible company any more.

Currently have 23,000 miles (2 years) on Cooper AT3 tires, mounted on Honda Ridgeline. Coopers replaced Michelin LTX (original equip.) w/ 35,000 miles, which were always excellent in rain but horrible in snow/slush after 22,000 miles. The first winter, 2014-2015, outstanding traction in all conditions, ice/snow/mud/mountain roads. This past winter 2015-2016, minor loss of cornering in slush/snow, slight loss in traction on snow covered dirt/rock hills. It may be problematic if a third winter is possible with this set of AT3's.

I purchased a set of 4 Cooper 285-70-17E for my 07 F250 in October 2013 from America's Tire for just over $1,000.00. They drove well, handled well, and were as far as I could tell great tires. Boy, was I mistaken. In December of 2015 with under 20,000 miles on them the truck started shaking while driving to work. I thought I threw a wheel weight, so I went to the nearest America's Tire to get it rebalanced. Instead, the tech showed me where the rear tire tread began to delaminate. I had to limp to another shop with one in stock, paid the fee, and warrantied the tire. In February 2016 with another 1,000 +/- miles on them the second tire from this set began to delaminate in the same manner, and I again warrantied that tire at my local shop. I asked America's Tire to warranty the others, but they saw no issues and said no.
In May 2016 with about 1,200 miles more on them the third tire from that set completely blew up in the middle of nowhere while towing the boat, causing $2,500.00 +/- damage to my truck and leaving my family on the side of the interstate in the desert for an hour while I unloaded the car seats from the truck, got the jack out, and put on the spare. Three useless Cooper tires all failed with less than 22,000 miles on them. Discount Tire in Lake Havasu City, AZ (same company as America's Tire in CA) took pity on me and yanked the Coopers off and sent me home with a set of four Nitto Terra Grapplers for $580.00. If nothing else, Discount/America's Tire company is at least customer friendly.
I have a claim in with Cooper's attorneys with all of my purchase and warranty invoices and my damage estimates from the repair shop and Allstate. I'll report back what (if anything) they'll do. All I can say is run, Run, RUN away from any tire with the Cooper name on them. I don't care if it's a buy a spare and get four tires free sale. You'll be sorry if you trust your vehicle (or life) to them.

Of the Cooper tires we purchased, three out of four of them separated. We are not at all happy with the quality of tire made by Cooper. We have never had tires separate before. We were told after the first issue that separation is not too uncommon and we had the tires rotated and obviously the defective tire replaced. A month later a second Cooper tire separated, which is when I began to think the manufacturer was at fault and had the remaining two Cooper tires (which the mechanic said had a fine amount of remaining tread and that he did not see any issues) placed on the back.
After the third tire separated two months after the first two, we replaced the final defective tire along with the final Cooper tire. I highly suggests avoiding this brand at all costs. We travel the country frequently with our three small children and always have frequent maintenance and assessment to ensure that our car is a safe vehicle for transporting our family, and we will NEVER buy Cooper tires again.

I talked to a lady named Pam about my tire falling apart and she refused to help me with anything and when I asked to be transferred to someone above her she was extremely rude to me and said she was the supervisor and no one was above her which I find hard to believe. I am still left with a tire that is falling apart after only two years of use and all I got was some customer service representative with an attitude. I will never buy tires from this company again and neither should anyone else. They are doing some shady business and putting out tires that don't last.

Bought a set of 4 Cooper Discoverer rtx for my 2009 GMC Sierra 2500 hd. There is no and I repeat NO sidewall strength in this tire. It should not be classed as an E range tire. Could not go over 55 mph with these tires pulling my camper that weighs 5500 lbs. They road walk badly and we had to get off the interstate and drive back road to and from the campground. VERY UNSAFE - Having them replaced now after 3 weeks. DO NOT BUY.

I have run Cooper CS4's for years and have been very happy with them so I bought a pair of these tires for the back of my truck 7 months ago. Traction in snow and on wet roads was excellent but at about 500 miles the right rear suddenly went down right after I left work. I was doing about 10 MPH in a construction zone but had to drive 3 blocks before I could pull over which damaged the sidewall. The Cooper distributor claimed I clearly caused the failure by driving on a low tire based on the sidewall damage. The retailer sold me a replacement at his cost and waived the amount and balance charges and disposal fee, Cooper and the distributor did nothing.
Today the left side tire from the original purchase began to separate at 65 MPH, by the time I got my truck under control, back in my lane and off the road the tire was in shreds and the fender well of my truck was beat to hell. Again, I was told I must have driven on it low because of damage to the sidewall, how they could determine that from what little was left is beyond me but I DID NOT drive on a low tire! This tire had less than 2,000 miles on it. The retailer offered me the same deal on a replacement but I told him I want to replace BOTH rear tires with another brand and that I will NEVER, NEVER, NEVER buy another Cooper tire as long as I live. If you value your life and the lives of others you won't either. Remember the Firestone tire scandal? The next one has Cooper written all over it.

I purchased 4 brand new 195/60 r 15 Cooper Tires for my daughter's Chevy Cobalt. In less than 2 months 3 blew off the rim and 1 developed a bulge in the sidewall. I contacted the Cooper Corporate customer service and told them about this problem and that there was a problem. The dealer I got the tires from had a technician come in and check his mounting equipment to make sure it wasn't the problem, and the Cooper rep said it's a mounting problem, not a product problem. I explained that the problem is with the product and she said that there is nothing wrong with the product but with the installation. The dealer upgraded me from the Cooper, and put a different brand on free of charge, but Cooper is giving him hell about the warranty and replacing the tires.

In February of 2016 I purchased four brand new Cooper Tires. Today May 3, 2016, I am waiting for a phone call from the man I purchased them from. I started driving down the highway and next thing my front end started to shake and the steering was hard. When I could finally pull over, my tire on the front passenger side had the wall of the tire totally pulled away. I had just had them rotated a week and a half ago and my tires were fine. The independent garage guy is telling me that Cooper Tires will probably not cover warranty because he thinks I ran my tire low on air because of the line around the tire. My tire did not just go flat because of lack of air. I think the garage guy knows how bad these tires are and will not back up his sales and neither will the manufacturer. I think it is time for Cooper Tires to be checked out and fined that they have to close shop.

I purchased 4 new Cooper Tires and had them aligned at time. I take my vehicle to have tires rotated every time I get an oil change. It cost me 719.00 for tires with 55,000 and extended warranty on tire. Well needless to say all 4 tires have gouges out of them on the inside of tire. Have been told by numerous professionals that it is the tires - the truck is very well maintained and I have done everything I should have maintaining the tires. So called Cooper, they will cover 59% on my next set of tires. That's the best they can do??? Really that's a far cry from the 800 I put on it year ago. They should be reported or better yet shut down. Their tires suck just like their employees. I will be using their 59% on another brand of tire. I will never use them again.

Bought 4 Cooper tires for my Lexus. After about two months, one was giving me trouble. Brought it back and it was out of round. They said I must have had too much air in it. Today, while checking balancing, was told two others have same problem and the fourth will probably as well. So 3 new tires. So far my Coopers have cost me over $700.


My son purchased 4 new Cooper tires for his car two months ago. Yesterday, one of the tires had a bulge and was losing air. He removed the tire and took back to NTB where he purchased the tires. He had to pay 68 dollars for a new tire. That is ridiculous. Is this how Cooper backs their tires? He was told because of tread wear. Seriously, how much tread wear can you have after two months of limited driving?

Got these tires in Dec. I only put 10,000 miles on them. I rotated them once at 5,000 miles. I got an alignment right after. I got the tires rebalanced because they felt shaky. Then today hydroplaned and noticed the two back tires were bald with the belt showing. I called the shop where I bought the tires and they say there isn't a warranty! They were 50,000 mile tires.
Cooper Tires Company Profile
Company Name:

Cooper

Address:

701 Lima Ave

City:

Findlay

State/Province:

OH

Postal Code:

45840

Country:

United States

Website:

http://coopertire.com/