Can hail damage solar panels?
Exploring the likelihood (and unlikelihood) of solar panel hail damage



Written by

Edited by
Find Solar Energy Companies near you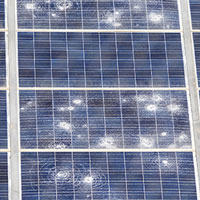 Hail can damage solar panels, but does that mean you should be worried about potential damage to your solar panels from hail? Not necessarily.
Keep reading to learn why, along with everything else you need to know about how hail affects solar panels.
---
Key insights
Although it can sometimes happen, hail usually doesn't damage solar panels unless it's over 2 inches in diameter.
Hail damage is most likely in Hail Alley, which includes Texas, the Midwest and the Great Plains.
The cost of fixing any damage that does occur may be covered by your homeowners insurance.
FAQ
What states receive the most hail?

Texas, Colorado, Nebraska, Wyoming, Kansas, Oklahoma, South Dakota and other states in Hail Alley receive the most hail in the U.S.
Should I avoid getting solar panels if I live in an area with a lot of hail?

You don't need to avoid getting solar panels if you live in an area with a lot of hail. Even in extreme conditions, the likelihood of solar panel damage from hail is very low, and there are actually places in Hail Alley that are great for generating solar power, such as sunny Denver or Oklahoma City.
Do solar panels get damaged by snow?

It's very unlikely for high-quality solar panels to be damaged by snow. Although the weight of heavy snowfall can stress a PV system's support structure, solar panels are built to withstand all types of precipitation.

Light snowfall can even help clean solar panels once it melts by washing away sediment and allowing more sunlight to reach the system for efficient power generation. However, this usually isn't a replacement for a real solar panel cleaning.
Did you find this article helpful?
|
You're signed up
We'll start sending you the news you need delivered straight to you. We value your privacy. Unsubscribe easily.