Consumer Reviews and Complaints

I live in a fairly rural area and am an avid online shopper. I have been appalled by the poor service and complete lack of customer service after TJ Maxx sent me the wrong item from an online purchase. I ordered two large woven baskets online and paid for the purchase and $10 of shipping with a gift card. They sent me the wrong item. I called the customer service line (waited 20 minutes to speak to someone) as I did not want to have to pay shipping to send the wrong item back. I do not live close to a TJ Maxx store or UPS store so I asked if they could send return label through USPS, but they do not offer this. I was also told during this first call that I "could call back and receive free shipping" AFTER I mailed the wrong item back and they received it. Also, I would have to wait days for the gift card to arrive in the mail (the item I wanted was low in stock so all this waiting made me nervous).
I received the gift card and called in to customer service (25 min wait plus multiple holds during the call) to order the product that I originally ordered but did not want to have to pay shipping on it so they did not reimburse that on the gift card. The rep. tried to place the order and I had to read my original order number and gift card number repeatedly. She then told me the gift card processor must not be working. I'll have to try again another day. I explained this is time consuming and this is no fault of my own. I have a young child and 45 minutes of phone time is hard to come by more less not how I want to spend my time. She said she could not help me. I'd have to call back. Then I called back and this rep. also could not run the gift card and said he wouldn't be so presumptuous to assume the gift card was defective but he'd put a call in for a supervisor and it should be 24-48 hours.
No one ever called. I had to call and wait again, repeat all my numbers again, hold again. I was told the supervisor was in a meeting so I couldn't talk to him/her but that the gift card is defective. This time I was told a supervisor would call me by the end of the work day. Again, no call, no message, no follow-up email. Again, I called and was on a long wait, hold, repeated all my numbers, told my saga again, insisted to speak to a supervisor and was refused. Told by a rather rude rep it would be 24-48 hours for a supervisor to call me and that's policy. I explained I cannot be on call for 24-48 hours. I need the supervisor to leave call back information if I miss the call. Also, this rep. said if I needed a new gift card "I" would have to call Synchrony Bank who issues their cards to have a new one issued.
I said this is not acceptable. I have spent hours trying to correct TJ Maxx's error, including a 1 hour round-trip drive to UPS store and waiting in line to return the package. She did not care or offer any more help. She gave me the bank number. I called and it is for the TJ Maxx credit cards, not gift cards. I entered the gift card number anyway and was sent to a prompt that told me for gift cards to call the SAME customer service line. I called back pretty livid and a new rep told me that their supervisor had approved to send out a replacement gift card for both the price of the purchase. They were also going to reimburse my shipping in form of a gift card (the original form of payment which should have been done in the first place). I have waited days, just received the cards, and surprise the card with the supposed price of purchase on it doesn't work. It says this card has a zero dollar balance.
With additional attempts of reentering the number it says "oops we've got errors" which is the same problem the last gift card had. The card with the shipping cost on it ($9.60) does work. So after 5 weeks, 6 phone calls, hours of frustration, I am out $36 and have no item. It's not worth doing business with this company, especially online. I am out of options, they refuse to let me speak to a supervisor and the primary level representatives are unable to issue new gift cards.
Even when the supervisor approved reissuing the gift card, twice now the cards have not worked. It feels like a scam. I do not think it is worth more of my time and frustration. I am going to file a complaint with the Better Business Bureau but have no interest in speaking with their rude and unhelpful representatives. I caution anyone who plans to work with this company ESPECIALLY if may need customer service i.e. credit card through TJ Maxx could be a true nightmare.

I received someone else's order by mistake. When I called to report, they required that I RE-purchase my item in order for them to mail it asap, otherwise I'd have to wait 8-10 business days AFTER they received the item they sent, in order for them to refund me and for me to once again order. I thought it was ridiculous that they would not mail my item as soon as I called. The supervisor I spoke to was uneducated and condescending.

On Thursday, August 24, 2017 approximately 11:45 AM I was at the TJ Maxx store in Buford Georgia. I was in line got to the register to purchase my items, The cashier rang everything up she said swipe card I insert my debit card. I put my number in the screen said remove card. Once I remove the card there was a power outage. I stayed at The register and waited for the power to come back on. The transaction had processed everything went through but I didn't get a receipt. I had to wait an additional 10 to 15 minutes for their computers to reboot. The manager name Robby ** came. He was rude to me. He took the merchandise. He said that it didn't go through. I showed him on my smart phone where USAA my bank showed that the transaction did go through.
Instead of him apologizing to me for the power outage ever having to wait so long he was very rude. He told me that he took a item it didn't show on the system that it was paid for so I couldn't have my merchandise. So I left the store with no merchandise but the charge still on my card. I went to my car and called my bank and was told that the transaction did go through. Today is 8-25-2017. I wake up check my account and it's still showing that the charge went through, not a pending charge but a POS debit. Mr. Robby ** was so nasty and rude to me that the whole thing upset me so bad I went home crying. I've never been treated like this before, I drove over an hour to get to that store because a friend told me they had mirror nightstands and I was looking for one. I didn't find it but I found some things I wanted that were on Clarence.
I paid for all my items and the cashier even verified that, she told him it did everything but print my receipt. But he treated me as if I had stolen something he talks loud he talked rude. Never once apologizing to me for having to wait to the power outage and for the computers to come back up and then to be treated like that. And I've been a loyal customer of TJ Maxx Home Goods and Marshals. This never should have happened this way. He needs training on how to talk with customers and deal with different situations. I wouldn't recommend anybody going to the store. I don't care how good the bargains are. It's not worth being treated like a dog.

I took the time to prevent anyone from making the same mistake as I did twice. Please do not trust TJMAXX.com as they have the worst system in place. I placed an online order on 7/11/17 and until this day I have yet to receive my refund as my order was lost. When you attempt to contact their Customer Service toll free number you remain on hold for over 45 min until you get a live person on the phone each with a different story and nothing but lies about the status of your refund. The tracking number they provide you with is not credible as they use the local post office which loses your order. I just felt that everyone out there should hear the horrific nightmare I have been going through to attempt to get over $200 they owe me!

I placed an online order from TJ Maxx after recently relocating. My new address was updated on the website, however the order was shipped to my old address. I called the customer service department (over a 15 minute wait). I was told once an order is shipped they can't reach out to carriers to redirect or cancel the order. They provided absolutely no resolution. I can't imagine that I should lose $139 because of TJ Maxx 's limited ecomm abilities. Now, I'm filing all kinds of disputes and complaints to get a refund. All I wanted was the desk that I ordered. I do not recommend anyone order from TJ Maxx online. Buyer beware.
How do I know I can trust these reviews about TJ Maxx?
883,201 reviews on ConsumerAffairs are verified.
We require contact information to ensure our reviewers are real.
We use intelligent software that helps us maintain the integrity of reviews.
Our moderators read all reviews to verify quality and helpfulness.
For more information about reviews on ConsumerAffairs.com please visit our FAQ.

You can purchase items online using PayPal, but you can't get a refund when returning items in the store, they will only give you a store credit. I have to mail the items back at my cost to get the refund processed to my credit card. When I called the customer service rep Connie just kept repeating the same thing over and over again. She tells me there is no supervisor avail to speak with me... I can assure TJ Maxx they have lost me both as an online customer and a store customer!

January to end of June 2017, I was out of state from my hometown due to work. We were working 6 days a week and 12 hours a day. Plus, while I was in New Mexico working, I was rushed to the Hospital due to respiratory failure and was in Intensive Care/CCU. I was in the hospital for 11 days. Then homebound until the end of June (when I returned home) due to not being release for work from my doctors. I was still on Oxygen until I left New Mexico. While in New Mexico, I signed up for a TJ Maxx charge card due to being able to get a discount and because I like the stores, and also to help build my credit. On July 3, I received a statement in the mail stating my account was delinquent. I immediately called Customer Service and spoke with a very nice customer service lady. I explained that I had not received my statement from them even though my mail had been forwarded to my work address in New Mexico.
She was understanding about my situation and credited my account for the late fees. I also told her I would pay the full amount that day. As soon as I got off of the phone with her, I went online and set up my account, since I had all of the information (account #, etc) now that I had an actual invoice from the company) and I paid the full amount of the invoice. All of this was noted in my account per this customer service lady. Recently, I shopped at a TJ Maxx store, here in my hometown, and I tried to use my TJ Maxx credit card. The cashier told me it was not working. Shocked and embarrassed, I asked her to try it again since I knew I had a -0- balance. Again, it did not work. So today, I signed on to my TJ Maxx account to see if there was a Customer Service number so I could call to ask why my card had been declined since I had a -0- balance.
When I signed on to my account; I noticed in RED print, that my account had been closed due to "HISTORY OF DELINQUENCY"!!!! The 1st Customer Service lady I spoke with on July 3 (she stated she understood and took the late payment charges off and adjusted my account); She NEVER mentioned my Account had been CLOSED due to this error. The nice lady I originally spoke with about my account NEVER STATED my account was CLOSED! I was under the impression that everything with my account was up to date, notes added regarding the issue, and my account was good to go!
Today, I called their customer service department to find out why the account was closed because I was of the understanding everything was resolved and I now had a -0- balance. I was told the notes on my account were there but there was nothing this Customer Service lady could do about my account being CLOSED. I asked to speak with a Manager. I was forwarded to a man named GALE, Extension ** (is what he gave me). I explained my issue, and he verified the notes and credits, etc. but also said there was NOTHING he could do. He was not going to reinstatement my account which was closed due to errors (of which is noted in THEIR system, confirmed by him). I told him that I work hard on keeping my credit in good standing and that I was upset about this and I did not feel I deserve to have negative comments and ratings on my credit report.
He stated TJ Maxx has reported to the credit bureaus and it should reflect that the payment was made and was previously delinquent due to being out of town and not receiving my invoice, etc. of which should not reflect my credit. However, I beg to differ. I told him I was NOT informed that my account had been closed (not by the 1st Customer Service lady or when I set my TJ Maxx account up online). He stated they are not REQUIRED to let a person know their account was closed, even if it was closed due to error. I proceeded to tell him that I was not agreement with this procedure and am very upset with how this has been handled. He just told me he was not going to reinstate my account. This makes no sense to me. Then he asked if there was anything else he could do for me (in a sarcastic voice, like he was so proud of him standing his ground).
I said, NO, I guess not because you know the status of my account, etc and you are still not willing to do anything to reinstate my account. I told him I will probably NEVER shop at one of their stores again due to how this situation was handled. He could care less and kept talking over me as if going off of a script. I have been in Customer Service/Sales all of my working life and as I see it, this is UNACCEPTABLE!!!! I AM VERY DISAPPOINTED in this Manager's SARCASM voice tone he had with me, ESPECIALLY the last few minutes of the conversation. And extremely upset with TJ Maxx's supposed policies. Actually, it makes me even question if it is actually TJ MAXX'S POLICY, WRONG, WRONG, WRONG!!!!

About a week ago I purchased a filled (Himalayan Pink Salt) salt grinder... As I was using it the other night the grinder mechanism fell apart in my food... I took it back to the local store where I bought it... They refused to allow me to return it or give me a refund. They claimed it is classed as "open food" and it is against policy to accept it. In a way I understand your stores' safety concerns but it is not like this is a product you can resell. I am very upset that I am out $7.99 and have no product to show for it. If it is your policy to sell shotty merchandise and not back up your sales, this will be my last trip to a TJ Maxx store!!

My daughter and I went into the TJ Maxx of Bend Oregon for the very first time ever shopping a TJ Maxx, on August 1, 2017, as my sister had given us gift cards from a TJ Maxx. Well, after spending some time shopping in a confusing store (NOT set up well, AT ALL!), we went to the register and I paid for some items, my daughter for the others, as she is entering college and had money for dorm items. It was busy in there, and there was a lot of handing over of bags and items by the cashier. We left the store, and the following day, my daughter could not find her $30 change from a $50 she'd handed the cashier. LONG story short!, we tore apart the house, car and retraced steps, thinking it had fallen out somewhere. Well, I finally called TJ Maxx and asked them to check the till amount, reading off the numbers on my receipt. I was told I would be called back.
Mind you, we are NOT from Bend, and staying in Redmond, approximately 50 mile round trip to the store. The receipt shows 0601 1040 06 8204 08/01/17 17:50:08 1013 SO! I received a call later in the day saying they did find a discrepancy in the till and they had our $30. We were welcome to come and pick it up. I informed the woman I talked to that we were not from the area, were there for the local fair, and that we couldn't just run back out there and get it, so would probably be a couple days.
Well, I called this morning, 2 days later, after thinking about this whole mess, and asked what TJ Maxx can do for us, not only for the MAJOR inconvenience, but also for the time and being without our money due to the employee messing up. I was told they will do NOTHING! not even a gift card or something, and that they could go ahead and Fed Ex the money to us. Well, being we travel again tomorrow night, we will not BE anywhere to collect from Fed Ex. The only good thing, the gal I spoke with offered to bring it into the town we are in this evening, ONLY because she is going to pick up her Grandson! WOW! I am SHOCKED by the treatment to a customer when it was THEIR employee who messed up!
Should there not be some sort of gift or something due to the complete inconvenience? I will not shop a TJ Maxx again! Oh, AND? Most of the items were broken if glass, or seconds of some sort, makeup was broken, things were a mess. I felt like we were in a Goodwill store! I believe they get seconds and overstock and sell those.

I did place an order online for three dresses. Order #: **. One of the three dresses I ordered did not fit properly. I did receive it today and within two hours I tried to returned it to my closest TJ Maxx Store. The lady refused to return it by being rude. I tried to explain this is the box with shipping tag and the dress had the original tags attached. I also provided them with the email confirmation. When shipped it seems like they missed to include a receipt and for that reason they could not refund to the original payment but could do only store credit.
I was told to call the shipping and get a receipt even I had no fault at all. I presented all was given to me. The lady was so so rude and unprofessional! I feel like I need to warn people away from TJ Maxx! I've shopped there for years and loved the place. I do not want store credit, as I do not want to ever have to deal with this sleazy company again! Be warned, do NOT buy online from TJ Maxx!

As of today July 26, 2017 I will no longer be using my TJ Maxx credit card. I have continued to purchase from them for our new home but it's absolutely crazy that you are charged $25 if you're one day late. Nearly all credit card companies have a grace period so therefore I will not be using it anymore. I feel like it's just a trap. $25 is a lot of cash. Just a heads up you might want to check your monthly statements closely because if it's not paid on that very day they charge you $25.

I placed an order over a week ago. I never received an email that my items shipped, so I called customer service. They said that when you pay $8.99 for their regular shipping they have 10 days to get the item to you. Really? It's at least a week just for shipping for them. That will make it 2 and a half weeks. They also said that if you place an order in the afternoon you lose another day. Their shipping is ridiculous and it is clear after my call they could care less about their customers. I am an established customer who has placed several orders. I usually order when they have free shipping. Now I will never order. There are way too many other places to shop online.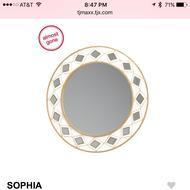 My initial order qualified for free shipping. A couple days after placing my order and receiving the confirmation of the order, TJ Maxx sent me an email saying they could not fulfill my entire order due to lack of inventory. I noticed that they then charged me $8.95 to ship the other item that was $12. I think this is ridiculous for one because the initial order was quoted free shipping and also they had free shipping advertised on their website. I emailed customer service for them to say there is nothing they can do. I later browsed the site to see the same item I attempted to order in stock still online. I have never been more frustrated with a company and their online service. Infact this is my first review I've written about a store. Completely unimpressed and would not recommend ordering anything online from them.

I am a customer in TJ Maxx, I always liked the store and I go in person or buy online. I got some rewards certificates and I used 2 of them successfully and I had a third one that I tried to use it online to purchase a shirt that I liked. The reward didn't work and tried several times thinking that I may wrote the wrong number but it didn't work. I Emailed Customer Services and I didn't even receive an email telling me that they got my message and of course I didn't have an answer. I went to see my bag to purchase the item. Not matter I couldn't use the reward but the size is gone and I can't buy it anymore. I sent a second email telling them how upset I am and I just got the email confirmation that they got my email, so for some reason their email thing is not working properly and I am so upset that I am thinking not buying any more from them. They not only sent me a reward that doesn't work if not they also ignored my previous email.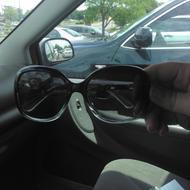 I went shopping at TJ Maxx for probably the first time ever and I am now 30 years old. I enjoyed my shopping experience looking around. Did not have much time because it was 30 minutes to close and before the store was closing I purchase some makeups, a pair of sunglasses. The only thing I did not like was a lot of the makeup was already broken up, shattered everywhere, just random things thrown everywhere but they were marked down cheap so I figured that was why they were marked down cheap.
There was also a lot of sunglasses that were scratched up. A lot of them are like that but they were still pretty good price and thought that's why. When I got home the sunglasses did not fit. They were too small for me. The makeup did not seem desirable no more to me and I never used it. I never use the sunglasses and the pajamas that I bought were too big so I went to bring the stuff back and they would not return the sunglasses or the makeup. They said because the makeup is out of the plastic and used, they cannot take it back. I said I bought it like that. She completely ignored everything I said and continue talking.
I went ahead and dismiss those return, then I went to help her find another pair of sunglasses because I lost the tag. She went to go ask her manager to help her and said that her manager said since they were scuffed up and had scratches, they couldn't take those back either. I looked at her and I said, "I never wore those. I bought them like that." And said, "Look at all your sunglasses. They're also scratched up and scuffed up too." She did not acknowledge anything I said. Would not look and continued walking away and talking and carrying on to get me out the door. So it's okay to purchase their items that way but it is not okay to return them that way. I will not be shopping at TJ Maxx and Elizabethtown Kentucky again. Horrible experience.

I have never left a review for a business in my life, but after such a horrible experience, I feel like I need to warn people away from TJ Maxx! I've shopped there for years and loved the place. My fiance and I received several gift cards at our bridal shower and I was excited to find that the cookware set we had registered for was on sale. It was normally $300 but was on clearance for $99.99. I quickly ordered it, using a TJ Maxx gift card, as well as a VISA gift card, along with a set of bath rugs.
As soon as I got the package, it was clear something was wrong. It had stickers on the outside of the box stating that it was fragile, but the box was very light. Clearly there was no cookware inside. I opened it to find the bath rugs, as ordered, and no cookware set. However, there was a sticker on some of the packaging, that labeled the bubble wrap AS the cookware set. Additionally, the packing list had a-1 in yellow highlighter next to the cookware set. It was clear that they knew it was out of stock. What I found INSTEAD of the cookware set, was a large, pineapple shaped platter. It was cute, but not the cookware set.
I immediately emailed customer service, asking if they were indeed out of stock, and informing them that I had received an incorrect item. They said that the cookware set was out of stock, and I needed to return the pineapple platter in order to be refunded my $100. Cool. So, I set out trying to mail back the pineapple platter, which would prove more difficult than one would think. After about two weeks of trying to get a straight answer from customer service, I finally mailed it back in the original box that the platter and rugs came in (after UPS tried to charge me $20 to pack a platter worth $15, that I had never ordered!).
Fast-forward two more weeks. I still have not received my refund and the platter arrived back at the warehouse 12 days ago. I was promised that I would have my refund within 3-5 business days. I have talked with multiple customer service representatives on the phone, who have been less than helpful, and downright rude (Shout out to Connie!). Everyone I talk with has apologized and promised that I would soon have my money back, but it still hasn't happened.
I've asked to speak with a manager or someone with more power to make things happen, and they always blame a "recent high volume of calls". No surprise that lots of people are calling, if they're having a similar experience! They offer to have a manager call me back within 48 hours, and it's never happened, after 3 different people have promised to do so, a week and a half ago. That's not to mention the hour and 17 minutes I spent on hold, waiting to speak to someone. Ironically, the tab on their website for this subject is called, "Easy returns". Lolol.
Nevertheless, I am not pleased. Due to the fact that I used part TJ Maxx gift card and part VISA gift card, I have been told that I will receive partial store credit, and partial refund to the VISA card. I do not want store credit, as I do not want to ever have to deal with this sleazy company again! Be warned, do NOT buy online from TJ Maxx!

This is the stupidest company in the world! I ordered items online and received completely different items! I call customer service multiple times and the wait was over 1 hour! The customer service people cannot help and are incompetent. The worst customer service and shipping! Shipping also takes forever. More like 2 weeks than 5-7 business days! The worst ever! I hate TJ Maxx!

I placed an order 15 days ago. I have not received my order. I have subsequently called six times. Every time I have called I get the blanket answer the order is being processed. However, one customer representative stated there was a mishap with a truck. That statement didn't make sense as the order I am told has not left the warehouse. The most disheartening thing about this company in which I have been a VERY good customer, is that I am forced to call and call to try and get a resolution, so I can get my order. My credit card has been charged. I am at a loss as to what my next step should be. I fully understand situations can arise to delay an order. The fact they think so little of their customer as to not contact them by email is appalling. Anyone out there contemplating placing an online order, please think twice. I don't know how this will end. Thank you.

My son went to TJ Maxx to purchase an item that I usually buy for him. He simply walked into the store and an employee walked up to him and told him he needed to leave the store because the last time he was at the store things came up missing. WTF my son is not a thief he had money to purchase the item. The lady call security over to escort him out of the store. No proof nothing. Just he looks like someone who stole from the store. WTF racist. I will never shop there again.

I bought $110 mens Cross brand bag as my husband Christmas gift at Edmonds branch. Poor product. My husband used the bag only about three month and the zipper was broken surprisingly very earlier. I went to the TJ Maxx store and explained the situation. A cashier said as long as I brings the receipt, they could take it back. However when I went to the store again in order to return the broken bag with the receipt, the manager said that they could not take it back because it was not resalable condition. Of course it is not the new!!! However it is their responsibility because they sold the defect product. I was very disappointed about their customer service and I will never use the TJ Maxx again!!! I will get rid of the TJ Maxx credit card as well. Good bye TJ Maxx.

I was shopping on last Saturday at the TJ Maxx on Goodman Road in Olive Branch, Mississippi, I had gone to the register with nine items to purchase. One of the nine items was a vase that was marked 12.99. When I got to the front the salesperson told me that she could not sell the vase because the price tag did not go to the item and the vase was more expensive. She sent several other sales associates to the back to get another vase, but there were no other vases like that one in the store. I asked for the manager and the manager reiterated the same information and said that they would call other TJ Maxx locations to try and get the cost of the vase. This process took about 40 mins. No other store had the vase in their store or system. The manager then said, "I'm sorry but I can't sell you the vase but you can pay for your other items."
I asked for the number of the district manager and she asked if I would like for her to give him a call. While on the phone the manager proceeded to tell the district manager that people come in all the time, switch the tags, and come back later to retrieve the items, never once mentioning the situation that was occurring in the store. When she got off the phone she told me that just once she would sell the vase for 29.99 with 30 percent being taken off which would take the price to 12.99. I told the manager that I was deeply offended by her accusation on the phone pertaining to me and that I had not shopped at TJ Maxx since Christmas. This experience was terrible and I probably will not shop at this establishment again.

I was making line when I hear a cashier yelling to a customer how much his income was. I think that's not right that should be ask more private, anyway the customer said his income and I believe he was not approve cause he did not get any response but a little paper. Customer left. I got to another young cashier in her 18 to 20's years old she was ringing my clothes and stopping asking the other cashier what happen to the customer that he apply for credit, I was on a hurry so I told the cashier if she can hurry up because I was in a hurry and I told her can ask the cashier later because I need to go.
After a few min the cashier that was talking to her came and told me not to talk to the cashier like that. I say how I just told her if she can hurry up because I'm in a hurry. I said, "I believe customer is first." She said that the cashier was asking a job-related question but I was waiting for them to finish talking about something that they can way after they have customers. I ask the cashier what was her name and she just lift her shoulder up and down. She did not answer. I ask her, "where is the manager". She said, "somewhere around the store", like I said I was in a hurry. As a business owner I don't think that's right, they need to be trained right. Unfortunate I lost the receipt that day I did not get the cashier name but this is the store address Palm Court Shopping Center, 17144 Slover Ave, Fontana, CA 92337.

I bought a watch for myself in mid Feb. I loved the watch, styling, quality, style and functionality. I really loved the watch! After a month and a half I noticed the watch was broken, as a tiny chip broke off of pin connection. Since I loved the watch I did not keep receipt. I brought watch back to store with little to no expectation that they might accept watch for an exchange. However they did and I chose a replacement watch for the return of my chipped watch. Ms. ** took care of me and was pleasant and suggested that I keep tags and receipt should I not like replacement, which I did and did not like replacement. I returned next and exchange second watch! I am happy with new watch and very happy w/ my local TJ Maxx!

I went into TJ Maxx 03/17/2017 about 11:45 am during my lunch time at 1501 Lafayette Parkway LaGrange, GA 30241 to return something. Female named ** asked why I was returning it and very rudely telling me I should return the item sooner. I told her it is been only 5 days, the receipt clearly printed it return for 30 days. She starting to make a instant rules of return, like I did something bad to her. She shut the cash drawer with upset. She is a disgrace and just because of this I am willing to shop at other place, save my upset stomach than money.

Let me say I am an avid TJ Maxx shopper, or at least I was. An accident at work, resulting in 3 surgeries, has left me homebound, so I frequent TJ Maxx online a lot. I've been very happy with every purchase, they would send out my order almost immediately and I'd receive it within days. That is until last week. I hadn't received my normal email, letting me know my order had been shipped, so I logged onto my TJ Maxx account to view order details and the order was not listed. I emailed Customer Service with my order number to see why it wasn't included on my history, after all, my bank had been debited the almost 300 for it. I received a very blank response with no answer to my questions, instead she actually said the only way for her to even see my order was if I had a credit account with them, which I do, but explained I hadn't put my charges on my credit card and surely, since I supplied her with my order number, she could tell me the status.
Let me first say my bank card has only been used on their website, my husband's is used for everything else. For me having the gall to inconvenience two separate employees with my two emails, wanna know what I got in return?? My card was fraudulently used. My debit card was used on Nike.com three separate times, altogether totaling a little under 500.00. Luckily, I checked our account in time to stop all but 205.00. I filed a report with my bank, had a new card issued, and am awaiting a refund. Today I received a package, from Nike.com, the most ** pair of sneakers. They must've thought it would be so funny to do a customer like that. How dare I request any more from them? I am so pissed! Would love to cram these ** shoes right down their throat!!

I stop by a TJ Maxx located at the Bronx near 203 Street, a new mall. I was browsing for some gifts and I find a very interesting dessert plates, when I put on my glasses I find those plates were standing there were used plates, I start looking for any employee to tell me if they sell used items, they respond was nope. I requested to speak to a manager and spoken to her. She denied those small plates were used and if they were in display it means they're new. I ask to a three different customer and they agreed with my statement, but manager ignored my concern. I purchased the two dessert plates and have them in my possession as a proof. They don't even care and take this plates off the shelves, instead challenged me that is how they were to be.
I understand that if a company or retailer store is selling good as new they need another permits to sell used items. No one care in that store and is a shame that a big store as TJ Maxx hired people who's in charge of the store and doesn't care to understand when a customer is right. This is against the law by selling used merchandise in that particular store.

Shopping online at T.J. Maxx is like giving an interest-free loan for 30 days and 1 hour of your life in multiple phone calls to Customer Service because your order was never shipped. Good luck if you have to see for yourself!

My wife opened an account with TJ Maxx in October. Maybe $400.00. I made the minimum payment plus extra. Thinking I only had a balance of $120.00 to pay I see that the balance is $186.00. Another big problem was logging into my account as I always seemed to have trouble with my password. When I clicked on forgot password and sent them my email address I would often find there was no return email in my mailbox. I have no idea what is going on with this company but I know for certain that they were making communication difficult and there were errors or delays when I made my payments on time which resulted, I eventually discovered in late fees. I am punctual and paying off a credit card at the same time every month is not rocket science. But this company, I assure you is not to be trusted. I absolutely advise you to stay away from any cards they have on offer. It will save you money and a lot of trouble.

I was shopping and noticed that the security guard was following me in the store. I then felt so uncomfortable that I decided to get what I had in my hand and proceed to the checkout and leave... The security guard followed me out of the store. I confronted the guard and let him/her know that I recognized she was following me in the store... Well the guard did not like that I confronted her and she called me a **. I did talk with the store manager Matt when he became available and he said he would talk with the guard. I went in the store tonight and several employees began to come down the aisles that I was shopping down. I have never stole anything. I plan on contacting headquarters because this is harassment. I will not be intimidated while I'm spending my hard earned money there when I can spend it somewhere else where I'm appreciated...

Shopping in TJ Maxx was the worst experience. Sales staff were rude, manager was not helpful at all. I found an item -- it was a shower cap and several were laying on display. There were two shower caps for the price of one, and one was inside another without packaging. When I got to the register, the cashier (rightfully) decided to check if both shower caps are one item. She informed me that these are two separate items, which they were not since there were several of them in the store that were sold the same way. The cashier asked one of the sales associates to check it out. I told them that there are other ones there, same item and two are sold for the price of one. They started arguing with me and added a sales tag to the one that came with the shower cap. When I asked why there are more items there without a sales tag (only on one item), they said that it needs a price check.
They made up all sorts of stories instead of checking the item and making sure they are selling it appropriately. The manager was rude and not helpful, Ms. ** and a sales associate Adriana was extremely rude. She refused to give her name for a complaint, store manager refused to give me her supervisor's name, and other cashiers refused to give the name of the rude sales associate. The store is in terrible shape. There is broken merchandise sold all over the store. Hats, gloves, children's clothing looked like someone walked all over it -- it was filthy and hanging on racks. The store is a mess. There were chipped cups still standing on the floor. This has got to be one of the messiest, most disorganized stores I've ever seen. It was a waste of time and I would never walk into another TJ Maxx again.
Company Name:

TJ Maxx

Website:

http://tjmaxx.tjx.com/store/index.jsp