Consumer Complaints and Reviews

One of the items I ordered hasn't showed up, I emailed customer service about overbilling my credit card and shipping problems 7 days ago and still haven't been answered. Will never order online from them.

I have been a Cabela's customer for 6 years. Most of my experiences have been good. I have a Cabela's Club Visa Card and have used it, paid it off, and used it again. I have a very good credit rating and have never been a day late on a payment. Recently I received a call from them telling me they have closed my account stating I requested it. They will not provide me any details on the call. They also stated that they made a decision to close my account, but cannot tell me why, nor would they mail me a letter. They provided no details, no explanation, and were extremely rude on the telephone. I spoke with a lady named Carolyn.
She was the most unprofessional individual I have ever encountered. Bottom line: Cabela's Club Visa made a decision to close a high limit account with no explanation, and now call me daily for it to be paid off. This is just the beginning of trying to make people aware these people will make decisions on your life, your credit worthiness, and credit report and give you NO EXPLANATION as of why!! My account was in perfect standing! To top all of it off, they took back $175.00 of Club points that I earned! I will sell everything I own with their name on it, and never buy anything again from these people!

Recently I had ordered a product from Cabela's. I ordered the product over the phone from a representative. They took my payment and gave me a delivery date only to find out four days later the order had been canceled. I called customer service to see why the order was canceled and they told me the product was no longer available and had been discontinued. I asked for something equivalent to what I had ordered that was in stock and they would not accommodate me in any way. Bottom line from what I got from customer service is anything you order may not be delivered and they cannot guarantee anything.

For the third time, I contacted Cabela's to place an order for an item listed in their catalog, only to find out that this item was also on backorder. Just as in the previous two cases, I was told that they did not know when the item would be shipped. I was burned the first two times as I placed the order, patiently waited, and received an e-mail that the item would no longer be stocked. In one case, this took over a month. I have been a signature black card holder for many years, but will be switching to a Gander Mountain card, as they had both items that I waited a combined two months for. As for the third item I was going to order, Gander Mountain agreed to price match and (drumroll) it was in stock! I don't know what happened in the Cabela's Corporate business plan, but it was bad advice. This customer is going elsewhere and my card is now cut in pieces.

I drove about 2 hours to get to the Chattanooga location. They were very rude. They denied me my right to openly carry. For which they were out of everything that I needed. They refused to look in the back. I asked for clarification and they provided me none. Will never buy from or visit another Cabela's. For which they were rude. The manager was a complete idiot. Why must they put an young uneducated individual in management position?
How do I know I can trust these reviews about Cabela's?
636,825 reviews on ConsumerAffairs are verified.
We require contact information to ensure our reviewers are real.
We use intelligent software that helps us maintain the integrity of reviews.
Our moderators read all reviews to verify quality and helpfulness.
For more information about reviews on ConsumerAffairs.com please visit our FAQ.

Cabela's in sun prairie, wi. was contacted for the reason of selling my late Father's curios and relics collection. I told them that the military, handguns, and ammo would need to be sold. They agreed to come to the house and buy my newly acquired arsenal. After arriving, the older gun knowledgeable guy explained to me their pricing would be .65 on every retail dollar. In simpler terms that's 65% which they agreed to pay me via check of retail price, which they would sell each weapon for. They bought 37 firearms that day ranging in various prices. I thought the prices were lowballed, but he kept saying that his buying pricing was very aggressive, so I reluctantly accepted. They refused to buy the ammunition.
The lead phone no. they gave me to sell the ammo I later found out was fake. Approximately 10 days later I went into Cabela's gun library and I found many of my late father's guns for sale. To my dismay they had the svt. 40 at $1400, (a 100% markup) but only gave me 50% of that. Another example, a fully custom army 1911 .45 pistol that I was given $300+, they now we're selling for $750. There are many other examples of their blatant dishonesty and scandalous behavioral activity within this transaction which costed me a large loss of between 8 - 10 k total. I will never buy from Cabela's again. Don't trust these guys.

Returned a pair of Cabela's brand chest high waders that leaked for replacement. Never heard back. Very poor service. These were not another brand but have Cabela's in big letters on them. They don't honor their own brand!

I just got off the phone with three different customer service agents. None of them cured the situation that they created. I have been dealing with them for 10+ years and only had one or two minor issues that were always taken care of over the phone leaving me with a smile. In the last two months I have 4-5 complete orders cancelled, and not even a e-mail or phone call. The last two orders they cancelled three scope, muzzleloader bullets, and other boat supplies. A day or two later I saw similar scopes that were cheaper, but was told the squs were not the same. They could not give me the same 30mm scope for the same price due to the minor difference. The scope I purchased was 489.99, but the other scope was 329.00. I told them I was asking for the lower end unit for the same price. I was told one was a tactical and the other a outfitter series.
They have gone way too far with their lousy customer service since they were bought out by BASS PRO! I will no longer buy from them unless it is with club points. I first was going to cancel my card, but came up with the idea to use card to receive points to burn them by getting free items from them but not spending any money with them. HAHAHAHAHA. I would usually spend 25,000+ at Cabela's. NOT ANYMORE. CRASH AND BURN LIKE WALMART **.

I purchased a rifle from the Green Bay Wisconsin Cabela's. The salesperson was indifferent and rude and went to the 'vault' to retrieve the gun selected. I was purchasing a new gun. The gun was sealed before going to the cashier. Upon getting home and unboxing the rifle, a large white tag say 'USED' was on the trigger guard and stamped into the steel was 'FACTORY SECOND'. I notified the store and the manager and that person told me I was lying because I purchased a new gun, and upon telling him the information noted above he told me that I stupid for making the suggestion. He was going to nothing at all! I verbally let him have it... So, now going to customer service, more fun and excitement. First call, getting a manager and that manager apologizing and wanting to make good, great. Nothing after a week, then calling again and the customer rep saying that an investigation has been launched that would take up to a month???
Another call, another manager, "Very sorry. Can't believe you were treated that way. Just send in photos of the 'USED' tag and the serial number on the rifle and we will take care of this immediately." Information sent. A reply came back "Thank you for submitting your information. A investigation has been initiated that make take some time."???
Another phone call, another manager. This time the manager told me "What do you want?" Looked over my file and stated "What do you expect us to do. You need to wait!!!" "What" I then said and ask anyone reading this to consider. I will never set foot into a Cabela's again, never shop or support Cabela's and now I need to get an attorney to take care of this matter and let your company explain this to a judge your logic. Happily I have been able to tell this story to about 10 friends and see the look their faces... I hope they tell everyone they know. I am amazed that I treated this way after being a longtime patron. I was ripped off by Cabela's and treated like dirt.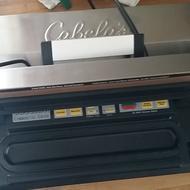 I purchased a sealer a few years ago. It stopped sealing. I called Cabela's. They replaced it with the commercial grade one. I thought how wonderful, I should never have a problems with this one. I use my sealer about 3 times a year maybe 4. So is not used a lot. Had this one 2 yrs so used about 6 to 8 times. Was kept in the storage bag it came with. Never locked the handle as instructed by the instructions. Go to use it today 01/17/2016 and after about 6 bags it no longer will seal.
I called and was told this model is no longer sold at Cabela's but I could buy for 20.00 a maintenance kit. I told her is not something a piece of teflon tape can fix. She again directed me to this maintenance kit. So frustrated. I went to cabelas.com and guess what, the same sealer is still on the market and being sold by Cabela's and in customer reviews it is a problem child of Cabela's. They still sell it knowing it is a issue with sealing and suction. I have never had a problem with Cabela's but this is outrageous to continue to sell something they full, well know is a problem. I will be going to food saver for my next one. My folk bought one 8 yrs ago and it still works as good today as it did the day they bought it for 99.00. I paid well over hundred and this is the second one in 2 1/2 yrs.

Used my Cabela's Visa to purchase a 'supposedly' '98 Camaro SS Fiberglass hood. It came broken due to poor shipment prep. Dealer would not make good and hung up on me. Had no choice but to pay the body shop to repair the hood. When trying to install it I found out the size of the hood was nowhere close to the factory specs. Filed a claim with Cabela's Visa and included LOTS of pictures and phone numbers with names to verify story. Cabela's Visa claimed that the 'repairs' were 'modifications' and refused to help. So much for 'customer care' and their 'Zero liability claim'! Now Cabela's has lost a Silver member and I will no longer set foot in their stores and have closed the Cabela's Visa account. VERY poor customer service with their Visa program... Don't use 'em!!!

False Advertising!! I will NEVER, I mean NEVER shop at Cabela's again!! I placed an order for 3 pairs of work boots that were originally $165 each for $25.50 each on Dec 7, '15 not realizing they were on back order until I got the confirmation email. It greatly upset me I was not warned the items were unavailable until after I place the order. That is kinda backwards!! A couple days after placing the order I called their customer service to see when the boots would be back in stock. I waited on the phone for over 1.5 hours before being told they did not know. I understand this was Christmas and it is a busy time of year but I have never waited that long for other retail companies to answer their phones during this time.
It took until Jan 4, '16, almost a month later, to receive a call from their customer service to tell me my order was not coming back in stock, and they just cancelled the order like it was no big deal. They would not offer me a similar product for the same price which is what a GREAT company would have done for the inconvenience. I even spoken to their corporate office about this and they would not do anything to rectify the situation. WHAT A HUGE DISAPPOINTMENT!!

Cabela's refused to take back boots saying they look like they were 20 years old, in fact they were nine-month-old, absolutely nothing wrong with the interior of the boot, some scuffs on the leather as usual in a hiking boot. Unbelievable $300 for a pair of boots, they don't even back them. The Cabela's warranty is a joke. Gore-Tex doesn't wear out in nine months, I don't care what you do to it. Seriously reconsider buying from Cabela's. Their warranty is like taking a ** in a box and marking it guaranteed. Go to Gander Mountain or Bass Pro, you will have no problems.

Worst customer service I ever had at Berlin Cabelas last night! We usually love going to this store as the prices are usually right and closer for our drive than Bass Pro. We drove 40 minute to Berlin store to use Christmas gift card with my husband who a disabled but avid sportsman. The Store was pretty quiet, not nearly as many customers as our usual trips. Shopped for about 30 minutes and got in line at about 6:30. There were only 3 registers open and one closed when we got in line. There were about 8 people left in line at each one. By 6:45 when only 2 customers had gotten checked out ahead of us, my husband was getting frustrated and wasn't going to be able to physically stand in line much longer. There seemed to be a lot of employees around the store, so I went to check at C.S. desk to inquire about more registers being open.
There were at least 8 people in line there too, with one employee helping everyone. Clearly he was also frustrated by the answer, with attitude. I got that, he didn't know, they were supposed have opened more already and I would have talk to the manager, like I was supposed to be able to find one on my own. Isn't that kind of the definition of customer service? I returned to my checkout line to see an employee near there. I asked if he was the manager (yes) and that we had been in line for over 20 minutes, would there be more registers opening, we would be leaving with no purchase if not? He said he was lane busting? With attitude like that should be good enough! We stood in line a couple of more minutes, put down our merchandise, and left! There was a little comment from the manager, "sorry folks" on the way out. No, "here is a coupon for your next visit, how can we make this up for your return." GREAT management!
This was very hard on my husband who has been a Cabelas die hard customer since the days when the only way he could purchase was mail order before there were stores in New England. Unfortunately, I can only say that the lower cost and convenient distance of the Berlin Cabela's will be outweighed by the fabulous customer service and his ease of getting around for a visit to the Bass Pro in Foxboro or Hooksett. There is also the added bonus of taking the half day trip to Bass Pro and being able to bring my dogs instead of leaving them home that long.
FYI: We are older 40/50 somethings, I am an avid online shopper and have only ever written one negative review online. I typically brush off these kinds of experiences and spread positive comments, but I will be posting and messaging this letter to my FB friends and as many Yelp type pages as I can find. I am really disturbed by this whole experience as, having limited mobility, there are few things my husband takes such interest in as supporting his joy of being a lifetime sportsman. We arrived that evening being very excited for the clearance sales and his hope of coming away something great. This was really a disheartening, and unrewarding experience. #Cabelas

Too many complaints to mention them all... Overcharged, only partial item was shipped even when I asked them to not ship to an incomplete order. Ordered on 11/30/2015 as a gift and it is Dec 26, 2015 and I still do not have the item that was shipped on December 17! Tracking info suggests that the package was rerouted to my home address as opposed to the gift address! Just thoroughly and utterly disgusted. Customer Service was of ZERO help. In fact, it left me more confused! At one point I was asked by Customer Service if I had attempted to contact Customer Service! I had to explain to them that this is why I am contacting Customer Service NOW!

I ordered a Christmas gift in November that was back ordered until December 14th. On December 16th, I still had not received any status update and so went online and saw it was still saying back ordered until the 14th. I emailed customer support and didn't receive a response until December 21st (5 DAYS LATER, mind you). The response basically said, "Sorry it's taken us this long to get back to you. If you haven't received an answer to your question, please let us know." How unprofessional and unhelpful. I emailed back and when I didn't receive a response all day, I called.
The customer service rep could not have possibly sounded less enthused to answer the phone or do her job. I told her the issue and she checked and said, "Yes, it looks like it does say it's back ordered until the 14th." Me: "Okay, I get that but it's the 21st." Her: "Oh, it looks like it's getting ready to be processed." (How helpful...) Me: "Well if it's ready then can I have it expedited to get here by Christmas since I was never given any update and never told a delivery date, although I ordered in November?" Her: "No, we don't expedite shipments." Me: "Ok...then can I just cancel my order since it was a Christmas gift?" Her: "No, you can't cancel." Me: "I can't cancel my order?! So I have to wait until you ship it and then return it?!" Her: "Yes."
How in the WORLD, with so many competitors excelling at customer service, does this place stay in business? I never even argued over any of that because I get that there are things out of their control (even though a little communication would be nice) but to not even let me cancel an order and have to go through the whole process when it's not even shipped? What a waste of everyone's money and time, and so infuriating. Not to mention, there were plenty of places I could have ordered the gift from had I known it would be this difficult, but now it's too late. They do not deserve to stay in business and nor do I think they will once we customers start standing up for the businesses who care. Last time I shop at Cabela's and will make sure others don't as well.

Cabela's legendary guarantee for Cabela's branded clothing is lifetime for normal wear and tear. They define lifetime as one year. My high priced parka came apart after approximately 20 uses. Since it was over one year old... too bad. It was beyond its lifetime per their customer service department.

Even though I am a "reformed" hunter, I have no problem with Cabela's selling gear designed for hunting and I have been a customer of their outdoor clothing. Their "Christmas with Cabela's" flyer arrived and there was a product featured that I feel crosses the line of decent taste and responsible merchandising! Item: BULLDOG CELL-PHONE HOLSTERS for concealed carry pistols. The United States already has a major problem with the sheer number of weapons in the hands of its citizens and now irresponsible retailers are assisting in the disguising of concealed weapons? Who is making such decisions? I will vote with my wallet and never again purchase a product from Cabela's!

Recently I had Cabela's cancel my credit card because they sent out a newer card I new nothing about and it did not arrive. When I finally got a replacement card I was told over the phone that I had to disclose the kind of financial information used in identity theft and if I didn't then Cabela's would take back all the club points (real dollars) that were mine. And that is exactly what they did - They stole my rewards dollars. I guess it's easier to turn a profit by not delivering what you promise than it is to make money running a company ethically.

I purchased a black powder revolver online from Cabelas. When I received it I realized it had been already fired and I called customer service. They sent me a 20$ voucher. Since it fired Ok, I accepted the rebate, but was not impressed with the amount, since it was a used weapon. I soon found out that I could NOT disassemble it which is critical for cleaning, most likely the reason it was returned in the first place. When I tried again to separate the parts, I bent the ramrod handle. So I called Cabelas customer service and explained the problem. They told me they could do nothing since it had been already fired. I pointed out that it was already fired when I got it and they admitted they saw that in the computer records on file, but insisted it was not their policy to accept a fired weapon back. So I got stuck with someone else's return.
We went back and forth and then tricked me by making me believe they were putting me in contact with their gunsmith repair center. I found out they don't have one. What they did was connect me to the nearest Cabelas in another state and did not explain anything to anyone, and left me online waiting for someone to answer, while they got off the line. I had to re-explain everything again. The Cabelas store told me to contact their customer service again. CATCH 22. I spoke to a supervisor but again was told they would not accept it back. I am pursuing this with the BBB and the firearm company that made it, which unfortunately is overseas.
Don't deal with Cabelas. I will not do business with them again and will continue to share my bad experience dealing with their customer disservice department. Unfortunately right after receiving the revolver I gave them a good rating since it fired well, not realizing the problems I soon was to face, which I now regret having done.

Well took number and got help asap. Had to walk clerk what I was doing and he had to rub his head since I not building a normal setup. But we went to work on finding the parts as I needed them and we got that all done. Once he knew what I was building, he did a good job and all employee at the store was doing a very good job. And they said it's not about the money they make there, it's the toys they bring home because it's just that way in a gun shop. You buy more toys for later on and to have fun with like hunting gear, guns, ski gear, or winter work gear - there for you nowadays... not like some of the other shops.

Cabela's has the worst customer service out of any company I have ever dealt with in all the online sales I've done for a living. They are rude, uneducated, and don't care about anything but money. Do not buy from these guys. They are way overpriced and their brand name Cabela's gear is cheap and does not last. They don't look to help out customers. They just want what best for $$$$$$ and more $$$$$$$. I had some issues on several occasions with online gear not being what I ordered or it being broken or defective and if they do resolve the problem it will take them at minimum a month but there are still orders that I am waiting to hear back or receive refunds for and it's been over a month.
All I hear is that it's in the hands of the Cabela's financial team and they will get with you, but they don't. They never do. They just try to make or I guess take anything they can for crap merchandise. Stop shopping at Cabela's. They have the rudest and most unknowledgeable staff in store and online in the outdoor business. Sportsman's Warehouse is the place to go. They actually care about issues if it is in fault of themselves. I hope people start realizing what Cabela's is doing.

I visited Cabela's store # 064 located in Garner, North Carolina on 9/04/2015 in order to purchase a Crossbow with accessories. Now Archery season is right around the corner and there was only one worker by the name of Cristina working the Archery Department. Additionally, she used her hair to cover up her name plate by dropping it down in front of her chest. I had to ask for her name. The wait time for assistance was absolutely ridiculous! Eventually I found the right crossbow for myself and apparently they did not have any in stock besides the beat up display one that customers have already been test firing. Therefore I decided to head to Bass Pro about 10 minutes down the road and made the purchase there prior to purchasing a crossbow case and 2 hats.
Unfortunately the crossbow case did not fit my quiver so I decided to return it with the two hats on 9/07/2015. When I arrived at customer service, Angela did not want to assist me until I was literally almost over the counter. I told her that I am returning all three items so I can purchase the correct items immediately after, so it was pretty much an exchange. She stated that she understood then made me pay 20.00$ for the return of the crossbow case. I was confused because why would I be charge for a return/exchange? She stated that it was the difference of the 2 hats (40.00 each) and the case was 100.00 so I had to pay a fee. She repeated this at least three times while I was reviewing the receipt so I obliged and paid 20.00.
As my wife and I were walking towards the archery section, she yelled out for me and ask why I wasn't taking the case. I told her that I was returning it so I can pick up the correct one. At this point she felt retarded and realized she made a huge mistake so she made the refund and credited me back my money. We will see if that is true in a few weeks after the transactions go through. If I can negatively rate this Cabela's then it would seriously be a -5 Stars. Customer Service is miserable and I recommend going to Bass Pro. I will be sending this review to the Cabela's website themselves ie. president, CEO, etc.

I do know that their "lifetime guarantee" on Cabela's brand footwear is pretty much meaningless. They claim to have a "product lifetime guarantee" on Cabela's brand clothing footwear and optics. They state those items "are guaranteed for the life of the product under normal wear and tear and AGAINST DEFECTS IN WORKMANSHIP". I bought my wife two pairs of Cabela's Brand women's hiking/hunting boots in 05, she never wore one pair and wore the other pair, maybe a dozen times, both have been stored in her closet under normal temp/humidity conditions. The rubber in the soles has started to rot, crumble and break apart just by touching it. Sent them back and Cabela's denied the return saying that since the boots were discontinued in '07 therefore we're beyond their "life of product" time!! CLEAR violation of federal law! Read the Magnuson-Moss Warranty Act.

My husband has a Cabela's Visa Card, and we have been faithfully paying off his balance almost as soon as he owes it. The ONE exception was for a payment due February 4th, when he neglected to tell me that he had put charges on the card, so when the bill got put in the wrong place, I didn't know to look for it. When we got the next statement, he got an email stating that he was "over 30 days behind" (it was mid-February) and stated the amount due on the March 4th bill. When we got our paychecks deposited on February 27th, I made it a point to go online and pay MORE than what they requested, even though THEY didn't credit the payment until March 2.
Today, they sent us a notice stating that they had dropped his credit limit dramatically because of "Your account history with our institution" and an Equifax report (of the three credit reporting agencies, Equifax is the most inaccurate, and I've had to practically take them to court over a LOT of things they mis-reported).
We would like Consumer Affairs to question Cabela's about this so-called "history", as MY records show all the bills with the exception of February being paid ON TIME, with either the minimum balance, MORE than the minimum balance or IN FULL. If a single late payment makes us horrible people in need of punishment in their eyes, we aren't going to be dealing with Cabela's ever again, as we'll find other places to get the few things my husband thinks he can't live without that they sell.

We have done business with Cabelas for years. Jackets, gloves, household items, and a lot of other purchases we have made throughout the years. Well In December 2014 we were looking for a last minute something for my brother, for Christmas. He has a boat and we all go fishing up in Wyoming in the summer so we thought a new lightweight life preserver vest would suit him. We placed the order online on 12/16/2014. The total of $123.47 was charged to our credit card. Well we waited for several hours that night for a confirmation that the order had been taken and that we would receive a receipt by e-mail. But nothing showed up.
The next day on 12/17/14 we called and was told because of it being a gift that a receipt could not be given. My brother lives in another state, we have a completely different e-mail address. So we asked to talk to another employee and they told us the same thing. (That's funny, because my brother gave us several gifts from Cabelas and we received a copy of HIS purchases to US that were sent from you all). So what we were told by Cabelas was BULL. We then asked to talk to a supervisor and she said there was no problem. That we would be immediately sent a receipt of our purchase on 12/16/14.
We have yet see a receipt for this purchase. We would like to give you a order number or a receipt but we were never given either one. We have an amount on our credit card statement for $123.47, but that's it. Even this email we did not hear a word back from Cabelas. What horrible way to run a company, not to mention the way they treat their customers. Let's just say we will not be purchasing from them ever again, nor will my brother.

I have been a Cabela's customer ever since I can remember. They built one in Richfield, WI about five years ago. I had applied for their visa credit card and I was approved. I have been in good standing for two years. Today I received a letter stating they were closing my account. I am very upset. I do not understand why. I called customer service and they said my credit score was not up to their standards. Well Cabela's just lost me as a lifetime customer. I encourage anyone who wants is thinking of applying for a card not to. Because they will screw you over two years later by closing your account. I spend a lot of money there and live ten minutes from the store, but you will never catch me in the store ever again.

Cabela's eventually honored their advertised sale, albeit a few months later. No correspondence or apologies were given. However, I am satisfied that they were able to live up to their end of the promised delivery and sale lrice of the item. Thanks, Cabela's!
Original Review
(This is my report to the competition bureau of Canada - Dec. 10, 2014): In a most recent flyer, Cabela's advertised a Commercial-grade vacuum sealer (15", Item #43771) at the price of $299.99. I had placed that order along with a number of other items, including consumables (bags) on November 30th. A subsequent email let me know that it was backordered. I received a portion of the order, including the consumable bags. Today (Dec. 10th) Cabela's notified me by email that the vacuum sealer was no longer available. Additionally, no replacement item would be offered, and my funds would be refunded.
When I called the toll-free number, the representative said that they will not be honoring the flyer item as the item was no longer available due to "high order demand". I mentioned that a replacement model was listed on their website (model #81740) at a price of $499.99. They mentioned that this item would not be substituted. I mentioned if this was the policy on the shortage as per their instruction, and they confirmed it was. This is a classic "bait & switch" type of marketing and is unacceptable in the Canadian marketplace. I have ad-hoc information that nearly 100 Canadian Consumers have been affected in this exact same way.
If you are one that is affected, please contact me so we may consider class-action legal recourse. (**) I strongly believe that this company is in violation of the competition act, such that consumers such as myself have suffered the following damages:
1) Acquisition of funds & money without delivery of product.
2) Bank-rolling and/or holding of funds for a term without refund of interest on said held funds.
3) Delay of consumer purchase from a competitor's list or sale item(s) with false or incorrect advertisement (see Competition Act).
4) Destruction or degradation of wild game quality and/or quantity due to negligence of the Company. (The price of acquisition of wild game is impossible to tabulate.)
As a Canadian citizen, consumer as well as businessperson, I feel this is completely unacceptable for our marketplace. Please investigate, and persecute the applicable parties involved in these LIES and DECEPTION that are uncalled for and unfair to other businesses and consumers.

On April 17 2014 I arrived to Cabelas Ft. worth location to pick up my brand new 2014 z521c Ranger boat. Man was I excited!! I was about to pick up my DREAM BOAT!!! Upon my arrival the boat was in the shop ready to be delivered all nice and clean and had that fresh brand new smell. Man I was excited... My DREAM BOAT!! Anyhow, got my new boat orientation done in the shop. During the orientation it was noted that there was a patch of glue on the carpet and that they would get it taken care of for me through Johnsons Fiber Glass. I thought no Biggy they are going to get it fixed. Anyhow back to the orientation. I received no water demo, maybe because it was sprinkling outside or something. Who knows? We hooked the boat up to my truck and this is where my adventure began.
On the morning of April 18th 2014 I took the day off work so that I could go out and bond with my new boat and get some break in hours and do a little fishing. Put her in the water and away I went. I drove the boat the way Cabelas recommended to break it in properly which was confusing to me because Evinrude claims there is no break in required. Yet Cabelas seemed pretty persistent in following a break in procedure. Well after driving the boat for a bit I stopped and did some fishing. After fishing for a bit I decided to go for another drive. Got the boat started and put her in to gear and stepped on the hot foot and....... NOTHING. The boat had no power and would only run idle speed. I shut the motor off and called the Cabelas service department. After trying a few things they recommended on the phone they said to load it up and bring it in. So I idled the boat back to the ramp, loaded up and headed to Cabelas.
I arrived at Cabelas with my salesman and a service tech with laptop in hand. They immediately went to work to get the problem resolved. The issue was something to do with the Hot Foot and the TPS sensor out of sync. Got it fixed and away I went again. The customer service I had received up to this point was absolutely fantastic which is what I would expect after spending $70,000 on a boat. After a couple of weeks my wife decided to surprise me and have a power pole installed on the boat so we took the boat in and let them do the work. A few days later I came to pick the boat up. It was dirty and had fingerprints and pieces of cut wire all over. It wasn't a big issue because they had been so good to me up to this point.
We hooked the boat up and away I went again. When I got home I was checking out the power pole and playing with it as it was like a new toy. Well it did not operate fully and was very glitchy. I opened up the battery compartment to look at the install job. Holly cow. It was a mess in there. Wires hanging out, hydraulic cables rubbing on battery and on kill switch. I thought what the heck is this. It looked like a 5 year old installed it. I called the Service Mgr. and asked him why the pole was acting funky. He said that I needed to take it to the lake and bleed the fluid and gave me verbal instructions on how to do this. I also asked him about the wiring job. He acted like it was no big deal and really didn't acknowledge it. I texted him and my salesman pictures of the wiring job and got zero response. This bothered me along with the fact that they did not check the operation of the power pole before me picking up the boat. NOTE.... At this point I had still gotten no word of fixing the carpet that had glue on it and had asked about it a few times. Starting to get a little irritated at this point.
A few days later I'm out on the lake and noticed I had 1/2 tank of gas in the boat. Did my usual fishing on the small lake that I go to quite often. Made a few runs and noticed that the gas gauge now was pegged on empty with the light on. I thought that was strange. Anyways took the boat home and went to plug in the on-board charger and.... Well it was broke too. Would only charge 3 out of the 4 batteries. Called Cabelas again the next day. Told the service manager of my issues and he said he would order a new gauge, sending unit new on-board charger and get back to me in a couple days. Well 2 weeks later I called him to check the status. Oh the parts are here he said and we worked out a time for me to bring it back in.
Now since I have had the boat this whole time I had an issue with the prop blowing out that I had several discussions with the service manager and my salesman about. What was happening is every time I would take off and the bow of the boat would come down, the prop would blow out and the engine would rev to about 5300 rpm and then re-engage. They never could give me an answer on why it did that other than "I guess it's supposed to do that." That answer was not good enough for me so I called Ranger. I spoke the man that test runs all the FLW boats. He said that I was like the 3rd person to have that issue and this is how he told me to fix it. Go to lowe's and buy a plastic cap (gave me a part number) and get a tube of JB Weld and JB Weld this cap into one of the vent holes of the prop. I thought to myself... ARE YOU SERIOUS??? $70,000 boat and I have to JB Weld parts to the prop to make the boat perform??? I told Cabelas about this conversation I had with Ranger and they said they would check on it and get it handled with a new prop and lowering the motor when I brought the boat in for the fuel gauge.
So back to Cabelas the boat goes. Keep in mind that Cabelas is about 80 miles round trip for me. I brought the boat in that next week. They said it would take 2 days. I called on the second day to see if it was ready and they said it would be by the time I got there, so I headed that way. It took me about 2 hours to get there because I had some other stops to make. When I arrived I saw the boat outside in the parking lot, dirty again and fingerprints all over, even greasy fingerprints on the underside of the battery compartment. I walked around the boat and noticed that it still had the original prop on the boat. Remember they told me it would be ready by the time I got there. I went inside and said I was here to get the boat but y'all didn't change the prop. They acted like they didn't even know where the new prop was. (a 25p Furry)
Anyways about an hour later I'm on my way home with my boat again. Decided to stop and put some gas in the boat and take it to the lake and see how the new prop performed. I put $60 in gas in it because I knew it was low when I took it in to Cabelas. Got to the lake, dropped the boat in the water and started it and the gas gauge still said empty. Called the Service Department again. Was told to check fuse in battery compartment and check to see if it was plugged in under the dash. Everything was hooked up and turned on. The service manage said he would come out to my house the next day and take a look. I said ok and went on and attempted to test run the new prop. Well the boat wouldn't even plane out. This prop blew out so bad that the boat was undrivable. I loaded up the boat and went home. FRUSTRATED!! !
The next day the service manager came to my house to check the boat out. Turns out that the tech that installed the fuel sending unit in did not plug it in behind the seat so it was not making any connection. Service mgr. also installed plugs in the prop and said that should fix it and he left. I went to the lake. Everything appeared to be good again. Finished up my fishing and headed home and parked boat back in garage. While wiping the boat down I notice 3 screws missing out of the dash and my Keel guard on the bottom of the boat was falling off, and the grommet where the plug goes to the on-board charger is cracked due to over tightening the screws when they replaced the battery charger. I found 2 of the screws on the floor of the boat and re-installed them. At this point I am beyond words with this boat. One thing after another. Keep in mind at this point I still have the glue on the carpet, the nasty wiring job from the power pole install.
I came in the house fuming mad and I told my wife about the new problems and she sat down and wrote the Ft. worth Cabelas Store manager an email. 4 days went by and we got no response so we forwarded the email to his boss Mr. ** and Noble **. The next day I got a call from Ken **. He said that he was notified by Mr. ** to get us taken care of and make us happy. I told him all of the issues that we were having with the boat, the engine and the service. He asked me what would it take to make you happy? I told him what is most important to me is get my boat to quit falling apart!!! He even asked me if putting a Mercury Engine on it would make me happy as I was having issues with performance of the Evinrude. I told him that it might but I would like to go for a test ride in a boat just like mine with a mercury before I make that choice. He said he had to talk to someone and would get back to me.... A few hours later he called me back on a conference call with a man named Monte.
They spoke to me about getting a game plan together to get boat picked up and get ALL of my issues resolved. Said they wanted to not only meet my expectations but exceed them. I had told them that we had received enough lip service during this whole ordeal and were tired of it. He assured me no lip service, just results!! From there we made arrangements to have boat picked up and get the issues resolved. The boat was scheduled to be picked up July 5 2014 and I told them I needed the boat back on July 14th. All parties agreed the boat would be ready and meet my expectations.
On 14th at around 2 pm I called to see if the boat was ready. NOPE! Service department was closed!! Would not be ready until the next day the 15th. So on the 15th I arrive at Cabelas at 9 am. They were cleaning the boat, getting it ready to take to the lake so that me and the salesman could test run it. Andrew drove us to the lake where we test ran the boat with another new prop. A 26 Furry this time. Me and Andrew spent a few hours on the lake running the boat and talking. I had mentioned to him that the hole shot with this prop was horrible and that I was concerned about this engine because it does not perform the way he stated that it would prior to us purchasing it. It is horrible on gas and oil and seems to lack power. He told me that it was a big heavy boat and it's going to do those things (but at the time prior to the sale it was the exact opposite). Anyhow I told him I would play around with plugging the prop and see if I could get the hole shot any better. We left the lake and he topped my boat off with fuel and gave me a $200 gift card from Cabelas for my troubles. Everything on the boat appeared to be fixed. So I took the boat home.
Been running the 26 furry on the boat for about a month now and have seen some high rpms on the tach. Called Cabelas to ask if they could put me in contact with the Evinrude Rep to that I could be assured that I would not have any warranty issues with this prop due to the rpm that it was turning. Got no help with that. I was feeling like Cabelas was as tired of hearing from me as I was as tired of calling them. Since I picked the boat up I have had more issues. My latches on my lockers coming loose, nuts and bolts from them falling into the battery compartment down into the bilge compartment, (which reminds me I have had to have a bilge pump replaced sometime during this ordeal as well) I have had carpet start peeling up in the cockpit of the boat. Had to have a Water separator sensor plug replaced.
I made a few more calls to Ken ** and never got a call back for 2 weeks. Called again and finally reached him. He said that he didn't call me back because he was letting the Ft. Worth store handle all of my issues. (Cause they have done such a great job so far) I very politely asked him what we needed to do to get out of this boat because it has been problem after problem after problem. My dream boat had become my NIGHTMARE boat. I asked if we could either trade it in or if they would
purchase the boat back because it appears to me a bit of a lemon. He said he would have to talk to someone once again.
A few hours later I got a call from him with yet another conference call. This time I was introduced to Mr. Noble **. Mr. ** was very short and to the point and stated. "We have done everything we can to try and make you happy. We are no longer going to use Cabelas resources to try and make you happy. I hate to be the bearer of bad news but we will not be trading you out of your boat or purchasing it back." (As I was having this conversation with him, the service manager was working on my boat again. Replacing wire and gluing carpet down.) Noble was quite rude. All I could say is "what makes me happy is spending 70k on a boat that does not fall apart every time I take it out. It has been to your shop about as many times as it has been to the lake". "I guess I will need to contact an attorney about a lemon lawsuit." He said you do whatever you feel you need to do. " The conversation was over.
So now I have a boat that we have invested over 70k into and Cabelas has basically abandoned us. I was advised to send them an email again asking for in writing that the prop that Cabelas put on the boat will not void warranty in any way due to engine rpm. If they could not provide that then I would need my original prop back on the boat so that the boat is back to its original form the way Ranger sent it. I have gotten no response from any party of Cabelas. I went fishing this weekend and now my trim motor is going out. Has a delay and a loud squeal before the engine will raise up. I am not an unrealistic person and understand and possibly expect a few problems along the way. But this is ridiculous. There have been way too many problems with this boat in a short amount of time.
I thought I was buying the best boat money could buy; instead I got a boat that needs a full time mechanic every time I take it out. To make matters worse I bought it from a dealership that has blown me off and failed to take responsibility. We want to not only meet but exceed your expectations was told to me once upon a time. Lip Service is all we have gotten from Cabelas. I am at the lake whenever possible and I have a very nice looking Ranger boat. I am asked all the time at the lake or at tournaments, "Hey how do you like your new ranger?" It's a shame I am unable to give positive feedback. I am sending this letter to Cabelas as my last effort to get this resolved peacefully. Any help is appreciated. Thank you.

I went online to check about whether Cabela's was dog-friendly. I have a 9-pound dog on leash and didn't want to leave him in hot car while I tried on shoes. The website says they are pet-friendly except where the cafe is. I arrived with my little guy on leash and wasn't allowed to shop. I said, "Aren't you pet-friendly as your website claims?" The youngish person kicking me out said this exactly: "Well, yes and no. We are pet-friendly if you have a certified companion animal."
Hello Cabela's!!! That is a legal requirement, not a pet-friendly policy. Either correct your website and train your staff to understand and explain your policies or get pet-friendly! Most of the stuff I buy is related to doing things with a dog.
Cabela's World's Foremost Outfitter Company Profile
Company Name:

Cabela's

Website:

http://www.cabelas.com/