Consumer Complaints and Reviews

On November 26 I went to my local Best Buy store to check out their selection of laptops. With the help of the store associate I found the one that suited my needs. They did not have one in stock so the associate ordered one giving me a pick up date of December first. On December first I contacted the store to see if my order had arrived, (Horrible automated customer service. I was hung up on twice after spending 30 minutes on hold) and I was informed that they had oversold this product and did not have one to give me to complete the transaction. Now if I was a car salesman and sold one car to two different people I think I would be in trouble legally and my reputation would be damaged.

I purchased a new Samsung washer within the last 12 months and found out it was recalled. Best Buy didn't notify me. I had to find out on my own. I had to buy another washer and the rebate on the recalled one was about half the cost. So I am out about 1200.00 dollars. When I called customer service to see if I could get a little knocked off my account it was "no sorry. You just have to pay it". Well I did. I paid off the entire account and will not make another purchase at Best Buy. Thanks for the notification that I had purchased a washing machine that could explode.

Just made a call to Best Buy and was on hold for over 47 mins. A lady picked up the phone and I was checking on my Order which is to be delivered today. I had a voice message on my Home phone. That the Order is confirmed and with a Order no. This number I made a note and I lost the paper as well as deleted the Voice message, both when the Order was processed and a day advance notice when the delivery will be made.
When I called in today and she asked me for my Order no. And I did let her know that I lost the paper where I had made a note as well as gave her the number as I was calling from was registered for the Order. She was totally unhelpful as she needed to speak to my Son who was out on a Vacation. I am sure when you have the Telephone number under which the order was registered, it's easy to have all the information and verify my details. But she insisted that she needs to speak to my Son. All I was looking for my delivery time which may not be possible, but she gave no heed to my call and assist me.
So I hung up as she was not proactive or willing go help as she insisted she needs to speak to my Son who is away on vacation and she insisted that my Son should call them. Now this is a Online Order and the Payment has been made. Is it necessary someone who has ordered must only speak when you have all the information, She did not even ask me what my concern was. A very sorry state of affairs with Call Centers of Best Buy. Totally disappointed. I even do not the email sent to our Son who is on vacation. Just that I am going to work and my Wife is at home the Order receiving day was accepted but my Wife had a Physio appointment and the delivery was scheduled by a message that was left and it clashes is our concern. Was trying to see if the delivery person could come after 6 pm or before 4 pm.

Order problem. I placed an order on Nov. 28th, for the item referred to in the order number below. On the morning of the 29th, I received an email sent to ** informing me that the order was cancelled due to a non-deliverable address. I called to question this, as I use this address frequently, with NO problems. Eventually, I talked to someone by the name of Carlos in your customer service department, and a case number was opened.
I was then transferred to another department to try and sort out exactly what the problem was. According to the person I spoke to, there was nothing wrong that she could find. I was told that I should reorder the item, and the case number would alert some department, regarding the difference in the price I paid when I ordered the item on Nov 28, which was $229.00 plus sales tax. The price that I need to pay now was $299.59, including tax, but as I mentioned, this would be adjusted back to the original Nov 28 price.
I gave the order to the sales department with all the information. Credit card number, expiration date, security code etc. I also gave them my billing address and the shipping address. My original shipping address indicated MIAMI FL, not MEDLEY FL, and I explained to the person I spoke to that, according to ** company, it is Miami, but it appears on the USPS zip code search as Medley. I have always used Miami when sending items to this company, and not once in over 15 years has there ever been a problem.
Now, everything was supposed to be fine. This took a little over 2 hours to get to this point. I received another email today (Nov 29) telling me again, the order was cancelled. I am a very patient person, but this is absurd. I am waiting for a customer service call back at the moment to again, try to resolve the problem. I received the callback and reordered for a third time. Please see the results below. All I can say at this point is not printable.
Please tell me why this is happening? I am extremely frustrated, and I have wasted almost 5 hours trying to purchase from your company, which is an experience I do not want to repeat. I do deserve an answer, and not some form letter that say "we are sorry" nonsense. ** This shows where the company is located. ** This shows the address of the company is a Miami/zip code address, not Medley, ** Original order number I placed on Nov 28, and this is the attached reason on the cancellation email: Westinghouse 50 Class 50 Diag LED 1080p HDTV Black high gloss, Model: WD50FC1120, SKU: 7617022. ITEM CANCELED: ADDRESS UNDELIVERABLE.
** Second order I placed on Nov 29 that was cancelled. ** Well, this was the 3rd kick at the cat, and this one was cancelled 2 seconds after I reordered again.
So, as far as I am concerned, the no email contact address to present your case in point, makes me believe that they don't care to hear about problems. Their online shopping system is not reliable, and no one contacted at the customer service number could give any reason why the 3 orders were cancelled. I contacted my bank, and the charge was pending and approved, so it certainly wasn't a matter of a card with insufficient credit available, as I had a zero balance owing. They certainly don't need me as a customer I assume, so I will oblige them and won't honor them with future business. Very badly run operation.

Scheduled delivery for a TV for today 4-8pm and no TV delivery. I went to website that their customer service link is a FARCE. They have a customer service phone # that is on perpetual hold. They say they are committed to customer service but it is all talk. Their phone message says you can leave a voice mail but it is full. What a waste of my time and energy. I just spent $2000 and this is the customer service I get. Really? I am very disappointed and would not recommend Best Buy. What a disappointment. I look at my purchase online and it is erased. I can only see active purchases and canceled ones but not ones that are not complete for any status. Professional? No. Customer Service? None. Just another money grabbing business? Yes. I will be looking to take my business elsewhere.
How do I know I can trust these reviews about Geek Squad?
637,576 reviews on ConsumerAffairs are verified.
We require contact information to ensure our reviewers are real.
We use intelligent software that helps us maintain the integrity of reviews.
Our moderators read all reviews to verify quality and helpfulness.
For more information about reviews on ConsumerAffairs.com please visit our FAQ.

My mother purchased a television along with another major appliance. The television stopped working before the year was out. We took the television in to Best Buy and they stated that they would send it to Samsung and we should have an answer within two weeks. It is going on four weeks and Best Buy has done nothing but give my mother the runaround, putting the blame on Samsung. Samsung called my mother today and told her that Best Buy will need to correct the situation and provide her with a new television. This is ridiculous. Customer satisfaction is if the television goes out within a year, the store replaces the product. We have had problems with our laptops that we have purchased from Best Buy not working within a year. I think they are selling refurbished products as if they are brand new just to keep the Geek Squad in business. We want satisfaction for our Mother. She is elderly and should not have to go through this kind of hassle.

I was referred to Best Buy by my mechanic. I needed to add Bluetooth. GEEK Squad at Leesburg Va store told me I needed to install a new radio. I did. Cost was $600+ including install. Radio controls were impossible to figure out so they replaced it with full sized radio... same problems though I had Bluetooth. Took it back 20 days later. They said they would not buy old radio back in... and had an option to add Bluetooth to existing radio for $40 with self-installation. They would not return my money and charged me for the bluetooth! A person in customer service reached out to me and offered me a $100 gift certificate. They would not give me back any money. I turned it down since I will never spend another cent in Best Buy... And I am in the market for two laptops! Do not go near Best Buy... particularly Leesburg, Va.

There is a serious issue, when a store refuses to give out the manager's full name because of security reasons. We purchased a complete set of home appliances, TV, etc. and paid extra to get 4 years of warranty on all appliances. The Samsung Fridge's compressor broke down and was replaced by a compressor that looked as it came from a junkyard. Also, ice maker wouldn't quit making ice & constantly over flew all over the floor when we opened the side freezer door. Once they attempted to fix it but it failed. The next times, the repair driver would drive by our home, park for 20 or more minutes, and drive away. Each time we called, he started doing the same thing. After a few times, I would open the door and run and he would quickly turn truck on and leave.
We had no idea what the heck was going on. This happened over and over again. We went to local store and they were no help. We asked for manager and would sit for a while and he would not come out. We finally got a hold of B.B. headquarters, and thanks God, for them calling local store and we found out what was happening. The driver would park by the home and this would get recorded by his GPS and per maintenance man, he was at our home many times and fixed the same issue or came by and rang the door bell and no one was home.
We then went to BBB, who listens to consumer and then contacts the store and shows issue resolved if the store writes back something like "we have been to this customer's house many times and have a log of GPS to show those and this customer is just not happy and we don't know how to make him happy". Best Buy customer service and specially store manager put us through hell. On other hand, Lowe's, and Home Depot, in my opinion have an excellent customer service. Also, I think for an online store, Amazon rocks.

I was extremely upset with the customer service I received while purchasing a laptop. I asked specifically whether Microsoft Word and Excel was already installed on the machine which the sales rep told me was not. I asked again because I was pretty sure that all of my previous laptops came with those Microsoft applications and again was told that no, only the Microsoft operating system is installed and if I want Word, Excel, and Powerpoint, etc., I will have to purchase the Microsoft Office product code. After purchasing and activating the code, I discovered that no, I did not have to purchase the Microsoft Office code, all of those applications were pre-installed! While I will concede that if the apps are not activated with the code they will lose certain functionality, however, this is what I should have been told when I specifically asked the sales rep about it. I feel cheated and lied to and will NEVER purchase from Best Buy again!

Best Buy does not have customer service. There is a name you can click on their web page, but it only goes to more links you can click, none of which have any value at all. They have a customer service phone number. 1-888-BESTBUY - If you are patient enough to decipher that idiotic crap, it translates into something you can dial 1-888-237-8289. That leads to a survey or something recorded followed by a hang up from them.
Absolutely no customer service. When you buy something in the store, they will promise a delivery date and give you a printed page ensuring it, but DO NOT believe it. It may or may not happen. Their system does not show what is actually in stock with the vendors. If there is any problem, you WILL NOT be notified of the change. You will sit there for days, or weeks and NEVER know what has happened. If you were fortunate enough to be served by Pacific Kitchen and Home, or another contractor they have hired, you can contact those reps and get an answer... But they TOO must rely on Best Buy's internal systems. So no matter how hard they try, they are as much victims of Best Buy's eternal incompetence as you will be if you buy there.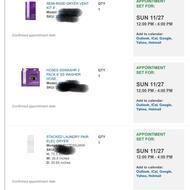 We purchased a stacked GE washer and dryer from Best Buy. The first time they came to deliver the machines they did not have the cables and adapters. Today they came to redeliver and this time they just brought the cables and no machines. I called customer service and they said they didn't have the machines we purchased in stock so they went ahead and rescheduled the delivery for next week (without telling us about it). I took off of work today for this delivery and all I received is a bunch of cables. The delivery people were not very helpful or friendly either. I attached to this review a copy of the last email they sent us saying that the delivery was going to be today. They never even gave us a courtesy call saying that they had to reschedule the delivery. Horrible customer service and horrible communication. We will NEVER purchase appliances from them again.

I am on my second hour of talking with the various people of Best Buy. I just got placed on hold while they transferred me to the fourth person at Best Buy. I purchased a TV on Thursday and my TV was scheduled to be delivered today. I got a call today and was told there was a computer 'glitch' and that they would have to reschedule delivery of the TV. They would call back later with a date. When I called to find out why I was told that they had sold too many TVs than what they actually had in stock. I had purchased $500 other items to go with the TV which will be here long before the TV ever shows up. I thought there were laws to protect consumers from this as the money is out of my account, but, I won't get my item for another week.
Updated: a total of 4 hours on the phone and I was just told 'sorry'. The call center in India also needs to learn a little more English as that didn't help between hours 1 and 2. I have to wait another week as I would lose out on the deal and all other businesses that ALSO had Black Friday deals that I could have bought from. My bad for trusting a company that sells TVs as their major business. I told Best Buy that they lost me as a customer. I wish I would have used this site BEFORE shopping there. Horrible experience. The last person told me I shouldn't have cancelled my original delivery date. I didn't, Best Buy did. I had a confirmation number and everything. Oh well. Live and learn. I will never shop there again.

First let me state that I have been a loyal Customer of Best Buy for over twenty years. Today I had an experience that makes me re-think my relationship with Best Buy. No longer will I recommend them for friends, family or business associates. The reason is they gone to doing the corporate process and forgetting about the consumer -- I am sure that this philosophy will cause their demise. Now for my complaint, I tried to order a TV for my son's Christmas. When I called the store to place the order the agent stated that product was not available in my district -- only about 250 miles away -- so they could not place my order. I asked what I could do and they said buy another TV, so I asked to for number of corporate Best Buy. I called them and after a long conversation that agent stated the same thing that I could not order it because there were none in my district and they could not ship one there. Her solution was for me pay $50 -- finally I agreed to do this.
This agent told me that all I would need to pick up this TV was my driver's license and a copy of the email stating it was ready for pickup. So I waited to receive the email which I did, then we proceeded to go to Best Buy in Greenwood, IN. We entered a long line (because of Black Friday) to pick up the TV -- the store clerk stated that I needed my driver's license, a copy of the email and the credit card that I purchased the TV with. I left the store but before leaving, I got the Corporate number (888-Best-Buy). I went to my car and called the number, when the agent answer she told me to go back into the store and ask for a manager which I did. I spoke to a gentleman named Melvin who stated this was the policy to protect me ha!ha! What a line.
As I have stated before there is NO CUSTOMER SERVICE at Best Buy just policies. There are NOT to protect me but for the store's protection. On my email that they sent it stated that they had already successfully charged my card. As manager of buyers for a large company in the Indianapolis area, I will have Best Buy removed from our recommended list and I will email everyone that is in my position to recommend the same tactic. I willing to talk to Executive Management of Best Buy but NOT talk to anyone lower.

I purchased a camera online and my bank blocked the purchase until they could verify that I was the person using my credit card. Once I removed the block from my credit card, I had to re-order the item. Once I re-ordered, I contacted my bank to make sure the order went through. They informed me that two orders showed on my account, a double purchase for the same item. When I contacted Best Buy, they informed me that they could not cancel my extra order. I would have to receive the item, and then return it to a nearby Best Buy store to receive the refund. That means they will keep $504 for 13 days. They also charged me sales tax on both products that were purchased from stores that were located in another state. After reading some of the reviews here, however, I find that I might not get the refund at all. I will never purchase from Best Buy again.

I decided to try and take advantage of Black Friday sales and purchased a 60 inch TV from bestbuy.com. The price was right and I've shopped at Best Buy in person on past occasions. After completing my $1500 order the site did not allow me to schedule shipping. I didn't request anything other than standard delivery so I thought this was odd. I called their 888 number and was told that they couldn't schedule delivery, that I'd need to go to my local store (40 minutes away) and schedule delivery. I called my local store and was told by a very helpful Best Buy associate that they couldn't schedule it either, until they "located" the item.
Since I purchased the TV from BestBuy.com the store couldn't schedule shipping until they found the item to ship; it wasn't necessarily in their inventory. I promptly canceled the order. I order online all the time. This was singularly one of the silliest experiences I've had in quite awhile; considering it's a major retailer you'd think that ordering online from them is easy. Not the case at all.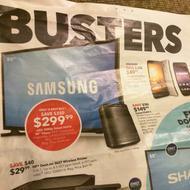 I went to Best Buy at Yuma Palms in Arizona on Black Friday 2016 to buy a Samsung 50" LED 1080p Smart HDTV for $299.99. I explained a Best Buy employee what I wanted to buy. The employee returned with a cart and placed a Samsung 50" LED 1080p Smart HDTV. I was happy and ready to pay at the register but when the employee scan the tv it was $399. I told him it should be $299.99. A yellow shirt employee told me that this tv is selling for $399. I explained him that a blue shirt employee got the tv for me and said it was the tv I requested for $299.99. The yellow shirt employee said that he is sorry but the blue shirt employee had made a mistake and that the tv I wanted was sold out. But if I wanted this tv it was going to cost $399. I told the yellow shirt they can return the tv back where they got it because for that price I am buying it. I just walked out of Best Buy without buying my TV. I am never returning to Best Buy...

I was expecting a typical Black Friday experience, long lines, out of stock and rude customer/employees. Much to my surprise the Best Buy @ 7017 S Lindbergh Blvd., St. Louis, MO, that was not the case. I arrived at the store shortly after the store opened. The parking lot was FULL but I found a spot very close to the entrance. I went to the laptop department, where I spoke with an associate (apparently new as he asked lots of questions).
I told them the item I wanted and was told I would not need a ticket (inaccurate information) - I get in line and get to the front of the line where they are retrieving items. I was immediately told this item needed a ticket and they had no more tickets for this product. I encountered an Assistant Manager **, where he went and spoke to the associate. He came back to me pulled a laptop and walked me to the register. He made my situation RIGHT. I did not have to complain or anything. He understands the phrase "customer service". He was amazing. I liked Best Buy but now I LOVE it and he has secured my total loyalty. I will be making sure Best Buy does not sell a product before I buy it. If Best Buy has it I will be buying it from them. WOW!!! Customer Service is not dead at this store. ** is a fantastic ambassador for your organization. Thanks for the AMAZING black Friday experience.

You're advertising the Beats 2 cost $199 on sale for 89 today. It's not true. The Beats 3 cost $199. This is a dishonest or for doing this Best Buy should be ashamed of itself. I should be reported to the Better Business Bureau.

I recently made a purchase on BestBuy.com and am upset due to the fact that my product arrived in a box stating what was inside in bold, black lettering (Down to the color). Not only would it have been an easy target to steal but it ruined a big Christmas present. I ordered it for my mom and she was the one that was home when it arrived.

I bought a Vizio 55 inch LCD TV from Best Buy in August of 2016. I bought the Geek Squad Protection Plan, which I normally don't do, to cover me for an extra year of protection. The Vizio M55-D0 TV we purchased failed the day before Thanksgiving. I spent an hour on the phone with Best Buy, the Geek Squad and the Vizio Company trying to get my TV fixed ASAP. The Macy's Day parade is a staple in our home and here is the sequence of events I endured during the one hour call and five transfers I was subjected to in order to try to invoke my coveted warranty protection I paid for:
Called Best Buy in Gainesville Florida where I purchased my 55 inch LED Vizio TV (Sales person insisted the Geek Squad Warranty would take care of me). Transferred to Geek Squad where I told them I had no sound or video on the TV. Transferred to the 'In-Home' department where they would call me to schedule a visit in 7-10 days. Because it was only 3 months since the purchase, transferred to Indiana to troubleshoot the problem. Because the sales was so recent, transferred to North Dakota to a Vizio Tech support to try to resolve the problem. Unplug the TV power cord and held the TV remote power button down for 10 seconds to reset the TV. No results. Will now schedule a technician to call me in 7 to 10 days to arrange a time to visit my location to troubleshoot the TV. Should resolve the problem but if not, will order a new TV to be delivered in 7 to 10 days afterward, maybe. Really? This is what I paid the extra protection for?!!!!!
How in the world can a company get away with this? I am a loyal Best Buy customer. I just purchased an expensive KitchenAid oven from them to replace my burned out stove and will be making payments for the next several years. I've done business with Best Buy for years and I am so disappointed with their manufacturer and Geek Squad warranty promise. I feel like a victim of a product failure and a substandard misrepresented warranty program that can't deliver when it really counts. I'll be sitting in my recreation room watching the Macy's Day Parade on a 20 inch TV I scrounged from my camper until Best Buy can deliver on their promise to take care of me sometime in the distant future. Please evaluate the remedies of the Manufacturer's 1-Year warranty and the small print when you spend the extra money on extended Geek Squad Warranties before you spend the extra money.

I've been a consistent customer to Best Buy for many years. With that being said, I am completely disappointed and do not plan on spending my money there again after my experience today. After multiple days of troubleshooting issues with a WIFI router, determined it would not work for my needs thus went to store to determine options. The customer service technician said she couldn't help me due to it being past 15 days since purchase so I asked to speak to someone in management so I may explain my situation and determine options.
The manager came over and said there was nothing he could do and tossed my receipt at me! I explained that I don't want my money back, I want another router that will work for my situation and wanted options for getting the amount already paid on the router credited or taken from the new purchase. He dismissed me once again giving me no support or suggestions on a path forward. He simply kept repeating the 800-bestbuy phone number. The issue with the item is besides the point, this manager treated me worse than I've ever been treated in any retail store. I expected a manager to listen to my experience (without interrupting the customer), explain what could or couldn't be done and help me determine a path forward. Instead my receipt was literally tossed at me, and I was told I was out the more than two hundred dollars spent on the initial router due to the 15 day window. Very sad that this behavior is allowed.
I'm not sure if Best Buy cares but they just lost a customer. After leaving the store, I called the number given by the manager to report this incident to Best Buy corporate office. A recording instructed me to visit my local store and discuss with the store manager. The fact that I called to discuss my concerns and couldn't speak to someone at Corporate indicates to this customer that customer feedback is not valued or used to foster a culture of continuous improvement.

I purchased a washer and dryer from Best Buy 2 weeks ago and have them delivered to my address where I'm staying. Not knowing that the washer was recalled due to Samsung's error, I did not get a notification from Best Buy or Samsung. I called Best Buy and was being put on hold, and then hung me up. I'm pretty sure they're "real" busy at 10AM. So I call them again and they explained it to me and that have to go to the store to purchased another model. Not a happy camper due to frustration, run around and headache.

Had to wait 3 weeks for just $12.99 item. Ordered from Allen Store. Guy was sleeping in store and ordered the wrong one. Received wrong item. I called again. Lady was also sleeping on phone and shipped me again same wrong item (I warned 10 time make sure it's not the wrong one). And finally third time they are saying if I can deliver two wrong items to store and get my payment back and order new again. KUDOS TO YOUR SERVICE. What am I getting??? 3 weeks wait time and delivery for you guys as well.

I purchase a new HP laptop from Best Buy in early August for my son who was heading off to college as a freshman. After two months, the laptop would not turn on. My son took it back to Best Buy and was directed to the Geek Squad booth. They told him they couldn't fix it unless he purchased the additional coverage they offered at the time of purchase.
No resolution so I called to complain and was told that it was covered under warranty, but HP had to send them a new hard drive to fix it. After waiting 3 weeks and still no repair, I called this week and spoke to a manager of the local Geek Squad, Alan, who said they are at the discretion of HP to send them the hard drive. I told him 3 weeks is unacceptable, especially for a college student who has to use it every day. He agreed and said that if by Sat, (this was Tues) if they did not have the part and the laptop repaired, they would switch it out with a new one. Again, no resolution but, I could see the light at the end of the tunnel.
Sat came and my son went to the Lincoln, NE Best Buy to get his repaired laptop or a switch out. Once again he was given the runaround and told he would have to wait for a repair. I called and talked to the Best Buy manager, Brandon, who said that Alan spoke out of turn and could not offer a replacement. Once again, no resolution, no new or repaired laptop. I will never again purchase anything from Best Buy, nor use the services of Geek Squad! EVER!

When you pre-order something and you have waited a long time for it and you don't get it the day of its release. My fiance ordered the same thing through someone else and has received it the day of its release. I am disappointed. Now I have to wait till Monday, 2 days after the release. Never pre-ordering anything through Best Buy again.

Back in May of 2016 I order few items only so my mother could take them to my sister as gift out of the country. It was 3 Fitbit Alta and one Bluetooth speaker. We received 2 items which was 1 Fitbit Alta and the speaker. They said for some reason there was a mistake on the order that the other Fitbit were not shipped with these items. So they ended up shipping it to the store next to my house. This was not enough time and my mom left. We ended up buying from Target all the stuff we needed and I never went to Best Buy to pick up the items they shipped to the store. So since May I've been calling them to get a refund because they charged my card and the items were never picked up by me so it was suppose to be refunded and now after talking to 7 different person none of them could resolve my problem and Best Buy kept almost 300 dollars. I will never buy from them. Again horrible customer service and thieves!

Purchased a $2,500 Samsung Fridge. Wife took a day off for delivery. When the delivery people came they could only make excuses as to why they could not bring the fridge into the house. They first incorrectly measured the fridge opening in our cabinets, they said the doorways were too small. Funny thing is that the new fridge is the same size as the old fridge.
They clearly did not want to carry it up the 6 steps into the house. They also incorrectly stated that the fridge vents are on the side and could not be blocked. In fact they are in the back. I called the delivery service and asked them to come back once I re-verified all of the measurements AT THE STORE. They refused. I cancelled the order and purchased from LOWE'S instead. Instead of waiting two weeks for delivery, we waited 2 days from LOWE'S. I will NOT BUY any appliances from Best Buy ever again and neither should anyone else IMO.

I have shopped at Best Buy numerous times over the years, and besides finding the staff pushy, never before had an issue besides that. This time, however, I bought a brand new HP Pavilion laptop that cost about $800. This was purchased on Sept. 9, 2016. The very first time I plugged in the computer and used it for any length of time - before downloading any other programs or adding the files from my previous computer, I had an issue where in the middle of working, a blue screen would suddenly pop up saying that there was an uncorrectable error and that the computer needed to restart. After restarting, everything seemed to work fine, but this issue kept persisting every few days. I don't know too much about computers, and did not realize that this issue would lead to a point where the computer did not work.
On November 10, 2016, the blue screen popped up once again, and this time, no matter how many times the laptop was shut down and restarted, it would not work. The computer would go directly to the blue screen. Attempts to restore it to a date where it worked, and even removing all of my files off did not improve the situation either. I phoned Best Buy to ask for help - surely a laptop is supposed to last for more than two months before a significant issue renders it unusable, and given that this issue started occurring the very first time this laptop was used, it was evident that there was an issue with the laptop when they sold it to me. The employee that I spoke with informed me that because I did not purchased a service/care plan from Best Buy, they would not help me, and that I needed to take the issue up with the manufacturer.
I phoned HP, spent close to an hour and a half on the phone, and the end result was that I needed to send my laptop in, meaning that I will not have it for close to a month, which is a problem since I am a student doing an online degree, and that is my only computer. After speaking about this issue with a friend, he commented that it sounded like I was sold a laptop that had a defect with the RAM, and that if sending away the device for a month is not feasible, that I can pay $100 to have someone replace it locally - an option that I cannot afford to do at this time.
I don't think that I should need a service plan for Best Buy to do something about this. They are the ones who sold me the laptop already with the defect on it. They had no problem taking my money, yet it is entirely my problem to deal with the faulty device they sold me. I think that any reasonable person assumes that when they are buying a brand new laptop, particularly when they are not buying the cheapest model, that they are not going to have any issues right away. It is clear that anyone who buys electronics from this company does so at its own risk because unless they are willing to spend additional money on a service plan, Best Buy will take no responsibility for the products it sells, even if the issue is present on the device at the time of sale. I have no incentive to ever shop at Best Buy again and won't be.

I have a Best Buy credit card, and I make double the payments every month. Since I get paid after the due date, a couple of the payments were late. As a result, Best Buy charged me $40 in late fees. I called Best Buy and they wouldn't waive my late fee charges because they waive one in August. I reminded them that I pay double for my payments, but that didn't make any difference. In other words, they were willing to take, but not to give when it comes to any consideration to the customer.

Several months ago I went into Best Buy to purchase a TV. I had done research previously and knew exactly which one I wanted. I've been burned before by experiences at Best Buy but not this time. I found someone to help me carry it out, they did not try to push me to a more expensive TV or in any question my purchase decision (in the past this has happened). He carried it out, put it in my car and away I went (after paying of course lol). I have been very satisfied with my purchase and while I don't really enjoy being bugged by sales people when in Best Buy at least this buying experience went smooth.
Company Name:

Geek Squad

Address:

7601 Penn Avenue South

City:

Richfield

State/Province:

MN

Postal Code:

55423

Country:

United States

Website:

http://www.geeksquad.com/