Consumer Reviews and Complaints

Like other recent reviews posted online, I have fed two cats Iams Cat Food, hairball and weight control food, for several years. I purchase the cat food at a Target located in Delaware. Over the past 2 months one cat has been throwing up at least once a day, while the second cat has lost 1 pound... a lot for a 10 pound cat. There is something wrong! The last time I purchased a large bag it was in a plastic coated bag, rather than paper. Maybe this is the culprit... or the formula has changed. Since Iams does not publish the food contents, simply stating it's a proprietary formula, it's not possible to figure out what, if any, food content changes have been made. Given what I've seen online... Iams needs to acknowledge and address this issue immediately! In the meantime, I have removed Iams from my shopping list... and am feeding my cats another product.

After years of using IAMS indoor cat food, our cat now has chronic diarrhea. This happened with the very first bag of food after they changed the packaging to the new plastic bags. He has been to the vet, has had antibiotics, and it has been 3 weeks of chronic diarrhea for him. It only took 2 days for the diarrhea to start after he ate the product in the new plastic bags. He initially had blood and mucus in his stool but the antibiotics from the vet stopped that within two days.
After reading the posts on this and other forums, we suggest that anyone with this issue call the FDA and report it. Calling the company itself may not be enough, the FDA needs to investigate. Here is the number for the Midwest Office of the FDA: 612-758-7221. If you are not in the Midwest, I'm sure they can direct you to the proper regional office. If your cat experienced the same as ours after eating the product in the new plastic bags, make the call. I am having a hard time believing that this is all coincidental and not an issue with the packaging or product itself.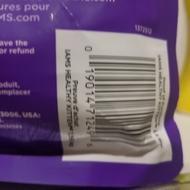 I've been buying Iams in the orange bag for my older cat for years without any issues... in January 2017 we rescued a beautiful 5 mo old tuxedo Manx mix kitten, not just because it needed a loving home, but to teach my 11 yr old daughter to be more responsible. We were so blessed to have him in our lives and brought so much joy, love and laughter into our household. We had been feeding the new kitten Iams Healthy Kitten. In approximately late March or early April of 2017 my kitten started to have diarrhea. I thought it was because I caught him eating my dog's food the one day and put that of reach, but the diarrhea continued and became worse.
He then started to have blood mixed in. We made an emergency vet call on a Sunday and had him seen at the animal hospital. They tested his stool and did bloodwork/xrays and couldn't find anything causing the issue. They sent him home with antibiotics and something else for an upset stomach/GI meds. It seemed to help for about a week. Then the bloody stool started again only this time it was all over my new carpet and not the litter box. We went back to the vet, he was given more meds and sent home. This time they didn't work. I talked to one of the secretaries who said it could be a sensitive stomach and to try Purina pro plan sensitive stomach. I switched.
A day or 2 later we noticed he was using the litter box and the blood was gone. My other cat, also started eating the new food as well and actually gained a ton of weight. I didn't realize my older cat wasn't eating much of the Iams previously because we would also give her a half can of wet food twice a day due to her dental issues. About a week after we switched food we noticed our new kitten being lethargic and not playing nearly as much. We called the vet who didn't have an open appointment until 3 weeks out (August 1st) and because he was "JUST lethargic" and still eating and drinking, and pooping ok, the secretary didn't feel it was an emergency and needed to be seen right away.
When we finally took him, he was severely anemic. Blood counts were 11. They checked him into the hospital, gave him steroids and antibiotics. His RBC came up to 27 and he was sent home. At home quickly seemed to get worse. Took him back the next day his RBC dropped to 15. He was then hospitalized for 5 days straight. His numbers kept going up and down. Highest RBC was 19. Vet said feline leukemia and HIV test were neg. They talked about possible FIP, but ruled it out because there were no other symptoms but anemia. We went to visit him on the 5th day while he was at the hospital and vet said they done everything and to consider his quality of life.
At that point we consulted with 2 additional vets in the animal hospital who all agreed they don't know why his bone marrow wasn't working and said it may be a genetic bone marrow issue and suggested we let him go. I obtained his records and my cat and went to a 4th vet with 42 years experience. He read the records and asked several questions and was baffled as well. Suspected poisoning, but said the meds in the hospital should have worked. He tried Chinese herbs and acupuncture and was able to get his RBC at consistent 16. My kitten then started seizing which lasted a couple days then stopped. A few days later, he couldn't walk at all for 3 days and was defecating all over himself and his bed. It was time to let him go. We all were so heartbroken. Meanwhile my other cat started to eat more (new food) and actually seemed a lot more active. My 5 yr old actually said our old cat and our kitten switched places.
Yesterday my mom contacted me and said there was a stray kitten at the neighbors and asked if I wanted to look at it. We saw and fell in love with it. We got a large dog cage and got a nice setup away from our other animals until we could it in to get vaccinated 2 days later. I still had Iams kitten food left over from our old kitten and fed it to him. This new kitten was so tiny... maybe 6 to 8 weeks old. I crushed the food up and mixed it with bottled water to make it soft until I could get soft food the following morning. The day we got it, it was running around, playing, pooping ok, using litter box and purring up a storm. I woke up the next morning and checked on him. He was ok, happy to see me, but I did notice diarrhea all over the cage. I cleaned everything up and just figured it just had to get used to the new food and I would buy him something better on my lunch break.
I carried the kitten around before work and as the kids went to school and put him back in his place before I left for work. My husband came home to it dead. The ONLY link between the deaths is the Iams Cat Food. My husband was skeptical until I found this page. We are convinced this food killed both of my kittens. I figure my older cat refused to eat it and that's why she was so skinny and always seemed so unhappy (I thought it was her teeth). Now I'm sure my old was only eating the wet food I gave her... 1 can a day as she knew the Iams was not good. I cannot believe this has happened TWICE!! I will never feed any of my animals Iams again. I strongly believe it may be the new packaging or ingredient. They need to take this crap off the market so another family doesn't go through the hell my family has been through the last several months!! Sorry this is so long, but I feel all these details were necessary to share.

I bought a bag of Iams weight control for my cat in July from a Walmart in New Jersey. My cat started throwing up and began rapidly losing weight within a week and a half of using this food. He is now suffering from hepatic lipidosis and is hospitalized. I am over $1000 in vet bills and he may not live. I used this food with him in the past with no problems but now reading all of the reviews of others getting sick. I believe it was the food. NO Iams products will ever come into my home again.

I have purchased Iams for years, the last 3 to 4 times I have purchased Iams Healthy Cat Food in the orange bag my 4 cats have thrown up the food. This has been since the bag was changed to a plastic filling material. They did throw up the food once in a while with the heavy paper bag, but not like this. Now several had runny bowels and never happened before. They are house cats and very healthy. Purchased food at Walmart and Target. Did you change the formula or what! I am going to try a new product to see what happens.
How do I know I can trust these reviews about Iams Cat Food?
883,201 reviews on ConsumerAffairs are verified.
We require contact information to ensure our reviewers are real.
We use intelligent software that helps us maintain the integrity of reviews.
Our moderators read all reviews to verify quality and helpfulness.
For more information about reviews on ConsumerAffairs.com please visit our FAQ.

I have fed IAMS dry to all of my cats for over 10 years. This is the first bad experience I have had. Best Buy Apr 26, 2018. Batch 652D1NCH11 10:19 US 61591. Purchased at Walmart Orlando. Have 3 cats; all are throwing up a few hours after eating. Cut back amount given, still throwing up. Reported to IAMS; denied they have had any other complaints (informed her that is contrary to what is indicated online).

Iams cat food (Proactive health weight hairball care) purchased in April 2017 Walmart. My cat got sick on this cat food, throwing up after each meal and this was a new cat food. I purchased it at Walmart at the in April. Took my cat to the vet, had blood work, everything and no cancer but they think that the bowels have a little swelling. I believe it's due to this cat food bag. My batch number is 708F10HL01 best used by June 23, 2018. Underneath it says US 30941.

I purchased Iams dry cat food after many years of go-cat and various tinned pouched food. Two of my 4 cats who ate this became ill directly after eating and exhibited rapid heart rate, drooling; One had a type of fit. Both looked as if they had been poisoned. I had heard about Iams some years ago causing possible sickness but upon reading this site am now alarmed that perhaps some batches are a problem. I am leaving this review in the hope that someone will be able to help and will contact Iams also to let them know what happened.

I purchased Iams grain free naturals chicken + turkey recipe 4.3 lbs bag exp 08/29/17 04:23 16124002 RFT F3 for $11.19 + tax at Kmart in Parsippany, NJ 07054. My healthy 5 year old cat has 2 other dry foods always available, as well as wet food 1 to 2 times daily. I added the Iams food to his other two dry foods. He ate the Iams food on two separate days. Both times, shortly after he ate it, my cat, who rarely throws up, vomited violently 5 times all my carpet. I withheld the food. My cat continued eating his regular food with no problems and thank God the cat is fine. I have reason to believe this food contains something that made my cat very sick. I would gladly send them a sample to test. I would like to know if there are other reports on this food.

I purchased a bag of the Iams weight and hairball control last week at a Walmart in Highlands Ranch, CO. This is the same food I have been feeding my cat for the last 5 years (or more) without any issues. This time however, she has been throwing up a few hours after she eats. At first I didn't think anything of it (cats vomit too) but after 3 days and reading on this site that there have been others with an issue as well, I'm convinced the food is the problem. The batch number is 711A1NE04.

Always feed this to my 12 yo cats, as well as varying formulas of Iams dry food, and sometimes Science Hill and have never had a problem - UNTIL RECENTLY... My cats were not eating much, very odd for them, and after a week they appeared to be losing weight. I called the vet and was about to get blood work as I thought they were sick. But then I thought maybe it is the food. I purchased another small bag of the same Iams hairball/weight control formula and they gobbled it up immediately! SO... Something is wrong with that 40lb bag that I purchased from Walmart (in Central new Jersey). I searched online to see if there was a recall but found nothing, except I did find previous entries here on this site where the person's cats were getting sick from same brand/formula recently.
I had purchased the food in February. I have been a true patron of Iams for over 20 years with my pets. Overall I think the food is good for my pets so I hope this was a fluke. I will call Iams to report as well. The food has been thrown out, which cost me over $30, I hope they compensate and take the claim seriously to protect others.

We have been feeding our cat Iams Dry Cat Food for Indoor Weight and Hairball Control (turquoise bag) for the last couple of years without a problem until now. I bought a new bag at the beginning of April (2017) at Walmart and for the last couple of weeks he has been throwing up very frequently after eating it. I am concerned it could be the cat food. I called the customer service number on the bag to make a report. They said there have not been any similar reports made to them recently. However, I don't know that they would necessarily tell me even if there have been. I saw the other review written here (April 2017) stating a similar issue with their cats. It makes me wonder if it really is the cat food. If this is happening to your cats PLEASE report it to Iams. They are sending me a voucher to buy a fresh bag, but I am a somewhat reluctant to do so.

I had brought the orange bag IAMS original and it stated chicken first ingredient - all six of my cats liked it and so I thought I would try for awhile. No one was throwing up. When the 7 lb bag ran out we got another at grocery store and after I fed to my cats some of they were throwing up. One of them threw up
every time he was fed (morning noon and night). I checked bag ingredients and to my shock chicken is not longer the first ingredient!! Now it is byproducts! Needless to say I will no longer be buying this food - now I bought Royal Canin and no more throwing up! IAMS should have let it be known they changed ingredients - they are trying to increase their profits at the expense of the pets so switched to the cheaper BYPRODUCTS!

Our cats have to take medicines with their foods and will reject many foods that do not cover taste of meds. They love Iams Purrfect. It is disturbing that Mars has bought Iams and may discontinue the pet food lines.

We switch up between Iams and Science Diet for the safety and well-being of our cats. They get a half a can each of Fancy Feast (check the ASH content on ALL commercial cat foods) for breakfast. Iams and HSD might cost a little more - but would you knowingly feed your kids POISON? (Ash can kill your cat.) If you are unfamiliar with this - ask your veterinarian or read my comments about Hill's Science Diet to find out.

Iams is a great cat food. Well my cat thinks so. The ingredients seem to be one of the best out there. Iams could be a little hard to find and a little pricey, but Frankie the cat seem to love the taste, and leaves his fur so soft and silky.

I have a 16 year old cat who was not eating much & losing weight. When I introduced her to Iams Sensitive Stomach Cat Food, she regained some weight. Her fur is softer and she has more energy.

In May 2013, I bought new bag of IAMS cat food. It smelled and looked odd. My cat didn't want to eat it. I forced her to eat it because I thought she was being picky because it smelled different not realizing it was contaminated. (MY CAT KNEW IT WAS BAD.) She started vomiting and had bloody diarrhea. I took her to vet, they did ultrasound and said her intestines were inflamed...with swollen lymph nodes. They removed the inflamed intestines TWICE ($2000 and worth it to save her)...but she died anyway. Iams announced recall of food in August for Salmonella. I BLAMED IAMS FOR MY CAT'S DEATH. They refused to acknowledge it MADE MY CAT SICK even after the recall. I TELL EVERYONE TO STAY AWAY FROM IAMS.

I switched my cats over to Iams dry cat food, for weight management, about a month ago. I bought three bags. I went through the the first bag, mixed with the brand food they were initially on for a long time. Now I'm halfway through the second bag. I feed the ferals outside as well. I noticed one of my indoor cats, Max the male had diarrhea but I just thought it was due to the switching. I gave them other canned wet food as well, a little once a day. I switched over like suggested by the veterinarians. The male cat, Max would not stop with the diarrhea. It was literally all over the litter box, on rugs, and by doorways. I again just thought it was him because my female looked like she was doing fine, so I thought, because she was eating it. Then my Male started to vomit, and I had to bring him to vet. After lots testing, X-ray, and bloodwork, they can't really find anything.
I use a natural deformed to see if this is the culprit, and as recommended I do the boiled chicken and rice, and gave him pills for nausea. He started doing better. I noticed he was back to his old self, at least no vomiting and the diarrhea had seemed to stop. Well a few days go by, and so I started adding back the Iams. The male, Max, gobbled it up, while the female Luna, who was not sick would not eat the Iams at all. The symptoms came back for Max, and now Luna is sick. There's no doubt in my mind it's the Iams! I am so mad that as a consumer, we spend a little extra to keep our babies healthy, and here we are unintentionally poisoning them. Something needs to be done. I will never, ever buy Iams again, and I am throwing out the last two bags I have. I am even concerned for the freaks outside as I cannot monitor them or their defecation process but they don't look well.

Saved the life of my cats! I had fed my cats IAMS Low pH for years. It controlled urinary crystal problems and they enjoyed the food. When I moved to another state, my veterinarian did not provide IAM products, so switched to a Royal Cannin Low pH product. After 3 years when I opened a bag, the cats turned up their noses. I called the company to see if something had changed and they said no. So I continued to feed it to them.
After a period of time one cat developed loose stools that contained mucous streaked with blood and were very smelly. She was put on a probiotic that cost me $1/day that helped some but did not solve the problem. A year later my other cat dropped from 8.2# to 5.8# in six weeks. After the expense labs, radiology nd of trip to a specialist, the cause of her inflamed liver, pancreas, etc. was not found. One antibiotic did not help.
Because I had two sick cats, I decided to check online reviews on the product I was using. Lo and behold, I found many reviews of similar problems for cats and dogs--no problem for years, then either problems with bowels or rapid weight loss and even death. I got a prescription from my vet and I was able to get IAMS Low pH from another vet in another town (I now get the IAMS through Chewy.com). In a few weeks, the first cat had normal stools, and after 8 weeks my second cat had normal blood lab reports and had gained all of her weight back. IAMS saved the life of my cats.

The cat seems to like this dry food and it comes in many varieties such as hairball control. It is also available for cats of various ages. At one point during a recall, the company sent several coupons for free and reduced price cat food. The consumer only had to send in the barcode of the affected food for the coupons.

I used Iams indoor cat exclusively for about 2 years. I was very happy with it, my cats liked it and had very shiny healthy coats. It was just the price after a while because of how many cats I have. I needed something more affordable.

I don't know what to say, my cat doesn't even make eye contact with me. The food keeps her alive another day, I guess. Nothing else.

IAMS Dry cat food is the brand my cat Nena Maru will eat. Believe me. I've tried many other brands only to get a sniff and a walk away. When Nikolas (I miss my boy) was alive he would only eat Nutro but Nena would not so then I had to find a brand they both would eat and that became IAMS Original flavor. I love IAMS Dry because it keeps Nena's fur shiny, she has loads of energy and she is a happy cat! =)

My cat is a picky eater, but she likes Iams. The vet always comments on her great teeth (she's 15 and has no dental issues). I'm convinced that it's because she eats crunchy food like this.

We have an 8-year-old "dog" like cat that will eat until it exploded if you left food out. We have a 5-year-old "cat" like cat that will nibble here and there (if we COULD let him) if we didn't have to babysit breakfast and dinner times. There was a time when both cats had gotten a bit overweight and the 8-year-old "big guy" got a lot overweight. I am not sure how the company pulled it off but I switched to this from regular Iams adult cat food. They both lost what weight they BOTH needed but neither was starved. They both received a measured amount and they both lost the right amount for their size.
The big guy was a 20 lb cat but is now down to 16-17 lbs (depending on how much we watch and protect "Lil guy" from being pushed out of the way). Lil guy was at 15 lbs which was "ok" but should be around 12 or 13 lbs. In the same time big guy lost 6 lbs, Lil guy lost his 2 pounds all at a healthy pace and now both are more active and "kitten" like in behavior. I know they will live to be at least 18 just like the cat we had that passed away earlier this year. He was also on the same cat food but he was allowed outside. Our cats are not.

Dr. Ken Tudor Pet Food Contributing Editor
A recognized expert and leader in pet nutrition, Dr. Ken Tudor has written over 200 articles on the subject. He also has a featured weekly blog on petMD, is published in major veterinary journals and is a frequent internet media guest expert. He is the founder of Hearthstone Homemade, a recipe and supplement program for pet parents wishing to feed nutritious homemade dog food. More about Dr. Ken Tudor→

Iams Cat Food is a company dedicated to providing pets with the best food possible. Iams was founded on the philosophy that pets need to be given the best nutrition possible. Since its founding, Iams has relentlessly researched new ways to improve their recipes and to ensure that their customers' furry family members are provided with all they deserve.
Quality products: Iams never cuts corners when making their pet food, they ensure that all the ingredients they use can pass very rigorous test to ensure that they are safe for your pets.
Tireless research: Iams' research has always resulted in groundbreaking new foods, they were the first to use many new types of food that better cater to the way your pet is supposed to eat.
Innovative thinking: The company's research has always been centered around their innovative ideas, these ideas have led to healthier and higher quality foods.
Food safety: They consistently surpasses all regulations placed on food production safety with their superior production guidelines, this ensures that your pet is provided with the best possible food and not anything that is unhealthy for them.
Full refund guarantee: If a consumer is dissatisfied with any Iams product, Iams offers a 100% confidence guarantee and will provide a full refund for their product.
Best for Cats who need good nutrition and cats who need to lose weight.
Iams Cat Food Company Profile
Company Name:

Iams Cat Food

Year Founded:

1946

Address:

8700 S Mason Montgomery Rd

City:

Mason

State/Province:

OH

Postal Code:

45040

Country:

United States

Website:

https://www.iams.com/cat-food