Stamps.com
Stamps.com easily calculates and prints official USPS postage for anything from postcards to packages – domestic or international. You can even print postage right on envelopes – including the address – all in one step.
Consumer Complaints and Reviews

Today I received a suspicious looking letter that appeared to be from the United States Post Office in which on the envelope says in bold letters, "Your 9 Postage Stamps are waiting for you inside". When you open the letter, along with a bunch of other paperwork, is a template that has 9 stamps on it. HOWEVER, there are instructions, that insist that you go to the Stamps.com website and give them your credit card information, INVALIDATING the "free" portion of the offer.
When I contacted customer service, a got a 10 minute run around until they finally admitted that the stamps are not free, in fact THEY AREN'T VALID STAMPS AT ALL. All they are, are stickers, that unless you surrender your credit card for $15 per month contract, the nine stickers will not print the actual stamp validating them for U.S. Postal Service. When I asked where they were located, they refused to acknowledge their actual location, as many SCAM COMPANIES FROM INDIA often do. This is nothing more than a leech scam, whereby they pull a list of new companies listed by state registrations, and try to mail their scam to unsuspecting business owners under the pretense of being the United States Post Office, or if you read carefully "an official" third party. Never trust an organization that demands a credit card for something they claim to offer for free.

I have been using Stamps.com for my eCommerce business since 2009. I have to say that I have always experienced excellent customer service. They don't send my call out of country and have always been very courteous and patient with me since I am not very tech savvy. My business is seasonal and they have worked with me to pause my account each year so that I am not charged the monthly fee but can still keep my records of who I shipped to.
The only issue is that last year I accidentally deposited 5K into the system instead of $50 at the very end of my shipping season. I could not get my money back unless I canceled my account, due to some sort of regulations with the US postal service. This was an error on my part but I was forced to cancel my account and then restart it again this year. Not a big deal, I got a check in the mail. Stamps.com has always been excellent which is why I went back to them. They waive my monthly fee if I use over $500 worth of postage in one month, which I do. If you are ever confused about your plan or want to change anything, just give them a call. They are extremely helpful. I would highly recommend them.

My printer jammed when I was printing stamps, I contacted Stamps.com Customer Care and was treated very courteously and professionally. I was issued a refund the following day and I have never had such great service, courtesy, and Caring from any other company. I commend Stamps.com for having such a great and caring staff, and recommend Stamps.com to everyone for their postage needs.

Stealing money from people it's really easy for STAMPS.COM. I sign up, thinking that they were better than USPS. They has been taking my money since I sign up. I used the service once to see how it was? Now I started looking at my credit card and they have been taking $15.99 since April 2017. I cancelled today, I even called them. The only thing the CSR said was "I am sorry for the confusion." No money returned to my credit card. SCAM!!!

This company is the biggest racket I have seen. I'm too aggravated to even recount my experience. It boggles my mind how they have been in business for so long. I'm going to have to wait "2-3 WEEKS" to get my money back. They claim that the money I open the account with goes directly to the USPS and that they are the one issuing the refund. If that is true; every time that I would have made a purchase then USPS then pays them? I just don't see what kind of business model are they using? They charge $2.99 to ship one sheet of labels that takes 4-7 business days to get to me.
How do I know I can trust these reviews about Stamps.com?
849,102 reviews on ConsumerAffairs are verified.
We require contact information to ensure our reviewers are real.
We use intelligent software that helps us maintain the integrity of reviews.
Our moderators read all reviews to verify quality and helpfulness.
For more information about reviews on ConsumerAffairs.com please visit our FAQ.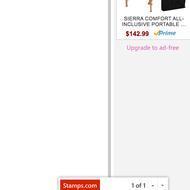 I thought I was signing up for an information packet. I did not realize they would choose to enroll me into program that would autopay them unless I stopped them. The welcome packet is all I requested. I only received one email saying my welcome kit would be arriving soon and the cost shows 0$. This company is very underhanded, shady, and has no integrity. If I ever need a service like this in the future, I will never use them but a competitor instead.

I have been a Stamps.com customer since 2012 and I use my service every month. I have always had very helpful customer service. I can't imagine not having Stamps.com. Not having to run to the post office at least once a month is great.

I opened this account in November 2016 for a free 4-week trial. I only had it open for a day, when I realized that the savings weren't real. I cancelled my account less than 24 hours later. I haven't received any communication from them until this morning. I received an email stating that I owed $111.93. I immediately called them. They said that it had not been cancelled. I contested that it was less than 24 hours after opening. They cancelled my account and refunded me for the $15.99 I was just charged. I sat on hold and kept getting redirected for 20 minutes on the phone until the system hung up on me. They are still saying I owe $95.94.

FRAUD!!! Be careful! The website is setup to trick you into signing up. Before you know it you're receiving a $15.99/month charge for "use of their software", which is basically useless. I called and cancelled twice in the span of 8 months and the charges miraculously reappeared on my Amex bill. The third time I called I spent 45 minutes speaking with 3 levels of service reps and I was able to get a max 3-month refund.

I signed up for their free trial and realizes soon after that the savings weren't there for what I needed so I didn't use the service. Fast forward 2 months and come to find out they had billed me for 2 months of service. When I called to cancel I was told they could not refund the payments since, and I quote, "That is where we make our money". I mean really? I didn't use a single feature on the site and you are going to withhold money I didn't even agree to spending them in the first place. Stay away, stay far far away.

I signed up for the trial to try it out. No welcome package came. I didn't remember to cancel it so they charged me. I called them to cancel my account and get a refund. Not only that they didn't give me that refund(even tho I didn't get to use the service) they charged me $2 to cancel my account. And they said the only way they could send out the welcome package if I continued the service. I mean wow.

First off, to everyone complaining about the monthly fee ($15.99 as of this review), do you ever read your emails? "The Stamps.com monthly service fee is just $15.99, including the first month." That is stated in your welcome email and clearly on their website as well. Overall though, the service is decent, you can print directly on the envelopes or onto standard mailing labels. You also have the option to print on tri-fold and bi-fold flyers as well as linking various e-commerce websites like eBay, Amazon, and Etsy. The cost is a little high if you use it for personal use, but they do give you $10 in free postage each month. Another thing to consider, if you just use Stamps.com for packages, you can buy postage from PayPal for no extra monthly fee and you receive the same discounts as Stamps.com. I would not recommend them for just shipping packages, but if you send a lot of letters, postcards, or flyers, you do save $0.03 on each.

I signed up for the free trial and after two weeks realized the high monthly fees were not worth the minimal "savings" on each stamp, and I canceled my account. Then one month later, I see a charge from stamps.com on my bank statement. Despite canceling my account they had somehow left it open and continued charging me. Upon canceling my account for the second time I get an email saying I will be charged even MORE for the partial month that I "used". Stamps.com is a deceitful and misleading company that cheats users for their corporate gain. Word of warning: DON'T WASTE YOUR MONEY because it's not just a monthly fee, it will continue even after you cancel your membership.

We ship all over the world using stamps.com and love it. I read reviews that said you can't get a refund on labels you make mistakes on, NOT TRUE. I have had to get refunds on 100's of dollars worth of purchased labels due to international customers changing their mind. When I first signed up, I knew exactly from the information I read that there was a free trial period and then 15$ a month after 3 months. Even with the $15 a month charge, we save more than that every month by using them instead of click and ship or especially going to the post office because of the volume we ship.
Every complaint I bothered to read about this company was due to their own ignorance on how it worked. Maybe when one wants to use a new service, they should read before committing and also read reviews to see if you are about to make the same mistake others made. I found that every one I read would have avoided what happened if they had bothered to be better informed. This is a really nice company and very easy to deal with.

I closed this account Jan 4, 2017 with a postage balance refund due of $147.85. As of 3-21-17 I was still being charged monthly charges of $15.99 and no refund in sight, although amount is confirmed. On that date, CS agreed to credit Jan-Feb charges. Then on my April 21, 2017 credit card statement, it shows they billed a 3rd month as of 3-21-17. My call on that date was: CS representative stated I must have 2 accounts (never did for over 10 years). Said I was being charged again as of 4-21-17. Refused to believe that although I was charged in Jan, Feb and now April, March appears on my statement even though I am reading it to him. Still no postage refund. Sup finally credits monthly charge. Postage still not refunded.

I am a new customer and was asked to write a review. I am pretty happy with the service, especially the customer service personnel who are friendly, helpful and efficient. One or two negatives... for non business people there should be a lower monthly rate, and some of the info on the screen when sending a package is not necessary, like priority mail flat rate envelopes. No need to weigh and fill in the weight. Overall very satisfied. Thanks.

I didn't even know I signed up for this service. Charges went on a credit card that I have not used in 6+ months so I was not aware they billed me monthly. I will never again sign up for any free trial or anything online again.

I needed to send a package and didn't want to go to the post office. Found this and thought I could print my postage on my printer. So I signed up for 4 week free trial. You have to wait for them to mail forms to you still had to go to post office. Forgot to cancel and got billed... My bad... Called and canceled and then received another bill. Called to find out what was up. Turns out it wasn't a free trial. If you didn't cancel you were billed for the first 4 weeks and my second bill was for the part of the second month before I called and canceled.

DO NOT USE THIS COMPANY!!!! Just by showing INTEREST in their website they automatically renew you into a program and charge you every month. They claim that it's on their website that as soon as you enter your information you enroll in the program, but I just looked and it literally is not on there. Stay FAR AWAY from these people! They refuse to give you your money back and make it so difficult to even cancel a membership you never sign up for. Also - stay away in general. It's so much easier to just go buy stamps or go to the post office and ship stuff. This is a total scam website and I will warn everyone I can.

I was under the impression that I was only paying the fee for postage as I have never once received any indication or notification that I was being charged for anything else. No emails. No notifications to my account. Nothing. Turns out they have been billing **$15.99** to my credit card every MONTH for god knows how long! The only reason I found out is because we lost the credit card associated with the account and I just got an email saying that the $15.99 service fee could not be collected! Oh. So you can email me when you can't collect your money, but you can't email me to notify me that you are collecting my money in the first place. Fraud. I've printed out about 7 stamps in the past year. Which means I (unknowingly) paid almost $200 a this year to print out *7* measly stamps. I would be more than happy to file a class action lawsuit against this company. More than happy.

BEWARE!!! Do not give this company your payment information!! Whether you buy something or not, they sign you up AUTOMATICALLY for monthly billing of $16 unless YOU cancel!!! When I called to inquire why I was being charged, the customer service rep told me I was irresponsible for not catching the charges earlier!!! I never even bought ONE thing from their website because it got too complicated!!!

I'm not one to take the time to write a review and a bad review for that matter, but I couldn't write this fast enough for this company. I'm currently waiting on hold and have been on hold for 15-20 minutes to try to get my PASSWORD reset and to get a refund for the past few months. I've been billed $15.99 for nothing? I obviously haven't even logged back in and I kindly asked what services I was getting for the monthly subscription.
The gal I talked to informed me I'm getting their service, though, anything else I would need would cost me. She let me know I wouldn't be refunded but she wouldn't happily give me another month free to see if I would like to continue the services. She couldn't do anything for me so she transferred me to get my password reset where the gentlemen helping me had to transfer me AGAIN. I finally moved up to a supervisor and gave my complaints. All he could do for me was refund me one month and cancel my membership. So a huge mess and I still ended up paying over $30 for nothing and time lost on the phone with customer service. Awful Service. I would recommend to NOT waste your money and save your time by avoiding this website altogether. Now seeing the reviews, I should have done my research beforehand.

I have been paying for this garbage service for too long, it is not worth the monthly service fee, the user interface is absolutely terrible. An example is I am trying to print postage on a standard #7 envelope but disappointingly that is not an option on their site to select. Allegedly there is an option to create a custom size but it is not actually possible. This service seems eerily similar to the poorly run USPS, slow, cumbersome and stupidly organized. Needless to say, I am canceling my service and strongly recommend not purchasing this service as it does not save any real time or money.

Like many other reviewers, I was being charge $15.99/month for a service I was unaware of having signed up for. Because I moved and life was chaotic, this went on for months. When I called to cancel and complain and ask for at least a partial refund, I was shunted to "corporate" customer service. The upshot was I got this month's charge reversed and then was offered a refund for three additional months. When I pointed out to both nice ladies I talked to that this kind of thing has happened to many many people and that clearly there is deception going on, they just repeated that those were "valid charges" and there was nothing they could do. But if they could refund three months, why not nine? Twelve? They take no responsibility for misleading policies.

I fell for this "service" in 2012, to avoid the hassle of remembering to buy stamps while out shopping. They hook you with a phony 10-day "trial period", and my cc was immediately charged upon account setup. In which I contacted them about immediately, for a refund, only to receive the beneficial run-around (big surprise). I printed a test page, which turned out fine, before printing the actual blank stamps. And of course they did not print right. Contacted CS about it, but was an epic waste of time. 3-5 week wait, for a measly $5.50 refund. Be smart, and stay away.

I was charged 15.99 a month for over a year and failed to notice it. (My fault there), canceled my account online and phone today. Called my bank and will have to see if I get any more billings from them. I have never used this service, their advertisements are very misleading. Do Not Give Them Your Email Address or any other information.

Did not make it clear that there was a monthly charge. When I got my first bill after using 1 time it was for $47 and I only bought 2 or 3 dollars in postage. When I called to complain that I had not received any bills till I had 3 service charges racked up I was told that there was nothing that could be done and I had to pay In addition I never received the free scale I was supposed to receive. I immediately closed my account.

Don't fall into their trap! I made an account with them but called the same day to cancel it because clearly I realized I don't need this and these charges. They haven't canceled my account and I am left with the charges of $30. I never received a scale or what they call "the welcome package" so I thought they canceled my account... until I received their bill.

I opened my account because I want to send a 40 inch TV to another city. I looked around. The price in UPS could be as expensive as $200. So I opened an account from stamps.com. Ended up the package was too big for USPS. I bought $40 of postage. Because things did not work out, I wanted to cancel my account. I got ten dollars of bonus from printing out stamps and sent a card back. So, when I closed my account, they refunded me $50. I am so sorry I ripped them off several bucks. I did not mean it. Actually other people were right that if you do not print the stamps right, they do not refund you for the misprinted stamps. Overall, please do not try them if you are not sure that you need to spend at $150 in USPS postage per month. The monthly fee for sure is expensive.

Sounds like a great deal, doesn't it? Well, it is, except for the fact that the $15.99 MONTHLY SERVICE CHARGE is cleverly hidden in the "small print" of the Terms and Conditions. NOWHERE, nowhere, nowhere in the "enrollment" process is it made clear to unsuspecting customers that this MONTHLY SERVICE FEE even exists. I "ate" it for the first month... that is to say, "ate" the $15.99 and canceled immediately. Why the HECK <<-- (think much stronger word here) do they have to be so shady and misleading about it? Maybe it has to do with "Alternative Facts" which are becoming part of our culture.
Stamps.com Company Profile
Company Name:

Stamps.com

Company Type:

Public

Ticker Symbol:

STMP

Year Founded:

1996

Address:

1990 E. Grand Ave

City:

El Segundo

State/Province:

CA

Postal Code:

90245

Country:

United States

Website:

http://www.stamps.com/