Consumer Complaints and Reviews

I ordered $16 of clothes dryer parts, paid $10 worth of shipping to get a customer's dryer back working in a timely manner. FedEx showed up on time only to find they shipped me parts for a lawn mower, not a Samsung clothes dryer. Now my customer is probably looking for a more reliable repair man, thanks RepairClinic.com.

Our furnace went out in February. Where we live, that is a bad thing. We were able to diagnose the problem as a bad igniter using internet videos and information. We went to about 10 different websites looking for the part. Many had the part, but it would take 7-10 days for delivery - obviously not a good option to be without heat for that long during the winter. RepairClinic.com had the part, guaranteed same-day shipping and offered overnight shipping.
I ordered Thursday morning, Feb. 23rd and the part arrived Friday, Feb. 24th at 12:30 pm. Without the overnight shipping, I may have had to wait until the following Monday (or later) for delivery. The parts arrived in good condition, when promised, and were packed with care (An igniter is a fragile part). The price for the part was competitive. The website was easy to use and order from. I will use them again for my next repair. The only disappointing thing was I could not find a review option on their website or a way to send them an online message. I wanted to leave a note of appreciation for them and say nice things about them, on their own website, but couldn't. So, I'm writing the review here instead.

I went online to order parts for my refrigerator. I was able to look up the part numbers and started to order them. There was a message saying that the part numbers had changed. I contacted customer service and talked to a representative about the change in item numbers. The representative looked the part number I was ordering and said that the information was correct.
I ordered a pack of two shelf bars and a pack of 6/8 end caps. The order came close to $60.00, I received my order today and discovered only one shelf bar and one end caps. I called customer service again to see where the rest of my shipment was. I was told that each item came in a separate bag and that there was only one item per bag. I told them that it was not what I ordered, explained about what I was told previously, and was told that I had only ordered one shelf bar and one end cap.
AGAIN, I explained to the representative about previously checking with them about getting what I wanted to order and was told that would be what I got. The response I got was, "Sorry for the inconvenience." They refused to send me the total parts that I had ordered using the model number, and said I would need to put in another order if I wanted more items. I was flabbergasted that I had already put out $60.00 and they wanted to charge more. I feel they should have honored the original part orders, especially after being assured by their representative that I would be getting what I ordered. I would have never ordered the parts otherwise.
They wouldn't make good on what was agreed upon, just said I ordered one and that they were sorry that I was misled by one of their reps. They said I could be reimbursed for the products if I send them back. However, I am responsible for the shipping cost. I paid over $9.00 alone to have them shipped to me. What a rip-off. I have never written a negative review on any company, but this takes the cake. I WILL NEVER ORDER FROM THIS COMPANY AGAIN AND RECOMMEND THAT OTHERS SHOULDN'T EITHER UNLESS THEY WANT TO BE RIPPED-OFF AS WELL.

It started when I used their site to order a part for a furnace. First time using them went great. Got the part within two days. Well I needed another part for the furnace so got on their site, made the order, took time off of work thinking I would get the part as quickly as I did the first time. Wrong!!! Called up there. They said they will send it out again. No charge and express shipping. Still haven't seen the part. Called again and they said they would resend it and refund my money. Still waiting to see if that happens. Very upset and to make matters worse the part is for a furnace in a rental house I own.

I ordered a part, shipped FedEx/USPS, Nov. 21, with tracking. It was within an hour of my house (Phoenix area) after 5 days. According to tracking, it then took off to Washington state and after 21 days and two missed delivery dates has been in CA at the same place for four days. I phoned the company and asked for a shipping refund because it was taking so long. Their answer, "FedEx doesn't do anything for free". I explained that my contract of purchase was with them not FedEx so he said his supervisor would put in a trace. After another missed delivery date I called back and was told that the supervisor's notes said they would leave the trace on "until delivered". Makes no sense to me because it is still In transit, must be the Christmas rush". So, three weeks later, no part, no current delivery, expected delivery and no shipping refund offered. Not happy with the lack of customer service (and I left a lot of their BS out).
How do I know I can trust these reviews about RepairClinic.com?
766,665 reviews on ConsumerAffairs are verified.
We require contact information to ensure our reviewers are real.
We use intelligent software that helps us maintain the integrity of reviews.
Our moderators read all reviews to verify quality and helpfulness.
For more information about reviews on ConsumerAffairs.com please visit our FAQ.

This is a very very lousy company. I placed an order with them 45 days ago. It is a roll-out limit switch for my furnace manufactured by GOODMAN. They keep telling me that this item is on back order. However I called the manufacturer directly and they confirmed that this part is very common and it has never been on back order. Unfortunately the manufacturer does not sell it to me directly. It has to be purchased by a distributor. Do a huge favorite to yourself and DO NOT conduct any business with them!!!

I ordered this part twice already from repair clinic. Each time the price with tax and shipping ran about 44.34 to 50.70 dollars. I decided to research the part for a better price and, lo and behold, Home Depot sells it for 29.99 around 32 dollars with tax. I had it shipped to the store and was not charged anything. I paid through PayPal and forgot I had 7 dollars in my account, so I am so glad I went elsewhere. I am tired of playing games with prices for such a small item.

I've been using RepairClinic.com for about 6 years now. I've ordered parts for everything from my electric range to blower vacs. If I need anything for any inside appliance to outdoor yard machines I've always received everything ordered on time and it's always what I ordered. Over the years, I've ordered probably a dozen times. Always needed parts 'right away' and I've never been disappointed. Quick delivery and very fair prices. Same parts from dealers are usually more expensive and take extra time for delivery. Their parts identification system is explicit. If you can't find what you want, it's not their fault. If you order the wrong item, it's your fault, not theirs. I find them very easy to work with. They even have repair hints to help you if you need it. What more could you ask for. All of my friends have had the same experience. As far as I am concerned, they are the best.

I ordered a part for my washer under the assumption that I would get the part in two to three days. I didn't get the part for a week. Come on, even parcel post is faster than that. It was a small part. Next time I will use a different seller. I just feel I was mislead.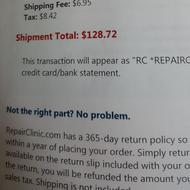 If I could make this lower I would. We ordered a part for our furnace and received a call several weeks ago that it was on backorder and it would be late October for delivery. Not knowing what the weather would be in Nebraska in late October we told them to cancel the order and we would get the part elsewhere. They neglected to cancel the order and charged our debit card. We contacted them and told them we needed the charge credited back and they informed us that it was their mistake but no credit until we send back the part we hadn't received yet. We received the part today. We told them that we are on a fixed income and other items would hit our account which is what happen and cost us $105.00. They will not cover that costs and won't even return our charge for the part that we received today until they get the part back. Their mistake our loss. NOT FAIR...

I recently order a part and I should went and read about the reviews because everyone is right about the service and when it comes to ordering parts. They send me the wrong part due to their inaccurate website information when it becomes to ordering parts online. I called back they wanted me to pay another full amount for the new part??? "NO REFUNDS NO REFUNDS!!" They told me! Every company has refund options but this company really sucks when returning merchandise. They could easily send me the new part and I could at least pay for the shipping, no problem! But is just people behind that office. Don't buy anything from them!! NO REFUNDS!! DON'T BUY AT REPAIRCLINIC!!!

I ordered a dryer blower fan for a Kenmore Dryer. Paid to have it shipped to me by September 6-7, 2016. Part was not on time and when I called them to find out what was going on. They hung up on me 3 times. They were rude and their customer service stunk. I told them I wanted my shipping and handling fees refunded and they hung up on me the first time, left me on hold for more than 30 minutes the second time (then hung up on me), and finally the guy I actually got a little help from told me the Manager refused to refund my fees (even though they promise to refund without question if there is a shipping issue). The third guy hung up on me when I asked to speak with a Manager higher than his direct Supervisor. I called back yet again and was finally given the Supervisor's Manager's name and contact information. I will call Monday to see what she may, or me thinks may not do.

I had ordered for a capacitor for my central air-conditioning unit. Unfortunately I had not read the reviews on this site about RepairClinic. I paid for the premium shipping and was assured of shipping on the same day. But the item was shipped 2 days later and arrived 2 days late as well. The part was ok and is working fine but their shipping system is not good. I contacted them about the delay. They said the shipping time is only an estimate and that they have not delayed it in anyway. I sent them the screen shot of their shipping guarantee. There was no response to that to this day. I am disappointed with their service.

On August 8th I ordered parts for my lawn mower. My confirmation email said I'd receive them on the 11th. I called, rude guy said it hasn't shipped and hasn't been packed yet. He assures me it'll ship that day! Today is the 18th, no parts! I called again, still not packed. Promised again it'll ship today, it won't. Read these reviews people... it's a scam website! I live an hour away from this place, thinking about driving there and breaking a window.

I should have read these reviews before placing my orders with Repair Clinic. However, I didn't and placed my orders based on the fact that the parts would be here the next day if I paid for upgraded shipping. This is a GREAT option....IF the correct parts are sent. On my first order, I ordered a stator assembly for my LG washer. What was shipped was a rotor. Granted, it did arrive the next day as promised, but I had to wait another day to get the correct part.
Next, I ordered a control panel which came the next day with no problem. My final order was for a drain pump and main pump. What arrived was the main pump and a part for a mower. I called and was told the correct drain pump would be sent and I would receive it on Monday. (I had ordered the pumps on Thursday and received the one on Friday). When it didn't arrive on Monday, I called and was told the delay was due to a hold put on the order so it could be double-checked for accuracy, but it was being shipped that afternoon and I would get it Tuesday. Well, it didn't arrive until Wednesday.
I didn't even bother to call them back to let them know that the main pump they'd sent didn't have the o-ring and I had to use the one from my used part. Unfortunately, I didn't notice this until I'd installed it and turned on the washer, which immediately resulted in it leaking all over. When I called to return 2 of the 4 parts I didn't need, I expressed that I felt that they should cover my return shipping, since I'd paid for upgraded shipping each time but had to wait anyway due to their mistakes. I was told that wouldn't be possible.
So, if you'd like to take the risk that your part may or may not be correct, go ahead and order from them. Also, if it's not correct, don't expect any apology from their end...I only got one on my final call once I'd pointed out that no one had bothered to apologize for any inconvenience yet. If I could give them lower than one star, I would. On the upside, their repair videos are helpful.

I placed an order for an OEM capacitor on July 5th. The order was to arrive within 10 days. I received two updates that moved my shipping date to later in July then early August. I called and talked to customer service in early August and they said they would give me free shipping. I responded that they needed to get the part from a vendor and send it immediately. I asked to talk to a manager and after talking to the manager they want me to cancel my order and reorder a different part that had a different voltage but they claimed would work. I said ship it and if it COMES and works I will cancel my order and then pay for the new part. (They refused.) 5 days later I got another email stating it would ship August 16th or 17th. I ordered from a different company and cancelled my order. I suggest you do as I did, order from a different company and avoid this company that does not stock the products it advertised to have.

Don't believe them. I ordered a lawn mower part online. It said "Order by 8:00 PM ET, this part ships TODAY!" When my order had not shipped after three days, I called to ask them about my order. They said "this part ships TODAY!" just means they start working on the order then and it might take quite a few days before the order ships. I wish I had ordered it somewhere else.

I ordered a part for my riding mower and was advised that it was shipped on July 19, 2016. As of this writing on July 30, 2016 I have not received my order. I have called the company two times and have gotten the runaround both times. The people are rude and unprofessional. I would advise all to place their orders in the future with another company.

I called up Repair Clinic services and requested lawn mower blades. I was assured that the model number of the deck matched the replacement blades I ordered. When they came the blade were 4 inches too big. Very displeased that after all the trouble of direct contact that I did not get what I needed.

Placed an order for a $5 part. Paid shipping and tax of $7. Placed the order on May 15th. Received the order on May 25th. You advertise "fast shipping". Not so!! I could have walked from Canton, MI faster than the time it took to get this part. This was totally unacceptable and I will not order anything from you again.

I bought a set of 4 spark electrodes for my Amana Stove Model #ARG3600WW. The website said this part was the correct one for my stove. Upon arrival, the part didn't fit, it was too big for the small connector. I called Repair Clinic and after a while I was told the part was fabricated in Asia and their measurements in the metric system did not match the US system so the parts are not exactly the same size as the original ones. I paid premium for overnight delivery. 24 hours later I was told the part was the "correct" one for my stove and the only one they had. Further, they claim to have sold 210 others without any complaints.
Here's your first one. This company should warn consumers that certain parts fabricated in Asia may not fit the appliances in the US and give them the option of not buying them. I was recommended to "buy a new stove" because the spark electrodes wear out and no new ones are available. I suggested instead that I would buy a lighter. I found the help desk at this company very condescending and unhelpful, and also insistent that the part was the "correct" one for my model number. As if I would buy a part and then lie that it doesn't fit? Really?

I order a part for a lawn mower and they sent the wrong one. Call the rude girl on the phone and she said she couldn't find my model #, the one I order the part with. She told me that she would send the right part and I would have to pay shipping on it as well as shipping on the return one, which would be more than the part itself. Why should I have to pay for their mistake? I told them to forget it and I would not do business with them anymore. She didn't really care.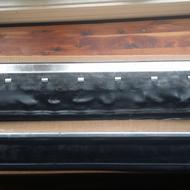 After receiving the part ordered from RepairClinic.com I took my dishwasher apart to replace the lower door gasket and found part was either the incorrect part or defective as it did not look like the part I ordered online or have the ability to secure the gasket behind each door hinge as it showed on the video. Customer service rep at first said they shipped me the correct part and I had to convince her this would not work as it would not fit properly. She finally relented and agreed there was something wrong although she sounded pretty skeptical. She then told me once they receive the wrong part back they would ship me a new one.
I again explained to her that my dishwasher was taken apart and they should ship me the new part and arrange for pick up of old upon delivery of new. This was not going to happen according to their customer service agent of the year. Most companies would overnight the new part and admit their mistake, not this one. I repair most of the items around my house and this is definitely the worst customer service company I have dealt with. I am sure the review I submitted back to RepairClinic.com will not be posted as they only appear to put five star reviews on their website. The part appears to be cheaply made at best and the customer service is one of the worst. I would definitely stay away from this site and deal with a more reputable company. Attached picture show original part on top and RepairClinic.com part on bottom.

I ordered a control board for my furnace. I wanted the part to be here fast so I spent extra money to have it delivered in 4 days by FedEx. It did not show up on the day it was suppose to which was FedEx fault. However the RepairClinic made it right and I did not have to pay the delivery fee. Thanks so much. Great job by the RepairClinic. They were really great about everything. Will use them again. Thanks so much.

I called the customer service line to get help with tracking a package that I never received and the agent on the phone was so rude and unhelpful. And to top it off she even slam the phone down on me. I would never order again from their website. I was just calling to see if they can help me with an order that I placed and received the worst customer service ever. The package was sent back to them because of a wrong shipping address and they refuse to resend it or reimburse me.

Last week I ordered a replacement glass top for my LG stove from RepairClinic.com. I was really impressed with how quickly the part arrived and how much focus the company put on explaining how to make repairs via video. Unfortunately I ordered the wrong part. Fail. I called RepairClinic.com's customer service number to figure out what went wrong and I unfortunately searched for the part on Google and was directed to the page, and didn't do my due diligence. The customer service operator then proceeded to treat me like an child for the next several minutes, explaining how "I had ordered the wrong part" and "why should they pay for return shipping" and how clear their return policy was. Even after stopping her several time to state that while the return policy is clear the attitude and tone expressed was sub-par for a interaction with a customer, she still continued to be obstinate.
Eventually I worked my way to Ryan, who explained he would have focused on finding the part on back order. Unfortunately, the tone and condescending attitude of the customer service rep was simply inexcusable. I ended up chatting with Sears who was able to order the part and through in free expedited shipping in light of the issue with the other company.
End result, I will never buy a part from RepairClinic again, I will definitely advocate for and choose Sears for all repair part orders in the future. It seems silly that $16 dollars in shipping was worth the lifetime value of a customer, but then again that typically doesn't make sense to a 20-something, millennial customer service rep. RepairClinic.com, customer experience is everything in this day and age. Catch up with the times or be left behind.

I ordered a replacement handle for an oven drawer. The gal who assisted me when ordering was POSITIVE this was the correct part. I ordered, received a confirmation email with an INCORRECT tracking number. When the part finally arrived, it was the WRONG part. I called for further assistance, the girl was very dismissive, put me on hold then hung up. I called back and got a different girl, she was even less interested in assisting me. She became argumentative and refused to listen to what I was trying to explain. She had an attitude of she knew everything when she actually had no idea what she was talking about. In my opinion, terrible company, terrible customer service.

I had four different orders within a total of three days to repair my Maytag 9000 Series Frontloading Washer. The parts and available "blowout diagrams" were key in order for me to make my own repairs. I saved over $800 in making my repairs, with this, and the next day shipping, I'm extremely satisfied. Upon making the last order I decided to create an account with RepairClinic as they had become a reliable resource that I would probably use in the future for other appliances and that they store my order history for future reference with the particular model parts were ordered for. So, I opened a chat with RC to request that all my purchase orders be associated together so that I wouldn't have to search through my email to find them, a service they offer.
This is where my experience with RC turned, the response from the person I chatted with was very dismissive and adolescent at best, quote: "I'll have to look up all those numbers," response: "I have them", to which I provided, quote: "Well if you have the numbers, why do you need my help? I don't know what you want me to do! Just look them up." This childlike behavior persisted and I again explained my reasoning to which she did incorporate 2 of the 4 orders, so I requested that the remaining orders be include in my history, to which I receive no response while in open chat. Ten minute passed, I asked "was she still there", her immediate response "Yeah, I'm here, what else do you need?"
I called the store, asked for a manager, he was helpful and viewed the chat, apologized for the little girl's behavior and stated my order will be placed in my account history. I checked back two days later and NONE of my history is there AT ALL. Many a business has FAILED due to poor customer service, RepairClinic is great, BUT they're NOT the ONLY ones who provides this service. Hopefully the summer help will be gone soon or your customers will be.

Ordered refrigerator shelves in Dec because of return policy and reviews. I ordered the wrong shelves because I didn't have the model number. I wasn't worried though because of the return policy as I understood it. They do have a return policy but not a customer friendly policy. The customer service agent I dealt with was very NOT helpful. I will return the shelves but will NEVER use RepairClinic again! They are not customer friendly and in my experience do not care if they have return customers or not. I am a very displeased customer, no I am not a customer, I am a victim. The customer service was not helpful and did not care or try to be helpful. Do not use this service!!!! Beware .

I was very pleased with RepairClinic's no-hassle reshipment of the manual, which failed to show up even though USPS claimed it was delivered. They reshipped via FedEx Ground at no charge. Then I was again pleased when they credited back the $24.85 of my original order (i.e. everything except shipping) after they agreed to accept my return of the manual. But this all could have been avoided if they had not misrepresented the manual as applying to my Sears Kenmore washer Ultra Fabric Care IV, heavy duty 90 series, model number 110.92593410. Neither the controls nor the top reservoirs on my washer bear any resemblance to the corresponding features in the manual they sent. They need to fix their database.
RepairClinic.com Company Profile
Company Name:

RepairClinic.com

Website:

http://www.repairclinic.com/