Consumer Reviews and Complaints

I first used Gainsaver a number of years ago to sell an iPhone, then again to sell a Kindle. The prices they offered were excellent, they paid postage to mail them in, they paid the full estimated price based on my description, and they paid promptly. Then, two months ago, I offered them my MacBook Air, in excellent condition, and they offered $493. Apple had offered a credit of $150 toward the purchase of a new MacBook Pro. I sent it to Gainsaver, they agreed with the condition, and said they would be sending a check for $493 in two days.
The check never arrived. After a few weeks I sent an email, but got no response. I tried calling, but they don't take calls for purchases, only for sales. I belatedly checked the reviews and saw many complaints about it being a scam outfit. I wondered if they pay promptly on the small items so when you trust them with a more expensive one they get away without paying. I tried another email; no reply. After another two weeks I tried another email, saying it seems this was a scam. This time I received a reply saying they were sending a check. It arrived. Go figure. They've been in business for a number of years. Poor organization as suggested in the reviews? Deliberate scam unless you make enough noise? I don't know. I don't think I'll sell to them again because the time I wasted on this was hardly worth the money. I guess I'll use Craigslist in the future.

I received a iMac and it was in decent condition. I turned it on and the screen was flickering and dimming really bad. I contacted them. They gave me a RMA number to return it so I wrapped everything up nicely and sent it by UPS. A few days later I get a email saying the item was damaged and they sent pictures on the computer. There's a sticker that says March 22nd, 2017. When the computer arrived March 23rd I got a UPS confirmation, now I can't get a refund or a new computer. I think this is what they do. They send defective computers to people knowing people will send it back only to tell them that the computer was damaged and they get to keep the money. Please do not buy from them. I honestly don't know what to do now.

I used GainSaver website and requested an RMA to return defective Apple mac-mini. I was denied and told to get it fixed on my own. I lost my $450 to these crumbs. I will try to get a refund through my bank based upon fraud.

I recently sent an iMac 2007 (silver aluminum case) with an extended keyboard (also silver metal case) and a mighty mouse. I filled out the description and GainSaver offered about $225 for the mac and requested I send it to their California office, which I did. I sent it in original box. After 5 days Gainsaver sent a notice that they would offer $0 for the machine since it had defective firewire ports (I never used these ports and before I sent the machine I ran a hardware diagnostic test on it and everything was in order). They stated that I had three days to respond.
Also in their reoffer communication they stated that they could only send the mac and could not warrant sending back any accessories sent (keyboard, mouse) which contradicts their initial instruction of sending all to them. I did as instructed and DECLINED such a devious offer. They also request that you pay them $75 dollar shipping to send you back the machine which is outrageous, but as instructed I did. 3 weeks passed and no response even though their customer service request policy states that they will get back to you in 1 business day. I did post several CSR referencing the Sell your computer request order and stating that I expected my computer and all accessories sent back.
I then came across ConsumerAffairs site (this site) and read another case where Gainsaver defrauded another customer. This customer stated how to contact the one man show operator of the business STEVE. I called the phone number for sales and talked to STEVE. I told him the issue and he tried to point me to their online CSR system. I told him their CSR business process is broken, that it is outrageous that in 3 weeks I had no communications referencing the CSRs I had submitted. I told him I would be reporting them to ICE and the FBI since they are committing internet fraud.
Next day a CSR shows up stating they would send back the computer. They charged my credit card and 1 week later I get a frankenmac back. It is not the same computer I sent. The computer has a loud fan noise which is not apple design probably and they probably swiped out components. Also they send me one of the older extended keyboards (those clear acrylic ones used for earlier iMacs) and not the one I sent.
I submitted another CSR stating my case that they again are committing fraud by sending me a different computer from what I originally sent for appraisal. I again stated I am going to submit a case to ice, FBI and the BBB where they operate. This fraudulent enterprise needs to be stopped. I will keep you posted on outcome. Again STAY AWAY FROM GAINSAVER!!! One very angry and disappointed customer.

I had good luck with GainSaver several years ago when ordering and thought I could trust them again. I ordered a mid 2012 MacBook Pro recently and was sent a late 2011 MacBook Pro which I returned. They accepted the return and gave me many options that didn't match what I needed. I tried again to order several Macs from GainSaver and was sent the wrong models in a partial order. I refused this order once it arrived since it was not what I ordered. GainSaver will not credit the returned machine back to me even though UPS tracking # ** clearly shows that it was received and signed for by their staff. Their sales staff of one, Steve, is very rude and tells me that he can't help me. Furthermore, he uses a tone that makes me out to be a villain and repeatedly tells me that, "We are done, you aren't getting any more credit."
If I call back I get transferred to a service message that tells me to put in another service request online. This system doesn't so any good. You are required by GainSaver to put a service request in via their website which is often ignored. A detailed accounting from their service department shows a credit of ($1334.50 minus $344.13 = $990.37). The $344.13 is from a machine that I did not receive and has shown to be returned by UPS tracking. My money and trust have been held hostage by this outfit. When I called yesterday to press the point with Steve I heard him and others in the office laughing in the background at my complaints. They don't take anyone seriously.
How do I know I can trust these reviews about GainSaver.com?
882,235 reviews on ConsumerAffairs are verified.
We require contact information to ensure our reviewers are real.
We use intelligent software that helps us maintain the integrity of reviews.
Our moderators read all reviews to verify quality and helpfulness.
For more information about reviews on ConsumerAffairs.com please visit our FAQ.

I purchased a MacBook Pro (Late 2012 model). It was a refurbished model, but a friend recommended the company and purchases come with a 180 day warranty. The computer worked well enough for about six weeks, and once it was out of the box was only used in one location. After about six weeks, the computer would suddenly no longer read the hard drive (as if it didn't exist), which meant startup was impossible. I run a home business, and each day without a functioning computer was devastating. Since time was of the essence, I brought it to the Apple store for a diagnostic to see what my options were. The technician informed me it was most likely a faulty cable connecting the hard drive. Through a fluke, the hard drive was momentarily read again, whereupon we discovered all of my data had been irreparably corrupted.
Furthermore, we learned the logic board was from a different computer altogether (meaning Apple would never be able to service the computer, per company policy). The keyboard backlight never functioned properly, and the RAM which had been installed by GainSaver was double the amount the computer was able to handle. Since the computer was still under their 180 day warranty, I contacted the company about returning the computer for a refund, less shipping and insurance. Calling their service number led me to a message informing me they handle their customer service through email only.
When I finally received a reply with an RMA, I was told since it had been longer than 30 days, they would only issue me store credit. No exchanges. No refunds. No repairs. I pled my case with them and have yet to hear back from them regarding a full refund, or — as a compromise — settling for a partial refund and a continuation of the warranty if I had a certified technician make the necessary repairs. After reading about everyone's experiences on this site, I'm guessing I should not hold my breath. As it is, I had to drop more money on another computer (this time directly from Apple, as I should have done in the first place) while I figure out what to do about this $1000 paperweight and the loss of close to six weeks' worth of data.

I purchased a computer from GainSaver. Paid in cash to get an extra 4% off. They cashed my check in a matter of minutes. Then I noticed while they were preparing my order the amount on the order changed. I contacted them. They said it was for the paid amount. A day or so later my after they already have my money they cancelled my order. Reason being the computer being prepared had an issue. Then they send a message that my money is on account and my option computer with the exact same configuration is now more expensive.
I opted for a refund on bad business tactics. I still haven't gotten my refund. They never even sent me a computer. They are responding back with "your refund has been sent." My refund isn't here. There is no one to talk to. Act Gainsaver. Just the person selling. After that? No human in site. It feels like my money is gone. I'm hoping not. It's disheartening. We agreed on a price. I paid that price. They should of stood by what I paid. Didn't happen.

I purchased a MacBook Pro from them and the charger stopped working in two months. The laptop had problems so it was affecting the charger somehow so I took it to Apple and they fixed the laptop. I took extended warranty from GainSaver and they gave me $50 gift card. Yesterday I called them to use my gift card. The lady in sales department mentioned that the cost changes for shipping even though it's going to the same address. The cost of 85W Macbook pro chargers with shipping came out to be around $5 for two of them which the charger cost was about $24.99 but the cost of 60W charger for two of them came out to be around $13 even though the chargers were $19.99 each. It's amazing how the company wants to make money off of you. I guess I was even ok with paying extra but when I called them today and spoke to Steve he mentioned that I can only use it on new computer.
I mean I just bought a laptop and you are saying I can only use the $50 towards another laptop. It is a good scam of making money, I read their terms and conditions but when they sent the gift card it doesn't say anything about that. Along with that it doesn't say it when you are about to buy the product. The company doesn't have any manager or supervisor, only two people working - a guy named Steve and the girl but they don't even know about the term and conditions of the company they are working for. The girl says one thing and says that "I remembered that you called but I didn't quote you on anything" when she gave me the price amount.
The company send the product but service sucks. Don't get stuck with them. Their product has problems too so buy it from outside and pay outside rather than going through them because you will get software issues. Please be careful with this company and there are many companies out there. Don't waste time with them because their cases never get closed.

GainSaver. Why this company has not been shut down yet is a mystery. DO NOT BUY OR SELL with this company under ANY circumstances! Why? In addition to the many, many other sad stories available on the internet, I own a small animation school called **. In June of 2015, I needed to purchase 8 2013 iMacs. I researched prices, and settled on GainSaver. But something seemed odd in the transaction. They offered a 5% discount for "cash", so I wrote a check, scanned it, and sent it to them. They said it could take up to 3 days for the check to clear, but it cleared RIGHT AWAY. This seemed odd to me, so I started researching the company. I realized that the prices were "too good to be true", and that the company was shady. I cancelled the order the next day.
This is where the fun begins, if you want to call it that. GainSaver said it was "fine" to cancel the order. They said it could take up to 30 days to process the refund. Seemed like a long time, but I was fine with it, although we are talking about almost $4,500, which for a small company like mine is quite a chunk of money. 30 days pass, no refund check. I begin calling and using their "online" system to inquire about the refund. They either don't respond, or say the refund is still being processed. I keep checking my mailbox , no check. Every one or two weeks I'm calling.
3 MONTHS PASS. I report them to the Better Business Bureau. THEN they respond with "check is in the mail". But no check arrives. At this point I'm pissed. I suggest someone will come to the office to collect the refund. Still no check. I give them 24 hours to put the refund into my PayPal account. No deal. Then, 3 days later, they have someone call me who says "we will put the money into your PayPal account". Great! I give them the info, but then the guy says "we have to charge you a 20% restocking fee. Send us an email agreeing to this, and when we get it, we will transfer your refund into your PayPal account". Obviously, this is total BS. No way am I agreeing to this. The dude hangs up on me.
I continue to send emails. Magically, the refund arrives in my PayPal account, 98 days after the original transaction. I think it's over. But wait. Today, 103 days after the original purchase, they sent a "dispute" to PayPal, withholding the money!!! At this point I'm hoping Paypal will do the right thing, since I've already transferred the money back into the company bank account, but be warned. These people are thieves. Plain and simple. They should be arrested, their site should be shut down. NEVER, UNDER ANY CIRCUMSTANCES buy or sell with them. Period.

I purchased a MacBook and it has an admin password on it and I can't reach anyone to get it off. They aren't answering calls. No email either. I want to return it ASAP so they need to give me my money back for this useless piece of a computer.

I bought a laptop with a three year warranty in November 2014. Suddenly in May of 2015 it would not boot. I called and the company said to return the computer for a replacement since I had an extended warranty. I sent the computer by UPS was advised. When I called the company, GainSaver, they responded with "just send the computer and we will replace it, no problem." UPS packaged the computer. Today GainSaver sent me an email stating that the computer was "damaged" in transit and the warranty was invalid.
The UPS company had a man named ** sign for the computer stating it arrived in good condition. I called UPS and they have no record of the package being damaged. When I called I was told they do not discuss problems on the phone that I had to respond in an email and someone would get back to me. I just lost over $1,000.00 to these scammers! I am now without a computer and no recourse. Do not buy anything from this company!

They shipped me a Mac Pro with wrong configuration. I tried to call them and get in touch with them. They would not answer any calls. I sent e-mails to them and no response. I am left with a computer that is not what I ordered. I will be disputing the charges.

I had a MacPro to sell. I received an online quote for $197. I packaged it with bubble wrap and sent it off. Many days after they received it I was notified that it was "received damaged" and "not as represented" and they modified their quote to $86.75, 44% of the original quote. No substantiation of the "damage". I checked the serial number online, and the that site indicated machine was as I represented. While I was under the illusion they were above board, I sent in a laptop that was in great condition. I had a quote for $215. About a week after they received it, the quote suddenly changed to $115. Supposedly a check has been sent, but nothing.
I had contacted them about the original check for $86.75 that I hadn't received. They offered to reissue with a $35 stop payment charge. I declined. This appears to be another part of their business practice. I did finally receive the check. It was postmarked a week after the check was dated. If you try to call, you only get a recording saying communicate through their website. Their website claims 24-48 hour response. I have entered many requests and have heard nothing. I did find a number through my BBB complaint and called but the person that answered indicated he was just in the warehouse... Good luck if you consider working with these people.

Buyer BEWARE. This company is a scam! They post pictures of newer model computers to get you interested so I purchased a iMac. When I received it I realized the false advertising and I asked them to send out a call tag so I can return the computer. THEY took forever to respond! When they did respond they have a list of reason for not giving a refund and the most obvious is in red type and extra large. It states that if the computer has any damages they will keep the full price you paid with no refund.
Finally I shipped the computer in its original packaging back to GainSaver. They said that the computer was damaged, but only a slight bend in the stand. The actual computer itself worked perfectly. I never used it. They informed me, after waiting 2 months for my refund, that there will be no refund because UPS must have damaged the stand while shipping. I then asked them to file a claim with UPS since they supplied the call tag... It has nothing to do with me. They have not refunded my money and are fighting hard to keep my full purchased amount.
This is horrible business and not human. Everything is done over the internet, which makes it impossible to get anything settled. And they purposely are taking over 4 months now and I still do not have my refund! Do business with MAC or other company with real, live people. This company is a joke and a scam. DO NOT PURCHASE ANYTHING FROM THIS COMPANY. THEY WILL TRY TO RIP YOU OFF one way or another!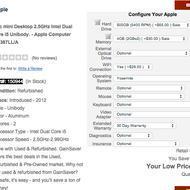 Went to buy a refurbished Mac Mini for a family member. First thing I noticed is that they fraudulently list the Late 2012 base Mac Mini as "Retail Price $699.99" which is a total lie.. They were $599 new for the 2.5GHz i5 model. Second thing I noticed is that they stripped the machine of all the original spec'ed parts and put in a measly 60GB hard drive, 1GB of memory and took out the airport card, and are charging $10 more than what they were new (really $599, not their lie price of $699). The original machine had a 500GB hard drive, 4GB of memory and an airport card.
What happens if you add in all the original spec parts? Yup, you guessed it... takes the price to OVER 700 DOLLARS! For a used machine that was originally $599!!! What a scam! How can these people live with themselves? As far as I am concerned, this is a scam and nothing more. I called their number to make a complaint and a guy named ** answered the phone. When I asked why the machine was stripped down to less than what it came with new and priced higher than what they were new, I was hung up on. Unbelievable! I can see why they have a 1/5 star rating on here and on other review sites!

Ok here it is...Gainsaver is a fake business ran by a guy name Steve Harper. It's a home business that is a fraud to take your money. You realize that none of the Macs are new...they're used. Steve Harper...please, whatever you do, do not order from them. I prank-called their number once and asked to order a 21 inch iMac. Steve said, told me to order online and I said I didn't have internet connection so I couldn't go on the site...I got the number from a friend. He hung the phone up on me. I already knew it was a scam because the same guy answers it. I did research on the business -- It's not registered. Trust me, Steve takes the money of the purchased product, $700-$800. He goes and buy the cheapest Mac/iMac computer he can find. It's scam business. Report this business for fraud behavior.
I'm happy I never ordered from here. But I feel shot down that others have and got scammed. Those who did, proof is in the pudding. Please do not order from a site until you've done research, hard research. Make sure you know it like the front and back of your hand...know the business the same way **.

I recently placed an order with GainSaver. The laptop I was supposed to receive had a problem with the hard drive or it just failed testing. But however they sent me out a new email that said that they have giving me a new quote for another laptop that was at a cheaper price, also with waiving my shipping, also this included my upgrade as well. But when I called my bank, my card had been charged the price for the old order. I then called Sales and I spoke with a guy named Steve. He was very rude, unprofessional, and said that he couldn't help me and I needed to speak with customer services. The sad thing about that was that they are the ones who told me that they wouldn't charge my card until it was shipped and it would be for the cheaper price.
I am very upset with myself as well as them, the reason is because not reading the reviews on this company before I made a purchase with them. If I had, I would not be going through this right now. So please READ ALL REVIEWS ON THIS COMPANY AND DON'T PURCHASE FROM GAINSAVER. I WILL NEVER AGAIN NOR WILL I RECOMMEND THEM...THANK YOU. VERY DISPLEASED AND VIOLATED CUSTOMER.

Gainsaver agreed to purchase my computer. They sent me a label. I sent them the computer. They then sent me a letter stating that the computer had arrived but that it had been damaged in shipping. They offered me $3 for it. I repeatedly asked them for pictures and help, so that I could make a claim with USPS. USPS was the shipper and I had also paid them to pack it. No response from Gainsaver, just an automated email stating that the computer had been mailed back. I tried calling them several times but it is impossible to get anyone on the phone.
I now need to argue with the USPS store to cover packing costs and since they had paid for shipping, USPS is not being especially responsive in regard to making a claim. Gainsaver is MIA. They don't feel that they need to respond at all or participate in any claim against USPS for damage. So, basically they screwed me. I would recommend not dealing with them at all.

This company is HORRIBLE to deal with. They don't test their products, only can contact customer service through an email service request and after demanding a phone call they are very rude. 2 out of 3 computers ordered where bad. The first computer was canceled internally and then they sent a quote for a working one $300 higher in price. I had to cancel the quote and then reorder same computer. Then, sent 2nd computer broken 2 days before Christmas. The computer wasn't tested and confirmed with Apple. We had to install a new battery for our daughter to have it Christmas morning and they won't refund and/or give store credit for the cost. The customer service agent that called back was completely unprofessional and rude. He said "Gainsaver is just not the company for you." Please to anyone who is looking DON'T BUY FROM GAINSAVER.

I ordered some replacement screws for a Mac Mini and was sent a broken bottom cover instead. Trying to contact Gainsaver.com was something you could not do. Every email was met with the same generic reply. Was able to get a refund by doing a credit card charge back. I would never ever use this company for any reason.

Our company purchased a refurbished MAC computer in June from GainSaver; in fact, we originally purchased three, possibly more. Our purchase was made by a former executive who is no longer with us. Issues with the operation of the computers caused us to return them. They would not refund our money, instead issued a credit. We used one credit to have them send us another Mac. Since they accepted the return and issued an RMA#. We received the replacement and once again we could not use this. We submitted a claim to return this computer and are still waiting for an RMA. It has been quite some time - months. I regretfully am placing this review as they have cut off contact and will not execute a viable resolution to the inoperable computer(s).
After these issues they should return our money. As a business person I can not understand why they do not stand behind their products. Stay away from GainSavers as it appears they gain and the customer does not save. In fact the customer loses every time - just look at the other reviews. I am doing the follow up for the company with this item in an effort to retrieve the funds and resolve the poor service provided. Once the Accounts Payable department deciphers the mess of invoices fro the purchases, returns and attempted returns we can provide the Correct Order number.

My experience with them is epic and the information I have is VERY lengthy and the truth is a deep ugly whole. I'm considering filing a class action lawsuit because this fraud, theft and destruction of personal property over and over and over is out of control. If you buy from them, you are not getting a refurbished computer but a computer that has REPLACE faulty parts. Unfortunately, they are replacing with even more damaged parts. Sometimes parts and/or drive that don't work at all, screens that are cracked, food in the keyboard... even a keyboard that is not even English. For me, it turned out, when I took to Apple, that the hard in my computer was removed and replaced with different hard drive with a serial number dating 1978.... before Apple existed. With these people, it goes far deeper than they make it appear on the surface. It's so big and so deep. That is how they continue to operate. It's a lot to gather and keep up with. It just kept/keeps going and going.

After searching for a MacBook Pro, I opted to purchase from Gainsaver. The almost $900 unit worked to my satisfaction for about 3 months, then the problems started. After TRYING to contact Gainsaver "Service", I was emailed a list of things that Apple could do for me to diagnose "My Problem". It became pretty evident that Gainsaver was not going to help me AT ALL, and that even a reasonable response was going to be not forthcoming.
Now after a full 6 months of ownership, a new hard drive, it has become evident that this machine was a "wounded duck" before I received it and was not properly refurbished as Gainsaver claims their merchandise is. I have a bad logic board, which pretty much means I gave them my $900 and I have to start over as I cannot possibly fix this unit for any reasonable price. DO NOT PURCHASE FROM THESE BOZOS.

I purchased 2 17-inch Apple MacBook Pro, one for my daughter for her birthday, another for my son, plus the warranty. The display monitor would not come on so I sent it back for repairs. After a few weeks went by, I call customer service for update and someone name Jennifer answer and unprofessional told me to ** off. Flags went up and I started calling everyday until I got the manager. I think his name was Steve who is actually the ring leader, the owner. He informed me that my laptop was destroyed in shipping and they had thrown it in the trash, and I was out my money. The thing is I had an extended warranty, insure on my package. I never heard from them again. The sad part of the story is later I found out the only problem with the laptop was the battery was dead and all I had to do was replace the battery. True story!.... "Please go to Gainsaver.com and on the home page, there is a link to return item. Please fill the form and we can issue you a RMA. Thank you. Customer service..." Late time I seen my Laptop.

I recently purchased and received a used MacBook Air that only functioned for about 45 days. The invoice stated that the computer had a 128 GB Solid State Drive. Upon replacing the solid state drive, I discovered that there was a 120 GB OWC brand replacement solid state drive, not the 128 GB drive that Gainsaver listed on the invoice. I had believed that I would be receiving a 128 GB solid state drive in the computer. This is fraudulent practice.

I'm waiting my refund ($1094) from Gainsaver since January 2014! You can to find all details about this complaints on a video (Gainsaver stay away) I posted on YouTube. Please stay away from this company! Thank you!

All I did was ask "What's the difference between used, cheap and refurbished?" Was redirected to customer service... And that's all you need to know about their sales!

As many others have stated, GainSaver advertises very reasonably-priced computers, but they have configurations that do not exist, that could not exist, then try to switch you to another product. For example, every MacBook ever made has a built-in AirPort. It can't easily be removed, as it's not on a card like it was in the older PowerBooks. They spec a base memory amount of 512MB and Mountain Lion installed when that operating system requires at least 2GB and they don't even make 512MB chips that fit in those newer computers.
I've tried to call their bluff and order those non-existent configurations, because I have the spare parts to re-add whatever they might remove. On more than one occasion I have gotten a quick response to contact them about my order. I'm told that the product failed testing, when in reality it was because I didn't configure enough expensive add-ons to make the sale profitable. The last time I got a "failed testing" issue with my order, the salesperson who I spoke with said that it was the "comptroller" who told him that the product failed testing, which basically confirms my accusation that it is financial issue, not a technical one.
The City of Long Beach needs to shut GainSaver down unless they change the way they do business. I own an IT consulting company and I have purchased many usable computers from them, and returned a couple as well. The computers have always worked. If you're lucky, then you'll get a good deal without your order being cancelled because the product "failed testing." But I fix computers for a living and am able to deal with the risk. My problem is with their false advertising, nonexistent customer service. Bottom Line: False advertising. Buyer beware. Untrustworthy liars who may sell you a laptop for cheap.

I bought a unlocked iPhone 4 from Gainsaver. The company sent me a locked phone instead. I tried to called their customer service line, but it does not exist. The only way to contact customer service is to send an email. In that case, their *one* customer service rep calls back whenever works for him. If you are busy when he calls, then it's necessary to put in a new request. I have been trying to connect with their one guy for weeks, and have never been able to. About to pull my hair out over this.

I agreed to sell my iPhone 3 to GainSaver for $50. They supplied a shipping label (UPS) and I shipped them the phone. On December 23, 2013, they emailed me stating that the phone was not as described (condition) and gave me the option of accepting their revised offer or the return of my phone. I chose to have my phone returned. On December 28, 2013, GainSaver shipped the phone back to me via UPS (Tracking Number **). The package was to be delivered to me on January 6, 2014. On that day GainSaver requested that UPS return the item to them. The phone was delivered back to GainSaver on January 9, 2014 and signed for by Rudy. I have heard nothing from them since. They do not answer my emails, nor will they speak to me on the phone.
GainSaver.com Company Profile
Company Name:

GainSaver.com

Website:

https://www.gainsaver.com/