Consumer Complaints and Reviews

Can get 2, but not all 3 of the Reports... And it's this way every year. AND it's the SAME company that won't give me the report. It has nothing to do with Identity verification, because the other 2 come out just fine. It always says that "We're sorry A condition exists that prevents Experian from being able to accept your request at this time. To obtain your Experian annual credit report, please mail your request to the address below using the Annual Credit Report Request form. Annual Credit Report Request Service P.O. Box 105281Atlanta, GA 30348-5281." Or something similar. The reports are not free if you have to MAIL IN a request... Unless paper, stamps, envelopes, etc. have now all become free also...

I'm not sure why so many people had trouble with the site, but I suspect it was from not reading carefully or following instructions or going to a wrong website. I accessed all three of my credit reports, although I had to come back an hour later to do one of the three. I was not asked for payment to receive any of the three reports. I was not asked to receive or order anything by mail. The identity verification questions were not tricky, but I had to read carefully and think through the answers. I was given an opportunity to get my credit score for a payment (and having to join a monthly program) I declined. Overall, not a difficult experience, but I do wish credit scores were mandated as also free.

Just pulled all 3 credit reports from this site. No problems obtaining reports, no issues with the CAPTCHA (though I have had issues on other sites with CAPTCHAS so it's realistic that some people might have problems on this site) although Equifax was a little slow. Here's how this works: Select which agency's reports you want. You will be redirected to that agency's website and asked a bunch of identifying questions (these seem to be drawn from whatever they have in their reports). If a question does not list a CORRECT answer then select NONE/DOES NOT APPLY (that's why that option is there, folks! And yes, this was my answer on several questions! Don't freak out about it!) Assuming the answers are correct, then you will be taken to the report where you can print it or save it in PDF format (good idea, especially if you have to dispute something).
Keep in mind, under the law consumers are only entitled to a free credit REPORT, not a free credit SCORE (I am not defending this, but this is the law as it stands right now). Also there is a phone number in the event someone runs into a problem and needs to call (I can imagine this would be a headache). Sometimes things happen where the report must be sent by snail mail. I had this happen to me years ago with TransUnion (would not recognize my identity), although I had no trouble obtaining the other 2.
Finally, how are people being charged for something through this site without realizing it? At NO time was I ever asked for payment information, although I was offered identity protection as well as access to my credit score. Of course, I already know that only my report is free of charge and that the score is not included with the report. If you are asked for payment information (like a credit card number) you are either at a scam website or the legit website and have selected to receive a service other than your free report.

AnnualCreditReport.com barely works half the time. If the government is going to mandate we're owed one free credit report per year, they should make sure the means of obtaining it actually works. AnnualCreditReport.com is so broken it makes me think the credit agencies are colluding to keep it somewhat broken so that people can't actually get their free credit report.
Two problems currently: The manual request form (PDF) at manualRequestForm.action is corrupted. It will show up fine on your screen but when you try to print it on most major printers, the top section prints as a postscript error. Because the file is invalid / corrupt. So you can't actually request a credit report by mail, unless you have some other way of getting this form. They force you to request reports by mail (which doesn't work! see above) sometimes, for example Equifax's security questions were all bogus and made up. They had nothing to do with my credit history so I answered "none of the above" for all of them, and then they say we can't verify your identity and you'll have to mail in the form (broken) with SS card and driver's license. I tried this twice and both times the questions had nothing to do with any business I've ever heard of.

Total scam! Experian charged my bank account for a credit score and then told me that a score was unavailable for my credit account. I tried using the "Contact Us" form on the website for resolution, but when I hit the submit button, I just get error messages stating it can't submit my request. In addition, I tried calling the 877-322-8228 number also but it's just a recording. There is no way to get to a live person so I can get resolution about my file.
I was able to get my Experian annual credit report, but there were 16 items I had to dispute. When I clicked on the submit button, I got another error message stating it could not submit my disputes at this time. In addition, TransUnion doesn't work at all and won't give me the annual credit report I am entitled to due to bad validation data on their end. What a total waste of time and money! These organizations are taking advantage of consumers and FTC should crack down on them.
How do I know I can trust these reviews about AnnualCreditReport.com?
637,576 reviews on ConsumerAffairs are verified.
We require contact information to ensure our reviewers are real.
We use intelligent software that helps us maintain the integrity of reviews.
Our moderators read all reviews to verify quality and helpfulness.
For more information about reviews on ConsumerAffairs.com please visit our FAQ.

I requested all 3 reports for my husband and myself. He got Transunion & Experian. I got Transunion & Equifax online and printed them out. I was told that I would have to send off for the others that did not come through. Needless to say, I was very disturbed since this is supposed to be a government sponsored company and we are entitled to the reports by law. As others have mentioned, the Captcha (excuse the spelling) is horrible and very frustrating. This whole thing needs to be fixed. I was going to send off for the others, but after reading the other reviews about not receiving them after giving out personal info, I have 2nd thoughts. I thought it would be simple, but it is not. Not a happy camper!!!

The feds need to crack down on either the utter incompetence or willful lack of functionality on this site. Experian didn't work due to a technical problem on their end, and Equifax had bad identity verification data. TransUnion worked. Also, you don't get your actual credit scores from this service.

The service did want I expected and I was happy briefly. Two days after and on going for the last couple weeks I receive 2-5 calls a day from IRS scams, telemarketers, and robo calls. I've had this number for three years and am careful on-line where I use it. Wasn't a problem until I used my information here. I've receive three in the last two hours and just had to change my phone number, it's gotten so bad.

So most of the reviewers of this site don't know that it's not really an either or situation here. There is one way to get your free credit report each year that is recommended by Experian, TransUnion, Equifax & the government. It is AnnualCreditReport.com. Other services or sites are set up with the sole purpose of gaining access to that information. Go to Experian, TransUnion & Equifax websites. They won't give you your free report, but will make you go to ACR.com. In 4 years of using this, I have had a problem once and it was with the Experian's portion of the site.

This has to be a scam. Reports by email not available after filling in web forms (a few times because of links purposely designed to force you to start over). Same problem trying to complete written report with instructions that are absurd (make sure letters to not touch outline of boxes to fill in) or misleading. No way to contact anyone at the company - only recorded messages which are not helpful at all. Does anyone know the name of the federal agency that oversees this activity? It is my understanding that the law requires that consumers be able to get a free copy of their credit report once a year.

AnnualCreditReport.com says the consumer will be provided with three free credit reports. This is not true. This company does a bait and switch to get your personal information and then wants credit card information to charge for credit monitoring. Without subscribing to their monitoring service, you can go no further. Called and the representative said I could not access my credit scores. Very deceptive and dishonest. A waste of time and a potential liability.

If I could give this place a rating below a 1 star, I would do so. I used AnnualCreditReport.com to obtain my free yearly credit reports from TransUnion, Equifax, and Experian. I like to have a PDF copy of my reports as they are at least 20+ pages long. I had no trouble with TransUnion and Equifax. When I continued to Experian, however, I received an error message stating that they "could not honor my request". Then I was given instructions on how to mail in a request. I decided, unfortunately too late, to check the reviews on ACR.com and discovered I am not the only customer who was/is extremely dissatisfied with this company. There is absolutely no way or anyone to contact if something goes wrong during your requests for your credit reports.
I ended up calling Experian customer service directly and was informed that I will receive a courtesy report within 7 to 10 days. I was told there was no reason I should have not gotten the copy of my report from ACR and Experian. So we shall see. I do know that I will NEVER again use ACR.com for my annual credit reports. I will contact each company separately and request my copies directly from them. I can't understand why TransUnion, Equifax, and Experian continues to do business with a scam company like ACR.com.

Identification questions are made up, they will ask you questions about made up loans and mortgages to have you call them and sell you a credit report, all of which don't appear on your report once you PAY for it!!! Please, if you are not given your free annual credit report, join in and report them.

I was only trying to help my nephew obtain his credit report for free and the response you get when you apply online is to mail the application. Forget TransUnion, you can't even get to the security questions. At least with Experian and Equifax, it looks like you're making progress and then at the end, AnnualCreditReport.com instruction says to mail. So what is the purpose of the online request???

I submitted all my information to receive an Experian credit report but did NOT receive it, and was instead asked to pay for a report.

I requested my credit report from all 3 bureaus on AnnualCreditReport.com, which is supposedly set up by those credit bureaus. They requested additional information from me, which I sent in. Now all 3 bureaus are requesting the same information from me that I already sent in. So much for AnnualCreditReport.com. I could have done the same thing without them, and had my information quicker. If they were graded on Customer Service and Value they would be closed already. When I sent an inquiry to AnnualCreditReport.com asking why this happened and what happened to the documents I sent in, all I got was confirmation that I had a question. I still have not received an answer from them one month later. In my business we do not get things done by putting them off. Apparently the Credit Reporting Business does. I feel the AnnualCreditReport.com website is a waste of time and effort, it certainly was for me.

It seemed legit so I didn't bother to look at the reviews before started a review, and of course they are horrible! I know for a fact my answers were correct yet I can't see my credit report online. seriously. And NO, I will not send all of my personal info through the mail for them to never reply. And it is funny that the captcha took 4 tries for me too. There's a trend in all of these reviews of AnnualCreditReport. I doubt anyone gets their credit report for free, and I doubt they will actually reply to any reviews because they know they are a scam. Don't fall for it!

I am in the process of buying a home and there some inaccuracies in my reports that I need to dispute regarding student loans from 2012. Experian has ruled in my favor, taking the issues down but I did not realize I needed to dispute each report individually. While reviewing the first of the three reports (TransUnion), my session timed out before I had access to my Equifax and Experian Reports. I cannot log back in now because the system thinks I have already acquired my annual reports. There is no customer service number and when I reached out to each Credit Bureau individually, they said there is nothing they can do.
Now my only option is to leave a comment on AnnualCreditReport.com and hope someone calls me back - unlikely, wait another 12 months or pay for the remaining two reports individually. This is ridiculous. I am trying to handle my finances responsibly, address issues and inaccuracies that are preventing me from owning a home and the current system in place is doing everything possibly can to make that impossible. I have one credit score of 767 (the one where the disputes went through) and the other two are sitting around 600. But I can't file a dispute with Equifax or Experian until I have a reference number, taken from the Credit Report's themselves that I never received. How does that make sense? Why isn't there anyone I can talk with to even address the issue and move forward?

This is the second year in a row that Experian comes up with excuses for not giving me my credit report. On AnnualCreditReport.com, they say my answers are wrong. Really??? I think I know my life and history better than they do. Then they sent me a form letter, stating that I didn't provide the correct information to verify my identity or it wasn't legible. I have the copies of both that I sent to them two years in a row and they are liars. Since this is a federal site, and there have been too many complaints from these credit reporting agencies, it's time they have to be held accountable. They have no problem trying to sell you their monitoring crap.

Tried to get report from my phone. Took all my info then said sorry there was an error and canceled it. I hate they have my info. This is so messed up. I use to be able to get my report sent to me. Why can't we do that anymore. Not a happy camper!!!

I tried for several hours to get my free credit reports from the top recommended sites, which include the three credit report companies. It's a sham. They make you jump through all kinds of hoops and then tell you that for your own "safety" they cannot let you have access to your credit report. They want you to use snail mail and pretty much send them every kind of documentation there is. It's a complete subversion of the laws. They are clearly doing this deliberately, making it very, very difficult for people to have the yearly access to their credit report that they are obligated by law to give them.
This is yet another illustration of the fact that big money and business has us (the people) by the balls and circumvents our freedom and economic rights at every turn. I'm sick from it. America is not a democracy. Big business can do whatever they like to us with absolutely no consequences!!! They do not even have to pay taxes or obey the laws. They find ways to shaft us and get around it. Free credit report my ass!!!

Today is the first and LAST time I will be using the AnnualCreditReport website. I successfully, after many hoops, accessed only ONE of my 3 requested reports. The website then had an error and locked the other two reports out. I cannot create a new inquiry, but was told I could pay for the two missing reports. Just don't give them your information, they want you to buy products, and they'll take your once-yearly access to do it.

It is OBVIOUS that ACR does not want to give you a free credit report. The web barriers are very difficult to surmount, so most people give up and pay money, as ACR wants. They say I have already received a free report within a year, so I am not eligible. But I did not. They ask very picky and detailed questions, which are unnecessary and often impossible to answer. They say "unable to complete your request" with no reason. Their Captcha character recognition system rejects most anything you enter. They reject you for any of the above and you have to start over or worse they say you are disqualified. They say you have to apply by mail. I got their form and filled it out and sent it back. They never replied.
So in desperation I paid them for a report. Then I found in the fine print on the very last web option, that now I was a "member" and they would charge me $25 additional every month. I never signed up for that and it is a complete ripoff. I had to call them to complain, and then they offered me half price to remain a member if I agreed to stay on for 5 years. THIS IS ALL A COMPLETE SCAM!!!

I haven't tried to use this site in several years. Now I wanted to check my credit, entered the data, and tried to get a credit report from two of the three providers. Both said that the provider could not provide a report and that I had to send in a paper request via snail mail. Why? I live overseas and it is not easy/cheap to do so. They seem to be discouraging people from getting their free credit report which we are entitled to by law, or so I thought. And why do I need to provide my full address and phone number to enter this review? So that I can get spammed by your so-called "service providers". Sorry, I provided fake data, spam away...

Cannot access credit agencies. Every time I submit my info for a credit report, I am told that the captcha security is misentered. I checked their FAQ and found you must use old versions of both Chrome and Safari. I tried sending them an email, but for it to go through you need to enter a captcha security number.

I've used the AnnualCreditReport.com site since 2009. The latest with Experian in October 2015 and never had any problems. In February 2016, while trying to get my TU report it just keeps telling me "unable to complete your request" and I am unable to contact a person at ACR. Any attempt to use the Transunion.com site for a free credit report (as mandated by law) it redirects me to the ACR site. I try to keep up on my reports by pulling one every four months - I've never had issues in the past but now the site is stuck. It appears this has been going on for sometime and not just for me - someone needs to address this ASAP.

I was not able to access all of my credit reports as promised. Experian and Equifax posed questions to me that do not apply to me and after wasting time filling out the form I was not able to access my information. Same thing happened to my fiancee and nothing has been done to correct it on her end. Experian customer service told her to do anything on her report she must call in.

This site took a veritable encyclopedia of my and my husband's personal information, and then stated that they could not provide any information. We immediately went to Credit Karma instead, and successfully got our credit reports in under 5 minutes. Don't waste your time here, and risk your personal info being collected on a dubious site --- just go directly to Credit Karma.

This site is horribly designed and the captcha system is broken. You can't make out Os and 0s, nor ls and 1s. This results in constant errors not allowing you to type in the correct captcha. Over and over this has happened throughout the years. This site is recommended through the FTC and until they fix their broken captcha system it should not be. Look at the past reviews, everyone has issues with it. It's not one person, it's not mistyping, it's a poor implemented captcha system. Furthermore they have no Contact Us page without the captcha page to even complain. I now have to waste my time calling into their 1 800 wait a lot line to get a simple credit report. Also rerouting everyone through 3 different credit report agencies is also poorly implement but I digress.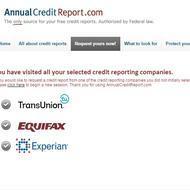 I went through the questions and history questions and it goes through without any problems. You need to be patient as the site connects to each credit company within the window. Then you need to make sure you don't hit a back button or try to click same buttons twice. I have used this for several years and only had an issue once when trying to use the step 4 (go back to get next report) and that was my fault for clicking the back button on the browser. Read the page and instructions carefully and know your history questions. IF you make mistakes then you will have to do a written request. Print or save all reports as PDF files so you can print hard copies whenever you need them.

Barbara FriedbergPersonal Finance Contributing Editor
Barbara Friedberg, MBA, MS is a former investment portfolio manager with decades of financial experience. Friedberg taught Finance and Investments at several universities. Her work has been featured in U.S. News & World Report, Investopedia, Yahoo!Finance and many more publications. More about Barbara→

AnnualCreditReport is authorized by Federal law to provide free credit reports to consumers. AnnualCreditReport.com is a highly respected service offering credit and identity theft information.
Trustworthy: AnnualCreditReport is maintained by Central Source, LLC and is sponsored by the three major credit bureaus: Equifax, Experian and TransUnion.
Free: AnnualCreditReport offers access to a free credit report once per year from each of the three credit reporting agencies. It's recommended that consumers get one free report from each agency every four months so individuals can monitor their credit year-round.
Consumer advice: AnnualCreditReport offers free advice for consumers about how to avoid identity theft, how to read a credit report and more.
Trusted: AnnualCreditReport.com is a highly regarded, non-biased source for free credit reports and related information.
Best for All consumers interested in keeping track of their credit profile and learning about identity theft.
Compare Credit Report Sites
AnnualCreditReport.com Company Profile
Company Name:

AnnualCreditReport.com

Address:

Central Source LLC, P.O. Box 105283

City:

Atlanta

State/Province:

GA

Postal Code:

30348-5283

Country:

United States

Website:

http://www.annualcreditreport.com/