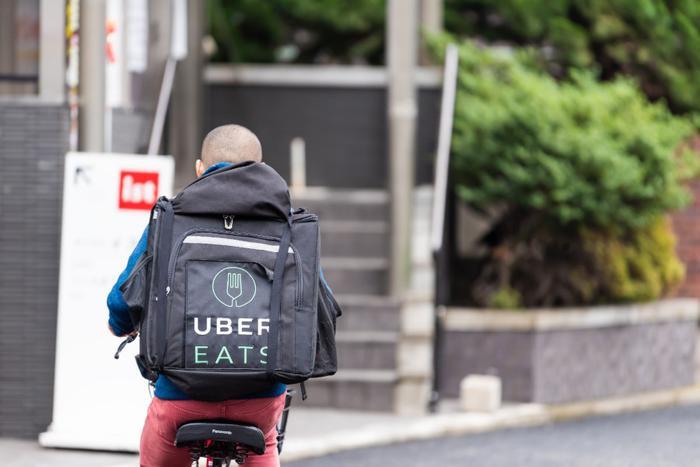 In its second quarter earnings results, Uber said its food delivery service, Uber Eats, more than doubled its orders during the first months of the pandemic. 
The ride-hailing giant said Thursday that its reported net loss was $1.78 billion in the second quarter of 2020. That's down from its net loss of $5.24 billion a year ago. However, Uber revealed that it topped analyst expectations in terms of revenue, hitting above the $2.18 billion figure investors expected.
"We are fortunate to have both a global footprint and such a natural hedge across our two core segments," CEO Dara Khosrowshahi said in a press release. "As some people stay closer to home, more people are ordering from Uber Eats than ever before."
Uber said food delivery bookings more than doubled to $7 billion. Khosrowshahi said it has become evident that Uber has "a hugely valuable hedge across our two core businesses that is a critical advantage in any recovery scenario."
If travel restrictions continue or are enacted again, Khosroshahi said Uber's delivery business will "compensate" for the loss in ride-hailing activity. 
"When travel restrictions lift we know the mobility trips rebound. If restrictions continue or need to be re-imposed our delivery business will compensate," he said. 
Delivery service booming
Khosroshahi says his company is continuing to support consumers by providing a valuable service during the COVID-19 pandemic.
"The Covid crisis has moved delivery from a luxury to a utility," he said on a call with reporters. He believes Uber users will continue using Uber Eats to order food now and after the threat of the virus abates. 
Speaking about the dip in ride-hailing rates in U.S. markets, he noted that the business is rebounding at different rates in different parts of the world. During the second quarter, rides were down 50 to 85 percent in key U.S. markets. However, in major European markets, rides were only down about 35 percent year-over-year. 
"When cities move again so does Uber," he said.