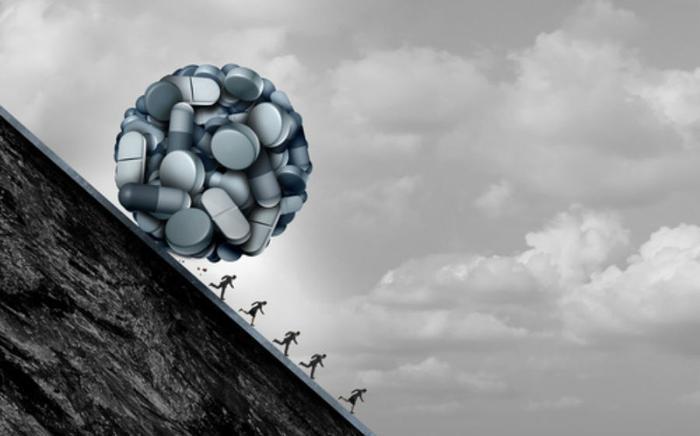 A new report from the National Safety Council finds most states have failed to implement effective policies to tackle the opioid addiction crisis in America.
In fact, the Council said only 13 states -- Arizona, Connecticut, Delaware, Washington, D.C., Georgia, Michigan, Nevada, New Hampshire, New Mexico, North Carolina, Ohio, Rhode Island, Virginia, and West Virginia -- have improved their approach to the drug epidemic in the last year.
Eight states -- Arkansas, Iowa, Kansas, Missouri, Montana, North Dakota, Oregon and Wyoming -- received failing grades, having adopted just one or two out of six key actions recommended in the report.
'Need to wake up'
"While we see some states improving, we still have too many that need to wake up to this crisis," said Deborah A.P. Hersman, the Council's CEO. "For the last five years, the Council has released Prescription Nation reports to provide a road map for saving lives across the country. We hope states adopt the recommended actions laid out here so we can eliminate preventable opioid deaths and stop an everyday killer."
The National Institute on Drug Abuse reported last month that opioid overdose -- which includes heroin as well as prescription painkillers -- kills an average of 115 Americans each day. Beside the toll in lives and health, the Centers for Disease Control and Prevention (CDC) estimates prescription opioid abuse is an $78.5 billion drain on the U.S. economy each year.
Some states where opioid abuse is particularly bad have a much bigger challenge. In February, Maine Attorney General Janet Mills reported 418 drug overdose deaths in the state in 2017, an 11 percent rise over 2016 -- when deaths surged 40 percent over 2015.
Deadly rise of illegal fentanyl
The report said 85 percent of opioid-related deaths were caused by the victim taking one or more opioid drugs, with a 27 percent increase in deaths due to illegal fentanyl and fentanyl analogs. Heroin overdose deaths, meanwhile, declined.
Drug manufacturers have come under fire for allegedly assuring medical practitioners that these powerful prescription painkillers are not addictive. In February, Sen. Claire McCaskill (D-Mo.) released a report tracing payments from major opioid drug makers to third party advocacy groups that have promoted the use of painkillers.
McCaskill says her report describes how drug makers have invested heavily in third party organizations that serve as pro-opioid advocacy groups. The report says these groups have issued guidance that minimizes the risks of opioid addiction and endorses opioid use for the long-term treatment of chronic pain.