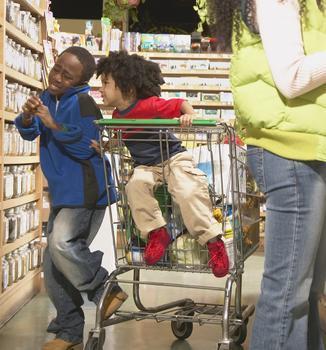 Parents who grocery shop with young children often use the shopping carts as a stroller as well, putting the child in the cart along with the food.
But are they placing their child at risk of injury by doing so? Statistics suggest that they are.
The data relating to children who were treated in U.S. emergency rooms from 1990 through 2011 shows that 530,494 children under 15 suffered injuries associated with a shopping cart. That averages out to 24,000 injuries each year.
New voluntary safety standards for shopping carts went into effect in 2004 but so far, say researchers at the Center for Injury Research and Policy of The Research Institute at Nationwide Children's Hospital, it hasn't made a difference. In fact, the accident numbers have continued to climb.
Most injuries are from falls
The study found that falls from a shopping cart accounted for the majority of the injuries – about 70%. Most injuries were head injuries.
While soft tissue injuries were the most common diagnosis for these head injuries, concussions rose at a disturbing pace. During the study period, concussions increased by 200%, with the number of these injuries rising from 3,483 injuries in 1990 to 12,333 in 2011. Most of this increase was associated with children four years old or younger.
"The findings from our study show that the current voluntary standards for shopping cart safety are not adequate," said Dr. Gary Smith, director of the Center for Injury Research and Policy at Nationwide Children's Hospital. "Not only have the overall number of child injuries associated with shopping carts not decreased since implementation of the safety standards, but the number of concussions and closed head injuries is actually increasing. It is time we take action to protect our children by strengthening shopping cart safety standards with requirements that will more effectively prevent tip-overs and falls from shopping carts."
Design changes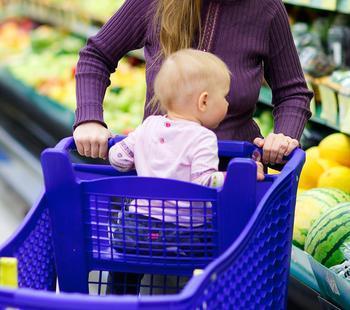 Among the suggested design changes are better restraint systems. The biggest recommended change, however, is the location of the child seat. Currently it is at the top of the cart, meaning the child has farther to fall should the cart tip over. Smith and his colleagues suggest placing the seat closer to the floor.
That would lower the center of gravity of the cart and make it less likely a tip-over would occur in the first place, they say.
Along with design changes researchers suggest raising awareness of the potential danger by teaching parents how to safely use shopping carts, making store-wide broadcasts encouraging cart safety belt use, and having store employees encourage families to use the cart safety belts.
"It is important for parents to understand that shopping carts can be a source of serious injury for their children," Smith said. "However, they can reduce the risk of injury by taking a few simple steps of precaution, such as always using the shopping cart safety belts if their child needs to ride in the cart."
What to do
When shopping with a young child, look for alternatives to placing the child in a shopping cart. However, that isn't always possible so when using a shopping cart, make sure the child is secured with the cart's safety straps, when legs fitting through the openings.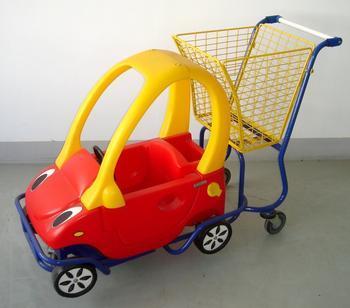 Some stores have special carts especially for shoppers with children, with a low-to-the-ground seat at the front of the cart. When these are available it's a good idea to use them.
Make sure your child stays seated at all times. Many accidents occur when children try to stand up in the cart.
When a child is in a shopping cart, never leave it unattended. And never place infant carriers on top of shopping carts. If your child is not old enough to sit upright by himself in the shopping cart seat, consider other options such as leaving your child at home with another adult while you are at the store, using in-store child care areas, using a front- or back-pack carrier, or using a stroller.