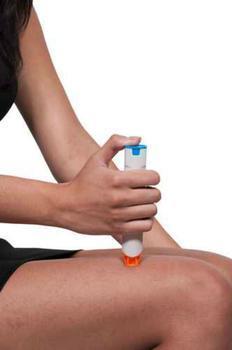 Mylan, the pharmaceutical company that makes the EpiPen allergy antidote, has more than a public relations problem on its hands.
Its huge increase for the EpiPen, considered a lifesaving device for those threatened by allergic shock, has produced outrage from consumers and policymakers over the last couple of weeks. Now, it's produced an official investigation.
Minnesota Attorney General Lori Swanson says her office has asked Mylan to submit documents that justify the price hike, from around $50 nine years ago to $600 now. And the New York attorney general has opened an antitrust investigation.
"We have heard public reports that it costs a few dollars to make the drug and what we're trying to drive at is what is the reason for this price spike that's affecting so many people," Swanson said in an interview on CNBC.
Meanwhile, New York Attorney General Eric T. Schneiderman said Mylan may have inserted potentially anticompetitive terms into its EpiPen sales contracts with numerous local school systems.
"No child's life should be put at risk because a parent, school, or healthcare provider cannot afford a simple, life-saving device because of a drug-maker's anti-competitive practices," Schneiderman said in a press release.  "If Mylan engaged in anti-competitive business practices, or violated antitrust laws with the intent and effect of limiting lower cost competition, we will hold them accountable."
Misclassified as a generic?
A day earlier, Sen. Amy Klobucher (D-MN) charged that Mylan may have misclassified EpiPens under Medicaid, resulting in a huge overpayment by the states. Swanson says her office will investigate Klobucher's charge, pointing out that Mylan may not just be overcharging consumers, but the taxpayers as well.
"We know that schools buy the drug and the medical assistance program buys the drug," Swanson said. "So we're looking at both angles. Has the medical assistance program been overcharged? But also, has the company engaged in anti-competitive behavior that may run afoul of our antitrust laws."
Klobucher has charged that Mylan misclassified the EpiPen as a generic drug under the Medicaid program, and it is that charge that could prove the most troublesome for the drug maker. The Minnesota senator says the Centers for Medicare & Medicaid Services (CMS) lists the EpiPen as a "Non-Innovator Multiple Source Drug," or generic drug, resulting in overpayment for the drug by states and the federal government through the Medicaid Drug Rebate Program.
Talking to other states
States routinely join together to investigate drug companies for overcharging Medicare and Medicaid, resulting in multi-million dollar settlements. Swanson told CNBC she has already spoken to other state attorneys general about the issue.
The previous week, Klobucher called on the Food and Drug Administration to explain its approval process and other steps for possible alternatives to the EpiPen. She's also asked the Senate Judiciary Committee to investigate Mylan's price hikes for the EpiPen.